NCF Nation:

Carl Bradford
February, 28, 2014
Feb 28
9:00
AM ET
On Thursday,
we looked at the Pac-12 North Division
. Today, we turn to the South:
ARIZONA

Spring start:
March 3
Spring game:
April 20
What to watch:
QB competition: Coach Rich Rodriguez has used first-year starters in his first two seasons at Arizona and will make it three-for-three in 2014. For the most part, things worked with both Matt Scott and more recently B.J. Denker, which should make Wildcats fans optimistic about what should be a wide-open competition.
Replacing Carey: As intriguing as the quarterback competition will be, the battle to replace all-time great Ka'Deem Carey at running back could be more important. None of the returning running backs had a carry last year, which led to this comment from Rodriguez: "Now it's a mystery. That's going to be one of the positions, like quarterback, that will be kind of open to see if we can get guys to get better."
Keep Austin healthy: After tearing his ACL last spring following a breakout season in which he caught 81 passes for 1,364 yards and 11 touchdowns, receiver Austin Hill has been given a clean bill of health. Said Rodriguez: "He is still wearing the knee brace but I think it is a little bit more precautionary. He is 100 percent doing everything. He's even a bit bigger and stronger so he should have a big spring. I know he's hungry to get out there, too."
ARIZONA STATE

Spring start:
March 18
Spring game:
April 19
What to watch:
OL changes: Auburn transfer Christian Westerman, a prototypical guard, could be the Sun Devils' best offensive lineman, which makes things interesting considering both starting guards -- Jamil Douglas and Vi Teofilo -- will be back next year. Douglas, a second-team All-Pac-12 selection, has worked at tackle in the past and could shift outside to replace first-team All-Pac-12 left tackle Evan Finkenberg.
Getting defensive: Coach Todd Graham's college roommate, Keith Patterson, has arrived as the defensive coordinator, but Graham will remain the play-caller and Chris Ball's title will still read co-defensive coordinator. Got all that? New coaching dynamics get sorted out in the spring, too.
Looking for replacements: On defense, ASU needs to replace seven starters, highlighted by DT Will Sutton, LB Carl Bradford and CBs Robert Nelson and Alden Darby. If ASU is to build off its impressive 2013 season, those holes need to be filled quickly. They'll benefit from a schedule that starts with Weber State, New Mexico, Colorado and a bye, but after that the Sun Devils have UCLA, USC and Stanford in a span of four weeks.
COLORADO

Spring start:
March 3
Spring game:
April 26
What to watch:
QB development: Sefo Liufau's development will be interesting if for nothing else than because the jump from Year 1 starter to Year 2 starter is always intriguing with quarterbacks. It's tempting to assume a big statistical jump is coming, but it's not always that simple (see: Hogan, Kevin; Mannion, Sean; Hundley, Brett). Liufau will need to get on the same page with his receivers as they combine to …
… Replace Paul Richardson: Look for Nelson Spruce, D.D Goodson and Tyler McCulloch to lead what will be a much more balanced receiving corps following Richardson's early departure for the NFL. Spruce was the Buffs' second-leading receiver last year, but Goodson, going into his second season at receiver, figures to make the biggest jump.
Rising expectations: It took MacIntyre three years to turn San Jose State into a winner, but there was a four-win improvement in the second year. He won't match that with the Buffs, but a two-win improvement gets Colorado bowl eligible. Colorado has a chance to match last year's win total (4) in the first five games next year: vs. Colorado State, at Massachusetts, Arizona State, Hawaii, at Cal. In fact, it's probably the internal expectation.
UCLA

Spring start:
April 1
Spring game:
April 26
What to watch:
Manage expectations: The Bruins are in new territory this offseason with expectations through the roof. They'll likely be a preseason top-10 team, which will drum up chatter about a potential national championship run. Likely message from coach Jim Mora: "Tune out the noise."
The #Hundley4Heisman campaign: It's a real thing and Mora threw his weight behind it when he tweeted the hashtag on Jan. 26 with a picture of the Heisman Trophy. Get used to reading "Heisman candidate" next to "Brett Hundley" a lot between now and September. At times, it might feel unavoidable.
Leading rusher? They're set at quarterback and bring a lot of talent back at both receiver and on the offensive line, but the running back situation isn't as clear. Hundley was the team's leading rusher in 2013, but someone needs to step up to take pressure off him and LB/RB Myles Jack. It's an important spring for both Jordan James and Paul Perkins, who had varying degrees of success last year.
USC

Spring start:
March 11
Spring game:
April 19
What to watch:
Under center? Cody Kessler is back, but coach Steve Sarkisian immediately made it known there would be an open competition for the quarterback job. Max Wittek is no longer around, but Kessler should get a serious challenge from redshirt freshman Max Browne. With a new offense to learn, spring will essentially serve as preparation period for the real competition during fall camp.
Catch your breath: The most noticeable change in USC during the first game will be how much faster it's playing offensively. Sarkisian installed a high-tempo offense at Washington last year and, pleased with the results, will continue to press the tempo with the Trojans. Goodbye, huddles.
Change it up: As is the case when new coaching staffs arrive, there will likely be a higher percentage of position changes than usual and a more fluid depth chart. It's hard to peg exactly where that'll occur with USC, but it'll be worth monitoring throughout the spring.
UTAH

Spring start:
March 18
Spring game:
April 26
What to watch:
Wilson's road back: Travis Wilson is expected to be the Utes' starting quarterback next season, but he'll be limited to non-contact drills during the spring. That's about the best news Wilson could have received following an early November discovery that he had an undiagnosed injury to an intracranial artery -- a condition that threatened his career. Oklahoma transfer Kendal Thompson will not join the team until after he graduates in May, but he'll be immediately eligible to play.
Revolving OC door: Dave Christensen moves in, Dennis Erickson moves over and Brian Johnson moves out. Kyle Whittingham introduced the Utes' seventh offensive coordinator is seven years in early January. Christensen believes in similar philosophies to what the Utes had under Erickson/Johnson, but the terminology will change and the tempo will increase.
Pressure building? Utah was used to winning big before it got to the Pac-12 in 2011. Whittingham lost just 20 games in his six full seasons as the school's head coach while a member of the Mountain West Conference. In the three years since, Utah's dropped 19 and qualified for just one bowl. No one should doubt Whittingham's ability as a coach -- he's a good one -- but the jump in competition has been difficult.
January, 24, 2014
Jan 24
9:00
AM ET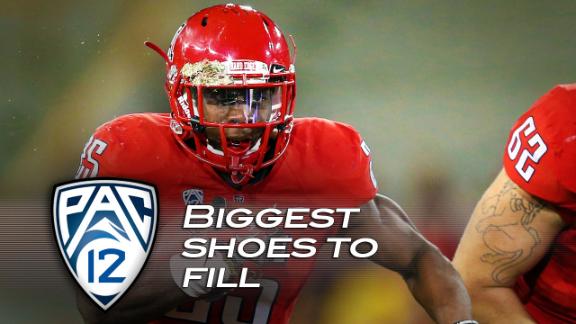 The Pac-12 has 26 of the 98 early entrants in the NFL draft. That's impressive. Some players are locks to get drafted. Others might have jumped the gun a bit and find themselves on practice squads or brushing up on their Canadian. We'll see.
What we're more concerned about here is who is going to replace them. Some answers are clearer than others. Some teams might have to alter their schemes just to account for a departed player.
Here's a look at the possible replacement players in the Pac-12 South. We'll look at the North later this morning.
Leaving:
Ka'Deem Carey
, RB, Arizona.
The replacement:
Jared Baker
should be in the mix, though an injury will keep him out of spring ball. He's expected to return in time for fall camp.
Pierre Cormier
and
Zach Green
will also get looks. Speaking with folks at Arizona, the word right now is that it's wide open. One player could emerge, or it could end up being a by-committee approach. Nothing is off the table at this point.
Leaving:
Carl Bradford
, LB, Arizona State
The replacement:
There really isn't anyone who has Bradford's skill set in the program yet, so the position is wide open.
Viliami Latu
has potential. So does
Chans Cox
, who was hurt a lot last season. They are also excited about incoming freshman
Ismael Murphy-Richardson
. He might not be ready to jump in immediately, but he could be the Devil backer by 2015.
[+] Enlarge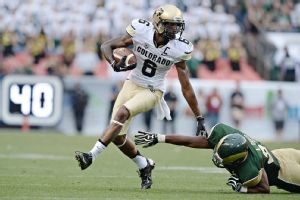 Ron Chenoy/USA TODAY SportsColorado will have a hard time replacing the explosive plays that Paul Richardson provided.
Leaving:
Paul Richardson
, WR, Colorado
The replacement:
It was probably going to be
Jeff Thomas
before he transferred. Now it's probably going to be a rotation of
D.D. Goodson
,
Devin Ross
, or redshirt freshmen
Bryce Bobo
or
Elijah Dunston
.
Nelson Spruce
has been solid, but he's not the breakaway threat Richardson was. This will be a key spring battle to watch.
Leaving:
Xavier Su'a-Filo
, OL, UCLA
The replacement:
Simon Goines
should be back after starting six games at left tackle before an injury forced him out.
Scott Quessenberry
stepped in and played five games at left guard, which is where he'll likely be next season with Goines back at tackle.
Leaving:
Dion Bailey
, LB, USC
The replacement:
Leon McQuay III
saw some playing time and is very highly regarded by the coaching staff. His contributions last season were mostly on special teams, but he'll take on a larger role with Bailey's departure.
Leaving:
Marqise Lee
, WR, USC
The replacement:
Remember
George Farmer
? He's still around and could be in for a big season if healthy.
Darreus Rogers
and
Steven Mitchell
both are promising, but both have missed time with injury. You never truly replace a Biletnikoff winner, but playing opposite a surging
Nelson Agholor
could help boost the production of whoever gets in the regular rotation.
Leaving:
George Uko
, DT, USC
The replacement:
Transfer
Delvon Simmons
is coming off a redshirt season, as is freshman
Kenny Bigelow
. Both should get some serious looks, as this will be one of the hot position battles this spring. Someone will ultimately win the job, but expect a rotation with both next season.
Leaving:
Marcus Martin
, C, USC
The replacement:
Lots of ifs here. It could be
Max Tuerk
moving over from guard, but he'll also be in the mix for right tackle to replace
Kevin Graf
.
Khaliel Rodgers
redshirted and is an option at guard or center.
Giovanni Di Poalo
could also get a look.
Leaving:
Xavier Grimble
, TE, USC
The replacement:
Grimble and
Randall Telfer
were basically co-starters, so all this probably means is Telfer's workload increases as he becomes the clear No. 1.
Jalen Cope-Fitzpatrick
is the only other scholarship tight end on the roster.
Leaving:
Jake Murphy
, TE, Utah
The replacement:
Westlee Tonga
seems like the logical fit. He has been around for a few years and has some experience, but was injured most of last year. He'll get another opportunity to be the lead tight end in the newest installment of Utah's offense.
January, 14, 2014
Jan 14
1:00
PM ET
It flew a little under the radar on Monday that Arizona State linebacker
Carl Bradford
entered the NFL draft
because a pair of Pac-12 All-Americans -- Arizona RB
Ka'Deem Carey
and Stanford OG
David Yankey
-- also announced they'd be going pro.
[+] Enlarge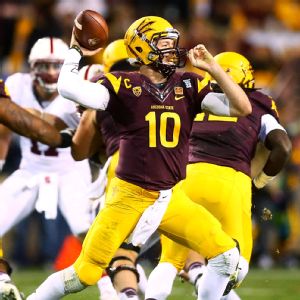 Mark J. Rebilas/USA TODAY SportsWith the loss of key defensive starters, Arizona State may have to rely on QB Taylor Kelly and its offense to carry the load in 2014.
But Bradford's departure, though far from unexpected, is a big deal for the defending South Division champions, who now must replace nine starters and three key backups from its strong 2013 defense.
In fact, the Sun Devils will have only two of their top 11 tacklers, safety
Damarious Randall
and linebacker
Salamo Fiso
, back in 2014. The other returning starter is nose tackle
Jaxon Hood
.
Further, when we say "nine starters" we pretty much mean the 2013 defense's nine best players: Bradford, DT
Will Sutton
, S
Alden Darby
, LB
Chris Young
, CB
Robert Nelson
, DE
Gannon Conway
, CB
Osahon Irabor
, DE
Davon Coleman
and LB
Anthony Jones
.
Tackles, sacks, interceptions -- just about all the production from Todd Graham's aggressive, blitz-happy defense will be gone next fall.
While we are relentlessly raining on Arizona State's parade -- hey, want to talk about the Holiday Bowl? -- we'll also point out that the offense won't go unscathed, as it loses five starters, including two offensive linemen, tight end
Chris Coyle
and RB
Marion Grice
.
Here's the part, however, where we type "… and yet."
While the defense almost certainly will take a step back, and might require some scheme tweaks to fit the inexperienced personnel, the Sun Devils should have the firepower on offense to pile up points in high-scoring offensive slugfests, starting with QB
Taylor Kelly
and WR
Jaelen Strong
probably being the top returning pass-catch combination in the Pac-12.
Versatile RB
D.J. Foster
is a more than adequate replacement for Grice, while the offensive line should be solid, led by
Jamil Douglas
, who seems ready for his star turn.
As for the defense, it will be time for several promising young players to step up, such as linebackers
Chans Cox
,
Carlos Mendoza
and
Viliami Latu
and defensive lineman
Corey Smith
, cornerback
Lloyd Carrington
and safety
Viliami Moeakiola
.
Further, the development of defensive end
Marcus Hardison
could be critical. Graham expected the touted JC transfer to have a big impact this past fall but as often happens when touted JC players arrive, he wasn't ready for the demands of Pac-12 football -- in practice or games. That said, he showed improved gumption over the latter part of the season and certainly has the physical skills to be an impact player on the line.
UCLA, which also loses some key guys from its defense but has a lot of playmakers coming back on both sides of the ball, is the clear favorite in the Pac-12 South heading into 2014. USC will be a bit of a mystery in Year 1 under Steve Sarkisian. It lost some key players but has plenty of talent, though little depth, coming back. Arizona is looking for a new quarterback and running back, but it also could be in the mix.
Where do the defending champions fit in? Hard to say. Next fall will be a good test of the recruiting for which Graham has been generally receiving good reviews. The good money is on the Sun Devils finding a way to thrust themselves into the mix, even with a completely rebuilt defense. It helps that the schedule starts out gently -- Weber State, New Mexico and Colorado -- before a a brutal four-game gauntlet -- UCLA, USC, Stanford and Washington -- that likely will determine the ultimate trajectory of the season.
Don't count the Sun Devils out, only you probably should expect a few more high-scoring shootouts in Tempe next fall.
January, 6, 2014
Jan 6
12:30
PM ET
While the return of UCLA QB
Brett Hundley
for his redshirt junior season was the weekend's big news, an early-entry to the NFL draft talent drain is hitting the Pac-12 hard.
While a number of big-name players have not yet formally announced their intensions -- such as Arizona RB
Ka'Deem Carey
, Stanford OG
David Yankey
, Oregon CB
Ifo Ekpre-Olomu
, Arizona State LB
Carl Bradford
and Oregon State QB
Sean Mannion
-- already 17 players have announced they will give up their remaining eligibility to turn professional.
The deadline to declare is Jan. 15.
There has been good news at quarterback. Hundley joins Oregon's
Marcus Mariota
as pretty significant surprises that they opted to return to school, and that means the 2014 class of Pac-12 quarterbacks will be without peer in the nation by a wide margin.
Here's the early-entry list so far:
Dion Bailey
, LB, USC
Marqise Lee
, WR, USC
George Uko
, DT, USC
Marcus Martin
, C, USC
Xavier Su'a-Filo
, OG, UCLA
Brandin Cooks
, WR, Oregon State
Scott Crichton
, DE, Oregon State
Paul Richardson
, WR, Colorado
Bishop Sankey
, RB, Washington
Austin Seferian-Jenkins
, TE, Washington
De'Anthony Thomas
, RB/WR, Oregon
Colt Lyerla, TE, Oregon*
Terrance Mitchell
, CB, Oregon
Khairi Fortt
, LB, California
Kameron Jackson
, CB, California
Richard Rodgers
, TE California
Jake Murphy
, TE, Utah
*Lyerla was kicked off the team at Oregon in October.
November, 24, 2013
11/24/13
1:20
AM ET
PASADENA, Calif. -- There was a good chance history was going to repeat itself. You give UCLA quarterback
Brett Hundley
3 minutes and 21 seconds -- at home -- to move his team 65 yards and negate a five-point deficit and more often than not you'd probably take those odds.
Faced with a similar situation last year, the ASU defense played on its heels and watched Hundley march the Bruins 60 yards in the final 1:33 to set up
Ka'imi Fairbairn
's game winner as time expired, giving UCLA a 45-43 victory in Tempe.
But that's the thing about history. That's all it is. This time around, the Sun Devils were determined not to make the same mistakes. So when Hundley got the ball with 3:21 left and his team trailing 38-33, ASU coach Todd Graham made a declaration to his defense: We're going to bring it.
"We had some regrets last year down the stretch in that last minute of that game," Graham said. "We talked about it as a team. I talked to the seniors ... we had some regrets last year that we defended instead of attacked. We sent it every play that last drive. Even on the last play, because we came to win."
The end result was two sacks on Hundley, who could move his team only 11 yards on eight plays after penalties and the losses stalled the come-from-behind effort. The 38-33 margin held, and the Sun Devils celebrated as the Pac-12 South Division champs.
[+] Enlarge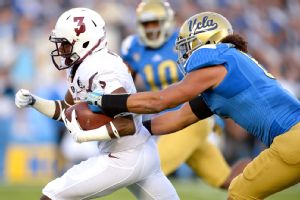 Robert Hanashiro/USA TODAY SportsArizona State built a large first-half lead and then hung on to win the Pac-12 South.
"Everything felt different this time around," ASU safety
Alden Darby
said. "We're a different team. The mindset was different. We know we have a championship defense. There was a different vibe this year on the sideline and on the field."
Those two sacks on the final drive were part of a nine-sack effort from the Sun Devils, who pressured Hundley and UCLA's young offensive line. Hundley rushed for 66 yards, but when you factor in the sacks, he netted only 5.
"The main concern was tackling Hundley," ASU defensive line coach Jackie Shipp said. "He's very good with the ball. He reminds me of Vince Young from when I was in the Big 12. The main thing was getting him down. We knew they were hurting on the offensive line. I knew we could get there. We just had to make sure we got him on the ground."
Through the first 30 minutes, a game-winning drive seemed like a long shot for the Bruins. Behind an efficient and calculated performance from ASU quarterback
Taylor Kelly
, the Sun Devils built a 35-13 halftime lead. Kelly was elusive on the ground, rushing for 99 yards and a touchdown, and accurate through the air, completing 20 of 27 passes for 225 yards and a touchdown. Rushing scores from
D.J. Foster
and
Michael Eubank
, along with a 19-yard touchdown from Kelly to
Jaelen Strong
and a pick-six from
Carl Bradford
gave the Sun Devils a 22-point advantage at the break.
But as UCLA tends to do, it exploded in the second half, outscoring the Sun Devils 20-3 behind a pair of touchdown runs from
Myles Jack
and
Paul Perkins
and a 27-yard touchdown strike from Hundley to
Shaq Evans
. That set the stage for some last-minute drama that ultimately ended with the Sun Devils' defense making the plays it failed to make last season.
"We got ourselves into a hole in the first half and were not able to recover," UCLA coach Jim Mora said. "They fought tooth and nail for that thing, and it was just a little too much to overcome. The loss is bitterly disappointing."
What Mora laments most was his team's inability to control Kelly on the ground. ASU's quarterback rushed for 84 yards in the first half alone.
"He kept plays alive, he frustrated us, we couldn't find the ball," Mora said. "We got caught out of position on some things. That's what was frustrating me -- not being able to handle the quarterback defensively."
ASU offensive coordinator Mike Norvell said getting Kelly involved in the running game was by design. They wanted to force the Bruins into making decisions on zone reads. From there, Kelly was making all the right calls.
"We were able to present some different looks to make sure he'd get a good pull-read and he made some great reads," Norvell said. "... When you've got the defending Pac-12 South champs the last two years, you're coming into their place, you knew it was going to be a battle. I was really proud of our guys and the way they played. That really showed the character of our team."
The Sun Devils will represent the South Division in the Pac-12 championship game against Stanford, which claimed the North by virtue of Arizona's win over Oregon. The only question is whether it's in Tempe or Palo Alto. If Arizona State tops rival Arizona next week, it will host the Cardinal. If the Wildcats win, the title game will be at Stanford for the second straight year.
September, 5, 2013
9/05/13
5:30
PM ET
The Week 1 bye, as it turned out, was a good thing for the
Arizona State Sun Devils
. Position battles were solidified, dings and bruises were nurtured, and newcomers were deeply acclimated to the scheme and way of life at ASU.
[+] Enlarge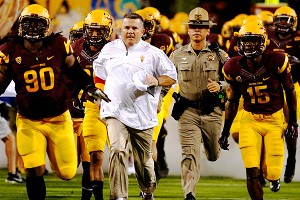 AP Photo/Rick ScuteriTodd Graham's Sun Devils open their season tonight at home against Sacramento State.
But now they are ready to start hitting someone in a different uniform. After spending last weekend watching games, the Sun Devils are anxious to play one of their own. They get their first shot tonight by hosting Sacramento State.
"I've never had the first week off," said ASU coach Todd Graham. "I wasn't too fired up about it, but it's probably been an advantage for us because we have so many newcomers in the two-deep to get them ready to play. As a coach, I've enjoyed the more time to prepare, but our guys are really, really ready to start playing. You only get 29 opportunities to practice, but it seems like it's been a lot longer than that. They are itching and ready to go."
The last time the Sun Devils were on the field, they were thrashing Navy in the Kraft Fight Hunger Bowl. Since then, ASU has experienced a significant hype bump, fueled by the return of defensive tackle
Will Sutton
and lofty expectations for key returners like quarterback
Taylor Kelly
, running backs
Marion Grice
and
D.J. Foster
and hybrid linebacker
Carl Bradford
, among others.
In fact, Graham had his players doing extra conditioning in practice this week to remind them that it's game week -- and the intensity needs to rise.
"We set a standard, but that was a minimum standard," Graham said. "Now we are taking the standard higher. That goes for our best players. Our deal is total accountability. That is what these guys want. They want to be held accountable. Every single up-down represents a mental error, critical error or a turnover. That is why we are doing that."
Sacramento State lost its opener, 24-0, last week to San Jose State. But the Hornets are no strangers to the Pac-12. Last season, they topped Colorado and the year before, they beat Oregon State. And after what happened with the Beavers last week, Graham knows not to take anything for granted.
"Just like any team, they have got good skill players," Graham said. "They are well-coached on offense, in the kicking game. The key for us is not turning the ball over and not beating ourselves in the kicking game.
"... I have been on that side a lot coming from mid-major programs. I know how we prepared. It is their entire season. It can make their entire season. I haven't sat there and told our players you better get prepared or you will get beat. I tell them that the key is that they have no excuse. We can't make any excuses. This is a game we should win."
Last Saturday, Graham and his staff spent the day channel surfing. They watched the Sacramento State game, USC, UCLA, Washington and Wisconsin -- teams they will see in the future. Some sooner than others.
"I didn't go fishing," Graham joked.
The Sun Devils will be looking for an efficient performance tonight on both sides of the ball. And if things go well, perhaps they'll get the opportunity to rest some starters before kicking off one of the most brutal four-game stretches in college football. Next week they host No. 21 Wisconsin before traveling to No. 5 Stanford, home to No. 25 USC and then traveling to Dallas for a neutral-site game against No. 14 Notre Dame.
"In the next five weeks, something is going to happen," Graham said. "We could be 5-0 or we could be 2-3, 1-4. These are all things that could happen. The most important thing if we are 2-3, we have got to make sure we are 2-0 in conference."
August, 21, 2013
8/21/13
11:00
AM ET
Changing the perception of a league is no easy task. And for the Pac-12, bucking its offense-first image may never happen.
As long as Oregon keeps gobbling up points by the minute and yards by the mile; as long as Rich Rodriguez does what RichRod does and there are Air Raids and Bear Raids about, offense will always be associated with the Pac-12. As long as De'Anthony Thomas and Marion Grice can score from anywhere; as long as Marqise Lee keeps turning a 4-yard slant into an 80-yard touchdown; as long as Ka'Deem Carey is running wild and Marcus Mariota and Brett Hundley are burning up stat sheets, Pac-12 defenses will continue to be overshadowed.
And yet …
[+] Enlarge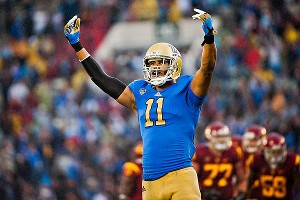 Jonathan Moore/Getty ImagesUCLA linebacker Anthony Barr leads an impressive group of defenders in the Pac-12.
"I would love to see an all-star game with our conference's defensive players on the same team," said Stanford coach David Shaw. "I think it would be phenomenal, and scary. Anthony Barr is borderline unblockable. Will Sutton gets in the backfield seemingly every play, single block, double block, whatever. Morgan Breslin, Sutton and Ben Gardner on the line and Shayne Skov sideline to sideline with Barr coming off the edge.
"Maybe we're getting to a golden era for defensive players in this conference because you've got good defensive units and some really elite standout players."
Last season, five Pac-12 teams ranked in the top 15 nationally in sacks per game including Stanford (first), Arizona State (second), USC (fourth), UCLA (eighth) and Washington State (14th). That's up from three teams in the top 20 in 2011, two teams in the top 20 in 2010 and zero teams in the top 10 in 2009.
ASU and Stanford were first and second, respectively, in tackles for a loss per game, and WSU and USC ranked in the top 11. It's a given that a lot of points will be scored in the Pac-12. But defenses are making it tougher.
"It's been an interesting evolution," said Oregon State coach Mike Riley, the dean of the Pac-12 who is entering his 13th season. "What you're seeing is a premium on speed and guys with a lot of flexibility. There are still big people that need to play on the interior. But your edges -- if you're going to lead the league in sacks -- then having a great edge rusher is always at a premium."
Guys like the aforementioned Barr, Sutton and Breslin, Stanford's Trent Murphy, Oregon State's Scott Crichton, Cal's Deandre Coleman and ASU's Carl Bradford are in that conversation. All of them are expected to rank among the nation's best in sacks and TFLs. That should make for a heated debate when picking the league's defensive player of the year.
And who says it will be someone from the front seven? Four Pac-12 teams were among the top 20 in interceptions last year, and Oregon led the country. The Ducks have the nation's best cornerback duo with Ifo Ekpre-Olomu and Terrance Mitchell, while Stanford boasts the outstanding safety tandem of Ed Reynolds and Jordan Richards. Oregon State's Ryan Murphy, USC's Dion Bailey and WSU's Deone Bucannon are also elite safeties.
Washington might have the best young defensive player in the league in Shaq Thompson.
"You can have a high-powered offense that puts up big points, but if you can't stop anybody, it's anyone's game," said Sutton. "With a great defense, you can accomplish anything."
Those who follow the league know there have been great defenses in the past. Washington in the early '90s and Arizona's Bear Down defense come to mind. Behind all of USC's Heisman quarterbacks a decade ago were outstanding defenses.
"I think what we're starting to see is the individual players and coordinators starting to get some notoriety," said Shaw, whose team ranked fifth nationally against the run last year -- an amazing statistic considering the running backs they faced in 2012. "When Oregon started being really good and scoring a ton of points, people didn't realize they were keeping people from scoring too and playing great defense. To this day I still think they have the most underrated defensive coordinator [Nick Aliotti] in the country."
One of the major challenges of being a defensive coach in the Pac-12 is the diversity of offenses. Oregon's spread is considered run-based, yet the Ducks had the most efficient passing attack in the league. Arizona's spread is considered pass-based, yet its running back led the nation in rushing. Stanford is considered "conventional" with its pro-style, but it'll use personnel groups with seven offensive linemen.
"I don't even know what pro-style means anymore," said UCLA coach Jim Mora. "The perceptions are distorted. You can break down a spread offense or a pro-style and they'll have the same route concepts. There are only so many. But the formations are different. The personnel is different. The motion before the snap is different. The league has so many speed athletes so one of the reasons we play a 3-4 is to get more speed athletes on the field."
It's time, says Bucannon, to let rest of the country know the Pac-12 can play a little defense, too.
"We have fast, up-tempo teams and marquee offensive players. At the same time, there are some great defensive players on that side of the ball," he said. "And we refuse to be overshadowed."
July, 12, 2013
7/12/13
9:00
AM ET
Your B1G and Pac-12 bloggers have been grinding away on their respective leagues' nonconference primer series. Here's
the Big Ten series
, and here's
the Pac-12 series
. Part of the fun is learning about other teams in other conferences and what they bring to the table. The Pac-12 and Big Ten face each other five times during the regular season. The Pac-12 got the better of the matchups last year. Will this year be different? Brian Bennett and Kevin Gemmell decided to talk it over.
Brian Bennett
: The first thing I look at for Big Ten-Pac-12 matchups in any given season is where the games are staged. Big Ten teams don't seem to think the West Coast is the Best Coast; they are just 5-20 in true road games against the Pac-12 since 2000, and that includes an 0-3 mark on the road versus the Pac-12 last year. (The league also has just one win in its past 10 Rose Bowls, but not all of those games came against the Pac-12.)
[+] Enlarge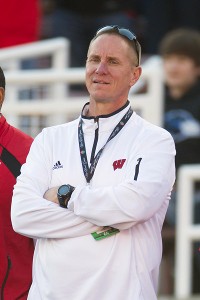 AP Photo/David StlukaNew coach Gary Andersen and the Badgers will have their hands full at ASU this season.
So it's not good news for the league that I cover that three of these five matchups are located far left of the Midwest. If there's any reason for optimism, it's that the Big Ten teams should be substantial favorites in two of the road games -- Northwestern at Cal in the opener and Ohio State against those same Bears in Week 3. Cal is intriguing because of new coach Sonny Dykes, but Northwestern and Ohio State are both legitimate Top 20 teams with conference-title aspirations; if they can shake off the jet lag and contain the Bears' passing attack, they should take care of business.
The two most interesting games -- and what look like virtual toss-ups -- are Wisconsin at Arizona State, and UCLA at Nebraska. The Badgers have a lot of returning talent, but a new head coach and different schemes on both sides of the ball. It's also going to be a clash of styles, with the Badgers' power running game going up against Arizona State's spread offense. Will Gary Andersen's team have its new systems figured out by then, and is Wisconsin's defense -- particularly its inexperienced secondary -- fast enough to handle the Sun Devils?
UCLA-Nebraska is probably not getting enough attention as a must-watch game this year. Last year's shootout in Pasadena, Calif., featured nonstop pingpong action, and both teams figure to have topflight offenses again. The Cornhuskers have a perilously young defense, but Bo Pelini's teams usually defend much better at home than on the road. Quarterback
Taylor Martinez
-- who grew up a Bruins fan but was recruited by them as a defensive back -- will be highly motivated to beat UCLA his senior year. This is Nebraska's only major test in the first seven games, and it's one I think the Huskers have to find a way to win.
Finally, there's Washington at Illinois. The Illini get the benefit of home turf, sort of, as the game will be played at Soldier Field in Chicago. We'll see if Tim Beckman's crew will inspire enough fans to show up by Week 3. While Washington has been mediocre for what seems like forever, I can't confidently pick Illinois to beat any half-decent power conference opponent at this point.
In the end, I say the Big Ten manages a winning record this time around against the Pac-12, taking the two games in Berkeley, Calif., and the one in Lincoln, Neb. A 3-2 mark sounds about right, though if Wisconsin can pull off the win in the desert, that could be a good sign for both the Badgers and the league as a whole.
Kevin Gemmell
: I'm going 3-2 also, but in favor of the Pac-12. After all, if we were in total agreement, it would make for a pretty boring Take 2. So I'll play the contrarian when it comes to UCLA-Nebraska.
[+] Enlarge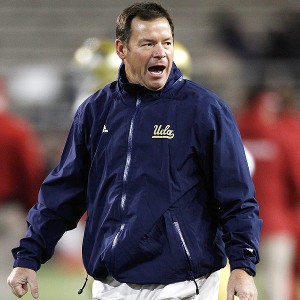 William Mancebo/Getty ImagesCoach Jim Mora and UCLA allowed just six points in the second half of last year's win against Nebraska.
We agree on the Cal games versus Northwestern and Ohio State -- though I think Cal is going to give both of those teams a better run than they are banking on. I like what Andy Buh is doing with a defense that could be sneaky good. And the Bears have
some explosive depth at wide receiver.
But ultimately it's a rookie quarterback -- whomever Dykes chooses among
Zach Kline
,
Jared Goff
and
Austin Hinder
-- and a team that will still have some growing pains as new systems are installed on both sides of the ball. Like you with Illinois, I'm not ready to give the Bears the green light yet. However, last year's game in Columbus, a 35-28 win for Ohio State, should serve as a reminder not to take Cal lightly. No doubt, the Buckeyes will remember
Brendan Bigelow
and his four carries, 160 yards and two touchdowns.
Both halves of the Pac-12 blog have been saying we believe Washington is going to get over that seven-win hump this year after three straight seasons of mediocrity. The Huskies have a lot of pieces in place with a returning quarterback, a 1,400-yard rusher, good receivers, a good line and the top tight end in the country. Their defense made huge strides last season in the first year under Justin Wilcox, and we're expecting another leap forward in 2013. What scares me is Washington's inconsistent play on the road the past few seasons. During the Huskies' trio of 7-6 seasons, they are 14-5 in Seattle (last year they played at CenturyLink Field) and 6-11 on the road. The past two years they are 11-2 at home and 3-8 on the road (0-2 in their bowl games at neutral sites). If the Huskies want to have a breakout year, they are going to have to win away from home. Steve Sarkisian actually talked about this
in a Q&A we did back in April
. But they certainly have the talent to win this game.
The ASU-Wisconsin game is really a critical one for the Sun Devils. It kicks off a four-game stretch (with no bye weeks) that also includes Stanford, USC and Notre Dame. ASU is another team looking for some national credibility, and this is its first opportunity to get some. You're right to talk about the ASU offense, but that defense -- which ranked first nationally in tackles for a loss and second in sacks last season -- is going to be crazy good with
Will Sutton
and
Carl Bradford
leading the attack. I'm banking on a good game, but ultimately one ASU wins at home.
That brings us to UCLA-Nebraska, a game I'm also surprised more people aren't geeked up about outside of the respective fan bases. This should be a fantastic showcase for both leagues.
Brett Hundley
impressed in his freshman campaign, and I think this game is going to be a spotlight for two of the country's most athletic quarterbacks. I was in Pasadena for the game last season, and what actually stood out to me was UCLA's defense -- particularly in the second half. The Bruins allowed only six points, and kept Martinez to 11 yards rushing and the Huskers to 106 total yards in the final 30 minutes. They should be improved in Year 2 under Jim Mora and Lou Spanos. If the Bruins pull this one off, it's going to be because of what they can do defensively.
June, 21, 2013
6/21/13
11:00
AM ET
Notre Dame and the Pac-12 clash three times in 2013. First, it's Arizona State on Oct. 5 in Arlington, Texas. Then, the Irish host USC on Oct. 19 before closing out the season Nov. 30 at Stanford. Is any one of the three games more intriguing than the others? Notre Dame blogger Matt Fortuna and Pac-12 blogger Kevin Gemmell weigh in.
Matt Fortuna
: The USC game is the USC game. It's another night game at Notre Dame Stadium, and we all know the Irish do not want a repeat of 2011, when the Trojans beat them from start to finish in the building's first night contest in 21 seasons, which all but ended the Irish's BCS bowl hopes in the middle of the season.
The Arizona State game comes at a crucial time for both teams -- sandwiched between the Irish's Oklahoma tilt and their bye and following a three-week stretch of Wisconsin, Stanford and USC for the Sun Devils. But I've still got my eyes on Stanford, for a number of reasons.
For one, Notre Dame and Stanford seem to mirror each other, from the classroom standards to the smash-mouth, defensive-oriented style of football both displayed during BCS bowl seasons in 2012. One needs to look no further than last Oct. 13, with "College GameDay" in town and the rain coming down hard in South Bend, Ind.
It wasn't just that the Irish finally beat the Cardinal that day, it was the way that they did it -- utilizing an overtime goal-line stand to top a team that, in victories in the three seasons prior, had outrushed Notre Dame by a 642-208 margin.
Notre Dame outgained Stanford on the ground in their 2012 matchup.
Stanford was the standard, and Notre Dame passed it in fitting fashion.
When the Irish topped USC six weeks later to clinch a BCS title game spot, athletic director Jack Swarbrick said that the Stanford game was what made him think the program had turned a corner and could pull off the run it did last fall. When Stanford topped Wisconsin to win the Rose Bowl, Cardinal coach David Shaw called the Irish contest a turning point, as the team went on to win its final eight games.
With this season's game serving as both teams' regular-season finale, the stakes might be even higher.
Sure, the loss of quarterback
Everett Golson
hurts Notre Dame's chances at reaching another BCS title game. But the program is still in position to compete for a BCS bowl bid, and the final hurdle this fall might be the program it has begun to mirror in so many ways recently.
[+] Enlarge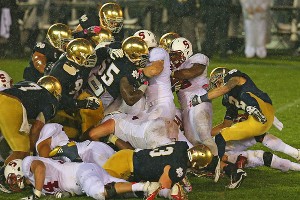 Jonathan Daniel/Getty ImagesNotre Dame and Stanford both pointed to last season's meeting -- an overtime Irish victory -- as key in their respective runs to BCS bowls.
As for Stanford? Well, for a Cardinal program consistently popping up in preseason top-five conversations, and with its conference title-game fate already decided before this contest, Notre Dame might be the biggest thing standing between Stanford and another trip to Pasadena, Calif. -- this time with stakes much higher than last season.
Kevin Gemmell
: No doubt, that game has plenty of intrigue, but I'm really eyeing the Arizona State game. And had I gone first in this Take 2, I still would go with Arizona State.
First, nationally televised games on neutral fields smack-dab in the middle of the season should naturally perk the ears up. Second, these two teams have
stirred the pot in recent weeks
, with the Sun Devils staring down the Irish to keep that 2014 game in Tempe, Ariz. Third, I think it's going to be an outstanding football game.
This is a big push season for the Sun Devils -- who feel like they have the personnel and depth to make a run at not just the South Division, but maybe the Rose Bowl. Their quarterback is efficient, their running back tandem is explosive and their defensive front seven might be as good as any in the Pac-12.
And I think the Sun Devils will be able to put up some points.
Marion Grice
and
D.J. Foster
form as dynamic a running back combination in the country, combining for 25 touchdowns last season on the ground and through the air.
Taylor Kelly
should be an even better quarterback this season after posting a 67.1 completion percentage in his first season as a starter, with 29 touchdowns to nine interceptions. And
Chris Coyle
is one of the top tight ends on the West Coast. If the junior college transfers ASU is expecting in the fall pan out at wide receiver, the Sun Devils will have one of the most diverse offenses in the league.
I'm also really excited to see how
Will Sutton
,
Carl Bradford
and the rest of the front seven do against Notre Dame's traditionally beastly offensive fronts -- headlined by left tackle
Zack Martin
. Last season, only five FBS players had 80-plus tackles, 20-plus tackles for a loss and 10-plus sacks. Three of them are gone. The remaining two are in the Pac-12. Bradford is one of them. And in case anyone forgot, Sutton, an All-American, had 13 sacks and 23.5 tackles for loss.
As Matt notes, this game comes at the tail end of what could be a character- and season-defining four-game stretch for the Sun Devils. Just two weeks earlier, that ASU defensive front will have faced one of the best offensive lines in the country in Stanford. However that game turns out, there's probably going to be a lot of self-scouting and lessons learned. The Sun Devils will know what they are made of before they set foot in Texas. And, apropos of noting, I also find it ironic that Notre Dame will be scouting ASU from consecutive weeks of Stanford and USC film.
Just as the Stanford game was a turning point for both teams last season, the Arizona State game could have a similar impact in 2013.
May, 13, 2013
5/13/13
5:30
PM ET
By now we've all heard the story of the running back/fullback from that South Division team
who switched over to defense
, became a hybrid linebacker and was one of the best in the Pac-12 at getting sacks and tackles for a loss.
UCLA's
Anthony Barr
, right?
No, the other one. ASU's
Carl Bradford
.
Oh, you haven't heard this one?
A top-tier fullback out of Norco, Calif., Bradford was recruited by then-coach Dennis Erickson to play defense. It was not a move he reluctantly accepted. It was an opportunity he jumped at.
[+] Enlarge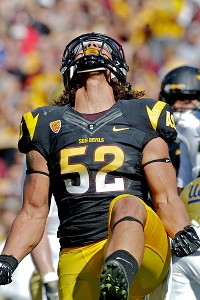 AP Photo/Matt YorkASU's Carl Bradford is looking to have another standout season as one of the conference's best outside linebackers/hybrid rush ends.
"It's not too different than being a fullback," Bradford said. "You see a hole and you attack it. It's the same thing as a linebacker. Still hitting. Still finding holes. But you need to have a little more of an edge. You have to have that chip and play angry. You have to love to hit, and I do."
On most teams, Bradford's numbers from 2012 wouldn't be an afterthought. He had 11.5 sacks and 20.5 tackles for a loss. But because his teammate, defensive tackle
Will Sutton
, was so dynamic last year (13 sacks, 23.5 TFLs), Bradford's contributions are often overshadowed. Sutton went on to win the Morris Trophy for the league's top defensive lineman and the Pac-12's Pat Tillman Defensive Player of the Year award, which is of course named in memory of the ASU great.
"That's amazing, isn't it?" noted head coach Todd Graham. "They are as prolific of a tandem as there is out there. He's a phenomenal player. Unblockable. A very special guy with All-American potential. Every day he and Will are talking about which of them is going to win Defensive Player of the Year."
However, Bradford enters the 2013 season with somber inspiration following the death of his father from a heart attack in March -- one week before the Sun Devils opened spring ball. No strangers to tragedy of late --
recall the murder
of running back
Marion Grice
's brother in December -- the Sun Devils have used those tragedies to form a unique bond.
"When Marion's brother passed away, everyone showered him with prayers and open arms," Bradford said. "We were always there for him and he knew what kind of teammates he had. That's the same way I felt when my father passed away. When I came back, all the love from my teammates and roommates -- all the support was amazing. To have teammates and coaches like that was really a blessing when times were hard and I appreciate it so much."
It's a part of the job that can be difficult, Graham admits. In times of tragedy, players look to their coaches for answers.
"We don't always have them," Graham said. "All we can do is be there for them, listen, and try to help them through tough times. We tell them to live each day to the fullest because you're not promised tomorrow. The key to our team is relationships and in times of tragedy those relationships are critical. That's how you form a close-knit team. We've been through a lot in a short time and I've seen the character of this team shine through."
That character will be tested early as the Sun Devils -- who are neck-and-neck with the Bruins as preseason favorites in the South Division -- play a ramped up schedule that includes four straight against Wisconsin, Stanford, USC and Notre Dame. It's an opportunity for ASU to make a huge splash on the national stage.
"I think we're mature and we have to be mature to handle a schedule like that," Bradford said. "It's going to take a lot of focus and a lot of film work. Our guys have come a long way since last year'. We'll be prepared."
Sutton and Bradford have trained their sites on the school (and NCAA) sack record of 24 in one season, held by Terrell Suggs. (
Note
: Suggs holds the official NCAA single-season record at 24, though
Derrick Thomas
had 27 in 1988, prior to the NCAA keeping defensive stats). It's not quite as dramatic as Mickey Mantle and Roger Maris racing to 61, but there's no question the two are pushing each other.
"We were joking that we might end up with 50 sacks between the two of us," Bradford said.
Bradford is graded on a different curve that Sutton because of the position he plays. While Sutton put up uncharacteristic stats for a defensive tackle, Bradford is just one of several outstanding outside linebackers/hybrid rush ends in the conference. From Bradford and Barr to Stanford's
Trent Murphy
and USC's
Morgan Breslin
, the league isn't lacking guys who can create havoc in the backfield. In 2012, there were only five FBS players who had 80-plus tackles, 10-plus sacks and 20-plus tackles for a loss: Jamie Collins (Southern Miss),
Jarvis Jones
(Georgia), Damontre Moore (Texas A&M), Barr and Bradford. Only the South Division pair return in 2013. No doubt, the race for the league's defensive player of the year will be hotly contested (not to mention many outstanding defensive linemen, defensive backs and safeties).
Last year was the first time since 1978 that ASU has had two players post 20 or more tackles for a loss and 10-plus sacks in the same season (Al Harris and Bob Kohrs). Only 10 FBS players who tallied 10 or more sacks in 2012 are back in 2013 -- and ASU has two of them. In fact, 51 FBS teams had fewer sacks than Sutton and Bradford combined (24.5).
"I truly don't know how they are going to scheme us," Bradford said. "We have weapons all around the board and all guys are attacking and all guys are playmakers. I feel bad for the offensive lines. They have a whole other thing coming their way this year."
March, 29, 2013
3/29/13
12:00
PM ET
With recruiting behind us and most schools in the swing of spring drills (the last of the bunch kick off next week), the Pac-12 blog thought it would be fun to examine each team's chances of winning its respective division.

This is not whether the team of the day can win the Pac-12. And we're not predicting any winners. Rather, this is our take on the team's chances of winning the North or South.
Buy or sell Arizona State winning the South?
Kevin Gemmell
Buy
: I haven't decided yet if I'm picking the Sun Devils to win the Pac-12 South. We still have a few months before the media poll. But it's hard for me to come up with reasons why they shouldn't be No. 1 in the division.
I like the offense -- not just the players -- but the ingenuity behind it. I like the multiple ways Mike Norvell uses the running backs in the screen game and split out in the slot. The mismatches are abundant when you get
Marion Grice
and
D.J. Foster
in space.
I like the fact that they are digging deeper into the playbook this spring because they have a returning quarterback in
Taylor Kelly
who was so efficient in his first year as a starter and looks to be even better in his second year. I like that they have depth at quarterback and they went out and got some big wide receivers who should be able to get separation.
[+] Enlarge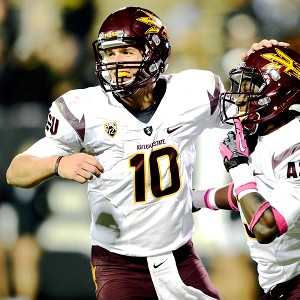 Ron Chenoy/US PresswireTaylor Kelly is entering his second season as the starting quarterback for Arizona State.
And, of course, it's hard not to like the defense -- headlined by the returning Pac-12 defensive player of the year and Morris Trophy winner in
Will Sutton
. And let's not forget about
Carl Bradford
, who was fourth in the league in sacks last season with 11.5 and second only to Sutton in tackles for a loss per game. With so much attention being given to Sutton this season, look for Bradford's numbers to skyrocket.
The question mark for the Sun Devils is the schedule. A four-game stretch early on that includes Wisconsin, Stanford, USC and Notre Dame is really going to test what this team is made of. If they can come out of that at 4-0, 3-1 or even 2-2, it will be a huge confidence boost for this team moving into the second half of the season -- when they close out with Oregon State, UCLA and Arizona.
The South figures to be an exciting race right up until the end of the season. But when you look at what ASU has in its arsenal, it's hard not to like them.
Ted Miller
Buy
: Kevin and I already talked about how the second guy in this can't just go, "Ditto." But Kevin correctly touched a lot of bases.
I go back and forth between the Sun Devils and UCLA as the Pac-12 South Division front-runner. Both look like top-25 teams.
Both are solid at quarterback and have an All-American coming back to lead strong defensive fronts. Both give some pause in the secondary. Both have some questions at receiver. The Sun Devils are much better at running back, the Bruins a little better at linebacker. Both offensive lines seem solid. Heck, both must replace good punters.
So there's a lot to like about Arizona State heading into 2013. The biggest question is the schedule. It's entirely possible the Sun Devils could be a whole lot better next fall than 2012, but only win eight or so regular-season games. Yet if things fall into place, this also could be a 10-win team.
The key is the nonconference schedule, but perhaps not as you think. A visit from Wisconsin and game with Notre Dame in Cowboys Stadium -- read: a road game -- are sandwiched around a trip to Stanford and home date with USC. Those conference games are infinitely more important to Arizona State than the nonconference games, because the name of the game here is winning the South Division. Ergo: At least splitting the conference dates is the priority compared to beating the Badgers and Fighting Irish.
I realize that's not genius analysis, and that the Sun Devils will prepare to win each and every week. The point is this: Win or lose versus Wisconsin and Notre Dame, Arizona State needs to be focused and mentally tough. The results against the Badgers and Fighting Irish -- celebration or sadness -- can't distract from what immediately follows.
Say the Sun Devils start 4-0 or 3-1. They can't get full of themselves. Just as a 1-3 start won't doom the season, particularly if that one win comes against South Division rival USC.
So my "buy" here is about more than returning talent. It posits a belief in coach Todd Graham, his staff and the new, more disciplined culture in the locker room. It's a statement of belief that the Sun Devils will hit mid-October still focused on the immediate task at hand instead of thinking big picture, one way or the other, which would be a kiss of death to a promising season.
January, 10, 2013
1/10/13
11:00
AM ET
Ladies and gentlemen, a round of applause for your 2012 Pac-12 All-Bowl team.
OFFENSE
QB: Taylor Kelly, Arizona State
-- 17-of-19, 267 yards with four touchdowns and no picks. Outstanding performance.
RB: Bishop Sankey, Washington --
The lone player from a losing team on the all-bowl squad, but he was too good to ignore -- 30 carries for 205 yards and a touchdown.
RB: Marion Grice, Arizona State
--
With a heavy heart
, he earned offensive MVP by piling up 159 yards on just 14 carries for a robust 11.4-yard average. He also had a pair of rushing touchdowns in ASU's blowout win.
WR: Austin Hill, Arizona
-- His 175 yards broke an Arizona record for receiving yards in a bowl game and his two touchdowns matched a school high.
[+] Enlarge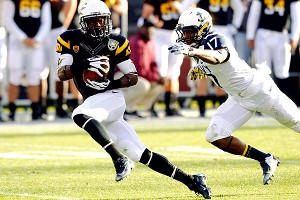 Cary Edmondson/USA TODAY SportsRashad Ross had four catches for 139 yards and three touchdowns against Navy.
WR: Rashad Ross, Arizona State
-- Had a huge day with four catches for 139 yards and three touchdowns.
TE: Colt Lyerla, Oregon
-- He's not here for his three catches and 52 yards. He's here because those three catches for 52 yards changed the way Kansas State played defense and it opened everything up for the Ducks.
OL: David Yankey, Stanford
-- The Morris Trophy winner helped keep quarterback
Kevin Hogan
sack-free and QB hit-free.
OL: Kyle Quinn, Arizona
-- Paved the way for Carey's record-setting performance.
OL: Hroniss Grasu, Oregon
-- Kept a good Kansas State front at bay and delivered a knockout block on
De'Anthony Thomas
' touchdown reception.
OL: Evan Finkenberg, Arizona State
-- Key player in Marion Grice's big day.
OL: Kyle Long, Oregon
-- Helped limit Kansas State's aggressive front to just one sack.
K: Jordan Williamson, Stanford
-- Shook off the Fiesta cobwebs and calmly drilled both field goal attempts, including a 47-yarder. His six points were the difference in the 20-14 outcome.
DEFENSE
DL: Ben Gardner, Stanford
-- Fourth-and-goal at the 1.
James White
, prepare to meet the mullet.
DL: Will Sutton, Arizona State
-- Defensive MVP of Kraft Fight Hunger Bowl. Hungry for more next season.
DL: Carl Bradford, Arizona State
-- Three tackles for a loss, plus a sack, make him the perfect complement to Sutton.
LB: Kiko Alonso, Oregon
-- Run blitzed the Wildcats all night and was as effective as he was punishing.
LB: Michael Clay, Oregon
-- Your defensive MVP of the Fiesta Bowl had nine tackles, two for a loss, plus a sack. He was prolific.
LB: A.J. Tarpley, Stanford
-- The leading tackler in the Rose Bowl helped the Cardinal to a second-half shutout.
LB: Marquis Flowers, Arizona
-- The defensive MVP of the New Mexico Bowl posted 10 tackles, one for a loss, and an interception. He also recovered the onside kick that sparked Arizona's comeback.
DB: Jordan Richards, Stanford
-- Seven tackles, two tackles for a loss, a sack and one very, very nasty (yet clean) hit.
DB: Erick Dargan, Oregon
-- Two picks off a Heisman Trophy finalist is two picks off a Heisman Trophy finalist -- whether it's the end of the half or end of the game. He also had eight tackles, second only to Clay.
DB: Ifo Ekpre-Olomu, Oregon
-- Posted five tackles and a pass breakup. Kansas State challenged him. He responded.
DB: Shaquille Richardson, Arizona
-- Nabbed his first interception of the season at the Arizona 2-yard line and returned it 27 yards. That kicked off a nine-play, 71-yard touchdown drive for the Wildcats.
KR: De'Anthony Thomas, Oregon
-- DAT did what DAT does. And he did it great.