August, 21, 2014
Aug 21
9:00
AM ET
There is no official preseason all-conference team in the Big Ten (or official predicted order of finish, etc.). But we here at ESPN.com have got you covered with our preseason all-league picks on offense, defense and special teams.
And here they are:
Offense
QB: Connor Cook, Michigan State
:
Braxton Miller
's injury opened up this spot on the first team. Penn State's
Christian Hackenberg
and Indiana's
Nate Sudfeld
were potential choices here too, but Cook's Big Ten title game and Rose Bowl MVP finish earn him the nod.
RB: Melvin Gordon, Wisconsin
: Well, sure. He could lead the nation in rushing, unless ...
RB: Ameer Abdullah, Nebraska
: ... Abdullah, his good friend, beats him to it. In a league blessed with great running backs, these two stand out the most.
WR: Stefon Diggs, Maryland
: There is a lot of uncertainty in the Big Ten at receiver heading into 2014. This much is certain: If Diggs can stay healthy, he'll be one of the nation's best.
WR: Shane Wynn, Indiana
: Wynn scored more touchdowns than any other Big Ten receiver the past season, and now he steps into a more featured role.
TE: Devin Funchess, Michigan
: Funchess might play wide receiver almost exclusively, in which case this should be viewed as a third wide receiver spot on the team. The matchup nightmare looks poised for a big season.
OT: Brandon Scherff, Iowa
: He might just be the best left tackle in college football in 2014. He's definitely got NFL scouts drooling.
OT: Rob Havenstein, Wisconsin
: An enormous road grader at right tackle. Trying to shed him and catch Melvin Gordon is just not fair.
OG: Kaleb Johnson, Rutgers
: He thought about leaving for the NFL after the past season but instead gave the Scarlet Knights a boost by returning. He has started 37 straight games.
OG: Kyle Costigan, Wisconsin
: He could be the next rising star in Wisconsin's offensive lineman factory.
C: Jack Allen, Michigan State
: A second-team All-Big Ten pick the past season, the former high school wrestling champion has no let up in his game.
Defense
DE: Shilique Calhoun, Michigan State:
He's the returning Big Ten defensive lineman of the year and could become the conference's defensive player of the year in 2014, unless ...
DE: Randy Gregory, Nebraska:
... Gregory edges him out for the honor. The pass-rush specialist outpaced Calhoun in sacks (10.5) the past season, and Bo Pelini said Gregory has "
only scratched the surface
of what he's going to be down the line."
DT: Michael Bennett, Ohio State:
He anchors the best defensive line in the conference and was named to the All-Big Ten's second team last season.
DT: Carl Davis, Iowa:
He still thinks Scherff would get the best of him if they squared off, but Athlon thought highly enough of Davis to make him a fourth-team preseason All-American.
LB: Chi Chi Ariguzo, Northwestern:
The quiet Ariguzo likes to let his play do the talking, and it chatted up a storm this past season -- to the tune of 106 tackles and four interceptions.
LB: Mike Hull, Penn State:
He was a coin-flip from transferring to Pittsburgh during the sanctions, but now he's the leader of this revamped defense.
LB: Jake Ryan, Michigan:
Ryan shocked onlookers last season by taking less than seven months to go from ACL surgery to playing in a Big Ten game. Hopes are higher now for the healthy redshirt senior, as he has registered a stop in the backfield in 25 of his past 30 games.
CB: Trae Waynes, Michigan State:
He's taking over at
Darqueze Dennard
's boundary cornerback position, but he's up for the challenge. He's already on the watch lists for the Bednarik and Thorpe awards.
CB: Blake Countess, Michigan:
He tied for the Big Ten lead in interceptions (6) the past season -- despite
battling lower abdominal pain
most of the year.
S: Kurtis Drummond, Michigan State:
The blue-collar DB started 21 straight games and was a Sports Illustrated All-American the past season.
S: Ibraheim Campbell, Northwestern:
A smart and instinctive player, Campbell has been remarkably consistent for the Wildcats. He's a three-time all-academic B1G player and has eight career interceptions.
Special teams
K: Michael Geiger, Michigan State
: As a freshman in 2013, he made 15 of his 16 field-goal attempts.
P: Mike Sadler, Michigan State
: An ESPN.com All-American in 2013, Sadler combines with Geiger to give the Spartans the best 1-2 kicking tandem in the league.
KR: Kenny Bell, Nebraska
: He led the Big Ten in return yardage the past season (averaging 26.5 yards per kick) and took one 99 yards for a touchdown at Penn State.
PR: Kevonte Martin-Manley, Iowa
: He averaged 15.7 yards per return in 2013 and scored on two punt returns in the same game.
Selections by school:
Michigan State: 7
Iowa: 3
Michigan: 3
Nebraska: 3
Wisconsin: 3
Northwestern: 2
Indiana: 1
Maryland: 1
Ohio State: 1
Penn State: 1
Rutgers: 1
Illinois: 0
Minnesota: 0
Purdue: 0
July, 30, 2014
Jul 30
9:00
AM ET
This week, we're counting down the Top 25 players in the Big Ten. Our reporting crew voted to select the list based on past performance and future potential.
The countdown started on
Monday
with the first five players and we climbed up to No. 16 on
Tuesday
, setting the table for our next group of impact performers today.
No. 15: Venric Mark, RB, Northwestern Wildcats:
Mark is healthy and ready to go again for the Wildcats, and if there was a guarantee that he could return to the elite level he was at in 2012, the veteran rusher would surely be higher on the list. Instead he'll have to prove himself all over again this fall, though Mark will do so behind what should be an improved offensive line that could allow him to flash the explosiveness the Wildcats missed dearly last season.
No. 14: Tevin Coleman, RB, Indiana Hoosiers:
In a league loaded with talented tailbacks, Indiana's dangerous, elusive rusher often goes overlooked. But Coleman is one of the most lethal weapons in the league when he's on the field, and despite playing in just nine games last season, he nearly topped 1,000 yards thanks to his eye-popping 7.3 yards per touch. If he can duplicate that again, the Hoosiers will keep racking up points and more attention will surely come his way.
No. 13: Carl Davis, DT, Iowa Hawkeyes:
There may be some uncertainty behind him with Iowa breaking in three new starters at linebacker, but those fresh faces should benefit greatly thanks to the consistent work Davis can provide up front. The 6-foot-5, 315-pound, space-eating lineman doesn't accrue many individual statistics and was credited with just 41 tackles last year, but the job he does occupying blockers is invaluable for the rest of the Hawkeyes around him.
No. 12: Noah Spence, DE, Ohio State Buckeyes:
Even without getting a chance to play the first two games as he wraps up a suspension, Spence still figures to challenge for the league lead in sacks by the time the season ends. The junior's incredible first step off the edge and a stacked group of Buckeyes on the defensive line will allow him to avoid double-teams, and that figures to be bad news for opposing quarterbacks as Spence tries to build on an eight-sack campaign last year.
No. 11: Stefon Diggs, WR, Maryland Terrapins:
The Terps were stung repeatedly by critical injuries last season, but nothing might have hurt as much as seeing Diggs on the ground after breaking his leg against Wake Forest. Without his top-notch speed and ability to break free for big gains at any moment, Maryland's offense wasn't the same minus Diggs on the perimeter. He, too, will have to prove he's back to 100 percent. But Diggs has already suggested he's coming back even faster, which could make life miserable for a few defensive backs in the Big Ten.
Stay tuned as we move into the top 10 on Thursday ...
July, 29, 2014
Jul 29
2:00
PM ET
CHICAGO -- With some of the Big Ten's best all gathered in one place for media days, it seemed only natural to poll the players about the best and brightest athletes in the conference.
So on Tuesday morning, five offensive players and five defensive players offered their takes regarding those top athletes. We ran the
offensive player results earlier on Tuesday
, and up now are the results from the defense.
The full question: Besides you or players on your team, who's the best -- or most exciting -- defensive player in the Big Ten?
[+] Enlarge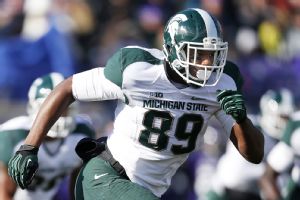 AP Photo/Andrew A. NellesShilique Calhoun is one of the most disruptive forces in the Big Ten.
DT Carl Davis, Iowa:
"Probably
[Shilique] Calhoun
from Michigan State. He's a great competitor, and he got the defensive lineman of the year award. I talked to [Iowa OT
Brandon] Scherff
, and he said that's the best defensive end he went against last year -- and Scherff's a big guy; he can drive guys like 20 yards downfield. And Calhoun is a powerful player; he uses speed and power to his advantage. He's a great player."
S Kurtis Drummond, Michigan State:
"I like watching
Randy Gregory
and the way he can tackle people. We got a lot of good players in this conference, so that's kind of tough to say. But I like his motor, I like the way he gets after people, and I like his excitement. I like guys that are out there having fun, and you can tell he has fun the way he plays."
DT Michael Bennett, Ohio State:
"A lot of them left last year. Hmm ... I'd have to say
Shilique Calhoun
because he's the only other name I really know. He makes plays. Other than that, I watched his film and I wasn't really sure what the hype was -- but then, somehow, in our game he comes out with two forced fumbles and three sacks or something like that. So the guy is a playmaker and he gets the job done."
LB Mike Hull, Penn State:
"That's tough. There's a lot of good players, but I really follow a lot of the linebackers. So I'd say
Jake Ryan
. He's a solid linebacker, makes good plays and has really good fundamentals. Just have respect for Michigan."
S Ibraheim Campbell, Northwestern:
"It's tough to say ... but there's some defenses that stand out. Michigan State's defense
always
stands out. It's more of a concerted effort; their whole unit plays with a good energy that I like. I'll always be watching them during the season, and they'll always stand out to me. If we're watching Illinois' offense and they played Michigan State, they'll just kind of stand out as one of the best teams defensively."
June, 24, 2014
Jun 24
3:00
PM ET
If the preseason All-America teams are any indication, the Big Ten will have a very good year in the offensive backfield -- both carrying the ball out of it and penetrating it.
[+] Enlarge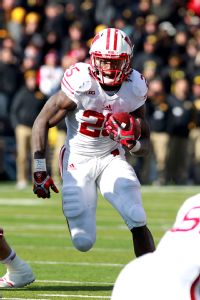 Reese Strickland/USA TODAY SportsMelvin Gordon has averaged a gaudy 8.1 yards per rushing attempt during his career.
Running back and defensive line appear to be the league's two strongest position groups -- possibly by a wide margin -- entering the 2014 season. Athlon on Monday came out with its
preseason All-America teams
, following up Phil Steele, who
released his last week
. Three Big Ten players made Athlon's first team: Wisconsin running back
Melvin Gordon
, Ohio State defensive tackle
Michael Bennett
and Michigan State punter
Mike Sadler
. Four other defensive linemen -- Nebraska's
Randy Gregory
(second team), Michigan State's
Shilique Calhoun
(second team), Ohio State's
Joey Bosa
(fourth team) and Iowa's
Carl Davis
(fourth team) -- made one of the remaining three teams, and two other running backs -- Nebraska's
Ameer Abdullah
(second team) and Michigan State's
Jeremy Langford
(fourth team) -- also appear.
Steele had Bennett and Calhoun on his first team, Gregory and Bosa on his second team and Davis on his third team. Like Athlon, he lists Gordon as a first-team running back and Abdullah on the second team. It's interesting to see Calhoun getting a bit more love than Gregory, even though Gregory led the Big Ten in sacks and is
projected as a higher draft pick
.
Not sure about you, but I can't wait for Calhoun and Gregory to share the field Oct. 4 at Spartan Stadium, or for longtime friends Gordon and Abdullah to match up on Nov. 15 at Camp Randall Stadium. Both matchups should be fun to watch all season.
It's not unusual for defensive line and running back to headline the Big Ten. Both positions historically are strong in the league, especially defensive line. A potential concern is that only one quarterback -- Ohio State's
Braxton Miller
-- and zero wide receivers make any of Athlon's teams. Steele has two Big Ten wideouts, Maryland's
Stefon Diggs
and Michigan's
Devin Funchess
(has played tight end but listed as a receiver), on his third team. Still, it's clear these are two positions where the Big Ten continues to need upgrades.
Other Athlon preseason All-America selections include: Iowa offensive tackle
Brandon Scherff
(second team), Ohio State tight end
Jeff Heuerman
(third team), Michigan State safety
Kurtis Drummond
(third team), Ohio State punter
Cameron Johnston
(third team), Michigan linebacker
Jake Ryan
(fourth team), Michigan State cornerback
Trae Waynes
(fourth team) and Northwestern punt returner
Venric Mark
(fourth team).
The Big Ten is tied with the Pac-12 for third among overall Athlon All-America selections with 18, trailing both the ACC (27) and SEC (26).
April, 23, 2014
Apr 23
11:00
AM ET
IOWA CITY, Iowa -- No Big Ten coach takes the temperature of his team in spring practice quite like Iowa's Kirk Ferentz. No Big Ten coach has lived in as many different climates.
The dean of the league's coaches knows the sunniness that surrounds teams after redemptive seasons such as the ones the Hawkeyes had in 2001, 2008 or last fall, when Iowa improved its wins total by four. He also knows the polar vortex that exists, at least outside Iowa's football complex, after poor performances like the ones the team delivered in 2007 and 2012.
Ferentz also understands how quickly the weather changes, like it often does on spring afternoons in the Midwest.
So at a recent team meeting, Ferentz detoured from the typical spring minutia -- replacing seniors, creating depth, finding leaders, building identities -- and addressed a macro item: the preseason polls.
"He said we might be ranked," running back
Jordan Canzeri
told ESPN.com, "and even if we are, no one is to keep that in their head. There were several teams that were ranked and didn't get to go to a bowl game this past year. You never want to be cocky. Even if the stats show you're good, you still want to prepare as you would with any other team, so you don't get satisfied and complacent."
Iowa likely will be ranked when the preseason polls come out. The Hawkeyes appear in some
way-too early versions
. They return eight offensive starters, including left tackle
Brandon Scherff
, a preseason All-America candidate, along with three of four starting defensive linemen from a team that flipped its regular-season record in 2013.
The quarterback uncertainty that hovered over the program last spring, when no signal-caller had taken a snap in a game, is no longer there, as junior
Jake Rudock
has established himself. An unprecedented stretch of running back maladies has subsided as Iowa returns three veteran options (
Mark Weisman
, Canzeri and
Damon Bullock
) and two promising young players (
LeShun Daniels
Jr. and
Barkley Hill
). There's
more explosiveness at wide receiver
, and the defensive line, led by senior tackles
Carl Davis
and
Louis Trinca-Pasat
, looks more like the elite units Iowa produced for most of Ferentz's tenure.
[+] Enlarge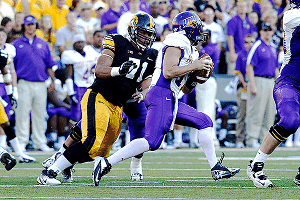 David Purdy/The Des Moines Register via USA TODAY SportsWith Carl Davis and others back, Iowa's defensive line should be the team's strongest unit.
"We are a more experienced unit, probably the most experienced unit on the team," defensive line coach Reese Morgan said.
There are enough internal reasons to indicate Iowa will take another step this season, but the biggest factors in the Hawkeyes favor are external. Their new division, the Big Ten West, lacks a clear-cut favorite or a flawless team. And their schedule is undoubtedly the most favorable in the league.
Not only does Iowa miss Michigan State, Ohio State, Michigan and Penn State from the East Division, but it hosts both Wisconsin and Nebraska. The Hawkeyes' toughest league road game should be a Nov. 8 visit to Minnesota.
"It's a pretty favorable schedule for us," wide receiver
Kevonte Martin-Manley
said, "but every week is going to be a challenge. Nothing that happened last year really matters."
Davis looks forward to visiting Big Ten newcomer Maryland, but he had hoped to play more of the league's traditional powers. The only way Iowa sees Ohio State, Michigan State or Michigan is in the Big Ten championship game.
"When the Big Ten started, those are the teams that dominated," Davis said. "You want to be able to play those teams and beat those teams. I really look forward to it.
"I definitely feel we're in contention for a Big Ten championship. Every team says it, but we're hungry."
Ferentz has seen Iowa go from good to great in 2002 and again in 2009. He also has seen the program fall short of expectations, as it did in 2006 and 2010.
The first step to building upon success, Ferentz said, is not taking it for granted. Take Iowa's group of linebackers, which loses three multiyear starters from last year's squad:
James Morris
,
Christian Kirksey
and
Anthony Hitchens
.
"If we're waiting for Morris, Kirksey and Hitchens to give us 300 tackles, that ain't gonna happen," Ferentz said. "Two years ago, we had a disappointing season. Last year was a new year and this year was the flip record-wise, but it's a new year again. This team has to form its own identity, and it starts with our experienced players. We're going to need them to play their absolute best, which is what those seniors did last year."
Iowa's linebacker reset has been a top spring storyline.
Quinton Alston
has stepped into the lead role, earning high marks from teammates and coaches.
Travis Perry
and
Reggie Spearman
, who played as a 17-year-old freshman last fall and doesn't turn 18 until August, are likely starters alongside Alston.
The biggest challenge could be replacing Kirksey, a converted safety who brought defensive back speed to outside linebacker.
"Chris had a different skill set than the guys we have out there now," defensive coordinator Phil Parker said. "It's been a long time since we had a guy who could run that fast and still have the power and explosion to play in the box, too, or at least on the tight end. We have three or four guys we're trying to look at with that position."
Other uncertainties include the cornerback spot opposite dynamic sophomore
Desmond King
, free safety and the second-string offensive line, which coordinator Greg Davis lists as the unit's biggest concern.
Iowa players understand that their margin for error remains slim.
"The determining factor is going to be winning those close games," Martin-Manley said.
Iowa won several such contests in 2009, its last truly special season. The 2014 team also could reach rarefied air, but Hawkeyes won't get caught with their heads in the clouds.
"That's what we do here; we work hard," Davis said. "That's something you get used to the longer you're in this program. The grind becomes normal, and I feel like all our hard work will be able to pay off."
December, 20, 2013
12/20/13
9:00
AM ET
More than once this season I watched a Michigan State receiver make a great catch or a long run and thought: poor
Andrew Maxwell
.
Although quarterback
Connor Cook
deserves a lot of credit for MSU's offensive turnaround, he undoubtedly benefited from a wide receiver corps that cleaned up its act. Maxwell consistently fell victim to dropped passes, part of the reason why he completed just 52.5 percent of his attempts in 2012.
Here's a list of the Big Ten's most improved position groups this year:

Michigan State wide receivers:
They were hard to watch in 2012, and their repeated drops proved costly for a team that lost five Big Ten games by a total of 13 points. The overall numbers aren't much different in the two seasons, but Michigan State's wideouts all did a much better job of eliminating drops and making plays. Macgarrett Kings emerged as a threat and is tied with
Tony Lippett
for the team lead in receptions (39), while
Bennie Fowler
and
Keith Mumphery
emerged as big-play threats, averaging 15.4 and 16.4 yards per reception, respectively.

Minnesota offensive line:
After an injury plagued 2012 regular season, the line made strides in the Texas Bowl and continued the momentum this fall. Minnesota improved its rushing average by 49 yards per game and racked up nine more rushing touchdowns.
David Cobb
eclipsed 100 rushing yards in five of his final six games, putting up 101 yards against Michigan State, the nation's top rush defense. Minnesota also tied for fourth in the league in fewest sacks allowed (21). A program that once churned out great offensive lines each year is getting back to its roots.

Iowa defensive line:
Like Minnesota's offensive line, Iowa has a great tradition along the defensive front but endured some down years after an incredible run of NFL draft picks. The Hawkeyes' defensive line got back on track this season, and coach Kirk Ferentz labeled the line as the team's most improved unit.
Drew Ott
and
Carl Davis
emerged and Iowa improved to seventh nationally in total defense, 11th in scoring defense and 17th against the run.

Ohio State wide receivers:
Urban Meyer blasted the group during spring practice last year and wasn't overly impressed with the results during the 2012 season. Only one receiver (
Corey Brown
) recorded more than 30 receptions and only two (Brown and
Devin Smith
) had multiple touchdown catches. Brown and Smith combined for 97 receptions and 18 touchdowns this season, and
Chris Fields
had six scores. Along with tight end
Jeff Heuerman
, Ohio State's passing game looked more efficient for much of the fall.

Illinois quarterbacks:
I could pick almost every position group on offense for the Illini, who transformed under first-year coordinator Bill Cubit. But
Nathan Scheelhaase
's development truly stood out, as the senior led the Big Ten in passing by a wide margin with 3,272 yards, more than double his total from 2012. Scheelhaase completed two-thirds of his attempts and consistently stretched the field as Illinois finished 22nd nationally in pass offense.

Indiana running backs:
The Hoosiers emphasized the run game during the offseason and saw the desired results during games. After finishing 10th in the league in rushing in 2012, Indiana improved to fourth, averaging more than 200 yards per game.
Tevin Coleman
emerged as a big-play threat and averaged 106.4 rush yards per game and a whopping 7.3 yards per carry. Teammate
Stephen Houston
wasn't too shabby, either, averaging 6.7 yards per carry.
August, 26, 2013
8/26/13
9:02
AM ET
Preseason camps are wrapped up, game week is here and the 2013 college football season kicks off Thursday night. We're giving you one final preseason version of the Big Ten power rankings. These will come your way every Monday at 9 a.m. ET during the season, so you should structure your entire week around their release.
The in-season power rankings will have plenty of shuffling, but this version lacks much drama. In fact, today's rundown remains exactly
as it was coming out of spring practice
. Fortunately, there have been few major injuries/personnel developments to impact the way we see things.
There's no doubt about the top team, while Nos. 2-7 are very close.
In case you need a refresher before the games begin, here it is ...
1. Ohio State:
Heisman Trophy candidate
Braxton Miller
will have more weapons around him, including dynamic freshman
Dontre Wilson
. We'll learn more about the development of Ohio State's young defensive front seven in back-to-back games against Wisconsin (Sept. 28) and Northwestern (Oct. 5). Although the Buckeyes could miss top running back
Carlos Hyde
, they'll have no trouble getting through non-league play.
2. Michigan:
Is this the year for Michigan, or are the Wolverines still a season away? If Michigan can address the interior of both lines and keep quarterback
Devin Gardner
healthy, it should have an excellent chance to reach Indianapolis. Standout linebacker
Jake Ryan
should be back for the Big Ten stretch run.
3. Northwestern:
Few are picking the Wildcats to win the Legends Division, but they return the core pieces from a 10-win team and should be even more potent on offense than in 2012. If Northwestern can gain at least a split against Ohio State and Wisconsin, it should make some noise in the division during the month of November.
4. Nebraska:
Bo Pelini's team is right there with Michigan and Northwestern and once again could emerge as the Legends Division champion. We expect big things from
Taylor Martinez
and the offense, but everything hinges on a young defense that got shredded in the final two games of last season. Nebraska should reveal a lot about itself in a Week 3 home showdown against UCLA.
5. Wisconsin:
The Badgers are among the nation's most fascinating teams, as a large group of veterans accustomed to winning Big Ten championships adjusts to a new coaching staff led by Gary Andersen. Wisconsin's run game once again should be exceptional, but the secondary and receiving corps look shaky. September road tests against Arizona State and Ohio State will show a lot about this team.
6. Michigan State:
Again, we don't see much separating Michigan State from the next four teams ahead of it in the power rankings. The Spartans' defense might be the Big Ten's best unit. But there are still numerous questions on offense, starting with quarterback. Will Michigan State fare better in close games? The Spartans figure to be in plenty of nail-biters.
7. Penn State
: The starting 22 is about as good as any in the Big Ten, and if Penn State can remain relatively healthy, it should record another impressive record this season. Depth remains the big question surrounding the sanctions-laden Lions, and the quarterback situation will be fascinating to watch as head coach Bill O'Brien tries to work his magic with an unproven signal-caller.
8. Minnesota:
Year 3 has been a good one for Jerry Kill at previous coaching stops, and Minnesota could take another step forward if certain things go its way. The Gophers need better luck on the health front after struggling to keep their offensive line together in 2012. Minnesota should be solid on defense with tackle
Ra'Shede Hageman
leading the way, but it needs some offensive playmakers to emerge around sophomore quarterback
Philip Nelson
.
9. Indiana:
The Hoosiers have tremendous depth at the offensive skill positions and should hold up on the line despite losing guard
Dan Feeney
(foot)
for the season
. The big question in Bloomington hasn't changed: Will the defense hold up enough to let the offense -- regardless of who plays quarterback -- outscore the opposition? IU can build some confidence with five home games to open the season.
10. Purdue:
Rob Henry
's long road back to the starting quarterback spot is complete, and the senior will lead the Boilers through a treacherous stretch to begin the season. Purdue has some solid pieces on both sides of the ball but must navigate the toughest schedule of any Big Ten team, which includes Cincinnati, Notre Dame and Northern Illinois in non-league play.
11. Iowa:
The Hawkeyes certainly have a chance to rise up the rankings and can make a big statement by beating Northern Illinois in the opener on Saturday. They'll lean on a veteran linebacking corps and hope for big things from defensive tackle
Carl Davis
. Not surprisingly,
Jake Rudock
will
start at quarterback
, and he'll need help from a deep group of running backs hoping to steer clear of AIRBHG. Iowa should be better this year, but the division isn't getting any easier.
12. Illinois:
No Big Ten team enters the season with more questions than Tim Beckman's Illini, and there are tests early on with Cincinnati and Washington in Weeks 2 and 3. The offense has a clearer vision under coordinator Bill Cubit, but the schedule isn't easy, and Illinois must clean up its play on both sides of the ball to make tangible strides.
August, 15, 2013
8/15/13
9:00
AM ET
There will be a point this season when we'll know whether Iowa defensive tackle
Carl Davis
has turned a corner.
It won't be after he mauls a quarterback or fills a rushing lane with his 6-foot-5, 313-pound frame. Davis already has shown flashes of being a dominant interior lineman. When Penn State guard
John Urschel
was asked on an ESPN.com chat last month to name the toughest lineman he blocked last year, he picked Davis, a backup for the Hawkeyes, ahead of players like Purdue's Kawann Short and Ohio State's Johnathan Hankins, both second-round picks in April's NFL draft.
Davis can deliver a great play or two. But the true gauge for the Hawkeyes junior will come when opposing offenses sustain drives. Davis will be on the field for Play 1 or Play 2. If he's still there for Play 8 or Play 9, Iowa will be a lot better off.
"I believe my best football is ahead of me," Davis recently told ESPN.com. "I had some problems with my knee, I had some mental work being an every-play guy, and I'm still working on that. You've got to do it every day. You can't come out here like, I had a good practice today,' and then slack off tomorrow. You try to put days back to back to back."
[+] Enlarge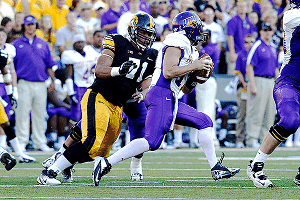 David Purdy/The Des Moines Register via USA TODAY SportsCarl Davis' size and strength have Iowa's staff optimistic on the defensive tackle's future.
Davis appeared in 11 games as a reserve in 2012, recording 14 tackles, including 1.5 for loss, to go along with a forced fumble. Hawkeyes defensive line coach Reese Morgan said the experience, even during a rough 4-8 season, bolstered Davis' confidence that he's built to last.
After being
limited by a wobbly kneecap early in his career
, Davis attacked conditioning and strength training during the offseason. He hang-cleaned 395 pounds -- a Hawkeyes defensive tackle record -- and boosted his squat max by 100 pounds.
Davis also shaved one-tenth of a second off of his 10-yard dash time, going from 1.7 seconds in 2012 to 1.6. He came into camp a little heavy at 313 pounds -- "I'm paying for it right now," he said with a laugh -- but hopes to get down to 310 before the season kicks off Aug. 31 against Northern Illinois.
"He developed a lot of strength and confidence with the records, the work ethic," Morgan said. "Being a big guy, sometimes they're worried about running out of gas and pushing themselves to get out of their comfort zone. Carl started doing that a little bit in the spring, worked hard through the summer, really did some diligent preparation."
Head coach Kirk Ferentz describes Davis as an "Iowa guy," meaning Davis didn't walk onto campus game-ready but has developed himself into a position to contribute significantly as an upperclassman. What stands out about Davis is his size. Iowa's recent defensive tackle standouts -- Mitch King, Matt Kroul, Karl Klug, Mike Daniels -- all played around 280 pounds. Only Christian Ballard (297 pounds) approached the 300-pound mark. Davis, meanwhile, was 295 when he signed with Iowa in 2010 and quickly went north of 300.
"We haven't had many guys like him," Ferentz said. "Colin Cole was never as big with us as Carl is currently. Carl's a guy who has a great attitude, he's got good ability, good size. We're all confident this is going to be his time to really step up and play well."
Cole is the gold standard for Iowa defensive tackles. He earned first-team All-Big Ten and second-team All-America honors for Iowa's 2002 co-Big Ten champion team, recording ridiculous numbers for a defensive tackle: 85 tackles, 18 tackles for loss, nine sacks, 16 quarterback hurries, one forced fumble and two fumbles recovered.
If Davis comes anywhere close to those totals, Iowa's line will be much improved.
"I want to have at least 40 tackles and eight to 10 sacks," he said. "If you shoot high, you see where you fall, and you might not be disappointed."
Davis is a big man with big goals. One of his challenges, somewhat ironically, is to use his size more to his advantage.
"He's a big guy who thinks he's a finesse guy, instead of being a physical guy," said Morgan, who attributes Davis' approach in part to his background as a basketball player. "Now he's starting to become physical. That's really what you like about Carl, understanding that assignment. He's really a caring, solid person. As a player, he's really grown a lot, and we're excited to see what he's going to do this fall."
A Sterling Heights, Mich., native, Davis grew up a Michigan fan and wanted to play for Lloyd Carr but didn't attract much interest. He actually became sold on Iowa after attending the Hawkeyes' 30-28 win against Michigan in 2009 under the lights at a geared-up Kinnick Stadium.
When Davis arrived, Iowa was enjoying arguably the most successful run of defensive linemen in team history (three were drafted after the 2010 season, and another followed after 2011). Daniels took Davis under his wing, and Davis admired the power Daniels generated despite being a smaller interior lineman (6-1, 280).
Davis still reviews practice clips from Daniels, Ballard and defensive end Adrian Clayborn, a first-round pick in the 2011 draft.
"I want to be one of those guys that can be the next name that pops up," Davis said. "Only time will tell, and I've got to put in the work."
May, 13, 2013
5/13/13
9:00
AM ET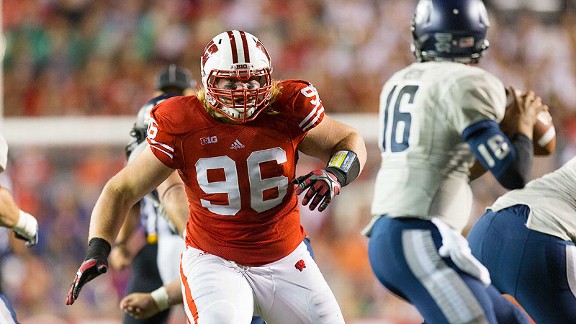 Jeff Hanisch/USA TODAY SportsWisconsin will again be counting on Beau Allen to be a force on the defensive line.
You can bemoan the Big Ten's recent lack of elite talent at some positions like quarterback and wide receiver. But one spot where the league has been traditionally strong is at defensive tackle.
That has been arguably the conference's deepest and strongest position in the past two years, filled with stars like Devon Still, Mike Martin, Jerel Worthy,
Jordan Hill
, Kawann Short and Johnathan Hankins, to name a few. In an otherwise slow NFL draft for the league, the Big Ten saw four defensive tackles get selected last month, including two underclassmen (Hankins and Akeem Spence). In 2012, the conference had five defensive tackles get drafted.
That's why it's notable that, heading into the 2013 season, the Big Ten has no established stars on the defensive interior. Several schools lost top players to either graduation or the draft, including Ohio State (both starters, Hankins and
Garrett Goebel
are gone), Penn State (Hill), Purdue (Short), Michigan (Will Campbell), Indiana (Adam Replogle and Larry Black Jr.), Illinois (Akeem Spence and Glenn Foster), Nebraska (
Baker Steinkuhler
), Northwestern (Brian Arnfelt) and Michigan State (Anthony Rashad White).
That's a big talent drain for one position. None of the returning defensive tackles in the league have ever made first- or second-team All-Big Ten. The top veteran tackles in the conference look like this (in alphabetical order):
All of those guys have been solid contributors, but hardly superstars. They're also all seniors, so maybe they'll go out with a bang.
Or maybe it's younger guys who emerge as the next wave of great Big Ten defensive tackles. Iowa's
Carl Davis
had a huge spring game and has always had talent but not health. Injuries have also held back Nebraska's
Thad Randle
and Ohio State's
Michael Bennett
. Michigan State's
Lawrence Thomas
, Michigan's
Ondre Pipkins
, Nebraska's
Aaron Curry
and Penn State's
Austin Johnson
could be on the rise. Recruiting and developing stud defensive tackles may be one of the hardest things to do in football, however.
On paper, the Big Ten defensive tackle situation looks to be down from the past couple of years. But new stars are sure to step forward in the fall. Several of them will have to do if the league's recent strong tradition at the position is to continue.