September, 30, 2012
9/30/12
4:22
AM ET
SEATTLE -- The occasional bloody lip can be a good thing. A body blow -- while it might stun momentarily -- is sometimes just what the lungs need to suck in fresh air.
And for 30 minutes Saturday night at CenturyLink Field, the
Washington State Cougars
swung and clawed and took their best shots at the No. 2 team in the country. They went for it on fourth down. They tried an onside kick. On offense, they attacked at the heart of their opponent and on defense they blitzed without fear or consequence.
And for a period -- a brief period, mind you -- the
Oregon Ducks
had a little blood on their lips.
But the Ducks calmly reached up, wiped it away, and delivered a potent and dismissive second-half performance en route to a
51-26 victory
.
This was a good thing, because it's only going to get harder for the Ducks (5-0, 2-0 Pac-12). Unlike their nonconference blowouts, things are a little tougher in the Pac-12. The athletes are a little faster and they hit a little harder. So facing a bit of an adversity is just what a team in the midst of a national title run could use.
"Absolutely," said Oregon running back
Kenjon Barner
. "With our team, we know we're going to get everybody's best shot. Credit to Washington State because they played a great first half. They did everything you are supposed to do in that first half. They just did a great job. But we're a strong-willed team and we know when we execute and do what we're supposed to do, it's hard to stop us."
Barner got the Ducks going early. After the defense forced a three-and-out on Washington State's first possession, Oregon calmly marched 50 yards in four plays, ending with a 22-yard Barner run -- the first of his three rushing touchdowns on the night. The Ducks cruised out to a 20-3 lead and it looked like another sleepwalk.
But the Cougars didn't fold as others have.
Carl Winston
added a 2-yard touchdown run to Andrew Furney's 18-yard field goal to make it 20-9 after the missed PAT. Then
Brett Bartolone
caught a 26-yard touchdown from
Connor Halliday
midway through the second quarter following a 34-yard field goal from Oregon's
Rob Beard
. It was 23-19 and the folks at CenturyLink were thinking another upset could be possible -- following Washington's stunner Thursday night over No. 8 Stanford.
[+] Enlarge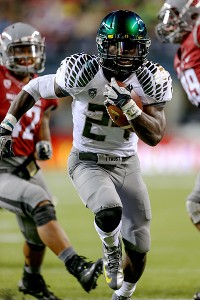 Otto Greule Jr/Getty ImagesKenjon Barner rushed for 195 yards and three touchdowns, two of which came in the second half.
"We battled away," said Washington State coach Mike Leach. "Some of our field goals should have been touchdowns. We gave them two relatively easy touchdowns early. I think if we played with more control, we wouldn't have. We played pretty courageously throughout the rest of it."
And with less than four minutes to play in the half, Washington State drove inside the red zone and looked poised to, at the very least, make it a one-point game. That's when the Oregon defense really broke loose.
Three consecutive sacks (
Dion Jordan
,
Michael Clay
and
Wade Keliikipi
) put the Cougars out of field goal range and shifted the momentum heading into the locker room.
"We understood that they gave us their best shots," said Jordan. "So the second half we went out and focused on going out and trying to finish the game. Guys made big plays … it was wonderful.
"We knew they were going to keep fighting and they weren't going to change much in what they were doing. We just had to turn up the dial as a team and as a unit and that's what guys did. We got after it and played smart football."
And therein lies the maturity of the Ducks. They opened the second half with a grinding, 18-play drive (their longest since last year's game against LSU, when they had a 19-play drive) that went 76 yards and took up 6 minutes, 20 seconds.
De'Anthony Thomas
capped the march with a 4-yard touchdown.
"We knew we were going to get the ball to beginning of the second half and that first drive was going to be key for us to set the tone for what we wanted to do," said Oregon coach Chip Kelly. "Everybody contributed and made plays. I thought we were balanced. They made us work for it. Give them credit. I thought defensively they had a good plan and it took us a while to get on the right track."
When the Cougars finally did get back on the field, the drive was ended when
Avery Patterson
intercepted Halliday and returned it 34 yards for a touchdown and a 37-19 advantage.
The Ducks no longer tasted blood. They smelled it, sacking Halliday seven times in the game, with two each from
Taylor Hart
and Keliikipi.
"We turned it up and tried to get him out of the pocket a little bit and get their offensive line on their heels," Jordan said. "Those guys got more tired than we were in the second half."
Barner would add a 10-yard touchdown on Oregon's next possession for the third Ducks score of the quarter. He capped a fantastic game with an 80-yard touchdown run in the fourth, finishing with 195 yards on 20 carries.
"That's what it's all about," Kelly said. "You get a chance and hopefully you don't make the same mistakes twice and every week is its own season and how the games themselves unfold. We know in this league it's going to be a 60-minute game … We think we're built to play for the whole game and a lot of guys kept fighting and battling and they finished."
January, 31, 2012
1/31/12
3:20
PM ET
Every team needs to hit every position group each recruiting season, but there are always priorities. It's not just positions where starters are lost or going to be seniors, it's about addressing weaknesses where a true freshman might be a better answer than a returning player.
Up next is the North Division.

California
QB
:
Zach Maynard
will be a senior, and it says something about the depth behind him that he never lost his job during his midseason swoon.
WR:
Keenan Allen
is back, but that's it in terms of returning production and experience.
S:
Three of the top four safeties from 2011 are gone.

Oregon
Skill:
In Chip Kelly's offense, you can never have enough fast guys. Sure,
Kenjon Barner
,
De'Anthony Thomas
and
Josh Huff
are back, but there's a lot of youth and uncertainty after that at running back and wide receiver.
TE:
His name is
David Paulson
, but he's gone.
Colt Lyerla
was a productive backup -- at least in terms of finding the end zone -- but after him things are uncertain. Tight end is one of the most underrated positions in the Ducks offense, so having more than one Kelly trusts is significant.
S:
Eddie Pleasant
is gone and
John Boyett
is a senior.
Avery Patterson
,
Erick Dargan
and
Brian Jackson
are next in line, but the young talent isn't as certain as it is at corner.

Oregon State
OL:
Oregon State lost three starters from a line that led the worst rushing attack in the conference and surrendered 27 sacks. Quarterback
Sean Mannion
has potential, but he needs time. And a running game.
DT:
The Beavers had the worst rushing defense in the Pac-12 in 2011. 'Nuff said.
LB:
The Beavers had the worst rushing defense in the Pac-12 in 2011. Almost enough said.
Cameron Collins
is gone, and all the contributors on the two-deep will be seniors, other than junior
Michael Doctor
.

Stanford
WR
: Perhaps the weakest position for the Cardinal in 2011, this need is augmented by the loss of
Griff Whalen
and
Chris Owusu
and the lack of up-and-comers other than sophomore
Ty Montgomery
.
DB:
Three of four starters are gone, including both safeties. In the Cardinal's two losses -- to Oregon and Oklahoma State -- an absence of top-end athleticism in the back half was exploited.
OL:
Three starters are back, but the losses are huge: Tackle
Jonathan Martin
and guard
David DeCastro
. And backup tackle
Tyler Mabry
and backup guard
Matt Bentler
also are gone. If coach David Shaw intends to remain a physical, downhill running team -- and he does -- he'll need to continuously stock up on linemen who can get the job done.

Washington
DB:
Lots of guys are back in the secondary, but the Huskies gave up 284.6 yards passing per game, which ranked 11th in the Pac-12. They couldn't cover anybody and often seemed out of position. So new blood might help.
DL
: (See if you can notice a theme here that ignores questions at wide receiver and running back). Two starters are gone from a line that consistently underperformed based on preseason expectations.
LB:
Second-team All-Pac-12 middle linebacker
Cort Dennison
is the only one of the eight men on the depth chart who won't be back, but he was the team's only consistent linebacker.

Washington State
DL:
Three of four starters are back, but all three will be seniors.
OL:
Three starters are back, but to make the next step on offense, the Cougars need to run the ball better. They ranked 10th in the conference in rushing offense. And that might reduce a conference-high 3.3 sacks per game. Mike Leach's quick-hit offense also might help.
RB:
170-pound sophomore
Rickey Galvin
is back, as is senior
Carl Winston
, but the backs need to share responsibility for a 3.1-yards-per-carry average, worst in the conference (of course, losing 237 yards to sacks doesn't help).
October, 15, 2011
10/15/11
8:52
PM ET
PULLMAN Wash. -- Fumbles have turned into touchdowns.
While Washington State wasn't able to do anything with its first quarter interception of
Andrew Luck
, they were able to find the end zone after
Stepfan Taylor
's first fumble of the season in the second quarter.
But that was after the Cardinal were able to turn
Jared Karstetter
's fumble into points.
Corner back Johnson Bademosi forced the wide receiver to fumble at the Stanford 37 and Michael Thomas recovered and returned it 33 yards to the Washington State 20. Seven plays later,
Jeremy Stewart
barreled in from 1 yard out for the touchdown.
But with 2:18 left in the half, the Cougars got on the board on
Carl Winston
's 2-yard run following the Taylor fumble. It's the first fumble this season by a running back -- on a running play -- for Stanford.
Sloppy game thus far from both teams.
June, 23, 2011
6/23/11
1:53
PM ET
The Pac-12 features another strong crop of running backs -- five returning 1,000-yard rushers -- but there are also a few teams facing uncertainty at the position.
So how does it stack up?
Great shape
[+] Enlarge

Jonathan Ferrey/Getty ImagesLaMichael James leads a talented running back corps that has both experience and depth.
Good shape
We'll see
Previous reviews
Quarterback
July, 22, 2010
7/22/10
7:42
PM ET
Another year, another strong collection of running backs, even with the departures of Toby Gerhart and Jahvid Best.
While Pac-10 quarterbacks will grab most of the preseason headlines -- that's what happens when the two best NFL prospects at the position play in the same conference -- the class of running backs is nearly as strong.
Three 1,00o-yard rushers are back, and that doesn't include California's
Shane Vereen
, who piled up 952 yards as a backup, nor does it including Arizona's
Nic Grigsby
, who rushed for 1,153 yards in 2008. Six of the top-nine running backs will return this fall, and more than a few teams are decidedly deep at the position.
By the way, you might note there is more mention of incoming freshman at this position than others. Two reasons: 1. The Pac-1o had a strong haul of RBs in recruiting; and, 2. RB is often the easiest place for a young player to break into the lineup.
Great shape
[+] Enlarge

Rick Scuteri/US PresswireJacquizz Rodgers may be the most talented individual running back in the Pac-10 this year, but Oregon has the best group.
Good shape
We'll see
Stanford: The Cardinal doesn't have one guy who can replace Gerhart. But who does? The good news for a backfield-by-committee approach with Jeremy Stewart, Tyler Gaffney, Stepfan Taylor and freshman Usua Amanam in the mix is the offensive line in front of them should be outstanding.

Arizona State: The Sun Devils must replace leading rusher Dimitri Nance, who didn't exactly scare opposing defenses in 2009. Cameron Marshall is the leading returning rusher with 280 yards. James Morrison and Jamal Miles will provide depth, though an incoming freshman might get into the mix. As has been the case for a while with the Sun Devils, the first order is improving the offensive line.

Washington State: Leading 2009 rusher Dwight Tardy is gone. If James Montgomery is healthy -- and stays that way -- he gives the Cougars a quality runner. He was clearly the best guy last preseason before he got hurt. Logwone Mitz, Chantz Staden, Carl Winston and Marcus Richmond will compete for touches during fall camp. Whatever the pecking order, the offensive line is the biggest issue.