NCF Nation:

Carlos Dunlap
January, 12, 2010
1/12/10
11:00
AM ET
Having had a few days now to digest the 2009 bowl season, here's a look at the All-SEC bowl team:
OFFENSE
[+] Enlarge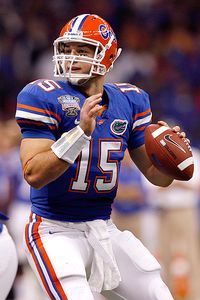 Matthew Stockman/Getty Images Tim Tebow torched Cincinnati for a career-high 482 passing yards and three TDs.
QB Tim Tebow, Florida

Broke Vince Young's record for total offense in a BCS bowl game with 533 yards in the Gators' 51-24 rout of Cincinnati in the Allstate Sugar Bowl. Completed 31 of 35 passes for a career-high 482 yards.
RB Dexter McCluster, Ole Miss

Was there a better player in the SEC the second half of the season? McCluster rushed for 184 yards and two touchdowns in the AT&T Cotton Bowl win.
RB Mark Ingram, Alabama

Despite cramping up in the Citi BCS National Championship Game, the Heisman Trophy winner showed his grit and led the Crimson Tide with 116 rushing yards and two touchdowns.
WR Riley Cooper, Florida

Led the Gators' offensive explosion in the Sugar Bowl with 181 receiving yards, including an 80-yard touchdown. Cooper averaged 25.9 yards on seven catches.
WR Brandon LaFell, LSU

The Tigers didn't put up much offense, but LaFell had five catches for 87 yards, including a 24-yard touchdown. LaFell led all SEC players with 19 touchdown catches over the past two seasons.
TE Aaron Hernandez, Florida

His nine catches led all players in the Sugar Bowl, and he finished with 111 receiving yards. Hernandez opened the Gators' scoring with a 7-yard touchdown catch.
OL John Jerry, Ole Miss

Helped clear the way for Ole Miss' 193 rushing yards against an Oklahoma State defense that finished ranked 11
th
nationally against the run.
OL James Carpenter, Alabama

Combined with
Mike Johnson
to make the key block that helped spring
Trent Richardson
on his 49-yard touchdown run in the second quarter of the Citi BCS National Championship Game.
OL Justin Anderson, Georgia

The Bulldogs were playing without starting right tackle Josh Davis, and Anderson came off the bench in the second half to help give a much-needed lift to the running game.
OL Mike Johnson, Alabama

The anchor of an Alabama offensive line that paved the way for both Mark Ingram and Trent Richardson to each rush for more than 100 yards against Texas' vaunted defense.
C Maurkice Pouncey, Florida

Spent more than five hours at Tulane Hospital with kidney stones and had several IV's, but didn't miss the start and led the way for the Gators up front.
DEFENSE
DE Marcell Dareus, Alabama

Had the hit that knocked Texas quarterback
Colt McCoy
out of the game and also returned an interception 28 yards for a touchdown right before halftime.
DE Carlos Dunlap, Florida

Came back strong from his suspension in the SEC championship game with two sacks in the Gators' Sugar Bowl romp.
DT Geno Atkins, Georgia

Pressured Texas A&M quarterback
Jerrod Johnson
relentlessly. Atkins finished with a sack and also blocked a field goal attempt in the second quarter.
DT Dan Williams, Tennessee

A rock all season long in the middle for the Vols, Williams ended his career with nine tackles, including a half a sack in the 37-14 loss to Virgina Tech in the Chick-fil-A Bowl.
LB Patrick Trahan, Ole Miss

His 34-yard fumble return for a touchdown sealed the game for the Rebels with 3:12 remaining. Trahan also had an interception on Oklahoma State's next possession.
LB Jerry Franklin, Arkansas

Finished with 10 tackles and had a third-quarter interception that turned the game around for the Hogs. East Carolina was leading 10-0, but Franklin intercepted a pass and returned it 31 yards to set up an Arkansas field goal.
LB Eric Norwood, South Carolina

Wrapped up a record-setting career at South Carolina by leading the Gamecocks with 10 tackles in their 20-7 loss to Connecticut in the Papajohns.com Bowl.
DB Walter McFadden, Auburn

Intercepted two passes in Auburn's Outback Bowl win. McFadden's first pick set up a touchdown, and he did the honors himself on the second one – returning it 100 yards for a touchdown.
DB Tramain Thomas, Arkansas

His 37-yard interception return for a touchdown tied the game in the third quarter. Thomas also tipped away a pass at the goal line in the final minutes that might have saved the game.
DB Kendrick Lewis, Ole Miss

Intercepted two passes in Ole Miss' 21-7 Cotton Bowl victory over Oklahoma State. His big hit in the fourth quarter also forced the fumble that Patrick Trahan returned 34 yards for a touchdown to break the game open.
DB Chad Jones, LSU

Did a little bit of everything in his final game at LSU. Led the Tigers with eight tackles, including one for loss, while also forcing a fumble, breaking up a pass and blocking a kick.
SPECIAL TEAMS
K Alex Tejada, Arkansas

His 37-yard field goal in overtime was the difference in Arkansas' 20-17 victory over East Carolina in the AutoZone Liberty Bowl.
P Spencer Lanning, South Carolina

In extremely cold conditions, Lanning punted seven times for a 42.3-yard average and had a long of 48 yards. He also doubles as the Gamecocks' place-kicker.
KR Brandon Boykin, Georgia

Tied an SEC record with his third kickoff return for a touchdown this season, taking one back 81 yards to answer Texas A&M's first touchdown.
January, 2, 2010
1/02/10
3:02
AM ET
NEW ORLEANS -- That was a pretty impressive epilogue for the Florida football dynasty under Urban Meyer. Or was it just a middle chapter?
Hard to say, because no one knows exactly where we are in this story. We know that the Gators crushed Cincinnati
51-24
in the Allstate Sugar Bowl to bid a fond farewell to
Tim Tebow
, the most accomplished senior class in school history and defensive coordinator Charlie Strong.
But what happens to the narrator?
[+] Enlarge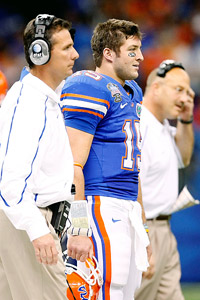 Kevin C. Cox/Getty ImagesIt's a time of transition for the Florida football program, with coach Urban Meyer taking a break, Tim Tebow taking his game to the NFL and assistant Steve Addazio assuming the title of interim coach.
Meyer himself offered only vague hints yet again about his future. The coach -- who resigned last Saturday before reinstating himself and taking an indefinite leave of absence the next morning -- didn't want to talk too much about his health or immediate plans, lest he overshadow his team's win.
When asked what the next few days would hold, Meyer said he didn't know.
"I know I'm anxious to get home," he said. "We'll address the future when it's the appropriate time."
Meyer said that his gut tells him he'll be back, but that he had to "make sure my family and health are number one." Tebow joked that Meyer had better be ready to lose to him in golf. And maybe some relaxing days would be the best possible thing, though the ever-looming signing day makes that unlikely.
"He definitely needs a break," linebacker Ryan Stamper said.
The question is, of course, whether that break lasts a month, a season or longer. How long will Steve Addazio have the interim coach title? That's what everyone will be dying to know from now until Meyer makes a decision. I asked running back
Emmanuel Moody
if there was anxiety on the team about the coach's choice.
"Oh yeah," he said, laughing. "From the fans, the players and the parents. But I have confidence in our athletic director if things shake out the way we don't want them to shake out. And I can speak for all the players by saying we would love to play for coach Addazio."
Florida has more to worry about than just losing Meyer. Tebow, the greatest Gator ever, leaves a huge void that sophomore
John Brantley
will somehow have to fill. Strong, the longtime defensive playcaller, is going to Louisville and is taking cornerbacks coach Vance Bedford with him. As many as eight juniors could jump to the NFL, including stalwarts like cornerback Joe Haden and defensive end Carlos Dunlap.
So there is uncertainty awaiting the Gators back in Gainesville.
"It's going to be tough," said Stamper, a senior. "Next year might be a little shaky. But we're going to get the program back going.
"We'll never have a team like this again, with coach Strong gone and a lot of the top seniors gone. A lot of guys who pretty much made the program what it's been the last couple years are leaving. We're not starting from scratch really, but a lot of young guys have got to step in. It's similar to [after the] 2006 [BCS title]. We came back in '07 and lost a few games but then got it going again."
Questions about the future will be apparently be answered on Meyer's own personal timetable. We're all anxious to see what's on the next page.
December, 31, 2009
12/31/09
1:27
PM ET
One team lost its coach to Notre Dame. The other is losing its coach -- at least temporarily -- to health concerns following this game. Has there ever been a BCS bowl game where there has been less talk about the game itself than Friday night's Allstate Sugar Bowl between Cincinnati and Florida? Big East blogger Brian Bennett and SEC blogger Chris Low take a closer look at the matchup and everything surrounding it.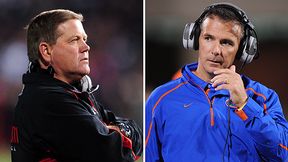 US PresswireThe recent career moves made by Brian Kelly and Urban Meyer have overshadowed the Sugar Bowl.
Brian Bennett
: Well, Chris, clearly Urban Meyer and Brian Kelly don't think the Sugar Bowl is that important, since Meyer tried to upstage it with his non-retirement retirement and Kelly couldn't be bothered to stick around to coach this game. You've been around the Gators. What's your sense in how they're approaching this game and how much motivation they'll have to play it after losing to Alabama?
Chris Low
: Brian, an excellent question. The only thing missing now is for a bunch of players on both sides to take a leave and decide not to play in the game. That said, Florida has about seven juniors who are looking strongly at turning pro. That's never a good thing, because you never know for sure what their commitment level is for that last game -- assuming it is their last game. The best thing the Gators have going for them is
Tim Tebow
. He desperately wants to go out a winner and has had a pretty good hold on this team for the last couple of years. Typically, the Gators have followed his lead. But with no national championship to play for and so many unknowns concerning Meyer's future, this has an uneasy feel to it if you're of the orange and blue persuasion.
BB
: Of course, Cincinnati has its own distractions, with Kelly's departure and interim coach Jeff Quinn taking the Buffalo job. But I get the sense that the Bearcats are focused and motivated for this game. Unlike Florida, they really have something to prove. They can show that they can win without Kelly, that they can beat a big SEC power and they can finish 13-0 with at least a claim to being the best team in the country. Motivation only goes so far, though. Cincinnati is going to have to play a nearly perfect game, I think, to win. I actually believe that outside of Tim Tebow, Florida doesn't have nearly as many offensive weapons as the Bearcats do. Am I crazy on that point, Chris? And did the Gators' defense show some fatal flaws in Atlanta?
[+] Enlarge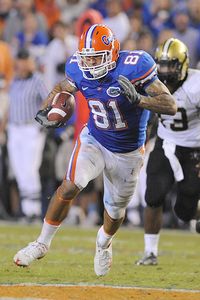 Al Messerschmidt/Getty ImagesAaron Hernandez has been one of Florida's most dangerous weapons.
CL
: Sticking with the motivation theme for a moment, this will be the first game Florida has played since the end of the 2007 season where the Gators didn't have a national championship in their sights. Talk about reshuffling the deck. But, no, I don't think you're off at all about the lack of offensive weapons for the Gators. They have plenty of talent and plenty of guys who can run fast. What they don't have is an abundance of guys who consistently made plays down the field in games this season. Tight end
Aaron Hernandez
is a tough matchup for anybody, and the Gators will involve him in several different ways. Receiver
Riley Cooper
was Tebow's favorite target on the perimeter and made some big plays for the Gators. But all in all, it was much more of a grind-it-out offense this season, and as we saw in the SEC championship game, the Gators aren't real comfortable when they have to play from behind. To me, the key is whether the Bearcats can keep Tebow in a bunch of third-and-long situations. Do they have that kind of defensive muscle, Brian, to stuff the Gators on first down?
BB
: In short, no. At least not if that defense plays the way it did down the stretch this season, when it gave up more than 36 points per game. The Bearcats are small up front and highly susceptible to being pushed around by bigger offensive lines, which the Gators have. Tebow could give them nightmares with a power option. Cincinnati is really built defensively to stop spread attacks with its speed, though its athletes probably can't match Florida's. Defensive coordinator Bob Diaco would love to see the Gators play like they did against Alabama, when they pretty much abandoned the running game. But Cincinnati will likely have to score quickly and build a lead for that to happen. Arkansas gave Florida some trouble with its spread. How do you think the Gators' defense will stand up to the Bearcats' no-huddle, pass-happy system which is unlike most SEC offenses? Can they pressure
Tony Pike
, who gets rid of the ball so quickly from the shotgun?
[+] Enlarge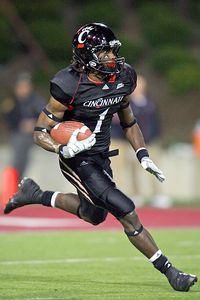 Andy Lyons/Getty ImagesCincinnati has gotten big plays from Mardy Gilyard all season.
CL
: It's hard for anybody to get that last impression of the Florida defense out of their mind. The Gators didn't do much of anything well defensively against Alabama in the SEC championship game. But in fairness, that was the exception this season. Charlie Strong's guys set the tone for the Gators as they sprinted out to a 12-0 regular season. When they needed a play on defense, they got it. I do believe Florida is well equipped to handle Cincinnati's up-tempo style. For one, the Gators get their best pass-rusher, junior defensive end Carlos Dunlap, back for this game after he was suspended for the SEC championship game. He's a force coming off the edge, but Jermaine Cunningham is just as good on the other side. And even if the Bearcats are able to get rid of the ball quickly and neutralize the Florida pass rush, the Gators have plenty of answers in the secondary. Strong won't be afraid to play man coverage with cornerbacks Joe Haden and Janoris Jenkins, both of whom will be playing in the NFL at some point. There's a reason Florida tied for the SEC lead with 20 interceptions. The Gators had 13 of those during the final six weeks of the regular season. Heck, even middle linebacker Brandon Spikes has four interception returns for touchdowns over the last two seasons. In short, this is a Florida defense that gravitates to the football.
BB
: It's a formidable defense, Chris, and as much as I've been impressed with Cincinnati all year, I'm not sure the Bearcats can match athlete vs. athlete, especially without the game-day wizardry of Kelly. They are going to have to get some special-teams magic from
Mardy Gilyard
, get their offense to put Florida on its heels early and hope that the Gators really don't care much about this game. I see the Bearcats hanging tough early but losing by about two scores in this one. How do you see this playing out?
CL
: The Tebow factor is just too much for me to pick against the Gators. He will make sure they're ready to play even if a few of his teammates happen to be thinking more about NFL dollars than the Bearcats. I look for the Gators to get out of the gate quickly on offense and then break the game open with a big play in special teams. There are so many ways they're capable of doing that, too, with a blocked kick, punt return for a touchdown or simply setting up short drives for themselves with their superior punt game. Cincinnati will score some points in this game, but I have Florida winning going away ... by at least 17 points.
December, 31, 2009
12/31/09
10:03
AM ET
Breaking down the Allstate Sugar Bowl on Friday (FOX, 8:30 p.m. ET) between Cincinnati (12-0) and Florida (12-1):


WHO TO WATCH:
Wow, where do you start? Florida coach Urban Meyer will step aside on his leave after this game, and it could also be the final game for several of the Florida juniors who are considering declaring early for the NFL draft. But the heart and soul of the Gators' program for the past three years has been quarterback
Tim Tebow
, and he bids farewell to college football once and for all. Tebow is 34-6 as a starter and will go down as one of the greatest college football players of this era. Still, the image of him crying on the sideline in the final minutes of the SEC championship game loss to Alabama is one the Gators' rivals like to remember. If it's up to Tebow, he'll give them one final image to remember.
WHAT TO WATCH:
Prior to the SEC championship game, Florida had as much right as anybody to claim that it had the best defense in the country. But the Gators were carved apart by the Crimson Tide in their worst defensive performance in a long time. How do they bounce back? We're going to find out against a Cincinnati club that ranks fifth nationally in scoring offense and sixth nationally in total offense. Quarterback
Tony Pike
is adept at getting rid of the ball quickly, and receiver
Mardy Gilyard
is equally adept at coming up with big plays. The Gators get their best pass-rusher back for this game, junior defensive end Carlos Dunlap, who was suspended for the SEC championship game. The Gators also have one of the best cover cornerbacks in the country in Joe Haden, who will lock down on Gilyard and attempt to take him out of the game.
WHY TO WATCH:
With all of the different storylines going on, the game itself has almost become secondary. Is it the last time we see Meyer running the show at Florida for a couple of months? An entire year? Possibly ever? Are the Gators distracted, or are they motivated? Can the Bearcats overcome Brian Kelly's abandonment of them for the Notre Dame job and shock the college football world much the same way Utah did last season against Alabama? Does Tebow have one more storybook game in him before he takes his shot at the NFL? And can the Gators win 13 games for the third time in the past four years?
PREDICTION:
As ordinary as Florida looked in the SEC championship game loss to Alabama nearly a month ago, this is still the same team that won 22 straight games. The Gators have better players, better depth and more speed than the Bearcats. They also have Tebow, who will see to it that the Gators are at the top of their game one final time before they all disband.
Florida 38, Cincinnati 21
.
December, 29, 2009
12/29/09
6:25
PM ET
NEW ORLEANS -- Some news and notes from Tuesday's Allstate Sugar Bowl media sessions:
While Cincinnati is certainly happy to be in New Orleans, the Bearcats can't help but think how close they came to Pasadena.
After returning home from a 45-44 victory at Pitt on Dec. 5, most of the players anxiously watched the Big 12 title game, hoping for a Texas loss to Nebraska. That might have been enough to vault the 12-0 Bearcats into the BCS title game. And when Colt McCoy's last pass sailed out of bounds and the clock showed zero, they thought they were headed to the national championship.

"I was at (receiver) Charley Howard's house eating wings," wideout Mardy Gilyard said. "When I saw that clock hit zero, I threw my wings in the air. My brother and everybody were calling me immediately, saying 'You all are going to be in the big show.' And then all of a sudden that dreaded second came back on the clock.

"It was really a swift change. My wings were in the air and then by the time they touched the ground, I was like, 'I wonder what BCS game we're going to be in.'"

Big 12 officials, of course, put one second back on the clock, and Texas kicked the winning field goal. But Cincinnati players don't sound too upset to have missed out on their shot at the title.
"We were so close," center Chris Jurek said. "But the two teams playing for the national championship are the right teams to be playing for it."
Florida's defense should get a boost with the return of defensive end Carlos Dunlap. The junior, who tied for the team lead with seven sacks this season, didn't play in the SEC championship game against Alabama after a DUI arrest.
"He made a mistake that never should have happened," defensive coordinator Charlie Strong said. "But he came back and was willing to apologize to the team."

Strong said no decision had been made whether Dunlap will start, but he will play.

"Everybody makes mistakes, but his was at a time that we really, really needed him," linebacker Ryan Stamper said.
Florida's defensive players know they're going against one of the best offenses in the country. They see that as a chance to prove themselves.
Alabama ran all over the Gators in a 32-13 romp in that SEC title game. Cornerback Joe Haden said shutting down Cincinnati would restore the defense's reputation.

"This gives us a chance to rebound and show that last game was a fluke," Haden said. "Alabama did a great job, but we definitely didn't play as well as we should have."

Haden said the secondary is excited to play what is primarily a passing team, after spending most of the season preparing for run-heavy offenses in the SEC.
Gilyard, who's from Bunnell, Fla., told me for the story I wrote earlier this week that he had been recruited by Florida, but that the Gators backed off because of academic concerns. He added some more details to that account on Tuesday.
"Ron Zook was the coach then, and he came to my high school," Gilyard said. "And that day, I did something knuckleheaded. I skipped school. My high school coach called me, upset of course, saying 'Ron Zook is here, we've checked all your classes, where are you?' I was at the beach or something. I'm sure Florida was like, 'Get him out of here.' I'm blessed that somebody wanted to fool with me."
Quote of the day: Cincinnati left tackle Jeff Linkenbach, on both teams' rather interesting coaching situations: "It's been bizarre. But we're in New Orleans. It's a bizarre place."
December, 27, 2009
12/27/09
3:21
PM ET
It had already been a bizarre year for Florida's football team.
You name it, and this season had it, from
Tim Tebow
's concussion, to Carlos Dunlap's arrest, to the unyielding pressure of trying to repeat as national champions ... and now this.
The past 20 hours or so have been unlike anything in Florida football history.
[+] Enlarge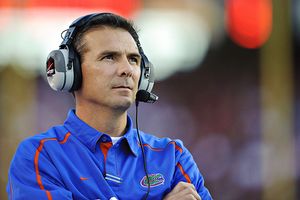 Paul Abell/US PresswireUrban Meyer led the Gators to BCS national championships in 2006 and 2008.
First, there was the
shocking announcement
by the university on Saturday evening that Urban Meyer was stepping down because of health concerns.
Only 45, Meyer had been battling heart concerns for the past couple of years and was rushed to the hospital the morning after the SEC championship game loss to Alabama with severe chest pains.
He knew
something
had to be done, and after much discussion and soul searching, that
something
was stepping away from the job he loved and the program he loved.
He told his family on Christmas night that he was resigning as Florida's coach.
The shockwaves reverberated across the college football landscape.
Meyer was at the pinnacle of his career, having won two national championships in the past three years.
And, suddenly, he was walking away.
His wife, Shelley Meyer, told The Orlando Sentinel in a text message that there was "
no chance
" that Urban Meyer would change his mind.
But after sleeping on it and having additional conversations with Florida athletic director Jeremy Foley on Sunday morning, it appears that Meyer has done just that.
He's changed his mind
.
Several different sources are now saying he's decided to take a leave of absence rather than resigning, and there's a chance he could be back in time for the 2010 season, or maybe he sits out the entire season and then decides to come back.
Either way, this is about as bizarre as it gets in college football.
Meyer will address the situation himself later Sunday afternoon from New Orleans.
You've got to wonder what his family is thinking, what his players are thinking and what the Gators' recruits are thinking.
Talk about being in limbo.
The entire Gator Nation has been in limbo for the past 20-plus hours.
The most important thing is that Meyer does whatever he needs to do to maintain his health.
Coaches as successful as he is and as competitive as he is don't walk away easily. They also don't lose their passion to coach very easily, nor do they change their stripes very easily.
Let's hope Meyer comes back when the time is right for him ... and not everybody else.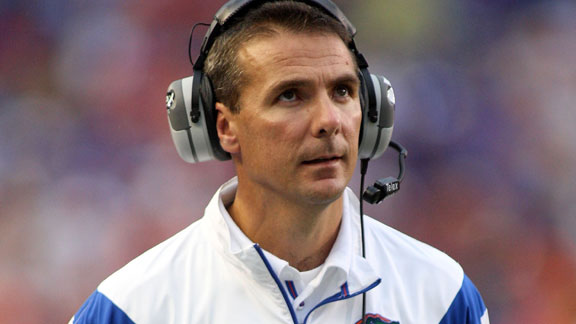 December, 5, 2009
12/05/09
7:00
AM ET
Championship week is here and there's plenty at stake on the final Saturday of the college football regular season.
No. 1 Florida and No. 2 Alabama will play in the SEC championship game in Atlanta's Georgia Dome, where a spot in the Jan. 7 BCS National Championship Game will be on the line. No. 3 Texas can punch its ticket to the BCS title game, too, if the Longhorns can defeat Nebraska in the Big 12 championship game in Arlington, Texas.
Elsewhere, Clemson and Georgia Tech will play for the ACC title and No. 5 Cincinnati and Pittsburgh slug it out for the Big East championship.
Here are five things to watch today:
1. Will either offense be able to score in Atlanta?

Two of the country's best defenses will square off in the SEC championship game, so scoring figures to be difficult.
Florida has the more experienced quarterback in senior
Tim Tebow
. Alabama has the better running back in
Mark Ingram
.
Both offenses might have to rely on big plays and limit their mistakes. The Crimson Tide rank No. 2 in the country in scoring defense (10.8 points per game), No. 2 in run defense (77 yards per game) and No. 3 in total defense (233.92 yards per game). The Gators have been even better, ranking No. 1 in scoring defense (9.8), No. 1 in total defense (233.08) and No. 1 in pass defense (143.17 rating).
2. Will the Gators miss Carlos Dunlap?

Florida starting defensive end Carlos Dunlap, a projected NFL first-round draft choice if he leaves after his junior season, will miss the SEC championship game. Dunlap was arrested in Gainesville, Fla., early Tuesday morning and charged with DUI. Gators coach Urban Meyer suspended Dunlap from the team indefinitely.
The Gators plan to rotate two players in Dunlap's absence: Justin Trattou and Jaye Howard. They've combined for 32 tackles, including 6 1/2 tackles for loss.
3. Can Nebraska slow down Texas?

The Longhorns will be playing for their first Big 12 title since 2005, when they crushed Colorado 70-3 in the 2005 championship game. Scoring figures to be more difficult against Nebraska, which gave up a Big 12-low 11.1 points per game this season.
But slowing down quarterback
Colt McCoy
, who ran for a career-high 175 yards in last week's 49-39 victory at Texas A&M, might be a stiff test for the Cornhuskers.
Texas led the Big 12 in scoring with 43 points per game.
"As a defense, you try to find somewhere you can cheat," Nebraska defensive coordinator Carl Pelini said. "You try to cheat in coverage and stop the run, or drop more into coverage because a team doesn't run the ball well. You can't do that against Texas because they're so balanced."
4. What's at stake for Cincinnati?

Unless Texas loses to Nebraska, the Bearcats don't have much of a chance of playing for a national championship (and No. 4 TCU would probably move into the Longhorns' spot if the Cornhuskers won), but there's still much at stake for Cincinnati.
The Bearcats could finish 12-0 and win a second consecutive Big East championship. That would secure an automatic BCS berth, probably against the SEC runner-up in the Sugar Bowl. If Cincinnati loses, there's a chance it could fall to the Meineke Car Care Bowl in Charlotte, N.C. Big East officials said the Gator Bowl was leaning toward selecting West Virginia to play Florida State in Jacksonville, Fla.
5. Can Clemson and Georgia Tech rebound in the ACC championship game?

Both teams are coming off deflating losses in their last regular-season games. Georgia Tech lost to Georgia 30-24; Clemson lost to rival South Carolina 34-17.
Both defenses were porous against their SEC rivals. Georgia Tech gave up a season-high 339 rushing yards to the Bulldogs; the Tigers gave up 223 to the Gamecocks.
Clemson's defense played pretty well against Georgia Tech's triple-option spread offense in a 30-27 loss in Atlanta on Sept. 10. The Tigers' special teams let them down more than anything else in the first meeting.
December, 3, 2009
12/03/09
8:00
AM ET
All of your questions will be answered two days from now.
Who's better on defense? Can
Greg McElroy
get it done? Does
Tim Tebow
sparkle again in the fourth quarter? Can Alabama avenge last season's bitter loss?
It's Alabama vs. Florida for all the SEC marbles on Saturday at the Georgia Dome.
Here's an SEC championship game version of what to watch:
1. Dealing with distractions:
The good thing for Florida is that the Gators have been putting out fires since before the season started. So they ought to be used to this. There was all the Urban Meyer-Lane Kiffin stuff, the Meyer-to-Notre Dame rumors, the flu bug in September, Tebow's concussion, Meyer being fined by the SEC, all the gaudy expectations and now star defensive end
Carlos Dunlap's DUI arrest and suspension
and the likelihood that defensive coordinator Charlie Strong is
on his way to Louisville
as head coach. It's been an eventful week for the Gators. It's been an eventful season. Can they overcome it all one final time and move a step closer to their third national championship in four years? We're going to find out.
2. Ingram's health:
Despite his hip pointer, Alabama running back
Mark Ingram
has been practicing this week and will play Saturday. The word coming out of Alabama is that he looks fine, although it still remains to be seen how he might be affected if he takes a couple of early hits on that hip. Ingram had an extra day to rest it, which helps. The Crimson Tide won't be hesitant about using freshman
Trent Richardson
, either. He was on the field that final drive against Auburn, and several in and around the Alabama program think he has more raw ability than Ingram. The Crimson Tide won't have to change their game plan regardless of who's in the game. Ingram might not be 100 percent, but he's itching to play in this game and show his stuff against the best defense he's faced all season.
3. Being special on special teams:
Florida has the best special teams in the country, which has long been an Urban Meyer staple. The Gators are 14-0 under Meyer when they block a punt. This season, they've only had three punts returned against them for a total of 13 yards, and
Brandon James
has returned four punts and one kickoff for touchdowns during his career. They can beat you a number of different ways on special teams, which means the Crimson Tide need to have one of their better games in special teams. They've been particularly shaky in kickoff coverage, finishing 10
th
in the SEC. But Javier Arenas is
one of the best return men
in college football and gives the Crimson Tide the same threat at James. One of Alabama's best special teams players, linebacker Cory Reamer, has a pulled hamstring, which will limit how many specials teams units he plays on in this game. And if it comes down to the kickers, Alabama's Leigh Tiffin and Florida's Caleb Sturgis both have strong legs. With this game being played indoors and both defenses being so strong, don't be surprised if Tiffin and Sturgis both get shots at long field goals.
4. Chasing history:
Both teams will be chasing history Saturday. Alabama is the only team in the league to have won an SEC title in every decade since the league was formed in 1933. This is the Crimson Tide's last chance to keep that streak alive. They've also gone nine years without an SEC title, which is the longest drought in school history. Florida is seeking to win back-to-back SEC titles for the first time since Tennessee did it in 1997 and 1998. And by winning, the Gators would get a chance in the BCS National Championship Game to do something that hasn't been done in 60 years: win three undisputed national titles in a span of four years. Notre Dame won in 1946, 1947 and 1949. The Gators are also vying to finish a season unbeaten for the first time in school history.
5. Saban's second chance:
Only once since he arrived in the SEC from Michigan State has Nick Saban lost back-to-back games to the same team. As fate would have it, those two losses were to Florida in 2000 and 2001, Saban's first two seasons at LSU and when Steve Spurrier was coaching the Gators. In other words, Saban is pretty good in rematches. He's 13-1 during his stints at LSU and Alabama in return games against teams. One of the reasons is that he never rests. He's always looking for ways to get better, how to tweak things, new ways to pressure the quarterback and new ways to attack a certain offense. Alabama's proud defense gave up a staggering 129 yards and two long touchdown drives in the fourth quarter of last season's 31-20 loss to Florida in the SEC championship game. The Crimson Tide's defense couldn't get off the field, as the Gators kept the ball for nearly 12 minutes in that final quarter. We'll see what answers Saban has for Tebow and Co. the second time around. Think he's looked at much tape from the fourth quarter of that game last year?
December, 1, 2009
12/01/09
10:02
AM ET
It's refreshing to see that Florida star defensive end Carlos Dunlap has been eating his vegetables and getting plenty of rest the week of one of the biggest games the Gators will ever play.
In his defense, according to the police report, he was at least sleeping in his car at 3:25 in the morning when police found him.
At this point, Dunlap is only
charged with drunken driving
. Perhaps there's an explanation. But in reading the Gainesville Police Department's account of Dunlap's arrest, it's difficult to imagine what that explanation might be.
Better yet, what's his explanation to Florida coach Urban Meyer going to be? What's his explanation to his teammates going to be?
Keep in mind this is not some second-string tight end we're talking about. This is Carlos Dunlap, the highest rated NFL prospect on the Gators' team, one of their top pass-rushers and the defensive MVP of last season's BCS National Championship Game.
Regardless of what happens with the legal process in this case, it's fair to question whether Dunlap genuinely gives one hoot about this football program, about his teammates, about their quest to become one of the great dynasties in college football history.
How do you even put yourself in that position four days before such an epic showdown with Alabama?
Florida officials are obviously aware of Dunlap's arrest and are gathering more information. Meyer isn't expected to comment until later Tuesday afternoon when the Gators practice.
Meyer talked on Sunday night about what a tough season this has been as far as dealing with all the gaudy expectations. But every step along the way, he talked glowingly about this team's chemistry, its leadership and its professionalism.
With his actions in the wee hours of Tuesday morning, Dunlap made sure there was a tinge of selfishness mixed in there, too.
Now it's up to Meyer to decide if that selfishness will cost the Gators one of their best players come Saturday in the Georgia Dome.
November, 18, 2009
11/18/09
11:49
AM ET
Somewhere in the offices of the Alabama football complex, they're dissecting tape of Chattanooga quarterback
B.J. Coleman
's tendencies on third down.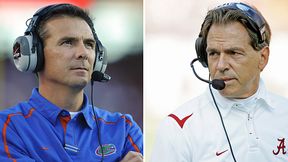 US PresswireUrban Meyer's and Nick Saban's teams are set to meet for the SEC championship in a few weeks.
And down at Florida, they're doing the same with Florida International quarterback
Paul McCall
, who's already gone up against the Crimson Tide this season.
So at least the Gators have the luxury of seeing how McCall fared against an attacking SEC defense.
OK, we'll stop right there.
Who genuinely believes that Alabama and Florida are doing any extensive planning for their opponents this week?
What about for each other, given their showdown in the SEC championship game is just around the corner and they both have glorified scrimmages this Saturday?
Nobody's ever going to admit it, but you know Florida has been mentioned a few times around the Alabama complex this week and that Alabama has been mentioned a few times around the Florida complex.
That said, I believe Alabama coach Nick Saban when he says the Crimson Tide's goal this week is to get better as a football team. That's their goal every week under Saban, and it doesn't matter if they're playing the Pittsburgh Steelers or Fort Payne (Ala.) High School.
But you also know both teams are taking this opportunity -- be it in the film room, in their planning, in their strategy sessions or just on their own time -- to get ready for what looms as perhaps the biggest game in SEC history.
Yes, the two teams were No. 1 and No. 2 in the BCS standings when they met a year ago in Atlanta.
But this year, they're on track to both be unbeaten as the No. 1 and No. 2 teams in the BCS standings when they meet for the right to play in the BCS National Championship Game.
So here's what I want to know:
Who's playing
Tim Tebow
on the scout team at Alabama this week?
Who's playing
Julio Jones
on the scout team at Florida?
How many reps has Tebow taken against those corner blitzes the Crimson Tide have been so successful with this season?
Has Alabama designated Rolando McClain as a spy on Tebow on third down, especially given the way Tebow got it done on third down a year ago against the Crimson Tide?
Have the Gators been working on any run blitzes to keep
Mark Ingram
from getting started? Of course, with Ingram, it's not so much how he starts that's dangerous as it is how he finishes.
Can Alabama get pressure on Tebow without selling out to the blitz, as Arkansas and Tennessee did earlier this season?
Can Florida take away the pass and make Alabama one-dimensional, similar to what happened to the Crimson Tide against South Carolina and Tennessee?
How prepared are the Alabama offensive tackles, James Carpenter and Drew Davis, to block Florida ends Carlos Dunlap and Jermaine Cunningham?
How prepared are Florida's receivers to get open and make plays down the field against Javier Arenas & Co.?
Who's more equipped to break a big play on special teams?
Aren't both
Brandon James
and Arenas due in the return game?
Which of these two great defenses is the one that rises to the challenge?
Which of these two future Hall of Fame coaches do you like best in a big game?
Why do we have to wait two more weeks?
Something tells me they aren't in Tuscaloosa and Gainesville.
November, 14, 2009
11/14/09
11:09
PM ET
COLUMBIA, S.C. -- The last time Florida coach Urban Meyer turned on his computer was sometime before the Tennessee game back in September.
It was his way of getting away from the distractions, or as he calls it, the outside stuff.
There's been plenty of it, too, going all the way back to January.
Concussions. Fines. Verbal jousting with Lane Kiffin. Players caught on tape trying to eye-gouge opponents.
"If I want to know what's going on in the world, I ask my wife, 'How's it going?'" Meyer said. "I do not turn my computer on. I think some of our players have taken that from our staff, too. We've got our face pointed right in the right direction.
"We have plenty to work on. We don't have time to be worrying about what else is going on."
[+] Enlarge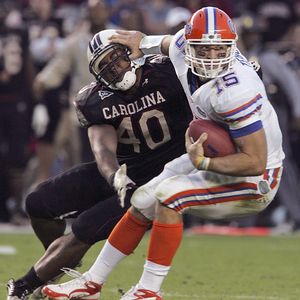 AP Photo/Mary Ann ChastainTim Tebow led the Florida Gators to four straight Gamecock conquests.
What's going on, to quote the late, great Marvin Gaye, is that the No. 1 Gators are inching, plodding, grinding (whatever you want to call it) toward a chance to play for their second straight national championship.
Every team has an identity, a personality.
This team's identity, quite simply, is just getting it done.
"We always want to play our greatest game," Florida defensive end Carlos Dunlap said. "We struggled a little bit today. But when one side of the ball struggles, the other side steps it up.
"That's how a team works; at least this team."
Florida got it done in the fourth quarter Saturday thanks to defensive end Justin Trattou's game-changing interception and navigated its way out of Williams-Brice Stadium with a
24-14 win over South Carolina
, which fought its guts out defensively, but met an all-too-familiar fate this time of the year.
The Gamecocks have now lost three in a row and are in danger of a third consecutive late-season collapse unless they can knock off Clemson in two weeks.
As for the Gators, their work in the SEC is done. They're 8-0, only the 12
th
team in SEC history to go 8-0.
And while even the Gators are the first to admit they're not playing pristine football, they're playing winning football.
When you're No. 1 in the BCS standings at this point in the season, that's all that matters.
"We did not play perfect," Meyer said. "I'm not sure we have played perfect in quite a while, but I think that's 20 [wins] in a row, and I'm awful proud of those young guys in there."
All that's left now for Florida before its showdown with Alabama in the SEC championship game is Florida International at home next week and then Florida State at home in the regular-season finale on Nov. 28.
Barring anything unforeseen these last couple of weeks, the Alabama-Florida game on Dec. 5 in Atlanta will be a play-in game for a berth in the BCS National Championship Game for the second year in a row.
What the Gators have tried to do, at least ever since the Mississippi State game three weeks ago, is enjoy the ride a little more.
That's been Meyer's message to his team: Play hard. Play together. Don't worry about pleasing anyone outside that locker room.
"There's no point in being 10-0 if you don't take the opportunity to live in the moment and enjoy it," Dunlap said. "You only get to live it once."
Florida junior cornerback Joe Haden said this team has done a better job of keeping everything in perspective after a clear-the-air meeting following the Mississippi State game.
"You could tell in the locker room today," Haden said. "Even though we didn't win by as much as we thought we should, this was the best locker room after a win so far this season. We just have that confidence about us.
"It doesn't matter if the other team has it on the 1-yard line, the 2-yard line, wherever. We feel like the next play is our play."
And, yet, the perfectionist in Meyer grimaces when he thinks about what the Gators aren't doing.
In short, they're still not getting much in the way of a downfield passing game, at least not consistently. There were two deep balls, in particular, that just missed to
Riley Cooper
. That's after he opened the game Saturday with a 68-yard touchdown catch.
"I'm so tired of seeing balls go off fingertips," Meyer said. "We all know what's coming down the road, and we have to make those."
Still, there's something to be said for the plays the Gators are making.
"We found a way to win that game as opposed to not finding a way to win that game," said Meyer, who in moving to 32-8 in SEC games (.800) became the winningest coach in SEC history among coaches with a minimum of five years experience.
"In '07, we found a way to lose a couple of those games. In '08, we found a way to win them, and in '09, we're finding a way to win them."
And enjoying the ride, too.
October, 8, 2009
10/08/09
8:06
AM ET

Posted by ESPN.com's Chris Low
This Saturday in the SEC needs no buildup. There are marquee matchups everywhere.
The intrigue surrounding Tim Tebow's playing status has sort of dominated the headlines, but the real story is what happens on the field.
It's the first chance for a couple of teams to separate themselves. We'll see if they're up to the task.
Here's a look at what to watch in the SEC in Week 6:
1. Bedlam on the Bayou:
If you love college football and love the atmosphere surrounding college football on game day, find a way to be in Baton Rouge, La., on Saturday night. The party outside Tiger Stadium has a chance to be as good as the game itself. They do it up right on the Bayou for every game, but the environment for the Florida-LSU showdown will be electric. I can already taste the gumbo. I can already feel the anticipation of the last two national champions squaring off in one of college football's most hallowed (and deafening) cathedrals. I can already hear the LSU band striking up those legendary first four notes: DAH-DANT-DA-DUM. For a little taste, go to
LSUsports.com
and click on "Touchdown for LSU" (pregame).
2. Getting the tough yards:
If
Tim Tebow
does come back from his concussion and play for Florida, will he be as willing to take off and lower his head on third-and-short and down near the goal line? Let's face it: His ability to get the tough yards and do the Gators' dirty work has been what's separated him and what's made the Gators' offense so difficult to defend. And if he doesn't play, who's going to assume those duties for Florida? Backup quarterback
John Brantley
isn't much of a runner, and the Gators don't really have an every-down running back.
Emmanuel Moody
, a 210-pound junior, would probably be the closest thing.
3. Dunlap and Cunningham:
It's hard to find a better defensive end combo in the country. Carlos Dunlap is pushing 290 pounds and has the strength to overpower an opposing offensive tackle while also having the speed to blow past him. Some analysts think Dunlap might be the top overall pick in the NFL draft if he decides to leave school early. On the other side is Jermaine Cunningham, who according to LSU offensive tackle Ciron Black, is the fastest defensive end in the country. LSU quarterback
Jordan Jefferson
was sacked six times last week in the 20-13 win over Georgia, so you can bet that Dunlap and Cunningham will be pinning their ears back and coming on Saturday night.
4. Great Scott:
The Tigers appeared to find something in their running game toward the end of the Georgia contest last week, and they did so by handing the ball to senior
Charles Scott
and letting him do his thing. Scott finished with season highs of 19 carries and 95 yards rushing. His 33-yard touchdown romp where he ran over a Georgia linebacker was the game-winner with 46 seconds to play. Entering that game, he'd only carried it 43 times combined in four previous games and hadn't gone over 63 yards or carried it more than 13 times in a game. This is the same guy who rushed for 1,174 yards and 18 touchdowns last season. The Tigers' problem is that Scott is also their best blocker in the backfield, and he's having to play some fullback. But getting him more involved in the running game will be key if the Tigers are going to establish anything on the ground against the Gators.
5. Prove-it-to-me time for Rebels:
Ole Miss coach Houston Nutt and his players said all the right things in the offseason, that they were handling the expectations and all the hype accordingly. As it turns out, they probably didn't handle it all that well. They've yet to come close to playing their "A" game this season and lost to the only team they've faced with a winning record. It's been a disappointing first five weeks to the season, no doubt. But that can all change with a win over No. 3-ranked Alabama at home Saturday. Not only do the Rebels prove that they're legit by winning, but they put themselves in prime position for the stretch run in the Western Division race. This is their shot to completely change the complexion of their season.
6. Julio's just fine:
Want to get Alabama quarterback
Greg McElroy
fired up? Ask him why
Julio Jones
hasn't been more involved in the offense this season. Jones has nine catches for 133 yards and one touchdown. Part of the reason his numbers are down is that he's missed virtually two games with a bruised kneecap. But McElroy isn't buying that Jones hasn't been involved. If anything, Jones is the main reason that so many different guys have emerged in the passing game for the Tide. McElroy has thrown touchdown passes to six different players. "Just because Julio's not catching passes doesn't mean he's not involved. He's very involved. He demands the eyes. Four eyes are on him every time we snap the ball. That's two from a safety and two from a corner. He makes a difference whether he catches a ball or not," McElroy said.
7. Redemption for the quarterbacks:
For a league that's hard on quarterbacks, some guys have put up some mighty impressive numbers heading into Week 6. In fact, four of the top 12 rated passers in the country are from the SEC. Tebow is No. 3 in passing efficiency, Alabama's McElroy No. 6, Auburn's
Chris Todd
No. 8 and Arkansas'
Ryan Mallett
No. 12. Tebow's not a surprise, and most people felt Mallett would come out slinging it in Bobby Petrino's offense. But what about the two guys from the state of Alabama? Between them, Todd and McElroy have thrown 21 touchdown passes and two interceptions. Ole Miss'
Jevan Snead
is all the way down at No. 66 nationally in passing efficiency, but he's too talented not to make a move. Maybe it's this week. Ole Miss fans sure hope so.
8. Auburn at the front of the line:
As we approach the midway point of the season, it's hard to pick anybody other than Auburn when you start talking about the best offensive line in the league. Props go to Auburn offensive line coach Jeff Grimes. His guys have really played well up front. The numbers speak for themselves. The Tigers are second in the league and fifth nationally in rushing offense. They lead the league and are tied for second nationally with only two sacks allowed. They haven't allowed any sacks the past two games, and they've also done it with different people. Guard Byron Isom has missed the last two games, meaning the Tigers have started a different combination in each of their last three games. Lee Ziemba might be the best left tackle in the league right now.
9. Garcia's maturation:
South Carolina coach Steve Spurrier has resisted at every turn to drop the slightest bit of praise on sophomore quarterback
Stephen Garcia
. Maybe Spurrier didn't want to jinx it. Maybe he wanted to keep Garcia on his toes. Maybe he's just hard on his quarterbacks. Whatever the case, the Head Ball Coach is starting to come around and says now that Garcia has made tremendous progress. Even though South Carolina didn't win, you could sort of see Garcia grow up in that Georgia game, and he's been steady ever since. The best thing he's done is manage the game, meaning he's given the Gamecocks a chance in every game and making the plays when they're there. He's only thrown two interceptions this season and heads into Saturday's game against Kentucky having gone 116 pass attempts without an interception. Simply, he's playing winning football.
10. Revival on Rocky Top:
You heard it here first. If Tennessee doesn't beat Georgia at home Saturday, the Vols won't have a winning season. That's how important this game is for Lane Kiffin's club, which has shown a knack this season for hanging around in games, but hasn't been able to generate enough offense to beat anybody that counts. Despite the struggles, Kiffin hasn't taken any shortcuts and has stuck to his guns. He dismissed receiver
Brandon Warren
from the team this week after Warren spent one too many nights in Kiffin's doghouse. He's also stuck with senior quarterback
Jonathan Crompton
and says he has no desire to start shuffling quarterbacks. Whether that comes back to get him remains to be seen. Either way, the Vols have continued to play hard. It's getting to the point, though, that they probably need to see some results if they're going to hang in there for the rest of this season. That's what makes this Georgia game so critical heading into the bye week. A 0-3 start in SEC play could become 0-4 real quick with Alabama looming in two weeks. The last time the Vols started 0-4 in SEC play was 1988 when they finished 5-6 overall.
January, 3, 2009
1/03/09
3:58
PM ET
Posted by ESPN.com's Tim Griffin
FORT LAUDERDALE, Fla. - One of the underrated components of Oklahoma's offense has been their success at protecting quarterback Sam Bradford.
Opposing defenses have sacked the Heisman Trophy winner only 11 times this season as the Sooners lead the Big 12 and rank fourth nationally in fewest sacks allowed.
Only one team has been able to bring consistent pressure against Oklahoma this season. It came in the second half of the Sooners' Oct. 11 loss to Texas when defensive ends Brian Orakpo and Sergio Kindle turned the game around with their speed pressure from the edges of the Longhorns' defense.
That pressure resulted in two of the three sacks in the game against Bradford and consistent disruption that the Sooners couldn't adjust in a 45-35 loss.
"Every time somebody did that it didn't feel good for us," senior tackle Phil Loadholt said. "We want to make sure it doesn't happen again and that Sam stays clean and doesn't get sacked."
The Sooners will be facing an aggressive Florida pass rush Thursday night in the FedEx BCS National Championship Game that follows the prototype of successful Southeastern Conference defenses. They are a little smaller than most that Oklahoma has faced. The Sooners will have about a 25-pound-per-man weight advantage in the game.
The Gators' defensive line is coached by former Iowa State coach Dan McCarney. His arrival has helped the Gators more than double their total in sacks this season with 32, up from 15 last season.