NCF Nation:

Carlton Thomas
September, 15, 2012
9/15/12
11:17
PM ET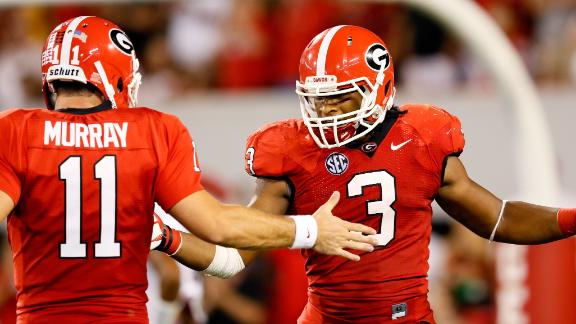 ATHENS, Ga. -- Although Florida Atlantic (1-2) kept things close for most of the first half, No. 7 Georgia (3-0) efficiently pulled away
for a 56-20 win
to achieve a 3-0 start for the first time since 2008.


It was over when:
A six-touchdown favorite, Georgia led just 28-14 at halftime but scored two quick touchdowns in the third quarter -- on a 36-yard
Arthur Lynch
catch and a 38-yard
Todd Gurley
run -- to end any thought of an FAU upset.
Game ball goes to: Gurley and Keith Marshall.
The two freshmen both rushed for more than 100 yards, marking the first time since last year's Auburn game (Isaiah Crowell and Carlton Thomas) that two Bulldog backs both broke the 100-yard barrier and the first time since 2004 against Vanderbilt (Danny Ware and Thomas Brown) that two freshmen accomplished the feat. Marshall finished with 10 carries for 104 yards and a touchdown, and Gurley ran 10 times for 111 yards and a score.
Stat of the game: 713.
Without injured All-America outside linebacker
Jarvis Jones
, Georgia's defense didn't have its best night. But the offense had no such issues, rolling up 713 yards of total offense in the blowout victory. That broke the school single-game record for total offense -- previously 667 yards -- set in 1993 against Southern Mississippi.
Turning point:
It was only a 21-14 game when Georgia's
Michael Bennett
caught a 67-yard touchdown pass with 1:34 left in the second quarter to give the Bulldogs a two-touchdown halftime lead.
Record performances:
In addition to the total offense record, Georgia quarterback
Aaron Murray
set a new career high with 342 passing yards on 14-for-19 passing. Marshall and Gurley's rushing yardage set new career highs, and Bennett (four catches for 110 yards) and Lynch (3 for 73) both had career-best receiving numbers. Florida Atlantic also set a new mark for most yards allowed, breaking the previous record of 651 against Troy in 2009.
December, 3, 2011
12/03/11
7:14
PM ET
ATLANTA -- We just received word in the press box that Georgia running back
Carlton Thomas
injured a knee and his return is uncertain.
Thomas, who started over
Isaiah Crowell
, had carried the ball seven times for a team-high 28 yards, including a long of 16.
Now, Crowell, who has limped on and off of the field a few times Saturday night, must step up more for the Bulldogs. He has carried the ball nine times for just 14 yards, including a long of 11.
Maybe this team will even turn to freshman
Brandon Harton
instead.
December, 3, 2011
12/03/11
4:22
PM ET
ATLANTA -- Georgia freshman running back
Isaiah Crowell
was announced as a starter before the game, but didn't start for the Bulldogs Saturday.
Junior
Carlton Thomas
started in his place.
Crowell has battled an ankle injury that he suffered two weeks ago in the Kentucky game and missed last week's game at Georgia Tech. He practiced this week.
Crowell is dressed and has his helmet on, but didn't play on Georgia's opening drive.
November, 19, 2011
11/19/11
2:14
PM ET
Turning point:
With
Carlton Thomas
missing the game for undisclosed personal reasons and
Isaiah Crowell
sidelined for most of the first half with an ankle injury, reserve Georgia running back
Ken Malcome
fumbled his first carry of the game. Kentucky's Kent Taiedo Smith recovered at Georgia's 27-yard line and the Wildcats drove the rest of the way, scoring on a 2-yard touchdown pass from
Max Smith
to
Tyler Robinson
to take a 10-6 lead in the second quarter.


Stat of the half: 4-for-4.
After struggling for much of the season, Blair Walsh seems to have regained the Bulldogs' place-kicker job. Walsh went 4-for-4 on field goals in the first half -- including a 40-yard kick with 48 seconds left -- to account for all 12 of the Bulldogs' points.
What Georgia needs to do; what Kentucky needs to do:
Georgia needs to settle down. The Bulldogs played tight on offense for most of the first half, and the offensive line struggled to clear space for backs
Brandon Harton
and Malcome. They have 18 carries for only 50 yards and 114 yards of total offense at halftime. Kentucky needs to keep playing hard. The Wildcats have played with a lot of fire on defense and forced the sluggish Bulldogs to kick field goals.
November, 12, 2011
11/12/11
7:03
PM ET
ATHENS, Ga. -- It's all over with inside Sanford Stadium, as
Georgia routed Auburn 45-7
.


Georgia has been scoffed at for what many consider to be a less-than-impressive SEC schedule, but the Bulldogs played their most complete SEC game of the season against Auburn.
The Tigers had two weeks to rest and prepare for this game, but was in it for only a quarter. Georgia dominated both sides of the ball, finishing with 528 total yards to Auburn's 195.
Georgia also watched as running backs
Isaiah Crowell
and
Carlton Thomas
went over 100 yards.
Aaron Murray
continued to play his best football, passing for 224 yards and four touchdowns. Murray's numbers could have been much better, but the Dawgs went to their ground game in the second half. All of Murray's touchdowns and 216 of his yards came in the first half.
Georgia coach Mark Richt said earlier in the week that he didn't relax after Arkansas beat South Carolina last week, hurling the Bulldogs into the SEC driver's set, but as chants of "U-G-A" echoed throughout Sanford Stadium just before the clock ran out in the fourth, you had to think that he exhaled a monster sigh of relief.
Richt went from being left for dead to directing this team to a win away from Atlanta.
July, 18, 2011
7/18/11
7:01
PM ET
Caleb King
is gone and so is Washaun Ealey.
Now it appears that the latest casualty in the Georgia backfield is junior
Carlton Thomas
, who according to a report in The Atlanta Journal-Constitution will be
suspended for at least the first game
of the season against Boise State.
Thomas violated team rules back in the spring, according to the Journal-Constitution's report, and is required to sit out 10 percent of the Bulldogs' scheduled games per Georgia athletic association student-athlete policy. Georgia opens the season on Sept. 3 against Boise State in the Georgia Dome.
With Thomas out of the lineup, that means Georgia heads into the opener without a single player who took a snap at tailback last season. Other than Thomas, the only tailback on the team who's ever played in a college game is junior
Richard Samuel
, and he spent last season at linebacker after starting his career at tailback. Samuel redshirted last season after injuring his knee. He was moved back to tailback last week.
So by the week, the opportunity just keeps getting bigger for prized Georgia freshman running back Isaiah Crowell. The Bulldogs will also lean heavily on redshirt freshman
Ken Malcome
, who's more of a pounder than he is a breakaway threat.
And then there's Samuel, who got up over 240 pounds after moving to linebacker last season. Two years ago, before Samuel's move from tailback to linebacker, he was weighing around 225.
July, 14, 2011
7/14/11
6:28
PM ET
Georgia is getting some help at running back.
After the departure of Washaun Ealey and the academic ineligibility of
Caleb King
wrecked the Bulldogs' running back depth, Georgia's coaching staff is bringing back a familiar face to the position in linebacker Richard Samuel, coach Mark Richt announced Thursday.
Samuel played both linebacker and running back in high school, but wanted to play running back in college, so Georgia signed him as one. In his first two seasons with the Bulldogs, Samuel played in 22 games, including starting six in 2009, and carried the ball 114 times for 528 yards and three touchdowns.
After failing to move up on the depth chart, Samuel moved to linebacker last season, but redshirted due to injuries. He exited this spring in the thick of the competition at one of the middle linebacker spots.
But Georgia is hurting too much at running back and the Bulldogs' staff felt it would benefit this team greatly if Samuel moved back to his first position.
"After discussions with Richard, his family, and our coaches I'm excited that Richard wants to make the move," Richt said. "He's one of our fastest and most powerful players, is very mature, has a strong character and is a man we can count on. I'm proud of him for always putting the team first and I look forward to seeing what he can do."
The Bulldogs need Samuel in the backfield. The top two running backs are gone and outside of incoming freshman Isaiah Crowell, there isn't much excitement at the position.
Carlton Thomas
and
Ken Malcome
dealt with injuries this spring and even after having a solid spring game, Malcome was moved to fourth on the depth chart entering the offseason.
Crowell has reported to campus, but it will take him some time to adjust. Remember, he just graduated from high school and he has to deal with a boatload of hype. Not to mention it will take him some time to get into college playing shape. Crowell will probably end up being
the
guy at some point this season, but having Samuel back there to push him will greatly help his development.
"I'm excited about the opportunity at tailback," Samuel said. "I'm ready to do anything that will help the team win."
It might take Samuel some time to adjust back to running back, but having an extra experienced body in the backfield is a relief for Georgia.
May, 10, 2011
5/10/11
9:00
AM ET
I'd like to think that the departure of Georgia running back
Washaun Ealey
comes as a surprise, but it doesn't.
Monday night, the school announced that the junior, who has two years of eligibility left, had been
granted his conditional release
to transfer to another school for next season.
"Washaun and I have had several conversations in recent weeks," coach Mark Richt said in a statement. "We both have come to the conclusion that a transfer to another institution would be in his best interest."
[+] Enlarge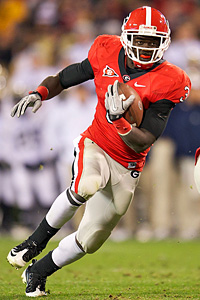 Dale Zanine/US PresswireWashaun Ealey has been cleared to transfer to another school.
Letting go of Ealey the athlete wasn't easy, but letting go of the person might have been another story.
Off-the-field issues have clouded the 1,528 rushing yards and 14 touchdowns in his two seasons at Georgia and have made his school-record five rushing touchdowns he had against Kentucky last season a mere afterthought.
Ealey was suspended for the 2010 season opener after he was arrested for driving with a suspended license and leaving the scene of an accident. In February, he was banned from offseason activities after failing to show up for disciplinary running.
Richt lifted the suspension less than three weeks later, but Ealey was almost a nonfactor during spring practice. A nagging hamstring kept him limited and he missed the spring game. Then, in late April, Richt called out Ealey at the Augusta Bulldog Club meeting.
"Washaun has a ways to go still to show me that he deserves to start or even play right now," Richt said during the question-and-answer portion of the gathering. "He has a ways to go in my book. We'll see. I love him, though."
It looks like Ealey never escaped from Richt's doghouse, and now he's without a home at the University of Georgia.
Whether that is a good thing or a bad thing for both sides is yet to be seen, but Ealey's departure now leaves the Bulldogs in a bind at running back.
Even with Ealey (hardly) around this spring, Georgia didn't exactly have the most intimidating stable of running backs. Senior
Caleb King
, who has dealt with his own discipline issues in the past, was solid during practices, but has yet to show that he's ready to take over as the feature back in Georgia's offense. In three seasons, King has 1,271 yards and 10 touchdowns, but has yet to break 600 yards in a season.
Redshirt sophomore
Carlton Thomas
and redshirt freshman
Ken Malcome
dealt with injuries this spring. Malcome returned for the spring game, scoring the game-winning, 12-yard touchdown and finishing with 39 yards rushing.
Still, none of the aforementioned players broke away from the pack. Each has the talent to be a factor in Georgia's offense, but none have the skill set or game-changing ability that Ealey had.
But all is not lost. The Bulldogs have one more pup entering the stable this summer. Incoming freshman Isaiah Crowell, who was the nation's No. 1 running back coming out of high school last fall, could immediately be handed the keys to Georgia's offense.
He's that good.
Richt made it clear after Crowell signed that he wouldn't hesitate to put the ball in Crowell's hands in the season opener against Boise State in September.
While that's a lot of pressure to put on a freshman, especially at a position like running back, Crowell has the ability to be an impact player in Georgia's offense once he steps on campus. He's explosive out of the backfield, has deadly moves in space and has great vision.
As a senior, he rushed for 1,721 yards and 18 touchdowns on 147 carries.
With Ealey out of the mix, Georgia's coaching staff will instantly accelerate Crowell's development to get him ready to compete for the No. 1 spot. That's a lot to put on a freshman, but if the Bulldogs want to compete for the East title, they have to find a running game.
At this point, Crowell could be their best option.
May, 3, 2011
5/03/11
3:45
PM ET
Georgia assistant coaches Tony Ball and Bryan McClendon received significant pay raises,
according to a report
by the Atlanta Journal-Constitution.
Ball, Georgia's wide receivers coach, has been on coach Mark Richt's staff since 2006 and is set to make $200,000, which is up from the $165,480 he made last year.
McClendon, who joined the Bulldogs' staff as the running backs coach in 2009, was previously one of the lowest-paid SEC assistants. His salary was $90,000 a year, but he will now make $200,000 each year.
Georgia athletic director Greg McGarity said the raises were results of other schools reaching out to Ball and McClendon. McGarity declined to get into what schools contacted the coaches, but did say that the raises were approved in February and March.
"All I can say is they were legit offers," McGarity told the AJC. "I think the key is continuity. We had already lost two coaches to other schools. Continuity of staff is important to me and to Mark and we thought it was important to maintain stability, especially.
"They're well-deserved. Both of these men are tremendous coaches who work very hard and were underpaid, in my opinion. We had some momentum going after recruiting and they had a lot to do with that. All signs are pointing up and we needed to be proactive. We will always be proactive."
The news of Ball's raise comes just days after the Bulldogs had two wide receivers drafted in the 2011 NFL draft. Junior
A.J. Green
went fourth overall to the Cincinnati Bengals and senior
Kris Durham
went in the fourth round to the Seattle Seahawks.
Green, who was arguably the best receiver in the draft, caught 57 passes for 848 yards and nine touchdowns in his shortened 2010 season. He finished his career at Georgia with 166 receptions for 2,619 yards and 23 touchdowns.
Durham was second on the team with 32 catches for 659 yards and three scores. He finished his college career with 64 receptions for 1,109 yards and four touchdowns.
McClendon has a chance to really earn his new paycheck this fall. He has the responsibility of coaching up a talented but unproven receiving group. Junior
Tavarres King
returns as the most experienced wideout and moved to Green's flanker position this spring. He and quarterback
Aaron Murray
developed good chemistry this spring and King figures to be the go-to-receiver in Georgia's offense.
Behind him, it's a bit of a mystery.
Marlon Brown
and
Rantavious Wooten
could have the most pure talent of the bunch, but neither has yet to make much of a contribution at Georgia. Brown caught just 11 passes for 133 yards and a touchdown last year, while Wooten snatched seven balls for 41 yards and a score.
The good news for Ball is that both seemed to have their internal light bulbs come on during spring, but the next step is having that carry over to fall.
As for McClendon, he's got a stable of running backs, but inconsistency is an issue. Senior
Caleb King
made vast improvements in practice, but never really broke away from the rest of the running back pack.
Washaun Ealey
is easily the most gifted runner, but off-the-field issues have him crammed in Richt's doghouse. For now, we don't know where Ealey fits in with the running backs.
Next you have
Ken Malcome
,
Carlton Thomas
and incoming freshman Isaiah Crowell. Richt didn't hesitate when Crowell signed to say that he could be the guy this fall. Crowell brings great speed, athleticism and strength to the position, but he's young. Malcome and Thomas battled injuries this spring, but Malcome impressed in Georgia's spring game.
Both coaches have their work cut out for them this fall, but getting strong numbers out of their groups will make them well worth the recent investment.
Of note:
"Salary actions" were also completed for new offensive line coach Will Friend, who will earn $200,000 this year, and new linebackers coach Kirk Olivadotti, who will earn $250,000.
April, 15, 2011
4/15/11
10:00
AM ET
Spring game: 1 p.m. ET on
ESPN3.com

Questions answered
:
Aaron Murray
's soccer-related ankle injury didn't get to him this spring. He was sharp and pain free. No worries there. Also, good news came out of the receiving corps where
Tavarres King
made strides to become the go-to-guy for Murray. He's replacing
A.J. Green
at the flanker and held his own during spring practices. Jarvis Jones also eased minds about Justin Houston's old position at the hybrid outside linebacker/defense end spot. He's showed that he might have a little bit more athleticism and speed for the position.
Questions unanswered
: The running game still remains a mystery. Senior
Caleb King
stepped up, but didn't really separate himself from the pack.
Washaun Ealey
, who returned from a suspension this spring, suffered a hamstring injury late and hasn't returned to full speed.
Carlton Thomas
and
Ken Malcome
made plays, but like the other two, they aren't consistently standing out. The offensive line still appears to be a bit of a trouble spot since losing Trinton Sturdivant at left tackle. Converted guard Cordy Glenn is expected to take over at left tackle, while Justin Anderson could play right tackle. Sophomores Kenarious Gates and Chris Burnette are working with the first team at the guard positions. Inconsistency plagued the safety positions last season for the Bulldogs and injuries there this spring didn't do much to clear that up.
Spring stars
: Defensive end Derrick Lott received a lot of praise from players and coaches this spring. He will be relied upon to be a major contributor for this defense. While the wide receiver position is still a bit of an unknown,
Marlon Brown
has performed well this spring. He's underachieved since arriving on campus, but drew high praise for his work this spring. Outside linebacker Cornelius Washington also made some strides this spring, especially with his ability to make big hits on defense. Freshman quarterback
Christian LeMay
won't usurp Murray, but he's impressed his coaches so far.
Of note
: Christian Robinson is making the move over to mike linebacker. Safeties Bacarri Rambo (MCL sprain), Jakar Hamilton (concussion) and Marc Deas (hamstring) are all out. … Linebackers Dexter Morant (shoulder) and T.J. Stripling (knee) will be held out of spring practice. … Sanders Commings moved from cornerback to safety. … Safety Alec Ogletree moved to outside linebacker. Cornerback Brandon Boykin, linebacker Christian Robinson, wide receiver
Israel Troupe
and tight end
Aron White
could be out for Saturday's game with injuries.
April, 14, 2011
4/14/11
3:10
PM ET
Georgia's stable of running backs has the look of breaking out, but it's yet to find the drive.
The Bulldogs' congested backfield is full of high school stars, but none have been consistent enough to take hold of the position.
There's redshirt senior
Caleb King
, who has yet to break the 600-yard mark in a season. Junior
Washaun Ealey
has the moves and speed to be an elite back, but his off-the-field troubles have impeded his growth as a player.
Next there's
Carlton Thomas
and redshirt freshman
Ken Malcome
, who entered spring as relative unknowns.
[+] Enlarge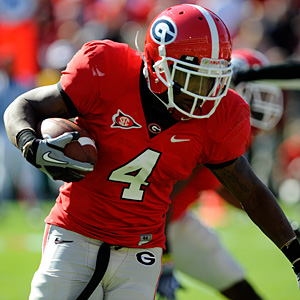 AP Photo/Mike StewartCaleb King is hoping to make the most of his last season with the Bulldogs.
As the hours dwindle before Saturday's spring game, the Bulldogs are still waiting for someone to emerge.
What hasn't helped is that Ealey, who was suspended from the team earlier this year after failing to report to a punishment run, has been slowed during the latter part of the spring by an ankle injury.
What does help is that it sounds like King is finally starting to buy into the program. King was suspended twice in 2010 for off-field issues and was academically ineligible to play in Georgia's 10-6 loss to Central Florida in the AutoZone Liberty Bowl.
King was sickened by the fact that he not only couldn't play in Georgia's bowl game, but that he let his teammates down. He even envisioned 2010 being his last memory as a Georgia football player, thinking his chances with the Bulldogs were up.
But King was given another shot and insists his mind is clear and he's motivated by his mistakes.
"It adds a ton [of motivation] because I'm trying to go out with a bang," King said. "I have to work hard every day."
His first trot out for spring practice was the first moment he realized this was his last chance to do something for the Bulldogs. He squandered away his first three seasons on the field and he's not looking to repeat that or any of his other mistakes.
Before Ealey went down, King said the two had a healthy rivalry in practice. Both knew the criticism was pouring in about them and both made conscious efforts to erase those doubts this spring. When one fooled the defense, the other looked to embarrass it. When one broke a 20-yard touchdown, the other went for 30.
"We pretty much feed off each other," King said. "Every time he has a big play I'll try to outdo him and I know he feels the same way."
Running backs coach Bryan McClendon said he hasn't seen a complete transformation from his backs, but mentally his guys looked more focused.
"You definitely see guys that have matured," McClendon said. "You see guys that know they can't take much of this stuff for granted."
King and Ealey are looking to reinvent themselves on and off the field, but they are also looking to keep their spots. With the nation's top running back prospect in
Isaiah Crowell
enrolling this summer, nothing is guaranteed for the two. Coach Mark Richt even said Crowell could compete for the No. 1 spot immediately.
That motivates King, but it doesn't intimidate him. He's excited for the young pup to get on campus so he can mentor him and help steer him away from the lifestyle King chose.
"I can teach him wrong from right and pretty much everything I did I can tell him not to do," King said.
But King isn't concerned about Crowell's arrival just yet. He's worked too hard to look over his shoulder at this point. King wants his game to improve and he wants his teammates to follow suit. So far, he thinks the cluster is on the right path.
"We don't have a choice but to work hard," King said. "We have to come out [and perform well] this season because all the hard work won't be for no reason."
May, 20, 2009
5/20/09
1:22
PM ET
Posted by ESPN.com's Chris Low
We're counting down the 30 best players in the SEC. We've taken a look at 10 players who may well emerge as stars in this league. Now, let's examine five players who came out of nowhere this spring to become major factors heading into the fall.
1. Ron Brooks, S, LSU -- A quarterback and receiver in high school, Brooks made his name as a special teams player last season as a redshirt freshman. He made another move this spring, from cornerback to safety, and was an instant hit. Every time you turned around, he was intercepting a pass or making a big play. With Harry Coleman sliding over some to outside linebacker, look for Brooks to play a major role in what should be a deep, talented LSU secondary in 2009.
2. Montori Hughes, DT, Tennessee -- A little-known recruit coming out of high school, the 6-4, 312-pound Hughes exploded this spring on the practice field after spending last year at prep school. He was dominant enough that Tennessee coach Lane Kiffin evoked an Albert Haynesworth comparison after one scrimmage. Hughes is incredibly quick for a guy his size and gives the Vols that big, physical presence inside on the defensive line. He should be a nice complement to Dan Williams and Wes Brown this fall.
3. Carlton Thomas, RB, Georgia -- All eyes were on Caleb King coming into the spring, especially with Richard Samuel recovering from wrist surgery. King was supposed to be the heir apparent to Knowshon Moreno and still may be. But the most impressive running back for the Bulldogs this spring was the 5-7, 178-pound Thomas. He has great moves, is tough as nails and is one of those guys who's impossible to get a good hit on in space. The Georgia coaches think he can be aThomas Brown-type of player.
4. Robby Green, S, Alabama -- One of the most important jobs for Alabama this spring defensively was finding somebody to replace Rashad Johnson, who did so many things for the Crimson Tide defense a year ago. The guy who emerged was at one time thought to be too small to play cornerback in this league, let alone safety. Green, who was about 170 pounds when he arrived at Alabama, played almost exclusively on special teams last season. But his smarts, hustle and ability to hit a lot bigger than he weighs made him one of the surprises of the spring for the Crimson Tide.
5. Justin Albert, RB, Auburn -- He came to Auburn as a walk-on after blowing out his knee during his senior year of high school and spent last season on the scout team. Scholarship or no scholarship, Albert was one of those guys this spring that his teammates kept talking about in glowing terms. He's hungry, talented and willing to do whatever he can to contribute. He showed a knack for making the big plays in scrimmages and should fit in nicely to Gus Malzahn's new spread offense.