NCF Nation:

Carrington Byndom
November, 28, 2013
11/28/13
11:00
AM ET
AUSTIN, Texas -- When Mack Brown introduced his latest recruiting class on signing day of 2010, he did so with great pride.
"I've been asked over the last couple of days, 'Is this the best class that we've ever had?'" Brown said that day. "We feel like it definitely has the potential to be, because from top to bottom it covers every position and that's a very difficult thing to do."
On Thursday, seven of those signees will take the field at Darrell K Royal-Texas Memorial Stadium one final time. Senior Night has a tendency to elicit mixed emotions, a bittersweet cocktail of pride, sadness and sentimentality.
It's hard to assess this Texas class with anything else but mixed emotions. You wonder if they feel the same. After all, this four-year run was not what these seniors signed up for or expected back in February 2010.
Of the 13 scholarship seniors being honored during Texas' Thanksgiving home finale against Texas Tech, more than half came from the 2010 class that ranked No. 2 nationally. They signed after Texas won 13 games and played for a national title. The senior class that departed after 2009 went 45-8 in their four seasons.
Today's seniors made their debuts for a 2010 team that was No. 5 in the preseason AP poll. Expectations were as high as ever. Brown seemed poised to chase another championship.
Instead, this class ended up inheriting the task of helping lead a rebuilding project, one that still isn't complete. They hope this is their legacy, that their efforts will get this Longhorn program back on track.
[+] Enlarge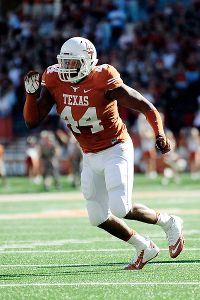 Stacy Revere/Getty ImagesJackson Jeffcoat calls his Texas career a roller coaster ride.
"To their credit, they would tell you they haven't accomplished what teams at Texas would want to have accomplished as seniors," Brown said.
The fourth-year seniors enter Thursday night's home finale against Texas Tech with a career record of 29-19. If the Red Raiders pull the upset, this group will drop to 17-17 in Big 12 games.
They haven't been particularly successful at DKR, either, with a record of 13-11 at home in the past four years. They've won six conference home games and lost nine.
Most of these seniors been playing from the very beginning. Guard
Mason Walters
, a 2009 signee who redshirted, and receiver
Mike Davis
were starters on the 5-7 team of 2010. Defensive end
Jackson Jeffcoat
, cornerback
Carrington Byndom
and guard
Trey Hopkins
are three-year starters. All together, this senior class has combined for 266 starts.
It's a group that, to this point, has endured an awful lot. The first losing season of Brown's tenure. A coaching staff shakeup. The end of the Texas A&M rivalry. One win and three losses to Oklahoma. No Big 12 championships. No BCS bowl games.
"It's been a roller-coaster ride, ups and downs," Jeffcoat said. "I think I'm better for that."
Jeffcoat signed to play for then-defensive coordinator Will Muschamp.
Case McCoy
has been tutored by three different quarterback coaches and playcallers. These Texas seniors received an education in embracing change.
"A lot of things have gone good, a lot of things have gone bad," McCoy said. "That's part of the game, that's part of life. One thing I know in this game and in life, you've got to battle. You can't give up. That's why I love this team. I love the way they're playing. I love their hearts because we haven't given up."
They know they had Texas-sized standards to live up to in their careers. When a program bottoms out the way the Longhorns did in 2010, everything achieved since has been in the commitment to getting back on top.
There have been high points along the way, but it all seemed to be building toward 2013. Brown believed Texas had a chance to win every game this season. That didn't work out.
To the seniors' credit, he said, they didn't fold after starting off 1-2 this year. They didn't give in and they rallied to win six in a row.
"They were very, very strong-willed in stepping up with their leadership and telling the other guys, 'This is our last time now, we're going to make this work,'" Brown said. "I'm really proud of them. I'm proud of the way they've handled adversity, proud of the way they fought through it."
And Jeffcoat believes the legacy of these seniors is unfinished. They'll earn a share of the Big 12 title, and perhaps more, if they win out. Three games left means three more chances to get the Longhorns back in the right direction.
"I think we definitely have that opportunity," McCoy said. "We have the opportunity right now to put our final stamp on it and put it where we need to go."
Texas' seniors have had a rough journey. As the end nears, though, they still believe their story can have a happy ending. And they seem to have few regrets.
"If I had to choose all over again," Jeffcoat said, "I'd come to Texas."
September, 10, 2013
9/10/13
9:00
AM ET
After a brief but successful stint in 2004 as the Texas defensive coordinator, Greg Robinson wound up in Michigan calling defense by way of Syracuse.
Robinson's two Michigan defenses, however, turned out to be among the worst in Wolverines history.
[+] Enlarge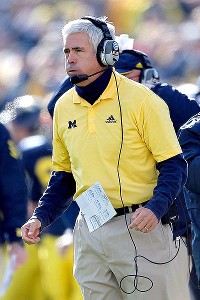 Leon Halip/Getty ImagesWill Greg Robinson, a former defensive coordinator at Michigan, be able to turn Texas' defense around?
On Sunday, Texas coach Mack Brown tabbed Robinson to turn around a beleaguered Longhorns defense that surrendered a record number of rushing yards (550) in a 19-point loss at BYU. The abysmal performance resulted in Brown firing defensive coordinator Manny Diaz.
The question now, which will likely determine Brown's future in Austin, is will Robinson do any better?
Brown, and his players, indicated strongly Monday that he would.
"I think Greg has a track record that's as good as anybody in this country," Brown said. "Kids gravitate to him. He just makes kids play better."
The problem with that is Robinson's track record since leaving Texas has not been good. And within the past decade, his kids have not played well. In fact, since coordinating the Texas defense in 2004, Robinson has not overseen a top-50 defense.
Robinson's failure in Syracuse was as a head coach. The Orange went 3-26 in the Big East during his tenure.
But Robinson's failure in Michigan was as a defensive coordinator. Under Robinson in 2010, the Wolverines ranked last in the Big Ten in total defense (451 yards per game), scoring defense (35.2 points per game) and pass defense (262 yards per game). Robinson was fired after that season along with head coach Rich Rodriguez.
Monday, Brown exonerated Robinson for those failures, countering those Wolverine defenses were bad because they "had really bad players."
Only, with many of those same "bad" players, the Wolverines jumped all the way to sixth nationally in scoring defense and 17th in total defense under coordinator Greg Mattison the following season. And with virtually the same front seven that Robinson had the season before, the Wolverines went from allowing 189 yards a game on the ground to 132 in Mattison's first year.
"When he went to Michigan, they weren't very good," Brown said. "We have good players on defense. We just have to play better."
The Longhorns did have good players during Robinson's first spell in Austin. Linebacker Derrick Johnson and safety Michael Huff were unanimous All-Americans and first-round picks. Several other defenders from that 2004 team enjoyed success in the NFL.
Robinson won't have that kind of talent to work with this time around. Sure, defensive end
Jackson Jeffcoat
and linebacker
Jordan Hicks
are nice players. And defensive backs
Quandre Diggs
and
Carrington Byndom
have pro potential. Yet, even as Texas piles up recruiting classes that are the envy of college football, there are no surefire All-Americans on this defense. And, at least according to one NFL scout who watched the Longhorns practice in person during the preseason, no future first-rounders, either.
Brown indicated Diaz's schemes were shaky at BYU, and the results obviously reflected that. But was the defensive collapse in Provo purely scheme-related?
Former Longhorns linebacker Drew Kelson, who was a freshman during Robinson's 2004 season, thinks Texas' defensive issues go way deeper than poor play calling or scheming.
"We lost seven games while I was at Texas, and it wasn't just because the coaches called perfect plays," Kelson said. "Look at who we had when I was playing. I had to move to linebacker to get on the field because we had five or six DBs who were NFL-caliber guys.
"The last few years we haven't had the players to help bail out the coaches. When the schemes or X's or O's haven't been right on point, you've seen [big offensive plays]. The players need to have the mentality of being relentless, making something happen regardless of the play call, regardless if the scheme is perfect and wanting to fight to live another down. That's what we need."
Installing a mentality that has been missing from the Texas defense lately on top of implementing his scheme is something Robinson will have to accomplish in little time.
"Obviously he's overloaded," Brown said.
Kelson, however, spoke highly of Robinson, and recalled his energy and enthusiasm.
"He was kind of quirky," Kelson said, "but it worked for us."
When at Texas, Robinson also had a flair for making solid halftime adjustments -- something Diaz seemingly failed to do against BYU. During the 2004 regular season, the Longhorns outscored their opponents 105-3 in third quarters, smacking of big-time halftime adjustments.
"We know [Robinson's] experience, we know of the things he's done in his past, and you know whatever he's saying has worked," Byndom said. "That will be the biggest thing for us, his credibility.
"We know whatever he says, it has worked before."
The Longhorns are banking on it working again in Austin. Even if it didn't in Michigan.
August, 29, 2012
8/29/12
9:00
AM ET
The season is only a few days away, and it's time to unveil our official All-Big 12 team.
The criteria for this is pretty simple: I picked the best players at every position in the game, but made room for deserving players. For this league, that meant eliminating the tight end spot and sliding a more deserving Collin Klein onto the team via an all-purpose position.
The quarterbacks are solid in this league, but I'd call the cornerbacks the best and deepest position in the league. The worst? Defensive tackle. I didn't put a single one on the All-Big 12 team, electing to name four defensive ends along the defensive line. I hate doing that, but this year, it's necessary.
Without further ado, here's our team:

OFFENSE
QB:
Geno Smith
, West Virginia
RB:
Joseph Randle
, Oklahoma State
RB:
Waymon James
, TCU
All-Purpose:
Collin Klein
, QB, Kansas State
WR:
Stedman Bailey
, West Virginia
WR:
Kenny Stills
, Oklahoma
WR:
Tavon Austin
, West Virginia
C:
Joe Madsen
, West Virginia
OL
:
Gabe Ikard
, Oklahoma
OL:
Lane Taylor
, Oklahoma State
OL:
Cyril Richardson
, Baylor
OL:
Mason Walters
, Texas
DEFENSE
DL:
Jackson Jeffcoat
, Texas
DL:
Stansly Maponga
, TCU
DL:
Alex Okafor
, Texas
DL:
Meshak Williams
, Kansas State
LB:
A.J. Klein
, Iowa State
LB:
Arthur Brown
, Kansas State
LB:
Jake Knott
, Iowa State
CB:
Carrington Byndom
, Texas
CB:
Brodrick Brown
, Oklahoma State
S:
Kenny Vaccaro
, Texas
S:
Tony Jefferson
, Oklahoma
SPECIALISTS:
K:
Quinn Sharp
, Oklahoma State
P:
Quinn Sharp, Oklahoma State
KR:
Justin Gilbert
, Oklahoma State
PR:
Tavon Austin, West Virginia
Honorable mention/regrettable snubs:
Landry Jones
, QB, Oklahoma;
Malcolm Brown
, RB, Texas;
Ivory Wade
, C, Baylor;
LaAdrian Waddle
, OL, Texas Tech;
Blaize Foltz
, OL, TCU;
Kenny Cain
, LB, TCU;
Shaun Lewis
, LB, Oklahoma State;
Jamarkus McFarland
, DL, Oklahoma;
Quandre Diggs
, CB, Texas;
Nigel Malone
, CB, Kansas State;
Demontre Hurst
, CB, Oklahoma;
Tyler Lockett
, KR, Kansas State
July, 25, 2012
7/25/12
9:00
AM ET
Big 12 Media Days have come and gone, but it's time to look back and pass out a few awards from Day 2 at Media Days.
Best performance: Art Briles, Baylor.
Briles repeated as the hit of media days, cracking jokes with nearly every question and drawing constant laughs. Mixing in meaningful answers with funny and interesting analogies helps, too. The WVU Mountaineer owned Day 1, but Day 2 was all about Briles. His response to a question about life on the recruiting trail for Baylor getting more difficult with TCU crashing the Big 12 party? "Shhhh!"
Biggest attraction: Mack Brown, Texas.
Nothing new here, perhaps, but Brown drew by far the biggest crowds of the entire week. Brown can talk with the best of 'em, and reporters were lined up to hear it. Part of it comes with the territory of being the Longhorn in charge, but Brown's personality only intensifies the attention.
Best quote: Dana Holgorsen, West Virginia.
Holgorsen quipped that he didn't need to make any halftime adjustments in the 70-33 Orange Bowl win over Clemson, and instead elected to take in the halftime show, feature the band Train. "I'm a big fan of Train," he said.
Most surprising revelation: Mike Gundy, Oklahoma State
. Gundy never told his team that true freshman Wes Lunt would be their starting quarterback. "I didn't have to. Twitter and all that took care of it for me," Gundy said. "We met -- (offensive coordinator) Todd (Monken) wanted to meet with the quarterbacks individually, so I let him do it -- and they can no more get out of your office and everybody knows."
Best critique: Dana Holgorsen, West Virginia.
Holgorsen hadn't seen the Big 12 preseason media poll on Tuesday, but when informed that Kansas State was sixth, he had a simple response. "Ridiculous. They're pretty good."
Biggest cliffhanger: Charlie Weis, Kansas.
Weis held court well in his introduction to the Big 12 media, but casually noted that yes, he came to Kansas, but he had other job offers that were paying more money. Which begged the question: Which ones? "It's not important. What's important is why did I take this job," Weis said.
Most unexpected gesture: Mack Brown, Texas.
Brown invited 10 opposing cheerleaders up to the stage with him for his time in the print media room, the largest contingent at media days. "I asked the ladies to come in so if I had any hard questions, I would let them support me," he said. "So we'll just ask them to step up and answer any questions that we need here." Brown got thrown a curveball, though, when the first question of the session was posed to the cheerleaders, asking who they wanted as the new Texas quarterback. "They'd want the worst one," Brown said.
Best first impression: Dayne Crist, QB, Kansas.
Crist was honest like his coach, but impressive in handling the Big 12 media for the first time. Crist also noted that this was the first conference media days he'd ever attended. Notre Dame, where Crist played before transferring, is an independent. It was easy to see how his teammates took to their new quarterback so easily.
Best composure: Mike Gundy, Oklahoma State.
In the middle of Gundy's time at the podium, West Virginia's mascot and cheerleaders began a noisy chant next door that drowned out Gundy's answer to a question. He finished, though, unfazed. "I handled that pretty well, that's a pressure situation," Gundy said, adding he hoped his true freshman quarterback could do the same this fall.
Best hair: Joe Madsen, center, West Virginia.
Madsen out-Mohawked TCU quarterback
Casey Pachall
, who had a much milder version on Monday. Madsen had a few inches gelled up and made his way around with a microphone,
interviewing cheerleaders and media members
for West Virginia's account of the day.
Biggest compliment: Mack Brown, Texas.
Texas is known as a place for special defensive backs, but Brown laid out some special praise for
Carrington Byndom
, his returning cornerback. "Carrington will be one of the best defensive backs we've had," he said. That? That's a pretty big deal.
March, 7, 2012
3/07/12
9:00
AM ET
We're moving on with our 2011 postseason position rankings. Today, it's time for cornerbacks. If you missed it,
here's how I ranked them in the preseason
.
Here are the other position rankings we've done so far:
Depth is somewhat of a factor here, but I weighted it heavily toward the top two starters at the position.
[+] Enlarge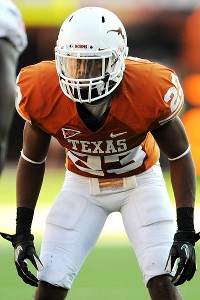 John Albright/Icon SMICarrington Byndom went up against some of the Big 12's top receivers and held his own.
1. Texas
— The Longhorns duo of
Carrington Byndom
and
Quandre Diggs
were by far the league's best at limiting the big play. Both are physical. Both return. Beware, Big 12 offenses. In just their first year as starters, they helped the Longhorns lead the league in pass defense. Diggs, a true freshman, led the team with four interceptions. Until the regular-season finale against Baylor, Texas and Alabama were the only teams that hadn't given up a touchdown pass longer than 20 yards. Obviously, that's way, way more impressive in the Big 12.
2. Kansas State
— K-State overachieved in a lot of ways this year, and perhaps nowhere more than at cornerback. Juco transfer
Nigel Malone
led the league with seven interceptions. Known entity
David Garrett
was even more solid, making 88 tackles and 6.5 tackles for loss. I ranked this unit 10th in the Big 12 before the season. They finished second. I was wrong.
3. Oklahoma
— The Sooners' corners were good, but not great, and underachieved slightly.
Jamell Fleming
and
Demontre Hurst
are supremely talented, but were susceptible to big plays this year. Granted, everybody in the Big 12 was, but the Sooners ranked fourth in pass defense. Fleming broke up 10 passes and intercepted two more. Hurst broke up 11 and had an interception.
4. Oklahoma State
— At times, Oklahoma State's
Brodrick Brown
was a legitimate shutdown corner.
Justin Gilbert
turned in a solid effort in his first year as a starter, which was much more important after a season-ending injury to
Devin Hedgepeth
in September. Gilbert picked off five passes, second-most in the Big 12.
5. Iowa State
—
Leonard Johnson
was quietly an NFL prospect that put together a huge year. He was a big reason for ISU's upset of No. 2 Oklahoma State, and helped shut down
Justin Blackmon
. He finished with 71 tackles, eight pass breakups and a pick.
Jeremy Reeves
added two picks and seven pass breakups.
6. Missouri
—
E.J. Gaines
led the Big 12 with 16 pass breakups, and the Tigers ranked fifth in the Big 12 in pass defense. Fellow first-year starter
Kip Edwards
added a pick and three pass breakups.
7. Texas A&M
— The team's top corner,
Coryell Judie
, was hampered by a hamstring injury all season, but production is production. It wasn't there for Judie, one of the league's top corners in 2010.
Terrence Frederick
had a good year with 13 pass breakups and a pick, but the Aggies were susceptible through the air all year.
Lionel Smith
and
Dustin Harris
filled in well in Judie's absence, but not well enough. A&M finished eighth in pass defense and helped five QBs set career highs for passing yardage in 2011.
8. Baylor
—
K.J. Morton
played well down the stretch for Baylor, but the Bears defense left a lot to be desired almost everywhere. They finished last in the Big 12 in pass defense, giving up over 290 yards a game. Morton picked off four passes and broke up six more. All four of his picks came in the final three games of 2011.
Chance Casey
broke up six passes and made 48 stops.
9. Texas Tech
— How's this for irony? The Red Raiders actually finished second in the Big 12 in pass defense. It doesn't matter much.
Tre' Porter
had the only interception for a cornerback all season, and broke up two passes. Injuries were a problem all season.
Cornelius Douglas
,
Derrick Mays
,
Jarvis Phillips
and
Sawyer Vest
filled the unit, but Tech faced 61 fewer pass attempts than Kansas and 111 fewer than the next team in the Big 12. That's what happens when you can't stop the run. Doesn't mean the corners played well.
10. Kansas
—
Greg Brown
picked off two passes and broke up three more.
Isiah Barfield
made 35 tackles and broke up five passes. The Jayhawks ranked ninth in the Big 12 in pass defense. They didn't get much of a pass rush to help the corners, but the corners were very poor in 2011.
December, 28, 2011
12/28/11
10:52
AM ET
Texas takes on Cal on Wednesday night in the Holiday Bowl. We previewed the game earlier, now it's time for a look at three keys for Texas to get the win.


1. Work hard in bowl practices.
So yeah, this one's technically already happened, but we won't see the results until tonight. Texas' offense was young and banged up, but had a ton of room for improvement, mostly with the offensive line, receivers and running backs. The Longhorns didn't get to participate in the valuable workouts after last year's 5-7 season, so here's guessing they took those pretty seriously. Young offensive talent like
Jaxon Shipley
,
Mike Davis
,
Malcolm Brown
and
Joe Bergeron
are loaded with potential, and the late-season minicamp can be a showcase for it to shift to production.
2. Shut down Keenan Allen.
Texas is missing safety Christian Scott, but the Longhorns' corners are two of the best in the league. Carrington Byndom and true freshman Quandre Diggs are capable of shutting down Allen and letting the front seven go to work on rushing
Zach Maynard
and stuffing
Isi Sofele
, a 1,200-yard rusher. Texas' defense was the Big 12's best this season, and was by far the league's best at preventing big plays, despite facing high-powered offenses every week. Texas isn't going to let Cal run all over it, and if it quiets Allen, it wins.
3. Win the game by not losing it.
Counterintuitive perhaps, but Texas did exactly this against Texas A&M and needs to do it again. Think Nebraska in 2009, to a lesser degree on both sides of the ball. It doesn't have an offense that can run with a lot of teams such as Cal and others across the Big 12. Texas' worst losses this year came to the Big 12's best offenses: Oklahoma State, Baylor and Oklahoma. Cal's not on that level, but Texas can't make mistakes like it made in those games to help Cal's offense. Texas' offense needs to stay conservative, take what the defense gives it and punt it as many times as necessary. Don't turn the ball over and don't allow big plays. Texas will get blown out if it does that.
December, 9, 2011
12/09/11
10:30
AM ET
Editor's Note: Tune into the "AT&T ESPN All America Team Show" on Saturday (ABC, 1:30 p.m. ET) to see who ESPN's writers and experts selected.
It's been a fun season across the Big 12, with a few big names who didn't play as well as we thought, and lots of unknowns who became household names by the end of the season.
I'll offer my comments below, but here's our All-Big 12 team for 2011.
OFFENSE
[+] Enlarge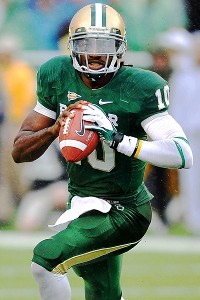 Jerome Miron/US PresswireThe heroics of Robert Griffin III got Baylor to 9-3 and made him a Heisman Trophy finalist.
QB:
Robert Griffin III
, Baylor
All-purpose:
Collin Klein
, QB, Kansas State
RB:
Terrance Ganaway
, Baylor
RB:
Henry Josey
, Missouri
FB:
Trey Millard
, Oklahoma
WR:
Kendall Wright
, Baylor
WR:
Justin Blackmon
, Oklahoma State
WR:
Ryan Broyles
, Oklahoma
TE:
Michael Egnew
, Missouri
C:
Grant Garner, Oklahoma State
OL:
Kelechi Osemele, Iowa State
OL:
Levy Adcock, Oklahoma State
OL:
Gabe Ikard, Oklahoma
OL:
Luke Joeckel, Texas A&M
DEFENSE
DE:
Frank Alexander, Oklahoma
DT:
Dominique Hamilton, Missouri
DE:
Alex Okafor, Texas
DE:
Jamie Blatnick, Oklahoma State
LB:
Sean Porter, Texas A&M
LB:
Jake Knott, Iowa State
LB:
Emmanuel Acho, Texas
NB:
Tony Jefferson, Oklahoma
CB:
Nigel Malone, Kansas State
CB:
Carrington Byndom, Texas
S:
Kenny Vaccaro, Texas
S:
Markelle Martin, Oklahoma State
SPECIALISTS
P:
Quinn Sharp, Oklahoma State
PK:
Randy Bullock, Texas A&M
PR:
Dustin Harris, Texas A&M
KR:
Tyler Lockett, Kansas State
Finally, a few notes and explanations:
I loved the media's idea to craft an all-purpose spot to accomodate Collin Klein. The Big Ten did the same for Michigan's Denard Robinson last season. I followed suit, and did so on the defensive side of the ball with a nickel-back spot for Oklahoma's Tony Jefferson. Two players that missed first-team designation by the coaches, but clearly deserve to be recognized.

Additionally, I prefer the teams to reflect the Big 12 style of play, so the nickel back fits. Each team doesn't have 11 players, but there were deserving linebackers. The same with Egnew and Millard. Does every team use a fullback or a tight end? No, but both are standout performers. They'd rotate in anyway, just as Jefferson would in a theoretical package.

Tough call to leave Philip Blake from Baylor off my team, but Garner's been better. Blake is very, very close, though.

Hated to leave off Brodrick Brown and E.J. Gaines, but I went with a more traditional two corners and two safeties, rather than four corners like the media's team.

Steven Johnson and Arthur Brown would have been right behind my three linebackers. That race was probably closer than at any other position, except maybe cornerback. Difficult to leave either of those guys off my first team, but the three on the team were better. I gave Brown my Newcomer of the Year nod, though.

I don't like going with three defensive ends and one defensive tackle, but there wasn't a defensive tackle who deserved the honor more than Okafor, my third defensive end. Okafor was a defensive tackle last year anyway, so that's close enough, right? He moved from tackle to end before spring practice earlier this year. In the Big 12, an additional pass rusher is necessary, too, right?

I made a similar move with my offensive line. Went tackle-heavy, but the guards didn't have quite as many standouts.
November, 3, 2011
11/03/11
10:15
AM ET
Here's what I'm keeping an eye on in this week's games.
1. Kansas State's secondary.
The Wildcats failed their big test last week against Oklahoma and it gets just as difficult, if not more so, this week in Stillwater. And this time it's on the road. OSU's running game is better than Oklahoma's, and its passing game is just as difficult to cover.
Brandon Weeden
has been sharp, and the task ahead of Nigel Malone and David Garrett is enormous. This matchup will decide the game.
[+] Enlarge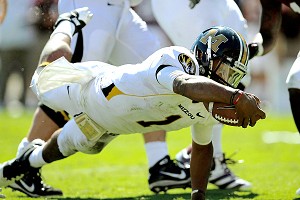 Sarah Glenn/Getty ImagesMissouri QB James Franklin should give SEC defenses cause for concern next season.
2. Baylor's front seven.
The Bears are giving up almost 250 yards on the ground in conference play, and Missouri fields a two-headed rushing attack with
James Franklin
and
Henry Josey
, who both torched a solid Texas A&M front seven last week. These guys have to play well to give
Robert Griffin III
and the Bears a chance, or Missouri will control possession and the game.
3. Oklahoma's home prowess.
The home streak is gone, but did the mystique follow Texas Tech out of the building? Badly beating a good Texas A&M team would be a nice start for the Sooners, but Texas A&M has to be significantly less intimidated by (A) seeing that result and (B) beating Oklahoma last season. So which is it?
4. Texas QB(s)?
Texas continues to list
Case McCoy
and
David Ash
as co-starters when the playing time looks like there's nothing "co-" about it. Does McCoy still have a future on the field, or has the true freshman, Ash, taken over a full-time role? My guess is the latter, but Texas Tech will be a real test, unlike Kansas. The Red Raiders could be revealing.
5. Kansas ... offense?
Prove to us that this offense really is better. Iowa State's defense doesn't really scare many folks across the Big 12, but KU had just three first downs against Texas last week and 46 total yards in a 43-0 loss. Part of that was the Longhorns eliminating the Jayhawks' running game, but can the offense help the Jayhawks get their first conference win?
6. Missouri's secondary.
E.J. Gaines & Co. have stepped up their play in recent weeks, but this week will be a tough test for the Tigers. Griffin III endured a frustrating outing against Oklahoma State last week and will be back at home, where he's been dominant all season. Are the Tigers up to the task? They're dealing with one of the best receiving corps in the league, and a quarterback who would love nothing more than to beat them over the top.
7. Seth Doege's accuracy.
Iowa State didn't blitz Tech much in last week's 41-7 win, but Doege wasn't sharp and the Red Raiders paid the price with a nonsensical loss. Doege's been outstanding, but can he bounce back this week? I expect him to, but Texas' secondary is one of the league's best, and the Longhorns will harass him and make him hurry throws at corners Quandre Diggs and Carrington Byndom.
8. Texas A&M's second half.
It has to be said, does it not? Texas A&M has been the league's oddest team this year, only a few plays away from being in the top three, instead of Oklahoma State. But alas, here they are, with losses to three teams after having double-digit halftime leads. Second halves haven't been the issue on the whole for this team, but they've been more evident in the losses. What's in store this week at Oklahoma?
9. Iowa State's identity.
Who are these Cyclones? Was last week a statement about how good they can be? Or did Texas Tech lay an egg? I don't know how much Kansas can answer that question this week. The Cyclones would be well-served to be the next team to blow out the Jayhawks, but Kansas could reach up and do to Iowa State what the Cyclones did to Tech. Should be an interesting matchup.
10. Oklahoma State's -- yes -- focus.
We've seen it the past two weeks. Oklahoma, then Texas Tech. If Oklahoma State isn't sharp, K-State will make it pay for dropped passes and poorly timed three-and-outs. The ranking beside K-State's name should help the Cowboys perk up, but seeing last week's blowout loss to Oklahoma might inspire a bit of complacency. Or will it? OSU has stayed pretty loose this week, and this will be one of the toughest tests left before the showdown with Oklahoma.
July, 14, 2011
7/14/11
9:00
AM ET
We'll move on to the cornerbacks today in our position rankings across the Big 12.
Here's what we've covered so far:
This group? Well, it's not very good. And considering the crazy depth in the Big 12 at receiver, it could be a long season for cornerbacks in this league. I love the upside of many of the Big 12 corners -- namely the guys at Missouri and Texas Tech (especially working with Chad Glasgow's 4-2-5 in Lubbock). Texas could also develop fast in its new defense, but outside of Texas A&M and Oklahoma, I don't see any Big 12 teams that should be completely comfortable with their cornerbacks.
Of course, for fans who love points, this could be a welcome development. For secondary coaches and defensive coordinators? Not so much.
[+] Enlarge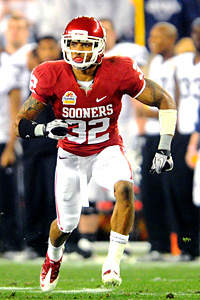 Mark J. Rebilas/US PresswireJamell Fleming returns as the Big 12's top cornerback.
1. Oklahoma
-- Jamell Fleming is the Big 12's top returner at the position and gives the Sooners a huge boost after being reinstated last week. Fleming had withdrawn from the university because of academic problems following the season. Aaron Colvin moved to safety during the offseason, but Fleming will still have to beat out Gabe Lynn in fall camp to start opposite Demontre Hurst. Julian Wilson also adds depth.
2. Texas A&M
-- Fleming's return pushed the Sooners over A&M as having the Big 12's best group of corners. But Coryell Judie and Terrence Frederick could both challenge for first team All-Big 12 honors at the position. They are ahead of reserves Dustin Harris and Lionel Smith, who will get plenty of time on the field.
3. Missouri
-- Missouri loses starters Carl Gettis and Kevin Rutland, but the coaches consider Kip Edwards a returning starter because of how much he played last season. Edwards could join E.J. Gaines in eventually becoming better than both Gettis and Rutland. Trey Hobson and Robert Steeples will get time in the rotation, too.
4. Oklahoma State --
OSU has to replace the Big 12's interception leader Andrew McGee , but Brodrick Brown's development should continue. He's likely a dark horse to earn first-team All-Big 12 honors after the season. The Cowboys didn't release a post-spring depth chart, but don't be surprised if return specialist Justin Gilbert edges out Devin Hedgepeth for the starting spot before the opener. Andrae May has earned playing time on special teams in both of his first two seasons on campus, but could be counted on for a much bigger role this year as the fourth corner.
5. Texas --
The Longhorns are fairly decimated at corner after losing three to the NFL in one offseason. Curtis and Chykie Brown joined Aaron Williams for one of the most talented sets of corners we've seen in this league, but now, secondary coach Duane Akina will have to replace them. Texas' depth chart is still as in flux as any in college football, but I'd be surprised if Carrington Byndom didn't emerge with a starting spot. True freshman Quandre Diggs might swipe the other, but Eryon Barnett and A.J. White will be on the field, too.
6. Texas Tech --
The Red Raiders are likely to ascend this list by season's end, but for now, find themselves at No. 6. Injuries were costly for the defense last season, but Tre Porter and Derrick Mays should be much better, and Tech fans can be encouraged by the upside in Jarvis Phillips, Jeremy Reynolds and Eugene Neboh.
7. Iowa State --
This group might be a bit underrated, but with Iowa State's defensive problems last season, it's a bit hard to tell. Jeremy Reeves and Leonard Johnson return with loads of experience, and Anthony Young is a great additional piece as the third corner. Matthew Thomas should be in the rotation, too.
8. Baylor --
The Bears return both starters. Chance Casey has 15 career starts to Tyler Stephenson's four, but the Bears secondary struggled last season, especially the corners. Tuswani Copeland should be on the field, and Romie Blaylock offers some experience as a senior under new coordinator Phil Bennett, whose work is cut out for him at this spot.
9. Kansas --
Kansas loses Chris Harris from last season's team, but Isiah Barfield is a playmaker at the position. Greg Brown, Tyler Patmon and Anthony Davis fill out the group.
10. Kansas State
-- The Wildcats have a huge talent in David Garrett, who led the team in tackles last season and was the nation's leader in tackles for loss, but he's still just one player at a position that needs lots of depth in this league. Also, his coverage leaves a bit to be desired. For now, K-State doesn't look like it has that necessary depth. Terrance Sweeney and Stephen Harrison are gone, but the Wildcats need to find more talents at the position in fall camp. Watch for Thomas Ferguson to emerge as the other starter.
February, 16, 2011
2/16/11
9:00
AM ET
Springtime is almost here. And here's a look at what to expect across the Big 12 when it gets into full swing here in the next couple weeks.
BAYLOR BEARS

Spring practice starts:
February 28
Spring game:
April 2
What to watch:
Big changes on defense. Baylor brought in Phil Bennett as its new defensive coordinator, and he says his scheme will be multiple, built to fit the Bears' personnel. Considering the Bears' recent recruiting successes in the secondary, look for a 4-2-5 type of look.
Recruiting stars: time to shine. Both safeties, Tim Atchison and Byron Landor, are gone. Baylor, though, has two former ESPNU 150 recruits at safety who would be well served to start filling their potential. Prince Kent was a reserve last season and at one time, the nation's No. 51 overall recruit who originally signed with Miami. Ahmad Dixon, meanwhile, was the No. 15 overall prospect in the 2010 class. The opportunity is there. Baylor needs big talent at the position. Briles has recruited it. Can they develop into players who make Baylor a contender?
Running back competition. Jay Finley topped 1,200 yards in 2010, but he's gone. Who steps into his void? Terrance Ganaway is a bowling ball at 5-foot-11, 235 pounds, but the shifty Jarred Salubi could get a good amount of carries, too. They could begin to share carries this spring.
IOWA STATE CYCLONES

Spring practice starts:
March 22
Spring game:
April 16
What to watch:
Quarterback competition. It should be a good one in Ames this spring. Jerome Tiller is the name most recognize after getting lots of meaningful time and starts because of injuries to Austen Arnaud over the past two seasons. But juco transfer Steele Jantz sounds confident he can win the job. Rising sophomore James Capello and redshirt freshman Jared Barnett will compete, too.
Paging Cyclone receivers. Iowa State had one of the most underwhelming receiving corps in the league during the past season, and three of its top five pass-catchers won't return in 2011. Of those three, however, one is a tight end (Collin Franklin) and another is a running back (Alexander Robinson). The new quarterback will need some help, and Darius Darks and Darius Reynolds will need to provide it as seniors.
Shontrelle's time or not? Freshman Shontrelle Johnson looked like the running back with the most pop behind Robinson for most of 2010, but two other freshmen running backs jockeyed for carries, too. Paul Rhoads is hardly handing the job over to Johnson, but spring could be the time when he really separates himself from the pack.
KANSAS JAYHAWKS

Spring practice starts:
April 1
Spring game:
April 30
What to watch:
What are they doing behind center? Kansas never got much consistent play out of the quarterback position last year, but freshman Brock Berglund is one of the 2011 class' top recruits, and enrolled early to compete in the spring with Jordan Webb and Quinn Mecham. With a building program like Kansas, there's perhaps some value in handing the program to a younger player like Webb or Berglund, but they'll have to earn it. Doing so will start in the spring, but don't expect the Jayhawks to have a set-in-stone starter by spring's end.
Top linebacker back on the field. Huldon Tharp missed all of 2010 with a foot injury, but he says he's 100 percent and ready to get back on the field. As a freshman in 2009, he was fifth on the team in tackles, with 59, and looked like one of the league's possible budding stars. Now, he'll get his chance to join fellow linebacker Steven Johnson as one of the team's top tacklers, and he'll do it as a sophomore after redshirting in 2010.
Toben rising? Turner Gill raised plenty of eyebrows when he moved his team's leading rusher in 2009, Toben Opurum, to linebacker in fall camp, and eventually slid him up to defensive end. But toward the end of 2010, Opurum started showing some major signs of growth at the position. We'll get a better idea this spring if he's one of the league's most unlikely new stars at defensive end.
KANSAS STATE WILDCATS

Spring practice starts:
April 6
Spring game:
April 30
What to watch:
Prodigal Kansan sons come home. There's no doubt that the Wichita native Brown brothers are the main attraction at Kansas State this spring, a season after transferring back home. Bryce Brown, the running back, was the nation's No. 8 prospect in the 2009 class. Arthur Brown, the linebacker, was the nation's No. 6 prospect in the 2008 class. Bryce transferred from Tennessee and Arthur from Miami. The Wildcats are pinning much of their hopes on the duo, and we'll get a good sense of what they can provide soon.
Quarterback competition. Carson Coffman is gone, and two new faces will challenge for the job: juco transfer Justin Tuggle and Daniel Sams. Sammuel Lamur is also up for the gig. Collin Klein may or may not be; Bill Snyder hasn't explicitly confirmed a past comment from Sams saying Klein had moved to receiver. Don't expect a starter to be named by spring's end, but a general order could start to form.
Can the defense show improvement? Kansas State had the Big 12's worst overall defense last year, and the worst rushing defense in college football, giving up 3,008 yards on the ground. Coordinator Chris Cosh looks like he'll still be around in 2011, and defensive backs David Garrett and Tysyn Hartman are solid pieces to try and build around. But this young maturing defense must get better to make a bowl game again with so many questions on offense. That starts in the spring.
MISSOURI TIGERS

Spring practice starts:
March 8
Spring game:
April 16
What to watch:
Franklin comes alive! Blaine Gabbert bolted to the NFL early, and Missouri has a gaping hole a quarterback. The position, however, is surrounded by a lot of quality talent that likely makes the Tigers a Top 25 team. There's no understating the importance of the position for the Tigers, and that will begin to be decided in the spring. James Franklin, a rising sophomore, saw spot duty in 2010 as more of a runner, and may have the inside track on the job, but Tyler Gabbert, Blaine's younger brother, and Ashton Glaser should make it an interesting competition in the spring. If neither of them impress early, don't count out incoming freshman Corbin Berkstresser.
Here is the new secondary. Same as the old secondary? After years of pass defense being one of the Tigers' biggest weaknesses, it became a strength in 2010 behind the leadership of senior corners Kevin Rutland and Carl Gettis. But the Tigers lose them and safety Jarrell Harrison. Rutland emerged as one of the team's most impressive players last spring, but was Missouri's success in the secondary a one-time thing or the beginning of a welcome trend?
Time to dominate the trenches? Missouri played without likely first-round pick Aldon Smith for much of the previous season, but the defensive and offensive lines for the Tigers were as good as ever in 2010. How will they look in 2011? Impact juco transfer Sheldon Richardson won't be enrolled by the spring, but the four returning starters on the offensive line should get some solid work against Brad Madison, Jacquies Smith and Terrell Resonno.
OKLAHOMA SOONERS

Spring practice starts:
March 21
Spring game:
April 16
What to watch:
Freshmen on display. Coach Bob Stoops hasn't been shy about saying his 2010 recruiting class was his best ever, but it could look even better after this spring. Two of his best emerging recruits, Justin McCay and Geneo Grissom, didn't even play in 2010, and could start to make an impact. The same goes for Corey Nelson, who will try to earn some more time somewhere backing up star Travis Lewis.
Is there a golden boot in Norman? Jimmy Stevens was much more accurate in 2010, finishing 19-for-23, but his attempts outside 45 yards were sparse. The good news is he missed none of his 53 extra points. Field goals have been a bit of an adventure for the past couple years, but continuing in the spring what he started last year would be a good sign for Oklahoma. The Sooners are strong everywhere and need good special teams play to reach their lofty title goals.
Are the Sooners' backs back? Roy Finch missed the Fiesta Bowl with a stress fracture, and his durability is certainly questionable entering 2011. When he's healthy, he looks like the next star in the Sooners' backfield, but they'll need some depth behind the 5-foot-8, 173-pounder. Jermie Calhoun, Jonathan Miller and Brennan Clay have all looked good at times, but there should be some good competition from newcomers Brandon Wegher, an Iowa transfer who'll be in camp this spring and eligible next season, and blue-chip recruit Brandon Williams, who enrolled early.
OKLAHOMA STATE COWBOYS

Spring practice starts
: March 7
Spring game
: April 16
What to watch
:
Every piece of the offense. The spring in Stillwater is all about keeping or improving upon the status quo. Had it kept Dana Holgorsen, there'd be little doubt that would happen, but Oklahoma State must make the most of its five returning offensive linemen, quarterback Brandon Weeden and receiver Justin Blackmon. The opportunity for a historic season is there, but they'll have to pick up the nuances of the new offense quickly in the spring like they did last year.
What about the kicker? Dan Bailey won the Lou Groza Award as the nation's top kicker in 2010, but he's gone. Oklahoma State needs to fill that role quickly, and we'll likely know who will get the nod after the spring.
Who steps up on the defensive line? The Cowboys lose three starters up front on defense, including All-Big 12 performer Ugo Chinasa and tackles Chris Donaldson and Shane Jarka. Can senior Richetti Jones become a star in the Big 12? We'll have a good idea if he, or any of the Cowboys' other defensive linemen, can by the end of April.
TEXAS LONGHORNS

Spring practice starts
: February 24
Spring game
: April 3
What to watch
:
New coaches and their students/players. Texas has five new coaches. Although it's hard to get a good read early on, how they relate with the players on the field, in the film room and around the facilities will have a big impact on how the 2011 season plays out in Austin. The young-blooded coordinators could serve themselves well by relating to players and the players will need to spend plenty of extra time learning new schemes and plays.
Quarterback competition ... or not? Mack Brown says the gig is open and it is, for now. Garrett Gilbert can close it with a strong spring. If Garrett struggles on the field or has difficulty grasping the new system, the door will be wide open for Connor Wood or Case McCoy to step in and close it. Gilbert didn't get much help, but he did very little in 2010 to inspire a lot of breathing room with McCoy and Wood clamoring for playing time.
And you've got to defend the pass, too. Texas loses its top three cornerbacks to the NFL, and only Carrington Byndom and A.J. White got much meaningful playing time last season. Younger players can earn some rare early playing time with a strong spring. Will anyone step up?
TEXAS A&M AGGIES

Spring practice starts
: March 22
Spring game
: April 16
What to watch
:
New linebackers in the running. Spring isn't so scary when you bring back nine defensive starters, but the two Texas A&M lost were the heart of its defense. Linebackers Michael Hodges and Von Miller are gone. Kyle Mangan didn't look fantastic when forced into action during the Cotton Bowl, but the time is now for Damontre Moore and Dominique Patterson, a pair of sophomores, to make their impact.
Tannehill's tuning things up. Quarterback Ryan Tannehill played about as well as anyone could have hoped late last season, but he'll need it to continue his performance with a solid spring nailing down the timing with his receivers, who all return. He's already got a leg up on last year's quarterback, Jerrod Johnson, who was held out of team drills last spring after shoulder surgery that eventually derailed his senior season.
Christine's back. Christine Michael missed the second half of the season with a broken leg, giving way to Cyrus Gray's rise among Big 12 backs. It should make Texas A&M's depth at the position even more impressive, but we'll see how Michael looks coming back from the injury.
TEXAS TECH RED RAIDERS

Spring practice starts
: February 19
Spring game
: March 26
What to watch
:
Past defending that pass defense. Texas Tech had the Big 12's worst pass defense last season, but has a pair of big potential players at cornerback in rising sophomores Tre Porter and Jarvis Phillips. Starters LaRon Moore and Franklin Mitchem are gone, but if returning starters Cody Davis and Will Ford can continue to mature, the defense should improve in the area most important for success in the Big 12.
And they're off! There's a four-man quarterback derby set in Lubbock this spring between Seth Doege, Jacob Karam, Michael Brewer and Scotty Young. I don't expect it to be settled until midway through fall camp, similar to last season, but there should be a solid front-runner and more clarity after spring. Coach Tommy Tuberville was extremely impressed with Doege and Karam last spring after Taylor Potts and Steven Sheffield went down with injuries.
Time to find new stars. Most of the big names on Texas Tech's defense are gone. Colby Whitlock, Bront Bird, Brian Duncan will all continue their careers elsewhere. The leaders on the defense will have to begin to emerge in the spring. Is it Scott Smith? Cody Davis? A younger, unexpected player? We'll find out. Sometimes these types of situations aren't as easy to predict as they might seem, like Missouri's strength in 2010 emerging in the secondary.
February, 1, 2011
2/01/11
1:30
PM ET
ESPN The Magazine had a fascinating feature
looking back at the past 25 No. 1 high school recruits

, where they are now and what the ranking meant to them. With apologies to
Vince Young
, there aren't a ton of Big 12 talents on the list, but there have been plenty of great recruits to come through the Big 12. We took a look on Thursday at
how the All-Big 12 team stacked up as recruits
, and you saw quite a mixed bag.
Well, it's the same for the recruits who came to campus with high rankings and high profiles. Going back to 2006, here's how every Big 12 commit from the ESPNU 150 turned out. We'll eventually get to the current class in 2011, around signing day, but here's how the 2010 class breaks down. This class is only a year into their careers, so while some have shown more potential than others, it's ridiculous to be too discouraged by anyone on this list, or make any truly meaningful judgments.
Big 12 signees in the 2009 ESPNU 150
No. 2: Jackson Jeffcoat, DE, Texas.
Got off to fast start in 2010 before being sidelined and slowed by ankle injury. Finished with 13 tackles, five tackles for loss, 2.5 sacks and one fumble recovery. Only three tackles after season's first four games.
[+] Enlarge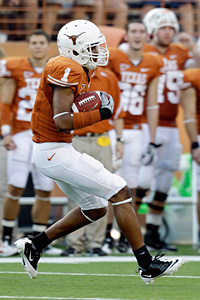 AP Photo/Eric GayTexas freshman wide receiver Mike Davis finished with 47 receptions this past season.
No. 4: Jordan Hicks, LB, Texas.
Ohio prospect chose the Longhorns over in-state power Buckeyes. Played in 11 games, including seven at linebacker. Finished with 21 tackles in first year, including 11 in a win against Nebraska.
No. 13: Mike Davis, WR, Texas.
No catches in the season opener, and missed the Red River Rivalry with an ankle injury, but ranked second on the team with 47 catches for 478 yards and two touchdown catches, tied for most on the team.
No. 14: Taylor Bible, DT, Texas.
Redshirted.
No. 15: Ahmad Dixon, S, Baylor.
Waco native forced a fumble and had 16 tackles.
No. 18: DeMarco Cobbs, ATH, Texas
. Played special teams in 10 games, and appeared at defensive back in one game. Made four tackles.
No. 20: Darius White, WR, Texas.
Played in seven games at wide receiver and one at special teams. Caught one pass for five yards against Florida Atlantic.
No. 21: Tony Jefferson, S, Oklahoma
. Won the starting nickelback job, finishing the season with 65 tackles, two interceptions and two sacks. Named co-Big 12 Defensive Freshman of the Year.
No. 46: Ashton Dorsey, DT, Texas.
Played in seven games, made one tackle.
No. 48: Austin Haywood, TE, Oklahoma.
Appeared in 11 games, mostly on special teams. Made three tackles.
No. 62: Corey Nelson, LB, Oklahoma
. Switched to the Sooners from Texas A&M on Signing Day 2010. Appeared in all 14 games, making 21 tackles, including 2.5 for loss. Blocked a punt vs. A&M.
No. 65: Blake Bell, QB, Oklahoma.
Redshirted.
No. 72: Reggie Wilson, DE, Texas.
Played in 10 games. Made five tackles.
No. 73: Chris Jones, WR, Texas.
Redshirted.
No. 75: Shaun Lewis, LB, Oklahoma State.
Became a starter and made 58 tackles and eight tackles for loss. Intercepted three passes, including two against Oklahoma, returning one for a touchdown. Named co-Big 12 Defensive Freshman of the Year.
No. 77: Quentin Hayes, S, Oklahoma.
Redshirted.
No. 83: Luke Joeckel, OT, Texas A&M.
Enrolled early and was the Aggies' starting left tackle by the spring game. Earned All-Big 12 honorable mention.
No. 86: Tevin Jackson, OLB, Texas.
Kept off the field by eligibility issues and appeal is still pending.
No. 90: Jake Matthews, OT, Texas A&M.
Became Aggies' starting right tackle midway through the season.
No. 114: Aaron Benson, LB, Texas
. Redshirted. Cousin of former Longhorn Cedric Benson.
No. 122: Carrington Byndom, CB, Texas.
Played in 10 games at defensive back and special teams. Made 11 tackles, all solo.
No. 125: Toney Hurd Jr., CB, Texas A&M
. Appeared in 12 games and made nine tackles.
No. 129: Brennan Clay, RB, Oklahoma.
Carted off field as a precaution in win against Florida State and missed next two games. Finished with 127 yards on 36 carries.
No. 134: Adrian Phillips, ATH, Texas.
Played in 10 games, including five at defensive back. Made eight tackles.
No. 141: Trey Hopkins, OG, Texas
. Played in 11 games and made three starts at left guard.
No. 142: Justin McCay, ATH, Oklahoma.
Redshirted.
No. 147: Andrew Rodriguez, OG, Nebraska
. Appeared in five games as a backup left guard, becoming the first true freshman Nebraska lineman to play since 2006.