December, 30, 2011
12/30/11
8:00
AM ET
LOS ANGELES -- To have any chance of stopping Oregon's high-scoring offense in the Rose Bowl, Wisconsin is going to need a strong game from linebackers Mike Taylor and Chris Borland. One thing's for sure: Both guys will surely savor the opportunity.
Borland and Taylor are arguably the co-MVPs of a mostly anonymous Badgers defense. They owe their standout 2011 seasons at least in part to some painful lessons they learned.
[+] Enlarge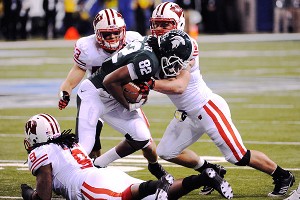 Richard Mackson/US PresswireWisconsin linebackers Mike Taylor, left, and Chris Borland combined for 293 tackles in 2011.
After being named the Big Ten freshman of the year in 2009, Borland missed all of last season, including the Rose Bowl appearance, with a shoulder injury. Taylor saw a promising redshirt freshman year end prematurely in 2009 with a torn anterior cruciate ligament that forced him to miss the Champs Sports Bowl.
Through their shared injury experience, the two formed a bond. Each helped motivate the other to recover.
"I can attest to the fact that being next to Mike for the last few years, seeing what he's had to go through, has helped me coming back from injuries," Borland told reporters. "I think he could say the same thing. It's brought us closer. We've been looking forward to playing together for a while, and this year it was able to happen."
They've both seen each other in weaker moments.
During the 2009 Champs Sports Bowl trip, Taylor was on crutches in his Orlando, Fla., hotel room and had to ask teammates to pick up some food for him.
"That hotel, it seemed like a mile, it was so long," Taylor said at Thursday's media session. "Eventually I lost the crutches and just put a brace on, but it was still quite a trek limping that far.
"When I got hurt, Chris came in and had a great season. It really made me happy to see that and obviously I was like, 'Well, what if I was healthy?' But you've got to stay positive."
Last year, Borland underwent his shoulder surgery on Dec. 23, then flew with the team to Los Angeles. Despite all the hoopla of the event, he was mostly miserable.
"Yeah, Merry Christmas, and my birthday's right after," he said. "So happy birthday. Happy New Year. I don't want to be too pitiful, because it was a great experience to come out here. I tried my best to respect where I was.
"But it was hard. It was hard to be out and not even do anything. I couldn't walk around a lot. Couldn't go to Disneyland and stuff. And then the game, most obviously."
It's safe to say that both linebackers have made up for lost time. Taylor was one of the most improved players in the Big Ten, recording 137 tackles after making only 58 last season. Borland, who switched to middle linebacker this season, added 131 stops. They are the only teammates in the Big Ten to have averaged more than 10 tackles per game this year.
Maybe neither will wow you with his size or speed, but they are both excellent tacklers who play with ferocity. Oregon offensive lineman Carson York jokingly referred to Borland as the "human incarnation of a Badger."
"Those guys are outstanding," Oregon offensive coordinator Mark Helfrich said. "I mean they immediately jump out on film and are relentless and incredibly good at shedding blocks. Slipping blocks. Avoiding blocks of offensive linemen, fullbacks.
"We know that we definitely have our hands full with those guys. And you're not going to trick them."
Taylor and Borland will have to excel against the Ducks' fast-paced offense. As middle linebacker, Borland has to signal in defensive calls as quickly as possible. Wisconsin can't afford many missed tackles against a team with such explosive speed, and its defense usually funnels plays to its top two linebackers.
Luckily for the Badgers, the two trust and communicate with each other innately, a relationship forged by some more painful times. Those memories have fueled them to this point.
"Being hurt and missing time makes you grow more mature," Borland said. "I think sometimes guys don't really appreciate what they have. And to have it taken away from you really makes you respect the game and a trip like this and a successful year."
November, 11, 2010
11/11/10
11:33
AM ET
Oregon's offensive linemen are sick of it. They won't be objectified anymore. They want the world to know they are more than just a bunch of big, nameless, sexy guys.
Sure, they
made a calendar
. And, yes,
the photos are hot
. Women everywhere swoon at the thought of Ducks offensive linemen.
But they want to be taken seriously as football players. So there was no beefcake calendar this year.
"Believe it or not, we have a pretty big following," center Jordan Holmes said. "They were very disappointed."
Oh, Jordan, we believe it.
[+] Enlarge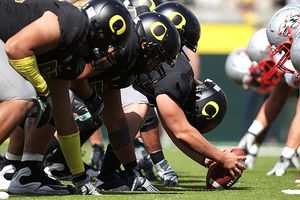 Tom Hauck/Getty ImagesThe Oregon offensive line has helped pave the way for the top-ranked Ducks.
But there is a larger issue here: When folks talk about the high-powered Oregon offense, they start with coach Chip Kelly and tempo and the spread-option, then move on to
LaMichael James
and
Darron Thomas
. Someone chirps in about underrated receivers, such as
Jeff Maehl
. "Underrated!" someone invariably counters. "That's tight end
David Paulson
's middle name!" Then someone says that's an unusual middle name. And another pipes in that they thought his middle name was "Joshua."
You get the point. They rarely talk about the offensive line. Heck, only dedicated Ducks fans know any of their names: Holmes, tackles Bo Thran and Mark Asper and guards Carson York and C.E. Kaiser. Ask Kelly to name his line's standouts and he doesn't -- and not because Kelly gets a kick out of not telling reporters what they want to hear.
"I don't know if there is [a standout]. I think they're all really good," said Kelly, whose top-ranked Ducks visit California on Saturday. "It's not like we have one dominant offensive lineman and then four other guys. I think we've got five pretty good guys -- actually six, actually seven or eight pretty good guys. ... I don't know if there's a standout. And to be honest, maybe that's a good thing."
Seven different guys have started games. And you can't argue with the results. The Ducks rank fifth in the nation in rushing (305.4 yards per game) and have given up just five sacks, which is tied for ninth in the nation.
So why doesn't Oregon get mentioned when folks talk about dominant offensive lines?
"They do a phenomenal job there of turning players into system-fit guys," USC coach Lane Kiffin said. "I don't think you have first-round picks on their line, guys the NFL is jumping all over. They played really, really fast in the system."
Then Kiffin adds a bit of a zinger: "Obviously, it doesn't help very much for the next level, because there's no carryover in what they do."
Hmm. That's debatable. The Ducks are masters of zone blocking, which is popular in the NFL. And three Ducks linemen -- Geoff Schwartz (seventh round), Max Unger (second round) and Fenuki Tupou (fifth round) -- were picked in the 2007 and 2008 drafts. And all five 2009 starters returned this year, so none were eligible this past spring.
What do Oregon linemen do that's so different? Kelly insists that blocking is blocking, and his line coach, Steve Greatwood, is considered one of the top teachers in the nation.
Still, there is some "new school" at work here (though zone blocking isn't terribly new). The Ducks' line doesn't try to knock you back so much as stretch you out and create spaces for playmakers, such as James. It's not about driving; it's about sticking. There isn't a designated "hole," which sometimes takes some getting used to for young linemen.
"There are so many options -- I don't know what else goes on behind my back," Holmes said. "Sometimes it's frustrating not knowing where the ball's going. But as long as we're moving the ball downfield, we're OK with it."
But the real difference is tempo. The Ducks want to play as fast as possible, and plays can't start until Holmes has a spotted ball and can set the line. Suffice it to say, he gets to know the referee better than any other player on the field.
"There are a lot of officials who like to stand over the ball and wait for their buddy officials to get set up before they'll actually spot the ball," Holmes said. "They'll say, 'Don't snap the ball until I'm out of the box.' But we really never listen to them. As soon as he puts it down, we're trying to snap it."
While zone blocking isn't as aggressive as drive blocking, it's hardly patty-cake. When you watch the Ducks' line work, you see plenty of defenders on the ground. There's plenty of mauling going on, particularly at the second level. And physical play at a fast pace wears a defensive front seven down. Even a layman can sense a defense's will getting broken. Just pay close attention late in the third quarter.
"It's usually in the middle of a drive," Holmes said. "You can read body language. They're having a tough time getting their calls in. They kind of start to snap at each other. When that happens, you know they are not feeling too good. Then it's time to attack."
Yes, Holmes admits he and his linemates get tired. They are big dudes running around, after all. But he also noted they usually score a touchdown before exhaustion sets in, so they can go to the bench and relax with a cup of juice and an orange slice.
Their work has earned notice. While James and Thomas are like Brad Pitt and George Clooney starring in the blockbuster that is the Ducks' offense, the line is like William H. Macy, Forest Whitaker and Harry Dean Stanton, playing supporting roles that earn acclaim from educated eyes.
"I think that line is under-appreciated because of the numbers being run up by the individuals involved -- the quarterback's numbers, LaMichael James' numbers -- everybody's got a place to point their attention," UCLA coach Rick Neuheisel said. "But I think that line does a pretty remarkable job in handling everything at the tempo. And as well with as many schemes as they run."
But who should earn, say, All-Pac-10 honors?
"They all stand out," Cal coach Jeff Tedford said. "They are technicians who are able to move in space."
So, please, don't only see the Ducks' linemen as mere zone-blockers playing in a system. Or even as eye candy in alluring poses. See them as technicians. Men who move in space.
But, just FYI: Word is there will be a new Ducks linemen calendar this spring.
August, 19, 2009
8/19/09
6:15
PM ET
Posted by ESPN.com's Ted Miller
EUGENE, Ore. -- Chip Kelly has to be himself, so he's going to figure out a way to change the job of head Oregon football coach so it fits him, not the other way around.
Administrative tasks bogging him down? He'll spend all summer carefully planning out every detail of the Ducks -- and his -- schedule so that won't be an issue during the season.
"Our schedule is set until after the bowl game, whatever bowl game we go to," he said. "I could tell you what time our meeting is on Oct. 26... I can tell you what day we start spring practice. Our spring game is on May 1. We've got the whole year planned out."
A jones to continue directly coaching players not getting satisfied? Kelly created the "tazer" position, a hybrid running back-receiver, which he now coaches just like any other position coach. Kelly has daily meetings with his tazers, Ed Dickson -- formerly known as one of the nation's best tight ends -- and LaMichael James and Kenjon Barner, who once were backup running backs.
A football practice with a million things going on still missing something? Hey, let's play music during practice, from James Brown to Pearl Jam to Eric Clapton to the new stuff that the kids like.
(Kelly's eclectic tastes get a tip of the cap from the Pac-10 blog. He even likes the Dropkick Murphys, whose version of "I'm Shipping Up To Boston" is the best part of the movie, "The Departed.")
"As long as the songs don't have any profanity," he notes.
In the old days, head coaches climbed towers to lord over practices. Most head coaches these days linger on the periphery, giving only occasional pieces of sage advice or offering bits of intimidation as motivation.
Kelly starts coaching at the first whistle and doesn't stop until the last.
He barks: "Finish!" "Aggressive!" "Where are you supposed to be?"
Five quarterbacks throw the ball into the air at the same time during a drill. One ball hits the ground. Kelly knows exactly who and what went wrong.
At any moment, he could be explaining nuances to a player who catches his eye or debriefing with an assistant.
"That's the fun part. You have to coach the way you know how. Some guys are great at being CEOs," he said. "I want to stay involved."
He's also willing to do some things that seem strange but may soon be better described as "innovative." Quarterbacks wear helmet cams, so coaches can look through their eyes. Stand-ins for defensive linemen strap onto their shoulders what look like large black fans in order to obscure the vision of the quarterback.
If there was any question that Kelly might wait to put his imprint on a program that thrived for 14 years under Mike Bellotti, well, the answer is no. These Ducks are now Kelly-green.
While former backup quarterback Justin Roper's decision to transfer shouldn't be termed "a good thing," it's clear watching practices that Kelly has three capable quarterbacks who perfectly fit into his spread-option system: Jeremiah Masoli, Nate Costa and Darron Thomas. All three are good runners and passers. If Roper had remained with Oregon and had been needed for whatever reason, his skill set -- he's not much of a runner -- would have required some tweaks to the game plan. Said Kelly, "That's what we're looking for -- a quarterback who can really run. Those guys are ideal for what we're looking for. I feel better about our quarterback depth this year than I did last year ... I wouldn't hesitate to play any of those three guys."
Oregon is tall at receiver. At any given time it could split out wide Dickson (6-foot-5), Dion Jordan (6-foot-7), Rory Cavaille (6-foot-3), Lavasier Tuinei (6-foot-5) or Tyrece Gaines (6-foot-3). "That's kind of by design in recruiting," Kelly said.
A flu bug has run through the Ducks. Kelly said that around 15 to 20 players have missed practices -- almost always two days -- including four on Wednesday.
New defensive line coach Jerry Azzinaro isn't a huge guy but my initial impression is you'd want him on your side in a bar fight. "Our defensive line is playing great right now. They really have caused some problems in camp," Kelly said. "I think [Azzinaro] is as good as any D-line coach in the country. I think it's showing."
The Ducks seem close to set on the offensive line with Jordan Holmes at center, Bo Thran at left tackle and C.E. Kaiser opposite him on the right side. Mark Asper is the right guard and Carson York leads at left guard. Kelly said he felt confident with Nick Cody and Darrion Weems in terms of depth.

TOP 25 SCOREBOARD
Saturday, 12/21
Monday, 12/23
Tuesday, 12/24
Thursday, 12/26
Friday, 12/27
Saturday, 12/28
Monday, 12/30
Tuesday, 12/31
Wednesday, 1/1
Thursday, 1/2
Friday, 1/3
Saturday, 1/4
Sunday, 1/5
Monday, 1/6