November, 15, 2012
11/15/12
9:00
AM ET
It was a good effort last week, and a respectable showing, but you can't win 'em all. I went 5-1 last week, the lone bad pick being North Carolina over Georgia Tech. So much for having the bye week to prepare. I spoke with Georgia Tech coach Paul Johnson on the phone Tuesday and promised I wouldn't ask him any questions about that, as Duke is also coming off a bye.
The record heading into Week 12 is 65-16 (80.2 percent).
Lesson learned about the Jackets and bye weeks?
Georgia Tech 48, Duke 38:
Defense? What defense? Not in Atlanta. Won't matter. Again. Georgia Tech will control the clock, quarterback
Vad Lee
will come off the bench and once again direct the offense to score after score against a Duke defense that has allowed 104 points in the past two games.
Florida State 38, Maryland 10:
The No. 10 Seminoles haven't been an impressive road team this year, but they should dominate a young, overmatched and undermanned Maryland team. The Terps managed only 10 points and 180 total yards last week against Clemson, and the Noles have a better defense than the Tigers. Maryland will give its best effort in the final home game of the season, but the Noles will clinch a share of the Atlantic Division title and secure a trip to the ACC championship game.
Virginia Tech 17, Boston College 14
: The Eagles gave Notre Dame their best shot last week; there's no reason to think they'd give the Hokies anything less. This will be the lone defensive struggle in the ACC this week, but Bud Foster's group will pick up where it left off against FSU and be the difference in this game. Hokies get their first road win of the season.
Clemson 38, NC State 17:
This game was on this week's upset watch, but it was No. 3 because it's the least likely to happen. Clemson should handle this test with ease. Here's your KOD, Tigers: Not. Even. Close. NC State will have at least two turnovers,
Mike Glennon
will struggle, and Clemson's offense will wear the Wolfpack out. Coach Dabo Swinney said NC State embarrassed his program last year. Don't think they won't remember that.
Miami 34, South Florida 20:
The Canes become bowl eligible this week and win their final home game of the season. The Bulls' defense won't have an answer for
Duke Johnson
, and Miami will still get its passing game going despite an injury-laden receiving corps. South Florida ranks No. 114 in the country in turnover margin, and that will be the difference in this game.
Andrea's Big East pick -- Miami 30, USF 17
: We have no idea whether
Matt Floyd
or
Bobby Eveld
will start at quarterback for USF. Compound that uncertainty with the loss of several other starters on offense, and the Bulls are going to have a M*A*S*H unit going to Miami. There is some reason for hope, though. Miami has one of the worst defenses in the country, and USF gets highly motivated for games like this. The Bulls have won in Miami, so they are not going to be intimidated. Here is where I think Miami has the huge advantage: freshman all-purpose player
Duke Johnson
. USF will have a hard time slowing him down.
Virginia 31, North Carolina 28:
The Cavaliers are on a roll. It's that simple. Quarterback
Michael Rocco
and the offense are confident and clicking, the defense has been sharp on third downs and North Carolina will miss kicker
Casey Barth
in a close game. This should be an entertaining Thursday night game that comes down to the fourth quarter.
Notre Dame 28, Wake Forest 14:
This will be Note Dame linebacker Manti Te'o's final game in South Bend, so expect another Heisman-worthy performance from arguably the nation's top linebacker. The Deacs will be well-coached and well-prepared, but they'll also be overmatched on the road against a better team. The Irish will remain undefeated and complete another 3-0 sweep against the ACC with wins over Miami, Boston College and Wake Forest.
November, 14, 2012
11/14/12
1:00
PM ET
Casey Barth
, North Carolina's record-setting kicker, is out for the rest of the season, according to the school's latest injury report. Barth was injured on a kickoff in the third quarter of Saturday's 68-50 loss to Georgia Tech last week. Barth holds the school record for field goals and extra points, and has made 80.5 percent of his field goals (66 of 82). He had made all 44 extra points this season, a single-season school record. He is also the school's career leader with 66 field goals, surpassing his brother Connor (54), with a 30-yard field goal at Wake Forest.
North Carolina coach Larry Fedora said
Thomas Moore
will take over the place-kicking and kickoff duties.
"Casey, losing him is obviously a big loss for our football team," Fedora said. "He's the record holder here at the school for just about everything in the kicking game. He brings a wealth of experience and a lot of confidence to the position.
"When Casey was injured last year, Thomas was the one who was doing all of the kicking at that time. So we feel comfortable with him. He's had plenty of live reps in games throughout his career. Even though we're going to miss Casey, the next guy has gotta step up and play."
Carolina has made 166 consecutive extra points, including a school record 126 by Casey Barth and 42 by Thomas Moore. Barth's only miss was in the second quarter of the season opener vs. The Citadel in 2009. Barth has made 160 of 161 attempts.
Here are the full injury reports for both teams:
NORTH CAROLINA
Out for the season
VIRGINIA
Out for the season
Out
Doubtful
Probable
September, 22, 2012
9/22/12
7:03
PM ET
North Carolina overcame yet another slow start to beat East Carolina
27-6
on Saturday.


It was not the best first half for the Tar Heels, who only led 10-6 going into the break. There were a few breakdowns deep inside East Carolina territory that cost them more, but some of those problems were corrected in the second half.
Bryn Renner
opened the third quarter with a 62-yard touchdown pass to
Sean Tapley
and the Heels cruised from there.
A big reason why UNC was able to shut down East Carolina in the second half was the play of its defensive front, which came to life to stuff quarterback
Shane Carden
.
Kevin Reddick
had one outstanding play in particular, sacking Carden and forcing a fumble that North Carolina recovered. In all, North Carolina finished with seven sacks and held the Pirates to 233 yards.
Renner finished 27-of-43 for 321 yards and two touchdowns.
Running back
Giovani Bernard
was back in the starting lineup after missing the last two games with a knee injury, and had 102 yards combined rushing and receiving, and two touchdowns. His 4-yard run in the third quarter essentially put the game out of reach.
One other record note in this game: Kicker
Casey Barth
set the school record for extra points made.
September, 10, 2012
9/10/12
10:00
AM ET
Here is a look back at Week 2 in the ACC:
The good:
The top three ranked teams in the ACC have yet to embarrass themselves, unlike some of their conference brethren. While highly touted Arkansas, Wisconsin, Michigan, Nebraska and even Oklahoma State have lost in the first two weeks of the season, Florida State, Clemson and Virginia Tech have managed to move on up in the polls. The Seminoles are now tied for No. 5 in the newest AP poll, while Clemson is up to No. 11 and Virginia Tech is up to No. 13. One more stat for you to chew on: the ACC is right behind the SEC in number of teams ranked in the top 13. The SEC has four, while the ACC has three and the Big Ten, Big 12 and Pac-12 have two each. ... Meanwhile,
EJ Manuel
at Florida State and
Tajh Boyd
at Clemson rank in the top 8 in the nation in completion percentage. Manuel is No. 5, completing 77.14 percent of his passes, while Boyd is No. 8 with a completion percentage of 75.44.
[+] Enlarge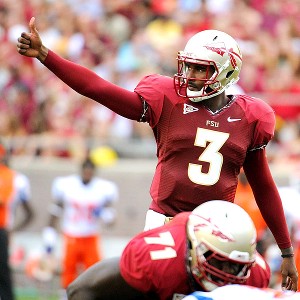 Melina Vastola/US PresswireEJ Manuel has completed 27-of-35 passes for 349 yards in two games this season.
The bad:
Miami had another poor defensive performance in a 52-13 loss to Kansas State. It was the Hurricanes' largest margin of defeat since losing to Virginia 48-0 in 2007. The last time Miami allowed this many points was in 1998, in a 66-13 loss to Syracuse. After back-to-back poor defensive performances, Miami now ranks No. 114 in the nation in total defense, allowing an average of 517.5 yards a game, No. 109 in scoring defense (42 ppg) and No. 109 in passing defense (325.5 ypg).
The ugly:
If the Miami game was not ugly enough for you, then let us turn to Duke, which lost at Stanford 50-13. Going back the past five seasons, the ACC has never had a weekend in which two teams have given up 50-plus points. The Blue Devils managed just 27 yards rushing, and turned the ball over three times -- including an interception return for a touchdown. Want another ugly stat? How about converting five of 20 third-down attempts. Duke now ranks No. 114 in the nation in that category. Oh, and the Blue Devils also allowed a punt return for a touchdown on Stanford's first possession.
The surprise:
Maryland's run defense. Temple came into the game having rushed for 362 yards in a win over Villanova. The Terps were no doubt expecting the run, particularly after Temple gained 240 yards in a 38-7 win over them last season. Well this year, Maryland held the Owls to just 52 rushing yards on 39 carries (for a 1.3 ypc average), good enough for a 188-yard difference from a season ago.
The stat:
Wake Forest junior receiver
Michael Campanaro
set career highs with 13 receptions for 164 yards in a win over North Carolina. He is now tied for rst nationally in pass receptions per game with 11, sharing the mark with Brett Leonard of Louisiana-Monroe. Campanaro also ranks sixth nationally in receiving yards per game (130).
The stat II:
Florida State defensive end
Bjoern Werner
has five sacks in two games to lead the nation in total number of sacks. He also ranks fourth nationally in tackles for loss, averaging 3.25 a game.
The record:
Casey Barth
set the North Carolina school record for career field goals with 55, after kicking two in a loss to Wake Forest. Barth missed most of last season with a groin injury and was granted a medical hardship waiver to return for this season. The previous record holder? That would be his brother, Connor, who set the mark from 2004 to 2007. Connor Barth is now the kicker for the Tampa Bay Bucs.
The overmatched:
We heard all week about how badly Florida State would whip up on Savannah State, its replacement opponent for West Virginia. Good thing for Savannah State this game got called because of weather or it may well have had another 84-0 loss on its hands. The final stats: Savannah State had three first downs, 28 total yards (nine passing, 19 rushing) and made one third-down conversion. Combine that with its opener against Oklahoma State, and Savannah State earned north of $800,000 to lose 139-0.
September, 8, 2012
9/08/12
8:10
PM ET
Wake Forest came from behind to beat North Carolina
28-27
, thanks to some pretty outstanding play out of
Tanner Price
and
Michael Campanaro
.


Price scored the game-winning touchdown on a quarterback sneak with 2:09 left, and ended up running for a career-high two touchdowns and throwing for a career-high 327 yards, finding many holes in a North Carolina secondary that showed some signs of weakness. Campanaro was his No. 1 target, and for good reason. He showed why he is one of the best receivers in the ACC, with 13 catches for 164 yards -- both are career highs.
Wake Forest jumped out to a 21-14 halftime lead, but North Carolina scored 13 straight points to go up 27-21. The Tar Heels had to play without top offensive star
Giovani Bernard
, who hurt his knee in the first half of a win over Elon last week. Though Bernard and coach Larry Fedora said Bernard would play, the sophomore sat on the bench. While
Bryn Renner
kept North Carolina in the game, the Tar Heels were severely limited without Bernard's playmaking abilities (though
A.J. Blue
did go over 100 yards).
That was most evident during a critical sequence in the third quarter.
Tim Scott
intercepted Price deep in Wake Forest territory to give North Carolina the ball at the Wake 8-yard line for a first-and-goal. But a penalty set North Carolina back and the Tar Heels settled for a field goal by Casey Barth to go up 24-21. If North Carolina scored a touchdown with such golden field position, perhaps the outcome is different.
Renner also took a hard hit late in the second quarter that required trainers to assist him off the field, but he was able to come back to the game after missing a series.
Wake Forest coach Jim Grobe has now won three of his past four against North Carolina, and is 13-2 at home against North Carolina, NC State and Duke. A week after struggling to beat Liberty, Wake looked like a new team. And next week's game at Florida State just got a lot more interesting.
January, 18, 2011
1/18/11
11:00
AM ET
There were plenty of memorable moments this past season, but some always find a way of sticking with us longer than others. There were plays, moments, games and people who helped define the season. Some were good, some we'll remember for all of the wrong reasons. Feel free to
share yours in the mailbag
and I'll highlight them later this afternoon.
Here's a look at the top moments from the 2010 season:
[+] Enlarge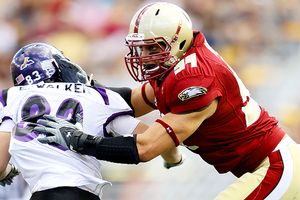 Elsa/Getty ImagesBoston College LB Mark Herzlich made his return to the field this season after missing all of 2009.
1. The linebackers' return:
NC State linebacker Nate Irving and BC linebacker Mark Herzlich both made miraculous recoveries in 2010. After missing the entire 2009 season while receiving treatment for Ewing's Sarcoma cancer, Herzlich returned to the team last offseason only to miss part of camp while recovering from a stress fracture in his right foot. Unsure of whether he would be available for the season opener against Weber State, it was one of the biggest comebacks in college football when Herzlich ran out of the tunnel and later made two tackles in the first quarter.
2. The NCAA investigation.
Unfortunately for UNC, this season will forever be linked to an NCAA investigation into agent-related benefits and academic misconduct that eventually sidelined 14 players for at least one game, including seven players who missed the entire season. Assistant coach John Blake resigned, star defensive tackle Marvin Austin was dismissed, and while a bowl win over an SEC team was something to be proud of, this season will always be remembered for what could have been had the entire roster remained intact.
3. Virginia Tech's loss to James Madison.
Face it: it's one we'll never forget. A positive spin? It changed the Hokies' season. This loss was the catalyst for an unprecedented turnaround in the FBS. No other program has ever started out 0-2 and finished the regular season undefeated. Virginia Tech rallied to become the first ACC team since 2000 to breeze through the ACC schedule undefeated, but the poor start quickly knocked Virginia Tech out of the national title conversation.
4. Florida State's state championship:
FSU's combined wins over Miami and Florida marked the first season sweep of state rivals since 1999 -- by the widest combined point margin in school history. Jimbo Fisher became the only FSU coach to pull off that sweep as a first-year coach. The Seminoles' 31-7 win over Florida snapped a six-game losing streak to their in-state rivals, beating the Gators for the first time since 2003 -- also the last time FSU was able to score that many points against Florida. With the win, Jimbo Fisher clinched the most wins by a first-year FSU coach in 50 years. Not even Bobby Bowden won his debut against Florida.
5. John Kevin Dolce's hit on Miami quarterback Jacory Harris:
This hit changed Miami's season. Not only did it knock the Canes' starting quarterback out for a few weeks, it also dashed Miami's hopes at winning the Coastal Division and gave Virginia its first win over a ranked team since defeating No. 21 Georgia Tech in 2008. Said Dolce: "When you chop the head off a giant, the rest of the body goes with it."
6. Military Bowl crowd chanting Ralph Friedgen's name.
The ACC coach of the year had been fired, but in his final game at Maryland -- a 51-20 drubbing of East Carolina -- Friedgen lived up to the title he had earned with the second-best turnaround in the FBS in 2010. After winning just two games in 2009, Friedgen led his team to a nine-win season, and his players and fans thanked him for it on a cold day in RFK Stadium.
7. David Wilson's kickoff return against Georgia Tech:
With 2:23 remaining, Virginia Tech running back
David Wilson
scored on a 90-yard kickoff return to give the Hokies a 28-21 win over the then-defending ACC champs. It was a dramatic play that answered Georgia Tech's 80-yard, game-tying drive, and one that separated Virginia Tech from the rest of the Coastal Division. Also in this game, Georgia Tech star quarterback
Joshua Nesbitt
broke his right forearm late in the first half, leaving the Jackets without the heart of their offense for the rest of the season, and ending Nesbitt's record-setting career too early.
8. Tyrod Taylor's ACC title-game performance:
There were trademark scrambles, big plays and no interceptions from the ACC's player of the year, who finished with four touchdowns and 267 total yards in a 44-33 championship game win over Florida State.
9. North Carolina's double-overtime win against Tennessee in the Music City Bowl:
The Tar Heels have a flair for the dramatic when it comes to bowl games, but this one was one of the most bizarre. After declaring the game over, officials reviewed the clock and determined there was still one second remaining. It gave kicker Casey Barth just enough time to tie the game at 20 and send it into overtime.
10. Dustin Hopkins' 55-yard game-winner:
A week after missing the game-winning field goal against North Carolina, FSU's kicker made a career-best 55-yard field goal to beat Clemson, 16-13, as time expired. Hopkins had missed two fourth-quarter field goals in a loss to the Tar Heels the previous week. It was the third-longest field goal in Florida State history.
December, 30, 2010
12/30/10
11:05
PM ET
Here's a quick recap of North Carolina's
30-27 win
in two overtimes over Tennessee in the Franklin American Mortgage Music City Bowl:


How the game was won:
With instant replay. Thanks to an official review, the Tar Heels got one more chance and one second back on the clock in regulation -- just enough time for Casey Barth to tie the game at 20 with a 38-yard field goal. Regulation ended with terrible clock management by North Carolina, as the Tar Heels let about 11 seconds run off the clock before spiking the ball. The officials said "the game is over" and mass confusion ensued before they decided on putting a second back onto the clock. Tennessee imploded with three costly penalties in the final 30 seconds, including a 13-yard personal foul that landed the Heels on the 12-yard line to start overtime. UNC quarterback
T.J. Yates
scored with a 1-yard run in overtime, but Tennessee answered right back, sending it into a second overtime. Tennessee quarterback
Tyler Bray
, who got a little brash in the first overtime, threw an interception in the second overtime and Barth kicked the game-winning, 23-yard field goal.
Turning point:
With 25 seconds remaining in the game,
Todd Harrelson
's catch for 28 yards was reviewed, upheld, and a 15-yard personal foul was tacked on, setting the Tar Heels up with a first down on the Tennessee 37-yard line. It was the play in regulation that kept UNC's hopes alive for a chance at a field goal to send the game into overtime.
Stat of the game:
North Carolina held Tennessee to just 27 yards rushing.
Player of the game:
UNC kicker Casey Barth. His 39-yard field goal tied the game at 20 and sent it into overtime, and his 23-yard kick gave the Tar Heels their first bowl win since 2001.
Unsung hero of the game:
UNC running back
Shaun Draughn
. Filling in for suspended starter
Anthony Elzy
, Draughn ran for 160 yards and one touchdown with an average of 7 yards per carry.
What it means:
UNC took the next step in the postseason under coach Butch Davis and won the close game, snapping a three-game bowl losing streak. It was a fitting end to a season defined by Carolina's relentlessness through the NCAA investigations. North Carolina hasn't been at full strength all year because of injuries and the investigations, but they've dug deep all season to find ways to win, and this game was a microcosm of that effort.
November, 6, 2010
11/06/10
7:23
PM ET
Somehow, some way, North Carolina found a way to win again and is still in the mix to play in the ACC championship game.


The curse of missed field goals carried over to the Jimbo Fisher era, as the usually-reliable Dustin Hopkins missed a 40-yard attempt with less than 10 seconds to play, allowing the Tar Heels to escape Tallahassee with a
37-35 win
. Both quarterbacks played well and shockingly there were no turnovers in this game. Casey Barth, though, made three field goals in the second half, and UNC won with just 34 rushing yards.
NC State should be kicking itself for losing to Clemson today. Maryland should be kicking itself for losing to Miami. And Florida State? Well, let's not talk about their kicking. All three teams are now tied with 6-3 overall records and two conference losses each. The Atlantic Division race got much more interesting today with all three teams losing.
Considering today's results, it makes Virginia Tech's 5-0 league record all the more impressive. And it makes next week's UNC-VT game all the more interesting.
November, 2, 2009
11/02/09
3:33
PM ET
Posted by ESPN.com's Heather Dinich
North Carolina kicker Casey Barth literally got swept up in the moment.
Upon kicking his team's 21-yard game-winning field goal for a stunning 20-17 victory over Virginia Tech last Thursday night in hostile Lane Stadium, Barth was hoisted into the air by center Lowell Dyer and consumed by celebration.
On Friday, after having had some time to digest the magnitude of the win, Barth summed it up succinctly:
"I think it saved our season," he said.
| | |
| --- | --- |
| | |
| | Scott Halleran/Getty Images |
| | Casey Barth was carried off the field following Thursday's win over Virginia Tech. |
It very well might have.
After opening the season with three straight conference losses and feeling the pressure to stop a downward spiral, North Carolina (5-3, 1-3 ACC) did the seemingly impossible and marched into one of the nation's most difficult places to win on a Thursday night and stunned the Hokies. Now the Tar Heels have increased their chances of finishing the season with a bowl game and a respectable record in Butch Davis' third season.
"I think the guys needed the win -- skip the records and all that -- just on a personal level," said safety Deunta Williams. "We put in so much hard work during the offseason, and for it not to manifest during the season, it was tough for guys to understand that. For us to go down there against a ranked opponent, a very good team, and just us against the world and no help from anyone at all but us, we come out with the win, it was more of a confidence builder, self-esteem builder, all of that good stuff. We really needed that."
And Davis, Barth said, had a lot to do with giving the team the confidence it needed to actually pull it off.
"He has the stats, that last year we beat a lot of good, ranked teams, and obviously we have the athletes to do it," Barth said. "He told us we definitely have the ability to beat them, we just have to put our best effort out there."
They did, in all three phases of the game -- for all four quarters -- and that was the difference. Offensive coordinator John Shoop won the chess match against Virginia Tech defensive coordinator Bud Foster, and the return of several healthy players helped him do it. Williams said UNC's defense, which was humbled two weeks ago in the second half of a nationally televised loss to Florida State, was playing for pride as much as anything else.
The plan, Williams said, is to keep it up, but it doesn't get any easier, as UNC will host its rival, Duke, on Saturday in another key Coastal Division game. The Blue Devils have won their past three conference games, including two on the road, and control their own destiny heading into Chapel Hill.
North Carolina, though, knocked off a team that just weeks ago was still in the running for the national title. And the Tar Heels did it in Lane Stadium, where the Hokies entered the game with a 9-2 record on Thursday nights.
"It wasn't just a fluke or anything like that, especially playing against Virginia Tech," Williams said. "It would be different if you were playing against someone who was less talented, but overall I think it was a good team and -- it's not the first time we've done that, but it was the first complete game that we've played in all three stages, besides the ECU game, that we all came together and won as a team."
And when that happens, it's easy to get carried away.
"It was awesome," Barth said. "I've never really experienced anything like that. It was one of the best moments of my life."
March, 4, 2009
3/04/09
9:53
AM ET
Posted by ESPN.com's Heather Dinich
The Tar Heels begin spring practice today and coach Butch Davis and his staff have a lot of work to do in order to improve upon last year's impressive eight-win season. At the top of the list is finding a few players who can catch the ball.
Here are the highlights of our conversation, with the warning that Davis turns around programs faster than he tends to answer questions (not that there's anything wrong with that):
| | |
| --- | --- |
| | |
| | Bob Donnan/US Presswire |
| | Greg Little will be someone the Tar Heels look to this season. |
Everyone knows you have a lot to replace at wide receiver. What can you tell me about the guys who have the potential to step in there this spring?
BD: That will probably be our No. 1 main objective going into the spring, at least from a position standpoint, is replacing those three unbelievably talented wide receivers. And Cooter Arnold was a really significant player when we got into four wide receiver packages, but having said all that, I think that we've got five guys on campus right now that we're excited to find out about. They've had an opportunity to watch for this last year or so. They watched those three guys practice, how hard they practiced, how much film they studied, how much trust and confidence they developed with the quarterback, and certainly Greg Little is probably the most experienced player that we have. He's played wide receiver, and he's started games at wideout, he's played as a running back. He's got pretty significant game experience.
After that, then most of the guys, they're kind of somewhat young, but we think they've got some talent. Dwight Jones was one of the most highly recruited receivers in the country a couple of years ago. We think he is poised to step in and be able to contribute and do some things. We're also very excited about Todd Harrelson, a receiver we recruited last year that redshirted this past season. We think that he's got some things he can certainly bring to the table. One of the most highly recruited kids in last year's class was Josh Adams, that enrolled in midterm. So he's been going through our offseason program and that was part of the recruiting program, knowing a year ago we were going to lose some guys to graduation. We didn't know Hakeem (Nicks) was going to go out early in the draft, but that was one of the things in trying to get Josh. We knew he'd be able to come in at midterm. We've got another kid that's going to be a junior, Rashad Mason.
A lot of these guys have been waiting in the wings, flying under the radar, so to speak, because we had those three guys that did probably 85 percent of the playing over the last two years. So now will be a time for us to really work with some consistency, some continuity in the springtime, and it will be an ongoing process all summer long and certainly into training camp. We think by the start of the season we've got some other kids we signed -- we signed three other receivers to come in in this class that we think they'll have an opportunity to add a little bit to the position.
August, 26, 2008
8/26/08
8:20
AM ET
Posted by ESPN.com's Heather Dinich
Yes, Russell Wilson was named NC State's starting quarterback, but he knows there's more to life than football games. Baseball games, too. His father is still in the hospital after suffering a stroke this summer.
There is still a season opener to be played, though, and South Carolina coach Steve Spurrier took a few people by surprise on Monday when he announced running back Taylor Rank will start against the Wolfpack instead of senior Mike Davis.
There shouldn't be any more surprises coming out of Coral Gables this week.
No Robert Marve? No problem. Jacory Harris is a "rock star." Michael Cunningham says Randy Shannon's poor timing is just that, and won't affect the team. So far, he's right.
Shannon wasn't thrilled with the idea of his son, Xavier, joining the football team. And now that Xavier Shannon is a Hurricane, there's no favoritism -- or much talking about football -- going on.
Florida State's running game looked good in its final scrimmage, but the quarterbacks? Still looking for consistency. If the Noles are going to have a good season, the offense is going to have to play well for more than "a minute and a half." It might help if everyone who is supposed to be there was actually cleared to play.
UNC's game against McNeese State is a sell-out, but will the Tar Heels put on a season-long show for their fans? When asked for specifics about his kicking game, Butch Davis decided to punt. It looks like Jay Wooten and Casey Barth will get things done together.
I'm not the only one who thinks Clemson can actually git 'er done this year. Ron Morris points out plenty of reasons why Tommy Bowden should have a breakout season. Of course, there's always that question about the offensive line, but better to be concerned about your backups than your starters, no?
It's never good when a headline starts off with "Despite being tied to an academic scandal ..." but hey, Virginia defensive coordinator Bob Pruett is still "having a lot of fun."
As for offensive coordinators, I told you this guy was good.
August, 22, 2008
8/22/08
8:43
AM ET
Posted by ESPN.com's Heather Dinich
Until he wins an ACC title, Clemson coach Tommy Bowden knows he's going to be answering questions about whether or not he actually can.
It's not like he doesn't have the talent to do it. Just look at how many veterans are being pushed by talented rookies in this program.
Bowden said he planned on using a significant amount of freshmen this season, but a few prominent newcomers have been relegated to the redshirt ranks.
Maryland should surprise some people in the Atlantic Division this year, and the Terps' veteran offensive line is a major reason why.
On the Coastal side, even Virginia Tech coach Frank Beamer has had to temper his expectations because he had so many questions to answer this summer. Could a defensive tackle nicknamed Taco be one of those answers? Possibly, now that he's slimmed down a bit.
With Eric Moncur and Allen Bailey battling injuries all summer, the freshmen on defense have had to turn it up a notch. Marcus Robinson has been impressive enough to earn consideration to start in the season opener. We don't know who the starting quarterback is at Miami yet, but we know what his backups are doing.
Georgia Tech had a game-style scrimmage Thursday night to prepare for its season opener against Jacksonville State, and it wasn't exactly pretty.
Wake Forest quarterback Riley Skinner isn't Matt Ryan, but he's tried to be. Now he's ready to be himself -- unflappable.
Boston College walk-on cornerback Mark Maglio has never gotten paid for doing his impersonations before -- unless a scholarship counts. Corner DeLeon Gause already has a scholarship, and there's no question he's going to earn it this season, as teams are likely to pick on BC's inexperienced secondary.
The same can be said at UNC, but as Kendric Burney points out, it's not like they're going against no-name receivers in practice every day.
With punter/placekicker Graham Gano out, who will step up?
Speaking of kickers ... can UNC's Casey Barth break his brother Connor's records? First he has to win the job.
And Virginia coach Al Groh isn't ready to name a starting quarterback, but he declared Yannick Reyering his new kicker.