NCF Nation:

Casey Cochran
March, 5, 2014
Mar 5
10:30
AM ET
Setting up the spring in the American Athletic Conference:

CINCINNATI
Spring start:
Feb. 27
Spring game:
April 5
What to watch:
Gunner Kiel: Attention has followed the former high school sensation for years, from Indiana to LSU to Notre Dame and now to Cincinnati. He enters his redshirt sophomore season having never taken a college snap. With sixth-year senior Munchie Legaux still recovering from last year's leg injury, the show is Kiel's to run this spring.
Hank Hughes' defense: The former Cincinnati defensive coordinator returns after coaching last season at UConn. There, he orchestrated a rushing defense that finished 23rd nationally despite a 3-9 campaign. He will keep a 4-3 base but loses three all-conference performers from last season: Greg Blair, Jordan Stepp and Deven Drane.
RDA IV: Ralph David Abernathy IV has been a playmaker out of the backfield for the Bearcats in recent seasons, but he has moved to the slot this spring. He will probably still line up in the backfield at times, but seeing what the 5-foot-7, 161-pounder can do in space is definitely worth keeping an eye on, especially if the man throwing him the ball, Kiel, lives up to the hype at quarterback.

EAST CAROLINA
Spring start:
March 21
Spring game:
April 12
What to watch:
Carden's ascent: Shane Carden could be a dark-horse Heisman Trophy candidate in 2014. He enters his fifth year in the program coming off a season in which he completed better than 70 percent of his throws for more than 4,000 yards, totaling 43 combined touchdowns between passing and rushing. Similar numbers in a new league will get him much more attention.
Replacing Jeremy Grove: The redshirt senior linebacker recently announced that he was hanging up his cleats after several shoulder injuries. The former freshman All-American led the Pirates in tackles for two years running before being limited last season. Expect bigger roles for Zeek Bigger and Brandon Williams, who together last season totaled 10 tackles for loss and three forced turnovers.
Filling the backfield void: East Carolina says goodbye to Vintavious Cooper, who turned in consecutive 1,000-yard seasons. While signee Anthony Scott looks like a player who could contribute right away upon his summer arrival, the burden for now falls on the shoulders of three backs who totaled 548 yards on the ground last season.

HOUSTON
Spring start:
March 3
Spring game:
April 11
What to watch:
O'Korn looks to take next step: John O'Korn started 11 games last season at quarterback, proving to be efficient through the air and on the ground while taking the Cougars to a bowl game in their first season in the American. Now he's running an offense that, including him, returns eight starters. He set the bar pretty high as league rookie of the year, but incremental improvement could mean big things for Houston in 2014.
CB battles: Zach McMillian and Thomas Bates have graduated, taking their combined 10 forced turnovers from last season out the door with them. Two transfers could find themselves in the mix, as Lee Hightower (Boise State) and Tyler White (Utah) look to battle for starting spots on a defense seeking help in the secondary.
Trevon Randle: The former LSU linebacker and three-star recruit now finds himself in more of a pass-rushing role after sitting out the 2013 season for undisclosed reasons. The move is interesting for the 6-foot-2, 218-pound Randle, but the talent is certainly there for Randle to become a playmaker, wherever he ends up playing on the field.

MEMPHIS
Spring start:
March 2
Spring game:
April 11
What to watch:
Paxton Lynch's growth: Lynch made a name for himself by unseating Jacob Karam as the starting quarterback during fall camp last season. He followed with an up-and-down season for the 3-9 Tigers, showing flashes of playmaking ability and a penchant for turning it over. He is now the hunted, not the hunter, with redshirt freshman Brayden Scott now in the role Lynch played last season in hoping to steal the No. 1 job.
Hayes' return: The biggest coup of the offseason was the NCAA granting Brandon Hayes a sixth year of eligibility. The former walk-on was the team's MVP and leading rusher last season, and he will help take plenty of pressure off of whoever emerges as the starting quarterback.
Defensive growth: The Tigers were ranked 39th last season in total defense, and eight starters return. The unit gave the offense chances to win last season against league heavyweights Louisville and UCF before falling by a 24-17 margin in both games, and the Tigers welcome two new coaches in Ricky Hunley (line) and Ryan Walters (corners).

SMU
Spring start:
March 4
Spring game:
April 5 (no spring game)
What to watch:
Replacing Gilbert: SMU opened practice Tuesday with five men in the mix to become its starting quarterback, with Neal Burcham carrying the front-runner status after starting the final two games last season in place of Garrett Gilbert (knee), who totaled nearly 3,800 yards rushing and passing last season, accounting for 27 scores.
Receiver depth: The Mustangs are relatively thin at the position following the graduation of two of its top three receivers from last season, as Jeremy Johnson and Keenan Holman each tallied more than 1,000 yards in 2013. Deion Sanders Jr., meanwhile, will miss spring practice because of a shoulder injury.
The next Acker: Cornerback Kenneth Acker starred with the Mustangs, earning second-team all-conference distinction after finishing second in the league in passes defended (16) and tallying a team-best three interceptions on the season. Jay Scott, who forced three turnovers himself last season, is also gone. Talented safety Shakiel Randolph could see his role increased after showing plenty of promise in his first two seasons, including a 37-tackle campaign last season.

TEMPLE
Spring start:
March 24
Spring game:
April 26
What to watch:
Receiver help: Temple will open spring practice without Robbie Anderson, the Owls' top receiver from last season, who is no longer with the team. Both Anderson and the graduated Ryan Alderman combined for more than 1,300 yards last season, so the pressure will be on Jalen Fitzpatrick and John Christopher to carry bigger workloads going into 2014. They'll have a familiar Philly face coaching them, with former QB Adam DiMichele now the Owls' receivers coach.
Aerial attack: One silver lining from a 2-10 campaign last season? P.J. Walker, who rebounded after losing the preseason quarterback battle and ended up starting the season's final seven games, threw for 2,084 yards. He was part of a group that passed for the most yards ever (2,996) by a Temple team, a promising sign moving forward for the second-year player (and his second-year coach, Matt Rhule).
Tyler Matakevich: The kid just keeps on getting better, as the linebacker followed up his impressive rookie season by tallying 137 total tackles — including 11.5 for loss — picking off one pass, recovering two fumbles and forcing three more. He wears a single-digit jersey, No. 8, to signify his toughness, and he is a great central piece for the defense to build around. Temple was ranked 109th overall in yards allowed last season.

TULANE
Spring start:
Feb. 7
Spring game:
Feb. 26 (no spring game)
What to watch:
Injuries: The situation is a little different here with Tulane, which is already finished with its spring season, allowing us to instead look back. And the Green Wave even ended up finishing earlier than anticipated, as coach Curtis Johnson ended it after Feb. 26, cutting the final two practices because of injuries. Among the walking wounded throughout last month: Linebacker Nico Marley, running back Sherman Badie and linebackers Sergio Medina and Edward Williams, who both missed all of spring because of pre-existing injuries.
QB battle: Tanner Lee is seemingly the front-runner to start in 2014 after redshirting as a freshman this past fall. A local prospect from Jesuit High, he passed for nearly 4,000 yards in high school while tallying 39 touchdowns and just nine interceptions, and he received a much heavier workload this spring after the Green Wave struggled with consistency in the passing game in 2013.
Filling the backfield void: Orleans Darkwa is gone after totaling 920 yards and 12 touchdowns last season. Tulane might be turning to another redshirt freshman, with Badie getting plenty of attention this spring before suffering a concussion down the stretch. Senior Rob Kelley (420 yards in 2013) and three other backfield contributors from last season return to give this unit a bit of depth.

TULSA
Spring start:
March 11
Spring game:
April 19
What to watch:
Defensive stability: No one in the program is happy following a 3-9 campaign last fall, but the Golden Hurricane bring back plenty of experience from last season as they move into Year 1 in the American. Ten starters are back on defense. Despite finishing just 102nd in yards allowed last season, that gives the program a nice foundation as it welcomes in a tougher slate of opponents.
Josh Blankenship and the offense: Head coach Bill Blankenship's newest hire is his son, Josh, who was brought in to coach quarterbacks and rework an offense that finished 100th overall last season. The former Muskogee High head coach is part of a restructured offensive staff after coordinator Greg Peterson left the program and Bill Blankenship gave up coaching the QBs.
Backfield holes: Trey Watts and Ja'Terian Douglas are gone after totaling nearly 1,700 rushing yards and 13 touchdowns last season. Reinforcements are on the way in three running back signees from this recruiting cycle, with one of them, juco transfer Tavarreon Dickerson, enrolling early and looking to make an impact after averaging 8.5 yards per carry last season at Trinity Valley.

UCF
Spring start:
March 12
Spring game:
April 12
What to watch:
Like after Bortles: Blake Bortles will be examined and re-examined in the public eye daily before the NFL draft, and his replacement back at UCF has some major shoes to fill. His backup last season, Justin Holman, is the most experienced of a three-man group that includes early enrollee and former SMU commit Tyler Harris.
Replacing Storm Johnson: Johnson is gone after rushing for 1,139 yards and 14 touchdowns last season, and Will Stanback will likely have to prepare for a much bigger role in his sophomore year after getting 105 carries in his rookie campaign of 2013. There are plenty of other bodies back there, but none managed the workload Stanback carried last season as a freshman.
Offensive line depth: Brent Key is now the assistant head coach of the offense, and he will serve as offensive line coach as well. The spring will be very important in helping to sort out the chaos up front, and one player worth keeping an eye will be Chester Brown, who saw limited action last season after switching from the defensive line in fall camp.

UCONN
Spring start:
March 10
Spring game:
April 12
What to watch:
New leader: Bob Diaco had an introductory news conference like few others. The former Notre Dame defensive coordinator is filled with energy, and he certainly brings a new approach atop the program following the Paul Pasqualoni and Randy Edsall eras. He already has made some cosmetic changes in the training facility, but bringing immediate change on the field is a bigger challenge in 2014.
Casey Cochran. The Huskies won their final three games last season, putting up 28 or more points in all three contests. Cochran passed for a school-record 461 yards in the finale, and seeing how he and the rest of the quarterbacks develop under this new staff will go a long way toward determining what UConn can do next season.
Defensive replenishments. For all of their struggles in recent years, the Huskies haven't lacked for talent or effort on the defensive side of the ball. That shouldn't change under Diaco, who won the Broyles Award as the nation's top assistant coach as Notre Dame's defensive coordinator in 2012. But replacing standouts such as Shamar Stephen and Yawin Smallwood won't be easy.

USF
Spring start:
Feb. 26
Spring game:
March 29
What to watch:
QB battle: Penn State transfer Steven Bench was named the starter at midseason in 2013, but he found himself behind freshman Mike White after an injury. Both quarterbacks turned the ball over way too much last season, and increased production from that position is crucial if Willie Taggart wants to get this program turned around in his second season as head coach.
Running backs: The battle to replace Marcus Shaw is on after his 765-yard season in 2013. Mike Pierre, Willie Davis and Darius Tice are the men being counted on now in the backfield, but no player from that trio carried the ball more than 41 times or topped 141 rushing yards for the season.
Jamie Byrd: Byrd enrolled at USF this January following a stint at Iowa Western Community College, and he has two years of eligibility remaining. He had 53 tackles, two interceptions, seven passes defended and a fumble recovery last season, and the hard-hitting speedster could make an early impact with the Bulls in the secondary.
August, 10, 2012
8/10/12
10:30
AM ET
Every year dating back to 2009, at least one true freshman has played -- and started -- at quarterback in the Big East.
You have guys like Tom Savage (now at a different Big East school),
Chas Dodd
and
Gary Nova
(battling it out to start), and up-and-coming
Teddy Bridgewater
at Louisville. While it seems B.J. Daniels has been starting since 2002 -- a joke made by coach Skip Holtz at media day -- he actually started as a redshirt freshman in 2009. I mistakenly had him starting as a true freshman in an earlier version.
[+] Enlarge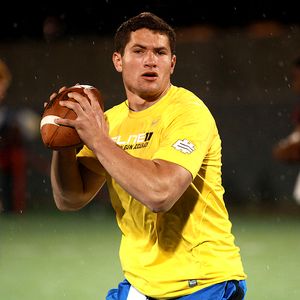 Tom HauckCould Pitt's Chad Voytik be the next true freshman to start at QB in the Big East?
So now that fall camps are underway, are there any candidates to play as true freshmen in 2012? As of right now, it does not appear any Big East team will go into the season with a true freshman starting at quarterback. But several players could have a backup role, depending on how they progress. Here is a look at two with the most likely shot.
Casey Cochran, UConn.
Given that Cochran is recovering from a broken wrist, the possibility exists that the Huskies just redshirt him this season. Coach Paul Pasqualoni already announced
Chandler Whitmer
as his starter. But the recent news that
Michael Nebrich
will transfer certainly makes this an interesting situation to watch. UConn is left with walk-on
Johnny McEntee
and Wildcat quarterback
Scott McCummings
, who has been absent taking care of personal matters. I think the best-case scenario for UConn is to have Whitmer make it through the entire season and play at a high level. That way, the Huskies can redshirt Cochran and give him four years of eligibility.
Chad Voytik, Pitt.
With the transfer of
Mark Myers
, Pitt now has three scholarship quarterbacks on the roster eligible for this season.
Tino Sunseri
is the unquestioned starter, despite some of his shortfalls. So now the backup job will be a competition between
Trey Anderson
and Voytik, a four-star recruit from Tennessee. Coach Paul Chryst said the team would take full advantage of giving Voytik more reps with Myers gone. But so far through the beginning of camp, Anderson and Sunseri have gotten the majority of the reps. "Both Tino and Trey need as many reps as they can get," Chryst said. "Chad has done a great job of studying and learning and that's not easy, no spring ball and no real reference, but I think he's done a great job of knowing what to do and I think he goes out and works at it. So I'm pleased where he's at." Like UConn, Pitt would be best served to have Voytik redshirt if the Panthers can win without him.
August, 8, 2012
8/08/12
10:35
AM ET
UConn backup quarterback
Michael Nebrich
has decided to transfer, the school announced Wednesday.
Nebrich went into fall camp fighting for the backup job after coach Paul Pasqualoni announced junior college transfer
Chandler Whitmer
would start for the Huskies. With five quarterbacks on the depth chart, it became clear that there would be a mad squeeze for playing time.
As a true freshman last season, Nebrich played in eight games and passed for 69 yards. He also had 10 yards rushing. UConn now has Whitmer, true freshman
Casey Cochran
(out with a broken wrist), Wildcat quarterback
Scott McCummings
and
Johnny McEntee
, who started last year.
May, 24, 2012
5/24/12
2:00
PM ET
PONTE VEDRA BEACH, Fla. -- I had a chance to catch up with UConn coach Paul Pasqualoni during the Big East spring meetings. We talked about where the quarterback race stands and some of his remaining questions heading into fall practice.
Do you have a front-runner in the race to be your starting quarterback?
PP:
Chandler Whitmer had the best production in the spring game, so I think there are members of the media, and I've been through this before, that like to choose the quarterback. If the members of the media, based on the spring game, were choosing the starting quarterback, Chandler Whitmer would be the front-runner. But I've been in this long enough to know that it's not based on one performance. It's the body of work over an extended period of time. They all did some pretty good things in the spring. Having said that, we're going to come back into preseason camp and we're going to continue the competition but I would like very, very much to make a decision as soon as I can.
[+] Enlarge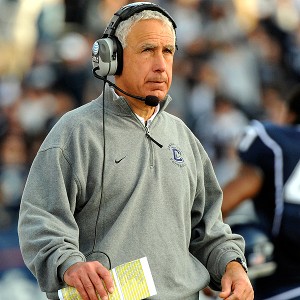 AP Photo/Tomasso DeRosaPaul Pasqualoni still has a decision to make regarding his starting quarterback.
It did drag on into the season opener last year.
PP:
I preferred for that not to happen. Years back when we had Donovan McNabb, Kevin Johnson and Keith Downing all competing, it was the same thing; we were trying to figure it out. We weren't able to do it early in preseason, so we did it in the end to get all the scrimmages in and get all the opportunities to watch and see them play and produce. If we have to, we're going to do that, but if we don't have to, we're not going to do that. I'd like to be able to say tomorrow, 'Here it is, let's go,' but I just can't do that. So we're going to grind it out. It's a big decision, obviously, and we're going to try to make the best, informed decision that we can.
How will you manage the reps with all five still competing?
PP:
We did a great job of managing the reps in the spring, so we'll go back in and we'll manage the reps the same way. They'll each get a significant number of reps. Scotty McCummings will still have the majority of the Wildcat reps, although he works on the entire game plan and we're trying to develop him as a drop-back passer as well. We'll divide them up and we'll do the best we can with it.
If Casey Cochran doesn't emerge as your starter, have you given thought to redshirting him?
PP:
We haven't discussed any of that yet. We really don't talk about redshirting anyone at this point. My policy is I want them coming in with a non-redshirt mentality when they get on campus. My fear has always been if you start to talk that redshirt mentality and they come into camp and they're not ready enough, it affects their conditioning and the way they go through practice. I want them coming in and all competing.
How about the development of your offensive line this spring. Where does that group stand?
PP:
We're anxious to get
Jimmy Bennett
back. He'll be back. He's been cleared, he'll work out full go here in early June. He was really one of our better tackles last year. The biggest issue with Jimmy is to get him ready to go but keep him healthy.
Adam Masters
got nicked up in the spring, we have to get Adam back, and over at right tackle,
Kevin Friend
has been working hard. So if Jimmy's back and Jimmy's playing tackle, it gives us flexibility to put Adam back at guard.
Alex Mateas
and
Tyler Bullock
are competing at center. There are a few freshmen I want to see practice, Tyler Samra, Rennick Bryan. I want to see where they can fit in the top 10. So those are going to be all really big things for us with the offensive line in camp.
How about the defensive line? It seemed Ryan Wirth had a good spring game.
PP:
Ryan Wirth got nicked up but then he came back for the spring game and had a very productive spring game. He's a senior, and we expect to get senior leadership out of him.
Shamar Stephen
,
Angel Pruitt
, I thought
Julian Campenni
had a productive spring until he got hurt. He cut his ear and was unable to play in spring game but he had a productive spring. We're not there yet on the defensive line, and we're not there yet on the offensive line, but we're going in the right direction. We've got the right guys on the bus. It's a matter of getting them in the right seats now.
What are your biggest questions then, aside from quarterback?
PP:
Offensive line, defensive line, and what the depth is going to be at both the tailback position and the wide receiver position.
Losing D.J. Shoemate was obviously tough.
PP:
It was. We know what
Lyle McCombs
can do. But we've got to find out who the next two guys are.
At receiver, Shakim Phillips seemed to have a good spring as well.
PP:
Shakim had a good spring,
Mike Smith
is back and he's played a lot of football for us.
Nick Williams
is back. We've got the two young guys in
Tebucky Jones
and
Geremy Davis
who have done pretty good, and then we moved
Deshon Foxx
out to wide receiver and he showed some promise. I think we know who the older guys are there. Now we have to figure out the younger rookie guys and see what kind of depth we have. I want each of them to have a role. To say that I've got all that figured out right now -- I don't.
April, 25, 2012
4/25/12
10:35
AM ET
With nearly every Big East team having wrapped up spring practice, one constant remains -- open quarterback competitions.
Unless coach Kyle Flood makes a last-second decision following the Rutgers spring game Saturday, four schools will go into the summer without a starter at perhaps the most important position on a team. Here is a quick look at how those competitions stack up:

Cincinnati.
Munchie Legaux
and
Brendon Kay
are the top two players vying for the job. Coach Butch Jones has decided not to name a starter, but all indications point to Legaux as winning the job once the fall rolls around. Legaux said during an interview this spring he had been taking most of the reps with the first team.

UConn.
Five players remain in the competition -- Junior college transfer Chandler Whitmer, freshman Casey Cochran,
Michael Nebrich
,
Scott McCummings
and
Johnny McEntee
. Nobody distinguished himself through the spring or in the spring game, though Whitmer had the "best" performance of the three. Don't be surprised if Whitmer is the starter, Cochran is redshirted and McCummings continues in his role as Wildcat quarterback.

Pitt.
Coach Paul Chryst has not named his starter, either, but he has indicated that incumbent
Tino Sunseri
has
separated himself
from
Mark Myers
and
Trey Anderson
. Now we'll see what happens when true freshman Chad Voytik enters the mix when he arrives in the summer.

Rutgers.
Chas Dodd
and
Gary Nova
went back and forth at quarterback last season for the Scarlet Knights, and neither one has really stood out this spring. Defense has dominated the scrimmages so far. Flood has said he would not make a decision until one player stood head and shoulders above the rest, but would like a starter in place a week to 10 days before the start of the season.
February, 2, 2012
2/02/12
9:00
AM ET
Now that national signing day has come and gone, it is time to take stock of how the Big East and its teams fared.
Rutgers was the big winner of the day, finishing with its first top-25 class. Louisville and Pitt were not far behind. Cincinnati pulled in the best class in school history, while West Virginia has an ESPNU150 talent in
Ford Childress
and Syracuse got a four-star player in
Wayne Morgan
. After a slow start, USF ended up with three four-star players.
Of course, we will not know the true measure of each class until a few years down the road. But signing day is all about dreaming big.

Top class:
Rutgers. The Scarlet Knights owned New Jersey, signing the top talent in the state for the second year in a row. Incredibly, every single high school player they signed is rated with three or four stars. So the final tally gives them one ESPNU150 player in
Darius Hamilton
, six four-stars and 13 three-stars.

Biggest surprise:
The biggest flip of the day belonged to running back
Dennis Norfleet
, who had been committed to Cincinnati for months. But a late offer from Michigan changed that, and he signed with the Wolverines. It was also surprising to see Louisville lose two players on signing day -- running back Ace Wales signed with Western Kentucky, and linebacker
Patrick Jean
signed with FIU.
First impression:
This was a strong year for Big East recruiting. It is a fact of Big East life that the top players in the nation generally go to more nationally prominent schools, as evidenced by the ESPNU150. The Big East only got three players on that list (two if you count West Virginia as a Big 12 member and one if you count Pitt as a future ACC member). But forget about the list and look at the hard numbers. Rutgers got into the Top 25, with Louisville and Pitt also getting some national notice. In all, the Big East had 24 four-star players sign -- compared to nine last season. Consider that every team but UConn got at least one four-star player. Last year, only three teams signed at least one four-star.

Recruiter of the year:
Kyle Flood, Rutgers. Look at the job he did saving the class from disaster after Greg Schiano left a week ago. Then look a little closer at the players he signed -- three offensive linemen ranked in the Top 25 at their respective positions. Flood was the long-time offensive line coach, of course, and this has been a major area of need for the past several seasons. Consider it filled in a big way.

Player you'll see next season:
Casey Cochran
, QB, UConn. The future is now for the Huskies, who are in desperate need of a starting quarterback who can lead this team back to a bowl game. This is the biggest area of need for a team that took a step back in 2011, and UConn is putting all its hopes on the No. 1 rated player in the state of Connecticut.

Future award winner:
Rushel Shell
, RB, Pitt. How much he plays this season probably depends on how Ray Graham does in his return from a torn ACL. But whether he plays or not, Shell has what it takes to be a future star. Just look what he did at Hopewell High in Aliquippa, Pa.: He set a state record with 9,078 yards rushing on 1,107 carries (8.2 avg.), scored a record 110 career touchdowns and set a national record with 39 consecutive 100-yard games. That passed the mark former Oklahoma Sooners great Billy Sims' mark of 38, set in 1975. Factor in new coach Paul Chryst and his penchant for an unyielding ground attack, and Shell should rack up the accolades in no time.

Program on the rise:
It would be easy to go with Rutgers here, but I am going to stick with Louisville. Coach Charlie Strong has shown continuity on the recruiting trail with his third class, picking up six four-star players -- one more than last season. That also was tied with Rutgers for best in the Big East. The pipeline to Florida has served Strong well, and he clearly showed in 2011 that he has the chops to coach up his young talent. Flood did a commendable job, as mentioned above. Now let's see him string together classes as impressive as this one.
January, 23, 2012
1/23/12
9:00
AM ET
National signing day is inching ever closer, so it is time to take a look at the biggest recruiting needs for every team in the Big East.
Cincinnati

Defensive line.
Cincinnati loses a host of seniors from this position, including Co-Defensive Player of the Year
Derek Wolfe
,
John Hughes
,
Monte Taylor
, and
Rob Trigg
. Factor in the key contributors for 2012 will be seniors in
Dan Giordano
,
Brandon Mills
and
Walter Stewart
and it is time to reload at this position.
Receiver.
There is some promising young talent on the roster, but several guys are going to be leaving in the next few years. The Bearcats really need a guy who can stretch the field and make some big plays to join
Anthony McClung
and
Alex Chisum
.
Secondary.
The Bearcats are going to take a hit at this position after 2012, losing a ton of seniors-to-be, including Cam Cheatham,
Drew Frey
,
Dominique Battle
and
Reuben Johnson
. Senior safety
Wesley Richardson
is already gone. The lone four-star commitment the Bearcats have is from a safety, Marcus Foster.
UConn

Quarterback.
This need has been addressed in this recruiting cycle, with junior college transfer Chandler Whitmer and Casey Cochran already enrolled in school.
Tight end.
With the impending departure of
Ryan Griffin
and
John Delahunt
, the Huskies could use another young player to be groomed to take over. Tight end is a critical part of the UConn offense.
Offensive line.
UConn is losing its two best linemen in
Moe Petrus
and
Mike Ryan
. Of the 16 linemen currently listed on the roster, seven are juniors or seniors. Linemen generally take a redshirt season, so it never hurts to sign more to be able to restock.
Louisville

Linebacker.
The Cardinals are losing
Dexter Heyman
and have a lot of juniors and seniors on their roster at this position. It is no surprise, then, that three of the top players coming in are linebackers -- Keith Brown and James Burgess are already enrolled; four-star recruit Nick Dawson has given a commitment.
Offensive line.
Louisville has young players here, but not much depth, as evidenced this season when several true freshmen were forced to play much earlier than anticipated. It never hurts to build depth here, and the Cardinals have gotten a huge commit from four-star guard Abraham Garcia out of Miami.
Running back.
This was an area the Cardinals struggled in this season, having to move quarterback
Dominique Brown
to the position.
Victor Anderson
is gone, and this team could really used another back to carry the load.
Pitt

Quarterback.
This one is pretty self explanatory if you watched
Tino Sunseri
play.
Mark Myers
and
Trey Anderson
are also on the roster, but the Panthers are in definite need here -- which is why so many fans are looking forward to commit Chad Voytik coming to town.
Linebacker.
This has been an area of inconsistency for the Panthers, who lose their best player in
Max Gruder
. There are some young players with talent in
Todd Thomas
and
Ejuan Price
, but this position could definitely use an upgrade.
Receiver.
The play of the offense was disappointing this season, and that includes the receivers. Pitt could use some players to stretch the field.
Ronald Jones
was a start this season. But when you consider that
Cameron Saddler
,
Mike Shanahan
and
Devin Street
will all be upperclassmen in 2012, this is a definite area of need.
Rutgers

Receiver.
Mohamed Sanu
is gone, and
Mark Harrison
is a senior to be. There is plenty of young talent, but there is a reason Rutgers has commitments from four athletes. This gives the Scarlet Knights the flexibility to try them at receiver or running back, another area of need.
Running back.
Once
Savon Huggins
got hurt this year, Rutgers had
Jawan Jamison
and
Jeremy Deering
at running back and that was about it. Depth has to be developed here.
Offensive line.
Strides have absolutely been made at this position, but coach Greg Schiano likes to reiterate that the Scarlet Knights aren't going to pull themselves out of the hole they were in overnight. They need another solid draft class at this position to keep building.
USF

Secondary.
Injuries and inconsistent play this season showed the Bulls really lacked some depth and need some immediate help in this area, which is why they signed junior college cornerbacks Fidel Montgomery and
Josh Brown
. One of their top four-star commitments is cornerback Chris Bivins.
Quarterback.
Beyond
B.J. Daniels
, a senior in 2012, the Bulls have
Bobby Eveld
and
Matt Floyd
as the two heirs to take over. Eveld has been less than impressive, and we don't know much about Floyd. The Bulls would be served to get another quarterback in as they prepare for the future.
Running back.
Darrell Scott
is gone, and the Bulls are really in need of a game breaker at this position.
Demetris Murray
is going to be a senior, and nobody else really has stepped up at the position. Depth has to be built here, because USF goes into spring practice with four running backs on the roster.
Syracuse

Defensive line.
The Orange are losing
Chandler Jones
and
Mikhail Marinovich
and could really used some difference-makers up front who can help get after the quarterback. Depth is an issue here. One of their big commitments so far has been defensive end Josh Manley out of Georgia.
Secondary.
This was one of the weakest parts of the team and now the Orange lose
Phillip Thomas
and Kevyn Scott, and there was a lack of depth when injuries hit this position in 2011. Brooklyn prep safety Wayne Morgan would be a huge get to add to this unit.
Receiver.
Alec Lemon
is a senior,
Van Chew
is gone and who knows what happens with
Marcus Sales
. The bottom line is the Orange are in major need of a game-changer to turn 15-yard passes into 40-yard receptions.
West Virginia

Quarterback.
Geno Smith
is a rising senior and after him it is crickets in the form of one player behind him in
Paul Millard
. So consider this need majorly filled with Ford Childress, ranked No. 139 on the ESPNU 150.
Offensive line.
The most inconsistent part of the team in 2011, West Virginia has a major need here. The Mountaineers struggled so badly here they started converted defensive lineman
Curtis Feigt
late in the season.
Don Barclay
is gone, and
Joe Madsen
,
Jeff Braun
and
Josh Jenkins
are all upperclassmen.
Defensive line.
Julian Miller
,
Josh Taylor
and
Bruce Irvin
are gone, and there are depth concerns here. West Virginia has four commitments from defensive linemen already.
January, 20, 2012
1/20/12
10:00
AM ET
Every team has plenty to do in the offseason. Today, I present to you my top priorities for each Big East program headed into the 2012 season.

Cincinnati
Settle on a quarterback. If 2011 was any indication, then Munchie Legaux seems a sure bet to start next season. He showed flashes, but he needs to spend the bulk of his offseason developing a nice rhythm and chemistry with his receivers. That was one of the biggest roadblocks for him when he took over for Zach Collaros. Cincinnati has some good talent at receiver -- with Anthony McClung, Kenbrell Thompkins and Alex Chisum coming back -- so this must be a top priority.
Develop senior leadership. The Bearcats are losing the best senior class in school history, filled with leaders left and right. With guys such as Collaros, Isaiah Pead and JK Schaffer gone, who is going to take the responsibility of leading this team? That is something that must be worked on throughout the offseason.

UConn
Find a quarterback. Sounds the same as last season, right? The Huskies never really found one in 2011 and that is a big reason why they struggled. Spring practice has the potential to have five different quarterbacks taking reps in Johnny McEntee, Scott McCummings, Michael Nebrich, Chandler Whitmer and Casey Cochran. Somebody has to emerge to take a hold of this offense.
Work on improving the secondary. The weakest part of this team last season ranked No. 113 in the nation, so this is a clear area that has to get better. The Huskies were hurt when starting cornerback Blidi Wreh-Wilson missed a good chunk of the season with a knee injury, and they also had to rely on freshmen in Byron Jones and Ty-Meer Brown. This group will be much more experienced, so you have to hope they will be much better, too.

Louisville
Mature. The Cardinals were one of the youngest teams in the nation last season, and their immaturity showed at times. But now they enter the offseason with exceedingly high expectations. Many preseason lists have them ranked in the Top 25 and challenging for the Big East title. This team will still be young in 2012, so it will be imperative for coach Charlie Strong to help get this group to mature quickly and stay focused.
Work on the run game. Strong wants the run game to be the bread-and-butter of the offense, and this was an area that took a step back in 2011 with Bilal Powell gone. Louisville went from being ranked No. 1 in the Big East to No. 5 in the Big East, averaging 121.5 yards per game. That is down over 50 yards per game. Dominique Brown and Jeremy Wright are back, but they have to be consistent and the Cardinals probably need somebody else to emerge.

Pitt
New identity. A new coach means a new identity, so it will be interesting to see how the Panthers look under Paul Chryst and his new staff. We will find out when spring practice opens in March. There is plenty of talent on the roster, but the big question is how will the talent be utilized?
Is Tino the man? This is starting to sound like a trend, right? The Panthers have quarterback issues as well after Tino Sunseri had a season to forget. Much of his performance can probably be laid at the feet of former coach Todd Graham, who stubbornly tried to run an offensive system that was not suited for the players he had. You can be sure Chryst will open up the quarterback competition to see who emerges.

Rutgers
Handle expectations. The Scarlet Knights have not been so good in the past when the pressure is on. All you have to do is look back at what happened this season, with a shot to win a share of the Big East title. Now they are getting some preseason love and probably have their best team since 2006. So coach Greg Schiano is going to have to do a good job of managing preparation and focus because expectations were raised off a successful 2011 campaign.
Quarterback derby. Yet another Big East team with a quarterback question mark. Chas Dodd and Gary Nova ended up splitting the starts this past season. Now there is the possibility that former quarterback Tom Savage transfers back in. I don't know if Schiano can afford to keep playing musical chairs with his quarterbacks every season.

USF
Re-focus. The Bulls have to put 2011 behind them and focus on the future. This is still a team that has the talent to win. Coach Skip Holtz has to find a way to get that done. This is going to be a veteran team that has been through good times and bad. He needs leaders who will their teammates to victory, who know how to win close games and are determined to get this team back on top. Who are they?
New defense. USF brings in new defensive coordinator Chris Cosh from Kansas State, its third different coordinator in the past four years. Getting the players adapted to his scheme as soon as possible has to be a point of emphasis in the spring and throughout the offseason.

Syracuse
More offensive consistency. To be sure, Ryan Nassib and Alec Lemon both had career years and made strides for the Orange. But a lot of that was because the run game was inconsistent, and Syracuse found itself trailing late in several games. This team has to find a way to sustain drives and score -- Syracuse was No. 7 in the Big East in scoring offense (24.2 ppg).
Shore up the defense. The Orange lose some of their best players on the defensive line, and have to get better in the secondary, which was a major problem for most of the year. Syracuse ranked No. 98 in the nation in pass defense, and they lose some key contributors. Shamarko Thomas is really going to have to step up and take control of this group.

West Virginia
Big 12 or Big East? The Mountaineers are bent on leaving for the Big 12, regardless of any court outcomes. On-field issues have nothing on trying to figure out where you are going to be playing. And who you are going to be playing.
Defense. Coach Dana Holgorsen has hired a few defensive assistants, but still no word yet on who is going to run the show. That, of course, will determine the future course of this defense. It appears an inevitability that they will no longer use the 3-3-5 that former coordinator Jeff Casteel ran. Plus, players such as Keith Tandy, Najee Goode, Bruce Irvin and Julian Miller are gone. Shoring up this unit has to be tops on Holgorsen's list.