NCF Nation:

Cassius Marsh
April, 17, 2014
4/17/14
1:00
PM ET
LOS ANGELES –
UCLA
's much-ballyhooed dual-threat threat
Myles Jack
-- the first player in league history to win the Pac-12's defensive
and
offensive freshman of the year -- has zero carries this spring.
None. Nada. A 230-pound donut of spring offensive production. And the reason is obvious to the man pulling the strings in Westwood.
"He is a defensive player -- period -- who
maybe
will have some offensive packages," stressed UCLA coach Jim Mora. "He hasn't taken a single offensive snap this spring, nor will he. In training camp, either. He plays defense for us. The important thing is to help us maximize his abilities at linebacker. He's phenomenal on either side of the ball. But in his mind and the reason he came here is to play linebacker. I'm not going to take that away from him. It would hurt our football team."
In a whirlwind 2013, Jack went from heralded recruit to starting linebacker to overnight social media/SportsCenter sensation. Six carries, 120 yards and one rushing touchdown later
against Arizona
, the "Jack of all trades" puns were as viral as the common cold.
[+] Enlarge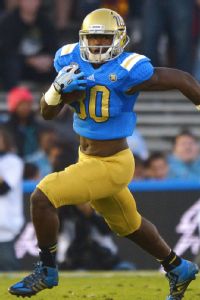 AP Photo/Mark J. TerrillUCLA's Myles Jack is focusing on defense this spring, but he could have some offensive packages during the fall.
"It was definitely crazy," Jack said. "My life pretty much changed after that Arizona game. People really knew who I was after that. It was definitely pandemonium in terms of my phone. Guys I hadn't talked to in a long time were hitting me up. It was wild."
This spring the UCLA coaching staff has reminded Jack that he is, above all else, a linebacker. They've kept him strictly on one side of the ball, but haven't ruled out that we might see him get some carries when the leaves start to turn. For now, the emphasis is on making him the best linebacker he can be.
And he was pretty good last season, posting the second highest number of tackles in school history for a true freshman with 75. That was enough to earn him second-team All-Pac-12 honors and placement on several freshman All-America teams. He was good, but not great. And he knows it.
Too often last season, Jack would rely on his athleticism rather than trusting in his still-developing technique. He'd guess. When he guessed right, the result would be a tackle for a loss or a highlight play. When he guessed wrong, what could have been a sack turned into a 3-yard gain. He was athletic enough to compensate. But the coaching staff is confident that when he reaches that sweet spot between athleticism and technique, well, look out.
"I'm not even close to where I need to be yet," Jack said. "In high school I carried the ball and played defensive end. I was in a four-point stance and I'd just run around the other guys. But in the Pac-12, these offensive linemen are big and fast. I need to do a better job with my hands and shedding blocks and reading my keys."
His collegiate offensive exploits speak for themselves. His 66-yard touchdown run against the Wildcats thrust him into the national spotlight and he ended the season with 267 rushing yards and seven touchdowns. He set a UCLA true freshman record with four rushing touchdowns
against Washington
, and on the other side of the ball, he led the Bruins with 11 passes defended and added a two interceptions with a pick-six in
the bowl win
over Virginia Tech.
Mora was quick to note that Jack isn't the only dual-threat the Bruins have on their roster. Last season defensive lineman
Eddie Vanderdoes
rushed for a touchdown and had an 18-yard reception. Linebacker
Jordan Zumwalt
had a 12-yard catch and defensive lineman
Cassius Marsh
had a 2-yard touchdown reception.
"If they can help us on either side of the ball, we're going to continue to use them," Mora said. "We're going to continue to use Myles on offense and in packages. We're going to continue to use Eddie Vanderdoes. We're going to continue to use Kenny Clark. We're going to find a guy that can replace Cassius. We've got guys like
Ishmael Adams
that we can play on both sides of the ball. But we have to make sure they are full entrenched at one position before we ask them to branch out. Otherwise you hurt their ability to grow."
December, 1, 2013
12/01/13
2:04
AM ET
LOS ANGELES -- Two years a monopoly does not make. But let's just say UCLA is off of lowly Baltic Avenue and working its way toward Mora, err, Marvin Gardens.
We of course pay playful homage to the disastrous UCLA marketing campaign of a half-decade ago declaring that USC's monopoly on Los Angeles football was over. Perhaps it didn't fail. Maybe it was just ahead of its time.
For the second consecutive year, the Bruins posted a double-digit victory over their crosstown rival. Saturday night, they did it at the Coliseum, Traveler's stomping grounds, for the first time since 1997. UCLA quarterback
Brett Hundley
rushed for a pair of touchdowns in the
35-14 win
. Inch by inch, yard by yard, the Bruins are blanketing this angelic city in blue.
"You get into the old 'We own this town' stuff. We've got it right now, but we have to play them in 12 months, so it's temporary," said UCLA coach Jim Mora. "I'll tell you what -- it's nice to have it now for two years in a row. It tells you what's going on at UCLA. It's an exciting time at UCLA. It's an exciting time to be a UCLA Bruin. You want to play for a fun, tough, hard-nosed football team that can go and win games everywhere, come to UCLA."
[+] Enlarge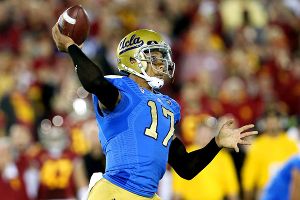 Stephen Dunn/Getty ImagesUCLA QB Brett Hundley was nearly unstoppable as the Bruins won their second straight over crosstown rival USC.
If that sounds like a recruiting pitch, you'd be right. After last year's win over USC in Pasadena, Mora was fairly stoic at the pulpit, recognizing but also downplaying the importance of the victory. But Saturday night, he looked like he was mainlining Red Bull.
"You win two in a row in this town, things start to change," Mora said. "That's going to help us in recruiting. If I'm a high school player, I want to play at UCLA right now."
Case in point: two-way threat
Myles Jack
, who has splashed onto the national stage over the past month for his exploits on both sides of the ball. As a running back, he scored another short-yardage touchdown Saturday night, his seventh of the season. As a linebacker, he added three tackles and recovered a fumble. It's wins like this that Mora promised Jack during the recruiting process, and a major reason why he opted to come to UCLA.
"I saw the first year with them beating 'SC, beating Nebraska, going to the Pac-12 championship," Jack said. "When they were recruiting me, everything [Mora] said, he backed it up with numbers. They won big games. They went to the Pac-12 championship. They went to the Holiday Bowl. I saw the change and I wanted to be a part of that.
"If they are telling [recruits] the same thing they are telling me, it's true. They aren't lying. Everything they told me came true. They told me I could come in and compete for a spot, and came in and won the spot. They told me we were going to win big games. We beat 'SC, we were going to do big things, beat Nebraska. And we've done it. Coach is a man of his word and his track record proves it."
In the other locker room, the coaching situation is questionable, at best. Interim coach Ed Orgeron had been on a stellar 6-1 run since taking over for the fired Lane Kiffin. But Saturday night, his team had no answers for its rival -- specifically Hundley, who was 18-of-27 for 208 yards passing to go with 80 yards and two scores on the ground. Protection issues also plagued the Trojans and quarterback
Cody Kessler
, who was sacked six times, including two each by
Anthony Barr
and
Cassius Marsh
.
USC's loss adds another wrinkle to its coaching search.
"I will take it one day at a time," said Orgeron, who hasn't made it a secret that he wants the job. "Right now I am hurting for these guys and our coaches. Tomorrow will be a new day, the sun will shine and we are going to get up and get after it again. We are going to look at film and correct it."
Since the start of the 1990s, the USC-UCLA rivalry has been defined by streaks. UCLA won eight straight from 1991-98. The Trojans then went on to win 12 of the next 13 (two were vacated, but come on). As far as the rest of the country is concerned, this rivalry doesn't have the same bite as, say, an Iron Bowl or Ohio State-Michigan.
No one opted to boycott
the letter "U" in the week leading up to the game. The CLA-SC showdown just doesn't have the same ring to it.
But it means plenty in a recruiting-rich environment like Southern California. And plenty to a city that's thirsty for football but doesn't have an NFL team.
"What a great night for L.A. to have competitive teams going at it like that," Mora said. "I'm so proud of our kids, our young men for the way they fight and the way they come back every week; their resilience and their toughness. There is something growing there that is pretty special. And to come in here on a Saturday night like this and get a win, it tells you where this program is headed."
Three wins, or even four, in a row might not make it a monopoly. But every victory brings Mora and the Bruins one step closer to Boardwalk.
November, 21, 2013
11/21/13
10:15
AM ET
A few storylines to keep an eye on this week in the Pac-12:
North race: Oregon's road is clear. If they win out, they will be the North Division champs. If they lose either of their final two games, both against conference opponents, Stanford will win the North by virtue of its tiebreaker. That is assuming, of course, Stanford gets by Cal in the Big Game. Stanford's final game is a nonconference matchup against Notre Dame.

[+] Enlarge

AP Photo/Rick BowmerTaylor Kelly and Arizona State can win the Pac-12 South with a win at UCLA on Saturday.

South race: A lot will be decided this weekend when Arizona State travels to UCLA. If ASU wins this game, it will win the South. If UCLA wins and beats USC next week, it will be the South champs for the third straight year. USC is still in the mix, but the Trojans need some help. They need to beat Colorado and UCLA and hope that ASU drops its next two games.
Bowl picture: Eight teams are bowl eligible with three more still in the mix. Washington State can become bowl eligible this weekend with a win over visiting Utah. Utah could still become bowl eligible with a win over Washington State and a win over Colorado in the season finale. Colorado could still become bowl eligible with a win over USC and a win over Utah. Recall that Colorado received a waiver from the NCAA that allows their two FCS victories to count toward bowl eligibility.
Questionable quarterbacks: We're still waiting to see the status of Washington quarterback Keith Price. The Huskies have kept him on ice this week, though he said he's confident he'll play. If he can't, the Huskies will go with Cyler Miles. Oregon quarterback Marcus Mariota says his knee is near 100 percent. One quarterback we know for sure isn't playing is Utah's Travis Wilson, who learned that his playing career might be over after concussion tests revealed a preexisting condition. The Pac-12 blog wishes him the best as the Utes move forward with Adam Schulz -- a strong-armed former walk-on.
Clutch quarterbacks: The ASU-UCLA game obviously has massive Pac-12 South implications. But it also features two of the most dynamic quarterbacks in the league in ASU's Taylor Kelly and UCLA's Brett Hundley. Remember last year's game in Tempe? UCLA won in the closing seconds and both quarterbacks led their team on late scoring drives. The Bruins have had to find creative ways to score points. Last week it was LB/RB Myles Jack, who scored four rushing touchdowns, and DE-turned-tight end Cassius Marsh, who snagged a touchdown reception. ASU has had no problems getting production from Marion Grice, who has 20 touchdowns on the season and is closing in on 1,000 yards. Line play will be critical as ASU's veteran front seven will push a young UCLA offensive line.
Sense of urgency bowl: Both Washington and Oregon State are bowl eligible. But the Huskies are still lacking a quality road win and the Oregon State offense hasn't been what it was the first half of the season. Washington has dropped all three road conference games this year and four straight dating back to last year's Apple Cup. Quarterback Sean Mannion has an unfavorable 3-to-7 touchdown to interception ratio in his last two games, though he's 199 yards shy of the school's single-season passing mark. Brandin Cooks is now one of five Pac-12 receivers to ever reach 100 receptions in a season. Speaking of school records, Washington running back Bishop Sankey is to break Washington's single-season rushing mark. He has 1,396 yards, and if he keeps up his average of 139.6 yards per game, he'll top Corey Dillon's 1,695 yards in 1996. Both teams need this one to have the semblance of a salvaged season.
Trying to get to a bowl: Aside from the bowl implications, the Cougars will be honoring 19 seniors. The Cougars are yet to win a conference home game this year while Utah is yet to win a conference game on the road. Combine that with Connor Halliday throwing at least one interception in every game and Utah's inability to intercept the ball (only two on the year) and you have quite the conundrum. Washington State has had 10 or more receivers catch a pass in nine games this year.
In control: The Ducks travel to Arizona this week, where they'll face a Wildcats team looking to better its bowl situation. Ka'Deem Carey has now gone for at least 100 yards in 13 consecutive games and is second in the country with an average of 150.3. On the other side, Byron Marshall is nine yards shy of reaching 1,000. Assuming he does, that would be seven straight years the Ducks have had a 1,000-yard rusher. And there is the other streak -- Mariota's Pac-12 record of 353 passes without an interception.
A Song of Ice and Fire: Yes, that's a tip of the hat to my Game of Thrones friends. The Trojans are on fire right now, having won four straight and five of their last six. They are 5-1 since Ed Orgeron was named interim head coach, including a win last week over No. 4 Stanford. But weather conditions are expected to be in the 30s and there is the possibility of snow in Boulder. USC isn't traditionally a cold-weather team. Colorado is coming off a big home win against Cal and the Buffs still have something to play for in late November. Been a while since we typed that.
Big Game: This is the season finale for Cal, which has a chance to make something of an otherwise depressing season. Of course, to do it, they'll have to knock off a Cardinal team that probably smells blood after its loss to USC last week. The Bears are more than a 30-point underdog and the Cardinal have to win in the event Oregon drops one of its final two Pac-12 games. The Bears are trying to avoid their first winless conference season since 2001. The Cardinal have forced a turnover in 35 consecutive games.
October, 7, 2012
10/07/12
1:43
AM ET
UCLA went to Memorial Stadium looking for its first win in Berkeley since 1998. All the No. 25 Bruins found was a fierce Cal pass rush and an inspired Bears offense that quarterback
Zach Maynard
ran with relative efficiency to
a 43-17 victory
over the Bruins.


Maynard accounted for five Cal touchdowns -- four in the air and one on the ground -- and the much-maligned Bears defense kept the Bruins to 378 total yards, sacked quarterback
Brett Hundley
four times and forced six UCLA turnovers.
For as well as Cal played, UCLA also didn't help their cause with miscommunications and penalties. For example, a mix-up between Hundley and
Shaquelle Evans
led to an interception at the end of the first half that could have been a huge momentum swing.
And the Bears capitalized on the Bruins' mistakes, turning those five turnovers into 20 points.
UCLA jumped out to a 7-0 lead in the first quarter when Hundley connected with defensive lineman-turned-eligible-receiver
Cassius Marsh
on a 4-yard score.
But the Bears then scored 23 straight on three Maynard touchdowns -- a 5-yarder to
C.J. Anderson
, an 8-yarder to
Keenan Allen
and a 32-yarder to
Brendan Bigelow
. He was a very crisp 25 of 30 for 295 yards.
"[Maynard] played within himself and we did a nice job as a team," Cal head coach Jeff Tedford told the Pac-12 Network after the game. "It was a total team effort. It was solid. All three phases played well. Now we regroup and get ready for another game next week. This is just one game."
Hundley, who finished 31-of-47 for 253 yards, connected with
Joseph Fauria
for a 3-yard strike to cut the score to 23-14 early in the third quarter. But Maynard answered by finding Allen again -- this time for 34 yards -- to put Cal ahead 29-14 after the blocked PAT.
Things got ugly in the fourth when Cal fumbled in the UCLA red zone, then Hundley was intercepted for the second time, and then Cal fumbled again on the very next offensive play. And then Hundley was picked again on the next UCLA drive by
Michael Lowe
. The teams combined for 22 penalties for 199 yards.
Maynard put the game out of reach midway through the fourth when, following the Lowe interception, he marched the Bears to the UCLA 1-yard line and put his head down for the score.
Anderson iced it in the final minutes with a 68-yard touchdown with 1:32 left in the game.
October, 26, 2011
10/26/11
9:00
AM ET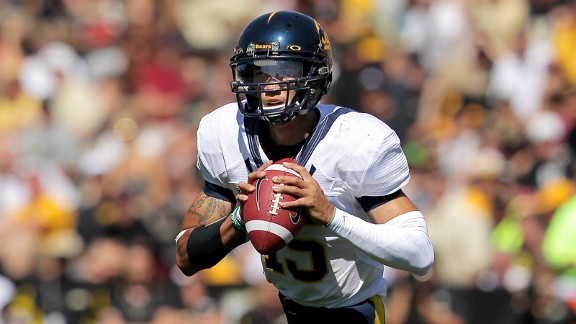 Doug Pensinger/Getty ImagesZach Maynard, like the rest of the Cal team, has been inconsistent this season.
A coach walks into his pregame locker room. He looks at his team. And he really has no idea how it will play.
That's a reality that more than few coaches have owned up to, if reluctantly. A good week of practice more often than not leads to at least a solid performance. But sometimes it doesn't. And sometimes a poor-to-middling week of practice yields a team on fire.
California turned in its most complete performance of the year while dominating Utah 34-10 last weekend. The Bears, coach Jeff Tedford said, had a good week of practice. They seemed to hold onto their confidence, despite losing 30-9 to USC in their previous game -- a second-consecutive Thursday night blowout on ESPN.
Still, he didn't know that the Bears would come together in all three phases as they did against the Utes.
"I have no idea before the game if they are ready or not," Tedford said. "I've given up on that because sometimes you think they are really ready and they're not. And other times they're quiet and you think, 'These guys got to get ready!' And they play great."
The next step, of course, is doing it again, starting against UCLA in the Rose Bowl on Saturday. Or perhaps doing it even better.
Yet, as Cal fans are more than aware, consistency has been a big bugaboo for the Bears during recent seasons.
In 2009, a 3-0 start was followed by consecutive defeats to Oregon and USC by a combined count of 72-6. Then the Bears won three in a row again. Then they got drubbed 31-14 in Berkeley by Oregon State. They upset Arizona and Stanford. Then they lost to underdogs, Washington and then Utah in a bowl game.
Last season, it was the same. Whip UCLA 35-7, lose to USC 48-14. Blow out Arizona State 50-17. Fold at Oregon State 35-7. Nearly upset Oregon, then lose the last two games to finish 5-7, Tedford's first losing team.
Up and down. Hope and despair. Corners turned. Corners turned into oncoming traffic.
At 4-3, which isn't so bad, and 1-3 in Pac-12 play, which sorta is, Cal's season still could go either way. But there are reasons for hope, if you are in the mood for positive spin.
The Bears likely will be favored in their next three games. A potential four-game winning streak would get theme to seven wins -- and bowl eligibility -- before rugged road trips to Stanford and Arizona State to conclude the season.
Perhaps a confident team riding a winning streak might steal one of those, and suddenly it's a nice season with a bowl game ahead and great promise for 2012.
Ah, yes, but that scenario requires consistency, as in the Bears showing up like they did against the Utes in all three phases every weekend.
The foundation for hope that can happen was a strong, bounce-back effort from quarterback
Zach Maynard
against the Utes. After putting together progressively worse performances during the 0-3 start to conference play, Maynard showed mental toughness by shaking that off and playing well against the Utes. He completed 19 of 35 passes for 255 yards with a touchdown and no interceptions and he rushed for 36 yards and a score.
Long touted as a dual-threat, Maynard did much of his damage out of the pocket on roll-outs -- finally -- and forced a good Utes defense to account for him as a runner. It might be premature to play the "something clicked" card, but it's not far-fetched to entertain the notion.
"I think the game slowed down for him a little bit," Tedford said. "I think the week before he was trying a little too hard and forced a couple of things."
Tedford said that Maynard, who transferred from Buffalo last year, played with more composure, perhaps feeling more comfortable with the routines of preparation as well as the speed of the game in the Pac-12.
On the other sideline, UCLA looks like a team in disarray. Not only is coach Rick Neuheisel on the hottest seat in the conference, not only are the Bruins coming off an embarrassing 48-12 blowout loss at Arizona, but they also will have six players suspended from the game due to a brawl with the Wildcats: defensive tackle Cassius Marsh, offensive guard Albert Cid (first-half suspension) and wide receivers
Taylor Embree
,
Randall Carroll
,
Ricky Marvray
and
Shaquelle Evans
.
But Cal is not in position to take anything for granted. Tedford noted it will take a mature team to "not get complacent with one win."
Many Bears fans are taking the measure of their program this year. And that means taking the measure of Tedford.
Cal should win its next three games. If it does, things will cool down. If not, the grumbling around the program will only increase.
October, 22, 2011
10/22/11
10:25
AM ET
More often than not, a bar-room brawl is entertaining to watch -- in a bar room as well as just before halftime in a college football game -- but it almost always has bad repercussions for the participants.


And that's the case for the 10 Arizona and UCLA players who opted to
go nuts with 0:04 remaining before halftime
Thursday, immediately after a streaker interrupted play.
The Pac-12 announced suspensions for all 10 Friday night, and neither team has the depth to make the personnel hits not matter.
In the immediate aftermath of the fight, UCLA senior receiver
Taylor Embree
and Arizona sophomore cornerback Shaquille Richardson were penalized by on-field officials for unsportsmanlike conduct and ejected for fighting. The penalty, by NCAA rule, required the individuals to sit out the second half of the game.
In addition to the on-field penalties assessed to Embree and Richardson, and based on further review of available game footage, the Pac-12 extended an additional one-game suspension for both players.
The suspensions will occur during the next scheduled contest. Both teams play on Oct. 29: UCLA plays host to California, and Arizona is at Washington.
The Pac-12 also suspended eight other players who engaged in the on-field incident. Those penalties are as follows:
UCLA
Sophomore guard Alberto Cid - Half-game suspension
Sophomore wide receiver
Randall Carroll
- One-game suspension
Sophomore wide receiver Shaq Evans - One-game suspension
Sophomore wide receiver
Ricky Marvray
- One-game suspension
Sophomore defensive tackle Cassius Marsh - Two-game suspension (consecutive games)
Arizona
Senior cornerback Lyle Brown - Half-game suspension
Junior strong safety Mark Watley - Half-game suspension
Freshman nickelback Jourdon Grandon - One-game suspension
"The Conference is extremely disappointed in the actions of the student-athletes involved in this incident. It is unacceptable behavior and violated Conference rules, as well as NCAA fighting rules. I have taken these actions today because it is imperative that we hold our student-athletes and coaches to the highest standards of sportsmanship," Pac-12 commissioner Larry Scott
For UCLA, the suspensions will hit an already struggling passing game hard -- three receivers will be out next weekend. Arizona's secondary already has seen multiple starters lost to injury, so losing three defensive backs in advance of a visit to Washington, where it will face quarterback
Keith Price
and a deep crew of receivers, is especially troublesome.
In other words, these suspension hurt two teams that can't afford to be hurt.
LA Times
on the suspension
. The
Orange County Register
. And the
Tucson Citizen
.
July, 11, 2011
7/11/11
10:25
AM ET
No team in the Pac-12 wows you at defensive tackle. No team is a sure thing. There is a lot of "maybe" at the position. And probably some maybe not.
The uncertainty of quality -- both in terms of returning stars and depth -- made this a difficult position to rank. For example, Washington has a nice foursome at tackle, led by Alameda Ta'amu, who might be the best tackle in the conference.
That's great. Good for the Huskies. But they ranked 97th in the country in run defense last year. You sort of pause over that, you know?
So a lot of this ranking is feel thing, a projection of potential. And "great shape" here is relative to the conference. Nebraska, for example, wouldn't exchange its tackles -- Jared Crick and Baker Steinkuhler -- for any Pac-12 tandem.
Some of this figures to inspire a bit of debate.
Great shape
USC
: This may be in some part based on fumes from the Trojans reputation at the position. It definitely includes a vote of faith that they will get a 100 percent Christian Tupou back from the knee injury that killed his 2010 season. If so, the threesome of Tupou, George Uko and DaJohn Harris is strong. And if you toss in Armond Armstead -- who missed spring with an undisclosed medical condition that threatens his career -- you'd have a clear No. 1.
Washington
: Ta'amu seemed to find himself during the second half of last year, and the 330-pounder could end up getting some All-American consideration if he consistently plays like he did against Nebraska in the Holiday Bowl. Sione Potoa'e and Semisi Tokolahi are both experienced, and Lawrence Lagafuaina a space-grabbing, 344-pound redshirt freshman.
Colorado
: The Buffaloes are sneaky good here, even though they only ranked 48th in the nation in run defense in 2010. Both starters, Will Pericak and Curtis Cunningham, are back, but Conrad Obi was a revelation this spring. He looked like a future NFL draft choice, not a player who'd mostly been a bust. Nate Bonsu, who missed spring with a knee injury, also should help.
Good shape
Utah
: The Utes, who ranked 11th in the nation in run defense in 2010, lost Sealver Siliga, but they believe they have a budding star in, er, Star Lotulelei, while James Aiono, LT Tuipulotu and Joape Peta are solid. Also, Dave Kruger, who played end this spring, is 280 pounds and can play inside.
Arizona
: The loss of backup Willie Mobley to a knee injury hurts depth, but Justin Washington figures to take a step forward after an impressive true freshman season, Sione Tuihalamaka started four games in 2010. Depth is a question. The Wildcats ranked 33rd in the nation in run defense last fall.
Oregon
: On the one hand, Oregon lost both starting defensive tackles in Brandon Bair and Zac Clark from a unit that ranked 27th in the nation in run defense. On the other, they played so many guys last fall, the new starters are experienced players. Further, Ricky Heimuli, Taylor Hart, Wade Keliikipi, Isaac Remington and Jared Ebert played well enough this spring to suggest the position will be a strength in the fall.
Arizona State
: If Lawrence Guy didn't make his ill-fated decision to enter the NFL draft, the Sun Devils, who were 16th in the nation against the run last fall, would be in great shape here. As it was, Will Sutton had a great spring and looks like a potential All-Conference guy. Grinder Bo Moos is listed as the starter at the other tackle, though he could be eclipsed by Corey Adams. Toa Tuitea saw limited action last year.
UCLA
: The Bruins defensive line was terrible last year, ranking 108th in the nation against the run, but the talent is there for a significant turnaround. Cassius Marsh, Nate Chandler, Justin Edison, Donovan Carter and Seali'i Epenesa should do a much better job plugging the middle.
California
: Cal is actually fine here, despite the loss of NG Derrick Hill. For one, when you run a 3-4 defense, it's hard to rate your DTs, even if your DEs often operate like them. The Bears have two solid options at NG in Aaron Tipoti and Kendrick Payne, and it's also possible that touted 350-pound incoming freshman Viliami Moala will eclipse both of them.
We'll see
Oregon State
: Dominic Glover moves inside from end and Kevin Frahm has experience, but this unit didn't play well last year -- 89th in run defense -- even with one of the best DTs in the nation in Stephen Paea. 340-pound Castro Masaniai could help but he missed spring after shoulder surgery and has off-field issues. There's also Mana Tuivailala and Ben Motter.
Stanford
: Like Cal, Stanford runs a 3-4, so it naturally it is going to suffer a bit in DT rankings. More important: The loss of Sione Fua is significant. Terrence Stephens and Henry Anderson had solid springs but neither has much experience.
Washington State
: Brandon Rankin, a returning starter, was listed No. 2 on the depth chart behind Anthony Laurenzi after spring practices, with redshirt freshman Toni Pole No. 1 at the other tackle. Justin Clayton, Steven Hoffart and Xavier Cooper provide depth. It's not unreasonable for Cougars fans to expect improvement, perhaps significant improvement. But a team that ranked 115th in the nation in run defense the previous season is automatically a "We'll see" here.
February, 4, 2010
2/04/10
3:08
PM ET
UCLA's
class of 22
ranked 10th in the nation and featured six players on the ESPNU 150 list.
In other words, the Bruins had a happy signing day, particularly when they landed a number of elite recruits with nationally televised announcements.
The Bruins had particular needs on the defensive front seven and the offensive line. They addressed both areas with quality and numbers. The class is notably strong at linebacker, which should feel extra good for Bruins fans because that was one area where rival USC felt short.
Top prospects
:
Owamagbe Odighizuwa
was rated the No. 2 defensive end in the nation.
Jordan James
and
Malcolm Jones
give the Bruins two of the top-eight running backs in the country. Safety
Dietrich Riley
picked the Bruins over USC. All four linebackers could compete for immediate playing time.
Cassius Marsh
could play early at defensive tackle.
Under the radar
: Offensive tackle
Wade Yandall
is a former volleyball player, but he now tips the scales at 310, according to Neuheisel. Defensive end
Derrick Bryant
has a frame that could support 30 or 40 more pounds, Neuheisel said.
Issues?
The Bruins didn't sign a quarterback --
Brett Nottingham
was a one-time commitment, but he ended up signing with Stanford. Neuheisel also said he wished he could have found one more receiver.
Notes
: Neuheisel said linebacker
Josh Shirley
, who was expected to go to USC, had been a secret commitment for a while. Neuheisel said it was Shirley's idea to keep his intentions secret. ... Both Odighizuwa and Riley announced their decisions on ESPNU, which Neuheisel said was "great exposure." ... Linebacker
Eric Kendricks
is the younger brother of California linebacker Mychal Kendricks. ... Receiver
Paul Richardson's
father, Paul Sr., played receiver for the Bruins from 1987-1990. Neuheisel was his position coach.