NCF Nation:

Cedric Benson
January, 22, 2010
1/22/10
1:57
PM ET
By
Tim Griffin
| ESPN.com
With all of the looking back we've done this week, I couldn't leave without picking my own All-Big 12 all-decade team.

It was a tough choice at several positions, but here's my all-decade team.

Please feel free to provide any changes you would make, and explain why you would make them.

Believe me, it's a hard choice. I spent more than an hour trying to choose between Darren Sproles and Cedric Benson and Jermaine Gresham and Chase Coffman.

OFFENSE

QB: Vince Young, Texas

RB: Adrian Peterson, Oklahoma

RB: Cedric Benson, Texas

WR: Michael Crabtree, Texas Tech

WR: Rashaun Woods, Oklahoma State

TE: Chase Coffman, Missouri

T: Russell Okung, Oklahoma State

T: Jammal Brown, Oklahoma

G: Duke Robinson, Oklahoma

G: Derrick Dockery, Texas

C: Andre Gurode, Colorado

DEFENSE

DE: Brian Orakpo, Texas

DT: Ndamukong Suh, Nebraska

DT: Tommie Harris, Oklahoma

DE: Dan Cody, Oklahoma

LB: Derrick Johnson, Texas

LB: Rocky Calmus, Oklahoma

LB: Teddy Lehman, Oklahoma

CB: Terence Newman, Kansas State

CB: Derrick Strait, Oklahoma

S: Roy Williams, Oklahoma

S: Michael Huff, Texas

K: Mason Crosby, Colorado

P: Daniel Sepulveda, Baylor

Ret: Wes Welker, Texas Tech
January, 21, 2010
1/21/10
11:54
AM ET
By
Tim Griffin
| ESPN.com
Mack Brown revived the glory at Texas in the last decade, claiming at least 10 victories in each of the last nine seasons, including a 25-2 record in the last two seasons. The Longhorns have finished in the top 10 in five of the last six seasons.

Darrell K. Royal/Texas Memorial Stadium now has more than 100,00 seats. The Longhorns have a designated successor for Brown in place with rising star Will Muschamp. And that pesky problem with Bob Stoops has been alleviated recently with four victories in the last five seasons over the Sooners.

Times are good for Brown.

Here's a look at the Longhorns' all-decade team during that time.

OFFENSE

QB: Vince Young

RB: Jamaal Charles

RB: Cedric Benson

WR: Jordan Shipley

WR: Roy Williams

TE: David Thomas

OL: Justin Blalock

OL: Jonathan Scott

OL: Derrick Dockery

OL: Leonard Davis

C: Lyle Sendlein

DEFENSE

DL: Brian Orakpo

DL: Cory Redding

DL: Shaun Rogers

DL: Casey Hampton

LB: Sergio Kindle

LB: Derrick Johnson

LB: Roddrick Muckelroy

DB: Earl Thomas

DB: Michael Huff

DB: Nathan Vasher

DB: Aaron Ross

P: Richmond McGee

K: Hunter Lawrence

KR: Quan Cosby

Offensive player of the decade: QB Vince Young. The most electrifying player of the decade capped his career by scoring the game-winning touchdown to lead his team to the national championship in his final drive. Brown finished with a 30-2 record, 6.040 passing yards and 3,127 rushing yards.

Defensive player of the decade: LB Derrick Johnson. He wasn't around when the Longhorns won the national championship, but was perhaps the best player at his position at the school since Tommy Nobis. He capped his career with the Nagurski and Butkus Awards after earning All-America honors in each of his last two seasons.

Coach of the decade: Mack Brown. Remember when people used to joke about his inability to win big games or how he coddled his players. That all changed as the decade progressed. Brown got tougher and made some astute moves at defensive coordinator to help his program take the next step with the addition of coaches like Gene Chizik and Will Muschamp.

Moment of the decade: Vince Young's run leads comeback victory to the 2005 national championship. Young's game-winning 8-yard TD run with 19 seconds left boosted the Longhorns to a 41-38 victory over USC in the 2006 Rose Bowl, providing the margin of victory in one of the greatest college football games in history. Michael Huff's fourth-down stop of LenDale White on the preceding drive set up Young's heroics to snap the Trojans' 34-game winning streak.
January, 20, 2010
1/20/10
11:22
AM ET
By
Tim Griffin
| ESPN.com
Every football fan has a different definition of what makes a game great. Some fans might prefer defensive struggles. Other enjoy torrents of points.

The Big 12 has provided a few of latter -- and more -- over the last decade with some of the most entertaining games in recent college football history.

Here are my favorite 10 games of the past decade. There are 10 to 15 other games that legitimately could have been included on this list.

1. Texas 41, USC 38 (Jan. 1, 2006): The Longhorns claimed the 2005 national title with a dramatic comeback capped by Vince Young's game-winning 8-yard TD run with 19 seconds left. Michael Huff's critical fourth-down stop of LenDale White set the stage on the preceding drive. And many observers still think that Pete Carroll could have gone for a game-tying field goal attempt on the final play of the game if he hadn't squandered a timeout before a two-point try after Young's TD run.

2. Texas Tech 39, Texas 33 (Nov. 1, 2008): Michael Crabtree's 28-yard touchdown reception from Graham Harrell with one second remaining capped the wildest victory in Tech history -- made even more improbable after Blake Gideon dropped an interception on the play before Crabtree's game-winning touchdown.

3. Boise State 43, Oklahoma 42 (Jan. 1, 2007): The Broncos won the 2007 Fiesta Bowl by fooling Bob Stoops' team with three gadget plays: a game-tying hook and ladder play in regulation, an option pass from wide receiver Vinny Perretta to Derek Schouman in overtime to pull within one point and a game-winning two-point conversion by Ian Johnson on a Statue of Liberty play. Johnson proposed to his girlfriend, Chrissy Popadics, on the field after the play. After all the excitement, of course, she accepted.

4. Oklahoma State 49, Texas Tech 45 (Sept. 22, 2007): This classic offensive battle produced 62 first downs and 1,328 yards and wasn't settled until Michael Crabtree dropped a potential game-winning touchdown pass in the end zone in the final minute of play. And we all still remember it more for the fireworks in the press conferences with Mike Leach and Mike Gundy than for what happened on the field, don't we?

5. Oklahoma 35, Texas A&M 31 (Nov. 11, 2000): Torrance Marshall's game-winning 41-yard interception return with 7:42 left enabled the Sooners to continue their charge to the 2000 national championship. Oklahoma overcame an 11-point deficit heading into the fourth quarter and a 10-point hole with less than 9 minutes remaining. Marshall's heroics gave the Sooners the lead and the Oklahoma defense did the rest, turning away the Aggies twice deep in Oklahoma territory late in the game.

6. Kansas 40, Missouri 37 (Nov. 29, 2008): Four lead changes in the final 6:52 made this game memorable, even though Missouri had already clinched the North title coming into the game. Todd Reesing and Kerry Meier hooked up five times on the game-winning drive, capped by a 26-yard touchdown pass with 27 seconds left. Missouri had one last hope, but Jeff Wolfert's 54-yard field goal attempt on the final play of the game was partially blocked by Phillip Strozier.

7. Texas 13, Nebraska 12 (Dec. 5, 2009) : In a conference that made its national reputation with wild offensive battles, it was refreshing to see a defensive struggle in the 2009 Big 12 title game. Nebraska, keyed by a ferocious defense that forced three interceptions and sacked Colt McCoy nine times, appeared to have taken control on a 42-yard field goal by Alex Henery with 1:44 left. Ndamukong Suh sacked McCoy a championship-game record 4.5 times. But McCoy withstood the rush and drove the Longhorns for the game-winning field goal after a controversial officiating decision put extra time back on the clock after it appeared the Longhorns had squandered their chance to win. Hunter Lawrence's 46-yard field goal as time expired gave Texas the victory.

8. Texas 56, Oklahoma State 35 (Nov. 6, 2004): The Longhorns were in a 35-7 hole late in the second quarter before Vince Young hooked up on a 4-yard TD pass to Bo Scaife shortly before halftime. That opened the floodgates, as the Longhorns scored touchdowns on six straight drives. Cedric Benson rushed for 141 yards and five touchdowns and Vince Young rushed for 123 yards and completed 12 straight passes at one point en route to a then career-high 278 passing yards. The Longhorns piled up 600 yards of total offense in the wild comeback, outgaining the Cowboys 266-to-minus-5 in the third quarter of the comeback.

9. Nebraska 40, Colorado 31 (Nov. 28, 2008): Alex Henery's school-record 57-yard field goal with 1:43 left gave the Cornhuskers the lead for good in this classic that Colorado needed to win to qualify for a bowl game. And Ndamukong Suh foreshadowed his monster season to come by icing the victory with a 30-yard interception return for a touchdown with 55 seconds left.

10. Baylor 35, Texas A&M 34 (Oct. 30, 2004): The Bears had been waiting for a long time for a chance to beat Texas A&M -- particularly after losing 73-10 to the Aggies in College Station the previous season. So it was understandable that Guy Morriss didn't hesitate to go for the win after pulling within one point in overtime on Shawn Bell's pass to Dominique Ziegler. Bell and Ziegler then hooked up again for the two-point conversion, snapping an 18-game winless streak to the Aggies.
January, 20, 2010
1/20/10
9:05
AM ET
By
Tim Griffin
| ESPN.com
The Big 12 had two national championship teams and five others that played in the BCS title game in the decade.
The two championship teams were the best of the conference's last 10 years. Some of the other BCS title participants were good, but not necessarily among the very best teams during the conference's recent history.
Here's how I rank the Big 12's top 10 teams over the last decade.
1. 2005 Texas:
A star-studded team paced by All-Americans Michael Huff, Jonathan Scott, Rodrique Wright and Vince Young ran off 13 straight victories, capping the season with a BCS title-game victory over USC. The team averaged 50.2 points per game en route to a then-NCAA record 652 total points, earning Texas' first undisputed national championship since 1969. It was the greatest team that Mack Brown ever coached and arguably the best team in the rich football history of Texas.
2. 2000 Oklahoma:
Bob Stoops claimed a national championship in his second season coaching the Trojans behind Josh Heupel, who finished second in the Heisman race that season. All-Americans Heupel, linebacker Rocky Calmus and J.T. Thatcher helped the Sooners notch the first undefeated season and national championship in Big 12 history. After winning three of their final four regular-season games by less than five points, the Sooners dominated Florida State in a 13-2 triumph in the Orange Bowl for the national championship.
3. 2008 Oklahoma:
Sam Bradford
won the Heisman Trophy with this team, which overcame a midseason loss to Texas and still claimed the Big 12 title in a 12-2 season that was marred by a 24-14 loss to Florida in the national championship game. The Sooners rolled-up a record 702 points as Bradford passed for 50 touchdowns,
Chris Brown
and
DeMarco Murray
each rushed for 1,000 yards and Juaquin Iglesias topped 1,000 yards receiving. The Sooners scored 35 points in each regular-season game and finished the regular season with five straight games of at least 60 points before the BCS title-game loss.
4. 2004 Oklahoma:
The Sooners charged to 12 straight victories before a dropping a 55-19 decision to USC in the Orange Bowl for the national title. Freshman running back Adrian Peterson rushed for an NCAA freshman record 1,925 yards to finish second in the Heisman. Jason White claimed the Heisman the previous season and his numbers were down with Peterson's arrival, but he still passed for 3,205 yards and 35 touchdowns. This group had strength in the trenches with All-Americans like Vince Carter, Dan Cody, Jammal Brown and Mark Clayton as it claimed Bob Stoops' third Big 12 title.
5. 2009 Texas:
After streaking to a school-record 13-0 mark through the Big 12 title game, the Longhorns dropped a 37-21 decision to Alabama in the national title game in a contest that changed when
Colt McCoy
was hurt on the fifth play of the game. McCoy became the winningest quarterback in NCAA history during this season, repeatedly hooking up with favorite target
Jordan Shipley
, who snagged a school-record 116 receptions, 1,485 yards and 13 touchdowns. The Longhorns led the nation in rush defense, and All-American safety Earl Thomas tied a school record with eight interceptions. Lamarr Houston and Sergio Kindle also added playmaking abilities to the defense.
6. 2004 Texas:
The Longhorns overcame a midseason 12-0 loss to Oklahoma to finish the season with seven straight victories in a season capped by a dramatic 38-37 victory over Michigan in the Rose Bowl. The Longhorns ranked second nationally in rushing offense and seventh in total offense as Young gradually found his confidence as a passer late in the season. Cedric Benson rushed for 1,834 yards and 19 touchdowns, and Young chipped in with 1,079 rushing yards and 14 touchdowns. This team showed a knack for comebacks, overcoming an early 35-7 deficit against Oklahoma State and also coming from behind in an early-season victory at Arkansas.
7. 2007 Oklahoma:
Bradford led the first of two consecutive Big 12 championships on a team that enabled the Sooners to become the first Big 12 school to win back-to-back titles. The Sooners dropped road games to Colorado and Texas Tech but still overcame Missouri in the Big 12 title game behind a huge defensive effort keyed by Big 12 defensive player of the year Rufus Alexander. Bradford led the nation in passing efficiency, but the Sooners' bowl struggles continued in an embarrassing 48-28 loss to West Virginia in the Fiesta Bowl.
8. 2003 Kansas State:
Don't let the Wildcats' 11-4 record fool you. After an early three-game losing streak to Marshall, Texas and Oklahoma State (by a combined margin of 15 points), Bill Snyder's team won its final seven regular-season games by a combined margin of 271-66. That streak was culminated by a stunning 35-7 upset victory over Oklahoma in the Big 12 title game -- the last victory by a North Division team in the title game. The Wildcats ranked in the top 10 nationally in rushing, scoring, total defense, scoring defense and pass defense as Darren Sproles rushed for 1,986 yards and 16 touchdowns. The Wildcats dropped a 35-28 Fiesta Bowl loss to Ohio State in a game they fell into an early 21-0 deficit and had a chance to tie on the final play of the game after a frantic comeback directed by Ell Roberson.
9. 2007 Missouri:
Chase Daniel led Missouri into the Big 12 title game for the first time in school history, taking the team to No. 1 nationally heading into the conference championship game. The Tigers lost twice to Oklahoma during a 12-2 season that was capped by 38-7 beatdown over Arkansas in the Cotton Bowl. Tony Temple made that game memorable by rushing for a record 281 yards and four TDs that pushed Missouri to No. 4 nationally at the end of the season. A star-studded collection of talent including Daniel, Jeremy Maclin, Chase Coffman, Martin Rucker and Sean Weatherspoon helped the Tigers rank among the top-10 teams nationally in passing, total offense and scoring and 11th in turnover margin.
10. 2007 Kansas:
The Jayhawks earned Mark Mangino the national coach of the year award by running to an 11-0 start before losing to Missouri in the regular-season finale. The Jayhawks rebounded for a 24-21 victory over Virginia Tech in their first BCS bowl appearance in school history, finishing a 12-1 season that set a school record for victories.
Todd Reesing
passed for 33 touchdowns to highlight a high-powered offense that scored 76 points against Nebraska and scored at least 43 points in eight games. The Jayhawks were a balanced team that ranked second nationally in scoring offense, fourth in scoring defense and in the top 10 nationally in eight different team statistics. Anthony Collins and Aqib Talib earned consensus All-America honors.
November, 19, 2009
11/19/09
2:13
PM ET
By
Tim Griffin
| ESPN.com
It was the kind of play that delighted old-school Texas fans who are still a little wary about the team's reliance on the spread offense.
[+] Enlarge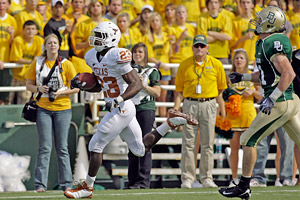 Brett Davis/US PresswireTre' Newton took it to the house on a 45-yard scamper against Baylor.
So when
Colt McCoy
lined up directly under center last week against Baylor and then handed off to redshirt freshman
Tre' Newton
, it was a start. But when Newton sharply veered before producing a textbook cutback that finished off a scintillating touchdown run 45 yards later, it was like old times for the Orangebloods.
Maybe Cedric Benson, Ricky Williams or Earl Campbell weren't coming back any time soon. But it still was a signal that the Longhorns hadn't ditched their traditional running attack completely and could still move the ball on the ground when they needed to.
The installation of
Cody Johnson
as the starter and Newton as the speedy backup is indicative that Mack Brown has turned to two precocious but talented parts of his stable of backs for a late-season lift.
"We needed balance and we felt we could do a few things with Cody and Tre'," Brown said. "They both stepped up. We feel our offense can be really good if we are balanced."
With 224 yards rushing and 187 yards passing against the Bears, the Longhorns had more rushing yardage than passing yardage for only the second time all season.
"Basically, running the ball was our No. 1 concern," said Johnson, who was the fourth different Longhorn to start at tailback this season. "Of course, we can still pass the ball, but we put a huge focus on running the ball and being more effective when we were out there. And I think the way we did it opened up a lot of eyes out there."
Brown has yet to identify a featured back. But he appears to have growing comfort in the "Thunder and Lightning" tailback tandem of Johnson and Newton to perhaps alternate in that role.
Newton, who rushed for 80 yards, has been installed as the team's primary backup heading into Saturday's game against Kansas. It's a signal, Brown said, that the team's rushing attack appears "headed in the right direction."
"Every time we've put Cody in, he's made yards," Brown told reporters earlier this week. "And when Tre's in, he's made yards, too."
Running the ball had been a real concern for the Longhorns, who had produced only 297 rushing yards on 100 carries in their three previous games before playing Baylor.
A simplified playbook that relied on a handful of running plays helped spark the Longhorns to an impressive 6.4 yards-per-carry average against Baylor. It was their best performance against any conference foe this season.
[+] Enlarge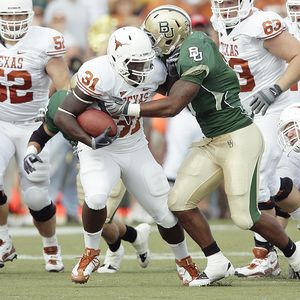 Brett Davis/US PresswireCody Johnson got a a career-best 19 carries against Baylor.
Sure, the Bears came into the game ranked only 82nd nationally in rush defense, but it was still a strong sign of the return of the Longhorns' ground attack.
Johnson had struggled with problems with his weight before finally rounding into shape over the last several weeks. His bullish running style appears to improve with the more carries he receives. He gained 109 yards after notching a career-best 19 carries last week.
"Backs I've been around like Ricky [Williams] and Cedric [Benson], they got better and better the more snaps they got," Texas offensive coordinator Greg Davis said. "They would see things, lather up and really get going. I think the same started happening for Cody after we got him going."
Newton had been hobbled since sustaining a concussion in a victory against Colorado last month. After a recovery of several weeks, it appears he is nearing peak performance.
"It feels good being back," Newton said. "It's always frustrating when you can't help your team. You have to stay focused and just be ready to help out when you get your chance."
Together, their divergent talents provide a good combination in the Texas backfield.
"Cody is just a beast out there -- he's so physical," Texas guard Charlie Tanner said. "And Tre' is awesome. You give him an extra second and he's gone. He has a great burst and can just run by people if you give him a chance."
The Texas offense will remain centered on McCoy and the passing game. But the development of Johnson and Newton gives the Longhorns hope of balance that had been missing much of the season.
"This shows the world we can actually run the ball," Johnson said. "It's not just the passing game. We can actually line up and run the ball. And now, they have to respect both the run and the pass when they play us."
October, 14, 2009
10/14/09
11:01
AM ET

Posted by ESPN.com's Tim Griffin
AUSTIN, Texas --
Jordan Shipley
initially didn't have much go right during his college career.
His first two years at Texas were marked by a horrifying series of setbacks that included a season-ending knee injury as a freshman and a hamstring injury that prematurely ended his sophomore season. It seemed like his career with the Longhorns was cursed before it even started.
| | |
| --- | --- |
| | |
| | Brian Bahr/Getty Images |
| | Jordan Shipley has recorded at least 10 receptions in three of Texas' five games this season. |
"I didn't have any idea what would happen," Shipley said. "But I had faith that if I would work hard and handle myself the right way, that hopefully things would work out the way I wanted them to."
After an excruciatingly long wait, Shipley is making up for lost time, developing into the Big 12's most explosive player so far this season.
And he wouldn't trade any of his travails to get to the point where he is at today.
"If I could go back and do it all over, I wouldn't change anything," Shipley said. "The injuries just made me stronger."
Heading into Saturday's game against Oklahoma, Shipley leads the conference in receptions and receiving yards and ranks second in receiving yards per game. Additionally, he leads the Big 12 with an average of 18.9 yards per punt return and is tied for the national lead with two punt returns for touchdowns.
Combating Shipley already has caught the attention of Oklahoma coach Bob Stoops.
"It's always a challenge," Stoops said. "He's a guy you have to account for on every play."
Last year's Oklahoma game represented his coming out party. Because the Longhorns lacked a true tight end, he was moved inside to a flex end position where he produced 11 catches for 112 yards to spark Texas' offensive attack. And his dramatic Red River Rivalry record 96-yard kickoff return pulled the Longhorns from an early deficit, helping to spark Texas' 45-35 comeback victory.
Shipley played that slot position for most of the rest of the season, producing 89 catches for 1,060 yards and 11 touchdowns.
But with the graduation of Quan Cosby, Shipley has moved outside and has flourished so far this season at the new position.
He produced 11 catches for 147 yards -- his school-record third straight double-digit reception performance -- to spark the Longhorns' 38-14 victory over Colorado. And for good measure, he also produced a 74-yard punt return for a touchdown in the fourth quarter that help blow open the closer-than-expected game with the Buffaloes.
"That was one of the greatest games in the history of the school," Texas coach Mack Brown said.
If Shipley continues at his current pace, he would smash every single-season receiving record in school history.
His multiplicity of talents was first showcased in high school in Burnet, Texas, where he was the prime receiver on a team quarterbacked by former Texas A&M star Stephen McGee. Shipley produced the second-most receiving yards in national high school history (5,424), notched 23 interceptions as a defensive back, returned 18 kicks for touchdowns and was his team's kicker.
His knack for making big plays was apparent early in his career. As a freshman at Class A Rotan, Shipley produced 459 yards of total offense and scored three touchdowns on punt returns in his first high school game.
That was only a start. He's continued in college, developing into the Longhorns' prime receiver, punt returner and holder for kicks.
Colt McCoy
, who finished second in the Heisman last season and is Shipley's roommate, believes that Shipley deserves a trip to the Heisman presentation.
"Sure,'' McCoy said. "In our offense, Jordan will get the ball. He's playing the position that Quan played last year, and the thing that sets him up is that he can return kicks and punts."
The move outside has come with some changes in coverage for Shipley. He's facing more direct man-to-man coverage than when he played in the slot and was mostly matched with slower linebackers and safeties.
The new position and his recent notoriety also are changing how opponents try to combat him. More defenses are relying on press coverage as he tries to get off the line of scrimmage.
That's a little more difficult for the 6-foot, 190-pound speedster to overcome. But he's making the most of his opportunities when they come despite the change.
"It's different being on the outside," Shipley said. "You've got to be really physically to get off the press. I don't know if it's harder, but it has a different feel."
His big season almost didn't come about. He earned a sixth season of eligibility only after petitioning the NCAA following last season because of the earlier injuries.
Shipley will turn 24 in December, causing his teammates to kid him about his advanced age. When he arrived at Texas in 2004, Cedric Benson and Derrick Johnson were still on the team's roster, and Vince Young was in his first full season as the Longhorns' starter.
But Shipley can't imagine being any place but playing for the Longhorns.
"It's such a rush to be back here," Shipley said. "I'm just thrilled to be back at Texas for one more year and having fun every week."