NCF Nation:

Cedric Griffin
April, 8, 2010
4/08/10
4:30
PM ET
AUSTIN, Texas -- Mack Brown knows what an NFL defensive back looks like. He's coached plenty. From Michael Huff and Cedric Griffin in 2006, to Michael Griffin and Aaron Ross in 2007 to Earl Thomas in 2009; the Longhorns' secondary has been home to a handful of early draft picks in just the last few years.
That hasn't kept Brown from heaping praise on his 2010 defensive backfield.
"We feel like we're as good at corner right now, potentially, as we've ever been," Brown said.
[+] Enlarge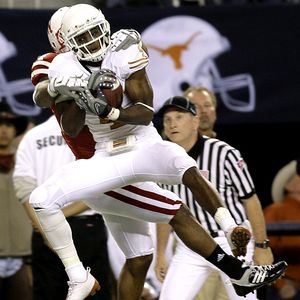 Brett Davis/US PresswireTexas cornerback Aaron Williams had three interceptions last season, including this one in the Big 12 title game.
His three reasons for smiling at the thought of that potential are Curtis and Chykie Brown, along with Aaron Williams.
"We're really fortunate right now," Brown said. "All three are potential NFL guys to me."
That means trouble for Big 12 quarterbacks. Though Texas loses Thomas, a safety and finalist for the Jim Thorpe Award as the nation's best defensive back, the Big 12's second-best pass defense a season ago plans to challenge for the top spot in 2010. If Brown's senses are correct, they should be able to do it, and improve on their NO. 19 national ranking at defending the pass.
"We're more comfortable with [defensive coordinator Will] Muschamp's scheme; I know I am," Williams said. "A lot of guys are returning guys who are coming back and are more knowledgeable about what he wants to do."
Blake Gideon returns at safety, and Kenny Vaccaro and Nolan Brewster will compete for Thomas' freed-up spot.
"We had high expectations last year, but we're probably going to have more expectations this year," Williams said. "Our goal right now is to be physical, we're trying to be one of the most physical DB corps in the nation."
In the Texas spring game to close practice on Sunday, Williams and Vaccaro took steps to establishing that identity. Williams broke up a deep pass early by going over the intended receiver to swat the ball away. Vaccaro unleashed the biggest hit of the exhibition on running back Tre Newton, driving through his teammate on a short pass in the flats.
"We don't want a team to be like 'Okay, well he's that one physical person.' We want a team to be like 'Whoa, we've got that team coming through,'" Williams said. "As a team, we want to be more physical."
But even in praising them, in the same breath, their coach can't help but think like a coach.
"We're really pleased with those corners, we just have to find the younger ones, because two of those are seniors and they'll be gone," Brown said.
Not to mention Williams, a junior who enters 2010 with a legitimate case as the Big 12's top defender and whose future could includes an early entry into the 2011 NFL draft. That would leave Brown without any of his three future pro corners. But he's already picked out a few successors, including A.J. White and Eryon Barnett.
"We've got to find somebody to step up," Brown said.
January, 9, 2010
1/09/10
11:01
AM ET
By
Tim Griffin
| ESPN.com
It's not really a surprise that Texas sophomore safety Earl Thomas declared Friday night for the NFL draft.
[+] Enlarge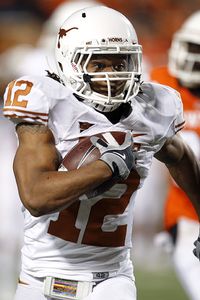 AP Photo/Sue OgrockiTexas' Earl Thomas set a team record with eight interceptions this season.
Thomas is coming off one of the best seasons for a Texas defensive back in school history in 2009. The redshirt sophomore had eight interceptions, which broke Noble Doss' mark of seven interceptions that was set in 1940. Thomas ran two of them back for touchdowns to set another record.
If there's such a thing as "The Natural" among defensive backs, it's Thomas. He isn't overly big or physical (5-foot-10, 197 pounds) but he has the uncanny instincts to stick with any receiver. His skills definitely will translate well to the next level.
Thomas isn't as physically gifted as either Eric Berry of Tennessee or USC's Taylor Mays. Both figure to be picked ahead of Thomas unless he has an off-the-charts workout for NFL scouts later this spring.
Thomas was a finalist for the Thorpe Award in 2009 and would have been the favorite for the award if he had remained for his junior season in 2010.
If he had stayed for another season and had another productive year, it's not out of the question that Thomas could have developed into the greatest defensive back in Texas football history.
As it is, he'll be in the conversation with players like Tarell Brown, Cedric and Michael Griffin, Michael Huff, Quentin Jammer, Aaron Ross and Nathan Vasher. All left Texas for a career as a starting defensive back in the NFL. Huff and Ross left with Thorpe awards in back-to-back seasons in 2005 and 2006.
With Thomas leaving, sophomore Nolan Brewster could move into the starting job when spring practice begins for the Longhorns late next month.
A more likely scenario might be to move Blake Gideon to the tight safety position to make room for game-breaking defensive back Christian Scott at Gideon's current position at free safety.
Scott was giving Gideon a serious challenge in fall camp this year before he was academically suspended. His ferocious hits would provide an intimidating presence to the secondary that was missing this year.
But whoever takes over Thomas' spot will be attempting to fill a sizable void that makes Texas' rebuilding job a little more daunting.
November, 10, 2009
11/10/09
12:34
PM ET
Posted by ESPN.com's Tim Griffin
As Texas streaks to its second 9-0 start since 1983, it's understandable that some are already comparing this year's team to the other team that started that fast.
Texas' 2005 national championship team is the benchmark for all of the other Texas teams coached by Mack Brown. And this team appears to be the closest to the national championship squad in many respects.
While Brown says such comparisons are premature, he does say his current team's fast start makes for some inevitable comparisons.
| | |
| --- | --- |
| | |
| | Brendan Maloney/US Presswire |
| | Colt McCoy and the Longhorns have drawn comparisons to the 2005 national championship team. |
"I would think you could compare them because there's been only one close game for this team and for that team in 2005," Brown said. "It was the Ohio State game in 2005 and the Oklahoma game this year that was in question late in the ballgame."
But in order to meet the challenge of matching the 2005 team,
Colt McCoy
's team will have to match the finishing kick of Vince Young's team.
"At this time, they've earned the right to be in conversation with the 2005 team," Brown said. "But they haven't earned the right to be considered as good because they have to finish like that bunch did."
The 2005 national championship led the conference in 11 statistical categories; the current team leads it in five. The 2005 team was the nation's leading scoring team and led the nation in pass efficiency. The current team is more defensively oriented as it leads the nation in rushing defense and scoring defense and ranks second in kickoff returns.
The 2005 title team ranked 10th or better in 10 of the 17 team statistical categories tracked by the NCAA. The 2009 team ranked 10th or better in eight of those team statistical groups.
Here's a position-by-position comparison of the two teams:
Quarterbacks:
Both teams featured quarterbacks who were involved in the Heisman Trophy race. The 2005 team had Vince Young, a multi-purpose player who accounted for 3,036 passing yards and 26 touchdown passes. Most importantly, he provided leadership for a team that had never won a Big 12 title under Brown. McCoy redshirted on that team, earning the opportunity to soak up lessons watching Young's leadership. He's capping the most productive statistical career for a Texas quarterback by passing for 2,447 yards and 17 touchdowns with at least three games remaining -- not counting a potential Big 12 championship game and a bowl. And his leadership skills are comparable with Young's in guiding his team to an undefeated season so far.
Edge: Even
Rushing game:
The 2005 team relied on Young, who rushed for a team-high 1,050 yards and scored 12 touchdowns and also had a strong starter in Jamaal Charles and an outstanding change-of-pace player in Ramonce Taylor. That team produced 55 rushing touchdowns and had five different backs with eight rushing touchdowns or more. The current team's rushing game might be its major weakness without a featured rushing threat, as no current back has rushed for more than 275 yards. Depending on game situations, the team has utilized any of three starters, but its most consistent producer has been
Cody Johnson
, who will become its fourth starter this week against Baylor.
| | |
| --- | --- |
| | |
| | Mark J. Rebilas/US Presswire |
| | Vince Young quarterbacked the 2005 Texas team to the national title. |
Edge: 2005 Texas
Receivers/Tight end:
The 2005 team had a stacked collection of receivers led by top deep threat Billy Pittman and Limas Sweed. But the most consistent receiving threat for Young was tight end David Thomas, who produced 50 receptions, including a career-best 10 in the BCS title game victory over USC. But that team had no receiving threat to match
Jordan Shipley
, who has already produced 75 catches, four double-figure reception games and broken the school single-game receiving yardage record.
Dan Buckner
developed early into a receiving threat at flex end and
Malcolm Williams
,
James Kirkendoll
and
John Chiles
all have been strong in an offense that has lived by short passes. But Shipley has been the focal point of a passing game that features short, quick passes as its primary offensive weapon.
Edge: 2009 Texas
Offensive line:
The 2005 team featured three-first team All-Big 12 picks in Justin Blalock, Jonathan Scott and Will Allen. Because of Young's mobility, that team allowed only 14 sacks and produced 5.9 yards per carry and 55 rushing touchdowns. The current team is nearly as strong with key players like Adam Ulatoski, Charlie Tanner and Chris Hall, who have currently combined for 99 career starts and should be peaking as the season continues. The current team is producing 3.9 yards per carry, 16 sacks and 20 rushing touchdowns.
Edge: 2005 Texas
Defensive line:

The 2005 team featured first-team All-Big 12 players like Rodrique Wright and Tim Crowder and pass-rushing specialist Brian Robison, a converted linebacker who led the team with sacks. But that team didn't feature anybody as proficient as Sergio Kindle or a run-stuffing tackle like Lamarr Houston. It's the main reason the current Texas team leads the nation in rush defense (55.33 yards per game), total defense (230.78 yards per game) and ranks in the top 20 in both sacks and tackles for losses. The 2005 team was 39th nationally in sacks and 29th in tackles for losses.
Edge: 2009 Texas
Linebackers:
The 2005 unit was at its weakest at linebacker where no players earned All-Big 12 first-team or second-team designation. Robert Killebrew was that team's only player to earn honorable mention. The current team features an anchor in the middle in senior linebacker Roddrick Muckelroy, flanked by Keenan Robinson and Emmanuel Acho. Will Muschamp's unit seldom uses three linebackers except in run-stuffing situations, preferring to use a nickel formation. But his current group still has the edge at linebacker over the championship team.
Edge: 2009 Texas
Secondary:
The 2005 team might be one of the great college units of all time. That team featured the Thorpe Award winner in Michael Huff and another all-league player in Cedric Griffin. Huff, Cedric Griffin, Michael Griffin, Aaron Ross and Tarell Brown all were drafted in the NFL and had eventual pro careers. The unit was nearly impermeable as it broke up 85 passes and permitted only two teams to pass for more than 200 yards against them. The current group is young and skilled and might develop into as strong of a group with experience.
Earl Thomas has played like the best defensive back in the country this season with six interceptions, including two touchdown returns. Curtis Brown, Chykie Brown, Aaron Williams and Blake Gideon have already helped the defense combine for 16 interceptions. And the group is playing with swagger as the season continues.
The current group could match the eventual production of the 2005 team, but it still has to get there.
Edge: 2005 Texas
Special teams:
Neither team had to punt very often, but Hunter Lawrence has a narrow edge over David Pino at kicker for his consistency and range. The biggest difference is in the return game. The current team features two threats with D.J. Monroe (two TDs, 36.5 yards kick return average) and Shipley (14.5 punt return average, two TDs), giving it an edge over Ramonce Taylor and Aaron Ross (14.7 punt return average, two TDs).
Edge: 2009 Texas
Coaching:
With largely the same cast of coaches, the 2009 team appears to be better coached. In 2005, Brown was trying for his first Big 12 title and utilized defensive co-coordinators with Gene Chizik and Duane Akina. It often seemed that the individual talents of Young took over the game during that championship season. But this team features a better job by Greg Davis as he compensates for his team's lack of a consistent running game by developing a crafty passing game utilizing quick short passes. And the defense has taken big steps this season in its second season under Muschamp.
Edge:2009 Texas
Intangibles:
The 2005 team was trying to become Brown's first Big 12 title team and played well throughout. It started with a dramatic comeback victory over Ohio State and continued with a run through the Big 12 that featured no victory less than 19 points. The 2005 team needed a comeback over Oklahoma State, but Young helped the team peak as the Longhorns scored at least 40 points in 12 games. The team rolled to victories of 62, 52 and 11 points in November before notching a record-breaking 70-3 triumph over Colorado in the Big 12 title game and the 41-38 BCS title game victory over USC.
This team hasn't faced many tests, although it did handle Oklahoma in a 16-13 triumph that ranks as its closest margin. Other than that game, the 2009 Longhorns have rolled up at least 34 points in every game and allowed more than 20 points on only two occasions. But it still has its chance to finish strongly in November like the 2005 team did.
Edge: 2005 Texas
If they met:
The 2005 team still would merit a slight edge, mainly because this team doesn't have a transcendent talent like Young. But the current team is developing and could have a chance to match the championship with a strong finish.
Edge: 2005 Texas