NCF Nation:

Cedric Thompson
December, 29, 2014
12/29/14
1:00
PM ET
Michigan State's secondary calls itself the "No Fly Zone." LSU bills itself as "DBU" -- Defensive Back University.
Minnesota
lacks a widely known nickname for its secondary, which is fine for now.
"Maybe in another year or two, we get there," Gophers defensive backs coach Jay Sawvel recently told ESPN.com. "We don't need catchphrases because every day here, you're still fighting for respect."
[+] Enlarge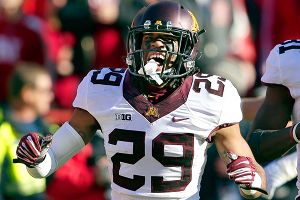 AP Photo/Nati HarnikBriean Boddy-Calhoun is one reason Minnesota's low-key secondary has maintained a high level.
The fight isn't an original one. Groups of players adopt it in every sport, in every year. But the formula has worked for Minnesota's secondary, which has quietly emerged as one of the Big Ten's best groups the past few years.
Arguably no Big Ten team had a better cornerback tandem this season than Minnesota's
Briean Boddy-Calhoun
and
Eric Murray
. Safety
Cedric Thompson
led the unit and Damarius Travis provided versatility and durability. Calhoun, Thompson and Travis combined for eight interceptions and five forced fumbles, helping Minnesota tie for 10th nationally in average turnover margin.
Like the Minnesota program, which has reached a third consecutive bowl game under coach Jerry Kill, the secondary isn't a one-year riser. It has strung together several solid seasons, employing an aggressive, complex scheme that produces big plays from multiple contributors. Yet few have taken notice. Before the season, Sawvel showed his players a ranking of Big Ten secondaries that had Minnesota 11th following the loss of all-conference performer
Brock Vereen
, a fourth-round NFL draft pick.
"It was a symbol that, 'Hey, you don't have the respect of the guy who had equivalent production at Penn State or Michigan State or Iowa,'" Sawvel said. "We can play a lack-of-respect card around here because truthfully, it has been that way."
It's easy for Sawvel to motivate his players like this. Of Minnesota's top six defensive backs -- Boddy-Calhoun, Murray, Thompson, Travis, cornerback
Derrick Wells
and safety
Antonio Johnson
-- none received another Power 5 offer coming out of high school.
"I'm a guy that likes to be underrated and overlooked," Boddy-Calhoun said. "People still little-brother us with the whole Minnesota thing."
The departure of Vereen fueled the tepid expectations outside the Gibson-Nagurski Football Complex. Two reasons have prevented a Gopher backslide: the emergence of Boddy-Calhoun and Travis.
Boddy-Calhoun led Minnesota in interceptions (four) and passes defended (12). He forced six total turnovers, more than all but two Big Ten players (Maryland's Will Likely and Nebraska's
Nate Gerry
).
The junior's breakout season came a year late. Poised for big things in 2013, Boddy-Calhoun had an 89-yard pick-six in Minnesota's opening win against UNLV. The following week he tore his ACL at New Mexico State, ending his season.
"I had big plans," Boddy-Calhoun said. "I put all that frustration and anger and used that as motivation to come back."
Sawvel knew Boddy-Calhoun was back when he made a slick over-the-shoulder interception on a fade route against TCU in Week 3.
"He was a really, really good basketball player in high school," Sawvel said. "You can see that point guard capability. He's the guy that sort of has the ball on a string."
Boddy-Calhoun provides playmaking, while Travis' ability to wear so many hats well has boosted Minnesota's secondary. He plays both nickel linebacker and high safety, and appears on every special teams unit.
Travis logged 95 plays against Nebraska and 96 against Wisconsin. He recorded 56 tackles, two interceptions, a forced fumble and five pass breakups this season.
"He's big enough to fill in gaps and be good on the run, but he's also athletic enough to cover wide receivers, short guys, big guys," Boddy-Calhoun said. "He gave our defense a whole lot of versatility."
Travis' versatility allows Minnesota to diversify its scheme. You'll see snippets of Nebraska's matchup zone and Michigan State's Cover 4 in what the Gophers run, along with more man coverage than many secondaries. Minnesota's defensive backs, Sawvel said, "have a pretty good toolbox."
Travis recalls a play against Nebraska where Minnesota showed man but then dropped into Cover 3. It nearly led to an interception for Boddy-Calhoun.
"We have a real good disguise," Travis said. "We're always trying to paint a picture for the quarterback that he doesn't know what coverage we're in so he's a little shocked about what he sees and starts scrambling and starts panicking a little bit.
"That's what we really like."
The Gophers' defensive backs are a mature, focused, competitive group with football and a close-knit group off of the field. There have been dinners and bowling nights and even a trip to the go-kart track, where Travis edged Boddy-Calhoun in the final ("It came down to the last lap," Boddy-Calhoun laments).
The players call themselves "Dem Boyz" -- "For DBs," Boddy-Calhoun explained -- and have their own anthem (Wiz Khalifa's "We Dem Boyz").
Thursday, Dem Boyz take the field in Orlando against Missouri in the Buffalo Wild Wings Citrus Bowl. It's Minnesota's first January appearance since the 1962 Rose Bowl.
Not a bad time to gain a W, and a little bit of the R-word, too.
"It's a big deal," Boddy-Calhoun said. "We get to make a statement as to who we are as a team. And as a secondary, we get to show the world on Jan. 1 what we are capable of."
Here's a hint: A lot.
October, 19, 2014
10/19/14
9:00
AM ET
Reviewing the best and brightest performances from Week 8 in the Big Ten.

Minnesota RB David Cobb:
The Gophers' senior had 14 carries for 76 yards before the end of the first quarter. Minnesota's human perpetual motion machined finished Saturday's
back-and-forth battle
with 194 yards and a touchdown on 35 touches. His early pounding also helped set up several big play-action completions for the Gopher offense.
Nebraska RB Ameer Abdullah:
Four touchdowns, including two in the fourth quarter to pull away from Northwestern in a
38-17 win
, gets Abdullah another sticker to add to his well-decorated helmet. He had 146 rushing yards, which makes him the first player in Cornhusker history to rush for more than 1,000 yards in three seasons. He's the third Big Ten back to get past four digits in the rushing column this season.
Ohio State QB J.T. Barrett:
The rookie is now the full-fledged leader of an
impressive Ohio State offense
. He accounted for five touchdowns (three passing and two rushing) while hanging 56 points on Rutgers. He threw for 261 yards and ran for 107 more without making any costly mistakes.
Minnesota DB Cedric Thompson:
Thompson bookended Saturday's
39-38 victory
with a pair of momentum-swinging interceptions. He picked off Purdue's
Austin Appleby
on the first play of the game and brought it back to the 2-yard line. He clinched the game with a very athletic catch at midfield with 2:31 left on the clock.
Michigan State RB Jeremy Langford:
The Spartans put together a definitive
56-17 win
over Indiana with a team effort on offense.
Tony Lippett
had 123 yards receiving and a couple highlight catches.
Nick Hill
led the team with 178 rushing yards -- 76 of which came on a garbage time touchdown. But Langford stood above them with his three rushing scores. The first two came when the game was still in doubt and the third was a fourth quarter knockout punch that helped the Spartans kick their recent trend of not slamming the door after they build a lead.
October, 19, 2014
10/19/14
12:00
AM ET
Five observations from Saturday in the Big Ten:
1. Ohio State and Michigan State are widening the gap over the rest of the league.
The Spartans and Buckeyes continued their march toward Nov. 8 in East Lansing with resounding wins by identical scores of 56-17 over Indiana and Rutgers, respectively. The Buckeyes topped 50 points in
four consecutive games
for the first time in school history and dealt the Scarlet Knights their worst loss in 12 years with an introduction to the big-time side of Big Ten football. MSU was slow at the start, as Indiana's
Shane Wynn
and
Tevin Coleman
scored on long runs, but Michigan State blanked the Hoosiers in the second half. Just as importantly, both Big Ten powers climbed closer to consideration for the College Football Playoff as two top-10 unbeatens went down.
[+] Enlarge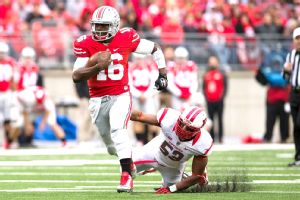 Greg Bartram/USA TODAY SportsJ.T. Barrett is playing at a high level as Ohio State's offense continues to roll.
2. J.T. Barrett is a Heisman Trophy darkhorse.
No, we're not kidding. The same redshirt freshman who struggled mightily in the Buckeyes' loss to Virginia Tech the past month has played better than any quarterback in the country as of late. He ran for 107 yards and two scores and threw for 261 and three touchdowns against Rutgers. Under his guidance, Ohio State has averaged 614 yards over its past four games, albeit against suspect defensive competition, though Rutgers appeared set to pose a challenge. Barrett won't be considered a serious candidate unless he can play like this, without a blip, for the rest of the season.
3. Minnesota might never win pretty, but it almost always wins.
The
Golden Gophers beat Purdue 39-38
behind two interceptions of
Austin Appleby
by safety
Cedric Thompson
, including the game-clincher with 2:28 to play. Minnesota is 3-0 in the Big Ten for the first time since 1990. It was a typical Gopher effort, with 194 rushing yards from
David Cobb
and just nine completions from quarterback
Mitch Leidner
, who threw two touchdowns. Give credit to fast-improving Purdue, for sure, but this game deviated from Minnesota form only in that the Gophers trailed at halftime -- they earned the first win in 23 such occasions under Jerry Kill -- and needed a 52-yard field goal by
Ryan Santoso
for the decisive points with 4:59 left.
4. In spite of Minnesota's start, Nebraska still looks like the best in the West.
The
Huskers beat Northwestern 38-17
at Ryan Field and outscored the Wildcats 24-0 in the second half to move to 6-1. Barring an upset win in Lincoln by Rutgers or Purdue over the next two weeks, Nebraska will be 8-1 on Nov. 15 when Bo Pelini's team travels to Wisconsin for a final stretch that includes Minnesota and Iowa. In bouncing back from a loss to Michigan State, Nebraska displayed new depth at the line of scrimmage against Northwestern and found new ways to feature spark-plug freshman
De'Mornay Pierson-El
, who threw a touchdown pass to QB
Tommy Armstrong Jr
.
5. It might be November (if even then) before we understand Maryland and Iowa.
The Terrapins overcame a slow start to
beat the Hawkeyes 38-31
. Maryland quarterback
C.J. Brown
returned from a back injury, suffered in the second half, and receiver
Stefon Diggs
and cornerback
Will Likely
contributed their usual big plays. But is Maryland really a threat to get to nine wins and a New Year's Day bowl? Maybe, in the watered-down Big Ten. What about Iowa, still a player in the West Division with its favorable schedule but unable to break through in a winnable game Saturday? Just as the Hawkeyes' offense appears to have gained speed, the defense
took a step back
in College Park.
August, 14, 2014
8/14/14
3:00
PM ET
It's well known that Minnesota needs to make major improvements in its passing game this fall and that the Gophers' young receivers need to develop. Luckily, they had a chance to learn from one of the best in the business this summer.
NFL star wideout
Larry Fitzgerald
used Minnesota's facilities to train this offseason, as he has done for the past several years. The
Arizona Cardinals
' Pro Bowler was born and raised in Minneapolis and continues to call the area home.
Though he played at Pitt and not his home-state school, Fitzgerald has become an honorary Gopher. He first approached former Minnesota coach Tim Brewster about working out on campus about seven years ago.
"It's been a dream come true for me," Fitzgerald told ESPN.com.
Fitzgerald began working out with other Minnesota natives in the NFL, like tight end
John Carlson
and receiver
Eric Decker
. Over the years, he has expanded his crew by inviting more players to join him. Among the pro receivers who showed up in Minneapolis this summer were the
Kansas City Chiefs
'
Dwayne Bowe
, the
Washington Redskins
'
Andre Roberts
and
Tiquan Underwood
of the
Carolina Panthers
. Fitzgerald decided they needed an NFL quarterback to throw to them, so he called up
Ryan Mallett
of the
New England Patriots
.
"He's created his own team," Minnesota head coach Jerry Kill said. "It's kind of like the Larry Fitzgerald school. I think it's neat that he does that, and that he happens to do it at our school."
Opening up their facilities to Fitzgerald and friends also brings benefits to the Gophers.
Sophomore quarterback
Mitch Leidner
spent time this summer throwing alongside Mallett. Like the one-time
Michigan Wolverines
and current
Tom Brady
backup, Leidner is a tall quarterback with a big arm, but he needs work on the finer points of the position. Leidner said he learned a lot from Mallett and that the two watched film together deep into the night this summer.
"We hung out a lot and went and watched film. Everything," Mallett told ESPN.com. "[Leidner] has a live arm. He's one to look out for.
"He's still young, but he's smart, he studies the game and he loves the game."
Great throwing session with @Ryan_mallett_15 #GreatGuy #Cannon pic.twitter.com/NrPtfeuthn

— Mitch Leidner (@MitchLeidner7) July 14, 2014
Leidner also got to throw to Fitzgerald and the other NFL receivers, which he called an invaluable experience. Young Gophers wideouts like sophomore
Donovahn Jones
also rushed out to the practice fields to catch balls next to the stars.
"It was just a good experience to see how NFL receivers work and see how they run their routes," Jones said. "Larry taught me a few key pointers to help me get more separation in my routes. That will help me."
Minnesota defensive backs
Cedric Thompson
,
Briean Boddy-Calhoun
and
Eric Murray
got to try to cover Fitzgerald & Co. a couple of times this summer.
"You could tell they're professionals," Thompson said. "They're running 18-yard digs, and in college, you usually only run 12-yard digs. But their 18-yard digs look like 12-yard digs because they're so fast. It's amazing. It's another level.
Fitzgerald is there to get himself ready for the grind of an NFL season. But the potential future Hall of Famer, who turns 31 at the end of this month, also takes time to mentor the college guys.
"I like to think I have a positive influence," he said. "I remember when I was 18, 19, 20 years old, and my thought process was completely different than it is now.
"If they have questions for me, I try to answer them honestly. And they've all got my number if they want to talk to me during the season."
Though Fitzgerald didn't attend Minnesota, he has built close relationships with the program and follows the progress of the football team. He said he has great respect for Kill, whom he called "a tremendous man." He played golf with Gophers basketball coach Richard Pitino this summer. He says he calls strength coach Eric Klein and assistant Chad Pearson throughout the year to catch up.
The Cardinals play an exhibition game against the
Minnesota Vikings
on Saturday at TCF Bank Stadium, and Fitzgerald said he's looking forward to reconnecting with everyone from the school.
The Gophers will welcome him back every summer for more training that benefits both him and their players.
"It certainly ain't hurting any when people know Larry is doing his thing on our campus," Kill said.
August, 12, 2014
8/12/14
10:30
AM ET
»
More team previews:
ACC
|
Big 12
|
Big Ten
|
Pac-12
|
SEC
Previewing the 2014 season for the
Minnesota Golden Gophers
.
2013 overall record:
8-5 (4-4 Big Ten)
Key returnees:
David Cobb, RB; Maxx Williams, TE; Theiren Cockran, DE; Mitch Leidner, QB; Josh Campion OT.
Key losses:
Phillip Nelson, QB; Ra'Shede Hageman, DT; Brock Vereen, CB; Ed Olson, LT; Aaron Hill, LB.
[+] Enlarge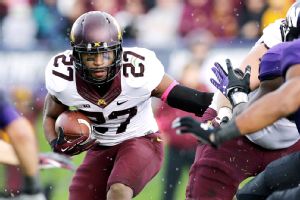 AP Photo/Nam Y. HuhDavid Cobb, who rushed for 1,202 yards and seven touchdowns last season, returns to lead an improved Gophers' offense out of the backfield.
Instant impact newcomer:
Melvin Holland Jr.
wasn't technically the highest-rated recruit in Minnesota's 2014 signing class, but the four-star receiver looks like a smart bet to make his mark the quickest for the program this fall. The Gophers are still trying to build their passing attack and add weapons around Leidner, and Holland has already made a strong impression on teammates and coaches with his quick adjustment to the college game and a 6-foot-3 frame that could make him an intriguing target.
Projected starters
Offense:
QB: Mitch Leidner, So., 6-4, 237; RB: David Cobb, Sr., 5-11, 229; WR:
Donovahn Jones
, So., 6-3, 200 ; WR:
Drew Wolitarsky
, So., 6-3, 226; WR:
KJ Maye
, Jr., 5-10, 195; TE: Maxx Williams, So., 6-4, 250; LT:
Ben Lauer
, So., 6-7, 315; LG:
Zac Epping
, Sr., 6-2, 318; C:
Tommy Olson
, Sr., 6-4, 306; RG:
Foster Bush
, Jr., 6-5, 304; RT: Josh Campion, Jr., 6-5, 317.
Defense:
DE: Theiren Cockran, Jr., 6-6, 255, ; DT:
Scott Ekpe
, Jr., 6-4, 293; DT:
Cameron Botticelli
, Sr., 6-5, 281, ; DE:
Michael Amaefula
, Sr., 6-2, 249 ; LB:
De'Vondre Campbell
, Jr., 6-5, 226; LB:
Damien Wilson
, Sr., 6-2, 249; LB:
Jack Lynn
, So., 6-3, 238; CB:
Derrick Wells
, Sr., 6-0, 201; CB:
Eric Murray
, Jr., 6-0, 195; S:
Cedric Thompson
, Sr., 6-0, 208; S:
Damarius Travis
, Jr., 6-2, 211.
Specialists:
K:
Ryan Santoso
, Fr., 6-6, 245; P:
Peter Mortell
, Jr., 6-2, 192.
Biggest question mark:
The offense is his alone to run, and, fair or not, how successful this season turns out for the Gophers will be tied to the development of their sophomore quarterback. Minnesota didn't ask Leidner to do all that much as a passer when he was on the field last season, but he was generally efficient and avoided many major mistakes while throwing just one interception in 78 attempts. That workload figures to increase dramatically, and the Gophers are going to need him to keep defenses honest by bumping up his completion percentage from 55 and stretching the field with some deep shots to prevent opponents from loading up the box to stop Cobb and the rushing attack.
Most important game:
Nov. 8 at home against Iowa. If the Gophers are going to go from preseason dark horse to actual contender in the West division, taking care of the Hawkeyes entering the stretch run in November will be absolutely critical. Minnesota has to play all three of its divisional foes, which are currently tabbed as the favorites in the West in the final month of the season, but it gets Iowa at home only before playing Nebraska and Wisconsin on the road. If the Gophers can't defend TCF Bank Stadium against the Hawkeyes, the brutal back-to-back trips to take on the Huskers and Badgers might not mean much for them in the standings.
Upset special:
Sept. 13 at TCU. The Horned Frogs have no shortage of defensive talent and will be much more comfortable in the September conditions in Texas. But Minnesota's rushing attack combined with a TCU offense undergoing a bit of transition could allow the Gophers to shorten the game and keep the score down, which might allow them to sneak out with a nonconference victory that would be meaningful for both them and the rest of the Big Ten.
Key stat:
Only eight teams in the nation threw for fewer yards per game than Minnesota did a year ago, when the Gophers averaged 148.1 per game through the air. They averaged just more than 10 completions per game, dragging down an offense that collectively finished No. 11 in the Big Ten and put a ton of pressure on the defense on a weekly basis.
What they're wearing:
The Gophers haven't gone overboard with multiple sets of uniforms since the redesign in 2012, but they have on occasion switched up their helmets. The school reached a new deal over the summer that will keep the team in Nike gear, and the lucrative contract will if nothing else allow the Gophers to still have plenty of options presented to them when they want to switch up the style.
#Gophers new Nike deal goes Aug. 1-July 2020. Worth about $2.2M/yr. Current deal worth $1.3M/yr. Says a lot about what Nike thinks of MN.

— Darren Wolfson (@DarrenWolfson) July 14, 2014
Team's top Twitter follows:
The face of the program has an account, and Leidner (
@MitchLeidner7
) has recently been helpful in providing some behind-the-scenes looks at the team as it goes through training camp. Thompson (@
cedjunior2
) is a humorous follow and could become a friend if you have a
drill he can borrow
. Cockran (
@TCockran55
) is worth an add as well, although it might be best to wait since he vowed not to use any
social media
until the end of August. The team account (
@GopherFootball
) does a fantastic job providing video and audio updates.
They said it:
"I think there's no question we want to continue to improve on what we did last year. We won eight games, and I think anytime you go into the Big Ten and if you don't have a mission to win the Big Ten, then why play?" -- Gophers coach Jerry Kill.
Stats & Information projection:
5.48 wins.
Wise guys over/under:
6.5 wins.
Big Ten blog projection:
Six wins. The Gophers were one of the most surprising teams in the league a year ago thanks in large part to a defense that was capable of handling such a heavy load all season long. And while there are seven starters back for that unit, and the offense should take a step forward with eight first-team returners back this fall, the schedule might hide the improvements Minnesota figures to make this season. The Gophers are going to be a tough out for every opponent, but getting back to another bowl game should be considered a success against this slate.
January, 9, 2014
1/09/14
9:00
AM ET
The Big Ten went 2-5 in bowl games for the second consecutive season, but there were notable performances around the league, even in losing efforts.
Here's a look at ESPN.com's Big Ten all-bowl squad:
OFFENSE
[+] Enlarge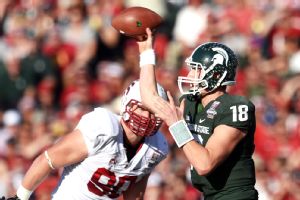 Robert Hanashiro/USA TODAY SportsConnor Cook threw for 332 yards and two TDs to lead the Spartans to a Rose Bowl win over Stanford.
QB: Connor Cook, Michigan State:
He followed his first career 300-yard passing performance in the Big Ten championship with his second in the Rose Bowl against Stanford. Cook overcame an ugly pick-six to pass for a career-high 332 yards and two touchdowns on 22 of 36 attempts. He earned offensive player of the game honors.
RB: Melvin Gordon, Wisconsin:
The Badgers featured Gordon, who will return next year, in the Capital One Bowl and received good production, as the sophomore rushed for 143 yards on 25 carries. His fumble in the closing minutes allowed South Carolina to run out the clock, but he showed his typical explosiveness as well as durability that should help him in the 2014 season.
RB: Ameer Abdullah, Nebraska:
Abdullah ended a tremendous junior season with his 11th 100-yard rushing performance as Nebraska upset Georgia in the Gator Bowl. He finished with 122 rush yards and a touchdown on 27 carries.
WR: Quincy Enunwa, Nebraska:
Enunwa ended his Huskers career with his best performance, recording a career-high 129 receiving yards and two touchdowns, including a 99-yarder in the third quarter that proved to be the winner. He broke Nebraska's single-season record with 12 touchdowns and earned bowl MVP honors.
WR: Tony Lippett, Michigan State:
MSU leaned on its passing game to open up the deep middle, and Lippett repeatedly attacked Stanford's vulnerable secondary. He had five receptions for a career-high 94 yards, and his 25-yard touchdown reception early in the fourth quarter ended up being the winner. His five receptions marked the most by a Spartans receiver in a Rose Bowl.
TE: Maxx Williams, Minnesota:
The Gophers' offense wasn't pretty in a disappointing Texas Bowl loss to Syracuse, but Williams again provided a bright spot in a mostly meek passing attack. The freshman led Minnesota with five receptions for 76 yards, including a 20-yard touchdown early in the fourth quarter.
C: Cole Pensick, Nebraska:
Pensick returned to the center spot after playing several games at guard and helped Nebraska to a win. Georgia had only one sack, and the Huskers rushed for 144 yards.
OL: Kyle Costigan, Wisconsin:
Costigan and his fellow linemen held up well against
Jadeveon Clowney
and Co., as the Badgers racked up 293 rush yards on 43 attempts.
OL: Blake Treadwell, Michigan State:
The Spartans' co-captain graded out well in the Rose Bowl as MSU had success moving the ball against a strong Stanford defense.
OL: Rob Havenstein, Wisconsin:
Like Costigan, Havenstein helped Gordon and
James White
both eclipse 100 rushing yards against South Carolina, which recorded only one sack in the game.
OL: Jack Allen, Michigan State:
Allen was among three Spartans linemen not to allow a sack and aided an offense that racked up 21 first downs and 24 points against Stanford.
DEFENSE
DE: Jason Ankrah, Nebraska:
Another Husker who shined in his final college game, Ankrah recorded two sacks, a forced fumble and two quarterback hurries as the line applied good pressure on Georgia backup quarterback
Hutson Mason
. It marked the first multi-sack performance of Ankrah's career.
[+] Enlarge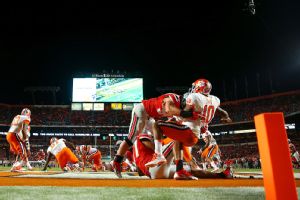 Mike Ehrmann/Getty ImagesOhio State's Joey Bosa made plenty of big hits in the Orange Bowl, including this one on Clemson's Tajh Boyd that resulted in a safety after Boyd was called for intentional grounding.
DE: Joey Bosa, Ohio State:
If you're looking for reasons to feel optimistic about Ohio State's beleaguered defense, Bosa certainly provides a big one. The freshman made his presence known in the Orange Bowl despite an ankle injury, combining with linebacker
Joshua Perry
to force a first-quarter safety. He finished with five tackles, including a sack.
DT: Micajah Reynolds, Michigan State:
The 307-pound Reynolds clogged the middle and helped Michigan State shut down Stanford's running attack for the final three quarters of the Rose Bowl. He recorded a team-high two tackles for loss and finished with four solo tackles in his final college game.
DT: Thad Randle, Nebraska:
Like several Huskers on this list, Randle saved arguably his best performance for his final game. He recorded eight tackles as Nebraska held Georgia to 2.2 yards per rush and only 12 points on six trips inside the red zone.
LB: Kyler Elsworth, Michigan State:
Thanks to Elsworth,
Max Bullough
's absence had little bearing on the Spartans' defense, which limited Stanford to 13 offensive points. Elsworth recorded 1.5 tackles for loss and was the first man in on the decisive fourth-down stop of Stanford's
Ryan Hewitt
. He earned Rose Bowl defensive player of the game honors.
LB: James Morris, Iowa:
Morris ended an excellent senior season with 2.5 tackles for loss, including two sacks, as the defense kept Iowa alive for much of the Outback Bowl against LSU. He finished the season with a team-high eight sacks and eclipsed 400 career tackles.
LB: Denicos Allen, Michigan State:
Allen also stepped up in Bullough's absence and sparked Michigan State with 1.5 tackles for loss and a forced fumble. He helped Michigan State hold Stanford to only three offensive points in the final three quarters.
CB: Darqueze Dennard, Michigan State:
You didn't hear Dennard's name called much during the Rose Bowl because he shut down Stanford's
Ty Montgomery
and one side of the field. He finished with a tackle for loss and made sure Stanford didn't attack the No Fly Zone in his final game.
CB: Josh Mitchell, Nebraska:
Mitchell made two plays to set up Nebraska touchdowns against Georgia: a second-quarter fumble recovery and a third-quarter interception on the first series of the second half. He hadn't had a takeaway all season before the bowl but stepped up at the right time.
S: John Lowdermilk, Iowa:
He gave Iowa new life in the third quarter of the Outback Bowl with a 71-yard interception return. It should have been a touchdown, as Lowdermilk dropped the ball short of the goal line, but Iowa scored three plays later to cut LSU's lead in half. Not a bad time for Lowdermilk's first career interception.
S: Cedric Thompson, Minnesota:
Thompson recorded a career-high 14 tackles in the Texas Bowl as Minnesota held Syracuse to only 188 pass yards. He also recovered a fumble in Gophers territory in the first quarter as the defense kept Minnesota in the game.
SPECIAL TEAMS
P: Cameron Johnston, Ohio State:
Aussie, Aussie, Aussie (Oi Oi Oi). Ohio State's Australian import ended a tremendous debut season with a big performance in the Orange Bowl. He averaged 48.2 yards on five punts, with a long of 63 yards, and placed three punts inside Clemson's 20-yard line, including one downed at the Tigers' 1 that set up an Ohio State safety. There were a lot of good choices here (MSU's
Mike Sadler
and Minnesota's
Peter Mortell
also were terrific), which says something about the Big Ten's bowl showing.
K: Matt Wile, Michigan:
Not many great choices here, but Wile was the only Big Ten kicker to convert multiple field-goal attempts in a bowl. Wile did a nice job filling in for starter
Brendan Gibbons
in the Buffalo Wild Wings Bowl and also handled punts and kickoffs.
Returner: Kenzel Doe, Wisconsin:
Doe kept Wisconsin's hopes alive in the Capital One Bowl with a 91-yard kickoff return for a touchdown after the Badgers had fallen behind by 10 points. It marked Wisconsin's first kickoff return touchdown in a bowl game and its first since David Gilreath's 97-yard runback on the opening play of the Badgers' win against No. 1 Ohio State in 2010.
March, 13, 2013
3/13/13
9:00
AM ET
UCF would appear to be the newcomer most ready to make its mark in the Big East. The Knights start spring practice Wednesday, and we recently caught up with their coach, George O'Leary.
A lot going for you guys right now between the conference switch, facilities and whatnot. How would you characterize the mood around the place heading into spring ball?
George O'Leary
: I think the real football fans, the schedule just came out, they're excited about the schedule and the competitiveness of the schedule, and I think they're looking forward to it -- national ESPN games. And I think that the schedule fell right in a lot of areas for us, and we have a great nonconference schedule with South Carolina at home and Penn State away, so I think the nonconference schedule, with the addition of the competitiveness of the conference schedule, I think it's probably the most attractive schedule we've had since I've been here.
What do you think of the USF-UCF game being played on Black Friday?
GO
: I think that's a grab. I've been saying that since we stopped playing them, that that should be a natural game every Thanksgiving weekend, because unless you're playing a rival-type game -- Alabama-Auburn, Georgia-Georgia Tech -- it's a tough weekend because kids go home. So I think it's a win-win for both schools, whether it's at our place or their place. So basically it's a nice little corridor game, and I think that's something that now we're in the same conference, I think it's a great game. And whether the game's played at night or daytime, I think it'll be a jammed house and I think there will be a lot of lot of interest in that game from both Tampa and Orlando.
[+] Enlarge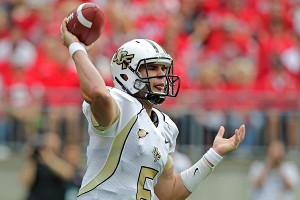 AP Photo/Jay LaPreteUCF coach George O'Leary is looking for more consistency out of quarterback Blake Bortles.
What are you looking for in Blake Bortles' development this spring?
GO
: Well I think the next step is basically just to continue improving technique and basically ball delivery. The timing that takes place with quarterbacks and receivers I think is something you're always looking to strive at, and I think he does a good job of taking a bad play and making a good play out of it. Now he has to be a guy that does it not almost all the time but basically every time, that he's got to make a positive play out of situations that don't have -- whether the coverage is bare or some type of blitz -- that he makes a positive play on every play. And that's what the goal is over time, and I think that's the next step I see him taking.
How do you replace a guy like Quincy McDuffie? Anyone you're looking at specifically?
GO
: Well, I think Quincy was a big factor in the kicking game, and the funny thing about it, Ranell Hall the year before was the all-conference kick returner. Not Quincy; the guy next to him last year. So Quincy had a great season returning. And I expect
Jeff Godfrey
to step up into that position this year from a standpoint of athleticism and speed; he's right in the same ballgame there. So that's one I expect to see done. And it's nice when you have players that can just fill the role that other people have played in past years.
We know about Storm Johnson. Who else is going to see time there?
GO
: Well, right now
Cedric Thompson
's been here -- he's a 6-1, 225-pound back right now, that's why we have two scholarship running backs that have played -- they can play one-back, two-back because they can protect. Then there's three other kids that I think the jury's still out on just with that. Plus we signed three running backs, too, with this class. So I think one of those running backs coming in is going to have to help us be a third-back type of guy.
You guys have traditionally been one of the most physical, best defensive teams in Conference USA. Do you feel that might give you guys more of an advantage over some of the other Conference USA teams joining the Big East?
GO
: Well, we've always tried to be stingy on defense, but I think the big thing is that we've got a bunch of kids back, but we also have a bunch of young kids I think I've been very pleased with when I watch them on the show team, and some of the second-teamers at the same time. I think we have more potential playmakers coming up through the ranks. I think that's what you look at on defense: to be sound in your fundamentals but also have the ability to make plays. I think that's where the emphasis will be in the spring as far as, need to get those kids on the field in some capacity. It may mean a position change, but it's something I want to keep all the playmakers with where we have them, where they can make plays on the field and not necessarily be a backup because they're sitting behind some guy that started last year.
Do you think you have everything in place now to be able to win the Big East title in Year 1?
GO
: I think our only goal is to win the conference championship. That's the only goal, and I'm sure it'll be the same goal next year again. Every game you've got to bring your A-game, but every game's a new adventure. We have one goal: to win the conference championship, because I think it gets you where you have to get to as far as the end of the season, and it won't change this year whether it's Conference USA or the Big East or whatever we're going to call it now -- I don't know what we're going to call it. But our goal is to basically win the conference and do as well as we can within the conference.