NCF Nation:

Central Florida Knghts
November, 21, 2013
11/21/13
2:00
PM ET
By
Adam K. Moussa
| Special to ESPN.com
Two years ago, UCF quarterback
Jeff Godfrey
stood on the sidelines at Bright House Networks Stadium and watched as the spotlight he had been groomed for since age 6 began to fade away.
"I got benched against UTEP the last game of sophomore year, and I didn't know why," said Godfrey, who chose UCF for the opportunity to play quarterback. "I had so many things swirling through my head and I felt so lost. In a flash, it seemed like everything that I'd worked for my whole life was gone. It was kind of like being in the middle of a movie."
[+] Enlarge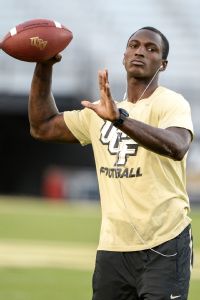 Cal Sport Media via AP ImagesJeff Godfrey doesn't get to show off his throwing arm in UCF games these days, but has made the most of a second chance at receiver.
Just 11 months before being replaced by
Blake Bortles
, Godfrey had completed an impressive true freshman season, leading the 2010 Knights to an 11-3 season, a Conference USA Championship and the first bowl victory in school history, all before his 19th birthday.
"Growing up, Jeff was the man in Miami. Everybody in town knew he was special very early on," said Luther "Uncle Luke" Campbell, who coached Godfrey throughout his childhood. "He excelled in Pop Warner, high school, and he immediately stepped in at UCF and led them to a championship. It really seemed like Jeff was fulfilling his destiny."
Lauded for his ability to improvise under pressure, Godfrey amassed 2,159 yards passing, 566 rushing yards and 23 total touchdowns in 2010, earning Conference USA Freshman of the Year honors. But as the Miami native approached his second season under center, life off the field took a negative turn.
"At that time, I was making a lot of bad decisions," said Godfrey, the first true freshman quarterback in FBS history to lead his team to victory in a conference championship game. "My mind was all over the place, and I had a lot of people in my ear telling me different things."
An offseason arrest, a decrease in on-field production and academic issues headlined his sophomore season. Godfrey's life seemed to be spiraling out of control.
"Jeff has never been a bad kid, but he had a lot of people around him that didn't have his best interests in mind," said UCF assistant coach Sean Beckton. "At that time in his life, he was really confused and seeking advice from some of the wrong people."
Encouraged by those around him, Godfrey, the player once thought to be the future of UCF football, asked for a release from his scholarship and returned home to South Florida.
"That time in Jeff's life was really tough," said Campbell, a longtime friend of Godfrey's father. "When everything happened, Jeff's dad and I were more upset than he was, because we felt like he was being mistreated."
Facing an uncertain future, Godfrey consulted those closest to him for guidance.
"I sat down with my mom and grandmother, and they told me that I needed to go back to UCF," Godfrey said. "They told me that they didn't raise a quitter, and that I shouldn't give up on my team just because things were tough. For me, that was a very humbling experience."
After a semester away from UCF, Godfrey rejoined the Knights for his junior year, a reunion that came with conditions.
"Jeff drove up from Miami, on his own, and apologized to Coach [George] O'Leary, the staff and the players," Beckton said. "It wasn't a situation where we just welcomed him back with open arms. It was a process, but the coaches and players voted on it and decided to give him a second chance.
"He is a very prideful young man. For Jeff to come back and make things right says him a lot about him and his maturation as a person. We told him that if he came back, he'd have to play wideout ,and Jeff told us he was willing to do anything to help the team."
[+] Enlarge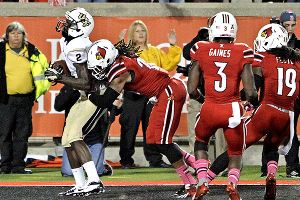 AP Photo/Garry JonesJeff Godfrey catches the go-ahead touchdown pass at Louisville on Oct. 18. UCF won 38-35.
Since switching to wide receiver last season, Godfrey has 69 receptions for 673 yards and seven scores, including a game-winning touchdown grab to take down No. 8 Louisville on Oct. 18.
"Blake and I have a really close connection now. He knows what I'm thinking, and I know what he's thinking without saying a thing," Godfrey said of his relationship with the player who replaced him at quarterback. "The Louisville touchdown was pretty special for us. It's funny because the play didn't work out how it was planned. But, in the end, we adjusted and it helped the team win."
As for Godfrey's future, the senior doesn't seem satisfied with a Hollywood ending, but rather is focused on moving forward.
"I am so thankful that Coach O'Leary and the team gave me another chance. When I came in as a freshman, I really enjoyed all of the attention and people patting me on the back," Godfrey said. "Over the years, I've learned how to handle all of the outside influences and stay focused on what really matters, and that's doing what it takes to win.
"In the big picture, coming back and moving to wide receiver has turned out to be the best thing for me, and we really have a good thing going this year. I just thank God every day that I got a second shot to play a part."
October, 3, 2008
10/03/08
11:22
AM ET
Posted by ESPN.com's Graham Watson
1. Watch the undefeated: Two of the five undefeateds heading into this week remained unscathed (barely). Now it's time to see if the other three can come through. All but Tulsa are playing one-win teams, so at least four teams should remain undefeated.
2. Go tell it on the Mountain: With Utah's win over Oregon State on Thursday, the Mountain West is 6-1 against the Pac-10, with Colorado State suffering the lone loss against Cal. Not only does that solidify the MWC as one of the best conferences in the country, it should play into the BCS standings.
3. Offense aplenty: If you're in the mood to watch some scoring, check out Tulsa and Rice this weekend. Tulsa is the nation's top team in scoring and total offense and Rice is averaging 41 points per game. This game could determine the West Division champion.
4. UCF quarterback situation: Who will it be, Michael Greco or Rob Calabrese? Coach George O'Leary said Thursday that the starting signal-caller will be a game-time decision, but all of his comments seem to indicate that Calabrese, who was the quarterback in the team's 58-13 loss to UTEP, will be the starter against SMU.
5. Sneaky upset: Prior to the season, Northern Illinois' game against Tennessee looked like a perfect opportunity for an upset, but as the Vols have struggled, sneaking up on them the week before they play Georgia seems less and less likely.
6. Watch out for Western Michigan: A lot of the Mid-American Conference chatter has been about Ball State, Central Michigan and Buffalo, but the Broncos have put together a quiet, but nice season so far. They'll face their biggest test this weekend against Ohio. Even though the Bobcats are 1-4, they've been close in almost every game.
7. Fresno State goes for WAC win: If Fresno State wants to keep pace with its chief competition for the WAC title, it will need to start with a win over defending league champion Hawaii this weekend. The Bulldogs actually seem to be playing better since their loss to Wisconsin.
8. Notre Dame goes for fourth win: The Irish defeated Stanford last season, so this year's much-improved team shouldn't have much trouble against the Cardinal. The key to this game will be if quarterback Jimmy Clausen can continue his progression and maturity in the offense.
9. Battle for Commander In Chief Trophy: The first leg of the battle for the Commander In Chief trophy begins Saturday with what looks to be a heated game between Air Force and Navy. The Falcons have had two weeks to prepare for Navy's triple option.
10. Running games on display: Louisiana-Monroe and Louisiana-Lafayette will put their running games on display this weekend as the two fight for Sun Belt position and in-state supremacy. The Warhawks won last year's bout 17-11 and it should be another close affair this week.