September, 2, 2013
9/02/13
9:00
AM ET
It's rare for a true freshman like
Christian Hackenberg
to earn the starting quarterback job -- but it's not unheard of in the Big Ten.
[+] Enlarge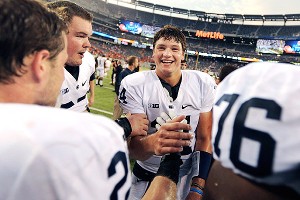 Nabil K. Mark/Centre Daily Times/Getty ImagesChristian Hackenberg started his Penn State career with a win over Syracuse on Saturday.
We took a look at the Big Ten true freshmen who came before the Penn State signal-caller to see how they fared. We looked at quarterbacks from the past 10 years who started at least six games that first year and offered a rundown of those true freshman seasons, along with how their careers played out.
There's no telling right now where the four-star Hackenberg (Scout grade: 88) might end up. But here's what Big Ten history has to say:
Minnesota, 2012
Philip Nelson, Scout grade: 74
Freshman stats:
75-of-152 (49.3 percent) for 873 yards, eight TDs, eight INTs; 69 carries for 184 yards
Record as freshman starter:
2-5
Freshman synopsis:
Nelson was expected to redshirt but, between injuries and inconsistent QB play, his number was called earlier. He started the last seven games and had limited success. But he showed some potential such as the Purdue win, where he completed 68 percent of his passes and threw three touchdowns.
College career & beyond:
He started Week 1 and helped lead Minnesota to a 51-23 win over UNLV. He could be in line to become a four-year starter, and all eyes will be on whether he can guide Minnesota to back-to-back bowls.
Penn State, 2010
Rob Bolden, Scout grade: 81
Freshman stats:
112-of-193 (58 percent) for 1,360 yards, five TDs, seven INTs; 30 carries for minus-11 yards, one TD, one fumble lost
Record as freshman starter
: 5-3
Freshman synopsis:
Bolden became the first true freshman to start a PSU opener in 100 years. He impressed in Week 1
by dominating Youngstown State
with 239 passing yards, two TDs and a pick -- but his season would falter afterward. He seemed to regress, and a quarterback battle with
Matt McGloin
lasted all season. (Actually, for two seasons.) PSU finished 7-6 and lost to Florida in the Outback Bowl. Bolden didn't play in the postseason.
College career & beyond:
Bolden transferred to LSU last year but has yet to attempt a pass. He's not poised for any playing time, and rumors have continued to circulate that he's considering another transfer.
Michigan, 2009
Tate Forcier, Scout grade: 81
Freshman stats:
165-of-281 (58.7 percent) for 2,050 yards, 13 TDs, 10 INTs; 118 carries for 240 yards, three TDs, four fumbles lost
Record as freshman starter:
5-7
Freshman synopsis:
He got off to a solid 4-0 start and made his mark by
throwing a last-second, game-winning TD against Notre Dame
. ESPN analyst Matt Millen, echoing a shared sentiment of Forcier's bright future, called him the best QB in the B1G. But his career took a nosedive in Week 5. The Wolverines lost to Michigan State, 26-20, and Forcier would win just one more game -- against Delaware State -- the rest of the season. His early performance still helped him earn a spot
on ESPN's All-Big Ten freshman team
.
College career & beyond:
He was briefly listed as the third-string QB at the start of the next season and saw limited time behind
Denard Robinson
. He hoped to transfer to Miami (Fla.) after a sophomore slump but ended up at San Jose State. He then withdrew from that school in January, 2012
because of poor academic standing
.
Ohio State, 2008
Terrelle Pryor, Scout grade: 93
Freshman stats:
100-for-165 (60.6 percent) for 1,311 yards, 12 TDs, four INTs; 139 carries for 631 yards, six TDs, one fumble lost
Record as freshman starter:
8-1
Freshman synopsis:
He came in as a consensus top-five national recruit, and he lived up to expectations. By Week 4, the dual-threat rookie supplanted
Todd Boeckman
-- a quarterback who took the Buckeyes to the national title game a year before -- and started the rest of the regular season. OSU finished 10-3 and lost the Fiesta Bowl to Texas. He was named Big Ten freshman of the year.
College career & beyond:
He helped OSU earn three straight BCS berths before declaring early for the NFL's 2011 supplemental draft when it looked as if he'd be suspended. Oakland gave up a third-round pick for him, and he currently looks to be the backup. He has thrown for 155 yards so far in his NFL career.
Illinois, 2006
Juice Williams, Scout grade: 82
Freshman stats
: 103-for-261 (39.5 percent) for 1,489 yards, nine TDs, nine INTs; 154 carries for 576 yards, two TDs, six fumbles lost
Record as freshman starter:
1-8
Freshman synopsis:
Williams got the nod in Week 4 and shocked the nation one week later at Michigan State. Coming in as huge underdogs -- about four touchdowns -- Illinois' Williams
threw for 122 yards and rushed for 103 to upset the Spartans 23-20
. Illinois dropped the last seven games and finished 2-10, but four losses were decided by one score. He was an honorable mention on The Sporting News' freshman All-American team.
College career & beyond:
Williams' sophomore campaign was a memorable one, as he beat No. 1 Ohio State -- the Illini's
first win over the top-ranked team in a little over a half-century
-- and finished 9-4 with a season-ending loss in the Rose Bowl. That was the highlight of his career, however, as he won just eight games over the next two seasons.
Michigan, 2004
Chad Henne, Scout grade: N/A
Freshman stats:
240-of-399 (60.2 percent) for 2,743 yards, 25 TDs, 12 INTs; 55 carries for minus-137 yards, two TDs, two fumbles lost
Record as freshman starter
: 9-3
Freshman synopsis:
The Pennsylvania native started Week 1 when a sore arm hindered Matt Gutierrez, and Henne never looked back. He picked up national headlines in October after back-to-back 300-yard games. Said Minnesota coach Glenn Mason: "If you didn't know he was a freshman,
you wouldn't know he was a freshman
." He tied
Elvis Grbac
's season record for touchdown passes with 25 and, unsurprisingly, made the All-American freshman team. He also led Michigan to the Rose Bowl, in which it lost to Texas, 38-37.
College career & beyond
: Henne's college career saw its ups and downs, but he's still at -- or near -- the
top of most Michigan passing records
. He went 0-4 against Ohio State, but UM still finished in the top 25 in three of his four seasons. Miami selected him the second round of the 2008 NFL draft, and he's now the backup QB on Jacksonville.
January, 29, 2013
1/29/13
1:00
PM ET
Arizona's biggest question heading into 2013 is at quarterback. Not only are the Wildcats replacing
Matt Scott
, who earned second-team All-Pac-12 honors and was sixth in the nation with 343.8 yards of total offense per game, but the options on hand this spring are decidedly unproven.
There's 2012 backup B.J. Denker, a JC transfer who was a late addition last summer. And there's Jesse Scroggins, another JC transfer who had academic issues at USC after signing in 2010.

Both have some skills. Neither, however, would be considered a sure-thing, particularly when you consider how valuable Scott was in 2012.
It's possible then that coach Rich Rodriguez might consider a third, youthful option, and it turns out that he's received a commitment from a quarterback that Sports Illustrated believes might have an "instant impact": Anu Solomon.
SI ranks Solomon
No. 1 among incoming freshmen QBs
in terms of potential "instant impact":
Solomon was a four-year starter at Bishop Gorman. Over that span, the Gaels went 57-3 and won four state championships. Solomon passed for 10,112 yards and 138 touchdowns to just 17 interceptions throughout his career, and he participated in nationally televised showcases against high school powerhouses from California, Florida, Arizona, New Jersey and Maryland. He told Rivals.com analyst Dallas Jackson in October, "The coaches have told me that they want me to come in and compete for the starting job."
Arizona fans are rightfully excited about Solomon, who seems like a nice fit for Rodriguez's spread-option offense.
But the Pac-12 blog would like to insert a "Be Careful What You Wish For." The Wildcats might be better off if Solomon ends up redshirting. At the very least, it would be better for Solomon to see spot action rather than take over the starting job.
Why? Well, the history of true freshman QBs is pretty spotty, other than Jamelle Holieway, who won a national championship as a true freshman at Oklahoma in 1985. And, of course, Holieway's best season was his first for the Sooners.
Few true freshmen QBs start from Day 1, and most are forced into action, rather than winning the job outright. Holieway only stepped in due to an injury to Troy Aikman. Same with Peyton Manning at Tennessee. Ohio State's Terrelle Pryor, Notre Dame's Jimmy Clausen and Georgia's Matt Stafford all became the starters when more senior players faltered.
Chad Henne went 9-2 as a true freshman leading Michigan in 2004, but he was surrounded by a lot of talent. We can all agree Robert Griffin III became a spectacular player, but Baylor went 4-7 with him as a true freshman QB.
The best recent example of a true freshman QB in the Pac-12 is USC's
Matt Barkley
in 2009. He was the first true freshman to start at QB for a top-five team since Michigan's Rick Leach in 1975. That USC team finished 9-4, losing three of its final four regular season games. The Trojans had lost seven games the preceding six seasons. Barkley threw 14 interceptions and 15 TD passes.
We've seen a number of freshmen QBs play really well of late. Texas A&M's
Johnny Manziel
became the first freshman to win the Heisman Trophy, and in the Pac-12 Oregon's
Marcus Mariota
and UCLA's
Brett Hundley
posted outstanding seasons this past fall, with Mariota winning first-team All-Pac-12. And, of course, there's Andrew Luck. He turned out OK.
But they all were redshirt freshmen when they became starters.
It's also notable that a lot of true freshmen QBs, such as Barkley, enroll early and participate in spring practices. That gives them a significant advantage in terms of getting use to the speed and complexity of the college game.
Solomon won't report until fall camp.
Solomon might indeed become a revelation for the Wildcats next fall. He could win the job, play admirably and three years later become an All-American.
But history suggests he won't be immediately ready, and that the best course is patience. It seems like at least a year of seasoning really helps create a tastier quarterback.
January, 4, 2011
1/04/11
1:00
PM ET
NEW ORLEANS -- Jim Tressel remembers watching the lanky Michigan freshman quarterback warming up at the Big House before The Game in 2007.
"I mean, he could spin it," Tressel said of
Ryan Mallett
.
Tressel wasn't sure which Michigan signal caller Ohio State would face that day in Ann Arbor. Wolverines senior Chad Henne had been dealing with a shoulder injury, and Mallett had seen action in the previous 10 games.
Mallett relieved the banged-up Henne for a stretch against the Buckeyes and had three pass attempts, completing one, in a
14-3 Ohio State victory
.
"It was kind of a sleeting, rainy [day]," Tressel said. "It wasn't a wonderful time for a guy to try to spin the ball out there. Ryan came in and played some. And for a freshman, his composure and command and so forth were outstanding."
When Mallett decided to leave Michigan following a coaching change, Tressel was happy.
"I don't know if that's an honorable emotion or not," Tressel said, "but I was. And as fate would have it, I guess I was being punished for that terrible thought because here we are."
Suffice to say Tressel isn't giddy about his reunion with Mallett on Tuesday night in the Allstate Sugar Bowl.
"Now I get him as a [redshirt junior]," Tressel said. "And I get him with a great tight end and great running backs and an offensive line that hasn't missed a start and wide receivers who can make plays."
It'll be quite the challenge for Tressel's Buckeyes.
November, 11, 2008
11/11/08
11:58
AM ET
Posted by ESPN.com's Adam Rittenberg
You'll have to excuse Rich Rodriguez for not being full of good cheer around Christmas this year.
Rodriguez isn't used to spending the holidays like most Americans, hanging out at home. From 2002-2006, he devoted those days to preparing West Virginia for various bowl appearances. Last December, he was slightly preoccupied, as you might have heard.
| | |
| --- | --- |
| | |
| | Joe Robbins/Getty Images |
| | It's been a tough first season at Michigan for head coach Rich Rodriguez. |
But Rodriguez doesn't have a bowl game in his future this year, and for the first time since 1974, neither does Michigan.
"It's not going to be any fun, but we'll have a little bit of time over Christmas," Rodriguez said. "I've talked to the wife, like, 'What are we gonna do? We've got three or four days here. I don't want to sit around because I'll be mad watching everybody else play in a bowl game.' I've got to figure out something."
Rodriguez's Christmas confinement will end a tumultuous year for the Michigan coach.
There was the controversy and sour sentiment following his departure from West Virginia, and the cautious curiosity about his arrival at Michigan. There was the lawsuit and the settlement. There was spring ball, Justin Boren and questions about the program's values. There was installing a proven offensive system with mostly unproven players.
And then there was the season. Despite major personnel losses and a surplus of inexperienced players thrust into major roles, the transition proved to be tougher than many could have ever imagined. Michigan started 2-7, ensuring the program's first losing season since 1967, before rebounding with a nice road win last Saturday at Minnesota.
Rodriguez's team mounted the greatest comeback in Michigan Stadium history against Wisconsin and also became the first Michigan squad to fall to a MAC school (Toledo). The offense ranks 104th nationally in yards and 86th in scoring, but it has shown flashes.
Trying times, for sure, but there are reasons for hope.
Rodriguez spent some time Monday afternoon discussing the season, his own performance and the work that lies ahead.
Are you at the point where you can go back and evaluate yourself, what worked, what didn't work, or is it something you do at the end of the season?
RR: I do it all the time anyway. The last 27 years of coaching, not just the 16 years as a head coach, every year I'm always constantly doing that. Obviously, having a tough year, it makes it even more of a sense of urgency to do that. So not only evaluating everything that we're doing individually as coaches, but also everything in the program. Some of the progress we're making Sunday through Friday isn't showing up on Saturday. It did a little bit last Saturday. So some of the progress is already in place, but more of it is going to take a little more time. We know the major things we've got to do to make this program a top 10, 15, 20 program, but it's just now implementing it and getting it in place.
When you evaluate, do you look back at the summer and see things you missed or didn't emphasize enough?
RR: I usually do that right after camp, evaluate how camp was, and then after the first game, how that first game week went. And the system and putting the program in place, it's not like it's the first time. Even this season, having gone through something similar seven or eight years ago at West Virginia, I was able to draw on some things from that. Some of the problems didn't happen overnight, won't be solved overnight. But some of the issues are similar to things I've dealt with before, and it's just a matter of getting it in place and hopefully having a little bit better success on game days. As a coach, you always have to reevaluate yourself every week, every month and certainly every year.
August, 28, 2008
8/28/08
10:05
AM ET
Posted by ESPN.com's Adam Rittenberg
Michigan safety Stevie Brown tries to block negativity from his life whenever he can. The problem is he also owns a TV.
| | |
| --- | --- |
| | |
| | Leon Halip/Getty Images |
| | Stevie Brown and Michigan still remember last year's season-opening loss to Appalachian State. |
When Brown flips through the channels, he's often comes across those unsightly images, the ones showing the little team with the funny name stunning the big team with the famous name. There might as well be a station called WLAS -- Wolverines lose to Appalachian State.
"It was hard to get over because every week, we saw the clips being played," Brown said. "It's still being played right now. So it's always something that stays in the back of your mind."
Does Brown relive Michigan's 34-32 loss, considered by many to be the biggest upset in college football history?
"Nah, I change the channel right then and there," he said.
Brown might want to unplug his set this week. The Wolverines enter a new era with head coach Rich Rodriguez and dramatically different schemes and personnel, but the Appalachian State loss will undoubtedly be rehashed as another season dawns Saturday at Michigan Stadium.
Rodriguez and most of his assistants weren't in Ann Arbor for Michigan's historic setback last fall, and though they focused on installing new systems with mostly unproven players this summer, there have been some not-so subtle hints about the game. Brown remembers a particular conversation he had with one of Michigan's graduate assistants.
"The one thing the GA told me was, he didn't believe it and the coaching staff didn't believe it, but when they came in, they heard that No. 3 would just have mental mistakes and blow coverages every now and then," Brown said. "I didn't ask where it came from, they didn't tell me where it came from."
It doesn't take much detective work to find the likely source. Brown started the Appalachian State game, got burned on a 68-yard touchdown and several other plays, and began the second half on the bench.
Don't expect a re-run Saturday against Utah.
July, 14, 2008
7/14/08
1:01
PM ET
Posted by ESPN.com's Adam Rittenberg
| | |
| --- | --- |
| | |
| | Charles LeClaire/Getty Images |
| | Michigan coach Rich Rodriguez has to choose among four inexperienced signal-callers to run his spread offense. |
The third installment of quarterback conundrums could be the league's most intriguing, more so because of the coach and the system than the candidates. Offensive innovator Rich Rodriguez was brought to Michigan to shake up a program that had grown a bit stale under Lloyd Carr. Rodriguez's high-octane spread offense doesn't resemble anything the Wolverines have used in the past, and he must install it for a quarterback who doesn't resemble Pat White. Here's a look at the uncertain situation under center in Ann Arbor.
The candidates
Steven Threet (6-6, 230, Fr.): Transfer from Georgia Tech could be throwing his first pass in a college game this fall. Has good size and most likely the strongest arm of the candidates. He's hardly the prototypical Rich Rodriguez quarterback, but he's a solid athlete who ran the spread offense as a high school senior.
Nick Sheridan (6-1, 212, So.): Walk-on appeared in two games last season as a redshirt freshman, but didn't attempt a pass. A little undersized, and his arm strength has been questioned. But he came on strong toward the end of spring practice before throwing three interceptions in the spring game. Son of former Michigan assistant coach has good knowledge of the game.
David Cone (6-7, 214, So.): Only candidate who has thrown a pass in a college game, completing his lone attempt for 21 yards against Minnesota on the final play. Fell behind both Threet and Sheridan during spring practice but could gain some consideration this summer. More of a pro-style quarterback who might struggle in the spread, but has some size.
Justin Feagin (6-0, 190, Fr.): Feagin's skill set could fit the system better than any other candidate, but he's a true freshman. Dual-threat QB didn't generate much buzz as a Florida prep player, mainly because he competed against smaller schools. Has excellent speed and could be used in packages, but the only freshman who could have started on Day One for Michigan is playing for Ohio State.
Who they're replacing
Chad Henne: Four-year starter set school records for passing yards (9,715), completions (828), attempts (1,387) touchdown passes (87) and interceptions (37). He finished second in Big Ten history in touchdown passes and went 33-14 as the starter. Consensus first-team freshman All-American struggled as a sophomore before taking Michigan back to the Rose Bowl as a junior. Fought through injuries last fall and led Wolverines to a Capital One Bowl title in his final game (named the game's MVP).
Spring skinny
All of the quarterbacks struggled at times during spring ball, though Threet emerged as the early favorite to win the job. Threet displayed a strong arm and threw only one interception in the spring game, while Sheridan tossed three. Rodriguez identified Threet and Sheridan as the front-runners after spring ball, but the competition is far from finished.
Summer storylines
Threet took snaps with the first-team offense during the spring and reportedly looked the least shaky of the candidates. His familiarity with a version of the spread in high school should help his cause in camp. Intelligence is a key component for Threet, the valedictorian of his high school class and a player who should grasp Rodriguez's system quickly.
The strong play of Michigan's running backs during spring ball could lighten the burden on the new starting QB this fall. Both Brandon Minor and Kevin Grady performed well, and Carlos Brown will be back from a broken finger. Offensive coordinator Calvin Magee produced an All-Big East running back in each of his seven seasons at West Virginia. If he gets similar production from Minor, Brown or Grady, Michigan could live with an average runner taking the snaps.

Prediction
Threet enters camp with a slight edge, but it could be several weeks before the starter is named. Rodriguez is open to using more than one quarterback, and that could very well be what happens with Threet and Sheridan. Both will see the field during a challenging August/September slate. If both struggle, Feagin could get a shot.