NCF Nation:

Chad Ochocinco
February, 15, 2012
2/15/12
9:00
AM ET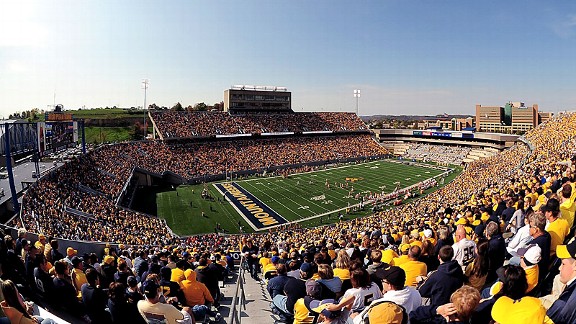 Andrew Weber/US PresswireWest Virginia's Milan Puskar Stadium offers new experiences for Big 12 fans.
After a bit of a delay, thanks to some legal wrangling,
West Virginia is finally free
.
The Big East and the Mountaineers have settled their lawsuit, and West Virginia is officially on its way to the Big 12 for 2012.
That means it's off the Big East blog and onto the Big 12 blog, too.
To help the Big 12 get to know its newest member, Big 12 blogger David Ubben asked Big East blogger Andrea Adelson for her thoughts.
David Ubben:
AA, Les Miles had my favorite quote of the 2011 season in relation to West Virginia. "They were having a football party and invited us. I knew our guys would show up."
You were there, Andrea. What can Big 12 fans expect when they go to Morgantown? Is it a football party every weekend?
Andrea Adelson:
Define "every weekend." West Virginia fans show up for the super gigantic games against teams like LSU and Pitt, but there has been concern that the fan base is "fair weather." Note -- 46,000 fans came out to watch Bowling Green. Now, the truth is, no fan in America gets up for the cupcake patsy schedule. But this rubbed Dana Holgorsen the wrong way,
and he ripped on the fans after that game:
"All I heard about was how much this meant to everybody across the state of West Virginia. This was the NFL team in town and we're going to be here to support you. Well, having 40,000 people at a game isn't doing that. ... We do our best every week to fix what the problems are offensively, defensively and special teams wise. Well, what's everybody across the state of West Virginia, including the student body, doing to fix the fact that our players had to play in front of 40,000 people?"
Now, you remember Holgy from his days at Oklahoma State. OK maybe not, since there were not many of them. But he likes stirring the pot, and I firmly believe he did that to motivate a fan base that had become dispassionate with good ol' Bill Stewart "I never met a punt I didn't like" in charge. The fact is that West Virginia has the most spirited fan base in the Big East and averaged 8,000 more fans than Louisville, which ranked No. 2 in the league in attendance in 2011. The atmosphere is fun, and was absolutely electric against LSU.
I anticipate many more crowds like that with teams like Texas and Oklahoma appearing on the schedule. West Virginia fans have gotten a bad rap nationally because of the couch burning and rowdiness. But in the two games I attended last season, I thought everybody behaved themselves accordingly.
And hey, they now serve alcohol in the stadium. I'm sure Big 12 fans can drink to that.
DU:
No doubt about the couch burning. Apparently West Virginia passed some legislation to make it stop, but I always found it sort of endearing and mostly harmless, albeit destructive. Maybe that's just me.
Holgorsen definitely speaks his mind, and I know fans will be fired up about alcohol sales in the stadium. What about once fans get to the stadium? Any in-game traditions they should be prepared for? Remember, this is the same league that had Texas A&M for its entirety. Visiting fans are prepared for a little weirdness.
AA:
You mean weirder than couch burning?
Well, the Mountaineers mascot runs onto the field with the team toting a real rifle. Each year his costume is tailored to fit just him. But my favorite tradition has to be the playing of "Country Roads" at the end of each home victory. Fans stay in the stands and join the team in signing the song, which became a tradition in 1980 after John Denver dedicated Mountaineer Field with the song.
June, 30, 2011
6/30/11
1:53
PM ET
ESPN.com has been doing a series on great college players who didn't pan out in the NFL -- "
Simply Saturday
," -- which has featured a number of Pac-10 players, including Washington's Steve Emtman and USC's Matt Leinart.
Interesting stuff.
But ESPN.com's Bruce Feldman, who is always working the angles, decided to take a look at
NFL stars with so-so college careers
, and his list also includes some Pac-12 guys: USC linebacker Clay Matthews, Oregon State wide receiver Chad Ochocinco and California cornerback Nnamdi Asomugha.
He ranks Matthews No. 2. Notes Feldman:
No NFL player has better bloodlines than Matthews, but when he was coming up as a recruit he was a wiry, undersized, off-the-radar prospect who reportedly only weighed 166 pounds as a backup LB-TE for Agoura (Calif.) High. Matthews stared to sprout in his senior year, yet still only had one scholarship offer -- from former USC assistant Nick Holt at Idaho.
Sure, Matthews blossomed as a junior and senior. But he never really was seen as the brightest star in the constellation that was the Trojans' 2008 defense.
Still, Oregon's Nick Reed and Oregon State's Victor Butler were the first-team All-Pac-10 defensive ends. Matthews proceeded to wow scouts with his explosiveness and determination. Green Bay drafted the one-time walk-on 26th overall, and he has rewarded them with two spectacular seasons, going to back-to-back Pro Bowls and winning NFC Defensive Player of the Year honors, while helping lead Green Bay to a Super Bowl victory.
Ochocinco rates No. 4.
The Miami native didn't spend much time in the Pac-10 -- just one season at Oregon State. The receiver, then known as Chad Johnson, did flash some big-play potential during his time in Corvallis, catching 33 passes for 713 yards. He also flashed a lot of personality on his way to the draft, as you can tell if you read this old Q&A he did with Mel Kiper Jr., who at one point asks: "When all is said and done, how do you want people to remember Chad Johnson?"

Johnson's response: "As a very humble, nice person who had no off-the-field problems."

I'm not sure how many will recall the Cincinnati Bengals star as "humble," but he certainly has produced, notching seven 1,000-yard receiving seasons and going to six Pro Bowls. In truth, he'd be even higher on this list, but at 33, he has dipped some in the last three years.
Asomugha is No. 5.
Oakland certainly didn't whiff on this pick. Asomugha has emerged as a true shutdown corner, earning trips to the past three Pro Bowls. He's also as good as they come off the field, winning NFL Man of the Year honors, too.

He had a good but not great career for the Bears, getting chosen as an honorable mention All-Pac-10 pick as a senior. Some great individual workouts took a guy who some touted as a fifth-rounder all the way up into the first round when the Raiders selected him 31st overall.
On a personal note, I covered Asomugha's coming-out game: a 34-27 Cal win at Washington in 2002, which ended a 19-game Huskies winning streak in the series. In that game, Cal matched Asomugha, previously a safety, on All-American receiver Reggie Williams. Asomugha's physical style --
read here to see what Williams thought of it
-- threw the Huskies' passing game out of sync.
Bet more than a few Cal fans remember that game fondly.
June, 14, 2011
6/14/11
3:08
PM ET
Anyone else need a shower after watching that?

Former Ohio State quarterback
Terrelle Pryor
and his new agent Drew Rosenhaus held a brief news conference Tuesday in Miami.
Pryor made his first extended public comments
since announcing his departure from Ohio State, although the quarterback didn't take any questions from the media after reading a statement. Rosenhaus then proceeded to talk about how Pryor will take the NFL by storm, how much Jim Tressel loves Pryor, how Pryor will redeem himself with Ohio State fans, blah, blah ...
ESPN2 wisely broke away from the Rosenhaus rant midstream.
Here are a few excepts from Pryor's statement:
"In terms of Ohio State, I'd like to say sorry to the coaching staff, say sorry to my teammates, say sorry to all the Buckeye Nation and all the Buckeye fans throughout the country. I never meant to hurt anybody directly or indirectly."
"To coach Jim Tressel, a special shout-out, I'm sorry for all I've done. I apologize with all my heart. I love you just like a father. You taught me a lot. I apologize for being in a situation that [has taken] you out of a job and a place that you loved to be. I regret the fact that you're not there anymore, and I regret that fact I'm not there anymore."
Pryor said he has nine academic credits to complete before graduating from Ohio State. "I'd like to come back and graduate sometime and finish my degree and graduate as a Buckeye," he said. Here's hoping he follows through.
Pryor confirmed he's entering the NFL supplemental draft in July.
"One of my goals is to be the best person I can possibly be off the field, be the best role model I can possibly be off the field."
So there you have it. Pryor did apologize quite a bit in his brief statement, although I doubt too many Buckeyes fans are in a forgiving mood right now. It was important that he acknowledged his mistakes, but he might have picked a better forum to do so.
Rosenhaus added that Pryor has expressed "tremendous remorse" and is "responsible for the mistakes he has made. He has owned up to them. … But the past is now the past." The agent added that Pryor wanted to stay at Ohio State and wants to redeem himself with Buckeyes fans.
One of the more interesting nuggets is that according to Rosenhaus, Tressel remains very involved with Pryor and has vouched for the quarterback.
"He's going to champion this young man," Rosenhaus said.
Rosenhaus predicted that Pryor would be a first-round pick in July's NFL supplemental draft. Former Duke quarterback Dave Brown was the last first-round pick in the supplemental draft, way back in 1992.
"Are you kidding me? Middle round for this guy?" Rosenhaus said. "... He is going to be a great NFL quarterback. With all the teams that need QBs, you can't tell me people are not going to jump on this young man."
We'll see about that.
One NFL receiver seems sold on Pryor. Chad Ochocinco, another Rosenhaus client, raved about Pryor on Twitter after working out with the quarterback Tuesday morning.
Ochocino tweeted of Pryor
: "Unbelievable arm strength n superb timing with it just being our first day," and, "the media said
@tpeezy2
isn't NFL type QB,after running routes n seeing great timing n arm strength I beg to differ."
Talent always wins out, and if Pryor can convince NFL personnel folks that he can succeed both on and off the field at the next level, he'll find a place to play.
He just might want to hope the NFL folks don't judge him by today's charade.
April, 11, 2011
4/11/11
10:30
AM ET
STILLWATER, Okla. -- We'll have plenty more on the Cowboys a little bit later this week, but I'll give a little sample today from my time in Stillwater.
Why'd Weeden pick up a third sport?
Brandon Weeden
is already one of the most entertaining stories in the league, considering the 28-year-old spent a handful of years in the New York Yankees' organization after high school before coming to Oklahoma State. The Yankees, as is custom in minor league baseball, paid his tuition before Weeden was put on scholarship four semesters ago. This spring, however, he's added another sport to his repertoire: Weeden joined the university's golf team.
Why? Well, to put it simply, boredom.
Weeden, who didn't even begin playing golf until after his pro baseball career got underway, is only taking three hours this semester as he finishes up his degree in business management. He wanted an outlet to go with his football responsibilities, which have taken a front seat while spring football is in session. During spring break, however, Weeden took to the golf course on all eight days the team was off. A walk-on, Weeden hasn't qualified for an event yet, but he has been competing.
His Cowboys' teammate, Peter Uihlein, got a taste of the Masters this week, shooting 72-77 as an amateur while missing the cut. Weeden ended up in Augusta on Sunday. College life, it would seem, gets pretty awesome when your only responsibilities are three hours of class and football. Oh, and a wife, too. But still. My hat's off. Seems like quite the college experience.
[+] Enlarge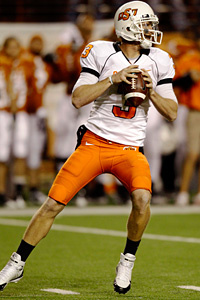 AP Photo/Eric GayOklahoma State quarterback Brandon Weeden picked up another sport this spring.
As for his baseball experience, that seemed pretty good, too. Weeden saw the ESPN 30 for 30 film, "Jordan Rides the Bus" about Michael Jordan's minor league baseball exploits, but he says those famed minor league bus rides aren't all that bad.
"It was the same kind of bus we travel on from hotel to games. I always got my own seat," Weeden said. "I actually enjoyed them. I'd just play cards or be on my cell phone. I'd find something to do. The longest one I ever had was 18 hours, but they're usually 6-9 hours at the most."
Weeden only took four days between the end of his baseball career and the beginning to his college football career.
"I always knew this is what I wanted to do. If I had been 25 at the time, I probably wouldn't have done it. But I was 23 and still felt like I could compete and do it," he said. "Baseball was my first love, but football was another option."
Coach Mike Gundy found out Weeden wanted to play back in 2007, had then-offensive coordinator Larry Fedora place a call to the quarterback and told him he was welcome to walk on. That was in April. By June, he had made it to Stillwater and joined the team.
Early on, he wasn't sure if he'd be able to make it.
"Once I got here for a year or so and started knocking all the rust off, I felt like there was an opportunity, that I might have an opportunity before it was all said and done. I just needed an opportunity. It's tough when you're a walk-on guy like that. You don't get many opportunities, and as a third-string quarterback, you don't get opportunities," he said.
Weeden's came during a Thursday night game against Colorado. Second-string quarterback Alex Cate struggled in place of an injured Zac Robinson, and Gundy turned to Weeden. He engineered a comeback win from down 14, Cate eventually transferred, the Cowboys hired Dana Holgorsen in the offseason and well ... here we are.
"Once I got it, I made the best of it," said Weeden, Oklahoma State's first all-conference quarterback since 1932.
Leach, Holgorsen and pounding Red Bull
One of the more entertaining rumors of the offseason was Mike Leach and Oklahoma State's supposed mutual interest in one another. Leach had been out of football a year, and Oklahoma State needed an offensive coordinator (more on the coordinator it they
did
hire later) to run the Air Raid that made them one of college football's most potent offenses last season.
So, what'd they think about Leach?
Receiver
Justin Blackmon
laughed.
"I thought it'd be a good time," he said.
"It definitely would have been a good time," added Weeden. "I don't know Coach Leach well enough to even say, to be honest, but he came by one time last year, and I think he had a coffee and/or a red bull in his hand at all times. He's definitely wired a little differently."
Wired differently perhaps, but on the same wavelength as Holgorsen, who ESPN cameras
caught chugging a Red Bull on the sidelines of the Alamo Bowl
, a screen shot that made the rounds on the blog circuit in the days that followed.
"That just happened to be the screen shot, but that could have happened any time," Weeden said. "There's no water involved in his beverage choice. It was usually Red Bull, Red Bull or … Red Bull."
On the NFL, Weeden and Blackmon
By electing to return to Stillwater, Weeden and Blackmon provide the possibility for a season even more special than last year's 11-2 campaign -- the most wins in school history.
Their new offensive coordinator, Todd Monken, made the move from the NFL to college. Monken brought with him film for both to check out, including two receivers that rank among Blackmon's favorites: Chad Ochocinco and Andre Johnson.
"I like (Ochocinco) because he talks a lot of trash out on the field, and Andre's just a great receiver who catches the ball better than about anybody," Blackmon said.
As for Weeden? He patterns himself after Peyton Manning, mostly in the way he runs every part of the offense and shapes it before and during plays.
"I've always kind of followed the Colts because of Peyton. I'll watch every Colts game. I like watching him operate. He doesn't have the strongest arm in the NFL, but it's on time and it's on target," he said.
Lots more to come from the Cowboys.