NCF Nation:

Chander Catanzaro
January, 9, 2013
1/09/13
3:00
PM ET
Clemson beat No. 8 LSU. Georgia Tech beat USC. Florida State won a BCS bowl.
This
is a version of the ACC worth bragging about.
Finally, at a moment when many college football fans were expecting nothing, the ACC gave everything it had. After being pushed around all season, the ACC finally pushed back. The end result was a 4-2 record this bowl season, the league's first winning record since 2005.
(
Take that 2-5 Big Ten
!)
The national championship game had nuthin' on the drama of the Chick-fil-A Bowl.
Clemson and LSU were in a knockdown, drag-out fight until the fourth quarter of what was arguably the best bowl game of the season. It took a last-second field goal by
Chandler Catanzaro
-- who had an extra point blocked in the second quarter -- for Clemson to win 25-24. It was a remarkable finish after a disastrous start that included an injury to star receiver
Sammy Watkins
as he fumbled the ball.
LSU was the highest-ranked bowl opponent the ACC has defeated since Clemson beat No. 6 Tennessee in 2003. Coupled with Florida State's win over No. 15 Northern Illinois, it was only the second time the ACC has defeated two top-15 teams in the same bowl season. In 2001, Georgia Tech beat No. 11 Stanford, and Florida State beat No. 15 Virginia Tech, then in the Big East.
And this bowl season, even the Hokies found enough offense to win.
Somehow Virginia Tech managed to turn an overtime win into a snoozefest. The Hokies' Russell Athletic Bowl win over Rutgers was like watching a bad movie for too long -- you felt obligated to see how it ends. Fortunately, it ended -- with the Hokies on top.
The only truly disappointing performance from the ACC came from NC State, but let's give the Wolfpack a pass. NC State had a built-in excuse in that it was preparing to face an SEC team while in the midst of an awkwardly timed coaching transition. (Remember Miami in the Sun Bowl after Randy Shannon was fired? That timing just doesn't help matters.) NC State had five turnovers, racked up 90 yards in penalties and couldn't climb out of a 14-0 hole.
Fortunately for the ACC, the wins carried far more weight than the two losses (and Duke's loss to Cincinnati in the Belk Bowl was a heartbreaker for the program and the league, not an embarrassment).
USC -- yes, the same program that was ranked No. 1 this preseason -- was outcoached by Georgia Tech's Paul Johnson. Critics will say the Trojans weren't motivated, didn't want to be there and didn't have quarterback
Matt Barkley
. That's Lane Kiffin's problem. The Yellow Jackets deserve credit for winning the program's first bowl game under Johnson.
The ACC's 4-2 record was its best in terms of winning percentage since the league expanded in 2004. It hasn't gone 3-0 in its top three bowl tie-ins in the 15 years the Bowl Championship Series has been around.
Not bad for a conference that went 2-6 in its bowls a season ago.
The 2012 bowl season isn't going to erase one of the worst regular seasons in league history, but it should definitely give the conference and its fans some much-needed positive momentum heading into 2013.
January, 19, 2012
1/19/12
9:00
AM ET
There were many players throughout the ACC who made noticeable strides in 2011, not only from the previous season, but also from the first half of the season to the second. Clemson quarterback
Tajh Boyd
certainly didn't look like the same guy who completed 8 of 24 passes in the spring game, and NC State quarterback
Mike Glennon
threw 11 of his 31 touchdowns in the last three games and only four of his 12 picks in the last five games. Some, though, made greater turnarounds than others. Here are the ACC's most improved players for offense, defense and special teams in 2011:
OFFENSE
[+] Enlarge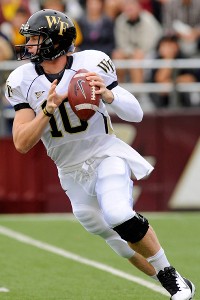 Bob DeChiara/US PresswireWake Forest's Tanner Price made enormous strides from his freshman season in 2010.
1. Wake Forest quarterback Tanner Price.
As a true freshman in 2010, Price completed 137 of 241 passes for 1,349 yards with eight interceptions and seven touchdowns. As a sophomore in 2011, he completed 253 of 422 passes for 3,017 yards, six interceptions and 20 touchdowns.
2. Miami receiver Tommy Streeter.
He went from zero starts and one catch in 2010 to becoming the Canes' leading receiver in 2011 with 811 yards and eight touchdowns in seven starts.
3. NC State receiver T.J. Graham.
He caught 25 passes in 2010, 46 in 2011. He led the team with 757 yards and seven touchdowns. In 2010 he had 316 yards and four touchdowns.
DEFENSE
1. Virginia Tech defensive back Kyle Fuller.
He went from getting benched in the 2010 ACC title game to being an all-conference performer who led the Hokies in tackles for loss from a DB position in 2011. He had two interceptions, 65 tackles, 14.5 TFL, and 4.5 sacks.
2. Florida State S Lamarcus Joyner.
A reserve cornerback and kickoff return specialist as a true freshman, Joyner moved to safety in the spring and was a big hit. He finished fourth on the team in tackles with 54 (38 solos), led the Seminoles with four interceptions and was second with seven passes defended. He also led the team in kickoff return yards (13-397) with an impressive 30.5 average.
3. Florida State LB Christian Jones.
He moved into the starting lineup after a solid freshman season in a reserve role at SLB. He finished third on the team with 56 tackles (33 solo), including six tackles for loss (three sacks). He also led the Seminoles with two forced fumbles and added a fumble recovery for the ACC's top defense.
SPECIAL TEAMS
1. Clemson K Chandler Catanzaro.
Catanzaro went from the goat of the Auburn game in 2010 to hitting 22 of 27 field goals, including 9 of 12 on field goals from 40 yards or more, second most in Clemson history from that distance.