NCF Nation:

Channing Ward
June, 13, 2013
6/13/13
2:30
PM ET
Everyone who knows anything about college football knows that one major thing that separates the SEC from all the other conferences is the play -- and talent -- along the defensive lines.
Ask any coach out there to describe the biggest difference and "defensive line" is bound to be one of the first things that slip out of his mouth. It truly is all about the trenches in the SEC, both defensively and offensively. The offensive lines deserve some love for just putting up with their burly counterparts, but the defensive lines really do get all the attention.
So it should come as no surprise that when Phil Steele
ranked his top 15 defensive lines
in college football that the SEC was represented by five teams -- the most of any conference.
[+] Enlarge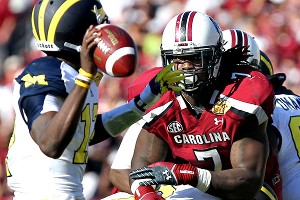 Kim Klement/USA TODAY SportsJadeveon Clowney headlines a deep crop of SEC defensive linemen.
While none ranked first or second -- that was reserved for Notre Dame (No. 1) and USC (No. 2) -- South Carolina topped the SEC lines at No. 3 on Steele's list. Florida ranked sixth, Ole Miss was 12th, Alabama was 13th and LSU was 14th.
That's pretty good when you consider that Florida lost first-rounder Sharrif Floyd and Mr. Solid Omar Hunter in the middle, while LSU pretty much lost its entire starting defensive line from a year ago.
The SEC truly does just reload up front.
South Carolina's ranking isn't surprising because there's more than just
Jadeveon Clowney
to work with. Sure, Clowney might be the best player in the country, but he has help from
Kelcy Quarles
and
J.T. Surratt
inside and
Chaz Sutton
on the other side of him. Quarles was pretty consistent for the Gamecocks last year, while Sutton grabbed five sacks as a backup. The departure of starters Devin Taylor and Byron Jerideau shouldn't shake this lineup too much.
Getting
Ronald Powell
back should help the Gators with Lerentee McCray gone on the outside. Powell will play that hybrid linebacker/defensive end "Buck" position, where he'll get help from freshman All-SEC player
Dante Fowler Jr
.
Dominique Easley
is moving back to defensive tackle, where he was very disruptive during his first two years on campus. He can still move outside if needed. End
Jonathan Bullard
is coming off of a solid freshman season, while more is expected out of tackle
Damien Jacobs
, who came from the junior college ranks last year.
Ole Miss still has depth issues at defensive tackle, but has plenty to work with at end.
C.J. Johnson
should be healed from the leg injury he suffered this spring, while
Cameron Whigham
is coming off of a season in which he started 11 games. Rising sophomore
Channing Ward
should be fun to watch, and top recruit Robert Nkemdiche is expected to see the field very early. Tackle
Issac Gross
should be back from his groin injury this fall and he'll get help from juco transfer Lavon Hooks, who had a very good spring.
Alabama might not have the elite players it's had in the past up front, but defensive ends
Jeoffrey Pagan
and
Ed Stinson
could have big years. Pagan has a lot of potential, while Stinson recorded 30 tackles last season, including 8.5 for loss and three sacks. Stinson is versatile enough to play both inside and out. Then there's
Brandon Ivory
at noseguard, who has to replace the talented Jesse Williams. Alabama still needs players to step up more as starters and reserves because the line as a whole has a ways to go before the season starts.
You can tell how well Les Miles has recruited along the defensive line when the Tigers can lose so much but still have a line that's considered one of the nation's best. Tackle
Anthony Johnson
has so much potential and it sounds like he's ready to unleash his talents on the rest of the league. Miles raved about end
Jermauria Rasco
this spring and doesn't think the Tigers will miss much of a beat with him outside. True freshman Christian LeCouture played his way into the two-deep at defensive tackle this spring, while Miles expects to get more from tackle
Ego Ferguson
and ends
Danielle Hunter
and
Jordan Allen
.
May, 16, 2012
5/16/12
11:59
AM ET
OXFORD, Miss. -- Ole Miss' football program is stuck in the wilderness -- a scary place, filled with a plethora of overgrown obstacles.
When coach Hugh Freeze arrived last December, he says the jungle was as thick as ever and it didn't look like his new team was ready to cut its way out.
[+] Enlarge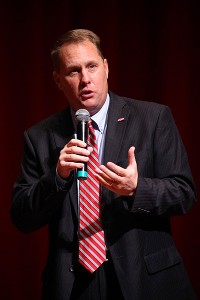 Shelby Daniel/Icon SMINew coach Hugh Freeze has set out an agenda for all Ole Miss players: "winning the day."
That was until Freeze offered a solution: his "Journey." He told players that he didn't know how long it would take for them to make it out or find some sort of salvation, but if they followed him, they'd find the light.
"The reasonable expectation for us in Year 1 is for us to compete passionately for this university for 60 minutes," Freeze said. "And whatever that scoreboard says at the end of that 60 minutes we'll have to live with."
The Rebels will have to plod through this quagmire, but Freeze insists patience is the key to turning around a program that is less than three years removed from a second straight Cotton Bowl victory.
"It's well-documented that we don't have the talent level that people in the SEC West have right now at a lot of spots, at least not the depth," Freeze said. "That's not fixed overnight."
And it's just one of the handful of problems Freeze is looking to fix, as he replaces Houston Nutt, who was once heralded as Ole Miss' greatest hire. Academic and discipline issues are also on the agenda. As Freeze puts it, he has "a few mountains to climb" before he can shape things up, but since the journey began in December, progress has been made.
Freeze said probably 65-70 percent of the players have bought in, which might be a conservative number. It's better than what he expected, considering the trust issues and players being set in their old ways of doing "what they've wanted to do for themselves for so long."
"They think they like it the way they had it, even though, if they're intelligent enough, they look at the results," he said. "You're will is something that's hard to change once you get set."
Freeze put the Rebels' abysmal 6-18 two-year record and 14 straight SEC losses front and center as motivation, he made academics more of a priority, looked to adjust Ole Miss' lenient drug policy, and created accountability groups.
Everything has helped, but the accountability groups really took off.
They were created to show players how much their actions affected everyone. Miss class? Your group runs at 5 a.m. Miss tutoring? Group run; 5 a.m. Late for
anything
? Welcome the sun with some running.
Rising junior linebacker
Mike Marry
said his group never ran – he made sure of it – but he saw other groups running as much as five times during a two-week span. The running cut down as the spring went on and there was hardly any toward the end.
"That's what I like about him," Marry said of Freeze, "he doesn't let little things slide.
"The last coaches, they let certain things slide. Certain things were small, but eventually they start building up and turn into big things and people started feeling like they could get away with more and more things. Since he's not letting little things slide, you're seeing the team come together closer and closer and there are fewer problems."
Freeze said eliminating off-field trouble is top priority. That's why he's so nervous about leaving his players in their own hands during the true offseason. Progress was made, but he worries guys will fall back on old habits when less supervised.
To ease his mind, Freeze turns to recruiting. With Ole Miss so thin at defensive tackle, offensive line, running back and safety, and needing walk-ons to fill three full teams in practice (on both sides), Freeze is stacking recruiting on recruiting.
He had some early success in his first class, grabbing three Under Armour All-Americans – DT
Issac Gross
, DE Channing Ware and DB
Trae Elston
-- and two junior college All-Americans – QB
Bo Wallace
and OT
Pierce Burton
– and his roll has continued with nine commitments in hand for 2013.
Recruiting at Ole Miss has hardly ever been easy with schools like Alabama, LSU, Auburn and Georgia in such close proximity, but Freeze believes he'll make it work. And he'll do it by going after the top prospects, not by getting lax and offering whomever to fill space.
"We can make it easy in recruiting, now, and I think that's what's happened," he said.
"I know you can recruit here. I've been here before when we did it and when we had 20 kids drafted in the NFL in those three classes that we brought in.
"Is it easy? No, but it is doable."
Fixing Ole Miss is also doable, he said. It's going to take a lot of work and a lot of time, but it requires patience. Freeze's mantra is "Winning the day," not winning the week.
"The one thing that we have that's constant and equal [to opponents] is time," Freeze said. "So, what are we doing to prepare for that end goal -- whatever that is -- today?
"We're a fragile state of mind right now and when you start talking about things that are so far out there, I don't think that will be beneficial to us. Let's just talk about today."
Freeze might be preaching about today, but you can sense the confidence growing inside players, especially wide receiver
Donte Moncrief
, who took things a step further.
"Everybody keeps putting us under the radar, but once we learn this offense and the defense keeps playing like it's playing, we're going to shock a lot of teams," he said.
What a journey that'd be.
February, 9, 2012
2/09/12
4:38
PM ET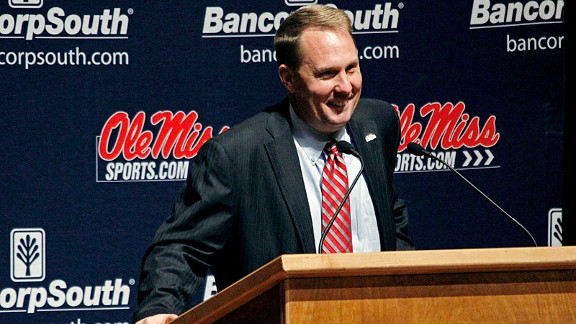 AP Photo/Rogelio V. SolisHugh Freeze is all smiles now, but he takes over a program that has lost 14 straight SEC games.
This week marked a special time in Hugh Freeze's life.
And it had nothing to do with player evaluations, recruiting or clocking 40 times.
This was the first time Ole Miss' new head coach actually got to see what organization looked like in his office. Gone were the boxes that littered his floors and the loose papers that cluttered his desk.
There is some sort of balance in his workspace, but there are still voice mails and emails that haven't been returned. It's not that he's dismissed them; he just hasn't had time to respond.
"I really don't have everything in order yet," Freeze said.
Yet, he's happy to see some sort of sanity return. Since Freeze was announced as Ole Miss' 37th head coach on Dec. 5, he's had one team meeting and a whole lot of recruiting on his mind.
Freeze, who returns to Ole Miss after spending three years on Ed Orgeron's staff, has barely moved into Danny Nutt's (Houston Nutt's brother) old house because he had to build relationships with committed and uncommitted prospects with less than two months until national signing day. And he had to do so at a program that had endured two straight seasons in the SEC's cellar, winning just six games and dropping 14 straight league games, including three straight to archrival Mississippi State.
Ole Miss' longer winter break also meant that he only had one official visit weekend in which students would be on campus -- the final one.
"As you know, Oxford is a different place when the kids are here," Freeze said.
It is, and Freeze worried that prospects wouldn't be able to really digest the Ole Miss experience without them.
But on national signing day, Freeze finished off his class of 18 with a pretty successful turnout. Freeze signed a solid defensive foundation in four-star defensive linemen
Issac Gross
,
Channing Ward
and safety
Trae Elston
.
Though Freeze suffered tough losses, including local star
Jeremy Liggins
, who signed with LSU, he saved six initial scholarships that can be counted back next year and he thinks he signed "quality kids who really want to be at Ole Miss."
Now, he has to make sure he has those players on his current roster. Freeze isn't pointing fingers, but he knows that discipline is an issue at Ole Miss. The mindset isn't toxic, but it isn't great.
[+] Enlarge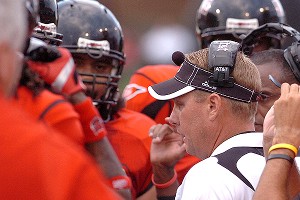 AP Photo/Saundra SovickHugh Freeze is familiar with rebuilding programs. He turned Arkansas State into a winner in 2011.
Freeze is well aware of the off-field incidents and the questionable heart this team showed on the field last season. Therefore, he's calling for an overhaul. Things will change mentally and physically for these players.
"It is requiring them to get out of their comfort zone and change what they're used to," Freeze said.
Freeze's situation at Ole Miss is similar to the one he had at Arkansas State. During his one season as ASU's head coach last year, he had players who had never had a winning season. Expunging the losing attitudes was step 1.
Step 2 was developing the talent at a faster, more efficient rate. Freeze created a well-disciplined team that won the Sun Belt after getting 10 wins for the first time since 1986. Freeze earned Sun Belt Coach of the Year, while 13 of his players earned all-league honors.
Can that overnight success be duplicated in Oxford? Freeze isn't expecting such a dramatic turnaround, but he does anticipate immediate improvement. He won't settle for mediocrity. He didn't return just for Ajax Diner's veggies smothered in bacon and grease or the flawlessly battered catfish at Taylor Grocery.
He came home to win ball games and change the culture of Ole Miss football. He knows the offensive line wasn't recruited for a more "power-type offense" and that youth ran the 2011 team.
But he also knows that he has the pieces in place to run his high-octane, spread offense. There are dual-threat quarterbacks galore, including Bo Wallace, who at one time was an ASU signee, and the Rebels have quality speed at the skill positions.
Freeze doesn't view Ole Miss' program as bleak, and while the Rebels spent 2011 at the bottom of the SEC pile, with time, Freeze believes he can get this program to rebound.
"I do believe with all my heart that we'll get back to being competitive and hopefully we'll do it sooner rather than later, but I've got to preach to myself patience," he said. "I'm not a very patient guy, but I've got to be patient with these guys. Hopefully, there's a large percentage of the team that wants to change the way things are and we can get them to buy in. Hopefully, the ones who are on the fence can buy in with us."
Still, inconsistency has thrived at Ole Miss. There's the idea that Freeze isn't experienced enough. There's the fact that the Rebels haven't been to the SEC championship game and have won 10 games just once since 1971.
The Rebels have ways to go before they'll really compete in the SEC, but Freeze hopes he can shake the stigma that winning at Ole Miss is preposterous.
"I embrace that. I don't run from it and we acknowledge it," he said. "I obviously think it can be done or I would have taken one of those other jobs that I had. I do think it's going to take all of our efforts and us being of one mind, one accord on the same page with our fan base and our staff, and us changing the way we think of ourselves.
"It'll take time."
February, 6, 2012
2/06/12
11:00
AM ET
Now that national signing day is out of the way, we're going to take another look at our SEC power rankings.
You won't see any change really, but we have more confidence in some teams now than we did before:
1. Alabama:
The Crimson Tide hauled in the nation's No. 1 recruiting class last week and not only did Nick Saban sign a handful of top-rated players, but he met all of Alabama's major needs with the 2012 class. There are a few freshmen who could make early impacts in Tuscaloosa, including athlete
Eddie Williams
(Panama City, Fla./Arnold), and wide receivers
Chris Black
(Jacksonville, Fla./First Coast) and
Amari Cooper
(Miami/Miami Northwestern).

2. LSU:
The Tigers' class wasn't as highly rated as some recent ones, but Les Miles and his coaches brought in a solid group and there are a few defense players who might see some playing time early. Three starting linebackers need to be replaced and a few freshmen will get their chances. While LSU lost
Torshiro Davis
(Shreveport, La./Woodlawn) flipped to Texas, the Tigers brought in ESPNU 150 linebackers
Kwon Alexander
(Oxford, Ala.) and
Ronnie Feist
(Edgard, La./West Saint John).
3. Georgia:
The Bulldogs needed to get bigger up front and add a couple of playmaking linebackers. Georgia did just that with the handful of athletic defensive linemen signed and grabbed top outside linebacker
Josh Harvey
-Clemons (Valdosta, Ga./Lowndes), who should thrive in Todd Grantham's 3-4. Georgia's offense could be even better this fall with
Keith Marshall
(Raleigh, N.C./Millbrook) helping
Isaiah Crowell
, and the wide receiver depth returning.
4. South Carolina:
Talk about underrated. South Carolina didn't make much noise at all on national signing day, but the Gamecocks brought in a very balanced class and have a few players who should contribute early to a team that will yet again compete for the SEC East title. Two freshmen to keep an eye on in 2012 are wide receiver
Shaq Roland
(Lexington, S.C.) and safety
Chaz Elder
(College Park, Ga./Benjamin E. Banneker).
5. Arkansas:
It seemed like the Razorbacks were headed for a very strong finish to their 2012 recruiting class, but watched as top receiver
Dorial Green-Beckham
(Springfield, Mo./Hillcrest) and four-star offensive tackle
Jordan Diamond
(Chicago/Simeon) committed elsewhere. However, Arkansas is still waiting on top athlete
Davonte Neal
(Scottsdale, Ariz./Chaparral) and signed some pretty talented wide receivers to add to that high-flying offense. Defensive depth was a need and Arkansas added six defensive linemen and snatched Tennessee linebacker commit
Otha Peters
(Covington, La./Covington) late.
6. Auburn:
Before Auburn could complete its recruiting class, it had to find someone to run its offense. The Tigers lured Scot Loeffler away from Temple, getting a coach who knows a thing about teaching quarterbacks. Clint Moseley and
Kiehl Frazier
should be ecstatic. The loss of
Michael Dyer
hurts, but Auburn has a stable of running backs to work with and signed one of the best offensive line classes around. Also, athlete
Ricardo Louis
(Miami Beach, Fla/Miami Beach Senior) could be a real playmaker at wide receiver.
7. Florida:
Will Muschamp wanted his team to get tougher and he took a step in the right direction by hitting the line of scrimmage hard in his first full recruiting class. He also got a big back in
Matt Jones
(Seffner, Fla./Armwood) and having
D.J. Humphries
(Charlotte, N.C./Mallard Creek) in early should really help the offensive line. Florida is also waiting for a potential receiving threat in
Stefon Diggs
(Olney, Md./Our Lady of Good Counsel). Muschamp feels better about this team's attitude and expects a more resilient squad in 2012.
8. Missouri:
These Tigers could come in and frustrate some of its new SEC East family with the depth it returns. No one is quite sure if top running back Henry Josey will return in 2012 after a major knee injury, but the Tigers added a very complete back in
Morgan Steward
(Kansas City, Mo./Staley), who could compete for playing time early. But Missouri took home the biggest national signing day prize when Green-Beckham picked Missouri. Mizzou lacked a big-play receiving threat until now.
9. Tennessee:
There is a lot of talent returning in Knoxville and the Vols added some quality depth with its 2012 recruiting class. Tennessee took a hit when top inside linebacker
Dalton Santos
(Van, Texas) flipped to Texas and needed to add a big-time running back to help that offense, but grabbing junior college wide receiver Cordarrelle Paterson (Rock Hill, S.C./Hutchinson Community College) was big. He'll add to an already solid receiving tandem and could provide more leadership. Tyler Bray should have a fun offseason.
10. Texas A&M:
The Aggies lose a lot heading into their first season as a part of the SEC Western Division, but helped the future by signing a top-25 class. Running back
Trey Williams
(Houston/Andy Dekaney) could provide an early spark for the offense with
Cyrus Gray
leaving. The receivers got some needed help with the signing of No. 3 receiver
Thomas Johnson
of Dallas, and outside linebacker
Jordan Richmond
(Denton, Texas/Billy Ryan) should see early playing time as well.
11. Vanderbilt:
James Franklin
's first full class at Vanderbilt was a total success. He showed that he won't just compete on the field with the SEC big boys but he'll recruit with them too. He beat out a few bigger schools for ESPNU 150 athlete
Brian Kimbrow
(Memphis, Tenn./East) and the Commodores added a lot of bigger bodies up front and at linebacker. Vandy's veterans shouldn't have an issue mingling with this solid recruiting class.
12. Mississippi State:
The Bulldogs will head into the spring looking to jump start their offense. There is a lot of depth and three senior starters returning at wide receiver, but some oomph needs to return to this offense. It's officially Tyler Russell's time at QB and LaDarius Perkins and Nick Griffin could be a powerful one-two running back punch. Where Mississippi State really struck gold in recruiting was up front, where the Bulldogs added three top defensive linemen, including No. 13 tackle
Quay Evans
(Morton, Miss.).
13. Kentucky:
The Wildcats need playmakers on offense and having running back
Josh Clemons
come back at full health this year, will go a long way. But Kentucky desperately needed to add more with its 2012 recruiting class. The Wildcats are hoping dual-threat quarterback
Patrick Towles
(Fort Thomas, Ky./Highlands) can help in that department. Kentucky won't get anywhere without developing the talent already on campus and that's most important at this point.
14. Ole Miss:
Hugh Freeze had some defensive success in his first recruiting class as the Rebels' head coach. There is a good foundation with ESPNU 150 defensive tackle
Issac Gross
of Batesville, Miss., and ESPNU 150 defensive end
Channing Ward
of Aberdeen, Miss., and the secondary got a boost when safety
Trae Elston
(Oxford, Ala.) picked Ole Miss over LSU. Now, Freeze turns his attention to players a part of a two-win 2011 season. Generating discipline and finding leaders are key for a program glued to the bottom of the SEC.