February, 4, 2011
2/04/11
9:00
AM ET
Earlier this week,
Mel Kiper updated his list of Top 5 players
by position as we get closer to the NFL draft. He just so happened to update on national signing day, so forgive us for getting this to you a few days late.
One of the newest additions to the list: Nevada quarterback
Colin Kaepernick
. Kiper now has him as the No. 5 quarterback available in the draft, following a good showing at the Senior Bowl last week. It is his first appearance in the top 5. Now, having said that, Kiper also throws in a caveat: "It's worth noting that Kaepernick is a tier below the top four. He's still very much a project at this point."
[+] Enlarge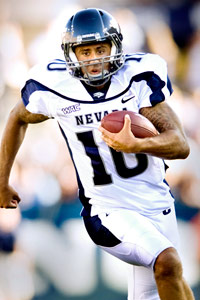 Douglas C. Pizac/US PresswireNevada QB Colin Kaepernick's raw ability could send him shooting up NFL draft boards.
Missouri quarterback
Blaine Gabbert
is atop the list now, with
Cam Newton
,
Ryan Mallett
and
Jake Locker
behind him. Still, it speaks to the potential Kaepernick has to be included in the top 5 -- and ahead of TCU quarterback
Andy Dalton
, who also had a good week in Mobile, Ala.
So who could be the top non-AQ player off the board? Temple defensive tackle
Muhammad Wilkerson
, listed as the No. 23 tackle available, is No. 23 on the Big Board. Kiper writes that Wilkerson is "scheme-flexible, disruptive, strong penetrator, could work in 3-4 or 4-3." He also rates as a first-round prospect in the breakdown of players in the
ESPN NFL Player draft rankings
, coming in at No. 15.
Nevada outside linebacker
Dontay Moch
rates as the No. 4 player available at his position, while
Charles Clay
of Tulsa is listed as the No. 2 fullback and
Kevin Kowalski
of Toledo is rated the No. 4 center.
All these non-AQ players, except for Kowalski, have been
invited to attend the NFL combine
later this month. Here are the other non-AQ players invited to the combine:
Matt Asiata, RB, Utah
Nick Bellore, LB, Central Michigan
DeAndre Brown
, WR, Southern Miss
Vincent Brown
, WR, San Diego State
Brandon Burton
, CB, Utah
Marcus Cannon
, OL, TCU
Chris Carter, DE, Fresno State
Ryan Colburn
, QB, Fresno State
Andy Dalton, QB, TCU
Wayne Daniels
, DE, TCU
Nathan Enderle
, QB, Idaho
Alex Green, RB, Hawaii
Virgil Green
, TE, Nevada
Jamel Hamler
, WR, Fresno State
Daniel Hardy
, TE, Idaho
Dwayne Harris
, WR, East Carolina
Davon House
, DB, New Mexico State
Rob Housler, TE, FAU
Andrew Jackson
, OL, Fresno State
Jaiquawn Jarrett
, DB, Temple
Lestar Jean, WR, FAU
Jerrel Jernigan
, WR, Troy
Jeron Johnson
, DB, Boise State
Elijah "Peanut" Joseph, LB, Temple
Shiloh Keo
, DB, Idaho
Jeremy Kerley
, WR, TCU
Curtis Marsh
, DB, Utah State
Bruce Miller
, DE, UCF
Jamar Newsome
, WR, UCF
Derek Newton
, OL, Arkansas State
Cheta Ozougwu
, DL, Rice
Austin Pettis
, WR, Boise State
Kealoha Pilares
, WR, Hawaii
Jah Reid
, OL, UCF
Aldrick Robinson
, WR, SMU
Greg Salas, WR, Hawaii
DeMarco Sampson, WR, San Diego State
Caleb Schlauderaff
, OL, Utah
Sealver Siliga
, DT, Utah
Lee Smith, TE, Marshall
Willie Smith
, OL, East Carolina
Vai Taua, RB, Nevada
Zane Taylor
, C, Utah
Josh Thomas, DB, Buffalo
Brandyn Thompson
, CB, Boise State
Isaiah Thompson
, OL, Houston
Jeff Van Camp
, QB, FAU
Ryan Winterswyk
, DE, Boise State
Jimmy Young
, WR, TCU
Titus Young
, WR, Boise State
January, 24, 2011
1/24/11
1:30
PM ET
Todd McShay listed his
top storylines for the Senior Bowl

, set for Saturday in Mobile, Ala. The week kicks off today, with 100 prospects vying for the attention of NFL scouts, general managers and coaches.
Here are a few of the non-AQ storylines I am going to be following:
1. Andy Dalton and Colin Kaepernick
. Two of the most underrated quarterbacks in college football get a chance to prove themselves in the senior showcase event. McShay says this of Dalton: "Dalton is one of the more underrated quarterback prospects in the class and this is a good opportunity to show NFL teams that he is capable of scanning the field and making all the necessary throws from within the pocket." And of Kaepernick: "Like Dalton, needs to look fluid dropping from under center and needs to make sound decisions."
Both quarterbacks were the unquestioned leaders of their teams and have the intangibles necessary to play quarterback. Dalton won 44 career games -- and went 25-1 over his last two seasons. Kaepernick guided Nevada to its best season this past year at 12-1 and became a master of the Pistol. Dalton would appear to be the most "NFL ready" of the two. The bigger questions surround Kaepernick, simply because he ran an offense that is completely different than what he will be asked to do in the NFL. McShay is right in that he is going to have to start taking snaps from under center -- remember that was a big question that hounded Tim Tebow at this time last season. But his athleticism, and improved passing, should make him somebody worth looking at on the next level.
2. Receiver competition.
Plenty of big-time non-AQ players at receiver in this game. You have
Austin Pettis
and
Titus Young
from Boise State,
Greg Salas
from Hawaii,
Vincent Brown
from San Diego State and
Dwayne Harris
from East Carolina. Of that group, Pettis and Young are the most well known nationally. Young has incredible speed but is slightly undersized at 5-11. Harris has tremendous versatility. Pettis is as sure handed a receiver as you will find, though his speed may be called into question. Salas racked up the stats in the pass-happy Hawaii offense but could be labeled a "system guy." I am looking forward to seeing how they all do.
3. All-purpose players.
Jeremy Kerley
has had a tremendous career at TCU as one of the top all-purpose players in the country. So has Harris. It will be interesting to see how their skills translate into the next level. Kerley is small, at 5-foot-10, but he could make an immediate impact on special teams returning kicks. One player missing from this group who was scheduled to play in the game -- Troy's
Jerrel Jernigan
, who is out with a high ankle sprain. He hopes to be healthy for the NFL combine next month.
Here are other non-AQ players in the game:
Tulsa RB
Charles Clay
TCU C Jake Kirkpatrick
Temple DB Jaiquawn Jarrett
Toledo OL Kevin Kowalski
Marshall TE
Lee Smith
December, 23, 2010
12/23/10
10:30
AM ET


Hawaii and Tulsa are two of the most prolific offenses in the country, a big reason why the Sheraton Hawaii Bowl on Friday night is one of the most attractive of the non-BCS games. Who doesn't love offensive fireworks? Hawaii quarterback
Bryant Moniz
and Tulsa quarterback
G.J. Kinne
are sure to oblige. But there are also some big-time players on defense to keep an eye on: Hawaii middle linebacker Corey Paredes and free safety Mana Silva and Tulsa freshman safety Marco Nelson. Here is a quick preview.
WHO TO WATCH:
With so many good players in this game, it is hard to pick just one. But I am going to go with somebody off the radar, a player you will hear more about in my preview video. That is Tulsa all-purpose player
Damaris Johnson
. He led the nation in all-purpose yards for a second straight year and is set to become the NCAA career leader in all-purpose yards. He is small at 5-foot-8, but he is used in many difference places on the field, so watch for him.
WHAT TO WATCH:
Offense, silly! Moniz and Kinne are getting the attention, but some of the more intriguing battles in this game are going to come between the receivers and cornerbacks. Hawaii receivers
Greg Salas
and
Kealoha Pilares
present matchup problems for a Tulsa secondary that ranks second-to-last in passing defense. Nelson is a true freshman, but he is capable of making huge plays. For Tulsa, Johnson and H-back
Charles Clay
could have a tough time against a Hawaii secondary that has 23 interceptions this season. Silva is tied for the nation lead with eight. Paredes also plays the pass well, so the Golden Hurricane are going to have their hands full.
WHY TO WATCH:
Face it, you are probably going to still be wrapping presents on Friday night, and watching an entertaining game will certainly help pass the tedium of cutting and taping. It's not often that Hawaii is showcased during prime-time, because most of its games start when most of the East Coast has gone to sleep. But the Warriors play an exciting brand of offensive football with a version of the Run N Shoot. Plus, Moniz will be back for his senior season and should be a 2011 preseason player to watch. Kinne also returns for his senior season along with 16 starters, and that could make the Golden Hurricane a preseason favorite to win Conference USA.
PREDICTION:
I have agonized long over this one, because I think both teams can win. Ultimately, I am going with Hawaii 44, Tulsa 38 because the Warriors will be able to take advantage of a weaker Tulsa defense.
December, 22, 2010
12/22/10
12:00
PM ET
The upset special did not work out so well for me in the Beef 'O' Brady's Bowl last night, after
Southern Miss blew two 14-point leads to Louisville and lost.
I am going with the favored Broncos tonight in the MAACO Bowl Las Vegas.
Now on to some links:
Titus Young has grown wiser
after a rocky start to his Boise State career.
Tim Green and Deddrick Jones, two Southern Miss players shot after a bar fight spilled into the parking lot,
are grateful to be alive.
How much has this season
taken out of Boise State?
Utah has
bite as an underdog.
Lots of
similarities between Utah and Boise State.
How Utah and Boise State
have keyed their success.

BYU coach Bronco Mendenhall needs to
make a decision on his offensive staff,
writes Gordon Monson of the Salt Lake Tribune.
Rain in San Diego
has wreaked havoc
on bowl preparations for San Diego State and Navy.
Notre Dame offensive coordinator Charley Molnar
and
two Penn State assistants
are in the mix for the Temple job.
The Mountain West and Conference USA discuss the possibilities of alliances
beyond bowl games.
Tulsa teammates Charles Clay and Genesis Cole
are forever friends.
T.Y. Hilton's leadership
inspired FIU.
September, 22, 2010
9/22/10
4:00
PM ET
There are no
non-AQ players on Mel Kiper's latest big board
, released today. Though you will need an ESPN Insider account to look at it, there are some among his
top five seniors at each position.
At quarterback, TCU's
Andy Dalton
moves into the No. 4 position thanks to his strong start to the season. He is completing 75 percent of his passes, with four touchdowns and two interceptions, and also has 113 yards rushing and three touchdowns on the ground.
Nathan Enderle
of Idaho is off the list, thanks in part to his five interception performance against Nebraska a few weeks ago.
Others to watch:
No. 3 FB
Charles Clay
, Tulsa.
No. 5 WR
Jerrel Jernigan
, Troy.
No. 4 OG Andrew Jackson, Fresno State.
No. 5 OG Marcus Cannon, TCU.
No. 5 C Kevin Kowalski, Toledo.
No. 3 OLB Dontay Moch, Nevada.
No. 5 S Shiloh Keo, Idaho.
No. 4 K Matt Szymanski, SMU.
There aren't as many non-AQ players on the
non-seniors list
. You'll have to check that one out for yourselves.
August, 26, 2010
8/26/10
12:59
PM ET
NFL draft guru Mel Kiper has an updated NFL draft prospects list for 2011. This time, he is listing the Top 5 seniors at each position.
Several non-AQ players are featured.
- Idaho QB Nathan Enderle is listed at No. 3 behind Jake Locker at Washington and Christian Ponder at FSU.
- Tulsa FB Charles Clay is ranked No. 3 at his position and Troy WR Greg Little ranked No. 4 among receivers.
- Nevada OLB Dontay Moch is ranked No. 3 at his position and is one of several defensive players featured.
Check out the entire list here.
March, 25, 2010
3/25/10
11:00
AM ET
For the first time since Todd Graham returned as the head coach at Tulsa, he didn't have a veteran quarterback to lean on and his team struggled partly because of it. The Golden Hurricane went 5-7, missing the postseason for the first time since 2004.
But the 2009 Tulsa squad was a young team that showed promise and should be better this spring, especially with some new coaches to help on both sides of the ball.
Here's a look at the strongest and weakest positions for Tulsa heading into spring football:
Strongest position: Wide receiver

Key returners:
Senior
Trae Johnson
(22 catches, 311 yards, eight touchdowns), junior
Damaris Johnson
(78 catches, 1,131 yards, three touchdowns), senior
A.J. Whitmore
(26 catches, 238 yards, one touchdown), sophomore
Ricky Johnson
(eight catches, 111 yards, two touchdowns), sophomore
Justin Skillens
(three catches, 41 yards)
Key departures:
Slick Shelley
(29 catches, 511 yards, four touchdowns)
The skinny:
Although Tulsa didn't have one of the nation's top offenses like it has in the past, the receiving corps was still productive and could be even better with quarterback
G.J. Kinne
in his second season as starter and a more seasoned offensive line. Damaris Johnson will once again be the focal point of the offense, but look for some of the younger players to start making their mark. Tulsa also had a lot of success using H-back
Charles Clay
out of the backfield.
Weakest position: Offensive line
Key returners:
Junior left tackle Tyler Holmes, junior left guard Clint Anderson, sophomore center Trent Dupy, junior right tackle Brandon Thomas, senior right tackle David Lazenby
Key departures:
Right guard Curt Puckett
The skinny:
Graham said the one place his team couldn't afford to suffer any losses last season was on the offensive line, and through the better part of the season starters were coming up lame, forcing younger, inexperienced players into action. The result was Kinne running for his life most of the time as the Golden Hurricane allowed 46 sacks, which amounted to one of the worst sacks per game averages in the country. The good thing about last season is that the line got much-needed experience and should be a lot stronger this year, especially since coach Herb Hand can turn his focus back to them instead of spreading his attention to all of the offense.
August, 13, 2009
8/13/09
4:26
PM ET
Posted by ESPN.com's Graham Watson