NCF Nation:

Charley Wiles
July, 1, 2014
7/01/14
8:00
AM ET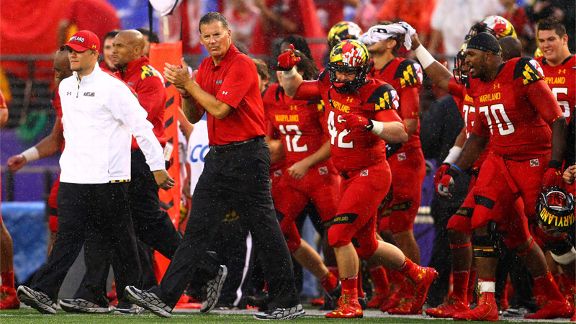 Tony Quinn/Icon SMIThere's no easy winning formula for Randy Edsall and Maryland as they transition to the Big Ten.
Utah coach Kyle Whittingham knew exactly what to expect -- and where to focus -- when his Utes moved from the Mountain West in 2011 to the Pac-12: Recruit better prospects. Upgrade the facilities. Break down new opponents.
But that didn't make the transition any easier.
The Utes made a big splash that first season and finished 8-5, before dropping to 5-7 in the two seasons thereafter. Whittingham knew a drop-off like that was possible -- a move into one of the Power Five carries with it certain risks -- but that doesn't mean any challenges caught the 54-year-old head coach off guard.
"No real surprises," Whittingham told ESPN.com. "Nothing blind-sided us from a football perspective. It was exactly as anticipated. ... The bottom line is it's just a process transitioning. We're not making excuses -- people don't care; we have to win -- but it takes time to ramp up."
With three programs set to officially join a new power conference Tuesday -- Louisville to the ACC; Maryland and Rutgers to the Big Ten -- that process will play out once again. New members know they'll have to adjust, improve and upgrade before taking a step forward in their new conferences. But that doesn't make the task any easier.
Since 2000, a dozen other football programs have transitioned into one of the Power Five conferences. And, in their first seasons, only three teams improved upon their previous year's record -- with just two watching their win total increase by more than one. For most teams, the acclimation has been gradual.
"There are no shortcuts," Whittingham added. "But I don't think there's anything that's undiscovered or a secret. It's pretty simple and pretty plain."
In one interview after another, five coaches told ESPN.com the same three keys for transitioning successfully: improve recruiting, upgrade facilities and figure out those new teams. That really shouldn't come as a shock, as those tips are useful for any team in any circumstance. But when it comes to transitioning, several coaches said, those priorities are magnified.
All of a sudden, during that conference transition, Utah's great facilities in the Mountain West didn't quite pass muster with USC's 110,000-square-foot sports facility or Oregon's $68 million football building. So it unveiled its
own new facility last fall
. In 2004, Virginia Tech's old Big East recruiting footprint wasn't enough to dominate long-term in the ACC. So the staff immediately sought out prospects in Georgia and the Carolinas. And, in 2005, Boston College's staff was forced to scout nine new opponents on a schedule that ballooned from No. 74 in terms of strength to No. 22. So, even during "off time," some coaches stared at their laptop screens morning to night.
Each team needed to improve in that area immediately or risk falling behind their conference foes. Transitioning is a constant arms race, after all, a game where teams that tread water end up sinking. There's no such thing as being stationary in college football, especially during such a transition. Especially during that first season.
"It's definitely more of a burden that first season, for sure. No doubt," said former Boston College assistant Jerry Petercuskie, who helped oversee the Eagles' transition to the ACC and currently coaches at FCS Elon. "But there's no magic in it. It's just getting your players to play and adapting to the enemy."
Truthfully, several coaches said, there's not much they can do to quicken that Year 1 transition. Payoffs in recruiting and facility upgrades aren't immediate; the main short-term advances come from locking yourself in the film room and studying up on new opponents.
In other words, the recipe for such immediate success isn't a big secret either. Of the three teams that did improve their record that first season, they all returned solid teams that boasted solid quarterbacks. Texas A&M had Heisman winner Johnny Manziel (7-6 record to 11-2), Virginia Tech started first-team All-ACC QB Bryan Randall (8-5 to 10-3), and Pitt had NFL draft pick Tom Savage under center (6-7 to 7-6).
So, until that increased recruiting focus starts to yield changes on the field, most coaches during the transition spend a considerably higher amount of time figuring out opposing schemes, opponents and situations.
"When you're away from the office, every coach is looking at the opponent. You need to figure out that new enemy," Petercuskie said. "[Coaches] are a paranoid group of people. We don't want to go out on a Saturday afternoon in front of a national TV audience and get embarrassed. So we're going to do whatever we have to do."
Added Tom Bradley, who coached at Penn State during its move to the Big Ten and is currently the senior associate head coach at WVU: "I would say it took a couple of years for us to really get a beat on teams -- to understand the fans and feel comfortable with the climate you're entering. What do they like to do in certain situations? Not knowing that definitely made it harder."
No one can say for sure exactly how Louisville, Rutgers and Maryland will fare in their new conferences: Virginia Tech assistant Charley Wiles believes the Terrapins are already a bowl-caliber team; Temple assistant Ed Foley thinks Rutgers will wind up in the middle of the pack. But everyone knows what these teams have to do to succeed.
They can't win in Year 1 without a solid group of returners. They have to upgrade their facilities to stay competitive. And above all -- Whittingham said this was 80 percent of the transition – they need to recruit well. Do all that, and the wins will roll in faster than the fans' question marks.
Transitioning successfully is as simple -- and as difficult -- as that.
December, 30, 2011
12/30/11
11:00
AM ET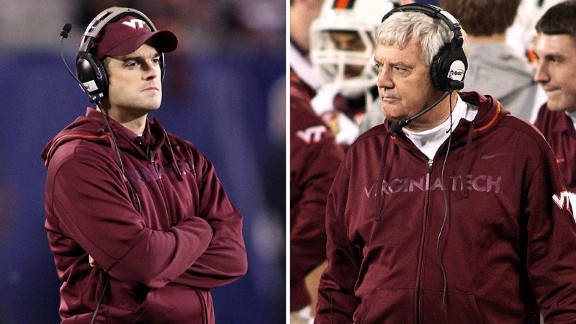 US PresswireShane, left, and Frank Beamer have been able to maintain a professional relationship while coaching together this season.
Virginia Tech running backs coach Shane Beamer lives about 10 to 15 minutes away from his parents in Blacksburg, Va. At the beginning of the season -- before it began to cut into bedtime for his kids -- Beamer and his family would spend Thursday nights after practice at coach Frank Beamer's house eating takeout together for dinner because it was the one day of the week the staff didn't work late.
It was also just about the only hint that Shane and Frank Beamer were a father-son coaching duo this year.
"If you came to practice every day, you'd never be able to tell they were father and son," said quarterback
Logan Thomas
. "They take it as their job. They act just like any other coaches. You'd never be able to tell, and I think that's good for our team that there's nobody higher than the law."
Heading into his first season on his father's staff as associate head coach and running backs coach, Shane Beamer intended to make sure that was the perception, and apparently, he succeeded. He also proved to be an important addition to the staff's recruiting efforts, and the running game has fared well under his watch. Now, the Beamers will have an opportunity to coach in the Allstate Sugar Bowl together when the Hokies face Michigan next week. While Virginia Tech wasn't able to deliver Beamer any titles in his 25th season, it was a successful transition for a rookie coach with a big name to live up to.
"When your last name is Beamer, whether you're a high school football player here in Blacksburg or playing in college at Virginia Tech or a coach at Mississippi State, I think people sometimes look at you a little bit differently," Shane said. "Maybe there's the perception you're in the position you're in because of your last name. I've dealt with that all my life. I try and go out of my way to prove in any situation I do belong. I wouldn't want anybody to ever say I'm in this position because of who my dad is or anything like that."
Most of the coaches on staff know the Beamers too well to make that mistake. Shane has known quarterbacks coach Mike O'Cain since he was born and defensive coordinator Bud Foster since he was 2 years old. He's known defensive line coach Charley Wiles since he was 5. In a way, the staff is just as much family to him as the head coach.
Not that he ever saw his dad much this season.
Shane spent most of his workdays during the regular season in the offensive meeting room. The time spent with his father was limited to about 30 minutes a day in a staff meeting, maybe another 20 minutes in special-teams meetings and on the practice field. He spent more time with offensive coordinator Bryan Stinespring than he did his father.
"Coming into it, I was worried about how I might be accepted, and I didn't want anybody on our staff to feel that they couldn't be themselves around me because of who's son I was, and I don't think they do," Beamer said. "When I was a player he treated me like any other player, and as a coach, he treats me like any other coach. I have a job to do, I try and work extremely hard at my job to prove I belong, and to me it hasn't been awkward at all."
It has, however, been special.
"The things that stand out are being able to share in the big wins, beating Virginia up there like we did and an exciting win over Miami, or the opening ballgame when they had a presentation for him, with it being his 25th year, being out there with him and share in that," Shane said. "And then moments off the field, having dinner with my mom and my dad on a Thursday night after practice, just things like that make it special."
So did winning 11 games and becoming the first ACC team in league history to receive an at-large BCS bowl bid. Shane was a part of that, as Virginia Tech's running game is No. 30 in the country entering the Sugar Bowl, and running back
David Wilson
is No. 6 in the country in rushing yards per game.
"At this level, it's not just having your son on the staff; it's having good coaches on your staff, and I think Shane is a good coach," Frank Beamer said. "He works hard at recruiting and is very good at that. I've really been pleased at having Shane back here and working together and having that kind of relationship. And I can tell you, my wife, Cheryl, is particularly happy to have two granddaughters running around and getting to see them every day. Then I think Emily, Shane's wife, is happy to have a baby sitter in Cheryl. So I think everybody wins in this deal."
And there's no question the Beamers love to win. Like father, like son.
August, 4, 2011
8/04/11
2:00
PM ET
Virginia Tech defensive tackle Derrick Hopkins can remember a moment at his grandmother's house when he was little and fell off a see-saw. His older brother, Antoine, used the see-saw to "smush" him.
The Hopkins have plenty of memories together, but they both agreed that none could possibly compare to the ones they will make this season when they line up next to each other as starters on Virginia Tech's defensive line.
[+] Enlarge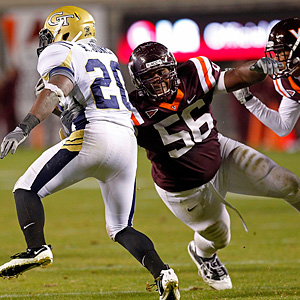 Geoff Burke/Getty ImagesThe Hokies are expecting Antoine Hopkins and his brother Derrick to anchor their defensive line.
"This one will go down in the books," said Antoine.
The last brothers to play side-by-side for the Hokies were Blake and Brett Warren at linebacker in the mid 2000s. The last pair of brothers to line up at defensive tackle were Kevin and Jonathan Lewis, who started in the mid-2000s. There was also defensive end Orion Martin and his brother, Cam, a linebacker, and offensive linemen T.J. and Todd Washington in the mid-1990s.
"Playing with him on this level is crazy," Antoine said. "It won't be the first time playing side by side, but at Virginia tech, he's a sophomore, he played as a true freshman, he's doing big things, his big brother is beside him. What more could you ask for?"
Antoine, a redshirt junior, is the only returning starter up front for the Hokies this season, but the potential of the front four is reminiscent of some of Virginia Tech's stingiest defenses under coordinator Bud Foster. Just how fearsome this foursome can be, though, depends in part on how the Hopkins brothers fare on the interior. Both made significant strides this spring, and could be difference-makers this fall.
Antoine started the final 12 games of last season and finished with 45 tackles, including two sacks and 6.5 for loss. He also had seven quarterback hurries. Derrick was one of only two true freshmen to play for the Hokies last season and was named the top defensive newcomer of spring practices. He was in the two-deep last year, but defensive line coach Charley Wiles said Derrick "kind of leveled off a little bit at the end of the year." This spring, though, he matured, and will push his brother to be the team's top tackle.
"There's no competition at all," Derrick said. "That's the way we were raised. We support each other and back each other up."
And they have made each other better.
They live together, they practice together, and Antoine's experiences both on and off the field helped speed up Derrick's freshman learning curve.
"I think the biggest part was just the whole comfort level," Antoine said. "I knew the ropes here. I could point him in the right direction, but he's actually helped me a lot. I have a younger brother here, so I had to step my game up. I couldn't make as many mistakes because he's watching. He learns from my mistakes. He came in the first year and adapted very well."
Playing for the same school wasn't something they said they planned -- it just happened. Derrick was considering other schools, like Georgia and Boston College, but in the end said Virginia Tech was the best fit for him.
Of course, his brother might have played a small role in the recruiting factor.
"It's a blessing," Derrick said. "With this situation, me and my brother playing the same position at Virginia Tech, it's a blessing from the lord. It's rare. People don't get to do this every day."
December, 29, 2010
12/29/10
4:00
PM ET
FT. LAUDERDALE, Fla. -- Much of the hype surrounding Stanford's offense has centered around quarterback
Andrew Luck
, a Heisman Trophy candidate who threw a school-record 28 touchdown passes this year. Virginia Tech defensive line coach Charley Wiles is equally, if not more concerned, about stopping Stanford's running game.
Wiles said Virginia Tech's defense on first downs will be key, and that the priority is to actually force Luck to throw and make Stanford one-dimensional.
"Nobody's been able to do that all year," Wiles said.
Despite the loss of Toby Gerhart, Stanford is actually primarily a run-oriented team. Of Stanford's 860 offensive plays, 58.6 percent have been rushing plays. The offensive line has allowed just five sacks all season and paved the way for an average of 211 rushing yards per game -- the No. 17 rushing offense in the country. The Cardinal's 2,532 rushing yards this year is the second highest total in school history.
Wiles said the Hokies have to come up with big stops on first downs. Stanford is averaging 24.75 first downs per game this year, which ranks second in the Pac-10 and ninth nationally. Stanford also leads the nation in third-down conversions at 57.76 percent.
"That's where they get you, to me," Wiles said. "They're not in a lot of third-and-long situations. They're in a lot of first downs, everything is first-and-10 with them. You've got those either-or downs. Is it a run, a play-action? It's hard to get a pass rush because they're effective on first downs and they're effective running the football. We've got to be good at stopping the run and hopefully the game goes as such where they have to throw the football."