NCF Nation:

Charlie Moore
January, 3, 2014
1/03/14
11:00
AM ET
In case you didn't know, Friday's AT&T Cotton Bowl matchup between No. 8 Missouri (11-2, 7-1 SEC) and 13th-ranked Oklahoma State (10-2, 7-2 Big 12) is a bit of a reunion.


Oklahoma State, proud members of the Big 12, will meet their old brothers who jumped ship for the SEC in 2012.
While a big deal has been made of Friday's meeting and its backstory, Missouri defensive end
Michael Sam
isn't moved by it. He's actually bored of it.
"I don't really care," Sam said. "We used to be in the Big 12; we're not any more. I think the media is blowing it way out of proportion. I could care less."
Sam might be on to something, but it is pretty cool when you think about the last two Cotton Bowls. This year, it's Mizzou-Oklahoma State. Last year, it was Texas A&M-Oklahoma.
Rematches of games that once had conference stakes on the line now feature bragging rights and even traitor talk in some circles. There are even whispers in Big 12 country that the Tigers ran away from their old league.
So while Sam might not care about the old Big 12 matchup, it does create an interesting storyline, and he'd be crazy to think that no one else in this game isn't intrigued by that aspect of the game.
"It is just a great opportunity to play a great Missouri team; they were in the Big 12, so it is a little rivalry there," Oklahoma State wide receiver
Charlie Moore
said. "You always want to play the best and always fun to play the SEC. It is going to be a good game no matter what conference they are in and it is fun to be in the Cotton Bowl."
[+] Enlarge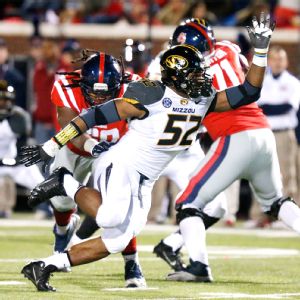 AP Photo/Rogelio V. SolisMichael Sam is tired of the Missouri vs. Big 12 storyline, but is eager to show the Tigers defense is better than it showed against Auburn.
And, like the Big 12 that Mizzou was used to, this one has the makings of being an old-fashioned shootout in the heart of Texas.
A year removed from an injury-plagued first season in the SEC, the Tigers bit back with one of the SEC's most potent offenses. Mizzou finished the regular season ranking in the top five in the league in passing offense, rushing offense, total offense and scoring. The Tigers went from averaging 356.4 yards a game and 25.8 points in 2012 to 492.9 yards and 39 points in 2013.
The Tigers also went from missing a bowl game to winning the SEC Eastern Division, beating Florida and Georgia and ranking as high as fifth in the BCS standings along the way. If they had beaten Auburn in the SEC championship game, these Tigers would be out in sunny California for the VIZIO BCS National Championship.
On the other side, the Cowboys are averaging 440.5 yards per game with an offense that features some "Air Raid," three-back and pistol. They'll throw in some zone-read just to make things interesting.
Sam said he's excited about facing Oklahoma State's passing game, which averages 268.5 yards per game. The Tigers ranked 13th in the SEC in pass defense (256 yards per game), but Sam made it clear that this defense hasn't had an issue defending the pass all season.
"We've never struggled stopping the pass," Sam said confidently. "We want to stop the run so they can be forced to pass. We hope they pass all night, to be honest with you."
Mizzou has 18 interceptions and has given up 16 passing touchdowns. But in games away from Faurot Field, the Tigers gave up 270.7 passing yards per game and quarterbacks enjoyed a combined efficiency rating of 129.3.
Oklahoma State quarterback
Clint Chelf
has thrown for 200 or more yards in four of his past five games and has 11 touchdowns to four interceptions.
"It definitely takes you back, so I am excited to see the ball in the air a little bit more than the SEC does," cornerback
E.J. Gaines
said.
Regardless of how the Cowboys approach their offensive plan, this is a chance for Mizzou to show the country that its defense is still worthy of being called a solid unit. Before surrounding 677 yards to Auburn (545 rushing), Missouri held opponents to fewer than 400 yards in five of the previous six games. After being gashed by Auburn, the perception is that the Tigers aren't as steady on defense as they once appeared.
"We've been a great defense all season," Sam said. "We had one bad game and I don't think that should define our season."
What will help define this season is the outcome of tonight's game. A victory would serve as more validation that the new kids deserve their seat at the SEC's big-kid table.
"The win would just prove that we belong in the SEC and we should be respected by everyone in that conference," Sam said. "... I think we earned a lot of respect from our conference, [and a victory would] show we belong where we are and we are one of the best in the country."
December, 3, 2013
12/03/13
9:30
AM ET
STILLWATER, Okla. -- Oklahoma State has won a Big 12 title. And been to a BCS bowl.
The Cowboys have the Big 12's best record over the last five seasons. And defeated Texas three straight times in Austin.
[+] Enlarge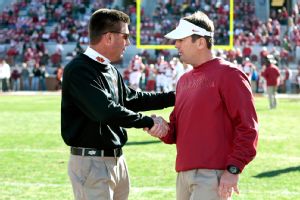 Brett Deering/Getty ImagesWhile Mike Gundy (left) has raised Oklahoma State's profile, he is just 1-7 against Bob Stoops and OU.
Since the turn of the century, the Big 12 has always been about the Big 2 -- Oklahoma and Texas.
But spurred by Boone Pickens' dollars and Mike Gundy's coaching, Oklahoma State is on the verge of turning that into a Big 3.
Only one obstacle remains for the Cowboys: consistently vanquishing their in-state rival.
This weekend in Stillwater, Oklahoma State and Oklahoma will stage the 108th meeting of the Bedlam rivalry. The Sooners have lost only 17 of those meetings, making Bedlam the most lopsided in-state rivalry in college football history.
"It's a rivalry," Cowboys guard
Brandon Webb
said. "But we haven't won too many times in that rivalry."
With opulent facilities, a substantial uptick in recruiting, assistant coaching salaries commensurate to the nation's top programs, exciting schemes and a galvanized, expanding fan base, Oklahoma State's rise has been rapid in Gundy's nine years as head coach.
"Oklahoma State has come a long way in football," Gundy said. "Our goal nine-and-a-half years ago was year-in, year-out, on a daily basis, when we went to play a football game, to have a chance to win. And not go to a stadium and the fans feel like we don't have a chance to win. I think we're at that point. … The program is at a different level nationally."
Oklahoma State, however, won't go any further nationally until it can overcome its local problem.
Under Gundy, the Cowboys are 1-7 against the Sooners, preserving the lopsidedness of the series, while also preventing Oklahoma State from climbing to the lofty perch where Oklahoma has comfortably resided since Bud Wilkinson agreed to coach the Sooners after the Second World War.
"They're standing in our way," said Webb, whose father Terry was an All-American guard for Oklahoma in the early 1970s and one of countless Sooners who finished their careers unblemished in Bedlam. "If they can beat us every time, it's not good. We've got to beat them to get to where we want to be. It's something we have to overcome."
Saturday, the Cowboys have a prime opportunity to accomplish just that.
Oklahoma State is a double-digit favorite in Bedlam for the first time since odds makers began keeping track. And with a victory, the Cowboys can clinch their second Big 12 title and Fiesta Bowl appearance in three years.
To the players, the stakes are still higher.
"It's not just another game at all," said Cowboys defensive tackle
Calvin Barnett
, who grew up in Tulsa, Okla. "This is not just for the Big 12 championship, not just to finish the season out winning, not just for a BCS game. It's about people knowing there's not just one dominant team in Oklahoma."
For seven decades, there was just one dominant team. From 1946-2009, Oklahoma won Bedlam by double digits a stunning 43 of 63 times.
"We've made it a very competitive game," said safety
Daytawion Lowe
, an Oklahoma City native who chose the Cowboys over Oklahoma coming out of high school. "Back when I watched the game growing up, it used to be blowouts. The last five years, it's been very competitive."
[+] Enlarge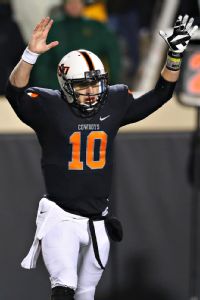 Ronald Martinez/Getty ImagesClint Chelf and the Cowboys will earn a second Big 12 title with a Bedlam win.
So competitive that two of the last three games have been decided on the final possession, with the Cowboys actually landing the lone blowout victory.
"That's what's changing," Webb said. "People say we used to be afraid of OU. But we're not afraid anymore."
After losing a wild shootout in 2010, Oklahoma State came back to destroy the Sooners 44-10 in 2011 to seize the program's first outright conference title in 63 years.
Last year in Norman, the underdog Cowboys showed no fear and thoroughly outplayed Oklahoma for three quarters, before the Sooners stormed back to win in overtime. It was the first time in 12 years the Cowboys played Oklahoma to within 27 points in Norman.
"It's been a give and take where people that watch it, when you went to the stadium, you didn't know who was going to win," Gundy said. "There was a time … where I'm not sure that was (true)."
Gundy downplayed the significance of specifically beating Oklahoma, noting the goals at Oklahoma State are now bigger and broader.
"Our goal is to win our conference," Gundy said. "Then (let) the chips fall based on how the country feels about us. … getting into the (College Football Playoff)."
But winning the conference requires beating Oklahoma more than once a decade. The Sooners, after all, have captured eight Big 12 titles in the last 13 years. Winning the conference also requires being more than just competitive with Oklahoma, which once constituted Bedlam success in Stillwater not long ago.
"Oklahoma has a ton of tradition and has been good for a long time," Cowboys wide receiver
Charlie Moore
said. "Hopefully 50 from years now, people will say the same about Oklahoma State."
To get there, the Cowboys must first beat Oklahoma.
Starting first with Saturday.
"You can only change it one year at a time," Barnett said. "We're going to try and help change that this year."
October, 21, 2013
10/21/13
11:00
AM ET
Taking stock of Week 8 in the Big 12:
Team of the week:
Texas Tech was on the brink of dropping its first game of the season, trailing West Virginia 27-16 in the third quarter. But then tight end
Jace Amaro
took over, QB
Davis Webb
made some clutch throws and the Tech defense allowed just one first down over five West Virginia possessions to end the game. Now Tech is ranked in the top 10 of the BCS standings, with a chance to surge even higher this weekend at Oklahoma.
[+] Enlarge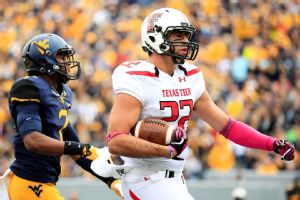 AP Photo/Chris JacksonTight end Jace Amaro caught nine passes for 136 yards and two touchdowns in the Red Raiders' win over West Virginia.
Disappointment of the week:
TCU had to win in Stillwater to have any chance of factoring in the Big 12 race. But after another inept performance offensively, the Horned Frogs could be on the brink of missing out on a bowl game instead. Through three quarters, TCU did virtually nothing offensively in a 24-10 loss at Oklahoma State, as
Trevone Boykin
threw three more interceptions and had the lowest Big 12 Total QBR (5.9) and Adjusted QBR (27.4) of the week. TCU still needs three wins to get bowl-eligible, and as poor as the offense has looked, that might not be so easy.
Big (offensive) man on campus:
For the second straight week, Webb broke the Texas Tech freshman single-game passing record with 462 yards through the air. More importantly, he quarterbacked the Red Raiders to their most impressive victory of the season yet, with two huge completions in the final two minutes of the fourth quarter. The first converted a third-and-6 on a 27-yard loft to
Jordan Davis
. The second converted a third-and-goal from the West Virginia 10-yard line into a touchdown, putting the Red Raiders up by two scores to clinch the victory. All told, Webb completed 36 of his 50 passing attempts, and avoided taking a sack or throwing an interception. If he had scored instead of fumbling at West Virginia 1-yard line on a quarterback draw, it would have been a flawless performance.
Big (defensive) man on campus:
Linebacker
Eddie Lackey
spearheaded Baylor's most impressive defensive performance of the season. Lackey led the Bears with a team-high eight tackles, a sack and a fumble recovery, as Baylor held Iowa State to just 41 yards rushing. Even though the game got out of hand early, Lackey & Co. nearly pitched a shutout. But the Cyclones finally got on the board with 47 seconds remaining on a 27-yard touchdown pass from
Grant Rohach
to
DeVondrick Nealy
. The Baylor offense gets all the headlines. But after eight weeks, the Bears also lead the Big 12 in scoring defense (No. 7 in the country).
Special-teams players of the week:
Josh Stewart
could not be corralled in Oklahoma State's win over TCU. Basically a one-man show offensively with 10 catches for 141 yards, Stewart also delivered the highlight of the game, taking a punt return 95 yards for a touchdown that put the Cowboys on the scoreboard in the first quarter. Stewart later somehow hauled in a pass from fellow receiver
Charlie Moore
over three defenders, which set up the Cowboys' game-clinching touchdown in the fourth quarter. "We doubled him, we played over the top of him," said TCU coach Gary Patterson, "and he still found ways to get there."
Play of the week:
Late in the second quarter with the Sooners still trailing Kansas, QB
Blake Bell
handed off to wide receiver
Lacoltan Bester
on an end around. Instead of continuing to run, Bester pulled up and floated a pass in stride to
Sterling Shepard
, who coasted into the end zone to give Oklahoma a 15-13 lead. The play energized the Sooners, who never trailed again. Had Bester not converted the trick pass, Oklahoma probably would have been in a fourth-quarter dogfight with the last-place Jayhawks.
Stat of the week:
Over four Big 12 games, TCU is averaging 2.5 points per first half. The Horned Frogs have been shut out in first half already three times this season.
Quote of the week:
"That's great. I hope they keep saying it. I saw 'GameDay,' [Kirk] Herbstreit picked against us. That's good. I hope they keep giving us that locker room material." -- Texas Tech coach Kliff Kingsbury, on those who say the Red Raiders' 7-0 start is a bit of fool's gold.
August, 5, 2013
8/05/13
11:00
AM ET
STILLWATER, Okla. -- Through the years, Oklahoma State's high-powered offense has featured better individual receivers. Wideouts like Hart Lee Dykes, Rashaun Woods, Dez Bryant and Justin Blackmon -- who were all first-round draft picks.
Yet top to bottom, coach Mike Gundy agrees his Cowboys have never featured a deeper, more talented overall receiving corps than the one he'll take into this season.
[+] Enlarge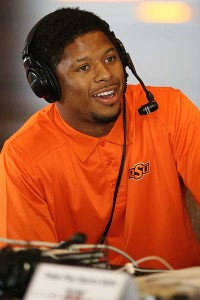 Kevin Jairaj/USA TODAY SportsJosh Stewart is just one of the many solid players returning for the Cowboys' receiving corps this season.
"I think we have a really good group," he said. "At times it's a little unfair to compare guys to Dez and Blackmon -- two of the most talented guys to compete in this league.
"But from top to bottom ... we have 10 or 12 guys that I think in three weeks could play in a game and go out there with the ones and have success. So we may be as good at that position as we've ever been -- without having maybe a potential first-round guy."
The Cowboys might not have that potential first-round pick, but thanks to the fortuitous timing of an injury, they do have two go-to guys.
Oklahoma State went into 2012 counting on senior
Tracy Moore
to take over for Blackmon as the No. 1 receiver. Moore proved up to the challenge, hauling in four touchdown passes in a shootout loss at Arizona early in the season. But a month later, Moore's season was derailed when he suffered an ankle injury that sidelined him for the year.
"Other than (running back) Joseph Randle, before Tracy got hurt, he was our best player on offense," Gundy said.
Moore getting hurt, however, provided a silver lining that should benefit the Cowboys this season: it cleared the way for
Josh Stewart
to shine out of the slot. After taking over as Oklahoma State's primary pass-catcher, Stewart rapidly developed into one of the most dangerous receivers in college football and finished with 101 receptions, third-most in the Big 12.
And because Moore played less than 30 percent of the 2012 season, he was given a medical redshirt to come back, providing Oklahoma State with two playmakers who have shouldered the No. 1 receiver role.
"Not a lot of teams have that," Stewart said.
Moore and Stewart will have plenty of help, too.
The Cowboys return two other starters at receiver in
Charlie Moore
and
Blake Jackson
, who combined for more than 65 receptions and 1,000 yards last season. Oklahoma State also brings back
Austin Hays
, who filled in admiringly after Tracy Moore got hurt with 29 catches, and
Blake Webb
, who got the start against Oklahoma.
"It's crazy because last year I thought that we had great depth at the position," said Jackson, who plays on the inside opposite Stewart. "Now getting Tracy back for another year, it's crazy how many good receivers we have. We have 12 guys that could start right now and we'd be productive and keep moving."
Among those 12 are underclassmen
David Glidden
,
Brandon Sheperd
and
Jhajuan Seales
, who all are vying for time. Seales has been especially turning heads. Gundy singled him out as someone who developed physically during the offseason as much as anyone on the squad.
"Anyone in the starting lineup go down, we've got someone that could fill them up at every spot and do good, and I'm not just saying that," Stewart said. "We've had pretty good depth the last three years -- but nothing like this."
The Cowboys are also about to reap the benefits of more fruitful recruiting efforts. In its most recent signing class, Oklahoma State landed four-star receivers
Ra'Shaad Samples
and
Marcell Ateman
, incoming freshmen who appear talented enough to contribute right away.
"The success we're having has a lot to do with this, the previous success," Tracy Moore said. "People see what Blackmon did, people see what Dez Bryant did. They want to come here and we're getting top guys now."
The Cowboys don't have a Blackmon or a Bryant. But the position in Stillwater has never been better.
"We are so stacked on receivers," Moore said. "We're definitely pretty stacked."
October, 20, 2012
10/20/12
3:44
PM ET
Some Cowboys downplayed the significance. Others admitted they were looking forward to today.


Either way, Iowa State was the lone speed bump that derailed Oklahoma State's run to spot in the national title game last season, and the Cowboys earned a little revenge with a
31-10
win against No. 24 Iowa State.
It felt a little weird to see the Cyclones play on the road as a ranked team against an unranked Oklahoma State squad, but the Cowboys clearly looked like the better team, despite playing without receivers
Tracy Moore
and
Isaiah Anderson
, two of the team's top five receivers.
Charlie Moore
filled the void, grabbing eight balls for 129 yards, including a 74-yard touchdown catch. He entered the game with just 11 catches for 191 yards.
The Iowa State defense slowed
Joseph Randle
for most of the day, but he set up Oklahoma State's fourth touchdown of the day with a 62-yard run down to the Iowa State 14-yard line. He finished with 151 yards on 24 carries with a pair of scores.
Wes Lunt
didn't play, but
J.W. Walsh
joined him as a 400-yard passer this season, completing 32-of-47 passes for 415 yards and a touchdown without an interception. Lunt is still day-to-day, but you have to wonder if the redshirt conversation has to be coming if Lunt can't get back on the field.
It's a good win for the Pokes, who move to 4-2 and get their best win of 2012 by far. Iowa State falls to 4-3 and likely out of the BCS standings, but the Cyclones will certainly be in the mix for that sixth win to reach a third bowl in four years under Paul Rhoads.
Iowa State, though, has to figure out its quarterback issues first. OSU's defense has struggled for much of the season, but Iowa State's decision to shuffle in
Steele Jantz
late for
Jared Barnett
wasn't effective. Outside of Kansas, Iowa State might have the worst quarterback situation in the Big 12. You can't expect to make a bowl game looking like that.
The win is Mike Gundy's 63rd at Oklahoma State, passing his former coach Pat Jones as the winningest coach in school history.
It's about to get a lot tougher for an unproven Oklahoma State team, though. Just how good are the Cowboys? We'll find out over the next month with five more ranked teams waiting. Today was just the first of six games vs. teams in this week's BCS rankings. The Pokes host No. 23 TCU next week before traveling to No. 4 Kansas State and later hosting Nos. 13 West Virginia and 17 Texas Tech. The stretch ends in Norman vs. No. 9 Oklahoma.
The rest of the Big 12 will soon see exactly what the reigning champs are made of.
October, 1, 2012
10/01/12
10:00
AM ET
It's time to pass out some awards and look back on the week that was in the Big 12.
Best offensive performance: Geno Smith, QB, West Virginia.
Can't be any question on this one, folks. Sorry. Geno had one of the best performances by a quarterback I've ever seen. He threw 51 passes. Eight went for touchdowns. Six were incomplete. I counted maybe two or three (depending on your judgment) that had any chance of getting picked off. That's near perfection.
Honorable mention: Nick Florence, QB, Baylor; Terrance Williams, WR, Baylor; Stedman Bailey, WR, West Virginia; David Ash, QB, Texas
[+] Enlarge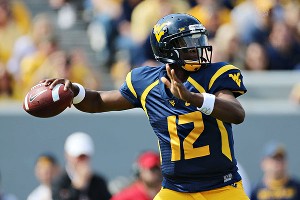 Rob Christy/US PresswireGeno Smith was close to perfect Saturday -- throwing for 656 yards and eight touchdowns.
Best defensive performance: A.J. Klein, LB, Iowa State.
Klein gets the narrow nod here for a huge day that featured 11 tackles and the biggest play of the day for the Cyclones. ISU harassed
Seth Doege
for most of the first half, but Klein took advantage of a big mistake, stepping in front of a pass over the middle and returning it 87 yards to put ISU up 7-0 in an eventual loss to Texas Tech.
Honorable mention: Jackson Jeffcoat, DE, Texas; Shaun Lewis, LB, Oklahoma State; Devonte Fields, DE, TCU
Best game: West Virginia 70, Baylor 63.
This one was too much fun. There was a lot of bad defense but it wasn't all bad. Don't overlook the fact that Smith and Florence are two really, really good quarterbacks throwing to really deep, with really, really good receiving corps. Not many defensive backfields could cover those guys well. Better than giving up 63 and 70 points? Probably. But this one was the game that left everybody talking on Saturday.
Second-best game: Texas 41, Oklahoma State 36.
Sadly, this game got overshadowed a bit by the craziness of the early session.The Longhorns and Cowboys traded the lead six times, including four times in the game's final 10 minutes. It featured a pair of clutch Texas drives, and a fourth-down toss from Ash for the books at Texas. It also nearly ended in even more spectacular fashion, but we'll get to that later.
Best offensive performance by a freshman: J.W. Walsh, QB, Oklahoma State.
Walsh didn't run as much as some expected, but he helped make a good Texas defense look very average. Much of the trouble was tackling downfield, but Walsh made great decisions for the most part and took care of the ball, moving the chains and capitalizing for big plays. He completed 18 of 27 passes for 301 yards and two touchdowns, adding 57 yards rushing. Great stuff from the youngster in relief of
Wes Lunt
.
Best defensive performance by a freshman: Fields.
Is there any doubt that Fields is writing the early chapters of a story that ends with him being one of the best defenders to come through this league in a long while? In his first four games as a true freshman, Fields has five sacks. He finished with four tackles for loss against SMU and seven tackles, bringing his TFL total to 8.5, more than any defender in the Big 12. Crazy.
Worst play: TCU punt team.
Facing a fourth-and-18 on their 25-yard line, the snap to punter
Ethan Perry
was mishandled, and SMU took over on TCU's 1-yard line in a 24-10 game early in the fourth quarter. Fortunately for the Frogs, Fields came to the rescue and the defense held, giving up zero points.
Best play: Ash to D.J. Grant for 29 yards.
Facing a fourth-and-6 on the Longhorns' final drive with just more than 90 seconds to play, Ash stood tall in the pocket with the crowd at Boone Pickens as loud as it had been all night. He found Grant dragging from his left to right, and hit Grant squarely in the numbers to keep the game alive and extend the eventual game-winning drive. Mack Brown called the toss "unbelievable" after the game.
Biggest eye-opening revelation: West Virginia's coaches.
After Saturday's game, they
revealed to CBS Sports' Bruce Feldman
that Smith checked live at the line of scrimmage into a play that wasn't even in the game plan, because he saw something in the Bears' coverage he could exploit. The result: one of his eight touchdown passes on the day. Ridiculous. Smith's a whole lot more than a big arm, folks.
Second-worst play: West Virginia's defense on the final play of the first half.
If somebody says to you, "Prevent this team from reaching the end zone 67 yards away in one play," most defenses would hold up. West Virginia's? Well, Baylor's
Lanear Sampson
and Florence hooked up to prove they could embarrass WVU to tie the score at 35 after the first 30 minutes.
Best play that nearly became legend: Walsh to Charlie Moore on the final play versusTexas.
I was on the sideline for this one, and the play on the south side of the field (Boone Pickens Stadium, if you didn't know, runs east to west) looked like a mess. Walsh fired a backward pass all the way across to the north side of the field to Moore, who was all alone. He caught the ball about 10-to-15 yards right in front of me. I careened my head down the sideline ... all green pastures ahead of Moore. That kind of feeling? That's why we love football. Not much can duplicate that, and I wasn't even playing. I can only imagine what it felt like for Moore. With another block or two, that might have been the greatest play in Big 12 history, edging out Graham Harrell to Michael Crabtree back in 2008.
Best quote: Dana Holgorsen, on Smith's day.
"He was 45-of-51 for 656 yards with eight touchdowns and zero interceptions. Can you please explain to me how you can improve on that?"
September, 29, 2012
9/29/12
11:42
PM ET
Texas survived a back-and-forth
41-36 thriller
in Stillwater, Okla., to move to 4-0 on the season.


It was over when:
Oklahoma State wide receiver
Charlie Moore
was knocked out of bounds on the final whistle. The Cowboys took a 36-34 lead with 2:34 left in the game, but Texas came right back with an eight-play, 75-yard touchdown drive to secure its biggest victory of the season yet.
Game ball goes to:
David Ash
delivered his signature moment as quarterback of the Longhorns, leading Texas on a fourth-quarter touchdown drive to win the game. During the final drive, Ash coolly hit
D.J. Grant
on fourth-and-6 for a 29-yard first down, and lofted a pass to
Mike Davis
32 yards to the Oklahoma State 5-yard line.
Stat of the game:
Texas was lethal on third and fourth downs. The Longhorns converted 9 of 17 third downs, and all three of their fourth-down attempts, including Ash's crucial completion to Grant. Texas has been tremendous on third down all season and Saturday night was no different.
Unsung hero of the game:
Ash's favorite target,
Jaxon Shipley
, had only five receptions. But three of them went for touchdowns. Shipley burned the Cowboys secondary twice for scores in the first quarter, then went up and snagged his third touchdown on a jump ball to give the Longhorns a 28-20 lead in the third quarter.
What it means:
Texas' victory sets up a showdown with undefeated West Virginia in Austin next weekend. The winner could be in the driver's seat in what's becoming a wide-open Big 12 race.
August, 2, 2012
8/02/12
10:00
AM ET
DALLAS --
Joseph Randle
remembers getting in some post-practice work last fall with a guy almost no one outside his Oklahoma State team had heard of.

The Cowboys running back sat and watched as receiver
Charlie Moore
was practicing one-handed catches from a machine tossing him balls.
Twenty balls whizzed toward Moore. All 20 stopped abruptly in just one of Moore's hands.
"I'm like, 'This dude's got great hands and he ain't even playing'," Randle, a 1,200-yard rusher in 2011, said of Moore.
So you'll have to excuse Randle's lack of surprise when that sticky-handed, 6-foot-2, 202-pound talent turned nine catches into 243 yards and three touchdowns in the spring game, capping a productive set of 15 spring practices.
"Even (former quarterback Brandon) Weeden last year was saying, 'Charlie Moore's gonna step up.'" Randle said. "But we have a lot of guys who are ready to step up."
Randle doesn't have to do any thinking when asked why the Cowboys are being written off as contenders to defend their 2011 Big 12 title, the first in school history.
"Because we lost Brandon and (two-time Biletnikoff Award-winning receiver Justin) Blackmon," he said. "They don't understand that in great programs, people step up and make plays and we have guys in our program who have been waiting for this opportunity and they're going to step up and make a lot of plays."
For Oklahoma State, that means bigger roles for returning receivers like
Isaiah Anderson
and
Tracy Moore
. Coach Mike Gundy suspended
Michael Harrison
, arguably the team's receiver with the most potential, for all of 2012. Harrison then left the team.
Sophomore
Josh Stewart
emerged this spring in Blackmon's absence, and Randle classified Charlie Moore as one of the fastest players on the team.
All that without even mentioning another spring standout,
Blake Jackson
, the nation's top juco tight end who transferred to Oklahoma State this offseason.
"You see what I'm saying? We're just naming guys who can make plays, have play-making abilities," Randle said. "I think we'll be just fine. I'm comfortable with the guys we have out there and their play-making abilities."
Oklahoma State did lose Blackmon and Weeden. There's no escaping that. Randle's back, though, with plenty of rising stars at receiver to buoy the first season under
Wes Lunt
, the Cowboys' true freshman quarterback.
"I'm around it every day and it's a winning environment. It's not a losing environment," Randle said. "We've got guys who have bought into the program and are ready to win."
May, 17, 2012
5/17/12
9:00
AM ET
We're taking a look at spring breakout players across college football today, and here's who made a big impact across the Big 12.

Trey Metoyer, WR, Oklahoma:
Metoyer may have had the best spring of anyone in the Big 12. The physical freshman spent last season in prep school, but walked in this spring and essentially earned a starting job. Then three Sooners receivers were suspended indefinitely. Metoyer was already going to play and probably going to start. Now, with Oklahoma's passing offense and
Landry Jones
throwing the ball, it's a near certainty that he'll have a huge impact.
Wes Lunt, QB, Oklahoma State:
Lunt hasn't made an impact yet, but he's already made headlines. Lunt may be the first freshman to win a starting QB job in the spring in the history of the Big 12. The Illinois native beat out junior
Clint Chelf
and redshirt freshman
J.W. Walsh
for the right to succeed Brandon Weeden, and quickly trended nationwide on Twitter after the announcement.
Will Smith, LB, Texas Tech
: Smith came to Lubbock as a lightly recruited California juco transfer trying to find some playing time at outside linebacker. Midway through spring, he'd already established himself as the team's best linebacker and coach Tommy Tuberville moved him to the inside so he wouldn't have to leave the field during passing downs.
Jordan Thompson, WR, West Virginia:
WVU is already loaded at receiver, albeit a bit top-heavy.
Stedman Bailey
and
Tavon Austin
are bona fide studs, but Thompson should find a niche in the Mountaineers' offense after showing he could make an impact as an early enrolling true freshman. He's quick and has good hands, and the Houston native may resemble (gasp!) a young Tavon Austin next fall.
Brandon Moore, DT, Texas:
Moore reportedly still needs to work on his conditioning, but the 6-foot-6, 330-pound juco transfer was a force in the middle of the line for the Longhorns, and could be a valuable pocket collapser and run stopper for a loaded Texas defense in 2012. That could blow up a lot of great Big 12 offenses. Think Nick Fairley vs. Oregon in the 2010 season's national title game.
Charlie Moore, WR, Oklahoma State:
There was buzz surrounding Moore all spring, but he proved it in a big way as a spring game breakout star. The junior caught nine passes for 243 yards and three touchdowns in the game, and overshadowed yet another breakout star over the course of the spring, sophomore receiver
Josh Stewart
. OSU needed to find weapons this spring to replace Justin Blackmon, Josh Cooper, Hubert Anyiam and
Michael Harrison
at receiver. The Cowboys did exactly that.
Tony Pierson, RB, Kansas:
Pierson made a small impact last season, but he's essentially the unquestioned starter at KU for now after
Darrian Miller
was kicked off the team and
James Sims
was suspended for the first three games of 2012. The East St. Louis native is dangerous in the open field and gives KU a much needed home run threat.