NCF Nation:

Chase Hoobler
March, 20, 2013
3/20/13
10:00
AM ET
Indiana defensive coordinator Doug Mallory is looking for a few good men this spring. Actually, more than a few.
Mallory isn't necessarily seeking the next standout player (although he wouldn't complain if he found one). The Hoosiers' defense has had productive individuals over the years, from cornerback Tracy Porter to defensive linemen Jammie Kirlew and Greg Middleton, to defensive tackle
Adam Replogle
. Last fall, Replogle put up huge numbers for an interior lineman (13.5 tackles for loss, five sacks, two forced fumbles, 71 total tackles). Safety
Greg Heban
(91 tackles, three interceptions, seven tackles for loss) and linebacker
David Cooper
(86 tackles, nine tackles for loss, three sacks) also had strong statistical seasons.
[+] Enlarge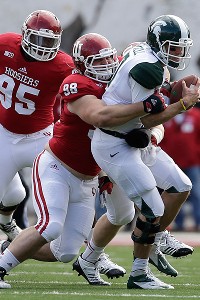 AP Photo/Darron CummingsIndiana defensive tackle Adam Replogle had 13.5 tackles for loss and five sacks last season.
But the unit still struggled, finishing 103rd nationally in yards allowed, 101st in points allowed and 116th against the run. The cumulative results were all too typical for a defense that has struggled for more than a decade because of its lack of depth.
"It can't be the same guy out there every single play of the game, every play of the season," Mallory told ESPN.com. "We've got to be able to have some guys come in and contribute, whether it's 10, 20, 30 plays a game, guys who give us a little bit better depth."
The Hoosiers are looking for numbers this spring, at least 22 defenders who Mallory can feel confident about sending onto the field this coming season. IU's offense took a significant step in coach Kevin Wilson's second year and should be one of the Big Ten's most explosive units in 2013.
But for Indiana to take a step as a program -- toward winning records and bowl appearances -- its defensive depth must improve substantially. Although it's not ideal that three projected starters -- Cooper and fellow linebacker
Chase Hoobler
, and safety
Mark Murphy
-- are now
sidelined this spring
, it's more important to get others up to speed.
"We're trying to see more competition, more guys putting themselves in position to compete," Mallory said. "With all these guys coming back, that's great, but we were not very good a year ago, so that could be a positive and it could also be a negative. We've got to make major strides and do a better job as coaches and as players defending the run, stopping the run and being a lot more physical on defense."
Mallory has made it clear to the players that there are "no starters" this spring. Players move between the first-, second- and third-teams from practice to practice, depending on performance, and sometimes even within a single workout.
"The worse you are, the further you fall on that depth chart," Mallory said. "Kids understand that."
Mallory has been impressed by cornerback
Kenny Mullen
, who started the final five games in 2012. Defensive end
Bobby Richardson
, a reserve last fall, also has stood out as IU must replace two starters up front.
Help is on the way as Indiana significantly elevated its defensive recruiting efforts for the 2013 class. Six of IU's
seven highest-rated recruits
, according to RecruitingNation, will play defense, including ESPN 150 defensive back
Rashard Fant
, and linemen
Darius Latham
and
David Kenney III
.
"On paper, it definitely looks like a good class," Mallory said. "We're looking forward to getting those guys here, and they'll get in here and compete. You certainly want to be quality two-deep and hope that your incoming class are guys that can help you get three-deep."
February, 28, 2013
2/28/13
1:00
PM ET
There's reason to be cautiously optimistic about Indiana football in 2013. The Hoosiers improved their wins total last fall by three and amazingly in November found themselves in contention to represent the Leaders Division at the Big Ten title game. All but three starters return, including the playmakers from an offense that finished second in the Big Ten. Quarterback
Tre Roberson
has
recovered from a broken leg
and will compete to reclaim his starting job this spring. The schedule features eight home games for just the second time in team history. IU isn't without major concerns, namely a defense that hasn't consistently stopped anyone for more than a decade and
recently lost co-coordinator Mike Ekeler to USC
. The team only went 4-8 in 2012 and must build much better depth at several positions, starting in spring ball, which kicks off Saturday.
ESPN.com caught up with IU head coach Kevin Wilson to discuss the spring.
What's the big theme for your team entering the spring?
Kevin Wilson:
We've got enough guys back, we're stronger, we're mature, we understand each other and understand the standard. We've just got to continue to work at a higher level. When you're not mentally or physically as strong as you want to be, you've got to gain on it. There's different levels of that. It's nice that we get a lot of guys back, but you start over. We are starting over at a better spot because a lot of guys are back. We're building a foundation to play better football next year.
Where would you like to be from a depth standpoint by the end of the spring?
KW:
Everybody's got depth issues and we could be better in certain areas, but we only lose about four or five guys who really played [in 2012]. We've got a lot of what's back, and we've got, on paper, a nice recruiting class that will help, but really it's not about the depth as much as it's about competition. Guys are pushing guys to be on the field. We've got a lot of guys back who have been second-teamers and the first-teamer [ahead of them] is back. Now how do you push that first-teamer and beat him him out? A great example is at quarterback. We've got three guys that have all played, they've all played kind of well, their stats are OK, but we haven't won a lot of games. There's really not a proven winner. We've got guys that look like they can do OK, but they haven't proven they can win at a high level of Big Ten football. I think that will be an awesome competition. We want to see that across the board.
[+] Enlarge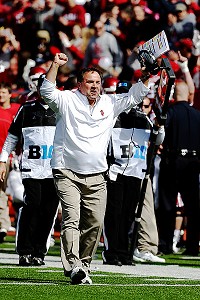 AP Photo/Darron CummingsWith numerous key players returning, Indiana coach Kevin Wilson is optimistic heading into spring workouts.
How do you identify winners in that group or other groups when you're not playing games?
KW:
Sometimes you'll see who moves around, who gets the group in the end zone. But that sometimes can be skewed. A guy busts a coverage and a guy scores a touchdown, does that mean the quarterback is a better quarterback? Sometimes it's a play where there's not a good call and he's got to throw it out of bounds and it's a great play because there's nothing open. I just think your body of work, your body language, your leadership skills. Are you the best extension of the coaching staff and what we're trying to do? The game's called football and we put the football in your hands every snap. It's got to be a guy you trust because you give him the game, every game, and say, 'Go play.'
Right now, those guys have all had some fair stats, but we want to see winning football played at that position.
How is Tre [Roberson] physically, and what do you expect out of him?
KW:
He's been full-go. Right now, we're doing our offseason program, our agility program, and he's full-go. There's no limitations. I don't want him to be tackled, but we don't tackle the quarterbacks anyway, so I would anticipate he'll be out there every day. He's gotten bigger. When he got hurt, he was under 185 [pounds], right around there, and now he's pushing 200 pounds. He's bigger, stronger, looks good running. I don't think he's at full tilt, but every day he gets stronger, every day he gets better and every day he gets more confident. Knock on wood, he should have no limitations, and he'll compete every day with those other two guys [
Cameron Coffman
and
Nate Sudfeld
].
You really bring back a lot at wide receiver, running back and tight end. How much competition is there at those other offensive positions?
KW:
We've got everybody back except [center]
Will Matte
on offense. We didn't lose a quarterback, we don't lose a running back, we don't lose any receivers. So we've got basically the crowd back. It's the same deal. Our kids realize, though, that the deal is we're going to play a number of guys. It doesn't matter whether you go out there first or second, we're going to play six, seven, eight, nine guys. We need to have one or two more receivers than we have. We're going to [use] two tight ends at least, with two or three running backs and seven or eight receivers. So when you say depth, it would be nice to see some of these guys that redshirted continue to come on and help us as complementary tight end guys and complementary receivers.
The tempo we play with, you've got to play a number of skill guys. A lot of guys are back, they've seen that we're going to throw the ball to them, and they believe they have quarterbacks who will get it to them so they can make plays. I'm expecting that receiver group to pick it up. We'll see if they can keep plugging along there.
You lose a few pieces up front on defense. How does the defensive line shape up entering the spring?
KW:
We signed two JC guys, one guy is here now [Jordan Heiderman]. We redshirted a big guy who we like. We did sign a couple of guys there, so some of those guys might get into the mix when preseason rolls around. But we need to play better across the board because we're making tweaks with what we're doing. We definitely need to play better run defense.
Schematically, will there be some new things on defense?
KW:
I don't know if it's that. We've just got to look at the position we're putting guys in, where we're playing them. It's not major [changes]. Same with offense, you're always playing to your strengths and weaknesses. Right now, we've played OK on offense, and not very good on defense. So we have to keep coming on both sides. Defensively, we're developing players, but we have to make sure we're putting them in the right spots with play calling to play winning football.
We have enough guys coming back. We should continue to improve this program. We should continue to take a very positive step this year. That being said, we have to play better football on the defensive side. We made some subtle changes from Year 1 to 2. It still wasn't what we needed. There won't be wholesale changes, major deals, but we've got to keep looking for what works.
Where do you see the leadership emerging on the team, and can the secondary be a strength for you guys because you have quite a few players back who have played?
KW:
Probably more competition and depth back there than we've had. And I think we've signed a couple kids who can get in the mix to help us. The linebacker corps got real beat up last year.
Jacarri Alexander
and
Chase Hoobler
missed some games, two of our starting three missed four, five, six games independent of each other. It took a toll. We're losing [Adam] Replogle and [Larry] Black and Will Matte and Nick Sliger, those are the four guys who really played. The fifth guy would be Charles Love, the backup tight end. So when you look at the football team, basically everyone's back, so with the leadership, hopefully you'll see that linebacker corps pick up and the secondary. We've got to establish a standard of what winning defensive football is at Indiana, and how we're going to play it. We'll build a mindset, we'll do some subtle structure things to hopefully position our players in better places, and we'll tackle better and get off the field and make stops and get some turnovers.
We've got to take a step offensively, be more wide open, continue to improve, take care of the ball and score more points. And we've got to improve defensively. When you're a 4-8 football team, that's not good. We're definitely moving in the right direction. Nineteen starters are back, and 14 of them are sophomores and juniors. So we've got some guys we can work with, and we've got the best recruiting class we've brought in. We basically have five seniors on scholarship and we signed 22. So we've got the core team back. It needs to get better. I think we'll make some nice additions as preseason comes around, and hopefully we'll continue to be more competitive and play the brand of football we're trying to build here.
February, 23, 2012
2/23/12
3:30
PM ET
We continue our postseason position rankings today as we move on to the linebackers.
Not surprisingly, Linebacker U takes the top spot, though it was a very close call. Depth helped the top two teams on this list, while star power marked spots Nos. 3 through 5. After that, it's a bit of a dropoff.
Away we go ...
[+] Enlarge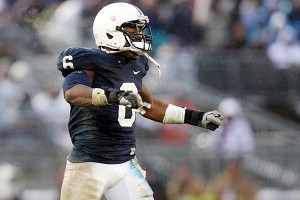 Rob Christy/US PresswireGerald Hodges led a deep group of Penn State linebackers this past season.
1. Penn State:
We thought this group could be the deepest linebacking corps in the league this past season, and that depth proved both true and invaluable when starter
Michael Mauti
went out in the fourth game of the season. Even without him, the Nittany Lions' linebackers played great, led by first team All-Big Ten performer
Gerald Hodges
, who had a breakout campaign. Nate Stupar filled in nicely for Mauti, and
Glenn Carson
was solid in his first year as a starter in the middle.
2. Michigan State:
We wondered in the preseason how the Spartans would replace stars Greg Jones and Eric Gordon. The answer: very nicely, thank you. Sophomores
Denicos Allen
and
Max Bullough
emerged as fierce playmakers, especially on the blitz, and
Chris Norman
provided steady play on the weak side. All three return in 2012 to give Penn State a run for its money as the best group in the league.
3. Wisconsin:
Mike Taylor
and
Chris Borland
were finally healthy in the same season, and what a difference that made. They were a terrific pair, combining for 293 tackles and becoming the only Big Ten duo to average more than 10 tackles per game each. Taylor in particular made great strides.
Kevin Claxton
was overshadowed a bit as the third Badgers linebacker, but that's understandable given the amount of plays Borland and Taylor made.
4. Illinois:
The emergence of Jonathan Brown (108 tackles, 19.5 for loss) as fire-breathing pass-rusher made this unit better than we projected in the preseason.
Ian Thomas
also had a good season at the position with 85 tackles, and
Trulon Henry
rounded out a strong crew before he missed time late following a shooting incident. The Illini defense stayed consistent throughout the team's struggles.
5. Nebraska:
Depth was not a strong suit for the Huskers by any means, but there was no better linebacker in the league and few better in the nation than All-American
Lavonte David
. He had 133 tackles and countless big plays.
Will Compton
came on as the season wore along to provide a good complement to David. Finding consistent play elsewhere at the position was a challenge for Nebraska.
6. Ohio State:
We pegged the Buckeyes at No. 3 in our preseason linebacker rankings, but it wasn't a vintage year for a group that struggled down the stretch drive.
Andrew Sweat
led the way with 72 tackles despite missing two games because of injury, and
Etienne Sabino
had a decent season (62 tackles, 6.5 for loss) if not the breakout season many had predicted. Freshman
Ryan Shazier
announced himself late in the year as a potential star in the making.
7. Michigan:
The Wolverines' defense surprised everyone in 2011, though the defensive line was clearly the vanguard on that side of the ball.
Kenny Demens
led the team with 94 tackles, while freshmen
Desmond Morgan
and Jake Ryan made an immediate impact as starters. This wasn't an overwhelming group, but it was one that mostly did its job.
8. Iowa:
The Hawkeyes had a hard time keeping everybody healthy and consistent, but this spot might have been the best part of their defense.
James Morris
and
Christian Kirksey
tied for the team lead with 110 tackles each, while
Tyler Nielsen
added 73 stops while battling some nagging injuries. The Iowa defense overall was disappointing, however.
9. Purdue:
Danny Hope usually knew what to expect from week to week out of his linebackers: solid, consistent play.
Joe Holland
,
Dwayne Beckford
and
Will Lucas
each had between 82 and 94 stops as the top three tacklers on the team. Lucas and Holland also recorded double-digit tackles for loss. The chief complaint here is that the Boilermakers gave up some big point totals during the season.
10. Minnesota:
The Gophers struggled up front and in the secondary, but linebacker was their most experienced and reliable defensive position, as expected. Veterans
Gary Tinsley
,
Mike Rallis
and
Keanon Cooper
played in every game, and were among the most consistent players on the team. Tinsley led the way with four sacks. Florida transfer
Brendan Beal
was expected to make an impact, but missed the season with a knee injury.
11. Northwestern:
It wasn't a very good year overall for the Wildcats' defense, and linebacker was no exception.
David Nwabuisi
ranked third on the team with 84 tackles, while
Bryce McNaul
was right behind with 76. But Northwestern's starting trio combined for just 2.5 sacks and didn't come up with enough difference-making plays throughout the season.
12. Indiana:
The good news for the Hoosiers was that
Jeff Thomas
was the best player on defense in 2011, finishing with 80 tackles, including 10.5 for loss. The bad news is that he was a senior. Besides Thomas, Indiana was forced to go young at the position, playing freshmen
Chase Hoobler
,
Mike Replogle
and
Mark Murphy
, a safety/linebacker hybrid, at times during the season. Kevin Wilson hopes the experience makes them better in '12, but this is yet another position that needs vast improvement going forward.