NCF Nation:

Chase Hounshell
January, 22, 2014
1/22/14
9:00
AM ET
For three years, Brian Kelly had success like few others in recruiting players back to school. Sure, Kyle Rudolph left after Year 1 of the Kelly era, but since then the Notre Dame coach had successfully gotten Michael Floyd, Manti Te'o, Tyler Eifert, Louis Nix and
Zack Martin
to come back to the Irish for their fourth (and, in Martin's case, fifth) seasons of college ball.
That changed drastically this season. With several highly projected underclassmen on their roster, the Irish figured to say goodbye to one or two underclassmen early. And even when Kelly said in late December that he had submitted paperwork to the NFL advisory board for
Stephon Tuitt
,
Troy Niklas
and
George Atkinson III
, few expected all three to leave school early.
Then January came along, and within one week's span, all three players declared for the draft, choosing to avoid the recent trend and skip their final seasons. Each had his reasons, so here's a look at the trio and a look at who on the Irish roster will be tasked with filling the big shoes in 2014.
(Worth noting: Nix, who had a fifth season of eligibility available to him in 2014, is not included in this group, because he graduated in December.)
Leaving:
Stephon Tuitt
Replacement:
Isaac Rochell
The outlook:
It is worth noting that
Justin Utupo
will return for a fifth year
and that veterans
Tony Springmann
(ACL, infection) and
Chase Hounshell
(shoulder) are expected to be back at full health next fall after both missed the 2013 season. Together, all will be counted on to replace the production of Tuitt, who was one of the best pass-rushers in school history. Still, if the Irish are looking for a youngster to step up, they will turn to Rochell, who ended up seeing much more playing time as a true freshman than initially expected this past fall, given the injury bug that affected the Irish in the trenches. ESPN's No. 139 overall player from the class of 2013 played in 11 games, recording 10 total tackles. The 6-foot-3.5, 280-pounder is a far cry from the 6-foot-6.5, 312-pound Tuitt physically, but most typically are. The bottom line is Tuitt will be the hardest of Notre Dame's early departures to replace, but Rochell will probably see his role increase the most in his sophomore season. Junior
Sheldon Day
, entering his second year as a starter, will be counted on even more this coming fall as well.
[+] Enlarge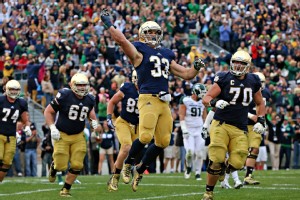 Jonathan Daniel/Getty ImagesCam McDaniel (33) led the Irish with 705 rushing yards in 2013.
Leaving:
George Atkinson III
Replacement:
Cam McDaniel
,
Tarean Folston
,
Greg Bryant
The outlook:
Atkinson should be the easiest of the early departures to replace, as his playing time and production took a big dip late during this past season. He was ultimately suspended for the New Era Pinstripe Bowl for what Kelly called a violation of team rules, a violation that Atkinson later tweeted (and then deleted) consisted of him texting during a team meal. Still, the Irish have the always-reliable McDaniel back for another year, and the Coppell, Texas, native actually had more carries (152-93) and rushing yards (742-583) than Atkinson in 2013 while helping with kick-return duties as well. The most important developments to keep an eye on, though, are those of Folston and Bryant, both of whom came to Notre Dame as highly touted four-star backs expected to deliver immediate boosts. Bryant had trouble gaining playing time early and ultimately suffered a knee injury that forced him to take a medical redshirt, but Folston came on strong late in the season, finishing with 88 carries for 470 yards and three touchdowns. Things will be tougher next season with a rebuilt offensive line, and all of these backs need to improve as pass-catchers, but there remains plenty of promise in the fold. Let's not rule out redshirt junior
Amir Carlisle
, either.
Leaving:
Troy Niklas
Replacement:
Ben Koyack
The outlook:
Niklas, who began his career at linebacker, played tight end at Notre Dame for just two years, coming on this past fall after the departure of Eifert, as he hauled in 32 passes for 498 yards and five touchdowns. He was improving as a blocker and was on track to become one of the best tight ends in the country next season. Now Koyack will be tasked with a bigger workload in his senior season. He, too, came on strong late last season, finishing with 10 catches for 171 yards and three touchdowns, though he often played in two-tight-end sets with Niklas and gave the Irish plenty of offensive flexibility.
November, 4, 2013
11/04/13
9:00
AM ET
SOUTH BEND, Ind. -- As Brian Kelly was finishing up his postgame press conference Saturday, an unexpected visitor made an appearance during the penultimate question.
"Jaylon, we'll be done in a second," Kelly said to
Jaylon Smith
, who had entered prematurely. "I know it's your press conference, but I'll be done in a second, and we'll let you get going. Is that all right?"
"Sorry," Smith said to the room of reporters. "I'm new to everything."
Within 24 hours, it turned out the freshman linebacker would be a seasoned veteran by Notre Dame's defense's standards. The Irish are hurting on that side of the ball -- just trying to get by, in a sense, with this weekend's game at Pitt preceding a much-needed bye before a two-game stretch against BYU and at Stanford.
[+] Enlarge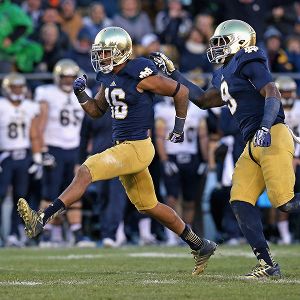 Jonathan Daniel/Getty ImagesSafety Eliar Hardy (left) is one of several Notre Dame reserves that were pressed into action due to injuries.
BCS dreams have essentially taken a backseat to figuring out just who is going to play and where, and how the remaining available guy will get ready for when their time comes.
"I think this is probably close to the pinnacle," Kelly said during Sunday's teleconference when asked if this defense has been hit as hard as any he's had in 23 years as a head coach. He added: "They don't give you any points for complaining about it. If they did, I'd complain every minute. So we just take care of it internally and get the next guy ready."
Ben Councell
, the man behind Smith most of the season at the dog linebacker spot,
was ruled out for the season Sunday after suffering a significant knee injury in the 38-34 win over Navy
. Smith and Councell, of course, waged a preseason battle for a starting spot only after senior
Danny Spond
, last season's starter, was forced to retire because of hemiplegic migraines. And the linebacking corp is less than a month removed from its other big hit, when
Jarrett Grace
broke his leg in the Oct. 5 Arizona State game, costing the Mike linebacker the rest of his redshirt sophomore season.
It only gets worse up front, where
Kona Schwenke
is lost for at least this Saturday's game at Pitt because of a high-ankle sprain suffered on the Midshipmen's final drive. And Schwenke was only starting these last two games in place of nose guard
Louis Nix III
, who at first was ruled to have a shoulder injury suffered in the USC game, and then knee tendinitis, and now tendinitis and a small meniscus tear, though the school says he will practice this week after undergoing an MRI Sunday. Before that, Schwenke filled in for end
Sheldon Day
, who missed most of a three-game stretch after leaving a Sept. 14 game against Purdue with a high ankle sprain, and then re-aggravated said ankle sprain against Navy.
And no, it is not a coincidence that most of these injuries have come during this two-game stretch against Air Force and Navy, teams that often cut-block.
"It's unfortunate," Kelly said. "It's the style of offense that the academies play. It is what it is."
Kelly said it will make sense to possibly avoid scheduling multiple option teams in a single season, but that is a bridge he will cross when he gets to it. For now, his next-man-in philosophy is being tested by, well, a lack of next-men-in.
He said he guards against that by putting those who saw 15 or fewer plays in a game through extra conditioning that following Monday, while reserves get roughly half the work of the starters during 11-on-11 and scout team work in a given week.
"I think that we're so close that you don't really think about it in terms of, Oh, I've never seen you out here," redshirt senior linebacker
Dan Fox
said. "We get a lot of guys in at practice, there's a lot of reps to go around, so next man in and next man in."
Underclassmen such as
Jarron Jones
,
Isaac Rochell
and
Romeo Okwara
have been thrust into more meaningful time than most could have reasonably expected entering the season, while names unfamiliar to all but the closest of program observers --
Tyler Stockton
,
Justin Utupo
and
Eilar Hardy
, to name a few -- saw extended action.
The last of those names, Hardy, helped set Smith up for the game-clinching tackle on Navy's
Shawn Lynch
during the visitors' final fourth-and-4 try. And he was only there because
Austin Collinsworth
suffered a neck strain that will require an MRI Monday.
Fellow safety
Elijah Shumate
, meanwhile, is expected to play against the Panthers after being sidelined the last three games with a hamstring injury, though Kelly had said the sophomore would play going into the Navy game, too.
There are also the knee injuries to left guard
Chris Watt
(PCL) and cat linebacker
Ishaq Williams
(ACL), both of whom left the Air Force game a week ago but only one of whom, Watt, could possibly return this week, depending on how quickly the redshirt senior can acclimate to the knee, which will not require surgery. Williams was in an immobilizer this week and could possibly return for the Nov. 23 BYU game.
The return of Watt would give Notre Dame four of its five starters back on the offensive line, as it lost right guard
Christian Lombard
for the season because of back surgery after the USC game. Still, the bruises have taken their biggest tolls on the other line, which during the spring and summer lost reserves
Chase Hounshell
(shoulder) and
Tony Springmann
(knee) for the season, in addition to seeing freshman signee
Eddie Vanderdoes
leave for UCLA.
All of it leaves the Irish, winners of four in a row, crawling to the finish line, every last piece of Kelly's three straight top-10 recruiting classes fitting into the plan for his push toward a second straight BCS-bowl berth.
"We are running out of next men. We're at that point where from a defensive standpoint, and particularly the defensive line, we're left with very few options," Kelly said, adding, "We'll figure something out. We'll get 11 guys out there. It's just not going to be one of those things where we're going to have the same group of guys out there all the time. As you know, we're going to have to find a way to stop a big, physical offensive line at Pittsburgh, and that is the thing that concerns you the most."
April, 17, 2013
4/17/13
4:15
PM ET
SOUTH BEND, Ind. — The first public plays in Notre Dame uniforms for Corey Robinson and
Amir Carlisle
are being put on hold.
The two will sit out Saturday's Blue-Gold spring game as a precautionary measure, coach Brian Kelly said Wednesday.
Robinson is recovering from a hyper-extended elbow while Carlisle nurses a broken collarbone suffered March 23.
Kelly said that Carlisle returned to practice in pads Wednesday but was limited to no contact.
Robinson, who enrolled this spring, presumably injured his elbow while making a diving, one-handed catch during Saturday's scrimmage, the entirety of which was open to reporters and others on hand for the coaches clinic.
Carlisle has yet to take a snap in a Notre Dame uniform after transferring from USC following his freshman season of 2011, getting a waiver from the NCAA to play immediately and then breaking his ankle before last spring, forcing him to redshirt in the 2012 season.
Dan Fox
,
Bennett Jackson
,
Nicky Baratti
,
Chase Hounshell
and
Tyler Plantz
are all out Saturday as well. The first three of those players have been used lightly this spring while recovering from offseason shoulder operations. Hounshell will miss the 2013 season after suffering a serious shoulder injury this spring, similar to the one that forced him to miss last season.
Kelly said the offense, wearing white, will be scored Saturday against the defense, wearing blue, with no live special-teams play, though
Kyle Brindza
will punt.
March, 28, 2013
3/28/13
9:00
AM ET
SOUTH BEND, Ind. — Next-man-in might just be Brian Kelly's favorite mantra, and it may have become the defining one of the coach's Notre Dame tenure after the number of surprises that ended up lifting the Irish to an undefeated regular season in 2012.

As the spring departures of sophomore receivers
Davonte' Neal
and
Justin Ferguson
present another test, Kelly could have the very guy to fill at least the dual roles formerly occupied by Neal in both the slot and as a punt returner.
And yes, like unsung starters
KeiVarae Russell
and
Matthias Farley
before him, former safety
C.J. Prosise
is a convert to the other side of the ball as well, this after redshirting during his first year this past fall.
"C.J. Prosise is doing a great job," Kelly said when asked about his receiving options inside. "Really excited about C.J. You'll see a lot of him in the spring, you'll see what I mean. He's been a very pleasant surprise -- that's probably the wrong word. He's been what we thought he could be; he's just done it a lot quicker than we thought. And again, you're talking about a slot receiver who's 210 pounds. Nice hands, got deceptive speed, can pull away. And then in terms of the run game, we've got a big guy that can do some nice things."
Amir Carslisle
, who is expected to miss the next four weeks following a broken collarbone, will be another option upon his return as well.
Kelly mentioned Prosise and
TJ Jones
as possible punt returners as he looks to re-tool a unit that has finished 100th or worse nationally in each of his first three seasons coaching the Irish.
With another shoulder injury forcing
Chase Hounshell
to miss a second consecutive season, Kelly said promising Cat linebacker
Ishaq Williams
has started cross-training at defensive end.
"We can get him 15-20 more reps, and he's all for that," Kelly said. "So he'll still get his Cat work and he'll play some defensive end as well. Was really impressed with him. We put him in there on Saturday for the first time without any coaching, and he did some really nice things for us. Had another very good day today, and I promised him a visor if he continues to do that."
September, 21, 2012
9/21/12
2:30
PM ET
What's happening, folks?
Kent from Reston, Va., writes
: Hey Matt - thank you for your candid reporting on the Irish. Q: Who are the next guys on the depth chart behind Farley, Russell, Motta and Bennett — are the Irish looking to convert more offensive players to the secondary to add depth? Thanks - Kent
Matt Fortuna
: Thanks Kent. The second-team corners on this week's depth chart are
Josh Atkinson
and
Jalen Brown
, with
Nicky Baratti
and
Chris Salvi
listed as the No. 2 safeties. Brian Kelly said this week that Baratti, Salvi and
C.J. Prosise
will be getting into the rotation from here on out, as the Irish simply need to build depth back there with so many blows having already been suffered.
Cam McDaniel
was cross-training but has seen snaps out of the backfield this season.
Davonte Neal
was recruited as an athlete but I can't see him getting any more responsibilities on his plate right now, especially in the middle of his first season. And
DaVaris Daniels
actually played some safety in high school, but the chances of him ever switching positions are, well, zero.
---
James Darnell from South Bend, Ind., writes
: I first off want to thank you for your coverage of ND, you do a great job. I know Michigan will be a tough team to beat but with the blueprint Alabama put out there and the defense we have I think we can keep Denard wrapped up and make him beat us with his arm. One huge difference I have seen with our secondary is that the corners might be young but they find the ball unlike last year and their speed is an upgrade. What are your thoughts on these? Thanks
MF
: Appreciate that, James. Notre Dame's defense did a very good job for nearly three quarters last season, but it all came apart in the fourth. While I think last year's secondary was superior (and much more experienced), I have a hard time seeing Michigan coming down with all of those 50-50 balls the way they did last season. The Irish's young corners have impressed so far, and they need to, in Kelly's words, limit the big chunk plays. The front-seven will have its hands full but I think ultimately can contain Robinson just enough Saturday night.
---
James Coleman from South Bend, Ind., writes: Do you think Notre Dame has a chance to be unbeaten heading into the Oklahoma game?
MF
: A chance? Absolutely. The toughest test until then has already been passed, last weekend at Michigan State. But it means nothing if it all comes apart Saturday against the Wolverines. The Irish are too young in certain spots — and the more experienced players have been humbled too much already in their careers — to look ahead to that late-October trip. Beating Michigan is still a big hump for this team to cross, and that Stanford contest in a few weeks doesn't look like it will be any easier.
---
Greg from Wonder Lake, Ill., writes
: Anything more to the Hounshell DNP coaches decision than just his depth chart status? He did not make the trip similar to other injured players (Carlisle and Nichols). Suspecting shoulder injury as others have speculated. Trying to preserve medical redshirt status?
MF
: Greg, Kelly finally acknowledged this week that Hounshell has been battling a shoulder issue, but he said that he was going to give it a go this week at practice. Just how bad that shoulder is remains unclear, though if there is any doubt and the Irish have enough bodies on the defensive line — a valid question given the bumps and bruises of the first three weeks — then preserving a year is probably the smart move for a player who has a redshirt option available.
September, 18, 2012
9/18/12
4:15
PM ET
SOUTH BEND, Ind. — A calf strain that forced
Kapron Lewis-Moore
out of Notre Dame's home opener two weeks ago and limited him this past Saturday at Michigan State will not be enough to keep the fifth-year senior out of action this weekend against Michigan.

"He's fighting through it," coach Brian Kelly said. "He's at that line of being hurt and being injured. And he's a tough kid. He fought through it on Saturday and had a big pressure on the quarterback late in the game. We'll be careful with him but he'll answer the bell on Saturday and he'll be in there starting for us. You know, that calf is one of those things that just is a bit of a nagging injury.
"We told him: You've got four or five days to get through it and then you've got a bye week. So he'll grind through it and be ready to go on Saturday."
Kelly said that
DaVaris Daniels
(ankle sprain) and
Sheldon Day
(bone bruise) are both, in NFL terms, "probable" for Saturday. Daniels suffered a setback Friday and was limited against Michigan State after injuring his ankle a week earlier against Purdue. Day appeared to hurt his foot Saturday after jumping up and down following a near-interception, but Kelly had said that the injury occurred one series earlier.
Kelly acknowledged Tuesday that sophomore end
Chase Hounshell
, who did not travel Saturday and has yet to play, has been plagued by a shoulder issue but should be ready to go this week. Kelly had said a week earlier that Hounshell was simply behind other defensive linemen on the depth chart.
"We think he's going to be ready to go this week," the third-year Irish coach said Tuesday. "We want to kind of protect him a little bit. But he'll be getting reps this week and we'll see where that goes."
Sixth year in doubt for Slaughter
Jamoris Slaughter
ruptured his Achilles' tendon in the second half of the third game of his fifth season, so his chances at gaining a sixth year of eligiblity would appear to be slim to none.
"It doesn't appear so," Kelly said of the safety's sixth-year possibility. "He did have another injury that caused him to miss some time. We're still kind of vetting through all that right now. But the early indication is we couldn't tell you one way or the other. We'll do some more work before we're ready to publically comment on it."
Matthias Farley
will start in place of Slaughter, but Kelly said that
Nicky Baratti
,
C.J. Prosise
and
Chris Salvi
will get in the rotation as well.
September, 15, 2012
9/15/12
7:32
PM ET
EAST LANSING, Mich. -- Greetings from Spartan Stadium, where No. 20 Notre Dame and No. 10 Michigan State are about an hour away from kickoff.


We already know what's at-stake here for the Irish, who begin a six-game stretch in which they face five ranked opponents. They are 0 for their last 9 against top-10 teams, losing by an average margin of 15 points per game. A 2005 victory at then-No. 3 Michigan was Notre Dame's last victory over a top-10 opponent, and the Irish will hope to replicate that performance again tonight in the Mitten.
A couple travel items: USC running back transfer
Amir Carlisle
did not make the trip after being cleared for action two weeks ago. Carlisle suffered a broken ankle before the spring and has yet to play for the Irish, who bring back former starter
Cierre Wood
for his first game of the season.
Defensive end
Chase Hounshell
did not travel with the team, either. Brian Kelly has said that Hounshell not playing through two games is a matter of having too many players in front of him, though. Tackle
Tate Nichols
(right knee subluxation) did not travel, either, as he has yet to play this season.
One player who did make the trip is linebacker
Danny Spond
, who is expected to appear in his first game of 2012 after suffering a preseason head injury. Spond will likely see time at the dog spot with
Ben Councell
, moving the
Dan Fox
/
Carlo Calabrese
tandem back to the will spot. Calabrese was at the will last week in his first game back from suspension, but Fox was moved outside, as Kelly wanted Councell to see a traditional offense from the sideline before stepping in.
The student section is full and the rest of the crowd is beginning to file in, with Spartans players heading over beforehand to greet their classmates. We'll be back with any breaking news throughout the game and to recap the night's events here,
with in-game observations coming from Twitter
. We'll also have a
live chat going throughout the game
, with yours truly chiming in during the second and fourth quarters.
If history's any indication, it will be a fun one. Looking forward to it.
September, 9, 2012
9/09/12
3:28
PM ET
Brian Kelly re-enforced Sunday that
Everett Golson
is his starting quarterback, but the decision to put
Tommy Rees
in for Saturday's final drive had little to do with Golson's thumb injury.
[+] Enlarge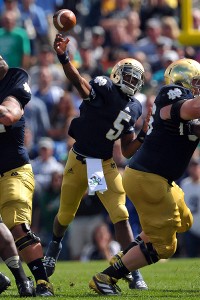 Matt Cashore/US PresswireEverett Golson put up good numbers (21-of-31 for 289 yards, 1 TD) before leaving the game.
"I had already begun the conversation with Coach [Chuck] Martin about installing Tommy into that situation, so the knowledge of running our two-minute trumped any kind of injury that he may have had," Kelly said during a teleconference. "Now, it contributed at the end to make it an easier decision for me."
Kelly again used a pitching analogy to describe his quarterbacks' roles, though he was careful not to peg Rees as his "two-minute" guy should a similar situation arise in the future.
"I don't see it as a role, I see it as if we feel like Tommy can help us win a game or he can come in a situation where we believe its the right fit, then he'll be prepared to do so," Kelly said. "I used this baseball analogy: We like our starters to finish the game. We want them to go all nine innings. Occasionally we might need some help. Maybe we need long relief, maybe we need short relief. I don't want to take anything off the table but we'd like our starter to start it and finish it."
Injury/personnel updates
:
Odds and ends:
Asked if he has a No. 1 running back with Cierre Wood back in the fold, Kelly said: "Yes, Theo Riddick."

Justin Ferguson will wear No. 82 for the rest of the season. Notre Dame was penalized (Purdue declined) during a first-half kickoff Saturday because the freshman wideout, who was No. 15, was on the field at the same time as senior Dan McCarthy, also No. 15. Ferguson changed to No. 82 at halftime. Alex Welch, out for the year (ACL), was No. 82 before.

Kelly elaborated on why he allowed only Te'o and Zack Martin to speak to reporters after the game: "I had to do what I thought was in the best interests of the team. At times that might put me at odds with you guys, and I understand that. Last night I thought it was best for our team to have a couple captains speak and I'll just leave it at that."
March, 29, 2012
3/29/12
9:00
AM ET
Our breakdown of Notre Dame's 2012 roster continues today with the defensive side of the ball.
DEFENSIVE LINE
The players:
Aaron Lynch
,
Louis Nix
,
Stephon Tuitt
,
Kapron Lewis-Moore
,
Tony Springmann
,
Chase Hounshell
, Sheldon Day,
Tyler Stockton
,
Kona Schwenke
The incoming:
Jarron Jones
,
Romeo Okwara
[+] Enlarge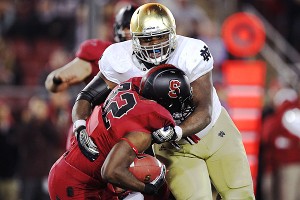 Ezra Shaw/Getty ImagesTackle Louis Nix is a key cog in what should be a strong, experienced defensive line for Notre Dame.
The breakdown:
Injuries forced all three current starters — Lynch, Nix and Tuitt — to play much more than expected last season, and none disappointed. They are all second-year players now, and their pass-rushing ability should have opposing offensive lines and quarterbacks on their heels. Lewis-Moore has been cleared for spring following a season-ending knee injury in 2011 but might not start, though he will likely see plenty of playing time as the line rotates. Hounshell (shoulder surgery) is not cleared yet, but he will likely see significant time this fall after playing as a true freshman last year as well.
LINEBACKERS
The players:
Danny Spond
,
Manti Te'o
,
Dan Fox
,
Prince Shembo
,
Kendall Moore
,
Ishaq Williams
,
Anthony Rabasa
,
Carlo Calabrese
,
Jarrett Grace
, Justin Utopo,
Connor Little
,
Ben Councell
,
Joe Schmidt
The incoming:
None
The breakdown:
As we said with
Tyler Eifert
yesterday, everyone knows what Te'o is capable of, as he likely would have been a first-round NFL draft pick had he left school following his junior year. Fox and Calabrese shared the other inside role last year, and their experience should prove valuable. Shembo has been working at the cat spot this spring, and up-and-coming talents like Williams and Spond figure to see extensive playing time.
SECONDARY
The players:
Bennett Jackson
,
Jamoris Slaughter
,
Zeke Motta
,
Lo Wood
,
Josh Atkinson
,
Austin Collinsworth
,
Dan McCarthy
,
Jalen Brown
,
Cam McDaniel
,
Eilar Hardy
,
Chris Salvi
,
Joe Romano
, Will Salvi,
Connor Cavalaris
,
Matthias Farley
,
Blake Breslau
The incoming:
Elijah Shumate
,
Nicky Baratti
,
C.J. Prosise
,
John Turner
The breakdown:
The loss of
Tee Shepard
really stings this group, which is down to four scholarship corners with a combined zero career starts. Jackson and Wood are in position to take over as the new starters, and playing time last season should help with the transition. At safety, Slaughter and Motta saw plenty of time the last two seasons, and Slaughter in particular has shown a nose for the ball and the capability of providing a leadership force that
Harrison Smith
is leaving behind. Collinsworth will likely also see plenty of snaps after playing last year.
November, 23, 2011
11/23/11
9:00
AM ET
This is the test we have all been waiting to see: how Notre Dame measures up with a truly elite team.
The Irish have faced three ranked teams so far this season, beating current No. 14 Michigan State while losing to No. 15 Michigan and USC, which is ranked 10th by the Associated Press but is ineligible for the
BCS standings
.
Stanford, currently sixth in the BCS standings, is truly an elite team, a notch above anything the Irish have seen all season. The Cardinal won a triple-overtime thriller at USC — the best team Notre Dame has faced this season. They are coming off a 12-1, Orange Bowl-winning season and are currently 10-1, in position to notch another BCS-bowl berth.
They boast the likely top NFL draft pick in quarterback
Andrew Luck
, who is a strong contender for the Heisman Trophy as well. But, perhaps even more imposing, they boast an even better rushing attack, powered by a pair of likely first-round draft picks in left tackle Jonathan Martin and right guard David DeCastro.
Here is where the Irish will really be tested, particularly if they are without versatile defensive lineman Stephon Tuitt, whose status is up in the air after missing last week with an illness. Stanford has the nation's No. 22 rushing attack and the No. 24 passing attack, which equals the 10th-ranked total offense and fourth-ranked scoring offense, averaging 45 points per game.
During its current four-game winning streak, Notre Dame has held three of its opponents below 20 points, with Maryland scoring a late touchdown to finish with 21. The Irish have surrendered just more than 20 points per game this season. The defense has been stout for most of the season, ranking in the top 30 in both total and scoring defense and putting the team on its back in victories over Pitt, Wake Forest and Boston College — when the offense was average, at best.
Most of all, it knows what it is getting against Stanford, a no-nonsense, smash-mouth team that prides itself on punching you in the face early and often. The Cardinal offensive line averages just 1 more pound collectively (305) than the starting line the Irish defense faces every day in practice (304).
In his two seasons at Notre Dame, Brian Kelly has spoken about building toughness and winning in the trenches. This, of course, is coming from a coach who is 6-0 in November games at Notre Dame and has won 16 such games in a row dating back to 2007 (including December regular-season contests).
But the Irish are young on the defensive line, even if Lynch doesn't play. With senior Kapron Lewis-Moore sidelined for the season, senior Ethan Johnson and junior Sean Cwynar are the only veterans who see meaningful snaps. Starting nose guard Louis Nix is a sophomore in his first year playing, starting end Aaron Lynch is a freshman and another freshman, Chase Hounshell, has slowly worked his way into the rotation as well.
The line has matured at a quicker-than-expected rate through 11 games this season, but nothing can prepare it for the test it is about to face Saturday, one that will ultimately decide this game.
Prediction: Stanford 31, Notre Dame 20
October, 8, 2011
10/08/11
9:25
PM ET
SOUTH BEND, Ind. --
Andrew Hendrix
was running for the end zone, no question about it. He had completed every pass he threw Saturday, had just burst through the line and was seeing nothing but six points in front of him.
But he couldn't help but look back.
"If there was a video board I probably would've seen who was behind me," Hendrix said with a laugh. "But I was checking behind me to see who was behind me, whether I had to make a move on somebody or not, and I ended up losing my balance just at the right time to not get in.
"So it was a little embarrassing, but I'm all right with it."
The humble Hendrix had nothing to be ashamed of, as at that point -- up 33 in the fourth quarter -- the biggest question remaining in Notre Dame's
59-33 rout
of Air Force was whether or not the sophomore quarterback would run out of gas during his 78-yard run.
He did, falling forward at the 2, before
George Atkinson III
punched it in three plays later for the Fighting Irish's final points during a historic day for Notre Dame's offense.
For much of the day, it was tough to figure out who was having the hardest time inside Notre Dame Stadium:
Air Force's defense, which gave up 560 total yards and 59 points, including touchdowns on Notre Dame's first six drives?
[+] Enlarge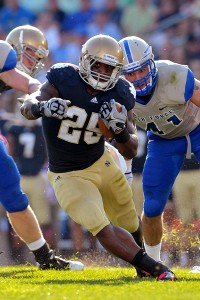 Matt Cashore/US PresswireNotre Dame's Jonas Gray rushed for 69 yards on seven carries with two touchdowns.
The group of high school prospects on hand, who had to wonder if this place was as beautiful every October as the 80-degree temperatures and day-long sunshine would have one believe?
Or Notre Dame's media relations staff, which issued historical reference after historical reference over the press box loudspeaker throughout the offensive showcase?
No Irish team had scored so many points since a 62-0 win over Rutgers in 1996, Lou Holtz's final game at Notre Dame Stadium. The same stadium had never seen as many as 92 total points scored, which the Irish and Falcons combined for Saturday.
And no Notre Dame quarterback had rushed for more than 100 yards since Carlyle Holiday did so in 2001 against Boston College.
Hendrix, seeing his first action this season after not playing his freshman season, entered the game in the first quarter and hit
Michael Floyd
for what amounted to minus-3 yards.
It was smooth sailing from there.
Hendrix finished the day 4-for-4 passing for 33 yards and, more importantly, rushed it six times for 111 yards.
Most of the heavy lifting came on that 78-yard run mid-way through the fourth quarter, the game no longer in doubt and everyone inside the stadium holding their collective breath before Hendrix finally gave out at the 2.
How sudden did that happen? The public address announcer inside the press box had to reiterate the "no cheering" rule, as reporters couldn't help but be stunned by what they saw.
The reaction on the home sideline was far more exciting.
"I did not see that happening," running back
Jonas Gray
confessed. "He did kind of break away from the guy, but I think he just kind of ran out of gas."
Gray, a senior, had a message for Hendrix as he came back to the sideline following the Irish's touchdown to end the drive.
"I told him to not get caught ever again," Gray quipped. "I've been through that situation. I told him to never look back, just believe in his speed."
This was supposed to be about how Notre Dame's defense would handle Air Force's vaunted attack, especially with starting end Ethan Johnson sidelined and two freshmen seeing extended playing time in Aaron Lynch and Stephon Tuitt.
Another freshman end, Chase Hounshell, made his Irish debut as well, but it was a moot point after Jamoris Slaughter forced a fumble on the Falcons' first play.
If Air Force was going to have any chance of hanging with Notre Dame, it could not afford to cough it up and play catch-up, because there was just nothing it could do defensively.
"We got two key turnovers by our defense that we were able to set up, and any time you get a chance to turn over Air Force and put points on the board, it allows you to extend away from them," Brian Kelly said. "And you need some extension from them sometimes in terms of points because they are so difficult to defend, and I think we saw that today."
The fact Air Force actually outgained Notre Dame, 565-560, shows the potential that was there on the other side.
But Kelly and Notre Dame know that means nothing if they cannot protect the ball, something the Irish accomplished by going a second straight week with no turnovers.
They have now put up better than 500 yards of total offense in four of their first six games, winning the last two of them. And they have now won four in a row after two straight defeats.
As Hendrix came out to line up in victory formation with 33 seconds to go Saturday, the student section couldn't help but look ahead.
"Beat-S-C," it chanted, referencing the Irish's battle with the Trojans in the two weeks.
Funny how things play out. Notre Dame kept beating itself to start the season. Now with the momentum going in the Irish's favor, their toughest opponent may be the bye week that comes a week from now.
August, 6, 2011
8/06/11
7:02
PM ET
SOUTH BEND, Ind. -- News, notes and quotes from Notre Dame's first practice of preseason camp on Saturday. The first 30 minutes were open for media viewing:
It was a humid day in South Bend, and rain showers began a few minutes into practice, drenching a bunch of unprepared sportswriters. So it wasn't a great day on which to throw the ball. Yet, all eyes were on the quarterbacks to start off the drills.
[+] Enlarge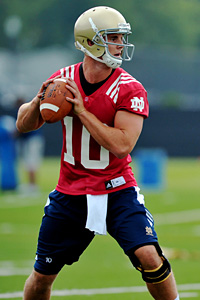 Matt Cashore/US PRESSWIRENotre Dame quarterback Dayne Crist took the first snaps with the first-team offense on Saturday.
To no one's surprise,
Dayne Crist
took the first snaps with the first-team offense in the tempo drills that immediately follow stretching.
Tommy Rees
got the next reps with the ones, and then
Andrew Hendrix
was first in to lead the second-stringers.
Everett Golson
was fourth in line.
Crist -- who's still wearing a brace on his left knee for precautionary purposes -- has earned the right to take the first snaps because he's the veteran who lost his job last year to injury. Brian Kelly said he was happy with the way Crist practiced.
"After having two knee surgeries, sometimes you get a little protective of your lower body ... and you're feeling your way through that," Kelly said. "I didn't sense that at all. I felt he was really aggressive with his throwing. He was spinning the ball very tight. That wasn't what I saw in the spring -- I thought he was tentative in the spring."
Crist said he felt much better on Saturday than he did in the spring and that his footwork has greatly improved. Still, don't count out Rees, who has put on a few pounds since playing as a beanpole freshman last season. He said he was up to 215 this summer and is now at 212. I believe Hendrix and Golson are competing for the change-up, special package role, and if one falls behind the other, we could see a transfer.
The two happiest guys on the field were probably
Michael Floyd
, who finally got back to practice and didn't have to worry about his offseason troubles, and defensive line coach Mike Elston. He's got a deep and impressive-looking group to work with as freshmen Stephon Tuitt and Chase Hounshell join the ranks. Tuitt is an incredible-looking athlete listed at 6-foot-6 1/2 and 295 pounds, and showed good explosion in a pass-rushing drill.
The first-string defensive line on Saturday was Kapron Lewis-Moore, Ethan Johnson and Sean Cwynar at nose guard. Rookie phenom Aaron Lynch was with the second unit, along with the slimmed down Louis Nix. Now listed at 326, Nix is still humongous but no longer needs his own zip code.
Elston was clearly pleased with how the group looked (and keep in mind that on a first day of practice with no pads, you're judging linemen mostly by looks).
"You guys have been on your game, I know that," Elston said at one point.
In recent years, Notre Dame didn't always look like an elite program on defense. With specimens like Tuitt, Nix, Lynch and Ishaq Williams, that is changing fast. But they're still pups.
"We're a lot longer," Kelly said. "We wanted to be bigger. We needed size, we needed length, we needed some speed. Clearly, we have that now and we just need to refine that.
"I got a better sense during the morning when we were doing conditioning work. In the afternoon [at practice], those guys were swimming a little bit. So they don't play quite as fast. But there's no mistaking their size and athleticism; it will just take a little time to get them to where they can rely more on their athleticism."
It was just the first day of practice, the first step in a long journey of a season. Kelly summed it up:
"I'm just comparing it to where we were on the first day last year," he said. "I think I probably wouldn't have made the press conference if I didn't think we'd made significant progress. I would have been up in my office. But I'm here, so our guys have made significant progress from last year to this year. Our guys know what to do. We were a lot more efficient out there today."