September, 7, 2012
9/07/12
8:19
PM ET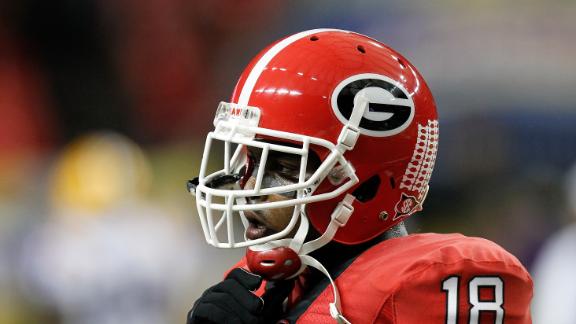 ATHENS, Ga. -- Georgia will be without All-America free safety
Bacarri Rambo
and linebacker
Alec Ogletree
for perhaps the game where they can least afford for them to be absent. Saturday night's visit to Missouri pits the Bulldogs against perhaps the most explosive offense they will face all season -- and they'll do so without four defensive starters.
Georgia coach Mark Richt announced weeks ago that starting cornerback
Sanders Commings
and outside linebacker
Chase Vasser
would be suspended for the first two games and now ESPN.com has confirmed that Rambo and Ogletree will join them on the suspended list as continued punishment for failing offseason drug tests.
All four players started games last season -- Commings started all 14, in fact, and Rambo started 13 after being suspended for the opener against Boise State -- and would have played key roles against Missouri's passing attack.
August, 23, 2012
8/23/12
10:40
AM ET
LSU wide receiver
Odell Beckham
Jr. knows exactly what Georgia is going through.
Last season, he watched an extremely talented Tigers team deal with a myriad of distractions during their national title run. Even though LSU made it to the big game, Beckham said the path taken was extremely tiresome at times.
"It sucks that you have to wait all that time for the season to actually get started, but you have to do things to keep yourself out of trouble," Beckham said. "If it's an extra workout or staying with teammates, you have to do it."
[+] Enlarge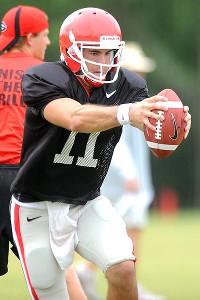 Radi Nabulsi/ESPN.comDespite a tumultuous couple of months, the Bulldogs had "a very productive and great offseason," Aaron Murray said.
Georgia needed that advice long ago, as the Bulldogs ran into a rash of off-field trouble this spring that leaked over into the summer. What made matters worse was the fact that key starters were involved:
Senior defensive end
Abry Jones
was extremely bothered by the off-field garbage. As things piled up, his patience began to dissolve as he watched a team with so much talent risk throwing everything away with humiliating off-field transgressions.
"It's real frustrating," Jones said, "but at the end of the day, when you see people who can't really control themselves off the field [you realize] it was people who weren't really in it for the whole team the whole time."
The Bulldogs are now hoping to take a chapter from LSU's playbook and make an SEC title run while ignoring the noise surrounding them.
"The off-field distractions are very unfortunate and the things that happened to those guys are very unfortunate," senior receiver
Tavarres King
said. "But we're keeping the main thing the main thing, and that's winning ballgames, progressing as a team and getting better.
"It's pretty frustrating, but you get a hold of those guys and you bring them back."
Getting better and focusing began when the spring nonsense brought things to a boiling point inside Georgia's locker room. The coaches were flustered and players felt betrayed. That's when quarterback
Aaron Murray
and some of the other veterans stepped in to rally the team together.
Murray said the players held multiple meetings in which they discussed how they were wasting the riches in front of them. The silliness not only embarrassed the program but it would eventually keep the Bulldogs from another SEC run if it didn't stop.
The more meetings they had, Murray said, the more focused and cautious players became away from the field. A real sense of urgency fell over the team, Murray said.
Even after Crowell's arrest and subsequent dismissal, Murray said players kept moving and had an extremely productive offseason.
"We just want to go out there and play," he said. "It's been a long offseason, but it's been a very productive and great offseason. Guys have worked hard and they just want to go out there and play football.
"It's definitely been the most successful summer that I've been a part of because of the amount of work everyone put in and the amount of time [people put in]. Everyone was extremely focused and understood the goals that we had and were ready to do what was needed to accomplish those."
Now, it's time to see how this team reacts when the meat of the season arrives and players get antsy. Games start taking a toll and players need release. How will this team respond?
Maybe the Dawgs should take some advice from a former teammate and someone who witnessed a similar situation in 2011.
"They've been through a lot this offseason," said LSU quarterback
Zach Mettenberger
, who was dismissed from Georgia in April of 2010. "It's a lot of guys that I know [who got in trouble] and I played with them. They just have to keep focused and stay tough. People are going to say things that they want to say about them -- just like what I went through. You just have to stand by your beliefs and know that you're capable of doing it."
With its personnel, Georgia is totally capable of making another run to Atlanta, if not further. But this team has to overcome the distractions that turned their offseason into a circus away from the field.
Coach Mark Richt knows it will be a challenge, but he also believes that he has the right guys to get the job done.
"We got a bunch of awesome guys that are working their tail off for a tremendous season and a tremendous outcome and those are the guys I'm focusing the most on right now," he said. "I don't think anybody's going to let what happened slow them down."
August, 3, 2012
8/03/12
10:19
AM ET
It's as if Georgia just can't escape off-field storylines during the offseason.
First, we saw the spring arrests of cornerbacks
Sanders Commings
and
Branden Smith
. Then, safety
Bacarri Rambo
and linebacker
Alec Ogletree
reportedly failed drug tests. Commings is set to serve a two-game suspension, while the others are likely to miss time as well this fall.
Oh, and then there was the whole Isaiah Crowell incident that left the Bulldogs without its starting running back entering fall camp.
[+] Enlarge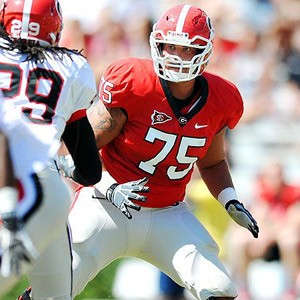 Radi Nabulsi/ESPN.comThe Bulldogs will be without their No. 1 right tackle, Kolton Houston, until an anabolic steroid leaves his system.
Then, came Thursday's events. One incident could be classified as bad luck, as redshirt sophomore offensive lineman
Kolton Houston
was
ruled ineligible
because he again tested positive for a steroid he was given after he underwent shoulder surgery before enrolling at Georgia in 2010.
The other? Well, it was another suspension, as Mark Richt announced that potential starting linebacker
Chase Vasser
will
serve a two-game suspension
to begin the year following his DUI arrest in May in Atlanta.
While the latter has to infuriate Richt, Houston's situation must
be frustrating
. Houston, who won the starting right tackle spot this spring, is still testing positive for an anabolic steroid, 19-norandrosterone, that Georgia's medical staff says he unknowingly took after undergoing shoulder surgery in 2009. Georgia's staff has continued to test Houston since he first tested positive for the steroid in April 2010 and insists that he hasn't used the drug again.
Unfortunately, enough of the drug still remains in his system. Georgia pleaded its case to have the NCAA make an exception for Houston, but the NCAA said no way.
"He's been tested probably more times than anybody in the history of college football," Richt told reporters at Georgia's preseason media day Thursday. "We're 100 percent certain he has not continued to take this thing, but it's just never gotten far enough out of his system for him to be declared eligible to play."
Added Georgia associate athletic director for sports medicine Ron Courson: "My hope is to restore his eligibility as soon as we can. ... We feel like we're so close," Courson said. "He's served his penalty. Let's not quibble about two or three anagrams. There's no performance-enhancing aspect. He's paid his due."
Unfortunately, the NCAA can't make an exception for Houston. He's already escaped a lifetime ban after his second positive test, and while you have to feel for Houston, making an exception for him would open up a new can of worms for the NCAA. The NCAA doesn't want to have to deal with similar cases each year because you never know which ones could be true or fabiricated.
I'm not saying Houston's is fabricated, but if he were allowed to play, what's to stop other athletes from experimenting to see if they can use a similar story to slip by the NCAA?
It also means that Georgia's line, which wasn't in the best shape exiting spring, has more concerns to work through. Though Houston had yet to play a down for the Bulldogs, he was still viewed as one of Georgia's top linemen. Richt said sophomore
Watts Dantzler
now moves into the starting right tackle spot. The bottom line is that this line has to accelerate its development and get some of those youngsters more prepared.
While Houston's situation is out of Richt's hands, he has to make sure that ones like Vasser's stop. This team has too much to lose and can't let boneheaded incidents slow it down.
Georgia has one of stricter discipline policies in the league, but maybe Richt has to do more because you have to wonder if some of these players don't care. If it's so strict, why do off-field incidents continue to pile up in Athens? You could argue that law enforcement there is a bit stricter, but at the end of the day it's the athletes who make these decisions.
I wouldn't blame Richt if he went to bed with his cell phone off.
Georgia has to stop the silliness or its season will be a major disappointment and, unfortunately, Richt will have to shoulder most of the blame from fans.