November, 11, 2011
11/11/11
10:30
AM ET
Who needs to win more -- USF or Syracuse?
The Bulls (4-4, 0-4) have not won a game since Sept. 24. Syracuse (5-4, 1-3) has dropped two straight after blowing out West Virginia last month. The two teams face each other Friday at 8 p.m. on ESPN2 with an air of desperation hanging between them. For USF, the season began with a victory over Notre Dame and so much promise.
But in Big East play, breakdowns across all three phases of the game have hurt them. So have untimely penalties and an inability to hold onto second-half leads. USF has started off fast, but finished slowly. So now it is a matter of trying to put everything together to get a badly needed win.
[+] Enlarge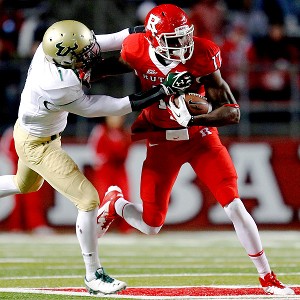 Noah K. Murray /US PRESSWIREUSF has failed to hold second-half leads in its past three Big East games. "We could be 7-1 right now," Bulls safety Jerrell Young says, "but we're 4-4."
"It's tough. We're trying hard and playing hard, but we're not getting the results we want," USF safety Jerrell Young said in a phone interview. "When you look at it, we could be 7-1 right now, but we're 4-4. We're just not getting the ball to bounce our way. Some weeks the offense doesn't show up, some weeks the defense doesn't show up. We haven't been able to put it all together yet. That's the thing that hurts the most. We're not doing the little things right."
USF has held second-half leads in its past three Big East contests. Particularly galling was what happened last week against Rutgers. The Bulls allowed the Scarlet Knights to rally with seven minutes remaining after holding a 17-3 lead. Rutgers scored on a kickoff return for a touchdown, and Maikon Bonani missed a short field goal that would have won it for the Bulls at the end of regulation. USF played inspired on defense, holding Rutgers to minus-7 yards.
The current four-game skid led center Chaz Hine to call a players-only meeting earlier this week, in which he told his teammates it was time to put an entire game together. USF needs to win two of its final four to become bowl eligible, but already it has guaranteed itself a losing conference record for the fourth straight season.
"We're trying to figure out how we're at this point," Young said. "We're talented, but that doesn't mean we're going to win games. Nobody is putting their head down, though. We can't just say this season's over. We still have four games to play. That's a lot of football. One thing I always say: It's November. How do you want to be remembered?"
Syracuse has had its own issues in its two-game losing streak. The offense has been inconsistent, particularly because the ground game has come to a halt. Quarterback
Ryan Nassib
has not been as accurate with his passes, either, and teams are teeing off on him. Nassib has been sacked seven times in the past two games, compared with 12 in the first seven.
Though both teams have struggled of late, coach Doug Marrone says he does not think either team is desperate.
"We're going to work, putting our heads down and we're going," Marrone said. "The kids are doing a good job of working and practicing. We can't have one loss leading to another. We've already had two straight."
At least Syracuse is playing at home, where it is 3-1 this season. Plus it is on a weeknight. Syracuse is 2-0 in weeknight games this season, including its impressive romp over West Virginia.
"I think the spotlight is cool and all but we've got to go out and play the game no matter if the game is on Oxygen," running back
Antwon Bailey
said. "But Friday night definitely brings a different electricity to the team and the Dome. The Dome is usually packed and loud, and I think we tend to feed off that at times."
November, 1, 2011
11/01/11
9:08
AM ET
Let's just say USF offensive lineman Chaz Hine was not born a center.
The first time he played the position in Little League, he was yanked after a quarter. When he tried the position out a few summers ago just to see if he could snap the ball, his shotgun snaps never reached their targets.
[+] Enlarge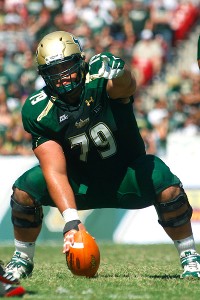 Cliff Welch/Icon SMIThe Bulls asked Chaz Hine to move from guard to center to help offset the loss of Sampson Genus.
Still, USF began contemplating switching Hine from guard to center in the spring to help make up for the loss of All-Big East player Sampson Genus, one of the best offensive lineman in the league.
Hine still had trouble with the snaps, airmailing plenty over the head of
B.J. Daniels
. But he also had the most potential to succeed. Hine is the smartest player on the offensive line -- one of 16 National Football Foundation
Scholar-Athletes
-- and became familiar with what it takes to play the position as a starting guard. If anybody was capable of anchoring the line, calling the plays and eventually getting the snaps off, it most certainly was Hine.
"He's done an incredible job of making that move from one position to the next," coach Skip Holtz said. "He's really embraced the change. He's worked very hard at it. Overall, it is one of the better moves we've made as a football team that has improved us."
Hine was told he was officially moving to center the day before training camp started. He was most nervous about snapping because he simply had not been very good at it.
The center-quarterback exchange might not look complicated, but it involves timing and a rhythm that some players simply cannot master. A bad snap throws the entire play off at the least -- at worst it causes a turnover.
"I knew it was an increased responsibility because the center touches the ball every play," Hine said in a recent phone interview. "If he doesn't get it to the quarterback in an efficient manner, the offense can't do anything. It was a big step and responsibility, especially in the beginning."
The snaps were not so great at the start of camp, but Hine worked with offensive line coach Steve Shankweiler to get better. When he would have several bad snaps in practice, Shankweiler would have him do snapping drills. Hine would have to snap the ball as fast as he could 10 times in a row with someone feeding him a ball. The point was to get his mind off the snap, while helping build consistency.
When you watch the USF offensive line today, you would never know that Hine is a rookie at the position. He has made snapping look easy, and only sailed the ball over Daniels' one time all season. Impressive considering Hine just started snapping a few months ago.
"I had a determination," Hine said. "I wanted to play center because I had that respect for the position. I just never thought I could play it because I couldn't snap it. When I got the opportunity, I wanted to learn. It was determination to learn and also to go to a position that would be best for our team."
Holtz says Hine is even better at center than he was at guard. That is a clear testament to the work Hine has put into looking like he's not -- a born center.
September, 3, 2011
9/03/11
2:44
PM ET
Greetings from South Bend, Ind., where the weather is warm and the living is fantastic! Here are my three things to watch for USF headed into its game against No. 16 Notre Dame.
1. USF offensive line.
The Bulls have three new starters, and also have moved guard Chaz Hine to center. I will be watching to see how the center-quarterback exchange goes, especially with the loud crowd noise early on. Hine has plenty of starting experience, but has never started a game at center so this one should be something for Bulls fans to watch. Redshirt freshman Quinterrius Eatmon is starting at right tackle in his fist career start there as well.
2. B.J. Daniels.
Much has been made about wanting to see more consistency out of Daniels now that he is going into his third year as a starter. That is a must. But watch for him to run more this season. Perhaps USF will have some designed runs for him in this game to keep the defense honest. Offensive coordinator Todd Fitch said earlier this offseason that he wants to get Daniels more involved in the run game because they have to take advantage of his athleticism. He was limited there last season as he learned a new offense, so he could be turned loose to do more this season.
3. Speedsters
. USF has plenty of speedy players on its roster. There will be more of an effort to get fast guys like
Terrence Mitchell
and
Lindsey Lamar
more involved, either out of the backfield or in the receiving game. But Notre Dame keeps the field long, so the grass could slow these players down and potentially neutralize them. So keep an eye on whether the Bulls can play as fast as they want.
July, 15, 2011
7/15/11
9:00
AM ET
The
team position rankings
have wrapped up, so now it is time to tackle another bear of an assignment: player rankings. I am going to start with offensive line. I thought about breaking this off into centers, guards and tackles, but wanted to have 10 at each position. That would leave center lacking. So I am going with all offensive linemen.
[+] Enlarge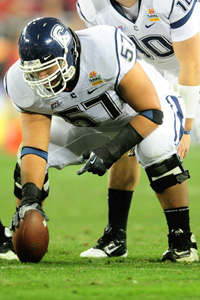 Mark J. Rebilas/US PresswireMoe Petrus has garnered plenty of attention, making the preseason Lombardi, Outland and Rimington award watch lists.
1. Moe Petrus, center, Connecticut.
The premier offensive lineman in the league has started every game he has played in headed into his senior season. That makes 39 for those scoring at home. Petrus is on three watch lists this preseason (Lombardi, Outland and Rimington) and he is the heart of a very solid Huskies offensive line.
2. Mike Ryan, tackle, Connecticut.
The Huskies have a formidable duo with Petrus and Ryan returning. Ryan is the only player coming back this season who was a first-team All-Big East selection, and is on the watch list for the Lombardi Award. Ryan helped an offensive line that allowed just 15 sacks last season and averaged 175 yards on the ground.
3. Don Barclay, tackle, West Virginia.
Another veteran player with plenty of starting experience, Barclay has started 27 games and was a second-team Big East selection last season. Barclay also is on two watch lists (Lomardi and Outland). Here is how valuable he is to the WVU starting line: He was on the field for more than 860 plays last season.
4. Joe Madsen, center, West Virginia.
Madsen, Petrus and Mario Benavides make quite a trio of terrific centers in the Big East. Madsen has also started every game he has played in (25), and he only allowed one sack last season. He is so good, he won the team's offensive player of the game honors three times last season.
5. Justin Pugh, tackle, Syracuse.
Pugh had quite the impressive debut season, starting all 13 games at left tackle as a redshirt freshman en route to second-team All Big East honors. He might not be huge (6-foot-5, 287 pounds), but he is athletic and should be among the best in the league.
6. Mario Benavides, center, Louisville.
Listing three centers among the top six should show you how good the top players at the position are this season. Benavides has started 24 games in his career but could be even better this season after offseason knee surgery.
7. Lucas Nix, tackle, Pitt.
Nix should be considered the rock of the Pitt offensive line as he returns for his third season as a starter. With Chris Jacobson moving to center, Nix provides some stability and should be key in helping the Panthers continue their strong ground attack.
8. Alex Hoffman, tackle, Cincinnati.
Hoffman has started 25 games and was a second-team All-Big East pick in 2009. Last season, the Bearcats had their share of early struggles, but he did help them get their first 1,000-yard rusher since 2004. He also is on the Lombardi Award watch list.
9. Jeremiah Warren, guard, USF.
Warren and Chaz Hine make up the best guard tandem in the Big East. In fact, guard is a position with plenty of question marks throughout the league. But that is not the case for the Bulls. Warren has started 26 games, and he and Hine will help anchor a line with three new starters.
10. Chaz Hine, guard, USF.
Hine has a remarkable story, going from walk-on to starter to one of the best guards in the league. Now that he will be in the second year of Skip Holtz's system, he should be even better.
June, 9, 2011
6/09/11
9:09
AM ET
Chaz Hine walked on at USF in 2007, not knowing whether he would ever play in a game much less start one. Recruiters told him he had slow feet, so scholarship offers from FBS schools just never came.
He wanted to stay close to home and chose the Bulls. Hine made sure to work harder than everyone else -- to be clean, crisp and precise during practice in order to make a big impression on his coaches. Former coach Jim Leavitt and his staff noticed, Hine was put on scholarship in 2009 and is about to go into his third year as a starter.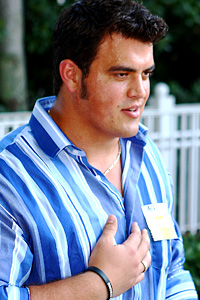 Courtesy USF College of BusinessChaz Hine was named one of the top-25 students at South Florida's business school.
If you think that is remarkable, wait until you
hear him sing
. His boomingly beautiful operatic voice has caught teammates and professors off guard time and again. Coach Skip Holtz said his jaw dropped the first time he heard Hine sing. One of his professors said, "He knocked my socks off."
If you think that is remarkable, wait until you hear about everything else that makes him so special. His work ethic has served him incredibly well throughout his life. Hine helped form the Student Coalition Against Homelessness and Poverty at USF, a group dedicated to informing students about the realities of homelessness and poverty in the Tampa Bay area. He was voted "Most Remarkable" out of the USF College of Business' 25 Under 25 -- a group of the top 25 undergraduate students.
Hine graduated with a 3.86 GPA and made the Dean's List at the College of Business four times. He is the only player in the USF Honors College, and is currently taking graduate-level courses while he decides on grad school.
It's easy to see why he is the school's nominee for the AFCA Good Works Team, which honors top student-athletes for their community service work.
"He so completely fits the description of a Renaissance Man," said Dr. Alan Balfour, chair of the Department of Management & Organization at USF. "Anybody who is a Division I football player, a starter, who's also a grad of the honors college of a fully accredited institution would catch the attention of any professor. His potential is certainly extraordinary. He's got enough intelligence to be able to accomplish anything that he needs to do."
The big question, of course, is how does he do so much, when a good chunk of his time is dedicated to football practices, meetings, workout sessions and film study. "This might sound black and white, but it is just a lot of prioritizing," Hine said in a phone interview. "That is what I have learned since high school, being an athlete and trying to juggle everything."
Work ethic plays a big role in what allows him to be successful. But Hine is also a people person, a guy so likeable he can move in disparate circles. In high school, he moved easily among the different stereotypical cliques you would find walking down any hallway -- he was friends with the jocks; he was friends with the kids in drama; he was friends with the smart kids, too. That allowed him to be named Homecoming King his senior year.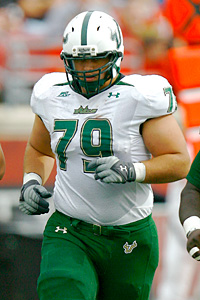 Jim Owens/Icon SMIChaz Hine is slated to start for the third season on USF's offensive line.
It is that gregariousness that translates into his ability to step onto a stage with the ease of a seasoned actor. He has held lead roles in Pirates of Penzance, Hello Dolly, Les Miserables, Grease and South Pacific. He has gotten up in front of teammates to sing. The first time he did it for Holtz, he sang, "That's Amore." He did it at a business school function, too, belting out "The Marriage of Figaro" in his operatic voice.
"I've loved every minute of singing in those situations," Hine said. "I've come to really enjoy people that enjoy me. When you have a crowd listening to you and cheering you on, it's invigorating and empowering and quite a rewarding experience."
Hine gets more nervous before a game than before he takes the stage, but performing in front of crowds has served him well. So has the shock value that comes along with being a 6-foot-4, 300-pound offensive lineman who can belt out show tunes with the best of them. "I want to break the stereotypical thoughts everyone has of football players," Hine said.
He has more than done that, whether it is with his team or fellow students.
"His teammates absolutely love him," USF offensive line coach Steve Shankweiler said. "The guy has proven he'll play with pain. He is one of the hardest workers in the offseason program we have, an honors student in the business school. The other players, they see that and it gains a lot of respect. Everything he attempts he's proven to be successful at. His drive to be good is something you'd like to capture in a bottle and pass around."
Balfour supplied one final anecdote. At a ceremony recognizing the top 25 students in the business school, each student was asked what they think he or she will be doing 15 years from now. Hine considered the question for a moment. Then said, "I would like to have a wonderful family."
He was the only one who answered that way.
April, 4, 2011
4/04/11
2:00
PM ET
Statistically speaking, there were no obvious reasons why South Florida had a successful season in 2010. But one of the Bulls' main strengths came from the guys who don't generate many stats for themselves.
A veteran offensive line that stayed healthy for the most part played a key role in the eight-win campaign. Sampson Genus was a first-team All-Big East center, while tackles Jamar Bass and Jake Sims were very solid, holding off Clemson star Da'Quan Bowers in the Meineke Car Care Bowl.
With those three guys gone, the Bulls have some reshaping to do up front this spring.
[+] Enlarge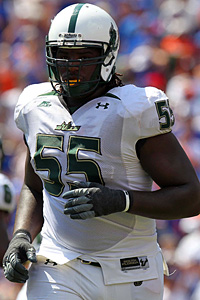 Kim Klement/US PresswireGuard Jeremiah Warren will be counted on to be one of the offense's leaders.
"It's very much a work in progress," USF offensive line coach Steve Shankweiler said. "I think this group has a chance to be pretty competitive, but we're replacing those three with guys who have not played very much."
Let's start with the known quantities. Jeremiah Warren and Chaz Hine are two seniors who have the guard positions locked down. In fact, the only real problem at those spots is they don't have a lot of competition behind them. Shankweiler said he's challenging both to be leaders and to motivate themselves.
"Sampson, Jamar and Jake were great leaders, so it will be fun to try and follow in their footsteps," Warren said.
At left tackle is junior Mark Popek, who started four games last year. Kevin McCaskill is Genus' replacement at center, a role he's undertaken before.
"He came into the Miami game when Genus got hurt, and you never noticed a difference," Shankweiler said. "On our touchdown to tie it and the touchdown to win it in overtime, we were running right behind him."
The most intriguing story among the current first unit is right tackle Quinterrius Eatmon, a redshirt freshman. He has dropped nearly 65 pounds since arriving on campus, now weighing in at 297. Shankweiler loves his potential.
"He's committed to working hard," Shankweiler said. "Last year, I made him the second-team right tackle the whole season, so I got him ready to play every game. He doesn't have wide eyes like most freshmen. He's a very bright kid. He probably learns better than anybody I've got."
So the Bulls feel good about their first-team front five, and head coach Skip Holtz said after Saturday's spring game that he's confident the Bulls will be able to run the ball well. It's depth that has Shankweiler a little nervous. Unless South Florida can avoid the injury bug again, it will have to rely on some untested linemen this fall.
"Our depth is not very good, truthfully," Shankweiler said. "We signed five high school linemen this year, which is more than most people do. We just don't have any. Our numbers were down when we got here, for whatever reason, and it takes two years to get caught back up."
Shankweiler is cross-training players at different positions to help the depth, and he said there's a good chance that an incoming freshman will crack the two-deep this fall. That means the veterans will have to be really good and the youngsters will have to come along in a hurry. If so, then the Bulls can count on the offensive line as a strength again in 2011.
"We can be one of the best around, I believe," Warren said. "We just have to fix some little things here and there and get better."