July, 7, 2014
7/07/14
9:00
AM ET
When a football coaching staff signs one of the top few recruits at any position, it's cause for celebration. Therefore, grabbing two of the top three prospects at that position might warrant an Animal House-style party.
Between 2006, when ESPN began assembling recruit rankings, and 2013, individual programs managed to sign at least two of the top three players at a position 16 times. In many cases, one -- and sometimes both -- of those players became instant stars as true freshmen. Think
Taylor Mays
and
Joe McKnight
at USC,
De'Anthony Thomas
at Oregon,
Laremy Tunsil
at Ole Miss and
Sean Spence
at Miami.
This was a relatively unique occurrence up until 2014, when it happened five times -- with four of the five instances occurring in the SEC: twice at Alabama, which signed the top two players at both center (No. 1
Josh Casher
and No. 2
J.C. Hassenauer
) and outside linebacker (No. 1
Christian Miller
and No. 2
Rashaan Evans
), plus at LSU (with No. 1 and 3 wide receivers
Malachi Dupre
and
Trey Quinn
) and Florida (with No. 2 and 3 defensive tackles
Gerald Willis
and
Thomas Holley
).
Clemson was the other school to accomplish the feat in 2014, signing No. 2 and 3 receiving tight ends
Milan Richard
and
Cannon Smith
.
In some of these cases -- particularly at LSU, which lost the vast majority of its receiving production from 2013 -- expectations are high that the star signees can immediately become valuable contributors as true freshmen. The Tigers have multiple alternatives at receiver, including
Travin Dural
and
John Diarse
, but Dupre and Quinn might rank among the leading contenders for playing time.
Judging by the long list of Freshman All-America and freshman all-conference honors won by those who previously signed as part of such a dynamic duo, perhaps it's not such a long shot that at least one of the newcomers will make a similar instant impact.
2006

Safety | USC
No. 2 Taylor Mays, No. 3 Antwine Perez
Mays appeared in all 13 games -- starting the last 12 at free safety after Josh Pinkard suffered a season-ending injury in the opener -- in 2006 and led the Trojans with three interceptions. Mays was fifth on the team with 62 tackles and tied for second with six passes defended, ending the season as Pac-10 Co-Freshman of the Year and as a member of multiple Freshman All-America teams. Perez played in seven games and recorded three tackles.
2007

Center | Auburn
No. 1 Ryan Pugh, No. 3 Chaz Ramsey
Pugh started six of Auburn's final nine games at left tackle and appeared in eight games overall. He also backed up Jason Bosley at center and earned Coaches' All-SEC Freshman team honors after the season. Like Pugh, Ramsey appeared for the first time in Week 4 and went on to start nine of the Tigers' last 10 games at right guard. He also made the Coaches' All-SEC Freshman team.

Running back | USC
No. 1 Joe McKnight, No. 2 Marc Tyler
McKnight played in all 13 games in 2007, ranked third on the team with 540 rushing yards and scored three touchdowns. He also caught 23 passes for 203 yards and a touchdown and served as the Trojans' primary punt returner, with his 8.4 yards per return helping him earn a All-Pac-10 honorable mention nod. Tyler redshirted in 2007 while recuperating from a high school leg injury.
2008

Inside linebacker | Ohio State
No. 1 Etienne Sabino, No. 2 Andrew Sweat
Sabino played in all 13 games and notched six tackles. He notched the only touchdown in the Buckeyes' 16-3 win against Purdue by returning a blocked punt 20 yards for a score. Sweat appeared in the last nine games and recorded five tackles, also contributing mostly on special teams.

Outside linebacker | Miami
No. 1 Arthur Brown, No. 2 Sean Spence, No. 3 Ramon Buchanan
Not only did Miami sign ESPN's top three outside linebacker prospects in 2008, it also signed No. 5 Jordan Futch. That's an outstanding haul for one year. At any rate, Spence emerged as the key member of this group from the get-go, ranking third on the team with 65 tackles and leading the Hurricanes with 9.5 tackles for a loss in 2008. He was ACC Defensive Rookie of the Year and made multiple Freshman All-America teams. Brown (who later transferred to Kansas State) played in 11 games as a freshman, notching four tackles and shifting from outside to inside linebacker. Buchanan had six tackles in nine games, playing mostly on special teams and also contributing at safety and linebacker.

Offensive tackle | Ohio State
No. 2 Michael Brewster, No. 3 J.B. Shugarts
Brewster played in 12 of the Buckeyes' 13 games in 2008 and started the last 10 at center, earning Freshman All-America honors in the process. Shugarts appeared in seven games at offensive tackle and missed six other games with a shoulder surgery that required offseason surgery.

Safety | Florida
No. 1 Will Hill, No. 2 Dee Finley
Hill played in 13 games and ranked sixth on the team with 48 tackles. He also picked off two passes and notched 1.5 sacks. He made the SEC All-Freshman team and led the Gators with 22 tackles on special teams. Finley did not qualify academically and spent the 2008 season at Milford Academy prep school. He eventually enrolled at Florida and shifted from safety to linebacker, but transferred away from Gainesville in 2011.
2009

Safety | South Carolina
No. 2 Stephon Gilmore, No. 3 DeVonte Holloman
Early enrollee Gilmore started all 13 games at cornerback, ranking fifth on the team with 56 tackles. He tied for the team lead with nine passes defended and ranked second with eight pass breakups, adding six tackles for a loss, three sacks, two fumble recoveries, two forced fumbles and an interception. The Freshman All-SEC and Freshman All-America honoree also averaged 10.1 yards per return as a punt return man. Another early enrollee, Hollomon also played in every game, notching 30 tackles, an interception (which he returned 54 yards against rival Clemson) and a tackle for a loss.
2010

Athlete | Florida
No. 1 Ronald Powell, No. 2 Matt Elam
Powell played in 13 games at strongside linebacker and recorded 25 tackles, three tackles for a loss and a sack en route to winning Freshman All-SEC honors. Elam also played in all 13 games, mostly on special teams and at defensive back, and notched 22 tackles, two tackles for a loss and a sack.

Defensive tackle | Florida
No. 1 Dominique Easley, No. 3 Sharrif Floyd
Easley recorded four tackles in six games. Floyd played in all 13 games, earning Coaches' Freshman All-SEC honors by making 23 tackles and 6.5 tackles for a loss.

Wide receiver | Texas
No. 2 Mike Davis, No. 3 Darius White
Davis ranked second on the team with 478 receiving yards and 47 receptions (a record for a Texas freshman). He became one of only three receivers in Longhorns history to post multiple 100-yard games as a freshman. White appeared in 10 games in 2010, but caught just one pass for 5 yards and eventually transferred to Missouri after two seasons, citing a need for a fresh start.
2011

Athlete | Oregon
No. 1 De'Anthony Thomas, No. 2 Devon Blackmon
The speedy Thomas earned Pac-12 Co-Offensive Freshman of the Year honors and was named an All-Pac-12 kick returner and a Freshman All-American. He was the only player in the nation to post at least 400 yards rushing, receiving and kick returning in 2011, ranking as the Ducks' second-leading receiver (595 yards on 46 catches) and third-leading rusher (608 yards and seven touchdowns). His 983 kickoff return yards ranked second in school history. Blackmon redshirted in 2011 and appeared in two games in 2012 before announcing his plan to transfer. He played at Riverside City College before signing with BYU as a juco transfer in 2014.
2012
Defensive end | Florida State
No. 1 Mario Edwards, No. 3 Chris Casher
Edwards became the only freshman to start all season for a loaded FSU defense when he replaced the injured Tank Carradine in the ACC Championship Game. He also started in the Orange Bowl win over Northern Illinois. In all, Edwards finished the season with 17 tackles, 2.5 tackles for a loss and 1.5 sacks. Casher played in two early games before suffering a season-ending injury and taking a redshirt in 2012.
2013

Offensive guard | Michigan
No. 2 David Dawson, No. 3 Patrick Kugler
Dawson and Kugler both redshirted in 2013. Dawson practiced during the spring at left guard and left tackle, while Kugler is among the candidates to start at center this fall.

Offensive tackle | Ole Miss
No. 1 Laremy Tunsil, No. 3 Austin Golson
Tunsil immediately became one of the better offensive tackles in the SEC, earning second-team All-SEC and Freshman All-America honors in 2013. He played in 12 games and started nine at left tackle, making him one of only two true full-time freshman starters at the position in the FBS. Tunsil allowed just one sack all season. Golson played in 12 games, mostly at guard, before missing the Rebels' bowl game because of shoulder surgery. He transferred to Auburn this summer, citing a family illness as the reason he wanted to move closer to his Alabama home.

Safety |
USC
No. 1 Su'a Cravens, No. 3 Leon McQuay III


A 2013 early enrollee, Cravens started 13 games at strong safety, ranked eighth on the team with 52 tackles and tied for second with four interceptions. He made multiple Freshman All-America teams and earned an All-Pac-12 honorable mention nod after the season. McQuay played in all 14 games, picked off one pass and recorded 19 tackles.
March, 31, 2011
3/31/11
9:51
AM ET
The
fallout has begun
from Wednesday night's episode of HBO's "Real Sports with Bryant Gumbel" that included four former Auburn players saying they were paid during their time at Auburn.
Coach Gene Chizik called it "pure garbage" and questioned why players HBO talked with who disputed the payment claims weren't included in the show.
Auburn athletic director Jay Jacobs said the school would conduct its own investigation.
"While HBO confirmed to us they have no proof that any of these claims are true, we contacted both the NCAA and Southeastern Conference as soon as these allegations surfaced," Jacobs said. "We have engaged outside counsel to investigate this matter and will spare no resources to find the truth."
Chizik was Auburn's defensive coordinator from 2002-04. Two of the players making the claims, Stanley McClover and Troy Reddick, were at Auburn while Chizik was the defensive coordinator. One of the players saying he was paid, Raven Gray, came to Auburn in 2008, but never played because of injuries. The other, Chaz Ramsey, played as a freshman in 2007, suffered injuries and later tried to sue a former Auburn offensive line coach and trainer for mismanaging his back injury. That suit was thrown out of court.
Lee Ziemba, an All-America offensive tackle for the Tigers last season, told ESPN.com on Wednesday that he "never received a dime" at Auburn. He and Ramsey roomed together as freshmen, and Ziemba said he doesn't believe Ramsey's claims.
Here's a video of a
heated Chizik disputing the allegations
.
March, 30, 2011
3/30/11
7:31
PM ET
If money was being passed around at Auburn like some of Lee Ziemba's former teammates claim it was, he wants to know why he was excluded.
Ziemba, an All-America offensive tackle on the Tigers' national championship team last season, told ESPN.com on Wednesday that he never received any improper benefits during his time at Auburn and doesn't believe the claims of four former players, who told HBO Real Sports that they were paid by Auburn boosters, and in one instance, by an unnamed assistant coach during the Tommy Tuberville era.
[+] Enlarge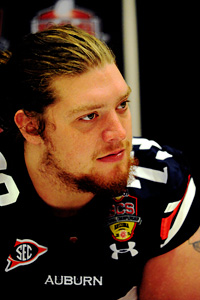 Mark J. Rebilas/US PRESSWIREAuburn tackle Lee Ziemba says he didn't see money exchanging hands at Auburn. "I think I would have been one of those people," Ziemba said.
"I'm not trying to toot my own horn, but if anybody would have seen something like that, I think I would have been one of those people," Ziemba said. "I was heavily recruited, and there was a huge battle between Arkansas and Auburn to get me. I was never once offered any money and never saw or heard anything close to what they're saying. I could have used the money, too. College was a struggle financially. There were some nights I was trying to decide whether to put gas in my truck or eat a meal."
The HBO Real Sports show will air Wednesday night at 10 p.m. ET, and the
SportsByBrooks website received a transcript of an advance copy from the show
.
The former Auburn players claiming they were paid were Stanley McClover (2003-05), Troy Reddick (2002-05), Chaz Ramsey (2007) and Raven Gray (2008).
Ziemba says he and Ramsey roomed together as freshmen. Ramsey later sued Auburn for not properly managing his back injury, a suit that was eventually thrown out of court.
"We were both scratching around for enough money to buy a $5 footlong at Subway," Ziemba said. "If he were getting thousands of dollars, you're not going to keep that quiet. I would have heard about it, and he would have been spending so out of control that I would have noticed something."
Ziemba said he and several of his former Auburn teammates had been talking among themselves Wednesday trying to figure out if certain players had indeed been paid. He said nobody had any pay-for-play stories during their time on the Plains.
"All this talk about $500 handshakes … I walked out of those same locker rooms 52 times after games, met those same boosters and got to know them and not once did anybody give me a dime," Ziemba said. "It's just not plausible."
Asked what motives the players would have for making up these claims, Ziemba said, "Maybe they're trying to get 15 more minutes of fame. Maybe they're trying to make Auburn look bad because their time there wasn't what they wanted it to be. I don't know, but I'm not buying any of it.
"The whole thing is sickening because Auburn has taken enough blows."
March, 30, 2011
3/30/11
9:30
AM ET
It was a controversial run to the 2010 BCS national championship for Auburn, and now this ...
On Wednesday night, an HBO Real Sports special will detail stories by four
former Auburn players who say they were paid
during their time at Auburn. All of the players were recruited and played under Tommy Tuberville -- Stanley McClover (2003-05), Troy Reddick (2002-05), Chaz Ramsey (2007) and Raven Gray (2008).
It should be noted that Gray was a highly recruited junior college player, but never played during his year at Auburn. Ramsey was obviously disgruntled when he left. He filed a lawsuit against former Auburn offensive line coach Hugh Nall and former Auburn trainer Arnold Gamber in federal court in 2009 alleging that the two men's actions caused Ramsey, a freshman All-SEC offensive lineman, to suffer a career-ending injury during his rehabilitation from back surgery. Nall was later dismissed from the suit.
The SportsByBrooks website received an
advance copy of the show
, which will air from 10-11 p.m. ET on Wednesday.
McClover said he once received $4,000 after collecting four sacks against Alabama. He also said he received sexual favors at Ohio State during the recruiting process. McClover initially committed to Ohio State, but said he switched to Auburn after receiving money.
Auburn declined to comment on the report, telling HBO, "Auburn athletics respectfully declines to comment on these alleged claims apparently made by a few former football players. Compliance with all NCAA and Southeastern Conference rules is a major emphasis and top priority for all of our athletic programs at Auburn University."
July, 17, 2009
7/17/09
10:10
AM ET
Posted by ESPN.com's Chris Low
Who knows how this will all turn out, but former Auburn offensive guard Chaz Ramsey is suing his former offensive line coach, Hugh Nall, and the Tigers' former trainer, Arnold Gamber, for bullying him into going against his doctor's orders.
As a result, Ramsey claims that a back injury never properly healed and cost him a probable NFL career.
It's the side of college football nobody wants to talk about. Players play with pain all the time. But as you'll hear around any practice field, there's a difference in playing with pain and playing injured.
And the truth is that a lot of players play injured, too.
To be clear, I'm not passing judgment on Nall or Gamber in this case. I wasn't there and don't know the facts, and as Nall points out, he has a 24-year track record of doing what he can to help kids ... not hurt them.
The whole thing is an unfortunate situation, but you know Ramsey's not the first player to have his college career cut short and feel like those inside the program pushed him to come back too soon or play/practice when he wasn't 100 percent.
The difference is that Ramsey's gone public with it and wants some compensation.
The flip side to this story is that players often put pressure on themselves to hurry back from an injury because they don't want to lose their position and be relegated to the bench.
What's more, no player wants to get the label of being soft, undurable or injury-prone.
So it's a fine line, and one that's easily blurred.
The key is having quality people on your medical staff, coaches trusting those people and those people always having the best interest of the player at heart when determining if that player is healthy enough to play, practice or work out.
The simple rule of thumb being: If he were your own son, would you allow him to be out there?
January, 13, 2009
1/13/09
1:45
PM ET
Posted by ESPN.com's Chris Low
Making the rounds to see what else is making headlines in the SEC: