NCF Nation:

Chicago Bears
April, 26, 2013
4/26/13
1:00
PM ET
Five Pac-12 players were selected in the first round of the NFL draft on Thursday.
Here's the chart:
So... what's our take?
Thanks for asking.
Kevin Gemmell
: I must say, very, very interesting first round. And one that I think most Pac-12 fans can be relatively pleased with. The five players drafted Thursday night are the most since the league sent six in 2008. So that's progress.
Two things really stood out as surprising to me. First, it's not that
Dion Jordan
went third overall to the
Miami Dolphins
. It's that he went to a 4-3 defense. Perhaps Jeff Ireland is a huge fan of the Pac-12 blog and was reading our
Take 2 from a few weeks ago
. And if that's the case, you're welcome, Jeff.
[+] Enlarge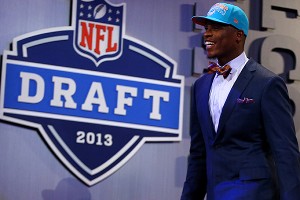 Al Bello/Getty ImagesThe Dolphins traded up from No. 12 to No. 3 in the first round to select Oregon's Dion Jordan.
Jordan is pretty good at stopping the run -- but it's not the strength of his game. As every draftnik in the world noted before and after the selection, he's a beast at speed rushing off the edge, but has some work to do in other aspects of his game. They also made the apt comparison to former Dolphin defensive end Jason Taylor. Fitting since both players have similar frames and skill sets. He had an OK career, so maybe it all works out.
The second thing that surprised me was that
Star Lotulelei
was not the first defensive tackle taken. We figured he could go pretty much anywhere in the top 15 -- most mocks had him where he landed at No 14 to the
Carolina Panthers
. One pick earlier, Missouri's
Sheldon Richardson
went at No. 13 to the
New York Jets
. I admit I don't know a ton about Richardson. I just know that Lotulelei graded out higher, had a comparable 40 time (though it was inconsistent because it was at a pro day, not the NFL scouting combine) and he had eight more reps on the bench. Maybe it's just personal preference, but I was pretty surprised he wasn't the first defensive tackle off the board.
Liked the pick of Oregon's
Kyle Long
by the Bears. They are getting a versatile player who could really fit in at any position across the line after he gets a little seasoning. We've seen him slowly creep up in mock drafts -- starting several months ago in the third-round range -- and that buzz was legitimized with his pick at No. 20.
And I liked that Atlanta had
Desmond Trufant
targeted and they traded up to get him. It was a need position and they jumped at the chance to get an NFL-ready starter. Good pick.
Datone Jones
is a guy Ted and I have been talking about for a couple of years now -- how we just kept waiting for him to breakout. And then UCLA switches to the 3-4 and he blows up. He could be a real solid player for years in Green Bay's 3-4 front.
Overall, I'd call it a fair-to-good first day for the Pac-12.
Ted Miller
: Of course, the big question many will ask is how did the Pac-12 compare to the other conferences.
Here are the first-round numbers. Yes, there will be SEC crowing, with some justification.
SEC – 12

ACC – 6

Pac-12 – 5

Big 12 – 3

Independent – 2

MAC – 1

C-USA – 1

Big East - 1

Big Ten - 1
The SEC's 12 picks ties the record set by the ACC in 2006. Don't forget the SEC now has 14 teams. Or, for that matter, the Big 12 has 10.
My first-round takeaways? Well, the above numbers are meaningful.
The SEC? Well. I'll let you guys try to explain those away. (Good luck with that.) I
tweeted this story the other day
, and I think it well relates how SEC dominance, once a chimerical creation from a region that often doesn't fret the truth getting in the way of a good story, has become a self-fulfilling prophecy.
The bottom, however, is almost as telling -- see the Pac-12's Rose Bowl partner, the Big Ten with just one selection. That certainly validates the perception that conference has slipped, something we've seen on the field in recent years.
As for the five Pac-12 picks, I had a nice conversation with Jordan at the Fiesta Bowl about
how his fortunes had turned
. He seemed genuinely awed by it. And grateful. After the game, I was standing there when his mother worked here way through the crowd to give him a hug. Apparently it was raining inside University of Phoenix Stadium.
One of the things I always think about on draft day is how through-the-looking-glass strange it's got to feel for guys, at least the reflective ones. Sure, most top picks get fronted money by their agents, so they've been living the life for a few months. But when it becomes official, a guy in his early 20s suddenly become certifiably rich.
The third pick last year, Cleveland's Trent Richardson, got four years at $20.4 million. Just imagine yourself at 23 having a conversation about $20 million. And how it's a bit low.
[+] Enlarge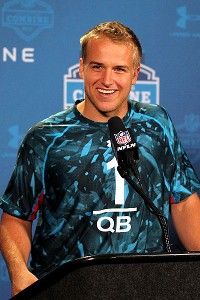 Brian Spurlock/USA TODAY SportsMatt Barkley could be the next Pac-12 alum off the board.
As for the rest, the Panthers got a steal with Star Lotulelei at No. 14. The Panthers just put a checkmark in the box for the middle of their defensive line. And I think Jets fans will remember in a very Jets fans way that the Jets took Missouri DT Sheldon Richardson a pick before the Panthers.
Oregon O-lineman Kyle Long at No. 20 was a mild surprise, but the Bears probably swooned over his obvious upside. You can't beat his bloodlines either.
The Trufant pick
clearly validates the Pac-12 blog
at the expense of Washington fans. See... we told you he was good.
Wait. I may not be recalling that accurately. Two words: Kevin's fault.
And Jones, whom we've been touting pretty much since he arrived at UCLA, obviously found his rhythm over the past year.
As Kevin noted,
there are a lot of good Pac-12 players left on the board
, including a substantial handful who figure to get selected in the next two rounds. Things should continue to be interesting, starting with who steps up and picks USC quarterback
Matt Barkley
.
July, 12, 2012
7/12/12
9:00
AM ET
The longest-tenured coaches in the Pac-12 are on the hottest seats in 2012.
ESPN.com's coaching package continues today with a look at veteran coaches, and that's not necessarily a good -- or popular -- thing in the Pac-12.

While it might be a stretch to say California's Jeff Tedford and Oregon State's Mike Riley are facing "win-or-else" seasons, it wouldn't be ridiculous to say so, either. For one, Bears and Beavers fans saw four coaches get the can this season, and some big names were hired. And big contracts signed. There's a sense of transitioning up in the Pac-12, and with that comes a worry about getting left behind.
Tedford and Riley both took over programs that were mired in losing, and both built winners. But things have stalled of late. Memories aren't too long or terribly forgiving among fan bases these days.
Tedford, who enters his 11th season in Berkeley with a 79-48 record, was one of the hottest coaches in the nation in 2006 after posting his second 10-win season. He could have bolted for the Chicago Bears if he wanted. But Cal is just 21-24 in conference play since 2007. Bears fans quickly got used to winning, and seven or eight victories no longer impress them. A 12-13 record over the past two seasons particularly doesn't.
With a newly remodeled Memorial Stadium and substantially updated facilities, Tedford has finally received upgrades that he was promised when he was first hired in 2002. Some might say that it's impressive that he's won as much as he has with such dilapidated facilities. They could further point out that Tedford filled up Memorial Stadium with paying customers, thereby making facilities upgrades possible.
But others only see the recent struggles and the growing fortunes of Oregon and -- eeek! -- Stanford. Those folks are losing patience.
As for Riley, he enters his 12th season in Corvallis -- a tenure wrapped around an unhappy three years leading the San Diego Chargers -- with a 72-63 record and a .533 winning percentage. Just two seasons ago, he was the toast of the town. USC tried to lure him away before hiring Lane Kiffin. But after two losing seasons, some fans see not only a downturn, they also are no longer that impressed with the previous winning, writing it off as a misplaced satisfaction with only fair-to-middling results. And Riley's folksy charm no longer seems to hold much sway with his critics.
It doesn't help that Oregon has pushed into the nation's elite over the past three seasons. A rivalry that had been trending even is now owned by the Ducks.
It doesn't seem to matter to Riley's critics that the Beavers' all-time winning percentage is .481, which ranks 98th among FBS teams. They see that as the dusty past. And, again, if Oregon can do it, the Beavers believe they can, too.
After Tedford and Riley, only one other coach has been with his team five or more years: Utah's Kyle Whittingham. He's 66-25 in seven seasons, but, of course, six of those were in the Mountain West. He's about as secure and respected as a coach can be.
At least for now. They used to say that about Riley and Tedford.
January, 18, 2012
1/18/12
4:00
PM ET
Michael Floyd
held steady on both
Mel Kiper Jr.'s

and
Todd McShay
's

draft boards this week, at No. 20 and No. 18, respectively. But a couple of new lists from Kiper may better evaluate where Floyd stacks up heading into the draft, and where he may ultimately end up.

Floyd
Kiper
released his top five by every position today

, and Floyd comes in at No. 2 among wide receivers, behind only Oklahoma State's
Justin Blackmon
. Also among the top five in his position group is former Notre Dame captain
Harrison Smith
, who comes in as the fourth-best safety, behind
Mark Barron
(Alabama),
Antonio Allen
(South Carolina) and
Markelle Martin
(Oklahoma State).
And, perhaps most importantly, Kiper
has Floyd being taken 19th overall by the
Chicago Bears
in his first mock draft, writing:
If the Bears learned anything when Jay Cutler went down this season, it was that the offense wasn't very pretty without him. But Cutler also needs help. Last year, Chicago had to start up front because the offensive line was such a weakness. But as the Bears anticipate getting some healthy bodies back up front to start 2012, they now must find some help for Cutler at wide receiver. The current group has some speed, but he could use a big target, and Floyd can be that guy. He has a big frame, but Floyd actually dropped some weight for the 2011 season, and he managed to look quicker and more explosive in and out of his breaks without giving up much as a physical receiver. He'd be a nice option in this offense and a threat in the red zone.
It's important to note that the mock draft is different from the Big Board in that it factors in the drafting teams' needs and doesn't necessarily rank players in order of skill or potential.
June, 30, 2011
6/30/11
9:00
AM ET
The term "unblockable" probably gets thrown around too much, but Steve Emtman was unblockable at Washington, and he led the Huskies to consecutive Rose Bowl victories and a national championship.
A 290-pound defensive tackle with 9 percent body fat -- he once shocked teammates with a spontaneous back flip before a spring practice -- Emtman was a unanimous All-American, finished fourth in Heisman Trophy voting and won both the Lombardi Award and Outland Trophy in 1991. He was the frontman for one of the best defenses in college football history, one that gave up just 9.2 points and 67.1 rushing yards per game. He was elected to the College Football Hall of Fame in 2007.
[+] Enlarge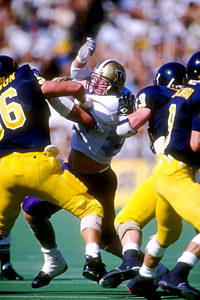 Otto Greule Jr/Getty ImagesSteve Emtman won both the Lombardi Award and Outland Trophy at Washington as well as two straight Rose Bowls.
His NFL career didn't go as planned after he entered the draft as a junior in 1992 and was taken No. 1 overall by the Indianapolis Colts. Injuries derailed his career: He blew out both knees and ruptured a disc in his neck. At age 27, he retired with just 134 tackles, eight sacks and a memorable 90-yard interception return. When the Chicago Bears tried to lure him back into the league, he took score of his body and declined.
"I said, 'I think I can play, but I don't think I can put the product on the field that I'd be proud of,'" Emtman said. "That was my end, if you will. I had a chance to come into camp in Chicago, but I just didn't want to do it. I didn't want to put something on the field that I didn't feel like was me."
Today, he lives in Spokane, Wash., where he's in real estate development and construction. He takes particular pride in a recent project, a master planned community at Eastern Washington University of over 1,300 units.
We decided to check in with Emtman as part of ESPN.com's
Simply Saturday
feature on college greats who didn't pan out in the NFL.
What would you say is your best memory at Washington?
Steve Emtman
: Probably winning the national championship at Washington would rate up there, going undefeated. That whole season, that whole year was probably the highlight, being a part of great team.
Are you still involved with Washington? Do you keep up with their progress?
SE
: Since I stopped coaching there a few years back [2005], I moved over to Eastern Washington and started developing full-time now. I haven't really had the time to be involved.
What's your take on why things didn't work out in the NFL?
SE
: I would say 12 surgeries. I didn't quit. I came back from ACL, MCL and patella tendon [tears] in 11 months. I busted my ass to do the best I could. I really honestly don't look back at it. I did everything in my power, everything I could to try to earn my money, if you will. I think even the owner of the Colts would tell you that.
Does it frustrate you that when people make lists of NFL busts, you're on them?
SE
: The reality is the reality. The only thing that really bothers you is I had a teammate of mine pop off about me being a bust. That irritated me a lot because he knew the situation that I was in. Like I said, I don't know many people who came back as fast as I did from the injuries I had. I know people had the same surgery and never played again. To me, getting back on the field was a feat. It's kind of that I really only answer to myself and God. I don't have to answer to everybody else. But, yeah, I'm a competitor and I wish things would have been different. I wish I had stayed healthy. When I was healthy, I think I did OK. It wasn't like I didn't perform at all. Yeah, there's frustration. Any athlete who sets out to set a higher standard, if you don't reach, it's frustrating. As you get older, though, you look back on it and you go, 'I don't question my work ethic or my effort to be good.' I just didn't achieve everything I wished to achieve.
How do you feel today -- do the injuries still bother you?
SE
: You know, all and all, I feel pretty good. I'm not crippled or anything. I definitely feel the aches and pains. But as an athlete looking back, you can only deal with it and move on. I feel like I'm somewhat normal at 41.
May, 5, 2011
5/05/11
12:57
PM ET
The
Wall Street Journal
wonders if it's time to induct coach Chip Kelly and his
Oregon Ducks
into the "Hall of Geniuses."
In a potentially related item: Thousands of heads spontaneously exploded throughout Seattle and Corvallis.
The gist of the story is that, "Every now and then in sports, some team will come up with a better way," and that Oregon's high-tempo, spread-option attack is a "better way" in large part because it doesn't rely on A-list talent.
[+] Enlarge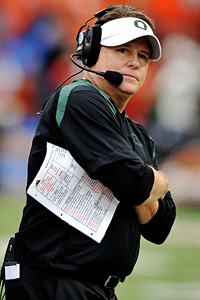 Steve Dykes/Getty ImagesChip Kelly has built a reputation for fielding an elite team without having a lot of elite talent.
But before you Duck-haters out there spew all over your computers, consider that the WSJ article doesn't compare Oregon to sports dynasties such as the Celtics, Lakers, Steelers or even Pete Carroll's
USC Trojans
. Instead:
Think "Total Football"—the free-flowing brand of soccer that the Dutch club team Ajax perfected in the 1970s; or the warp-speed Loyola Marymount basketball program of two decades ago, which still holds the single-season Division I scoring record (122.4 points per game); or the University of Houston football team, whose innovative run 'n' shoot passing attack allowed it to score 95 points in a single game.
Dutch soccer, Loyola Marymount hoops and
Houston Cougars
football: My guess is Oregon fans aren't popping champagne over those comparisons.
Still, it's an interesting take. After touring the Pac-12 over the past few years, I can say this: Oregon has replaced USC as the most interesting place to observe practice.
During the glory days under Carroll, Trojans practices were like the circus: Famous people -- Snoop Dogg! Will Ferrell! The Terminator II Terminator! -- watching future NFL stars. Practices were boisterous, with lots of hitting and spectacular athleticism.
Now it's Oregon, though for far different reasons. Oregon plays fast in games but they practice faster. Crisp undersells it. It's finely tuned mayhem and it's often fun to watch. Last spring, Kelly made a point in a team meeting that while other coaches across the country were complaining about bad practices, the Ducks never had a bad practice. That runs counter to old-school coaching psychology of mostly withholding praise as a motivational tactic.
From the WSJ article:
This team's recent accomplishments have been well noted. Using a warp-speed offense that operates 34% more quickly than most conventional teams, Oregon averaged 47 points and 531 yards per game last season, both No. 1 nationally, and has won 20 of its past 21 games in the Pac-10 conference. Though Oregon lost to Auburn in the BCS national championship game, it recently received another kind of validation that's typical of genius teams: that it has done what it has without superior talent. During the NFL's recent seven-round draft, only one Oregon player was selected.
Of course, several Ducks who will start next season are NFL prospects, starting with running back
LaMichael James
and tight end
David Paulson
. Still, most see Oregon as being a sum of its parts rather than a gathering of individual stars.
The article quotes several coaches who admitted that "solving" Oregon is a high priority.
"We can't just wait until the week of the game to get our defense prepared for that tempo," said Washington coach Steve Sarkisian. He said the Huskies will do more no-huddle work in practice to learn how to compete when fatigued. He said he'll shuffle the lineup earlier to keep players fresher. "We have to get to that level in order to compete with them," he said.
Still, here's a guess that Kelly isn't interested in being a part of this so-called "Hall of Geniuses." Why?
Historically, the life cycle of "genius" teams is often short. [UCLA coach Rick] Neuheisel points out that previous college-football innovations like the triple option, the run 'n' shoot and the West Coast offense, all have been cracked. The famed "46" defense popularized by the 1985 Chicago Bears, with its emphasis on pressuring quarterbacks, was eventually killed off by the quick, short passing of the West Coast offense.
What's the big takeaway from the story? That Oregon's best bet for retaining its elite position is retaining Kelly, who has made a quick ascent up the ladder of "best coaches in college football."
Whether he's a genius or not.
May, 1, 2011
5/01/11
12:26
PM ET
The Pac-12 provided 37 players to the NFL draft over the weekend, one fewer than the SEC, which led all conferences.
If the six combined picks from Colorado and Utah are taken away from the conference, the old Pac-10 provided NFL teams 3.1 draft picks per team, also just behind the SEC at 3.17.
Here's where the Pac-12 players went:
First round
No. 8
Jake Locker
, QB, Washington: Tennessee
No. 9
Tyron Smith
., OT, USC: Dallas
No. 17
Nate Solder
, OT, Colorado: New England
No. 24
Cameron Jordan
, DE, California: New Orleans
No. 27
Jimmy Smith
, CB, Colorado: Baltimore
Second round

7.
Akeem Ayers
, LB, UCLA: Tennessee
10.
Brooks Reed
, DE, Arizona: Houston
13.
Rahim Moore
, FS, UCLA: Denver
21.
Stephen Paea
, DT, Oregon State: Chicago
24.
Shane Vereen
, RB, California: New England
Third round

13.
Jurrell Casey
, DT, USC: Tennessee
20.
Mason Foster
, LB, Washington: Tampa Bay
25.
Shareece Wright
, CB, USC: San Diego
29.
Christopher Conte
, S, California: Chicago
33.
Sione Fua
, DT, Stanford: Carolina
Fourth round

5.
Jordan Cameron
, TE, USC: Cleveland
19.
Casey Matthews
, LB, Oregon: Philadelphia
21.
Jalil Brown
, CB, Colorado: Kansas City
27.
Owen Marecic
, FB, Stanford: Cleveland
Fifth round

8.
Brandon Burton
, CB, Utah: Minnesota
9.
Gabe Miller
, DE, Oregon State: Kansas City
14.
Jacquizz Rodgers
, RB, Oregon State: Atlanta
23.
Richard Sherman
, CB, Stanford: Seattle
Sixth round

2.
Ryan Whalen
, WR, Stanford: Cincinnati
14.
Caleb Schlauderaff
, OG, Utah: Green Bay
17.
Ronald Johnson
, WR, USC: San Francisco
19.
David Carter
, DT, UCLA: Arizona
22.
Allen Bradford
, RB, USC: Tampa Bay
24.
Mike Mohamed
, LB, California: Denver
32. Ricky Elmore, DE, Arizona: Green Bay
38. Zach Williams, C, Washington State: Carolina
Seventh round

12.
D'Aundre Reed
, DE, Arizona: Minnesota
24.
Scotty McKnight
, WR, Colorado:
New York Jets
30.
Lawrence Guy
, DT, Arizona State: Green Bay
37.
Stanley Havili
, FB, USC: Philadelphia
38.
David Ausberry
, WR, USC: Oakland
39.
Malcolm Smith
, LB, USC: Seattle
By Pac-12 school:

Arizona (3)
Arizona State (1)
California (4)
Colorado (4)
Oregon (1)
Oregon State (3)
Stanford (4)
UCLA (3)
USC (9)
Utah (2)
Washington (2)
Washington State (1)
The final tally by automatic qualifying conferences
:
SEC... 38
Pac-12... 37
Big Ten... 36
ACC... 35
Big East 22
Big 12...19
Nebraska was a big swing to the Big Ten from the Big 12 with seven picks. With Colorado and Nebraska, the Big 12 provided 30 selections.
This was the tally through three rounds
:
SEC: 20
ACC: 19
Pac-12: 15
Big Ten: 13
Big 12: 9
Big East: 4
August, 23, 2010
8/23/10
12:39
PM ET
Sometimes athletes don't want to answer tough questions. Other times they are eager to embrace them. This is one of those times.
California quarterback
Kevin Riley
knew the question about rival Stanford was coming. He'd surely already read stories about a
changing of the guard in the Bay Area
. He probably was aware that
more than a few columnists
and fans had questioned whether his coach, Jeff Tedford, was capable of prodding the Bears into
taking the next step from merely good to elite
.
[+] Enlarge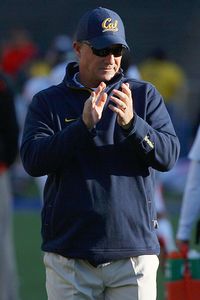 Jed Jacobsohn/Getty ImagesJeff Tedford is still seeking that elusive Rose Bowl berth.
Changing of the guard? My tookus, said Riley.
"It's disrespect," said Riley with just a hint of edge in his voice. "We beat them last year, and our offense whupped up their defense pretty good. We beat them last year when they were at their highest point of their game."
That's not an unfair assessment. Cal was widely considered one of the nation's most disappointing teams last season when it visited No. 14 Stanford, which was in the middle of the Rose Bowl race. All the Bears did was roll up 477 yards in a 34-28 win.
It was Cal's seventh victory in eight Big Games under Tedford. Both teams finished 8-5. Both landed top-25 recruiting classes. Still, the perception persists that Cal has plateaued and Stanford is rising.
Part of that is because Cardinal coach Jim Harbaugh resembles Tedford, circa 2004. Just as Tedford took a program that had bottomed out, led it back to respectability and became a hot-shot coach, so has Harbaugh. The Cardinal had suffered through seven consecutive losing seasons, including two with Harbaugh, until breaking through in 2009. And Harbaugh, often colorfully, doesn't try to tamp down newly high expectations on the Farm, saying "our goal is to win the conference championship" not "sustain success."
"We're not sustaining a gosh darn thing," he said, waking up reporters at Pac-10 media day. "We despise the word sustain. We despise the word satisfaction."
(Another question: Will Harbaugh remain satisfied at Stanford? Tedford turned away a number of suitors -- the Chicago Bears, the
Washington Huskies
-- before signing a big contract -- $2.8 million annually -- and deciding to remain in Berkeley).
Meanwhile, Tedford has been reviewing all aspects of his operation, trying to find a way to advance his program from a team that wins seven, eight or nine games to one that goes to the school's first Rose Bowl in 51 years. He hired a new offensive coordinator last season (Andy Ludwig) and, this offseason, a new defensive coordinator (Clancy Pendergast) and special-teams coordinator (Jeff Genyk).
Tedford has talked about loosening up and making sure football remains fun for his players. He's talked about better managing the effects external expectations can have on his team.
[+] Enlarge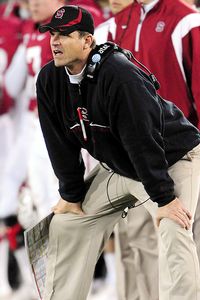 Kyle Terada/US PresswireJim Harbaugh has his sights on a conference championship.
"I do not want to get into a situation where if we do stub our toe then the whole world caves in," he said.
That said, even though Cal won seven or more games only four times from 1978-2001, the expectations, in general, figure to remain high. The early Tedford years seemed to promise Rose Bowls, so the Old Blues feel as if a promise hasn't been kept. And Tedford and Riley are well aware of this.
"It used to be eight or nine wins was a good season," Tedford said. "People were satisfied with that. But that is not good enough anymore. We have to get over that hump. We have a burning desire to go to the Rose Bowl."
Said Riley, "Cal has been waiting a long time for a Rose Bowl. Since I've been here, that's my goal, and it still is. You go out and win eight games? Standards are higher than that for Cal now. Our fans want to see more."
While Cal has fallen short of high preseason expectations in recent seasons, it also has seemed to play better when it wasn't picked at the top of the conference and perched toward the top of the preseason polls. So being picked seventh in the preseason media poll -- three spots behind Stanford -- and unranked nationally are perhaps good things.
Stanford cornerback Richard Sherman is a fifth-year senior. He suffered through the bad times at Stanford. And he suffered through last season's humbling Big Game defeat. He's hardly ready to claim that the Bay Area balance of power has shifted.
"In every rivalry it's even -- it's zero-zero and records don't matter, rankings don't matter," he said. "It's who can go out there and impose their will on the other. You don't go out there feeling like an overdog or an underdog. You just want to beat Cal."
It's possible this year's Big Game might be for high stakes in the conference pecking order. It's almost certain it will have high stakes in the Bay Area.
Posted by ESPN.com's Adam Rittenberg
"I got a real good chance [to play this fall]," Denard Robinson said. "It's my gut feeling and the coaches have been telling me I have a chance to start."
April, 28, 2009
4/28/09
1:00
PM ET
Posted by ESPN.com's Tim Griffin
We just thought the Texas Tech-Texas A&M rivalry couldn't get any more vituperative and nasty.
Tech coach Mike Leach, who in the past has teased the Aggies with his plans of starting "Mike's Pirate School," modeled along the lines of A&M's Corps of Cadets, has added some more fire this week with his comments about A&M quarterback Stephen McGee.
Leach was angry about how his own quarterback, record-breaking Graham Harrell was not drafted while McGee was picked by Dallas in the fourth round of the draft. McGee saw action in only three games as a starter last season.
Leach's barbs at the Aggies and McGee provided much fodder for day-after draft stories across the Big 12.
Leach remained unapologetic about his remarks about McGee, Texas A&M coach Mike Sherman and McGee's draftability, Dallas Morning News reporters Brian Davis and Chuck Carlton report.
Bryan Eagle columnist Robert Cessna writes that Leach was wrong in his pointed criticisms of McGee and A&M's handling of the quarterback.
And Austin American-Statesman beat writer Randy Riggs has Sherman's response to Leach, where the A&M coach says the Tech coach is in no position to comment about his relationship with McGee.
All of this only ensures that the Oct. 24 game in Lubbock between the two bitter rivals will be that much more anticipated.
Here are some other stories from across the conference, with a lot less indignation.
The Des Moines Register's Randy Peterson reports that some ticket prices to the Iowa-Iowa State game on Sept. 12 in Ames will be going down to $60 per seat.
Gregg Doyel of CBSSports.com wonders if Harrell was too productive for his own good.
Colorado's season-ticket sales are holding steady, despite a rise in some ticket prices and the declining economy, the Boulder Daily Camera's Kyle Ringo reports.
The Omaha World Herald's Tom Shatel weighs in on the alleged Cody Glenn ticket- scalping case and the free-agent competition between Chase Daniel and Joe Ganz for playing time with the Washington Redskins.
Sam Bradford and Zac Robinson shared their faith together at the Fellowship of Christian Athletes Banquet in Oklahoma City and also planned an upcoming golf game, the Daily Oklahoman reports.
The Columbia Tribune's Dave Matter reports that Chase Daniel went against his rooting instincts as a fan when he opted for a contract offer from the Washington Redskins.
Iowa State tackle Doug Dedrick had already agreed to a free-agent contract with the Houston Texans before the NFL draft was completed, Ames Tribune reporter Bobby La Gesse writes.
Nebraska officials told the Lincoln Journal-Star's Brian Christopherson they found no evidence to back up Cody Glenn's claims of ticket scalping.
It was understandable that former Kansas linebacker Mike Rivera ended up signing with the Chicago Bears, the Kansas City Star's Brady McCullough reports. Rivera has owned a jersey of Bears linebacker Brian Urlacher since high school.
Oklahoman columnist Berry Tramel reports that Sam Bradford is the clear No. 1 pick among quarterbacks in the 2010 draft.