February, 28, 2014
Feb 28
9:00
AM ET
On Thursday,
we looked at the Pac-12 North Division
. Today, we turn to the South:
ARIZONA

Spring start:
March 3
Spring game:
April 20
What to watch:
QB competition: Coach Rich Rodriguez has used first-year starters in his first two seasons at Arizona and will make it three-for-three in 2014. For the most part, things worked with both Matt Scott and more recently B.J. Denker, which should make Wildcats fans optimistic about what should be a wide-open competition.
Replacing Carey: As intriguing as the quarterback competition will be, the battle to replace all-time great Ka'Deem Carey at running back could be more important. None of the returning running backs had a carry last year, which led to this comment from Rodriguez: "Now it's a mystery. That's going to be one of the positions, like quarterback, that will be kind of open to see if we can get guys to get better."
Keep Austin healthy: After tearing his ACL last spring following a breakout season in which he caught 81 passes for 1,364 yards and 11 touchdowns, receiver Austin Hill has been given a clean bill of health. Said Rodriguez: "He is still wearing the knee brace but I think it is a little bit more precautionary. He is 100 percent doing everything. He's even a bit bigger and stronger so he should have a big spring. I know he's hungry to get out there, too."
ARIZONA STATE

Spring start:
March 18
Spring game:
April 19
What to watch:
OL changes: Auburn transfer Christian Westerman, a prototypical guard, could be the Sun Devils' best offensive lineman, which makes things interesting considering both starting guards -- Jamil Douglas and Vi Teofilo -- will be back next year. Douglas, a second-team All-Pac-12 selection, has worked at tackle in the past and could shift outside to replace first-team All-Pac-12 left tackle Evan Finkenberg.
Getting defensive: Coach Todd Graham's college roommate, Keith Patterson, has arrived as the defensive coordinator, but Graham will remain the play-caller and Chris Ball's title will still read co-defensive coordinator. Got all that? New coaching dynamics get sorted out in the spring, too.
Looking for replacements: On defense, ASU needs to replace seven starters, highlighted by DT Will Sutton, LB Carl Bradford and CBs Robert Nelson and Alden Darby. If ASU is to build off its impressive 2013 season, those holes need to be filled quickly. They'll benefit from a schedule that starts with Weber State, New Mexico, Colorado and a bye, but after that the Sun Devils have UCLA, USC and Stanford in a span of four weeks.
COLORADO

Spring start:
March 3
Spring game:
April 26
What to watch:
QB development: Sefo Liufau's development will be interesting if for nothing else than because the jump from Year 1 starter to Year 2 starter is always intriguing with quarterbacks. It's tempting to assume a big statistical jump is coming, but it's not always that simple (see: Hogan, Kevin; Mannion, Sean; Hundley, Brett). Liufau will need to get on the same page with his receivers as they combine to …
… Replace Paul Richardson: Look for Nelson Spruce, D.D Goodson and Tyler McCulloch to lead what will be a much more balanced receiving corps following Richardson's early departure for the NFL. Spruce was the Buffs' second-leading receiver last year, but Goodson, going into his second season at receiver, figures to make the biggest jump.
Rising expectations: It took MacIntyre three years to turn San Jose State into a winner, but there was a four-win improvement in the second year. He won't match that with the Buffs, but a two-win improvement gets Colorado bowl eligible. Colorado has a chance to match last year's win total (4) in the first five games next year: vs. Colorado State, at Massachusetts, Arizona State, Hawaii, at Cal. In fact, it's probably the internal expectation.
UCLA

Spring start:
April 1
Spring game:
April 26
What to watch:
Manage expectations: The Bruins are in new territory this offseason with expectations through the roof. They'll likely be a preseason top-10 team, which will drum up chatter about a potential national championship run. Likely message from coach Jim Mora: "Tune out the noise."
The #Hundley4Heisman campaign: It's a real thing and Mora threw his weight behind it when he tweeted the hashtag on Jan. 26 with a picture of the Heisman Trophy. Get used to reading "Heisman candidate" next to "Brett Hundley" a lot between now and September. At times, it might feel unavoidable.
Leading rusher? They're set at quarterback and bring a lot of talent back at both receiver and on the offensive line, but the running back situation isn't as clear. Hundley was the team's leading rusher in 2013, but someone needs to step up to take pressure off him and LB/RB Myles Jack. It's an important spring for both Jordan James and Paul Perkins, who had varying degrees of success last year.
USC

Spring start:
March 11
Spring game:
April 19
What to watch:
Under center? Cody Kessler is back, but coach Steve Sarkisian immediately made it known there would be an open competition for the quarterback job. Max Wittek is no longer around, but Kessler should get a serious challenge from redshirt freshman Max Browne. With a new offense to learn, spring will essentially serve as preparation period for the real competition during fall camp.
Catch your breath: The most noticeable change in USC during the first game will be how much faster it's playing offensively. Sarkisian installed a high-tempo offense at Washington last year and, pleased with the results, will continue to press the tempo with the Trojans. Goodbye, huddles.
Change it up: As is the case when new coaching staffs arrive, there will likely be a higher percentage of position changes than usual and a more fluid depth chart. It's hard to peg exactly where that'll occur with USC, but it'll be worth monitoring throughout the spring.
UTAH

Spring start:
March 18
Spring game:
April 26
What to watch:
Wilson's road back: Travis Wilson is expected to be the Utes' starting quarterback next season, but he'll be limited to non-contact drills during the spring. That's about the best news Wilson could have received following an early November discovery that he had an undiagnosed injury to an intracranial artery -- a condition that threatened his career. Oklahoma transfer Kendal Thompson will not join the team until after he graduates in May, but he'll be immediately eligible to play.
Revolving OC door: Dave Christensen moves in, Dennis Erickson moves over and Brian Johnson moves out. Kyle Whittingham introduced the Utes' seventh offensive coordinator is seven years in early January. Christensen believes in similar philosophies to what the Utes had under Erickson/Johnson, but the terminology will change and the tempo will increase.
Pressure building? Utah was used to winning big before it got to the Pac-12 in 2011. Whittingham lost just 20 games in his six full seasons as the school's head coach while a member of the Mountain West Conference. In the three years since, Utah's dropped 19 and qualified for just one bowl. No one should doubt Whittingham's ability as a coach -- he's a good one -- but the jump in competition has been difficult.
April, 26, 2013
4/26/13
9:00
AM ET
Darryl Monroe
represents grounds for hope for Washington State, hope that the beleaguered program will trend up in 2013.
It's not only that he played well last fall as a redshirt freshman starting at middle linebacker in the Pac-12, which is pretty rare. It's his makeup. When coach Mike Leach griped about the focus, work habits and mental toughness of his team last year, he wasn't talking about Monroe.
"Definitely an impressive guy," Leach said. "A good individual to build a defense around."
Want to know why Leach calls Monroe "impressive" and why we're pulling out the word "makeup," one of those vague, football scout-type terms, as one of his positive qualities?
[+] Enlarge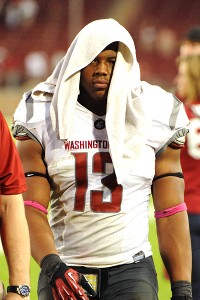 AP Photo/Rob Holt"The struggle is something you've got to embrace," Darryl Monroe said. "It's what's going to make you better in the long run."
How about this: Monroe was asked about the Cougars' dramatic 18-point fourth-quarter comeback and overtime victory over the archrival Washington Huskies.
"It will be one of the games I'll remember for the rest of my life," he said. "We played that game for
Travis Long
. He was holding back tears because he couldn't play. We got him an Apple Cup before we were out of here. That's what it meant to me: Getting that win for Travis."
That is a good answer in so many ways. Yet perhaps there's not enough Husky hate from the Orlando, Fla., native, who admits to not knowing much about the rivalry before he arrived in Pullman?
"We bleed crimson and we don't like Washington," he said.
Other than the Apple Cup, the 2012 season was tough on the Cougars. The great hope inspired by Leach's hiring quickly spiraled into the muck of a 3-9 finish and another campaign -- no winning seasons since 2003 -- spent looking up from the bottom of the Pac-12. It became clear there would be no quick fix, and Leach repeatedly promised an escalation in the intensity of his demands.
Monroe described the offseason work as "brutal ... and it's not even over." But that's not the important part of his thinking.
"The struggle is something you've got to embrace," he said. "It's what's going to make you better in the long run."
As we said: Makeup.
Know that Monroe isn't just a smooth talker. The 6-foot-1, 215 pounder earned All-Pac-12 honorable mention, finishing second on the team with 80 tackles. His 8.5 tackles for a loss, including three sacks, ranked third on the team.
Another aspect of his makeup: He didn't bail out on the program.
Monroe picked the Cougars over Cincinnati and South Florida because of his relationship with Chris Ball, the defensive coordinator under Paul Wulff. His true freshman season ended with a torn Achilles, which was a bummer. When Wulff was fired, Monroe seriously considered leaving so he could start over somewhere else.
Pullman, after all, is a long way from home, both literally and figuratively. Orlando doesn't have too many days when the temperature is in the single digits, for one.
"It was a stressful time, period," he said. "It was pretty tough. It was a time of uncertainty for me, whether I would still be a Cougar or not."
But his parents pretty much advised him to suck it up. So he did. By midseason, he became one of the Cougars' best leaders, earning game captain honors three times, including for the Apple Cup.
He's not the conference's biggest or fastest linebacker. He makes up for that, though, with his brain.
Said Leach, "He really plays well from the neck up. He's a really smart guy."
Coaches often talk about "attention to detail," and Monroe uses that phrase three times in a 15 minute interview. When asked about what aspect of his game he's working on, he talks about reading his keys and leadership.
He sounds very "coachy." It's not difficult to imagine Leach nodding with approval after his every answer.
For Cougars fans looking for grounds for hopes, Monroe is a good place to start.
February, 10, 2011
2/10/11
7:42
PM ET
In the world of "official" announcements, Todd Howard was fired and hired by two separate Pac-12 programs in one day.

After UCLA made his termination as defensive line coach official Thursday -- Bruins coach Rick Neuheisel told him to start looking for another job in December -- Washington State swept in to announce that Howard had been hired to man the same post in Pullman. He replaces Malik Roberson, whose contract was not renewed for the 2011 season.

Cougars coach Paul Wulff also announced that Chris Ball has been promoted to assistant head coach and will be the lone defensive coordinator in 2011. Former co-coordinator Jody Sears will remain as cornerbacks coach.

"Todd brings a great deal of experience to our program," Wulff said in a statement. "He has coached at the highest levels of collegiate football while also serving on two different coaching staffs in the NFL. He has a lot of experience recruiting the Los Angeles area which was a priority for us and he has also coached All-Americans and numerous All-Conference players."

Howard had been at UCLA for five years, as Bruins coach Rick Neuheisel inherited him from former coach Karl Dorrell's staff.

Change is probably good for the Washington State defense, which ranked 118th in the nation in total defense and 110th in scoring defense in 2010.

Washington State visits UCLA on Oct. 8, by the way.