NCF Nation:

Chris Burnette
November, 24, 2013
11/24/13
12:30
PM ET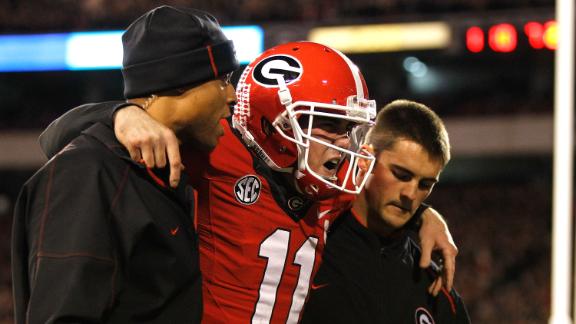 ATHENS, Ga. -- Georgia's period of mourning over
Aaron Murray
's season-ending knee injury can't last long. The Bulldogs face rival Georgia Tech in six days -- and for the first time since 2009, they'll do it with someone other than Murray under center.
Once considered the Bulldogs' quarterback in waiting for 2014 -- after Murray, the SEC's all-time leading passer, departed for the NFL --
Hutson Mason
's time is now, and that isn't as much of a cause for concern as one might expect.
"I think the whole team is confident in him," Georgia offensive coordinator Mike Bobo said after Saturday's 59-17 win against Kentucky. "He's been preparing for four years now for his moment. His moment's just come a little earlier than we thought it might. I know he's ready, and I know everybody believes in him."
[+] Enlarge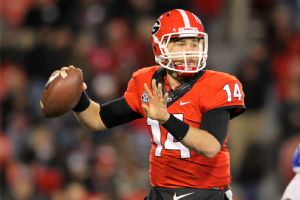 Todd Kirkland/Icon SMIHutson Mason has been Aaron Murray's main backup at Georgia. But now he gets his chance in the spotlight.
Mason has been Murray's primary backup since arriving at Georgia in 2010, and he opted to redshirt last season instead of transferring in order to gain a year of class separation between himself and Murray. The idea was to have one final season where he could potentially serve as the starting quarterback.
Now, he's getting an early tryout for the gig, with an opportunity to make his first career start against Georgia Tech and then to lead the offense once again in the Bulldogs' bowl game.
"I'm going to watch the game tomorrow and then start preparing for Tech," Mason said after completing 13 of 19 passes for 189 yards and a touchdown, plus rushing for another score, against Kentucky. "I don't think anything in my preparation's going to change because I've been preparing like I've been the starter the whole year, and I think that's what's going to help me. And I don't have a lot of game-time experience, but I'm an older guy and I've been here a while and I know my teammates believe in me, and that's what's the most important thing."
Georgia's offense didn't miss a beat on Saturday after Mason replaced Murray, who injured the anterior cruciate ligament in his left knee after taking a big hit from Kentucky's
Za'Darius Smith
in the second quarter on Saturday. The Bulldogs scored touchdowns on their first four drives with Mason under center, and he capped his night with a field-goal drive before giving way to third-string quarterback
Faton Bauta
late in the blowout win.
The Bulldogs generated 309 yards in 37 plays with Mason in at QB against Kentucky, good for an average of 8.35 yards per play.
"When he's at practice, there's no drop-off when he comes in," senior offensive guard
Chris Burnette
said. "He knows exactly what to do, has a great skillset, is a great leader. We know what he's bringing to the table, and he knows what we're bringing to the table so I think we're able to feed off of each other and be able to do well."
There is a major difference between executing in practice and executing in a game, however, and Mason has only 11 games of experience -- almost all of which came in mop-up duty during blowouts. He didn't have time to over-think his role while replacing Murray on Saturday, but now he will be the center of attention for the first time during the run-up to a game against perhaps Georgia's biggest rival.
He said the number of close games Georgia played this season, with Murray playing the entire time, made him sometimes question the importance of preparing. He's obviously glad he continued to put in the work each week now, though.
"That's the nature of being a backup -- you've always got to be ready when your number's called on, especially with the way we've played this year," Mason said. "There's many times through the week I'm like, 'Should I even prepare?' Because I've got voices in my head telling me, 'Should I prepare? I might not play. Is this worth it?' And it just goes to show you, always prepare like you're going to play because you never know when it's going to come."
Murray's setback only exacerbates the Bulldogs' injury woes in a season where they have been especially prevalent. Georgia lost receiver
Malcolm Mitchell
to an ACL injury on the second series of the season -- he was celebrating a 75-yard
Todd Gurley
touchdown run when the injury occurred -- and tailback
Keith Marshall
and receiver
Justin Scott-Wesley
both went down with additional ACL tears during a midseason win against Tennessee.
Offensive weapons Gurley,
Chris Conley
,
Michael Bennett
and
Jay Rome
have also been knocked out of the lineup for multiple games, but Murray's seems like the most painful after he returned for his senior season only to suffer an injury near the very end. It will prevent him from participating in a postseason all-star game or at the NFL combine.
Georgia, however, must quickly pick up the pieces with Mason at quarterback, much like it did when its starting quarterback left his final home game with a devastating injury.
"I was proud of the way [Mason] played and proud of the way the other guys picked it up when Aaron went down," Bobo said. "I feel for Aaron on senior night to get hurt with as much as he's invested in the program and everything he's done. But he played great again while he was out there -- just another phenomenal night for him."
November, 24, 2013
11/24/13
12:50
AM ET
ATHENS, Ga. -- Georgia sent its seniors out the right way with a 59-17 pummeling of Kentucky on Saturday night, but the Bulldogs lost perhaps their most valuable senior of all.
Quarterback
Aaron Murray
-- who has started every game of his career and on Saturday tied David Greene's school record for most career starts by a non-kicker (52) -- injured his left knee in the second quarter and needed assistance to reach the locker room.
Bulldogs coach Mark Richt said he does not expect Murray to play next Saturday against Georgia Tech, but would not rule him out for the Bulldogs' bowl game, pending the results of an MRI on the injured knee.
"It just was hard to have a lot of fun," Richt said after the game. "Even right now, I'm glad we won and I'm really proud of how we did, but it's kind of a crummy feeling right now when you think about what Aaron is going through."
Prior to the injury, Saturday's game was shaping up as a glorious going-away party for the senior quarterback in his final game at Sanford Stadium.
He was the centerpiece of an emotional pregame ceremony to honor Georgia's 28 departing seniors, with the home crowd offering a raucous ovation when the SEC's all-time leading passer was the final Bulldog to be introduced. Murray had tossed four touchdown passes (he finished 18-for-23 for 183 yards) and in the first quarter became the first SEC quarterback to pass for 3,000-plus yards in four seasons.
[+] Enlarge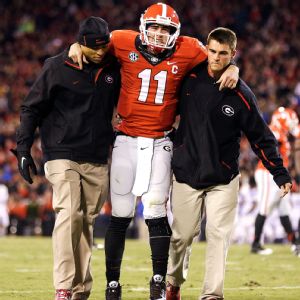 AP Photo/John BazemoreAaron Murray will have an MRI on his left knee to determine the extent of his injury.
But Kentucky defensive lineman
Za'Darius Smith
slammed Murray to the ground after a pass to
Rhett McGowan
deflected off the senior receiver and floated to Wildcats linebacker
Khalid Henderson
at the Kentucky 2-yard line. Murray immediately motioned to the training staff that he needed assistance, and they walked him directly to the locker room with Murray struggling to put any weight on his left leg.
He left Sanford Stadium during the third quarter to undergo an MRI at Athens' St. Mary's Hospital and did not return.
"You could tell in his body language he was hurt," backup quarterback
Hutson Mason
said. "It wasn't the same Murray."
And it was yet another injury in a fall where the Bulldogs (7-4, 5-3 SEC) already lost tailback
Keith Marshall
and receivers
Malcolm Mitchell
and
Justin Scott-Wesley
for the season, while tailback
Todd Gurley
and receivers
Chris Conley
and
Michael Bennett
also missed multiple games with an assortment of injuries.
"He did mention that was about how our season has gone as far as injuries and everything," Richt said of his conversation with Murray at halftime. "It was tough."
Mason did an admirable job as Murray's replacement -- he finished 13-for-19 for 189 yards and one touchdown, plus a 1-yard scoring plunge -- but Murray's injury put a major damper on what should have been a happy final outing between the hedges for the seniors.
"Seeing Aaron go down, that was tough. That's one of my best friends. He was one of my groomsmen at my wedding, and seeing him go down, I never want him to go down because most of the time it's my fault," said senior offensive guard
Chris Burnette
, whose wife, Arielle, was one of Murray's classmates at Tampa (Fla.) Plant High School.
The Bulldogs quickly made it clear that there would be no lingering hangover in the wake of last week's devastating 43-38 loss at Auburn, when the Tigers scored the game-winning touchdown with 25 seconds to play. Georgia needed only three plays to score its first touchdown -- on a 9-yard pass from Murray to McGowan -- and led Kentucky 21-0 after its first three possessions.
Murray and Gurley were the stars of the early onslaught, with the pair hooking up for a 16-yard touchdown where Gurley soared into the end zone -- reminding Bulldogs fans of Knowshon Moreno's memorable 2008 touchdown dive against Arizona State -- that put Georgia up 14-0.
By the time Gurley left in the third quarter of the blowout, he had rushed eight times for 77 yards, caught five passes for 90 yards and scored two touchdowns.
Not to be miss out on the fun, Georgia's defense posted perhaps its finest outing of the season. A week after surrendering 566 yards to Auburn's potent offense, the Bulldogs held Kentucky (2-9, 0-7) to 211 yards -- 69 of which came on
Dyshawn Mobley
's first-quarter touchdown run, with 30 more coming on a
Maxwell Smith
touchdown pass to
Javess Blue
against the defensive reserves late in the fourth quarter.
"We got some turnovers, too, which was good to see," said Georgia defensive coordinator Todd Grantham, whose defense recovered three of Kentucky's six fumbles, with those turnovers leading to 21 Bulldogs points. "Kentucky has not turned the ball over a lot."
Richt credited the seniors for holding the team together through the spate of injuries and a disappointing season that started with a top-five ranking and BCS title aspirations.
"Even though the season had certain expectations and certain hopes got dashed along the way, the leadership was great," Richt said. "The unity of our team was rock solid because of those guys. And I've said it a couple times, this was a fun team to coach, but I think it was mostly because of the seniors and how they led this year."
February, 25, 2013
2/25/13
10:18
AM ET
We're taking a look at key storylines for all seven teams in the SEC Eastern Division.
Chris will take a look at the main issues in the Western Division on Tuesday.

FLORIDA GATORS
Spring start:
March 13
Spring game:
April 6
What to watch:
1. Rebuilding at linebacker: The Gators have to start figuring out the linebacker situation. Do they go with redshirt junior Michael Taylor in the middle, who's a run-stuffer but has to come off the field in passing downs? Or do they try sophomore Antonio Morrison, who played outside at 218 pounds as a freshman and has hopefully bulked up a bit? The most likely scenario is Morrison, which means UF has to find a weakside linebacker. That could be freshmen early enrollee Daniel McMillian or Alex Anzalone. The strongside starter should be, at least entering the spring, redshirt junior Neiron Ball.

2. Robinson's growth: One of the most scrutinized players this spring will be receiver Demarcus Robinson. He was the only one of UF's five receiver signees to enroll early and he'll be given every chance to win a starting spot. UF's receivers have been below average for the past three seasons and the Gators desperately need someone to become a consistent playmaker. The 6-foot-2, 195-pound Robinson, who caught 53 passes for more than 1,000 yards and scored 15 touchdowns as a senior at Fort Valley (Ga.) Peach County, is going to be under a lot of pressure to produce.

3. Driskel's confidence: Quarterback Jeff Driskel returns for his second season as a starter, and it'll be interesting to see how much he improves on his decision-making, release and accuracy. He's sure to benefit from not splitting reps 50-50 any longer. But just as important as Driskel's development is what happens behind him with redshirt junior Tyler Murphy and redshirt freshman Skyler Mornhinweg. Neither has thrown a pass in a college game. Why is that important? Because Driskel has not been able to stay healthy in his first two seasons in Gainesville. He missed starts as a freshman and sophomore because of ankle injuries. UF was lucky in 2012 to have Jacoby Brissett, who had played significantly as John Brantley's backup in 2011. With Brissett transferring to NC State, the Gators no longer have that luxury.

-- Mike DiRocco, GatorNation
GEORGIA BULLDOGS

Spring start:
March 2
Spring game:
April 6
What to watch:
1. Rebuilding the defense: Georgia begins its transition to a completely new collection of defensive talent this spring. No longer are Jarvis Jones, Alec Ogletree, Shawn Williams, Bacarri Rambo and John Jenkins on the roster. In fact, the Bulldogs must replace a total of 12 defensive players who were either full-time starters or key contributors, and at some positions, the possible replacements have little to no college experience. That makes this a pivotal time for defensive coordinator Todd Grantham to begin identifying which players will fill those roles, as the Bulldogs will have little margin for error when they open the season against Clemson's explosive offense Aug. 31. Some names to watch this spring: Josh Harvey-Clemons, Sheldon Dawson and Jonathan Taylor.

2. Developing the youngsters: The good news for Grantham and the other defensive coaches is that they brought in a number of January enrollees who should be able to help immediately. Junior college transfer Chris Mayes and John Atkins hope to fill the void left by Jenkins and Kwame Geathers at noseguard. Ryne Rankin and Reggie Carter will immediately enter the mix at linebacker. And cornerback Reggie Wilkerson and safeties Tray Matthews and Quincy Mauger can help address Georgia's depth shortage in a secondary that lost four key players. Georgia's 13 early enrollees -- more than twice as many January enrollees as Georgia coach Mark Richt has ever brought in before -- will help fill needs on both sides of the ball, but the defense is where the newcomers were most necessary.

3. Offensive line reps: For the most part, Georgia used the same starting lineup along its offensive line throughout the 2012 season and each of those starters should return this fall. But two of those starters -- right guard Chris Burnette and right tackle John Theus -- underwent surgeries during the offseason and will miss all or part of spring practice. There was a good chance that offensive line coach Will Friend was going to deploy more players in his line rotation this fall anyway, but the valuable practice reps that will be available with Burnette and Theus sidelined might make a deeper rotation even more likely. Someone still has to take advantage of the opportunity, however.

-- David Ching, DawgNation
KENTUCKY WILDCATS

Spring start:
March 18
Spring game:
April 13
What to watch:
1. Getting used to new coaches: New coaches are roaming Kentucky's football facility this spring. Mark Stoops brings a more defense-minded philosophy to Lexington, but his coaches will have to get things going on offense if the Wildcats are going to improve in 2013. There are always awkward moments when transitioning to a new staff, but now's the time to create valuable trust on both sides.

2. Finding offensive playmakers: Stoops might have a strong defensive background, but the Wildcats have to find answers on offense. Injuries were an issue last year, but for two straight years the Wildcats had real problems finding consistent playmakers on offense. Quarterback Maxwell Smith returns, but he needs more than just wide receiver La'Rod King to help him. Getting running back Josh Clemons back would be big, but expect the coaches to turn to a young group of receivers and running backs.

3. Tougher team: One thing Stoops wants from his players is a tougher identity. Stoops wants to build a stronger team from the ground up. He's taking a page from Texas A&M coach Kevin Sumlin when it comes to preparing his new team. This spring, we'll see just how much of an emphasis the coaches put on the weight room and conditioning before hitting the football side of things.
MISSOURI TIGERS

Spring start:
March 12
Spring game:
April 20
What to watch:
1. Josey's rehab: The Tigers will be keeping tabs on running back Henry Josey, who missed all of 2012 after suffering a devastating knee injury midway through the 2011 season. He was the Big 12's best running back before his injury and Mizzou needs him back. The staff has had to be patient, but this could be a crucial time in his rehab, as he looks to get his football legs back.

2. Rebuilding the front seven: Mizzou must replace a lot in its front seven. Star defensive tackle Sheldon Richardson's absence leaves a gaping hole up front, while linebackers Will Ebner and Zaviar Gooden must be replaced. Lucas Vincent will be first in line to take Richardson's spot, while Darvin Ruise, Donovan Bonner and Michael Scherer are three players to watch at linebacker.

3. Toughening up: Injuries ravaged Mizzou's offense last year, but it's clear that Mizzou wasn't in the playing shape that it would have liked to be in during its first year in the SEC. Injuries are part of the game, but gaining that toughness factor this spring will go a long way for the Tigers in 2013. The SEC is more than just a grind, and the Tigers found out the hard way that conditioning in this league is a little different than in the Big 12.
SOUTH CAROLINA GAMECOCKS

Spring start:
March 5
Spring game:
April 13
What to watch:
1. New backfield options: Marcus Lattimore and Kenny Miles are gone, so the Gamecocks will have to turn to their younger backs. Brandon Wilds missed the 2012 season with an ankle injury but should return this spring. Rising sophomore Mike Davis has all the tools to be a big-time player for the Gamecocks and could be the top option in the Gamecocks' backfield. Shifty Shon Carson also returns from a knee injury, so South Carolina will have a solid group to work with this spring.

2. QB controversy: Quarterback Connor Shaw might be tabbed as the starter, but with him out for the spring, Dylan Thompson will take the first-team reps. Thompson proved to be very valuable last year, and both will play this fall. Thompson has become one of the most vocal players on the team and is a strong leader. A good spring could bring some real controversy to the position.

3. Holes at linebacker: South Carolina will be without its two-deep at linebacker and "Spur" DeVonte Holloman is gone. That means there's a lot of work to be done when it comes to finding viable replacements. Sharrod Golightly will get the early crack at the Spur, and keep an eye on Kaiwan Lews, who was a true freshman last year and has a lot of potential to work with.
TENNESSEE VOLUNTEERS

Spring start:
March 9
Spring game:
April 20
What to watch:
1. New coaches on the block: With Butch Jones in town, the Vols have to get used to their third head coach in five springs. Jones and his staff have helped bring some much-needed energy to the program since arriving, but now it's time to develop vital on-field chemistry between the coaches and players.

2. Receiving help: The Vols' offense took at major hit at receiver. Juniors Justin Hunter and Cordarrelle Patterson made the leap to the NFL, while deep threat Zach Rogers and tight end Mychal Rivera graduated. Tennessee will now turn to a host of inexperienced receiving targets, including rising sophomore Alton Howard and early enrollee Paul Harris.

3. Quarterback battle: With Tyler Bray leaving for the NFL, Tennessee will work with rising junior Justin Worley and redshirt freshman Nathan Peterman. Worley has the edge when it comes to game experience, but with a new staff, this battle will be wide-open. They will also need to make strides before freshmen Joshua Dobbs and Riley Ferguson get on campus this summer.
VANDERBILT COMMODORES

Spring start:
March 15
Spring game:
April 13
What to watch:
1. Replacing Rodgers: Quarterback Jordan Rodgers is gone. The good news is Austyn Carta-Samuels has good experience after starting two years at Wyoming before transferring to Vandy. Redshirt freshman Patton Robinette is someone the coaches also are excited about, especially with his dual-threat ability, and should really push Carta-Samuels the whole spring.

2. Running back battles: The Commodores lost star running back Zac Stacy, so veteran Wesley Tate, who has bounced around positions, and rising sophomore Brian Kimbrow, who has the do-everything look to him at running back, will share reps. Warren Norman and Jerron Seymour also return, making for quite the talented backfield.

3. Keeping the edge: Now that another very successful season under James Franklin is over, the Dores have to continue to keep the edge that got them to where they are. It might sound like a broken record, but Vanderbilt still has to prove that it isn't the Vandy of old. People are certainly taking the Dores more seriously, but keeping that edge is important for more growth.
November, 30, 2012
11/30/12
11:19
AM ET
For Georgia's football players, last year's 42-10 loss to LSU in the SEC championship game serves as a very painful reminder.
It's not so much the 32-point whooping the Tigers put on a shellshocked Georgia team that shakes players, it's the way the Bulldogs got to that shellshocked state.
Georgia owned most of the first half, but bit by bit things started to turn; the Bulldogs committed mistake after mistake and slowly let the Tigers back into the game. Before either team knew it, Tyrann Mathieu was sprinting to the end zone on a 62-yard punt return right before the half, erasing a 10-0 Georgia lead -- which honestly should have been 21 points -- and started a debilitating 42-0 run.
[+] Enlarge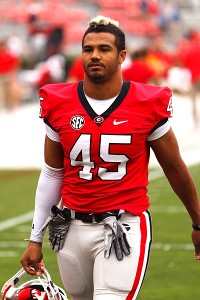 Darrell Walker/Icon SMILinebacker Christian Robinson and Georgia are trying not to dwell on last season's loss to LSU in the SEC title game.
"As a team, you never want to lose a game when you won the first half, when you dominated that way," linebacker
Christian Robinson
said. "It's like we almost reversed and gave up in the second half.
"We could have done so much better."
The sting is still there for players, and the pain they felt after slinking out of the Georgia Dome last year serves as major motivation for No. 3 Georgia (11-1, 7-1 SEC) as it prepares for second-ranked Alabama (11-1, 7-1).
"It's tough, but we try not to dwell on the past and we want to build off that experience and be like, 'Hey, we don't want to have that feeling again when we're leaving the Dome,'" offensive lineman
Chris Burnette
said. "Hopefully, we won't" on Saturday.
Some players choose not to look back at physical reminders of the damage the Tigers did. Linebacker
Jarvis Jones
said players "have a bad taste in our mouths." Wide receiver
Tavarres King
said he dwelled on the loss for a while and is actually "still bitter" about it, while Burnette is downright "embarrassed" by what transpired inside the Dome on that chilly December evening.
Robinson still looks at the image of Mathieu crossing the goal line from time to time, but talk about that day is at a minimum. Film of the game has either been tucked away in the deepest, darkest crevasse inside Sanford Stadium or burned.
For Burnette, he looks beyond the three turnovers, the dropped touchdown passes and the 212 rushing yards and 35 points the Bulldogs surrendered in the second half. He looks at the team's mindset before even stepping foot in Atlanta as the catalyst for the Dawgs' demise.
For an entire season, the Bulldogs had their minds made up that Atlanta was the goal -- ATL or bust. The bright lights and the playoff environment got to players, Burnette said. Because the goal all season had been to claim Atlanta and the SEC, Burnette said the team took that night inside the Dome as
the game
and panic set in.
"Our goal for that season was to get to the Dome, and I think we didn't have our dreams set big enough," Burnette said.
Their dreams are much bigger this year, and they have to be. The national championship wasn't in the cards for Georgia last year. This year it is.
The Dawgs hope Atlanta is just a pit stop because they have their sights set on Miami for the Discover BCS National Championship Game. A win against Alabama clinches that dream.
After last year's disaster, this team feels much more confident in its national championship approach. Being here before helps, and knowing what's at stake fuels a team that feels stronger mentally and physically this year.
"I feel like now we know what it takes to win."
What it takes is Georgia's most complete performance against one of the nation's best teams and playing as hard as humanly possible for 60 minutes. Both are painfully obvious, but the Bulldogs failed to do either last year.
That miserable reminder inspires the Dawgs, as they vow to be a different team when they cross the Dome's threshold Saturday.
"Last year was embarrassing in the second half, honestly," Burnette said. "We're definitely on a team that takes a lot to get embarrassed, so we don't want that to happen again."
April, 24, 2012
4/24/12
3:40
PM ET
At first glance, it appears that Georgia has all the parts needed to make another title run in the SEC this fall.
A quality quarterback is assisted by some talented skill players on the offensive side of the ball. And the defense is loaded with just about everyone who was a part of the nation's fifth-ranked defense last year.
But upon closer examination, there is a glaring issue on the offensive line. Well, maybe there was.

Entering the spring, Georgia was down three starters up front, including potential NFL first-round draft pick
Cordy Glenn
at left tackle and All-SEC center
Ben Jones
.
The Bulldogs had the bodies, but not the experience, and it showed early. Georgia coach Mark Richt said he spent the first part of spring just trying to find the right pieces to plug in. He was constantly rolling different players in at center and experimenting with putting players in different places along the line.
The result: a lot of mistakes and some pretty good defensive highlights.
Richt said all of the stunts and different looks that defensive coordinator Todd Grantham threw at the Bulldogs' line of young pups confused and frustrated the line. Things didn't move smoothly on offense at first because the offensive line wasn't comfortable.
"The bottom line was we just weren't blocking very good and we weren't handling our mature defensive line," Richt said Tuesday.
But like good things, even bad things come to an end. And they did for Georgia's line.
As the spring continued, players started to get more settled up front. By the midpoint of the spring, offensive coordinator Mike Bobo said he found three reliable linemen in tackles
Kenarious Gates
and
Kolton Houston
, and guard
Chris Burnette
. Leaving spring, the staff found five that it could call starters, with the additions of rising sophomore
David Andrews
at center and
Dallas Lee
, who started seven games last season before breaking his right leg against Florida, at guard
Gates might be the best of the bunch because of his athleticism and smarts. Richt said he has the option of moving Gates around on the line because he has the ability to play just about every position up there.
But the player who really stuck out to Richt and his staff was Houston. Richt said Houston was always viewed as either a guard or a center prospect until this spring when they threw him in at tackle and watched him excel.
"He held up pretty good, especially in the pass protection area," Richt said. "I don't know if you can sell the big mauler out there in the run game, but a big part of being able to play tackle is being able to pass [protect] and he did a nice job."
While Richt saw improvement as spring continued, he'll also get some more talent in two incoming freshmen, including top tackle prospect John Theus, so Georgia's depth will look a little better this fall. Getting guys more reps and game ready is the main goal in fall camp.
April, 2, 2012
4/02/12
6:00
PM ET
ATHENS, Ga. -- Georgia's football team has the talent to have a very special fall, but the spring has come with unwanted hiccups.
Georgia has dealt with too much suspension and attrition. The most glaring issue for the Bulldogs is that they'll be without defensive starters
Sanders Commings
,
Alec Ogletree
,
Bacarri Rambo
and
Branden Smith
to begin the season due to suspensions.
The losses of key starters, especially Commings, Rambo and Smith, who all patrol a pretty thin secondary, have Georgia players and coaches frustrated, but they're pushing ahead as the second half of spring football bleeds into the true offseason.
[+] Enlarge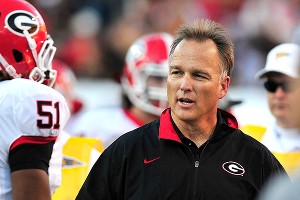 AP Photo/Stephen MortonSuspensions will leave Mark Richt thin in the secondary to begin the 2012 season.
"It robs some of the momentum that you're trying to build and trying to create," coach Mark Richt said. "It doesn't destroy it unless you let it, but it's just another thing that needs to be overcome."
Georgia has had a rash of off-the-field incidents in the past calendar year, and when asked if he thought there was an invincibility complex with some of his players, Richt said he hoped not, but didn't think that there was a discipline problem with his football team.
"The bottom line is that if there are things that need to be disciplined around here, we'll discipline them," he said. "We don't treat a starter any different than a walk-on. We'll discipline even if it hurts -- and it hurts sometimes."
Georgia's coaches are now having to plug more young players into first-team rotations on defense. While the Bulldogs have a handful of players to use at Ogletree's middle linebacker spot, the same can't be said for the secondary.
Georgia had to dip into its offense to get help at cornerback by inserting rising sophomore
Malcolm Mitchell
, who is coming off a solid SEC debut in 2011. Mitchell has received most of his work on defense this spring, and the consensus is that he's taking hold of his new position, but offensive coordinator Mike Bobo isn't ready to totally give Mitchell up to Todd Grantham and Georgia's defense.
"I don't plan on losing Malcolm Mitchell," Bobo said.
In the meantime, Mitchell is looking to help a relatively young secondary in Athens. Coaches and players agreed that two youngsters currently standing out are
Corey Moore
and
Damian Swann
.
The depth in the secondary isn't ideal, but Grantham said he isn't concerned about numbers, or talent. He's just looking for the development, and it's slowly coming.
"The guys that we've got here are capable," Grantham said.
Mitchell's absence on offense also means that Bobo and quarterback
Aaron Murray
are both looking for more from younger wide receivers. Murray gushed about rising seniors
Tavarres King
and
Marlon Brown
, who Murray said finally looks like he's putting things together and is actually healthy. Bobo and Murray both stated that sophomores-to-be
Michael Bennett
and
Chris Conley
should continue to be reliable targets this fall.
But one player really sticking out to Richt is redshirt freshman
Justin Scott-Wesley
. Though he sat out last fall and split time between track and throwing sessions before spring practice, Scott-Wesley has really impressed with his speed and athletic ability.
"He's a track guy, but he's a big, strong, physical guy," Richt said. "He's going to help out a lot this season. There's no doubt about it."
Where Georgia would really like to get more consistent this spring is on the offensive line. Bobo sees a lot of bodies there, but he's still worried about depth. Right now, he likes what he's seen from
Kenarious Gates
,
Kolton Houston
and
Chris Burnette
, but after that it's a bit of a mystery.
Bobo said the second half of spring will be crucial to finding capable depth up front.
"We have three guys we feel good about," he said. "We're looking to find some depth. We're actually trying to find five (linemen who can play)."
September, 22, 2011
9/22/11
10:44
AM ET
Two matchups between unbeaten teams, one in the Western Division and one in the Eastern Division, highlight Week 4 in the SEC.
Here's a look at what to watch:
1. Tide stingy at home:
Scoring points against Alabama has never been easy, certainly not since Nick Saban arrived. But scoring points against the Crimson Tide at home has been nearly impossible. Beginning with the 2008 season, Saban's second on the job, Alabama has given up more than 20 points at Bryant-Denny Stadium only once, and that one time came last season when Auburn rallied from a 24-0 deficit and won 28-27. Arkansas has specialized in scoring points under Bobby Petrino, but it's been tough sledding for the Hogs against the Crimson Tide. In three games under Petrino, they've never scored more than 20 points against Alabama and managed only a field goal in the second half last season in a 24-20 loss.
[+] Enlarge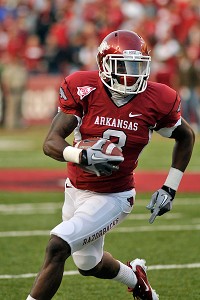 AP Photo/April L. BrownJoe Adams has been a weapon as a retun man for Aransas.
2. Downright special:
The area of the game that Arkansas has to win Saturday if it's going to take down No. 3-ranked Alabama is special teams. The good thing for the Hogs is that they've been pretty special in most facets of special teams, particularly the return game.
Joe Adams
is one of the most feared open-field runners in the league and returned two punts for touchdowns in the opener. He's averaging 19.6 yards a return to lead the SEC, and getting a big return from him would be huge for the Hogs this weekend. They also lead the league in kickoff returns, averaging 33 yards a return. Freshman
Marquel Wade
took one back 85 yards for a touchdown in the New Mexico game. Petrino hired John L. Smith prior to the 2009 season to upgrade special teams, and the former Michigan State and Louisville head coach has delivered.
3. Third and not so long:
It sounds simple enough, but the key to beating Alabama is staying out of third-and-long. And the truth is that it's anything but simple. Petrino said one of the things the Crimson Tide do better than anybody else is create negative plays on first and second down to force third-and-long situations. That's when they dial up their pressure. Petrino said it's imperative that the Hogs are in third-and-5 a lot more than they're in third-and-10. Arkansas is second in the SEC through three games in third-down conversion (48.6 percent), but has had very little success on third down against Alabama. The Hogs are just 9-of-41 (21.9 percent) against the Tide the last three seasons.
4. Shepard's return:
LSU quarterback
Jarrett Lee
gets another speedy playmaker to throw to when junior receiver
Russell Shepard
returns for the Tigers against West Virginia after serving an NCAA-mandated suspension the first three games. One of the things that stuck out to LSU coach Les Miles this past spring and preseason was how much better Shepard became as a true wide receiver. A former quarterback, Shepard improved his route-running and became a more technically sound receiver. He's electric in the open field, and it will be interesting to see what LSU's new offensive brain trust (Greg Studrawa and Steve Kragthorpe) has devised to get Shepard the ball. He has to be more consistent in catching the ball, but should be now that he's had two years of working exclusively at receiver.
5. Flirting with disaster:
Is this the week for South Carolina? The Gamecocks have picked up a dangerous habit this season of playing to the level of their competition, and they've come a little closer each week to losing the game. You can hear the frustration in Steve Spurrier's voice, and he understands fully that Vanderbilt's not a team to mess around with. The Commodores, who're also 3-0, beat the Gamecocks in 2007 and 2008, and the combined score between these two teams the last four seasons is dead even – 58-58. Both teams have made a ton of big plays on defense this season. South Carolina has three defensive touchdowns, and so does Vanderbilt. The two defenses have combined to force 21 turnovers (12 by Vanderbilt and nine by South Carolina). Something says protecting the ball will be mighty important in this one.
6. Tackling Lattimore:
South Carolina's
Marcus Lattimore
has already carried the ball 87 times this season and leads the country with 534 rushing yards. The 230-pound sophomore is at his best after contact and wears down defenses with his ability to pick up extra yards after the initial hit. Vanderbilt has enough confidence in its cornerbacks that the Commodores will probably free up safety Sean Richardson to act more as a linebacker in this game and walk him up closer to the line of scrimmage. Of course, that invites South Carolina quarterback
Stephen Garcia
to throw the ball, and Garcia has not been overly sharp through three games. The Gamecocks would like to get junior receiver
Alshon Jeffery
more involved, which will probably be their answer if the Commodores do load the box. Jeffery has been held to one touchdown catch in the first three games. He's due for a big game.
7. Block that kick:
Florida was one of the best teams in the business at blocking kicks under Urban Meyer, and it also looks like that's going to be one of the Gators' strengths under Will Muschamp. They've already blocked two punts this season, one of those by
Chris Rainey
last week in the Tennessee game. They go up against Kentucky this Saturday, and the Wildcats' special-teams units are probably having nightmares right now. Counting field goals, Florida has six blocked kicks against Kentucky dating back to the 2006 season -- four blocked punts and two field goals.
8. No more picks:
Ole Miss offensive coordinator David Lee is hoping less is better. He said he's reduced the playbook by about 30 percent and totally eliminated one pass protection heading into Saturday's game with Georgia. Quarterback
Zack Stoudt
had protected the ball well in the first two games, but threw five interceptions last week in the 30-7 loss to Vanderbilt. That five-interception performance continued what's been a plague for the Rebels. In their past 28 games, which dates back to the start of the 2009 season, they've thrown 40 interceptions. A big part of the problem this season is that they haven't been able to run the ball nearly as well as they thought they would. Ole Miss is 11
th
in the SEC in rushing offense and averaging just 109 yards per game.
9. Georgia hurting up front:
Georgia's offensive line has been beset with injuries and defections the past couple of years, and there was another one Wednesday in practice when starting right guard Chris Burnette injured his knee. Georgia coach Mark Richt said he didn't think it was a serious injury. But just having Burnette go down with any degree of injury is a blow. Already, the Bulldogs had been playing without starting left guard Kenarious Gates, who hurt his ankle in the opener against Boise State. Gates was able to make it through practice Wednesday, so Richt is hopeful of having at least one of his starting guards available Saturday against Ole Miss. Senior center Ben Jones could move over to guard, but the Bulldogs would prefer to keep him at center.
10. Going back to basics:
Preseason camp ended back in August, but try telling that to the Auburn players. After a brutal defensive performance last week in a 38-24 loss at Clemson, Auburn coach Gene Chizik went back to more of a preseason camp-mentality this week in practice, which meant a lot more hitting and a lot more tackling. The Tigers' tackling hasn't been up to par in any of their first three games and was especially bad last week. It's really been a struggle for Auburn's secondary, although Auburn didn't have any sacks or quarterback pressures in the loss to Clemson. So obviously it's not just one area of the defense that's not getting it done. The Tigers have simplified some checks on defense, hoping some of the younger players will play faster and more instinctively.