September, 25, 2013
9/25/13
1:00
PM ET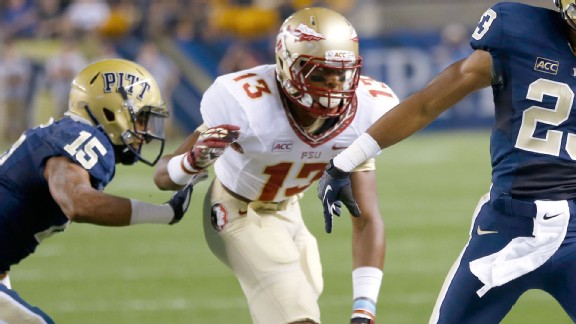 AP Photo/Keith SrakocicFreshman cornerback Jalen Ramsey jumped right in to a starting spot, beating out veterans Nick Waisome and Ronald Darby in the process.
TALLAHASSEE, Fla. -- Throughout the 68-yard dash,
Telvin Smith
never looked back. Seconds earlier, he'd stepped in front of a pass from Bethune-Cookman quarterback
Quentin Williams
, and a path cleared ahead of him as he charged to the end zone.
It was only after Smith crossed the goal line that he realized he wasn't alone. Two steps behind him was fellow linebacker
Matthew Thomas
, who'd kept pace with Smith step for step throughout the return.
"I turned around and he's standing right next to me," Smith said. "That's what the coaches and myself love about him."
That was hardly the only highlight of the game for Thomas, who dropped Bethune's quarterback in the backfield twice in a span of five plays in the third quarter. In a game in which Jimbo Fisher criticized his defense for ceding too much ground to an overmatched opponent, Thomas stood out.
That's been a theme of the early season for Florida State's defense. It's a unit in transition, having lost a bevy of veterans to the NFL draft and its coordinator to Kentucky. Changes have come at nearly every turn, and the youngest Seminoles are taking advantage.
"They're stepping up," Smith said. "The best man is going to play, and right now, they're proving themselves to be the best man. The young guys are coming. They're on our toes."
It's not just Thomas making an impact.
Jalen Ramsey
become the first FSU cornerback to start as a true freshman since Deion Sanders, then delivered the Seminoles' first interception of the season against Pittsburgh. He's sixth on the team so far with 12 tackles, including one sack.
Demarcus Walker got a start in the opener, too, and he's seen consistent work on the defensive line ever since.
Chris Casher
, a redshirt freshman, racked up 10 tackles -- including two for a loss -- against Bethune-Cookman and was named FSU's defensive player of the week. Second-year players
P.J. Williams
and
Mario Edwards Jr
. are now established starters, and a handful of other youngsters are getting regular reps on defense, too.
Fisher was so pleased with the work of his young defensive backs that he felt comfortable flipping veteran
Karlos Williams
from safety to tailback. Casher, Thomas and sophomore
Eddie Goldman
have helped pick up the slack for FSU's pass rush after its top three defensive ends all left for the NFL. Overall, nearly half of Florida State's tackles this season have come from defenders with zero previous starting experience.
"The platform is even because new [defensive coordinator], new philosophy, and you have to learn it," cornerback
Lamarcus Joyner
said. "Experience on the football field, those young guys haven't had it, but with their talent level and where they're coming in, it's good to see them playing and be able to play fast."
Of course, it's easy enough to chalk up the early success for the freshmen and sophomores to the lack of quality competition on the field, but Fisher said this isn't a passing fad. Florida State's schedule gets markedly tougher in October, and rather than shuffling the young defenders to the sidelines for the big games, he wants to ensure they're ready to play when it counts.
"Ability is never the issue," Fisher said. "It's about technique and assignments and getting playing time to be able to relax on the field and do what you do, taking it from the practice field to the game field. You see that more and more, you feel more comfortable. We're going to keep developing all those guys."
Ramsey already appears to have a starting job locked up moving forward, beating out junior
Nick Waisome
, who started all 14 games last season, and
Ronald Darby
, a freshman All-American in 2012. Fisher raved about Ramsey's combination of speed and physicality, but said it's the freshman's football acumen that has set him apart.
Thomas is a bit more of a work in progress. He's flashed potential, but he's spent much of his first few months on campus simply soaking in all he can about how to do his job.
"He's observing a lot of stuff," Smith said. "He's taking it in, and he's going to erupt when he gets the chance."
Fisher sees it coming, too.
Since arriving on campus in June, Thomas has already packed on nearly 25 pounds to his frame, but it hasn't slowed him down.
"He's gotten faster," Fisher gushed.
Walker and Casher are following a similar path, too, though they've had longer to learn the ropes.
Casher has been sidelined for the better part of the past two years -- first because of an eligibility issue his senior year in high school, then because of a knee injury that cost him nearly all of 2012. Walker arrived this spring to get a jump start on his college career, but an issue with the NCAA Clearinghouse meant he didn't practice with the team at all.
The down time might have been a blessing, however, as both were eager to learn.
"They came in with their eyes open and their notepad ready, listening to the older guys," Smith said.
That's been a trademark of the Class of 2013 in particular. When Joyner arrived in 2010, Florida State was in the midst of a culture change in the locker room that took a while to take hold. The latest batch of freshmen, however, look right at home from Day 1.
"Those guys are coming in here with the same talent level that guys took two to three years to develop," Joyner said.
That's exactly what Fisher wants to see. He doesn't promise playing time to his recruits, he said, but he offers opportunity. This latest crop of Seminoles was prepared when that opportunity arrived.
"When you get here, you get an opportunity, and if you're the best player, you're going to play," Fisher said. "A play don't care who makes it, and there isn't an age limit on being a good player."
April, 2, 2013
4/02/13
2:00
PM ET
TALLAHASSEE, Fla. -- Florida State defensive end
Giorgio Newberry
walked into the room, cradling his black playbook, and sat down on a folding chair.
By the looks of it, the book should have made a monstrous thud when he went to put it down. Newberry placed the book gently on the floor, though, and laughed when he was innocuously asked, "So that playbook is bigger than your old one, huh?"
The new book, a huge three-ringed binder stuffed full, features more blitzes, and some new assignments for players used to the old way of doing things. While the Seminoles will remain a 4-3 base defense, they are going to be using all of their players in different ways.
That means a guy like Newberry -- all 6-foot-6 inches and 273 pounds of him -- will be dropping back into pass coverage on occasion as he transitions to play the jack position, an end/linebacker mashup.
And no, Newberry has never actually covered anybody in the pass game before.
"It's pretty fun actually, getting an opportunity to run in space, show my athleticism off," Newberry said recently. "I have the speed for a big guy. I have a lot of range. I'm pretty long and tall so that should help me, too. I'll still be rushing sometimes but it's almost like I'll be rushing, dropping, rushing dropping even though I'll be rushing still."
Newberry is not the only defensive lineman in the spotlight this spring. They all are, as questions persist about how the Seminoles are going to look up front with starters
Bjoern Werner
, Tank Carradine,
Everett Dawkins
and
Anthony McCloud
gone. The good news is a wealth of experienced players return.
Coach Jimbo Fisher consulted his stat sheet to prove it. He starts with tackles
Timmy Jernigan
and
Demonte McAllister
, who were more productive than Dawkins and McCloud. End Mario Edwards Jr.
started at the end of the season
; Newberry has game experience;
Jacobbi McDaniel
is back;
Eddie Goldman
has been "coming on like wildfire"; and expectations are high for
Chris Casher
.
"They still have to prove it, but from we still feel very comfortable that we can be very physical and very dominating up front. Very strong," Fisher said.
To that end, players like Newberry and Jernigan are preparing themselves for breakout seasons in this new defensive style that first-year coordinator Jeremy Pruitt brought with him from Alabama.
"This," Newberry says, "is a killer defense."
How good can it be once everybody learns the entire system?
"Our defense is going to be just as good as last year, if not better," Newberry said. "Because we have a new system, people are younger and we have more people."
Jernigan chimed in later with his own take: "As far as stats go, I feel like this will be my biggest year. I feel like I'm going to have a very good year this year.
"I've been preparing, I've been working very hard in the weight room, in the classroom making sure I have no extra stress. Then the style of the defense, we're a little more aggressive up front and that's the way I like to play. I like the physicality, I like to get off the ball, hurry up and get my hands on the blockers. I think that's going to help, we're going to be attacking a lot more."
Attacking from all over the field, in fact. Florida State has a deep history and tradition to uphold defensively, especially after ranking No. 2 in the nation in defense last year. The only team ahead was Alabama, and now the Noles have the Tide's former defensive coordinator.
Fisher, however, wanted to be sure to emphasize the Noles are keeping much of what they did in the past in place, even though it seems they may be radically changing. Alabama does run a 3-4 base. Florida State will not. Simply put: There will be a few new twists -- OK a lot more twists -- in the playbook, sorta like sprucing up the garden for spring.
"We're a 4-3 team," he said. "If you go back and look last year, we were about 25 percent 3-4 last year. If you go back and watch Alabama's film, there's only about 8-to-10 3-4 snaps a game. They might not have been as much 3-4 as we were a year ago. Believe that or not. You may stand a guy up to create a mismatch, we did that with Bjoern and Tank and Brandon (Jenkins) all the time. We were a bunch of 3-4. Perception's not always reality."
That may end up being the perfect description for this defensive line in 2013.
February, 21, 2013
2/21/13
2:11
PM ET
There are going to be position battles this spring at every school in the ACC, but some will be in the spotlight more than others. If you're just tuning in to ACC football, here are some of the biggest competitions in the conference this spring:
OFFENSE

1. Florida State quarterback:
This is arguably the most intriguing competition in the entire conference, as the Seminoles have to replace veteran
EJ Manuel
.
Clint Trickett
enters the spring at the top of the depth chart, but consider this job open. Sophomore
Jacob Coker
is the total package, but redshirt freshman
Jameis Winston
was the nation's No. 1 quarterback and could be the answer, too.
2. North Carolina running back:
The Tar Heels have to find a way to replace leading rusher
Giovani Bernard
, who left early for the NFL draft. Not only will his loss be felt in the running game, but probably even moreso in the return game, as Bernard was one of the nation's top punt returners. UNC returns
A.J. Blue
and
Romar Morris
, who combined for 819 yards rushing and 11 touchdowns last season.
3. Syracuse quarterback:
The Orange enter the ACC with a new coach and in need of a new quarterback. Record-setting quarterback
Ryan Nassib
is gone, leaving behind a wide-open competition. Backup
Charley Loeb
, junior
John Kinder
, and dual-threat
Terrel Hunt
are the top candidates.
Ashton Broyld
, who moved to running back in 2012, could be in the mix as well.
DEFENSE
1. Florida State defensive ends:
The cream of the crop is gone, as
Tank Carradine
,
Bjoern Werner
and
Brandon Jenkins
all have to be replaced. Enter
Mario Edwards Jr.
, who has a leg-up on the competition because he played in 11 games as a true freshman, and started the final two games of the year in place of the injured Carradine. Don't forget about
Giorgio Newberry
, though, and
Chris Casher
, who is now healthy after a knee injury. Casher will start spring ball on the two-deep depth chart.
Dan Hicks
, who was Jenkins' backup two years ago, had a knee injury and missed all of last season. He had moved to tight end, but was in the rotation at defensive end earlier in his career and could come back.
2. NC State secondary:
This group will have an entirely new look this spring, as three starters have to be replaced, including
Earl Wolff
,
Brandan Bishop
and
David Amerson
, the school's career interception leader. Cornerback
Dontae Johnson
returns, along with
Juston Burris
, who played in the nickel package. There are also several redshirts and younger players who will compete.
3. Virginia Tech cornerback:
Virginia Tech's defensive backfield lost its star last month when cornerback
Antone Exum
tore his ACL in a pickup basketball game. Several young players will compete for his reps this spring, including
Donovan Riley
,
Donaldven Manning
and
Davion Tookes
. Highly touted cornerback
Kendall Fuller
will join the team in the summer.