July, 20, 2011
7/20/11
9:00
AM ET
Though both first-team All-Pac-10 safeties -- UCLA's Rahim Moore and California's Chris Conte -- are off to the NFL, safety is a position of strength in the conference.
Even the two teams listed as "We'll see" here don't seem desperate at the position. Only Utah doesn't welcome back a safety with starting experience.
That said, 10 teams have at least some question at the position, whether that's a new starter, depth or returning starters who were inconsistent in 2010.
So how do things stack up? Read on.
Great shape
[+] Enlarge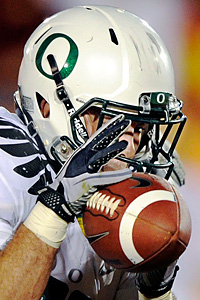 AP Photo/Mark J. TerrillJohn Boyett had five interceptions and 67 tackles in his second season with the Ducks.
Stanford
: The Cardinal have second-team All-Pac-10 strong safety Delano Howell and honorable mention all-conference free safety Michael Thomas back. Depth isn't certain, but that's a strong combination.
Oregon
: Free safety John Boyett is a big hitter and ball hawk -- see five interceptions -- and earned honorable mention all-conference honors. Rover Eddie Pleasant was solid last season after moving from linebacker to safety, and he's expected to take another step forward in 2011.
Good shape
USC
: Second-team All-Pac-10 safety T.J. McDonald is a top NFL prospect, and someone should emerge from the competitive gaggle opposite him at strong safety. Still, the Trojans fall short of the top category because they got beat deep a bunch last season.
UCLA
: It's possible by season's end we will consider the combination of free safety Tony Dye and strong safety Dietrich Riley the best combo in the conference. And the depth looks solid.
California
: Sean Cattouse was honorable mention all-conference, while D.J. Campbell is experienced. There are some intriguing young players, including freshman Avery Walls and redshirt freshman Michael Coley.
Washington
: Free safety Nate Felner had five interceptions last season. While there's some experience around him, the most intriguing option at strong safety is Sean Parker, a touted 2010 recruit who's competing with Will Shamburger and Taz Stevenson.
Arizona State
: The Sun Devils have everyone back, but they weren't terribly consistent at safety in 2010. Alden Darby, Clint Floyd, Eddie Elder and Keelan Johnson each have plenty of experience.
Oregon State
: Lance Mitchell is an NFL prospect, but there's not a lot of experience around him. Junior Anthony Watkins, who had 27 tackles in 2010, topped the depth chart at the end of spring practice.
Arizona
: The Wildcats are replacing both starting safeties, but feelings were pretty good entering the spring with free safety Adam Hall and strong safety Marquis Flowers, both up-and-coming young talents. Then Hall went down with a knee injury. Still, with Robert Golden moving back to safety from corner and Flowers, the Wildcats are above average at the position.
Washington State
: Deone Bucannon made a major impact as a true freshman and Tyree Toomer is an experienced veteran. They ranked No. 1 and No. 3 in tackles for the Cougs last season. There's solid depth behind them. Still, ranking 110th in the nation in pass efficiency defense keeps the Cougs down here.
We'll see
Colorado
: Cornerback is a far bigger concern, but the Buffaloes had two NFL corners last season and they were terrible against the pass. That said, junior Ray Polk and senior Anthony Perkins, who's knee injury is often cited as a big reason the pass D stunk, are experienced and have skills, while Terrell Smith and Travis Sandersfeld have seen action.
Utah
: The Utes lost all four starters from their secondary, though safety Brian Blechen moved up to linebacker. While things seemed to go well this spring, there's little to no experience here. Terrell Reese and Damian Payne are competing at free safety and both are redshirt freshmen. Michael Walker is ahead of Quade Chappuis at strong safety, and he had eight tackles last season.
May, 1, 2011
5/01/11
12:26
PM ET
The Pac-12 provided 37 players to the NFL draft over the weekend, one fewer than the SEC, which led all conferences.
If the six combined picks from Colorado and Utah are taken away from the conference, the old Pac-10 provided NFL teams 3.1 draft picks per team, also just behind the SEC at 3.17.
Here's where the Pac-12 players went:
First round
No. 8
Jake Locker
, QB, Washington: Tennessee
No. 9
Tyron Smith
., OT, USC: Dallas
No. 17
Nate Solder
, OT, Colorado: New England
No. 24
Cameron Jordan
, DE, California: New Orleans
No. 27
Jimmy Smith
, CB, Colorado: Baltimore
Second round

7.
Akeem Ayers
, LB, UCLA: Tennessee
10.
Brooks Reed
, DE, Arizona: Houston
13.
Rahim Moore
, FS, UCLA: Denver
21.
Stephen Paea
, DT, Oregon State: Chicago
24.
Shane Vereen
, RB, California: New England
Third round

13.
Jurrell Casey
, DT, USC: Tennessee
20.
Mason Foster
, LB, Washington: Tampa Bay
25.
Shareece Wright
, CB, USC: San Diego
29.
Christopher Conte
, S, California: Chicago
33.
Sione Fua
, DT, Stanford: Carolina
Fourth round

5.
Jordan Cameron
, TE, USC: Cleveland
19.
Casey Matthews
, LB, Oregon: Philadelphia
21.
Jalil Brown
, CB, Colorado: Kansas City
27.
Owen Marecic
, FB, Stanford: Cleveland
Fifth round

8.
Brandon Burton
, CB, Utah: Minnesota
9.
Gabe Miller
, DE, Oregon State: Kansas City
14.
Jacquizz Rodgers
, RB, Oregon State: Atlanta
23.
Richard Sherman
, CB, Stanford: Seattle
Sixth round

2.
Ryan Whalen
, WR, Stanford: Cincinnati
14.
Caleb Schlauderaff
, OG, Utah: Green Bay
17.
Ronald Johnson
, WR, USC: San Francisco
19.
David Carter
, DT, UCLA: Arizona
22.
Allen Bradford
, RB, USC: Tampa Bay
24.
Mike Mohamed
, LB, California: Denver
32. Ricky Elmore, DE, Arizona: Green Bay
38. Zach Williams, C, Washington State: Carolina
Seventh round

12.
D'Aundre Reed
, DE, Arizona: Minnesota
24.
Scotty McKnight
, WR, Colorado:
New York Jets
30.
Lawrence Guy
, DT, Arizona State: Green Bay
37.
Stanley Havili
, FB, USC: Philadelphia
38.
David Ausberry
, WR, USC: Oakland
39.
Malcolm Smith
, LB, USC: Seattle
By Pac-12 school:

Arizona (3)
Arizona State (1)
California (4)
Colorado (4)
Oregon (1)
Oregon State (3)
Stanford (4)
UCLA (3)
USC (9)
Utah (2)
Washington (2)
Washington State (1)
The final tally by automatic qualifying conferences
:
SEC... 38
Pac-12... 37
Big Ten... 36
ACC... 35
Big East 22
Big 12...19
Nebraska was a big swing to the Big Ten from the Big 12 with seven picks. With Colorado and Nebraska, the Big 12 provided 30 selections.
This was the tally through three rounds
:
SEC: 20
ACC: 19
Pac-12: 15
Big Ten: 13
Big 12: 9
Big East: 4
January, 11, 2011
1/11/11
5:00
PM ET
Here's an early look at the Pac-12 pecking order heading into the off-season. Count on this being fluid, particularly after I get to see teams practicing this spring.
1.
Oregon
: The Ducks likely will be ranked in the preseason top five even though the offensive line and defensive front seven take some hits.
2.
Stanford
: While there are plenty of questions -- both lines, head coach -- the return of
Andrew Luck
makes the Cardinal a preseason top-10 team.
3.
Arizona State
: Losing defensive tackle Lawrence Guy to the NFL is a significant hit, but the Sun Devils still have 19 starters back from a team that lost by one at Wisconsin. But who will be the quarterback?
4.
USC
: Trojans take some hits on both sides of the ball, particularly on both lines, but quarterback
Matt Barkley
will have some nice skill surrounding him on offense.
5.
Arizona
: On the downside, the Wildcats must completely rebuild their lines. On the upside, quarterback
Nick Foles
and wide receiver
Juron Criner
will be the top pass-catch combination in the conference.
6.
Washington
: The post-
Jake Locker
era begins, so it's hard to judge the Huskies. And post linebacker Mason Foster, for that matter. But coach Steve Sarkisian has been recruiting well, and there are plenty of returning starters.
7.
Utah
: Hard to place the Utes because we don't know them in this environment. And there are questions on both sides of the ball, particularly in the secondary and offensive skill positions. But the return of quarterback
Jordan Wynn
helps.
8.
California
: The Bears must replace their best offensive player, running back
Shane Vereen
, and their three best defensive players, end Cameron Jordan, linebacker Mike Mohamed and safety Chris Conte. And don't even ask about quarterback.
9.
Oregon State
: Putting the Beavers down here might be an overreaction to running back
Jacquizz Rodgers
' decision to enter NFL draft. Or it might be because they lost four of their final five games. And Stephen Paea's departure leaves a HUGE void on the defensive line.
10.
UCLA
: The Bruins actually have some good players coming back, despite some high-profile early departures (linebacker Akeem Ayers, safety Rahim Moore). But they have offensive questions and we don't know who the coordinators will be in 2011.
11.
Colorado
: Just like Utah, we don't know the Buffaloes in this environment, plus there's a new coach. And, to be honest, that 52-7 loss at Cal isn't helping their candidacy. Curious how quarterback
Tyler Hansen
will look this spring after missing much of the year because of injury.
12.
Washington State
: Do. Not. Panic. Cougars. Fans. I'd bet $1 the Cougs will not finish last in 2011. Quarterback
Jeff Tuel
should take another step forward and he's got his top targets back. But we're not ready to promote the Cougars just yet.
November, 14, 2010
11/14/10
1:35
AM ET
BERKELEY, Calif. -- The narrative trajectory of a national championship run is rarely a straight line. There are zigs and zags even during an undefeated season. Some games are prettier than others. Sometimes the biggest statements are made in unexpected ways. It's just the way college football is.
So perhaps it's fitting that the offensive juggernaut that is top-ranked Oregon made its most powerful statement on its worst night of the season by not scoring. The flashy Ducks, who are all about hanging half-a-hundred on foes with lightning-quick drives that make bathroom breaks risky for fans, became yeomanlike in their final possession of a
15-13
victory over California, slowing the pace, grinding out first downs and burning the clock.
Oregon, clinging to a two-point lead, took over at its 20-yard line with 9:25 left in the game, and 18 plays later -- 17 runs -- quarterback
Darron Thomas
took a knee at the Bears' 15-yard line. Game over. Ducks survive.
It was the Ducks' only drive of the night of more than 46 yards. But somewhere Woody Hayes is smiling.
"Coach [Chip] Kelly told us in the huddle before we went out there that this was going to be the drive of the year; this was going to be the drive we remember," Thomas said. "Exactly what he told us was, 'This is going to be the drive you tell your family about 30 years from now.'"
[+] Enlarge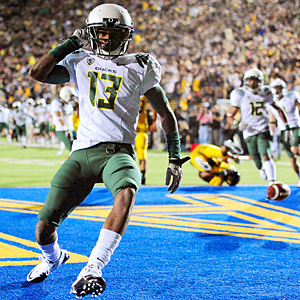 Kyle Terada/US PresswireOregon found a way to win without its high-scoring offense against Cal. Cliff Harris scored the Ducks' first touchdown on a 64-yard punt return.
Oregon is 10-0. If they win three more games -- two regular season and the national title game -- they will have plenty to tell their children and grandchildren about.
But this was not the Ducks we've seen this season, at least offensively. They looked vulnerable. They were getting whipped at the line of scrimmage. California was penetrating up front and blanketing Ducks' receivers in the secondary with man-coverage -- even after losing starting cornerbacks Darian Hagan and Marc Anthony to injury.
"It was ripe for the upset," Cal safety Chris Conte said. "We knew that if we came out and executed, this team was very beatable. Watching film,we saw their people making mistakes. We knew if we held them to no big plays, we'd be right in this game. We should have won."
That was a popular theme among the Cal players. But it also is curious that a team that can play with top-ranked Oregon can lose by 28 to Oregon State, the Beavers' only win in their past four games.
Oregon was held to a season-low 317 yards. But it made four of its eight successful third-down conversions on the final drive.
And after 400 words, perhaps we should take note of the Ducks' defense. It held the Bears to just 193 yards, 49 of which came on their first possession, when they took a 7-0 lead after the Ducks failed on one of their six fourth-down conversion attempts (they made four).
"You see the true character of a team when it's not 50-7 or whatever," defensive tackle Brandon Bair said. "It's awesome to see that if our offense struggles, our defense can step up."
The Ducks' defense was certainly helped by the absence of a Cal passing game. Quarterback
Brock Mansion
, making his second start since
Kevin Riley
went down with a season-ending knee injury, completed 10 of 28 passes for 69 yards. He didn't throw an interception, and he made a couple of nice passes, but it was clear that running back
Shane Vereen
, who rushed for 112 yards on 26 carries, was the Bears' only offensive weapon.
Oregon didn't help itself much. It missed two field goals; the first kicker Rob Beard has missed this season. It had eight penalties for 62 yards. And Thomas gifted the Bears a TD when he fumbled into the end zone in the third quarter while cocking to throw, and nose tackle Derrick Hill recovered for a touchdown.
For the first time this year, Oregon was challenged well into the fourth quarter. It was a new experience. Kelly, however, said his team never showed any signs of tightness, and his players agreed.
"We were never worried or thinking about losing," Thomas said. "We never thought about losing."
As for style points, none of the Ducks seemed too concerned that the judges -- the pollsters, the computers, the BCS standings -- might dock them for failing to win in their typical fancypants manner.
"At the end of the season, they are not going to say, 'How many points did they beat Cal by?'" said running back
LaMichael James
, who finished with 91 yards on 29 carries.
This week, though, they are going to ask about James. The Heisman Trophy candidate had to be helped off the field in the game's waning moments. Afterward, he was wearing a boot on his left foot and was on crutches.
"I'm good," he said. "I'll be at practice next week."
The Ducks are off until Arizona visits Autzen Stadium on Nov. 26. They are moving into territory that the program and long-suffering fan base have never experienced before.
So forgive Kelly and his players for not beating themselves up for winning ugly.
"A win's a win," Kelly said. "We're happy. We're 10-0."
October, 25, 2010
10/25/10
2:36
PM ET
A look back on the week that was.
[+] Enlarge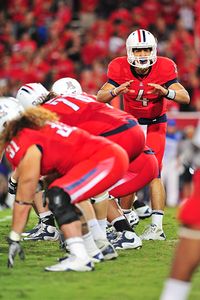 Chris Morrison/US PresswireMatt Scott performed well, completing 18-of-22 with two touchdowns, while filling in for an injured Nick Foles.
Team of the week
: When starting quarterback
Nick Foles
went down with a knee injury, Arizona had reason for concern. How would backup
Matt Scott
handle a second tour as a starter? Very well, in fact. Scott completed 18-of-22 for 233 yards and two touchdowns with no interceptions and rushed for 65 yards in the Wildcats 44-14 win. But don't forget a defense that held the Huskies to 290 total yards.
Best game
: There were no exciting games this past weekend, but Oregon's 60-13 stomping of UCLA on Thursday night certainly sent out a message to the country that the Ducks are a legitimate national title contender.
Biggest play
: Arizona only led Washington 17-14 midway through the second quarter when Wildcats running back
Keola Antolin
exploded for a 78-yard touchdown run. The play seemed to break the Huskies' back.
Offensive standout
: Oregon QB
Darron Thomas
completed 22-of-31 passes for 308 yards and three touchdowns with no interceptions and rushed for 48 yards on five carries. And he had no negative yardage.
Defensive standout
: Arizona linebacker Paul Vassallo had 14 tackles -- nine solo -- and a sack in the Wildcats blowout win over Washington.
Special teams standout
: California safety Chris Conte blocked an Arizona State punt and returned it 17 yards for a touchdown.
Smiley face
: Oregon and Arizona both made strong statements with complete performances in all three phases.
Frowny face
: Arizona State played its worst game of the season at California and now its bowl hopes are dimming. The same for Washington, which continued its pattern of playing great one weekend, bad the next.
Thought of the week
: While most of the national attention will be on Oregon's visit to USC, California's trip to Oregon State is also interesting. Will the Beavers, who have only one Pac-10 loss, be a factor in the conference race, even without
James Rodgers
? Can Cal win a game on the road? The winner will climb the pecking order in the conference.
Question of the week
: Can Oregon do what Alabama, Ohio State and Oklahoma could not -- hold onto the No. 1 ranking in the major polls while playing a ranked foe on the road?
October, 8, 2010
10/08/10
4:33
PM ET
California has played dominant defense on Saturdays this season. But as Bears fans know, there is a catch.
The Bears gave up 497 yards at Nevada in a 52-31 loss on a Friday night.
In the other three games, they've given up just 20 total points, and they've been good enough to still rank 15th in the nation in total defense (282.5 yards per game) while yoked with the Nevada numbers.
[+] Enlarge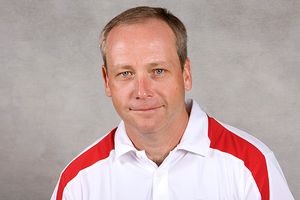 NFL Photos/Getty ImagesClancy Pendergast's defense is ranked No. 15 in the country despite getting gashed by Nevada to the tune of 497 yards.
It's fair to say that new coordinator Clancy Pendergast, a longtime NFL coach, is doing a pretty good job -- other than when he's faced a pistol offense, which isn't terribly popular in the NFL.
And, of course, Pendergast and the Bears get a second crack at the pistol on Saturday when UCLA comes calling.
Seemed like a great time to check in with Pendergast to get his take on "Pistol II: Redemption?"
You guys have had three strong weeks of defense, and one bad one: Was it a case for you of having a short week of practice to prepare for an offense you never game-planned for in the NFL?
Clancy Pendergast
: We are not making any excuses. We didn't play well that night. We didn't play with a good gap integrity. We didn't get off blocks. And we didn't tackle well. So those were most of the shortcomings, things we had wrong that night against Nevada.
I'm not trying to give you an excuse, but there aren't many pistol offenses in the NFL. You had to look at it as something different, right?
CP
: There are some neat things about it. It's very similar to the "Wildcat" offense that was a craze in the NFL two years ago, which started with the Miami Dolphins. I spent a whole offseason and 2009 studying the Wildcat and how to defend it, just because it became so popular in the 2008 season. We looked at how a lot of NFL teams defended it, and looked at some of the college teams that ran it and studied some of them and how teams defended them. But in the true Wildcat, the element of the quarterback not being under center to throw the football is really the biggest difference.
That said: You've guys have been mostly lights out on defense otherwise. Who is playing well for you?
CP
: I think [DE] Cameron Jordan has been our most consistent guy. Linebacker D.J. Holt has played really well, at mike linebacker inside. He's been our most consistent linebacker week in and week out. In the secondary, [safety] Chris Conte has been pretty consistent.
How much will it help to get linebacker Mike Mohamed back healthy?
CP
: Well, he's obviously one of our best players, so having him back in the lineup on a full-time basis will make us a better defense. He didn't play against Nevada because of the (toe) injury. He played part-time against Arizona. We expect to see him a lot on Saturday. That should boost our defense a little bit. Anytime you get one of your better players back, it obviously helps your group.
When you guys have not played well, what goes wrong?
CP
: It's been more the fundamental things -- guys not reading their keys and doing their job. That's the one thing we didn't do against Nevada. We had guys out of position, and guys not doing their job. Generally, when you don't play well on defense, that's what transpires. That night was like no other game.
How is UCLA's pistol different than Nevada's?
CP
: Very similar. It's very similar.
As a competitor, are you excited about getting a second crack at a specific scheme?
CP
: It's just another game plan, but we're excited by the opportunity to play against a very well-coached, talented UCLA team. It's our second week in the Pac-10, and we're just focusing on the next game at hand.
The Bruins have run the ball well this year. What do you see when you look at game film of UCLA?
CP
: It's pretty well-documented that they do a nice job in the running game. They've been able to move the football and control the clock. The line does a good job of working together. I think they work real well in terms of the blocking schemes they use. Both running backs have been a nice one-two punch for them. The quarterback obviously keeps you honest. They can run and throw it. They have a lot of weapons on the offensive side of the ball. They are going to be tough to deal with.
You've got a few games under your belt: How is coaching in college different than in the NFL?
CP
: It's just like I've said from day one: Coaching is coaching. I enjoy the opportunity to teach. You get a chance to do that every day. The biggest thing is the limited meeting time [in college]. So you've got to utilize your time as much as you can. But from a pure coaching standpoint, I've always enjoyed working with young players. In the NFL, that's how you build your team. You develop young players. It's no different at this level. It's just getting the players familiar with the techniques you want to use, the techniques within the scheme, the different calls they need to utilize between the linebackers, defensive line and secondary. That's how you play good defense.