NCF Nation:

Chris Del Conte
June, 15, 2013
6/15/13
10:22
PM ET
TCU's defense, top-ranked in the Big 12 last season, is already adjusting to the news that it will be without its best player, defensive end
Devonte Fields
, for the first two games of 2013, including the opener against LSU.

It got more bad news when coach Gary Patterson confirmed that reserve cornerback
David Jenkins
, coincidentally an LSU transfer, was kicked off the team amid burglary charges.
TCU 360
first reported
the story.
Jenkins turned himself into police and was dropped from classes as well as removed from the football team. Patterson told the school news platform that he was "very disappointed" in Jenkins' actions. Jenkins posted bond and was released.
The sophomore had never taken the field for the Horned Frogs, but showed promise as a scout-team player and was listed behind
Kevin White
on TCU's post-spring depth chart, opposite
Jason Verrett
, the Big 12's best returning corner. Jenkins was the No. 21 corner in the 2011 recruiting class and the 6-foot-1, 204-pounder had a physical presence.
The Carrollton, Texas, native transferred closer to home after redshirting at LSU, but it's always sad to see a story like this take a tough turn.
"When our student-athletes do not conduct themselves as proper members of the campus community, they lose the privilege of representing Texas Christian University and wearing the Horned Frogs uniform," TCU athletic director Chris Del Conte told the Fort Worth Star-Telegram in a statement.
It's a big loss for TCU's defense as a whole, but nobody's losing more from the situation than Jenkins.
May, 17, 2012
5/17/12
9:30
AM ET
TCU will have a new league and a new stadium this fall.
It will also have a new record for season ticket sales.

The Horned Frogs announced Wednesday that they had sold out of an allotted 30,000 season tickets, shattering the school record of 22,500 sold for the 2011 season.
The new Amon G. Carter Stadium will seat about 45,000.
TCU set the old mark on the heels of a Rose Bowl victory over Wisconsin, but rejoining old Southwest Conference rivals has the Horned Frogs fan base fired up.
"We are incredibly proud of the Horned Frog Nation," TCU athletic director Chris Del Conte said in a statement. "With the momentum in our program under (head coach) Gary Patterson, the new Amon G. Carter Stadium set to open this fall and the excitement throughout TCU, Fort Worth and the entire Metroplex with our Big 12 membership, this is an incredible time to be a Horned Frog."
There's no doubt about that. Good times in Fort Worth these days.
October, 11, 2011
10/11/11
11:21
AM ET
Big 12 interim commissioner Chuck Neinas and TCU athletic director Chris Del Conte met with the media for a little less than half an hour on Tuesday morning. Here are few notes from the gathering, as well as some extra notes from last night's announcement at TCU.
TCU, as one might expect, is pretty ecstatic about joining the Big 12.
"It's a great day to be a TCU Horned Frog. I can tell you that much," Del Conte said. "It's been an emotional whirlwind for everyone at TCU, but we're excited to be home and to get this show on the road as a member of the Big 12 Conference. The adulation on campus is second to none. Not too sure anyone slept last night."
Neinas: Big 12 will be a 10-team league in 2012
Neinas isn't putting any hard deadlines on Missouri, save the end of the 2011-12 school year, to make its decision on where its future conference home will be. That said, he believes the Big 12 will be a 10-team league with Missouri and TCU for the 2012-2013 school year.
"If Missouri was going to change horses, it wouldn't be for 2012 anyway," he said.
TCU is in, and Neinas all but ruled out any further expansion in the Big 12 until Missouri decides where it will be. There's some debate within the league about whether it wants 10 or 12 members, but that debate can't be settled, Neinas said, until Missouri decides if it's in or out.
"We'll give Missouri time to evaluate its situation and have an opportunity to look at the Big 12 and get a better understanding of where we're going," he said.
TCU likely won't play Texas or Oklahoma in Cowboys Stadium
Next season, TCU will open its renovated Amon G. Carter Stadium that seats approximately 50,000 people. If TCU slides into the already-prepared Big 12 future schedule and replaces Texas A&M, it would host Oklahoma in 2012 and host Texas in 2013. Both schools have sizeable fan bases in the Dallas/Fort Worth metroplex, but coach Gary Patterson isn't a fan of possibly moving either of those games to Cowboys Stadium, which would seat nearly twice as many fans.
"For us, we'll have a brand-new stadium and we want to play in it," Patterson said. "For us, if we're going to play in [Cowboys Stadium], it'll be a nonconference ballgame like we've done."
TCU played Oregon State in Cowboys Stadium last year and will take on BYU in Arlington later this year. Patterson emphasized that TCU's move, and embracing its status as the only Big 12 school located in the metroplex, is bigger than just the school.
"The financial windfall for this city being able to bring people from Tech -- as far as hotel rooms, restaurants -- people from Kansas, Iowa State coming down for weekends," Patterson said. "Even going out on the town on Thursdays on date night, seeing when LSU and Oregon played, all the people staying in Fort Worth and when Arkansas played A&M. This is a win for more than TCU. This is a win for Fort Worth. This is a win for the metroplex. Only good things can come out of it. Are you going to win 10-12 games every year? Probably not, but the key is to have a chance to challenge for the conference title, always get back to bowl games and that's going to be our goal."
Neinas says Missouri report is inaccurate
A 45-page study out of Missouri was leaked to the Associated Press on Monday and stated that the university could gain $12 million per year with a move to the SEC. Neinas isn't buying it.
"If an institution in the Southeastern Conference is going to get $12 million more annually, and there are 14 members, that means they would have to increase their annual income from TV by $168 million," Neinas said.
He followed up after being asked if he thought that was possible.
"I don't think that's accurate," he said. "You can ask ESPN or somebody if they want to pay another $168 million. I don't think that's in the cards."
Neinas said he thought the money would be a wash, and noted that he hoped Missouri would realize the Big 12 has some cards to play, too.
"I would like to see it," Neinas said of the report. "I'd like to know who wrote it."
A few Big 12 quick hits:
Don't look for any change in schools keeping their Tier III media rights. They'll be keeping them for the foreseeable future as part of the league's design. "There's been no argument or discussion on sharing those," Neinas said. "That's pretty clear cut."
Back at an athletics directors meeting on Sept. 27, a day after the first contact between Neinas and TCU, some Big 12 ADs favored a nine-team Big 12. "I don't think anyone is holding that position now," Neinas said.
Del Conte declined to weigh in on the 10 versus 12 debate on Tuesday. "That's out of my pay grade right now."
No school had negativity toward TCU joining.
Ironically, Neinas is a Wisconsin graduate, which TCU beat in last year's Rose Bowl.
October, 10, 2011
10/10/11
8:46
PM ET

FORT WORTH, Texas -- I hope TCU didn't think its program had peaked when it beat Wisconsin to become the Rose Bowl champion last season.

After being exiled from the adults table when the Southwest Conference broke up in 1996, TCU is back.

"We never made an excuse. We never said, 'Why not us?'" said athletic director Chris Del Conte. "[TCU donors and fans] decided, 'We will take care of our own. We will get to the promised land if we work hard and believe in each other.' And you did that.

"Today is living proof that dreams do come true."

How did those dreams come true?

TCU grew up under the guidance of Gary Patterson, who racked up five 11-win seasons in the past six years, capped by last season's glorious night in Pasadena.

Now, it's time to trade in the hot dogs and mac and cheese at the kids table for the steak and potatoes of an AQ conference schedule.

The Horned Frogs are ready.

"We have an opportunity. If the Big 12 believed that we could not be competitive in this league, then they wouldn't have asked us," Patterson said.

TCU doesn't bring the financial punch the Big 12 would have liked. It has problems filling a stadium that will seat about 50,000 and that is currently undergoing a $164 million renovation. The Horned Frogs claim 78,000 living alumni. By comparison, Texas had 51,195 students enrolled during the 2010-11 school year.

Both the stadium and the school's enrollment (9,518) will be the smallest in the Big 12.

That hasn't changed. Though it might soon with high-profile opponents like Texas and Oklahoma preparing to make trips to Fort Worth, instead of Mountain West-flavored cupcakes like UNLV and New Mexico.

TCU's school record for season tickets (14,900) was shattered when it sold 19,100 in 2010. After winning the Rose Bowl, the Horned Frogs sold 22,000 for 2011 -- higher than some total attendance numbers when Gary Patterson became defensive coordinator back in 1998.

Now they're in the Big 12, where the Horned Frogs provide what more established members (looking at you, former Big 12 North) can't. Football credibility.

After the departures of Nebraska and Texas A&M, and possibly rising program Missouri, it's something the Big 12 badly needed.

TCU? Well, under Patterson, the Horned Frogs bring it. Among other accomplishments, TCU is the only program to finish the last three seasons in the top 10 of both polls.

The Horned Frogs are about to start bringing even better players to Fort Worth, too, after landing on equal recruiting ground with the rest of the Big 12 powers that mine the Dallas-Fort Worth metroplex for talent.

Undefeated regular seasons in 2009 and 2010 landed the Horned Frogs in the BCS twice. That's the same number of appearances as Nebraska, and excluding Texas (3-1 in four appearances) and Oklahoma (3-5 in eight appearances), that's more than any other team in the Big 12.

"Being in the Big 12 Conference doesn't make us successful," Patterson said. "Winning in the Big 12 Conference is what makes you successful. Our goal is going to be to win in the Big 12 Conference, not just compete in the Big 12 Conference."

The Big 12 was reeling after losing three members in 15 months, with another also looking to leave. Money was secondary to stability, and the league still has $1.1 billion on the way from Fox Sports over the next 13 years and a negotiation for the league's most valuable games coming up in 2014.

Nothing helps that price rise like good football.

TCU dealt with disappointment 15 years ago.

It hired Patterson as its head coach in 2000. Since, it's built itself into something closely resembling a national brand.

As a reward, it gets the access to the BCS without the obvious geographic drawbacks of the Big East, which TCU was slated to join in 2012.

For the Big 12, life is good.

For the Horned Frogs, life is about to get infinitely better.
November, 29, 2010
11/29/10
4:15
PM ET
Less than six months ago, the Mountain West rejoiced. It had just added Boise State as its 10th member, making what appeared to be a formidable lineup of schools with TCU, Utah and BYU while bolstering its case to become a seventh automatic qualifying conference.
[+] Enlarge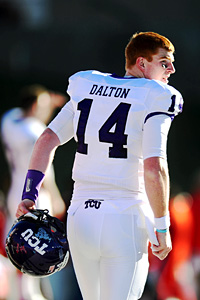 Mark J. Rebilas/US PresswireTCU, unbeaten this year behind QB Andy Dalton, joined Utah and BYU in leaving the Mountain West.
Today, Boise State is the only one of the four left standing in the Mountain West.
TCU became the latest to bolt the conference
, accepting an invitation to join the Big East and the automatic qualifying spot that comes with it. The move comes on the heels of Utah leaving for the Pac-10, and BYU deciding to go independent in football.
Now what is left is a slightly stronger version of the WAC. Indeed, the WAC-raiding Mountain West has been raided itself.
Boise State once again will be the favorite to dominate a league that is not as strong as it was last June. WAC brethren Fresno State, Nevada and potentially Hawaii are joining up for 2012. San Diego State is on the rise, and Air Force is solid. But beyond that, UNLV, New Mexico, Colorado State and Wyoming might as well be Idaho, Utah State, New Mexico State and Louisiana Tech.
As for the coveted bid to become an automatic qualifying conference, the accomplishments of TCU will count for the Mountain West during this evaluation period because the Horned Frogs will still be a member of the conference when the evaluation period is completed in December 2011. TCU joins the Big East in 2012. What Boise State has done will also count because it is joining the league for the 2011 season.
But it will not get the accomplishments of Nevada and Fresno State (joining in 2012), and loses Utah and BYU. If it fails to meet the criteria laid out by the BCS, the league can appeal to a presidential oversight committee for inclusion as an automatic qualifying conference for the 2012-13 and 2013-14 seasons.
BCS executive director Bill Hancock said in an e-mail Monday that he did not know where the Mountain West stood as of this week in its quest to become an AQ conference, reiterating that, "Before the season began, intuitively we knew that the Mountain West was in a good position." The numbers will be run after selection Sunday in 2011.
The Big East has an automatic selection through the 2013-14 season, but the qualification standards beyond that have not been determined. When they are, TCU would also be included in the Big East evaluation, if there is one.
As for Boise State, the Broncos made the move to the Mountain West to bolster their chances of being in an AQ conference. Coach Chris Petersen tried to put a happy face on the news, saying, "I still think it's a good conference, a better conference than the conference we're in right now."
But WAC commissioner Karl Benson said what we are all thinking: "I'm sure the WAC members that have elected to go to the Mountain West thought they were going to get closer to the automatic qualifying conferences. But in effect not a whole lot of upward movement has been made by those three schools."
And that is what it all boils down to -- getting into one of those coveted AQ conferences. TCU and Utah have jumped at that chance. For those people who yell that Boise State would be taken seriously if it was in a "real conference," the reality is the Broncos would jump if given the same opportunity.
All you have to do is look at the plight of the non-AQ to understand the reality. You have to be perfect to have any shot at making a BCS game. Despite undefeated seasons from Hawaii, Utah, TCU and Boise State, none of them have gotten a coveted berth in the BCS National Championship Game. Granted, neither did an undefeated Cincinnati last season, but at least the Big East has an automatic spot. A Big East team with four losses could get in this year (Connecticut). A non-AQ with four losses, meanwhile, is relegated to the likes of the New Mexico Bowl.
TCU athletic director Chris Del Conte emphasized the importance of going to an AQ conference Monday and had this to say about leaving the Mountain West: "The great thing about the Mountain West -- it's a wonderful conference, but it's not the same conference we joined," he said.
The Mountain West will now look to Hawaii to officially join the league after extending an invitation to become the 10th member of the league. But the potential exists for others to be added.
"Our board of directors and directors of athletics, as they have throughout the history of the MWC, and with even more focus recently, will continue to analyze the landscape and chart our course in the context of ongoing changes," Mountain West commissioner Craig Thompson said. "That includes conversations already underway with potential future members, as well as related discussions with our television and bowl partners."
February, 23, 2010
2/23/10
1:30
PM ET