January, 26, 2012
1/26/12
1:00
PM ET
If I made a list of Big Ten coaches most likely to
jump in freezing water outside a casino in Iowa
in late January, Kirk Ferentz wouldn't be near the top.
Ferentz and
Johnny Knoxville
don't have much in common.
But the Iowa head coach on Saturday will step outside his comfort zone and into some very cold water. Ferentz and several others from Iowa's athletic department will take the arctic plunge around noon ET Saturday as part of a fundraiser for the Hawkeye Wrestling Club. Proceeds go to help wrestlers with living expenses and costs as they prepare for events like the Olympics and the World Championships.
Here's
more information on the event
, which takes place at the Riverside Casino and Golf Resort in Riverside, Iowa (something tells me Ferentz would prefer a golf fundraiser in June, but this is how those wrestlers roll).
Ferentz talked about the arctic plunge last month
while in a much warmer location (Arizona).
"How do you say no to those guys?" Ferentz said Thursday after his Insight Bowl press conference. "They'll break my arm or dislocate my shoulder. I'm a huge fan, obviously. I think that involves cold water if I remember. But how do you say no to those guys?"
Hmmm, broken arm or hypothermia? Tough call.
Iowa assistant coach LeVar Woods and strength coach Chris Doyle are also among those taking the plunge. Ferentz's appearance already is
helping generate pledges for the event
.
Kudos to Ferentz for doing this. I can't imagine too many other 56-year-old college football coaches would do the same, and certainly not those pampered, sun-tanned coaches from SEC country.
I'm looking forward to the photos and videos of the event.
And who knows? Maybe jumping in freezing water will help Ferentz pick a defensive coordinator.
September, 14, 2011
9/14/11
2:30
PM ET
Does Iowa have a conditioning problem?
The mere suggestion would be swiftly dismissed during most of Kirk Ferentz's tenure as Hawkeyes coach.
Iowa's success during the Ferentz era can be directly tied to its strength and conditioning program, which consistently takes unheralded prospects and develops them into All-Big Ten candidates who outwork the competition. There's a reason why Iowa strength and conditioning coach Chris Doyle makes more money than many major-conference coordinators, and why Ferentz stuck by Doyle during the rhabdomyolosis outbreak in January.
[+] Enlarge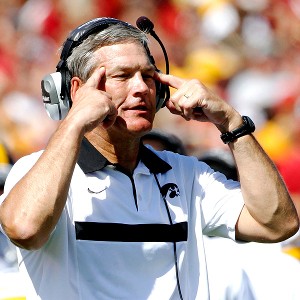 AP Photo/Charlie NeibergallKirk Ferentz and his Iowa Hawkeyes have had a tough time finishing games lately.
But Iowa's recent losses have led some to question one of the program's fundamental values. The Hawkeyes blew fourth-quarter leads in each of their final three regular-season games in 2010, losing all three contests. If not for Micah Hyde's interception return for a touchdown against Missouri in the Insight Bowl, it might have been four consecutive blown leads.
Then came Saturday's game at Iowa State, where Iowa took a 24-17 lead with 5:50 to play. Needing a defensive stop to seal the win, Iowa allowed Iowa State to march 59 yards in 13 plays. The Cyclones converted on third-and-15, third-and-20 and fourth-and-1 before scoring the tying touchdown. Iowa ended up
losing 44-41
in three overtimes.
Iowa may or may not have a conditioning problem, but the Hawkeyes appear to have a finishing problem.
"Not finishing the game is always frustrating," linebacker Christian Kirksey told ESPN.com. "Especially in a rivalry game, when you lose, there's nothing good about that."
Iowa's conditioning level, particularly on defense, will be tested Saturday against Pittsburgh.
I spent some time on Pitt's campus last week and spotted many students wearing T-shirts that read: "High Octane Football." It's the motto new Pitt coach Todd Graham has brought to the program, and it stems mainly from the tempo Graham demands from his spread offense.
"This isn't nanotechnology or nuclear science," Graham
told a crowd of Pitt fans
this spring. "We are going to mentally and physically wear you out."
Graham's Tulsa team was one of only eight FBS programs to run more than 1,000 offensive plays in 2010. The quick pace worked as Tulsa ranked fifth nationally in total offense (505.6 ypg) and sixth in scoring (41.4 ppg).
Graham wants to snap the ball within five seconds of when it is marked for play and keeps his offense in hurry-up mode throughout the game.
Although Pitt hasn't been nearly as explosive as Graham's old squad in its first two games -- the Panthers average 35 points and 395.5 yards -- only seven FBS teams have run more plays than Pitt's 156.
"You're going to see the quarterback option attack, throwing the football, a lot of plays, fast-paced," Ferentz said.
The pace shouldn't be new to Iowa after facing Iowa State last week, Missouri in the bowl game and teams like Northwestern and Michigan last season. Graham has three former Michigan assistants, including co-offensive coordinator Calvin Magee, on his staff at Pitt.
"We've played a lot of teams that are high-paced," Kirksey said, "so throughout practice you've got to make sure you fly around to the ball, keep that high tempo and be aggressive."
Iowa endured a stretch of close losses in 2007 and in the first part of 2008 before reversing the trend and turning into arguably the nation's most clutch team in 2009. Saturday's game marks a chance for the Hawkeyes to regain a bit of momentum and for the defense to prove it can outlast a fast-paced foe.
"We're a pretty conditioned team," said Kirksey, who led Iowa with 13 tackles, two tackles for loss, a sack, a forced fumble and a fumble recovery against Iowa State. "It just makes us want to work harder. Now we know it can go over 60 minutes because we've seen it in overtime. It just makes us push more and become better as a team.
"We will finish a game."
April, 8, 2011
4/08/11
6:00
PM ET
IOWA CITY, Iowa -- Greetings from the press box at Kinnick Stadium. Am I early for kickoff?
Unfortunately, football season is about five months away, but Iowa is gearing up for the 2011 campaign in spring practice. I had a chance to visit with head coach Kirk Ferentz and several players earlier today. Most of my Iowa coverage will appear early next week, but there were several interesting nuggets from today.
QUARTERBACK SITUATION

No surprise here, but
James Vandenberg
has established himself as Iowa's No. 1 option. The junior's experience filling in for
Ricky Stanzi
in 2009 certainly helps, but he has continued to make progress this spring after a strong pre-bowl session.
[+] Enlarge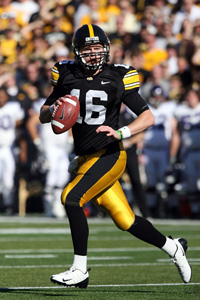 Reese Strickland/US PresswireAs expected, James Vandenberg has taken the lead in the race to replace quarterback Ricky Stanzi.
"James has separated himself from the other two guys," Ferentz said. "And after that, it's a pretty good competition between John [Wienke] and A.J. [Derby]."
Vandenberg's teammates
expressed complete confidence in him
at the start of the spring, and nothing has changed. Barring a significant change between now and Sept. 3, Vandenberg will start the season for the Hawkeyes.
"James is one of those guys, he's not not going to leave the door open too much," Ferentz said. "He really gives himself a chance to be a good player."
LATEST ON RHABDO FALLOUT
Ferentz confirmed that defensive back Willie Lowe, one of 13 Iowa players hospitalized with rhabdomyolysis in January, is not with the team. Lowe and Ferentz last spoke in March before Iowa's spring break, and Lowe's situation with the team is "clearly unresolved," Ferentz said.
Although the school has granted Lowe his release, Ferentz echoed AD Gary Barta in saying he hopes Lowe remains with the team.
The other 12 players remain with the team. There have been non-rhabdo-related injuries within the group that have limited players, but the expectation is all will remain on the squad.
"Everybody's out working, and nobody else has asked for a release," Ferentz said.
Ferentz reiterated his support for head strength and conditioning coach Chris Doyle and Iowa's strength program, which drew criticism after the rhabdo situation.
"Chris Doyle is the top guy I've been around in that realm, and he's widely recognized," Ferentz said. "Chris' name is very highly regarded in the NFL circles, he's had a lot of opportunities to go that route. Fortunately, he's stayed here and I'm very appreciative of that. ... There's no question in my mind he's a huge part of any success we've experienced."
INJURIES
Ferentz mentioned Iowa has 6-8 players who would normally be in the two-deep who aren't practicing this spring because of injuries. Defensive lineman Steve Bigach is out following offseason surgery, and defensive lineman Tom Nardo has been out with a foot injury.
"Those are two older guys we'll have back in the fall," Ferentz said.
Wide receiver
Marvin McNutt
, linebacker Shane DiBona and safety Tanner Miller all are missing the spring with injuries. McNutt looked good walking around the complex Friday and should be fine for preseason camp.
PERSONNEL NUGGETS
It will take some time for Iowa to figure out the secondary for 2011. Micah Hyde, who has played the past two seasons at cornerback, is seeing time at safety this spring, and Jordan Bernstine is being used at both safety and cornerback. Shaun Prater has the left cornerback spot essentially locked down. "If he gets beat out, there's something wrong," Ferentz said. "He's practicing well and performing well." Up to eight players are in the mix for the other three spots.

Ferentz has been pleased with sophomore running back Marcus Coker, who is building off of his superb performance in the Insight Bowl. You never know how success affects young players, but Coker seems to be approaching it the right way. Ferentz noted that if Coker hadn't fractured his collarbone in preseason camp, he could have played a much bigger role in the run game last season. "He showed us a lot about his mental makeup, just how he caught up," Ferentz said. "He did remarkably well from a mental standpoint for all the time that he missed. He's got the potential to be a lot better football player as he moves along."

Ferentz also seems pleased with the spring progress of older defenders like linemen Mike Daniels and Broderick Binns, linebacker Tyler Nielsen and Prater. The offensive line returns three starters and Ferentz noted that Adam Gettis, who would have been a starter if not for injuries last season, has had a good spring.

A final thought from Ferentz on the team: "We're a young team, but we have a good core of seniors that are good players, good leaders and good team guys. We've been pretty enthusiastic about the last couple groups of recruits we've brought on campus. Some of those guys have played and other guys have not played but we feel good about [them]. But I like what I see about the way guys are working. We're not a real good team right now, but I like what I see with the potential they have."
March, 23, 2011
3/23/11
11:48
AM ET
Iowa's internal investigation into the January hospitalization of 13 football players with rhabdomyolysis brought mostly good news for Kirk Ferentz and the football program.
The full rhabdo report will be released very shortly -- university president Sally Mason is revealing it at a Board of Regents meeting Wednesday -- but the Des Moines Register
obtained the findings
from a five-member investigative committee.
The key points:
The committee determined a strenuous squat-lifting workout the players did on Jan. 20 in all likelihood caused the rhabdo outbreak. Players were "in no way responsible for their own injuries," and their rhabdomyolysis isn't linked to use of drugs (illegal, prescription or over-the-counter) and supplements.
The strength and conditioning coaches didn't conduct the workout to punish players or threaten players if they didn't successfully complete the sessions. Strength coaches referenced the close losses during the 2010 season and said the workouts would determine "who wants to be here."
The committee affirmed the need for Iowa to discontinue the workout -- Ferentz already said it no longer will be used -- and pointed out that while the team successfully went through the same drills twice (June 2004 and December 2007), this case was different because the workout took place after a three-week break from athletic activities.
Players' parents interviewed by the investigators complained about poor communication from the football coaches. Parents "interpreted the fact that the head coach did not return immediately to campus as a lack of concern on his part for the affected players. Some parents expressed anger and distrust as a result of this event and suggested that some of the coaches should have been suspended until the investigation was complete."
The committee recommended testing for all players when a few develop symptoms from a workout and finding better ways to determine potential complications from specific workouts.
The report stressed the need for improved communication between players, strength coaches, athletic trainers and doctors. It details several instances of players having discolored urine -- a primary symptom of rhabdo -- but not informing any trainers. The initial rhabdo diagnosis came only after a staff member found a player to have high blood pressure.
I'll get back to the communication element, but the report bodes well for Iowa's program. The confirmation of no drug/supplement use is important, and the investigators didn't find major wrongdoing by head strength coach Chris Doyle or his staff. The criticism from players' parents is significant and underscores the poor communication that took place throughout the process. It remains to be seen whether any legal action will be taken against the program.
We'll hear more from Ferentz later today as Iowa kicks off spring ball, but assistant coach Eric Johnson said last month that all the players hospitalized with rhabdo should be ready for practice.
The big issue going forward is who has final say on what workouts the team goes through and when. If my son played football for Iowa, I'd feel more comfortable if an athletic trainer or a doctor signed off on a specific workout than a strength coach. That's not a knock on Doyle or his staff, but many programs have it structured where the chief athletic trainer must approve strenuous workouts like this one before players go through them. From talking to several folks in the training world, I doubt a workout like this would have been approved given the layoff that preceded it.
February, 2, 2011
2/02/11
7:35
PM ET
Iowa coach Kirk Ferentz held his annual signing day news conference earlier Wednesday, but as you'd expect, he
spent most of his time talking about last week's player hospitalizations
.
A few nuggets from Ferentz:
Iowa will no longer hold the 100-squat, timed workout that led to 13 players being hospitalized with rhabdomyolysis. But Ferentz said the same workout has been conducted four times before during his tenure with no problems. Players most recently went through the workout in December 2007. They also went through a max-out squat session in June 2004 after a four-week break, much like the layoff that took place before the recent workouts.
Ferentz: "We have done something of equal challenge, at least in our opinion, four times. The question begs to be asked is what happened here and why this time and not the other three?"
Ferentz defended strength and conditioning coach Chris Doyle and his staff, saying that the team's workouts are "designed to be rigorous and also designed to be safe. I think they were in this case." He added of Doyle: "He's the most sought-after coach I've ever been around."
The coach also stood by the reports that Doyle challenged players during the workout, telling them, "We'll find out who wants to be here." Ferentz echoed the statement, saying, "I've used those words in the past and I'll use them in the future. And, quite frankly, every day I come to work, that's something I give consideration to."
Ferentz went through the timetable of his activities last week. He actually returned to Iowa City on Tuesday before going out on the road Wednesday. The coach ultimately acknowledged that he should have been with the players and their families sooner. "I could have done anything; that's for sure," Ferentz said. "That's a decision I made, and I said that's bad judgment on my part. It's a call that I made. And it's kind of like going for it on fourth down or not; sometimes you're right and sometimes you're wrong."
The players are recovering well, but there's no timetable for their return to full team activities. "[Doctors] are going to be very prudent and cautious and make sure no players are at risk before they return," Ferentz said.
Ferentz hasn't given much thought to running back Adam Robinson's wish to return to the team. Stay tuned on this issue.
From the quotes I've seen and the response from media members and Iowa fans, Ferentz seemed to handle himself and a delicate situation very well Wednesday. You have to wonder if the polished coach could have limited the backlash against himself and the program if he had a news conference in the middle of last week. Perception is huge in college football, and Iowa didn't help itself in this situation.
A lot of good information from Wednesday's news conference. Ferentz answered a lot of important questions, although he, like the rest of us, will wait for more answers from Iowa's investigation into what happened.
January, 30, 2011
1/30/11
8:50
PM ET
Great news out of Iowa City on Sunday night, as officials announced that all 13 football players stricken with rhabdomyolysis
have been released from the hospital
.
Coach Kirk Ferentz announced Friday that five players were being released. Six more were discharged Saturday and the final two on Sunday. The university last week announced an investigation into what led to the series of hospitalizations.
Here's Ferentz's statement issued Sunday:
"Getting all 13 student-athletes healthy and out of the hospital has been priority number one all along, so I'm very happy that they all are now back home and resuming their lives. These young men and their families have been through a difficult and trying time. They are under my supervision and watch, and I am truly sorry for what they've experienced. They trained extremely hard and ended up in the hospital, and there is no indication they did anything wrong. So I'm pleased they are progressing well and I look forward to seeing all of them being back to normal.
"Now that these students are out of the hospital and on the road to recovery, we can devote our full attention to determining what happened, and making sure it does not happen again. There has been a lot of speculation by those who don't have the facts and it is unfair and inappropriate for anyone to make wild guesses about what happened."
Athletic director Gary Barta echoed Ferentz about getting to the bottom of what happened and also cautioned against rushing to judgment.
"We now can focus exclusively on discovering the root cause of this situation, and I'm anxious to work with president [Sally] Mason's group to this end," Barta's statement reads. "We will review every aspect of the workouts and talk with everyone involved. The staff and coaches who work with these young men are highly respected professionals who are dedicated and care deeply about our student-athletes. I hope those who follow our program will respect this process moving forward and refrain from any further unproductive rush to judgment."
It's good to hear Ferentz absolving the players in his statement, while it's noteworthy what Barta says about the strength and conditioning staff who oversaw the training sessions.
The big questions trace back to the series of workouts that began Jan. 20. Was the intensity and the structure of these sessions standard for the start of winter training, or were things cranked up to an excessive level? Only the strength coaches and the players know the answer.
Make no mistake: Strength coach Chris Doyle and his staff have been integral to Iowa's success in Ferentz's tenure. They have a proven conditioning program that works masterfully. Their investment in the players and their care for the players shouldn't be questioned. So what changed this time around? Could anything have been done along the way to prevent the hospitalizations? Did the way Iowa lost games in 2010 -- blowing fourth-quarter leads -- contribute to players being pushed too far?
Every aspect of what took place between Jan. 20-24 must be closely examined.
January, 28, 2011
1/28/11
3:36
PM ET
The news is getting worse in Iowa City as University Hospitals and Clinics announced Friday that the medical records of the 13 Iowa football players hospitalized with rhabdomyolysis "may have been accessed inappropriately."
The hospital found the potential violations after "a proactive screening" of the medical records, which the hospital routinely conducts. Health care workers with "a legitimate reason to view those records" are the only ones allowed access.
The players' parents were notified of the issue Friday, and will be told the outcome of the investigation, which could take up to two weeks.
Also, colleague Joe Schad has a
new report on the hospitalized Hawkeyes
that is a must read.
A parent of a hospitalized Iowa player tells Schad that the players tested negative for illegal drug use and that head coach Kirk Ferentz received a good deal of criticism when he returned from a recruiting trip to visit the players in the hospital.
"Where were you?" one parent said he asked Ferentz. "How can you be out recruiting other kids? You sat in our living room and told us you'd take care of them."
The parent said Ferentz, who has yet to comment publicly on the intense workouts that likely contributed to the players' illnesses, "was quiet. I believe he is devastated by all this. He has been wonderful. But his mistake was not coming off the road right away."
Have to agree here. I don't have a huge issue with Ferentz not attending Wednesday's news conference. It was more important to have one of the strength coaches at the recent workouts to face the media. But with so many players entering the hospital Monday night, Ferentz would have been well served to return as soon as possible to be with the players and their parents.
Schad also reports the following new details on the situation:
One parent said some players had gained 30 to 50 pounds since entering the hospital because of the amount of fluids that have been forced into their bodies.
The parent said that one player was told he had sustained "20 to 30 percent loss of kidney function and that the damage may or may not be repaired."
This is very scary stuff. I hope I stop getting e-mails that say "this happens everywhere" and "I don't see the big deal."
We're also learning more about the workouts that likely led to the players being hospitalized. Thursday's workout marked the players' first after returning from winter break.
According to a parent, a strength coach said in a meeting before the sessions that the Hawkeyes had failed to finish games too often last season and that "we'll find out who wants to be here."
Iowa blew fourth-quarter leads in all four of its Big Ten losses and allowed late touchdowns in all five of its losses. Some people questioned the team's conditioning level, a hallmark for the program during strength coach Chris Doyle's tenure.
The main thing is to get these players healthy and out of the hospital, but so many questions remain and the parents don't sound happy. Iowa bungled Wednesday's news conference, and it will be interesting to see how the university handles a sensitive situation going forward.
September, 27, 2010
9/27/10
1:03
PM ET
Inspired by the new social game ESPNU College Town, here's what I would select from around the Big Ten to build the best program in the conference.
Academics:
Northwestern. The Big Ten boasts several of the nation's top public institutions, but Northwestern still holds the edge academically despite allowing a certain college football blogger to matriculate.
Athletic director:
Michigan's Dave Brandon. Sure, he's a rookie AD, but Brandon has been very impressive, from handling the NCAA investigation to pushing for permanent lights at the Big House. As a true CEO, Brandon fits the modern model of what an AD should be, and he'll do some big things at Michigan.
City:
Madison, Wis. It's the perfect combination of college town and urban area. There's diversity, culture, natural beauty and lots of booze, so everyone's happy.
Coach:
Jim Tressel. Powerhouses like Ohio State have built-in advantages, but Tressel has completely dominated the Big Ten and archrival Michigan throughout his tenure. Winning is never automatic (see: Cooper, John) but Ohio State appears to be on autopilot.
Facilities:
Ohio State. The Woody Hayes Athletic Center is part museum, part office center and part state-of-the-art training site. There's nothing the Buckeyes lack, for not only preparation, but recruiting purposes.
Fans:
Penn State. I've never seen a more coordinated student section in the Big Ten or elsewhere, and Penn State fans make Beaver Stadium what it is on fall Saturdays.
Game day atmosphere:
Penn State. From the acres of tailgates to Paternoville to the Big Ten's best in-game entertainment, game day in State College is special. Not an easy trip, but totally worth it.
Mascot:
Sparty the Spartan. Described as
"massive, but cartoon-cute,"
Sparty is one of the nation's most recognizable mascots. He looks tough, but he doesn't scare (all) the kids, making him an easy pick here.
Stadium:
Ohio Stadium. Wisconsin's Camp Randall Stadium might be my personal favorite, but if I'm building a program, I want the most intimidating environment possible. Ohio Stadium provides it, especially when the sun goes down.
Strength program:
Iowa. Chris Doyle consistently takes average recruits or walk-ons and
transforms them into All-Big Ten performers
. His list of NFL alumni speaks for itself.
The choices weren't easy, especially for athletic director, fans, facilities and stadium. With so many recent renovations around the league, the Big Ten boasts some top-notch buildings. But I like the way my program looks given these components. How would you do it differently?
June, 23, 2010
6/23/10
11:30
AM ET
Chris Doyle is proud of what Iowa has built in the past 11 years. During Kirk Ferentz's tenure as Hawkeyes head coach, the program has become known as one of the nation's best for player development. Doyle has been there every step of the way, coming in with Ferentz in 1999 as the team's head strength and conditioning coach. For more than a decade, Doyle has helped unheralded recruits and walk-ons transform themselves into elite college football players and NFL prospects. His top pupils include Dallas Clark, Eric Steinbach, Chad Greenway and Robert Gallery.
[+] Enlarge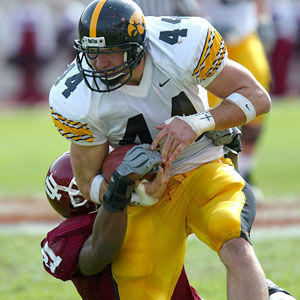 AJ Mast/Icon SMIDallas Clark was transformed from a high school quarterback into an All-American tight end.
Doyle recently shared his thoughts on shaping Iowa into a winner.
What has changed in your job between now and when you arrived at Iowa?
Chris Doyle:
I don't think there's been much of a change. When we first got here, it was about building a culture, instilling the values that match the personality of our head football coach: show up, listen, learn, do your job, no excuses. That was the challenge in '99 and that continues to be the challenge. Complacency can very easily set in to a program that's had some success, and we've had some success. We've also experienced some disappointment, so for us, it's a matter of continuing to build the culture. The good news is we have very positive examples of guys who have done things the right way and who have thus been rewarded for it. So we have built-in examples to utilize, but the challenge remains the same every single year.
How would you describe your philosophy toward doing this?
CD:
We recognize who we are and we have a niche in college football, and our niche is we're going to strive to be the absolute best at player development. When Coach Ferentz came here in '99, we said, 'We cannot be like everybody else in strength and conditioning and show up and beat great football teams. We have to do it better. We have to train harder, we have to train smarter and recognize that there's nothing comfortable about being a college football player, there's nothing comfortable about getting a degree, there's nothing comfortable about trying to perform at your highest level.' How do we do it differently? A big part of what we do is individualized program design.
We're going to look at three areas. We're going to look at training maturity, because everybody's different. We're going to look at functionality. Everyone has a different set of parents, different genetics, different medical backgrounds and different athletic backgrounds, so what functional needs do the athletes have? We screen every athlete. And the third thing is position specific training. There's extreme variation in skill sets. You're looking at a sport where a 5-foot-10, 180-pound defensive back is going to compete on the same playing field as a 6-foot-7, 315-pound lineman. That needs to be addressed in their training.
How did you approach the challenge of working with guys that maybe weren't the top recruits or the big names?
CD:
That's who we are. We don't shy away from that. At Iowa, the guys that have been the absolute most successful guys in our program, the guys who you see their pictures on the wall, are guys who share similar characteristics. They come from humble beginnings, none of them were heavily recruited, none of them were blue chip, 5-star recruits. They worked extremely hard and they were tough guys, smart guys. So you look at those qualities -- modest start, hard-working, tough kids who love the game -- we embrace that. We kind of relish that challenge of, 'Hey, we're going to bring a guy in that maybe flies under the radar in recruiting, but he's our guy.' Iowa football's not for everybody, and if you're looking to sample what Joe College samples when he goes on campus and there's a lot of different options for how kids spend their time, don't come to Iowa. We're not interested in Joe College. It's going to be challenging. We say we're going to try and progress at a faster rate than other teams, and I'm sure everyone says that. But it's one thing to say it, it's another thing to do it. And if we're going to do it, then our guys have to have a stronger commitment than everybody else.
June, 23, 2010
6/23/10
10:01
AM ET
Football strength training is the flavor this week on ESPN.com, as we attempt to pump ... you up! Sorry, couldn't resist.
Head coaches get most of the credit -- and, to be fair, most of the blame -- but strength coaches spend more time with players than anyone else on campus. They play major roles in developing personnel for the season.
So who are these guys? Here's a quick look at the Big Ten strength coaches.

ILLINOIS
Name:
Lou Hernandez
At Illinois since:
2005
The skinny:
Hernandez made the transition from Florida to Illinois with Fighting Illini head coach Ron Zook, for whom he has worked since 2003. A native Texan, Hernandez received both his bachelor's and master's from the University of Houston, where he worked from 1992-2001 as both an assistant strength coach and the head man. Hernandez spent 2002 as the assistant strength and conditioning coach for the New York Jets. Despite being just 5-foot-8, Hernandez
was a competitive power lifter
who could bench 507 pounds and squat 720 in his heyday. He also consults Illinois players on nutrition and
helped defensive end Will Davis add to his frame
in 2008.

INDIANA
Name:
Mark Wateska
At Indiana since:
2002
The skinny:
Wateska has spent nearly a quarter century as a strength and conditioning coach, including the last eight seasons with the Hoosiers football program. He played football at Penn State and was part of the 1986 national championship team. Wateska received both his bachelor's degree and his master's degree in exercise and sports science from Penn State and started his career there. He eventually left for Boston College, where he served as an assistant strength coach for four years before he took his first head job at Maine. Before Indiana, Wateska spent seven years as Stanford's head strength and conditioning coach. After his first year at The Farm, Wateksa was named Pac-10 Strength and Conditioning Professional of the Year by the National Strength and Conditioning Association (NCSA).

IOWA
Name:
Chris Doyle
At Iowa since:
1999
The skinny:
Doyle has been in Iowa City for
every step of the program's resurgence
under Kirk Ferentz. He made his mark right away, earning Big Ten Strength Coach of the Year honors from the NCSA in 1999. Doyle has helped 149 players who have reached the professional ranks in the NFL, NHL and NBA, including 24 Iowa players selected in the last six NFL drafts. A native of Quincy, Mass., who earned two degrees at Boston University, Doyle came to Iowa after a year at Utah but was no stranger to the Big Ten. He served as Wisconsin's assistant strength and conditioning coach from 1996-98. Doyle worked both the football and hockey teams in Madison.

MICHIGAN
Name:
Mike Barwis
At Michigan since:
2008

The skinny:
Barwis followed Rich Rodriguez to Michigan after spending 14 years at West Virginia, where he worked with the school's Olympic sports programs before taking over strength and conditioning for football in 2003. Rodriguez is extremely loyal to Barwis and gives Barwis a lot of credit for the Mountaineers' rise to national prominence from 2005-07. Barwis has coached 24 NCSA All-Americans since 1999 and received the Bronze Award from the NCSA certification commission in 2004. A former mixed-martial arts fighter, Barwis'
workout regimes at West Virginia
became legendary, and the Philadelphia native has developed quite a reputation among Michigan players and fans.

MICHIGAN STATE
Name:
Ken Mannie
At Michigan State since:
1994
The skinny:
Mannie made the transition with Nick Saban from Toledo to Michigan State in 1994, but while Saban moved on, Mannie remained a fixture in East Lansing. He has received numerous awards and honors during his Michigan State tenure, including being named Master Strength and Conditioning Coach by the NSCA in 2002 and being inducted into the Varsity S Club as an honorary member in 2007. Mannie, who oversees the strength and conditioning programs for all of Michigan State's sports, is a regular contributor to the
Scholastic Coach and Athletic Director
publication. He first met Spartans head coach Mark Dantonio at Ohio State, where they both served as graduate assistants in 1984.

MINNESOTA
Name:
Mark Hill
At Minnesota since:
2007
The skinny:
A 1999 graduate of Tennessee-Chattanooga, Hill already has worked as a high-level strength coach in the Big 12, Pac-10 and Big Ten. He joined Minnesota's staff in head coach Tim Brewster's first season after spending three years as associate director of performance enhancement at Arizona. Hill worked closely with Antoine Cason at Arizona, helping the defensive back win the Thorpe Award. He has mentored six All-Big Ten players at Minnesota and helped coach 13 All-Americans and 28 NFL draft picks as the assistant strength and conditioning coach at Oklahoma from 2000-03. Hill was an All-Southern Conference wide receiver at Tennessee-Chattanooga.

NORTHWESTERN
Name:
Larry Lilja
At Northwestern since:
1981
The skinny:
Lilja is the dean of Big Ten strength coaches and counts current Northwestern head coach Pat Fitzgerald among the many Wildcats players he tutored during his lengthy run in Evanston. He was a three-year starter at Northwestern from 1973-75, serving as a captain in 1974, before returning in 1981 to run the school's strength and conditioning center. Lilja played a major role in helping Northwestern transform its football program by winning Big Ten championships in 1995 and 1996. He earned Big Ten Conference Strength and Conditioning Professional of the Year honors in 1996. The Lilja family has deep roots in the Big Ten, as Larry and his brothers George (Michigan) and Dave (Indiana) are the only siblings in league history to serve as captains for three different teams.

OHIO STATE
Name:
Eric Lichter
At Ohio State since:
2006
The skinny:
Lichter built his reputation in the private sector by opening the Speed Strength Athlete Training Center in Euclid, Ohio, where he trained athletes in many sports, including Ohio State NFL draft prospects like Donte Whitner and Bobby Carpenter. He served as a consultant to Ohio State's 2002 national championship team and brought
Power Plate technology
to the program. Head coach Jim Tressel hired him in 2006 to oversee the strength and conditioning program. Lichter has trained six Top 10 NFL draft picks and has worked with LeBron James, Ron Dayne and others. His mother, Linda Lichter Witter, is Ohio State's synchronized swimming coach, and Eric served as a consultant for the synchronized swimming team before joining Tressel's staff.

PENN STATE
Name:
John Thomas
At Penn State since:
1992
The skinny:
Like pretty much every member of Joe Paterno's staff, Thomas has been in State College for quite some time,
making his mark on the Penn State program
. In 2002, Thomas was named a Master of Strength and Conditioning Coach by the NSCA, one of only 27 people to carry the title at the time. He also was named National Collegiate Strength and Conditioning Coach of the Year in 1997. Thomas is a staunch supporter of the High Intensity Strength Training System (HIT), which early last decade
created some discontent
that has since subsided. Thomas came to Penn State from Army, where he served as head strength and conditioning coach in 1990-91. He played both offensive and defensive line at Muskingum College.

PURDUE
Name:
Jim Lathrop
At Purdue since:
1998 (sixth year as director of strength and conditioning)
The skinny:
Lathrop made the trek with Joe Tiller and Danny Hope from Wyoming to Purdue after being named the WAC's strength and conditioning coordinator professional of the year in 1996. He spent seven years as strength and conditioning coordinator before being promoted to oversee strength and conditioning for Purdue's entire athletic program. Lathrop designs specific training programs for football, wrestling, and men's and women's track. A former offensive guard for Northwest Missouri State, Lathrop served as both an assistant and a director of strength and conditioning at Georgia Tech from 1988-92. Georgia Tech won the 1990 national championship during his first year as director.

WISCONSIN
Name:
Ben Herbert
At Wisconsin since:
2002 (named head strength and conditioning coach in January 2009)
The skinny:
Herbert cut his teeth under longtime Wisconsin strength coach John Dettman before working his way into the top football job last winter. A two-year starter on the defensive line for the Badgers, Herbert helped Wisconsin reach back-to-back Rose Bowls in 1998 and 1999. He joined Wisconsin's strength and conditioning staff as an intern in 2002 before being promoted to an assistant the next year. Herbert
shook things up after becoming the head strength coach
, introducing position group workouts, innovative competitions and some unique motivational props, including a WWE replica belt and two potted plants.