December, 29, 2009
12/29/09
6:25
PM ET
NEW ORLEANS -- Some news and notes from Tuesday's Allstate Sugar Bowl media sessions:
While Cincinnati is certainly happy to be in New Orleans, the Bearcats can't help but think how close they came to Pasadena.
After returning home from a 45-44 victory at Pitt on Dec. 5, most of the players anxiously watched the Big 12 title game, hoping for a Texas loss to Nebraska. That might have been enough to vault the 12-0 Bearcats into the BCS title game. And when Colt McCoy's last pass sailed out of bounds and the clock showed zero, they thought they were headed to the national championship.

"I was at (receiver) Charley Howard's house eating wings," wideout Mardy Gilyard said. "When I saw that clock hit zero, I threw my wings in the air. My brother and everybody were calling me immediately, saying 'You all are going to be in the big show.' And then all of a sudden that dreaded second came back on the clock.

"It was really a swift change. My wings were in the air and then by the time they touched the ground, I was like, 'I wonder what BCS game we're going to be in.'"

Big 12 officials, of course, put one second back on the clock, and Texas kicked the winning field goal. But Cincinnati players don't sound too upset to have missed out on their shot at the title.
"We were so close," center Chris Jurek said. "But the two teams playing for the national championship are the right teams to be playing for it."
Florida's defense should get a boost with the return of defensive end Carlos Dunlap. The junior, who tied for the team lead with seven sacks this season, didn't play in the SEC championship game against Alabama after a DUI arrest.
"He made a mistake that never should have happened," defensive coordinator Charlie Strong said. "But he came back and was willing to apologize to the team."

Strong said no decision had been made whether Dunlap will start, but he will play.

"Everybody makes mistakes, but his was at a time that we really, really needed him," linebacker Ryan Stamper said.
Florida's defensive players know they're going against one of the best offenses in the country. They see that as a chance to prove themselves.
Alabama ran all over the Gators in a 32-13 romp in that SEC title game. Cornerback Joe Haden said shutting down Cincinnati would restore the defense's reputation.

"This gives us a chance to rebound and show that last game was a fluke," Haden said. "Alabama did a great job, but we definitely didn't play as well as we should have."

Haden said the secondary is excited to play what is primarily a passing team, after spending most of the season preparing for run-heavy offenses in the SEC.
Gilyard, who's from Bunnell, Fla., told me for the story I wrote earlier this week that he had been recruited by Florida, but that the Gators backed off because of academic concerns. He added some more details to that account on Tuesday.
"Ron Zook was the coach then, and he came to my high school," Gilyard said. "And that day, I did something knuckleheaded. I skipped school. My high school coach called me, upset of course, saying 'Ron Zook is here, we've checked all your classes, where are you?' I was at the beach or something. I'm sure Florida was like, 'Get him out of here.' I'm blessed that somebody wanted to fool with me."
Quote of the day: Cincinnati left tackle Jeff Linkenbach, on both teams' rather interesting coaching situations: "It's been bizarre. But we're in New Orleans. It's a bizarre place."
December, 29, 2009
12/29/09
3:53
PM ET
NEW ORLEANS -- Cincinnati's offense has raced up and down the field all season, often scoring at a breakneck pace. Only one opponent -- West Virginia -- held the Bearcats' up-tempo spread to fewer than 28 points this year.
But will that offense -- missing its mastermind, Brian Kelly -- succeed against Florida's defense? Cincinnati passing game coordinator Charley Molnar described the Gators D as the best in the nation, and the numbers suggest that's not far off. Florida ranked third in the FBS in scoring defense this season, allowing fewer than 12 points per game.
[+] Enlarge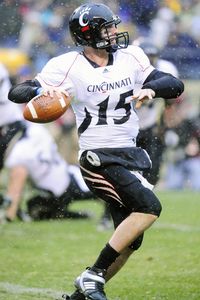 Jeanine Leech/Icon SMIQuarterback Tony Pike is impressed with what he's seen of the Florida defense.
The Bearcats dominated the Big East as well as teams like Oregon State and Illinois. But this is an SEC defense loaded with athletes. It may not be a fair comparison, but the last time Florida played a team from Ohio in a BCS game, its speed was too much for Ohio State to handle.
"It's the Florida athlete vs. the Ohio athlete," Gators linebacker Ryan Stamper said.
Cincinnati understands the mammoth challenge awaiting Friday night in the Allstate Sugar Bowl.
"This is the best defense I've seen on film since I've been here," Bearcats senior quarterback
Tony Pike
said. "The biggest thing about Florida is they have athletes and speed at every position. You play some teams where the D-line may be unbelievable, but you may get a break in the secondary and the linebackers. But from the D-line to the linebackers to the secondary, this is the best group I've seen."
Pike said he expects to see a lot of man coverage from Florida's secondary. The Gators are so strong up front that they don't have to blitz often to get pressure.
"I think they resemble Pitt's defensive line, just with their sheer size and speed," Cincinnati center Chris Jurek said. "Their overall team speed on defense can be overwhelming for some teams."
Jurek and the Bearcats' offensive line will be under serious pressure, but on the other hand, they allowed only 12 sacks this season. Pike operates almost exclusively out of the shotgun and delivers the ball quickly by design.
"It's going to be a great challenge for the whole offensive line," left tackle Jeff Linkenbach said. "But we put four [linemen] on the Big East first and second teams. So this will be a great place for us to showcase ourselves."
Few teams have been more efficient or explosive offensively this season than the Bearcats. They excel at creating seams and getting receivers in open space. Pike is very accurate, and the wideouts go get the ball.
That formula has worked to perfection all year. Now it's time to see whether it will work against one of the nation's best defenses.
"We'll spread 'em out and get 'em moving, because that's what we do," receiver
Mardy Gilyard
said. "I know they have great athletes all over the field on defense, but we have athletes all over the field on offense. It will be strength against strength."
December, 9, 2009
12/09/09
3:24
PM ET
Dion Lewis
is the Big East's offensive player of the year, while Pitt teammates Greg Romeus and Mick Williams shared the defensive player of the year award in voting by the league's head coaches. It's the first time two teammates have ever shared that honor.
Cincinnati's
Mardy Gilyard
repeated as the league's special teams player of the year, while Brian Kelly made it a three-peat on coach of the year honors.
Lewis, who rushed for nearly 1,700 yards, also was named the Big East rookie of the year. He's the first to win both offensive and rookie awards since Virginia Tech's Michael Vick.
The league also announced its postseason first and second All-Big East teams and made the late Jasper Howard an honorary captain. The UConn cornerback was stabbed to death hours after the Huskies' Oct. 17 win over Louisville.
"We regard the Big East Conference as the biggest family in collegiate athletics," commissioner John Marinatto said in a statement. "As a family, we wanted to respectfully remember Jasper Howard and honor his memory."
When I revealed
my own awards
on Tuesday, I chose Williams as the defensive player of the year but noted how close it was between him and Romeus. Obviously, the coaches couldn't decide.
Here's the
complete list
of all the award winners and the first- and second-team selections. There are a few differences between the official Big East team and my choices for the
ESPN.com All-Big East team
. Because the league simply awards extra spots when there are ties, both
Bill Stull
and
Tony Pike
are officially first-teamers at quarterback.
Anthony Davis
made the league first team but not mine at offensive tackle; while Davis is clearly the most naturally gifted lineman in the league, there's no way he was consistent or productive enough this season to earn that distinction.
The coaches also chose Cincinnati's Chris Jurek at center, while I had UConn's Moe Petrus. Either one is a fine choice.
On defense, the official team has five defensive linemen, four linebackers and three cornerbacks, plus two safeties. Well, you could definitely stop some offenses with that kind of lineup. I think it's time the league institute some tiebreaker rules, because in an eight-team league, that's completely ridiculous.
Anyway, one of the main differences in the league's team and my own is the coaches voted for West Virginia's Robert Sands at safety over my pick, South Florida's Nate Allen. I have no beef with that, since I wrestled with that choice for a long time.
Most people would have picked two-time All-American defensive end George Selvie as the preseason defensive player of the year. The South Florida senior only made the league's second team, however.
October, 15, 2009
10/15/09
11:00
AM ET

Posted by ESPN.com's Brian Bennett
As the Big East's associate commissioner for football, Nick Carparelli is responsible for helping put together the league's showcase TV matchups.
| | |
| --- | --- |
| | |
| | Jim McIsaac/Getty Images |
| | Behind quarterback Tony Pike, Cincinnati ranks third in the nation in scoring, sixth in passing and 11th in total offense. |
"We make a conscious effort to put what we feel are the best games where the most people will see it," he said. "It takes a lot of good planning and a little bit of luck."
Whether it was preparation and or just good fortune, the Big East hit a home run with this week's schedule. A pair of 5-0, ranked teams will square off Thursday night when No. 8 Cincinnati travels to No. 21 South Florida (7:30, ESPN).
Not since 2007, when No. 18 South Florida beat No. 5 West Virginia on a Friday night, and Rutgers later upset the then second-ranked Bulls on a Thursday, has the Big East had such a prominent spotlight. This is the latest in the season that two undefeated, ranked Big East teams have played since those back-to-back Thursday night tilts in 2006 between Louisville and West Virginia, followed by the Cardinals and Rutgers.
While the 2006 showdowns each featured a pair of Top 10 teams gunning for a spot in the BCS title game late in the season, this mid-October face-off is just as intriguing for a number of reasons.
Both teams have outside shots at reaching the BCS title game. Cincinnati is already in the Top 10 and, with its upcoming schedule (Louisville, Syracuse and Connecticut), could easily be 9-0 if it gets past the Bulls.
South Florida has more rungs on the ladder to climb, but it has already beaten Florida State and gets No. 9 Miami at home on Nov. 28 in a potential BCS talking-point game.
The Bearcats have one of the nation's most prolific offenses, ranking third in the nation in scoring (42 points per game), sixth in passing (329 yards per game) and 11th in total offense (468.2 yards per game). They have a legitimate Heisman Trophy contender in quarterback Tony Pike, a first-team All-American candidate in receiver Mardy Gilyard and a quick-strike attack that is averaging a little more than two minutes per scoring drive.
"When you have athletes like they have who get in out in space and a guy pulling the trigger like Pike, you've got a lot of things going for you," South Florida defensive coordinator Joe Tresey said. "You put the tape on, and shoot, they're covering 60 yards in three or four plays."
| | |
| --- | --- |
| | |
| | Cliff Welch/Icon SMI |
| | Jason Pierre-Paul has 6.5 tackles for loss and two sacks this season. |
South Florida is known for its defense, and the Bulls rank fifth in the FBS in points allowed (9.4 per game) and ninth in passing defense. They have two of the best pass-rushing defensive ends anywhere in George Selvie and Jason Pierre-Paul.
"It will be a great matchup between offense and defense," Cincinnati center Chris Jurek said.
But don't sell the others sides of the ball short for each team. The Bearcats, despite replacing 10 defensive starters from last year's Orange Bowl team, rank 10th in scoring defense (13.8 points allowed per game) and are tied with USC for the national lead in sacks. They're also third in the country in turnover margin.
Meanwhile, the Bulls -- despite losing star quarterback Matt Grothe for the season with a knee injury -- are scoring 37 points a game and have the second-best passing efficiency rating in the FBS behind redshirt freshman B.J. Daniels. They're also eighth in turnover margin.
"How can you not be excited about this, really?" South Florida coach Jim Leavitt said.
The buzz is evident in Tampa. The Bulls have purchased a billboard near I-4 and I-275 encouraging fans to "Go Green," while the top of the SunTrust Financial Centre downtown will be lit green and gold Thursday. Players and coaches held breakfasts around town this week with local schools, businesses and media outlets to promote the game.
Really, though, this game promotes itself.
"This is why you sign up for this," Cincinnati coach Brian Kelly said. "This is why kids come to their respective schools, because they want to play big games like this on national TV."
October, 13, 2009
10/13/09
4:00
PM ET

Posted by ESPN.com's Brian Bennett
Cincinnati's offense is full of sound and fury. Heisman Trophy candidate
Tony Pike
, star receiver Mardy Gilyard and the rest of the skill players garner most of the attention.
| | |
| --- | --- |
| | |
| | Rich Kane/Icon SMI |
| | Cincinnati prefers nimble, athletic offensive linemen, and even 313-pound Jeff Linkenbach is light on his feet. |
Hardly anybody ever talks about the Bearcats' offensive line, though. And that might just be the biggest key to Bearcats' 5-0 start and 42 points-per-game average.
"We don't get a lot of notoriety, but that's kind of how we are," senior center Chris Jurek said. "We like not getting our names called. We create for everybody else."
Consider this stat: The offensive line has allowed just three sacks this year despite 188 pass attempts. That's one sack for every 63 passes. The Bearcats rank fourth in the FBS in fewest sacks allowed but have thrown the ball more times than the three teams in front of them.
Some of that stems from the fact that Pike is often in the shotgun, and head coach Brian Kelly's offense is designed to get rid of the ball quickly to receivers in the open field. Still, you shouldn't underestimate how much the offensive line has contributed to the most prolific attack in Kelly's three-year tenure at Cincinnati.
"The biggest change in our offensive structure has been the offensive line," Kelly said. "[Previous coach] Mark Dantonio did a great job of building his offense here, but the offensive linemen, quite frankly, didn't fit the same profile" as Kelly's offense.
"So Year 1 and Year 2 were really about getting our offensive linemen to fit our style. In Year 3, we're so much further along in their ability to play in space, to be more of a zone team than a gap team, a team that can put their linemen out and get out in screens and things of that nature."
Dantonio -- who's now at Michigan State -- liked a Big Ten-style line, with big, hulking guys who could plow holes for the power run game. Kelly has a high-tempo offense that often requires the linemen to run down the field and spring receivers free. That requires svelte, athletic players.
"It's been a pretty significant progression in terms of our body types and conditioning," Jurek said. "Coach's style is to get smaller guys who are more athletic and put good weight on them. That's one of the things I've seen here, and we've been able to do it with a high level of success."
Other than left tackle Jeff Linkenbach, no Cincinnati offensive lineman weighs more than 293 pounds. And even Linkenbach's 311 pounds don't sit heavily on his 6-foot-6 frame. Jurek, Linkenbach and left guard Jason Kelce all started on last year's Orange Bowl team. Alex Hoffman and Sam Griffin are first-year starters who have made the right side just as formidable.
The line will face its biggest test of the season on Thursday night at South Florida. The Bulls' defensive front four, Kelly said, "is as good as you're going to see. They can match up with any SEC or Big Ten teams." Defensive ends George Selvie and Jason Pierre-Paul have been terrorizing tackles, and the interior linemen are nearly as fast and aggressive. The Bulls' No. 1 goal is to get to Pike and disrupt his timing.
"I don't feel as if these guys have been challenged up front like we are going to do on Thursday," South Florida linebacker Kion Wilson said. "They haven't been hit and been physically abused yet. That's what we plan on going out there and doing."
"Their offensive line plays very well together," Selvie said. "But I think we can do a very good job against them. We've just got to be aggressive, let them know we're ready to play and that it's going to be a long day for them."
Kelly will surely design his game plan around quick throws and screens, rolling the pocket and other things to slow down that South Florida pass rush. The rest of the job will fall on the offensive linemen. If that group remains anonymous Thursday night, then you know they got the job done.
"It will be a tough challenge for us Thursday night," Jurek said, "but I think we'll be up for it."
November, 8, 2008
11/08/08
6:23
PM ET
Posted by ESPN.com's Brian Bennett
MORGANTOWN, W. Va. -- Greetings from Milan-Puskar Stadium, the only place in the state of West Virginia you'd want to be when the Mountaineers are playing a big night game.
It's a chilly evening, with temperatures dipping in the low 40s tonight, but nothing that should affect the game. What will affect it is the center situation for both teams.
I told you about Mike Dent being out in an earlier blog post. Cincinnati's center, Chris Jurek, wore a boot in practice all week after spraining his ankle against South Florida. But he's expected to start. It bears watching to see how well Jurek can move around.
The good news for the Bearcats is that quarterback Tony Pike won't need to wear that soft cast on his left arm tonight. He's expected to wear a sleeve on the arm he broke in the Akron game, but he should be able to take snaps under center, unlike last week's South Florida game.
This game intrigues me not only because these are two good teams playing for first place, but because each team excels in areas the other doesn't. West Virginia is a great running team with a really strong rush defense, while Cincinnati is a terrific passing team with an excellent pass defense. So that means whoever's strength is stronger might win, if that makes any sense at all.
West Virginia certainly seems to be putting it together, but all week coach Bill Stewart sounded cautious notes about handling this success. He didn't think his team did that well early in the season, and he still sees plenty of chinks in his team's armor, particularly its slow starts. But he did agree that his players are starting to rediscover their swagger.
The Bearcats are a pretty confident group as well. They truly think they're as good as West Virginia and can walk out of this tough atmosphere with the win tonight.
We're about to find out. Much more to come throughout the evening ...
November, 5, 2008
11/05/08
12:35
PM ET
Posted by ESPN.com's Brian Bennett

Pittsburgh: The Panthers made some personnel changes in their secondary after Rutgers ripped through it. Sophomore Elijah Fields saw a lot more playing time at Notre Dame, lining up occasionally at safety, nickel back and linebacker. Ricky Gary and Jovani Chappel split time at cornerback. Gary fell down on one touchdown pass, but overall Dave Wannstedt said he was pleased with their play. Notre Dame's Jimmy Clausen threw for 271 yards and three touchdowns.

West Virginia: The Mountaineers are looking for a few good men to help shore up their kickoff coverage. They rank last among 119 FBS teams by allowing 29.58 yards per return and are about to face the league's best kick returner in Cincinnati's Mardy Gilyard. Two members of the kick cover team -- safety Courtney Stuart and linebacker Archie Sims -- were injured in the UConn game. Head coach Bill Stewart handles special teams and said he would make some personnel changes this week.

Cincinnati: True freshman receiver D.J. Woods is starting to make a bigger impact. He had four catches for 67 yards against Rutgers, returned a punt 40 yards at UConn and made three key receptions in the South Florida win. Fellow slot receiver Marcus Barnett, the team's second-leading catcher a year ago, has only 21 receptions this year. Also for the Bearcats, center Chris Jurek was in a walking boot this week after suffering an ankle injury against South Florida. The team is hopeful he can play at West Virginia. If not, guard Jason Kelce could slide over and handle snapping duties.

Louisville: Senior George Bussey, an All Big-East left tackle, could be switching positions. The Cardinals moved Bussey to left guard on Saturday versus Syracuse to replace injured Mark Wetterer. Sophomore Greg Tomczyk played left tackle because he had fewer things to learn at that position. Wetterer's status is unclear for Saturday's game at Pitt. Other than Bussey and center Eric Wood, Louisville's offensive line has been spotty in recent games.

Syracuse: Wide receiver Dan Sheeran is expected back this week from the broken fibula he suffered in preseason camp. His return allows freshman Grant Mayes to switch from receiver to cornerback, a position he played until Sheeran's injury forced him to offense. The Orange secondary could be in trouble this week against Rutgers, as defensive backs Kevyn Scott and A.J. Brown were injured in the Louisville game. Coach Greg Robinson has declined to address their status so far this week.