NCF Nation:

Chris Kapilovic
October, 25, 2012
10/25/12
1:00
PM ET
North Carolina left guard
Jonathan Cooper
might be the last one in Chapel Hill to realize just how good he is.
"I don't know if I'll ever get a chance to coach a guy as special as he is," said Chris Kapilovic, North Carolina's offensive line coach and running game coordinator. "That's a little disappointing for me. I only got to coach him for one year. Hopefully I've got a lot of years left to coach, but he's special. The thing about him is, he doesn't know it."
First-year coach Larry Fedora knows it.
"I've been coaching 26 years now, and I've not had an interior lineman with his athletic ability," Fedora said. "So he's pretty special."
NC State will learn that firsthand on Saturday, when the two rivals face each other at 12:30 p.m. ET.
[+] Enlarge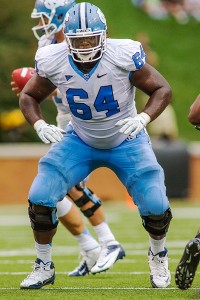 Jeremy Brevard/US PresswireTar Heels guard Jonathan Cooper is No. 24 in Mel Kiper Jr.'s latest ranking of the top NFL prospects.
Cooper is a rare breed at his position, and he is one of the reasons North Carolina's offensive line has been touted as one of the best in the country this year. He has been the lead blocker for
Giovani Bernard
, the ACC's leading rusher, and the No. 3 rushing offense in the ACC. Cooper knows his assignments, is meticulous in his technique, can change directions quickly, and is explosive and strong. He also turned down the option of leaving for the NFL early in part because he promised his mom he would get his degree. He'll graduate in December as a communications major.
Add to that the fact he's as humble as he is talented and Cooper sounds almost too good to be true.
"It's kind of a dream to coach a kid like him," Kapilovic said. "As good of a football player he is, he's an even better person. He's a hard worker, very conscientious. Takes notes in every meeting. Pays attention to every detail. Studies film. As a coach you tell guys what they need to do and very few of them follow that plan 100 percent. He does that and does extra."
In fact, the biggest knock on Cooper? He's too nice.
Cooper said he has spent this season working to become more physical so he can finish blocks. He's also trying to gain some weight so he can block the bigger defensive tackles in the NFL.
"That's always been one of the biggest critiques on me: Very athletic, strong guy, but just nice on and off the field," Cooper said. "I'm really trying to work on flipping that switch to nice guy off the field but on the field being not dirty, but finishing on plays and driving people through the whistle."
Cooper has started 43 games in his career -- the most of any active offensive lineman in the ACC. Some experts consider him the top offensive guard in the nation. Cooper was named to ESPN.com's midseason All-America team, and should finish the season in that category, too -- a bonus for UNC considering Cooper almost left early for the NFL after former coach Butch Davis and his interim coach, Everett Withers, were fired.
"It was a pretty tough [decision], especially with the staff leaving and all of that stuff, but it was very, very difficult," Cooper said. "At one point if you'd ask me early on I said I'm definitely coming back. Then it was 50-50, then I'm leaving. What swayed me to stay was I told my mom I'd get my degree. My teammates, my offensive line, I love those guys to death. That made it, and then the real tipping point was I had to get surgery on my shoulder. That kind of made up my mind for me."
It couldn't have worked out better for the Tar Heels -- and Bernard.
Cooper was named ACC Offensive Lineman of the Week after the Tar Heels' 18-14 win at Miami. He played all 84 offensive snaps, graded a team-best 93 percent, had 14 knockdown blocks and didn't allow one sack. He helped pave the way for Carolina's 272 rushing yards, which included 177 from Bernard. On the first scoring drive, Cooper had key blocks on three plays that went for 10 or more yards, including the 10-yard touchdown run by Bernard.
Cooper was also the lead blocker on several of Bernard's long runs in the Tar Heels' 48-34 win over Virginia Tech. Cooper and the Tar Heels rushed for 339 yards, the first time the Tar Heels have gone over 300 yards rushing as a team since 2004. The 339 yards rushing were the third-most ever allowed by Virginia Tech.
"I've been coaching a long time," said Fedora. "I've coached some offensive linemen that have been drafted in the top five or six in the country and Jonathan has some skills at the offensive guard position unlike any others that I've ever coached. He has tremendous feet. He has feet like a tight end, a very skilled tight end. There are quite a few tight ends out there that don't have the feet that Jonathan has. He's big and he's very intelligent and he understands what you're trying to do, and he's good at what he does."
He'll be the last person, though, to say it.
August, 25, 2010
8/25/10
3:45
PM ET
The secret hid there in his neck, growing unseen and unknown.
Southern Miss offensive line coach Chris Kapilovic never felt it. It wasn't until he got sick on a recruiting trip and his throat started to hurt. He touched around his neck and felt a giant lump. Should that be there? Kapilovic thought it might have something to do with his cold.
[+] Enlarge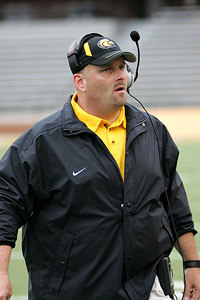 Courtesy University of Southern MississippiSouthern Miss assistant coach Chris Kapilovic is now cancer-free.
But the lump stayed there and never went away. Finally 3 ½ weeks later, he went to have it checked. "You never noticed this before?" doctors asked. Kapilovic shook his head. Perhaps it was just a cyst, he was told.
An ultrasound revealed something more. After several biopsies and tests, Kapilovic got the dreaded news nobody ever wants to hear: he had thyroid cancer. He got the news at the end of May. He underwent surgery June 4.
"You're kind of like, 'Holy cow, this is something that can change your life forever," Kapilovic said in a phone interview. "But the more I researched it, thyroid cancer is beatable, treatable, and I had a positive outlook."
Kapilovic, 43, had his surgery in Birmingham to remove the tumor. That weekend, Southern Miss happened to be hosting a camp for recruits, one of its most important weekends of the year. He asked his doctor if he could attend.
"I said all I'm going to be doing is lying around," he said. "Is there any way to go to the camps so I can observe? He said I had to make sure I didn't push it. I said I'd rather do this than lay on the couch."
He showed up at the athletic facilities on Sunday and "people looked at me like I was Frankenstein" with the big scar on his neck. But at least he was able to observe some of the offensive linemen going through drills and give his input on what he saw.
"Recruiting is our lifeline," he says. "We work so hard to get them to show up -- if I miss all these guys then I can't evaluate these offensive line prospects. I felt I was putting us in a bind. I felt like I was healthy enough to do that."
The second part of his treatment entailed undergoing radiation. For that, he took a heavy dosage through a pill and was quarantined in his hospital room for two days. He wasn't allowed to see his kids for four days and stayed at a hotel. Kapilovic had to follow a series of instructions for 13 days to ensure the treatment would work.
After all that was completed, he had blood work and a body scan, which showed the cancer hadn't spread. The last scan showed he was cancer free, though he goes back for more tests in two weeks. He is on thyroid medication now and will be for the rest of his life. That medication has left him more tired than normal, especially after practice.
"Our offensive coordinator comes to me every other day and says, 'Look, if you need to leave early do it,' but if I went early to get extra sleep I wouldn't sleep anyway," Kapilovic says. "I would feel awful I'm not here. You're tired when you're a coach, anyway. It's part of the job."
Kapilovic, known as Coach Kap around Southern Miss, has had a big career challenge as well -- reshaping an offensive line that must break in four new starters. "Sometimes my players look at me like I'm crazy," he said. "They're so young, they don't understand sometimes it has to happen now, it can't wait until we get into games and make corrections."
His energy has never wavered on the practice field, and he is confident in the young group that will line up for the first time against South Carolina on Sept. 2.
But more than anything, he is thankful for sore throats.