May, 30, 2013
5/30/13
9:45
AM ET
In a May 9 interview with ESPN.com, Kansas coach Charlie Weis spent a few minutes lauding the physical attributes of incoming defensive end/linebacker
Chris Martin
.

"We haven't had a guy that looks like an NFL outside linebacker/defensive end. We haven't had a guy like that," Weis said, noting that the team feeds off his energy. "As long as I can keep him out of trouble -- because I've known the guy since he was a sophomore in high school, and there's a whole litany with him."
Four days later, Martin was allegedly involved in an armed robbery in southwest Lawrence. On Wednesday, he was arrested on charges from that May 13 incident.
From the Associated Press
:
Jayhawks coach Charlie Weis says in a statement released Wednesday night that the school is aware of the charges and gathering facts.

Lawrence Police arrested Martin, 21, earlier Wednesday, along with former Kansas player Jeremiah Letrell Edwards, 21, of Garland, Texas; and Joshua Edwards, 28, of Lawrence, in connection with an armed robbery on May 13, the Lawrence Journal-World reported.

Martin, who went to high school in Aurora, Colo., is charged with aggravated robbery, conspiracy to commit aggravated robbery and kidnapping.
According to a police report obtained by the Kansas City Star, the trio stole cash and marijuana at gunpoint. It's obvious Weis had questions about Martin's ability to avoid off-the-field trouble, but who could have thought he would have issues this soon? He enrolled for the spring semester and made a huge impact during KU's spring practices, but if the allegations are true or Martin is found guilty of the charges, it's hard to see him keeping a roster spot in Lawrence. Weis has already suspended players three games for drunk-driving arrests.
The situation described by police is more than poor judgment or a reckless accident. It's malicious. Weis issued a statement Wednesday that certainly lends credence to concerns that Martin might never play a down at Kansas.
"We are aware of the situation and are in the process of gathering facts," Weis said. "The behavior described in these charges is not acceptable at the University of Kansas. When we are confident that we have enough information, we will act appropriately."
Martin came to KU thanks to a prior relationship with Weis, who recruited him to Notre Dame. Martin committed to the Irish before decommitting and signing with California. He transferred to Florida five months later, but left the team and enrolled in junior college following an arrest on misdemeanor marijuana-possession charges. He went to two different junior colleges and was No. 80 on ESPN's 2013 juco 100.
Weis was a big reason Martin came to KU, but the Weis strategy of fixing roster holes with junior college players does come with risk. Sometimes, that means off-field issues. Any coach wants to see the best in his players and believe them when they insist they've matured, but if these allegations prove true, it's clear that wasn't the case with Martin, and Kansas is down an important piece of its 2013 defense.
June, 21, 2011
6/21/11
10:40
AM ET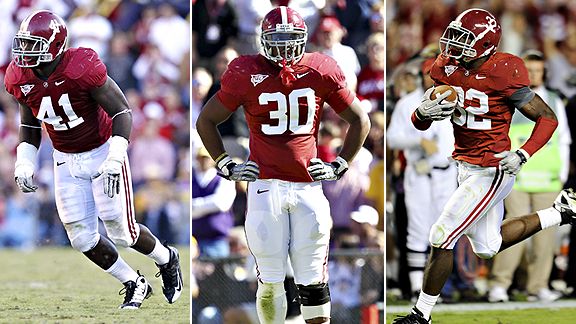 US PresswireCourtney Upshaw, Dont'a Hightower and C.J. Mosley are part of what could be the best linebacker corps in the conference.
Today we take a look at the SEC linebackers. The front sevens in this league are always good and 2011 shouldn't be any different.
Here's how the teams stacked up:
1. Alabama:
There are a lot of strengths on this Alabama team, but the linebackers should be very fun to watch this fall. Courtney Upshaw and Dont'a Hightower are back to full speed and are considered top players at their positions. With them back, the Tide should have a much more aggressive pass rush. Nico Johnson and C.J. Mosley improved even more this spring and will get time in the middle when Hightower is outside at the "Jack" position. Mosely blossomed as a freshman and could be a star in the making. Jarrell Harris seems to finally be coming around and Chris Jordan gives them another body in the front seven.
2. Florida:
This group struggled to stay consistent at times last fall, but the new coaching staff was pleased with the progress it made this spring. There is a lot talent out there and now there are two distinct leaders in Jelani Jenkins and Jon Bostic, who should occupy the middle when the Gators go to the 3-4. Both are tremendous athletes and should be a solid duo this fall. Florida also has former No. 1 high school prospect Ronald Powell playing that linebacker/defensive end hybrid spot called the Buck. He'll stand up a lot this season and should elevate himself near the top of the SEC pass-rushing list. Cal transfer Chris Martin earned a ton of praise last year on the practice squad and will be a hybrid as well. Converted safety Dee Finley will play outside and there is some good, but young, depth in the wings.
3. Arkansas:
This area of the team improved a lot during the season and this spring. It's headlined by Jerry Franklin, who has led the Razorbacks in tackles the last three seasons. He has 271, including 21.5 for loss in his career. Strongside hybrid Jerico Nelson was second on the team in tackles and has the speed to get all over the field. Nelson will occasional drop back and play safety as well. This linebacker tandem will be one of the best out there this fall. The major plus for the Razorbacks is that there is finally some really good depth at the position. Bret Harris, Jarrett Lake and Terrell Williams came on strong on the outside this spring, while Ross Rasner was making strides until he was arrested and suspended indefinitely this spring.
4. Georgia:
There is no shortage of athleticism in Georgia's linebacker corps. Alec Ogletree moved down from safety and while he's bulked up, he's still got tremendous closing speed and will make a ton of plays at middle linebacker. Next to him is defensive leader Christian Robinson, who left spring as one of Georgia's most consistent linebackers. On the outside, USC transfer Jarvis Jones will occupy the weak side and the coaches feel he might be more of a complete player than Justin Houston. On the other end, Cornelius Washington might not be getting a ton of publicity, but he's no slouch and can run with the best of them.
5. LSU:
Like most of the Tigers' positions, this one might not have a ton of in-game experience, but the athleticism is too good not to praise. LSU lost leading tackler and monster in the middle Kelvin Sheppard, but there should be enough able bodies to make this unit one of the tops in the league this fall. Ryan Baker is now the leader out there and can keep up with some of the best offensive weapons out there. He'll play on the weak side, while converted safety Karnell Hatcher moved down from safety and took reps at middle linebacker, but could find his home outside. Sophomore Kevin Minter spent his spring trying to fill Sheppard's void and has made vast improvements. Senior Stefoin Francois provides veteran depth for the Tigers on the outside, while there are a few young, able bodies ready to contribute as well.
[+] Enlarge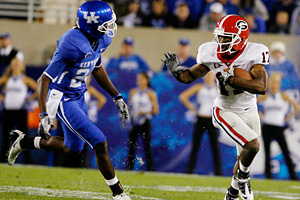 Mark Zerof/US PresswireKentucky's Danny Trevathan, left, led the league with 144 total tackles.
6. Kentucky:
Things start with one of the nation's best in Danny Trevathan. He led the SEC with 144 tackles a year ago and the word out of Lexington is that he's looking to be even better this fall and wants to move around the field a lot more. Ronnie Sneed returns as the starter in the middle, after grabbing 61 tackles a year ago. He made some nice improvements this spring. Ridge Wilson will be another hybrid on the outside, and will occasionally lineup as a rush end for the Wildcats. The talented Winston Guy, who has played just about everywhere on Kentucky's defense has finally settled into his home at linebacker and should play closer to the line of scrimmage and be a nickel linebacker.
7. South Carolina:
The Gamecocks got an immediate upgrade to this position with the return of Shaq Wilson, after he missed last year with a hamstring injury. Wilson is known as the quarterback of the defense and led South Carolina in tackles in 2009. The player that could really make noise in this unit is DeVonte Holloman, who is moving from safety to the hybrid Spur position. He'll drop back into coverage and rush from the outside to give the Gamecocks another weapon in the pass rush. Upperclassmen Reggie Bowens and Rodney Paulk will get some reps in the middle this fall, while Damario Jeffery and Quinn Smith will compete for time outside.
8. Tennessee:
The Volunteers are still trying to find out what this group is made of. Junior Herman Lathers is back and he's the most experienced player at the position. He had 75 tackles last season and will man the weak side for the Vols. Senior Daryl Vereen should get time at strong side, but he still has some developing to do. Senior Austin Johnson, a converted fullback, will get time in the middle with All-SEC freshman pick John Propst. The jury is still out on this unit and youngsters like A.J. Johnson, Curt Maggitt and Christian Harris will have to develop quickly.
9. Auburn:
The Tigers are almost back to the drawing board at linebacker. Both Josh Bynes and Craig Stevens are gone, leaving Daren Bates as the lone returning starter. Bates is a converted safety, but settled nicely into the linebacker position well last fall. Inexperience looms after that as sophomore Jake Holland is a projected starter in the middle and junior Jonathan Evans will get time at weakside. Former junior college standout Eltoro Freeman, has the potential to be a menace, but has yet to truly step up for the Tigers. They'll need that light bulb to go on this year.
10. Mississippi State:
First thing's first -- the Bulldogs must replace three starting linebackers this season. That won't be easy or fun in Starkville. But help could be on the way in Clemson transfer Brandon Maye, who was a three-year starter with the Tigers. Coach Dan Mullen said he's a player they expect to come in and take one of those openings at linebacker. Mississippi State still has senior leader Brandon Wilson, who players fed off of this spring. Chris Hughes and Cam Lawrence also made strides, but expect a lot of rotation from new defensive coordinator Chris Wilson.
11. Vanderbilt:
Chris Marve is one of the top linebackers in the nation. He's got great field instincts and matches his skill with the best of them. Just having him on the field makes this group better. But after him, the Commodores have a lot of questions. Vanderbilt must replace outside linebackers John Stokes and Nate Campbell, and though there are six candidates, they have just start among them. Coming out of spring, juniors Tristan Strong and Archibald Barnes and sophomore Chase Garnham are the leading candidates to see valuable playing time.
12. Ole Miss:
Losing D.T. Shackelford was an enormous blow to the Rebels. Not only was he Ole Miss' best defensive player but he was the emotional leader of the team. He was going to carry this team as far as he could go. Now, the Rebels have a wealth of inexperience to deal with. Things got even worse when sophomore linebacker Clarence Jackson was dismissed following his arrest for public drunkenness. The pressure is now on incoming freshman C.J. Johnson, who was the top prospect coming out of the state of Mississippi. He could jump right into Shackelford's spot. Mike Marry and Ralph Wilson worked in Shackelford's spot this spring and Joel Knight returns as a starter outside.
May, 31, 2011
5/31/11
11:00
AM ET
It's one of his dream jobs.
He's an Ohio native.
And he'll be well rested just in time.
When Ohio State is done with the 2011 season -- and probably interim coach Luke Fickell -- the university shouldn't hesitate to place a phone call to former Florida coach Urban Meyer and try to woo him up to replace Jim Tressel.
[+] Enlarge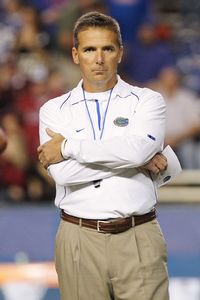 Kim Klement/US PresswireUrban Meyer had a 65-15 record and won two national titles at Florida.
I know, he's looking to recharge and he's said in the past that he doesn't plan to return to the coaching ranks until his son Nate -- the youngest of Meyer's three children -- graduates from high school. And we still aren't sure if his health issues that played a role in him stepping away from college football last year have cleared up.
Meyer's oldest daughter Nicki also said on Twitter (using the account @Nicki_07) last month that she didn't think her father would be taking over for The Sweater anytime soon -- if ever.
"Stop txting me abt my dad. HE IS NOT repeat NOT, GOING TO OHIO STATE. thanks," she tweeted.
Meyer, now a college football analyst for ESPN, even released a statement shortly after the news of Tressel's resignation stating that he wouldn't pursue any head-coaching jobs this fall.
"I am committed to ESPN and will not pursue any coaching opportunities this fall," Meyer said. "I have thoroughly enjoyed working with the people at ESPN this spring and remain very excited about my role with the network this fall."
"Jim Tressel has been a respected friend and colleague for a long time. I wish Jim and his family the very best now and in the future."
I hate to nitpick, but "this fall" leaves this case very open. And this isn't a job Meyer is just going to shrug off. He loves Ohio and this is considered a dream job for the man from Toledo, Ohio, who attended college at Cincinnati and was a graduate assistant at Ohio State from 1986-87.
The man has a lucky buckeye for crying out loud.
Oh, and there's the itch. It's a coaching itch that won't leave a man, who "retired" at the age of 46, anytime soon. He's won everywhere he's been and led the Gators to two national championships and three SEC title games in his six years in Gainesville. His health might be in question (for now), but that coaching fire that made him one of the most exciting young coaches in the country is still inside him somewhere.
Don't expect a new recruiting base to deter him either. He coached at Bowling Green, where the Midwest was his home and if he can dominate recruiting in the SEC, the Big Ten shouldn't be an issue. OSU's recruiting grounds stretched all the way to the southeast, especially Florida, and Meyer owned that area.
As far as family is concerned, it might not have much input this time around. Meyer said in a book in 2008 that OSU, Notre Dame and Michigan were the only coaching jobs that his wife had no power to veto.
Check and mate.
We aren't sure what sanctions will or won't be handed down, but having the chance to go back home and rescue the state's team is something that should greatly entice Meyer.
At least one of his former players at Florida seems to think he'll be on OSU's sideline soon enough. Florida sophomore linebacker/defensive end Chris Martin turned to Twitter under the account of @cmart4634 to express his feelings about Meyer's statement from Monday.
"Committed to espn? Lets see if the other analyst stress him out so bad he has to spend time with his family in COLUMBUS now.. #truthhurts," Martin tweeted.
If OSU makes that phone call after next season, the truth is it will be hard for Meyer to say no.
May, 27, 2011
5/27/11
2:30
PM ET
Omar Hunter knows his time is running out.
Florida's redshirt junior defensive lineman fought early hype and nagging injuries during his first three years with the Gators and now sees that he's got to step up or sit and watch.
Hunter doesn't want to do the latter. He had all the right to that this spring when a nagging injury returned. While he was listed as limited on Florida's pre-spring depth chart, he pushed through the pain and competed as much as he could with a new coaching staff watching.
"It was tough, but they [the coaches] realized that I was injured and I was still trying to fight through some things," Hunter said. "They let me off a few times on some things that they could have easily gotten on me for, but they understood I had an injury and took it easy on me a little bit."
[+] Enlarge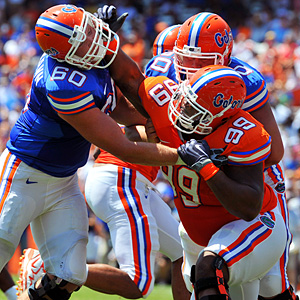 Al Messerschmidt/Getty ImagesJunior Omar Hunter (99) fought through injuries this spring and is looking forward to making an impact in the fall.
Hunter, who is down to 300 pounds after working at 307 this spring, decided that participating would help him learn defensive coordinator Dan Quinn's new system and get him more familiar with defensive line coach Bryant Young's new philosophy. If he was going to show the new staff he was ready to take his game to a new level, he had to do it -- hurt or not.
Hunter's ability to stay on the practice field this spring also helped him gain more respect from his teammates. With depth issues and a gang of youngsters pushing for time on Florida's line, Hunter wanted to not only show he wasn't going to just hand his spot over, he wanted to prove that he was going to be a leader for the line.
"The message I tried to send was that I was going to be there whether I was hurt or not," he said. "I'm always going to have their backs and I'm always going to push through injuries for them."
The young talent certainly motivated Hunter. Regardless of how he felt physically, Hunter knew he'd have to fight off some pups this spring.
Leading the underclassmen charge is sophomore Sharrif Floyd, who will compete with Hunter for time at nose tackle when the Gators go into the 3-4. Dominique Easley, who blossomed this spring, and Leon Orr are also pushing for time on the interior.
Hunter is looking over his shoulder at those players, but he's also helping them. While his goal is to be the disruptor in the middle, he wants what's best for the team, and development of the younger players will be key to keeping Florida's line fresh.
"I keep pushing them, they push me," Hunter said. "We're all getting better because of that.
"Last year, we were a close group, but we could have been closer. If we would have been closer, we would have been even better."
The unit could be special, really. There is talent oozing at each position. Senior Jaye Howard, who ESPN NFL draft analyst Mel Kiper ranked as the fourth-best draft-eligible returner at defensive tackle, missed all of the spring because of surgery on his ankle, but is expected to be full-go for two-a-days. Senior William Green will maintain one of the end spots, and while he hasn't truly broken out, he'll fit nicely into Florida's multiple defense.
Sophomore Ronald Powell will play the hybrid defensive end/linebacker position known as the Buck. He's got all the athleticism and speed to be a menace in the pass rush, but he's got to continue to mature. Cal transfer Chris Martin and junior Lerentee McCray will also get time at end.
Florida's line is young, but the ceiling appears high for the unit. Barring injuries, this could be the strength of Florida's defense in the fall.
May, 4, 2011
5/04/11
5:28
PM ET
Green and Gators just haven't gone well together lately.
This year alone, three Florida players -- cornerback Janoris Jenkins and linebackers Chris Martin and Kedric Johnson -- had misdemeanor marijuana-related arrests. Jenkins, an All-SEC performer in 2010, was dismissed from the team last week following his second arrest in three months for possession of less than 20 grams of marijuana.
[+] Enlarge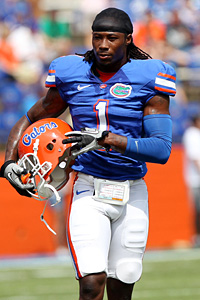 Kim Klement/US PresswireNew Florida coach Will Muschamp dismissed cornerback Janoris Jenkins from the team.
On the same day as Jenkins' dismissal, it was reported that former Florida offensive lineman Maurice Hurt tested positive for marijuana at the NFL combine in Indianapolis.
Former Gator receiver Percy Harvin tested positive for marijuana before the 2009 NFL draft, and tight end Aaron Hernandez admitted before last year's draft that he failed a drug test during his time at Florida.
So when new coach Will Muschamp met with reporters before he spoke to the Central Florida Gator Club in Orlando on Tuesday night, he was asked if he thought there was a drug problem, specifically marijuana, with players at Florida.
Muschamp said he hasn't specifically addressed marijuana use with his players, but said there is continuous effort to help them with the decision-making aspects of life outside of football.
"We're constantly in the mental conditioning stage with our football team of making good choices and decisions," Muschamp said. "It's a constant effort. When you're dealing with young people, that's every day. It's not going to change. We could have no incidents for 10 years, but we're still going to be doing it.
"When you're dealing with young people, you're always in that developmental stage of making good choices and decisions."
Despite the four incidents this spring, Muschamp classified those as isolated situations and doesn't believe marijuana use is a rampant problem circuiting throughout his entire team.
"We've got a good situation going," he said. "We've got some good kids on our football team. Some guys make poor decisions and choices and that shouldn't reflect on the whole team."
Though coaches are allowed to administer their own dismissals, Florida has the only drug policy in the SEC that allows an athlete to remain on a team with four failed tests. A fourth failed drug test results in a player missing 50 percent of the season.
Auburn, Georgia, Kentucky, South Carolina and Tennessee dismiss athletes after a third positive test, while Alabama, Arkansas and Mississippi State dismiss athletes after a fourth.
Former Florida coach Urban Meyer recently told The Gainesville Sun that marijuana use among players was an issue at Florida before he became head coach in 2005.
Four of the 30 arrests during Meyer's six-year tenure at Florida were for possession of marijuana.
"It was a problem when we got here," Meyer told The Sun. "I thought we put a little bit of a dent in it. But it's still a problem.
"It's an issue at a lot of places. I've talked to a lot of other coaches who told me they were dealing with it as well. But at Gainesville, it's a national story.
"We sought counselors. We did a lot of things. There comes a point when you have to separate the player from the university, and I did that several times."
Meyer said he cut players loose after a third failed test.
Muschamp made a powerful statement when he cut Jenkins loose.
While marijuana use might have been a problem before Jenkins' dismissal, it doesn't look like Muschamp will make it much of one anymore.
April, 25, 2011
4/25/11
12:17
PM ET
Turns out star cornerback Janoris Jenkins isn't the only Florida player in the last few months to get in trouble with police for marijuana possession.
The Palm Beach Post reported over the weekend that sophomore linebacker Kedric Johnson and redshirt freshman defensive end/linebacker Chris Martin were also
arrested and charged back in January
with possession of less than 20 grams of marijuana in separate incidents.
Jenkins was charged with possession of less than 20 grams of marijuana early Saturday morning after police said they saw him sitting in his car in a parking lot and smoking what turned out to be a marijuana cigar. Three months earlier, a police officer caught Jenkins rolling a marijuana cigarette in a the bathroom of a Gainesville nightclub, a charge that led to a plea agreement by Jenkins.
It was well-documented that there were more than 30 arrests involving Florida football players under former coach Urban Meyer.
The tally is already up to four under new coach Will Muschamp, and he's only been on the job for four months.
Obviously, it's impossible to change a program's culture in four months, so blaming Muschamp for players getting popped for smoking marijuana a few months after he was hired is unfair.
Anybody who thinks that doesn't go on elsewhere on college campuses, by athletes and non-athletes alike, is in total denial.
That said, marijuana is illegal, and it's only fair to question how much it really means to a player to be a part of a program when he's brazen enough to sit in a parking lot puffing on a blunt after being arrested three months earlier for trying to twist one up in the bathroom of a nightclub.
What's more, Jenkins is the best player on the team and probably the most recognizable.
Anyway, now is when you judge Muschamp, who has a tone-setting decision to make.
There will be some who joke that he's already ahead of Meyer's blistering pace when it comes to players getting in trouble with the law. Again, that's unfair.
But what is fair is monitoring how Muschamp deals with these issues and how serious he is about sending a message that they won't be tolerated now that he's the Head Gator.
February, 22, 2011
2/22/11
11:22
AM ET
When the start of spring practice arrived a year ago in the SEC, we'd barely even heard of
Cam Newton
and Nick Fairley.
And as for Auburn winning the national championship, the bigger debate was whether the Tigers could finish in the top three of the SEC's Western Division.
"It's amazing what you can accomplish when you get a group of people together who genuinely believe in what you're doing and are willing to work as one for the same goal," Auburn coach Gene Chizik said as the Tigers were putting the finishing touches on their first national championship in 53 years.
Well, here we are again, and with Newton and Fairley now the envy of every NFL team in the upcoming draft, a familiar question is being asked about Auburn heading into spring practice.
[+] Enlarge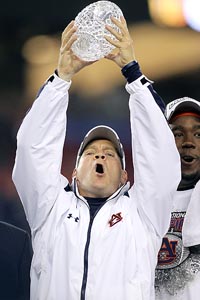 Jonathan Ferrey/Getty ImagesNo one expected Gene Chizik's Tigers to win the national championship this past season.
Can the Tigers make it out of the Western Division alive?
For that matter, can anybody make it out alive and still be in position to extend the SEC's national championship streak to six consecutive years.
"The thing that's so hard is how competitive [the Western Division] is and how tough it is with Alabama, Auburn and LSU year in and year out," Arkansas coach Bobby Petrino said. "It's going to be real competitive.
"You have to be able to have great chemistry within your team and do something special to win all those big games."
Adding the eventual Heisman Trophy winner at quarterback from the junior college ranks and having the Lombardi Award winner emerge from the shadows to become the most dominant interior defensive lineman in college football also does wonders for a team's chances.
For both Newton and Fairley, the spring was their coming-out party a year ago.
They made a veteran, very good Auburn team a championship team, and it didn't take the Auburn brain trust of Chizik, offensive coordinator Gus Malzahn and defensive coordinator Ted Roof long to realize what they had.
The Tigers hit it just right last season and demonstrated an uncanny knack for delivering in the fourth quarter.
Who will that team be next season in the SEC, and does such a team exist?
You start right back in the West, where three teams will likely open the season ranked in the top 15 nationally. Alabama and LSU will both be top-5 teams, and Arkansas could flirt with the top 10.
Nobody expects Auburn to disappear, especially with the way the Tigers have recruited the past two years, and Mississippi State is poised to take another step in 2011 after winning nine games in 2010 and capping its season with a 52-14 rout of Michigan in the Gator Bowl.
And while Mississippi State took a backseat to archrival Ole Miss in terms of where their recruiting classes were ranked earlier this month, Mississippi State coach Dan Mullen wasn't backing down on his assertion of which of the two programs is headed in the right direction.
"I thought we did pretty well," Mullen said. "I guess we'll find out next Thanksgiving, just like the last two Thanksgivings."
To translate, Mullen is 2-0 against Ole Miss in the Egg Bowl, a rivalry that is played Thanksgiving week every year.
With all this talk about the West and how loaded it will be again next season, there's no truth to the rumor that the SEC has become a one-division league.
Granted, it sure felt that way a year ago.
Four of the teams in the East suffered through losing seasons, and for the first time ever, the East champion (South Carolina) had three conference losses.
[+] Enlarge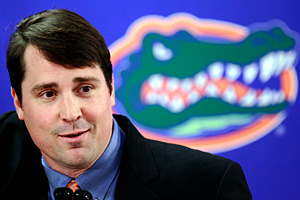 Sam Greenwood/Getty ImagesWill Muschamp takes over for Urban Meyer as Florida's head coach.
The Gamecocks are the team to beat again in 2011, but Florida and Georgia are both talented enough to make a run. Tennessee has stacked two solid recruiting classes on top of each other, but is still probably a year away from making a serious bid to get to Atlanta.
The real question in the East is whether anybody is equipped to take down the West champion in the title game.
There are a ton of unknowns at Florida with Will Muschamp taking over for Urban Meyer, and Mark Richt has never gone into a season at Georgia with his back this close to the wall.
Still, something says one of those programs may rise up and be the surprise team in the SEC next season.
As last season proved emphatically, two or three players can indeed make a world of difference in this league.
Who are those players in 2011?
A few to keep an eye on this spring are LSU quarterback Zach Mettenberger, Alabama offensive tackle Aaron Douglas, Florida linebacker Chris Martin, Auburn receiver
Trovon Reed
, Georgia linebacker Jarvis Jones and Arkansas offensive tackle Jason Peacock.
Assuming the Eastern Division does get over its hangover from a year ago, the league has a chance to be even more balanced than it was last season.
In theory, beating up on each other isn't ideal when it comes to producing a national champion.
But after five in a row, how do you pick against the SEC?
February, 4, 2010
2/04/10
12:13
PM ET
California's
class of 20
ranks 15th in the nation and includes three ESPNU 150 players.
Coach Jeff Tedford said the class was "as solid as any class we've ever had here."
Top prospects
:
Keenan Allen
, who decommitted from Alabama, was a highly rated safety that Tedford said would play on both sides of the ball, though primarily at receiver. Tedford compared
Chris Martin
to former Bears outside linebacker Zack Follett.
Cecil Whiteside
is another guy who figures to challenge for playing time at linebacker. Defensive end
Gabe King
also figures to be in the mix early.
Under the radar
: The Bears need help at receiver and Tedford called
Terrance Montgomery
"one of the more underrated guys that we have in our class."
Tevin Carter
also figures to be in the mix at receiver. Tedford gushed about running back
Trajuan Briggs
and compared tight end
Jacob Wark
to former Bear Craig Stevens.
Issues
? Hard to find many problems with this class. There's no obvious, run-stuffing noseguard for the Bears' 3-4 scheme.
Adrian Lee
is the only cornerback, and he played tailback in high school.
Notes
: Linebacker
Chris McCain
most likely will grayshirt in order to get his academics in order ... Receiver
Coleman Edmond
will get a look returning punts and kicks ... Quarterback
Zach Maynard
, a transfer from Buffalo, is Allen's brother and they were a package deal ... Quarterback
Austin Hinder
is the grandson of Cal Hall of Famer Jim Hanifan.