October, 20, 2011
10/20/11
3:00
PM ET
He is in his first season as a head coach. His team is young. Not particularly deep, either.
Does that sound like a recipe for success?
Louisiana-Lafayette coach Mark Hudspeth laughed when asked that very question. His team has bucked convention at 6-1, setting the record for best start in Sun Belt history as it prepares to play Western Kentucky on Saturday. Hudspeth took over a team that went 3-9 last season and a program that many said could never win.
"Our team has bought into the work ethic I wanted to bring into our program," Hudspeth said in a recent phone interview. "I feel we've outworked everybody in the country to prepare our team physically and mentally.
"It sometimes takes a while for the guys to buy in, but our guys bought in to what we were doing early and that allowed us to get more quality work done. We've done a lot of work in nine months."
[+] Enlarge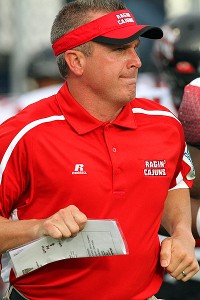 Robert Mayer/US PresswireCoach Mark Hudspeth has led Louisiana-Lafayette to a 6-1 record to start the season.
Hudspeth was hired last December after serving as passing game coordinator/receivers coach under Dan Mullen at Mississippi State. He spent seven seasons as head coach at Division II North Alabama, going to the playoffs five times.
Though he had applied for other head-coaching jobs on the FBS level, nobody showed much interest. Until ULL.
"This place is a gold mine just sitting here and hasn't had the right person to come in here and light the fuse," Hudspeth said. "Hopefully we may have done that. A lot of people now see some of the success we're having and see the hard work is paying off and are now ready to jump on board even more financially to take it to a new level. We want to take it to a new level, not just keep up with the Joneses. We want to be the Joneses."
Hudspeth points to the rich recruiting and economic region ULL is in, along with a bustling town and support for the team. With one home game remaining, the Ragin' Cajuns are on pace to set the school record for average home attendance and break the current mark of 25,224 set in 1977.
Success leads to support, of course, and Hudspeth could not be prouder of his team. When he came in, he made absolutely sure he embraced his returning players and made them feel they were just as much a part of his efforts as the players he was bringing in.
"I told the seniors, 'I'm not trying to rebuild and push you aside,'" Hudspeth said. "We want to win now, and do everything we can to win now."
But he also opened every single position for competition.
The Cajuns had starting quarterback
Chris Masson
coming back, but
Blaine Gautier
has won the job and been extremely efficient and productive, throwing for 1,054 yards, 10 touchdowns and one interception, while adding 225 yards rushing and a score. When Gautier got hurt against Troy, Masson filled in and led the team with an impressive win.
Hudspeth has had to rely on some new players as well. Five true freshmen are starting, and both running backs are first-year players. Receiver
Harry Peoples
and safety Jemarlous Moten have been impact starters as junior college transfers.
"If we didn't hit home runs with them, that would have left holes on both sides of the ball," Hudspeth said.
ULL already has wins over Sun Belt preseason favorites FIU and Troy, and is in control of the conference race. If the Ragin' Cajuns hang on, they will clinch the first Sun Belt title in school history. They already have become bowl eligible.
But that is not something that concerns Hudspeth. He has not even mentioned it once to his team.
"I don't want the secretaries, the coaches, the players, the managers or the trainers coming up for air to look and see where we're at," Hudspeth said. "We're going to put our head down and keep swimming as hard as we can."
October, 10, 2011
10/10/11
4:36
PM ET
Here are your non-AQ players of the week, as selected by each conference. The independent players are selected by a national media panel.
Conference USA
Offense:
Austin Davis
, QB, Southern Miss. Set a school record for passing efficiency and was responsible for four total touchdowns in a 63-35 win at Navy. Davis threw for 283 yards on 21-of-23 passing with three touchdowns, and also rushed for 75 yards on 12 carries with a running score.
Defense:
Phillip Steward, LB, Houston. Had a pair of key interceptions in a 56-3 win against East Carolina, the Cougars fewest points allowed in a conference game since 2004.
Special Teams:
Marques Wheaton, DB, Southern Miss. Blocked a field goal and returned it 79 yards for a touchdown, his second straight week with a score.
Independent
Offense:
Tommy Rees
, QB, Notre Dame. Went 23-of-32 for 261 yards and four touchdowns -- all of which came in the first two quarters -- in a 59-33 win against Air Force. Rees is the first Notre Dame player to throw for four touchdown passes in the first half since Brady Quinn on Sept. 25, 2004.
Defense:
Jamoris Slaughter, S, Notre Dame. Forced a fumble on the Cadets' first drive of the contest, and later recorded an interception -- his first of the season and the second of his career.
Special teams:
Justin Sorensen, PK, BYU. Went 2-for-2 on field goal attempts (hitting from 42 and 45 yards) and made all three of his extra-point attempts.
MAC
East Division
Offense:
Branden Oliver
, RB, Buffalo. Ran for a career-high 179 yards on 34 carries and scored three touchdowns, including the game-winner with 5:45 remaining on fourth-and-1, to help lift Buffalo to a 38-37 win against Ohio.
Defense:
Stephen Johnson
, LB, Temple. Led the Owls with a career-high 16 tackles, including a career-high eight solos, one sack and a career-high two tackles for a loss in a 42-0 win at Ball State.
Special teams:
Matt Weller, K, Ohio. Tied a season-high with three field goals made in a 38-37 loss at Buffalo. His 43-yarder was his fourth field goal this season from 40 or more yards.
West Division
Offense:
Jordan White
, WR, Western Michigan. Recorded his fourth-straight game with 10 or more catches and more than 100 yards with 12 receptions and 156 yards in a 45-21 win against Bowling Green. His four consecutive 100-yard receiving games ties the record set by Jamarko Simmons at the end of the 2006 and into the first three games of the 2007 season.
Defense:
Ron Newcomb, DT, Northern Illinois. Had a career-high nine tackles, 2.5 sacks, 4.5 tackles for loss and one forced fumble in a 40-10 win against Kent State. He also blocked a 45-yard field goal attempt in the fourth quarter.
Special teams:
Eric Page
, PR, Toledo. Returned a punt 85 yards for a touchdown in a 54-16 win against Eastern Michigan. The punt return for a touchdown was the first of his career.
Mountain West
Offense:
Kellen Moore
, QB, Boise State. Moore went 23-of-31 for 254 yards and three touchdowns in just over two quarters of play in a 57-7 win at Fresno State.
Defense:
Tekerrein Cuba, S, TCU. Cuba finished with a team-high eight tackles in the Horned Frogs' 27-14 win at San Diego State. Cuba also had a tackle for loss, forced a fumble and broke up a pass.
Special teams:
Ross Evans, K, TCU. Evans finished with nine points in a win at San Diego State, tying the Mountain West all-time scoring record of 356 set by former New Mexico running back DonTrell Moore (2002-05). Evans connected on field goals of 47 and 21 yards while making all three of his extra-point attempts.
Sun Belt
Offense:
Chris Masson
, QB, Louisiana. Masson stepped in for an injured
Blaine Gautier
on the first series of the game and led the Cajuns to a 31-17 win against Troy. He went 21-of-29 for 211 yards with a pair of touchdowns and no interceptions. The Cajuns have won five consecutive games and have tied the league record for best start to begin a season.
Defense:
Kelcie McCray, S, Arkansas State. Had a career-high two interceptions against ULM to help lead the Red Wolves to their 24-19 victory. He also had a pass breakup and six tackles.
Special Teams:
Don Jones, DB, Arkansas State. Jones blocked a punt and returned it 25 yards for the go-ahead touchdown with 4:01 remaining in the third quarter in a win over ULM.
WAC
Offense:
Chuckie Keeton
, QB, Utah State. Went 16-of-21 for 228 yards and a school-record tying five touchdowns in a 63-19 win against Wyoming. He also added 44 rushing yards on four carries. All five touchdown passes came in the first half as Utah State scored on its first eight possessions of the game.
Defense:
Brett Roy, DT, Nevada. Set a career-high with 11 tackles, including four for a loss (one sack), in a 37-0 win against UNLV. Roy leads the nation in tackles for loss with 2.5 per game.
Special teams:
Ryan Allen
, P, Louisiana Tech. Punted 10 times for a 48-yard average in a 24-11 win at Idaho. Allen had six punts inside the 20, including four inside the 10-yard line.
October, 4, 2010
10/04/10
3:01
PM ET
Here are all the non-AQ players of the week:
Conference USA
Offense:
Kyle Padron
, QB, SMU. Went 24-of-32 for 371 yards and three touchdowns with no interceptions as SMU won at Rice for the first time since 1986.
Defense:
Dezman Moses, DE, Tulane. Had six tackles and a team-high 2.5 tackles for loss and tied for a team-best 1.5 sacks for minus-8 yards in a 17-14 win against Rutgers.
Special teams:
Jonathan Ginsburgh, P, Tulane. Punted nine times for 382 yards for a 42.4 average and tied the school record for the seventh-longest punt in school history with a 73-yarder.
Mountain West
Offense:
Tim Jefferson
, QB, Air Force. Tied a career-high with two rushing touchdowns in a 14-6 win against Navy, helping the Falcons end a seven-game losing streak to the Midshipmen.
Defense:
Jordan Waiwaiole, LB, Air Force. Recorded a career and team-high 15 tackles, an interception and a sack in a 14-6 win against Navy.
Co-Special teams:
Jamil Cooks, LB, Air Force and Austin McCoy, P, Wyoming. Cooks had a blocked field goal and blocked punt in the win against Navy. Cooks is the first Falcons player to block two kicks in a game since Robert Kraay blocked two point-after attempts against Notre Dame in 2006. McCoy limited the Rockets to zero return yards on eight punts and placed two kicks inside the Toledo 10-yard line.
Sun Belt
Offense:
Chris Masson
, QB, Louisiana. Threw for a career-high 310 yards and tied his career mark with two touchdown passes in the Cajuns' road win at North Texas.
Defense:
Javon McKinnon, LB, Arkansas State. Recorded a career-high 16 tackles, including a career-best two tackles for loss, against Louisville for the most stops by a Sun Belt Conference player since the 2008 season.
Special teams:
Jermaine Rogers, DT, Louisiana. North Texas appeared to be sending the game into overtime after scoring a touchdown with 31 seconds remaining in regulation, but Rogers blocked the extra-point attempt to seal the win.
MAC
East Division
Offense:
Matt Brown
, RB, Temple. Had a career-high 226 yards on 28 carries and four touchdowns in a 42-35 win at Army.
Defense:
Khalil Mack, LB, Buffalo. Had a team-high nine tackles and a career-best four tackles for loss in a 28-26 win at Bowling Green. Mack also had two quarterback hurries, one forced fumble, one pass break-up and one sack.
Special teams:
Trevor Cook, K, Miami. Had a 36-yard field goal and 21-yarder, making him 9-of-10 on the year in a win against Kent State.
West Division
Offense:
Chandler Harnish
, QB, Northern Illinois. Went 16-of-20 for 281 yards and tied a career-high with three touchdowns in a 50-14 victory at Akron.
Defense:
Robert Eddins, DE, Ball State. Had a career-high 4.5 sacks plus had seven total tackles and one quarterback hurry in a 31-17 win at Central Michigan.
Special teams:
Ben Armer, P, Western Michigan. Had three punts of more than 50 yards, including a career long 65-yard punt in a 33-13 loss to Idaho.
WAC
Offense:
Kealoha Pilares
, WR, Hawaii. Set a school record with 18 catches in a 41-21 win against Louisiana Tech and had a career-high 217 receiving yards and two touchdowns.
Defense:
Robert Siavii, LB, Idaho. Had a team-high nine tackles in the 33-13 win at Western Michigan. Siavii added 1.5 tackles for loss, including a half sack, and also broke up two passes and had one quarterback hurry.
Special teams:
Shawn Plummer, LB, Fresno State. Blocked his first career punt in a 38-17 win against Cal Poly. The punt was recovered in the end zone.
September, 27, 2010
9/27/10
2:00
PM ET
Let's take a look at the good and the bad for the non-AQs in Week 4.
The good:
Toledo is off to a 3-1 start after winning three straight road games for the first time since 2002. Its 31-20 win over Purdue Saturday gives the Rockets wins over teams from automatic qualifying in five straight seasons. Quarterback
Austin Dantin
is putting together a nice season in his sophomore year, and went 24-of-31 passing for 209 yards and two scores. He also ran the ball a game-high 17 times for 64 yards and two touchdowns -- including a career-long 58-yard touchdown scamper in the third quarter. … Temple kept it closer against Penn State than it had in a really long time, falling to the Nittany Lions 22-13. That was the closest it came to a win since losing 27-25 team in 1985. …
Five winless teams picked up Victory No. 1 on the season: Colorado State, North Texas, ULM, Marshall and UNLV. The Rams had the longest losing streak among that group, breaking a 12-game skid with their last-second win over Idaho. Marshall beat Ohio after coach Frank Solich elected to go for two points with no time left to try to win the game. But
Boo Jackson
's pass went incomplete. Solich said he elected to go for two because he didn't have faith that his defense could stop the Herd.
[+] Enlarge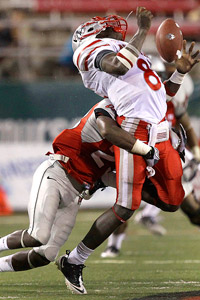 AP Photo/Julie JacobsonTarean Austin and the New Mexico Lobos have had an abysmal start to the season.
The bad:
New Mexico has lost by an average of 46 points this season, and has shown no competitiveness. The Lobos had to start true freshman
Tarean Austin
because of an injury to
B.R. Holbrook
(knee). Austin became the first true freshman to start there since 1988, and went 17-of-40 for 177 yards with a touchdown and two interceptions in the 45-10 loss to UNLV. Perhaps most painful about that lopsided score –- UNLV came into the game winless as well. It is unknown how long Holbrook will be out.
Fresno State gave up 55 points to an Ole Miss team that struggled to score this season against FBS opponents, averaging 13.5 points in those games. But the Bulldogs defense seemed to revert to form against the Rebels, giving up 425 yards on the ground and 578 total yards.
The heartache:
You have to feel for UAB and coach Neil Callaway. Two of its three losses have come on the final play of the game. In both, UAB outgained its opponent. Start with the season opener against FAU. The Blazers blew a 16-point third-quarter lead but had a chance to win on the last play of the game. Instead, their 28-yard field goal was blocked. Then against Tennessee this past week, UAB outgained the Vols 544-287 in the game and held them to only 147 yards after the first quarter. But four missed field goals spelled doom, and the Blazers lost 32-29 in overtime.
A few more helmet stickers:
Colorado State freshman quarterback
Pete Thomas
went 29-of-37 for 386 yards and three touchdowns, both of which are career highs. … Middle Tennessee defensive end Jamari Lattimore had four sacks to go with a career-high eight tackles, a forced fumble, and two quarterback hurries against Louisiana. The four sacks also tied the Sun Belt Conference single-game record and goes down as the most in the FBS this season. … TCU punt returner
Jeremy Kerley
had a career-high 234 all-purpose yards against SMU, averaging 34.4 yards per kickoff return. That includes a career-long 83 yarder.
A few injury items to note:
BYU junior defensive tackle Romney Fuga is out for the season after tearing his ACL and LCL against Nevada on Sunday. Fuga was apparently hurt by what BYU said was a cheap shot from Nevada offensive linemen John Bender. Coach Bronco Mendenhall called it "not a positive football play." Fuga has started all four BYU games this season, with 15 tackles and ½ a sack this season. … Kent State anticipates having running back
Eugene Jarvis
(groin) available this week against Miami (Ohio). …
Ohio linebacker Noah Keller is most likely gone for the season with a partially torn ligament in his toe, wide receiver
Riley Dunlop
is out two to four weeks, and wide receiver/punt returner
LaVon Brazill
(leg) is questionable after missing the game against Marshall. … The Bowling Green quarterback situation is up on the air.
Matt Schilz
(shoulder) sat out against Michigan, and it's a matter of whether he can throw during practice this week. … Temple running back
Bernard Pierce
(ankle) is a game-time decision against Army. … Louisiana quarterback
Chris Masson
(knee, chest) should be available against North Texas on Saturday.
Week 4 look ahead:
A few big games this week on the schedule. The biggest: Navy at Air Force. Navy has won seven straight over the Falcons and seven straight Commander-in-Chief trophies. This could be the best shot yet for Air Force to win with the No. 1 rushing offense in the country. Navy has been banged up, including quarterback
Ricky Dobbs
, but the Midshipmen had a bye week to try and get healthy. … BYU is at Utah State on Friday night in a game that has lost some of its luster. Both teams are 1-3 and looking for some much needed momentum.
September, 30, 2009
9/30/09
6:44
PM ET

Posted by ESPN.com's Tim Griffin
Here's a look at some of the under-the-radar topics that people are talking about across the Big 12:
Colorado coaches are hopeful the insertion of cornerback Ben Burney into the lineup at strong safety with cornerbacks Cha'pelle Brown and Jimmy Smith will provide the Buffaloes with a more athletic secondary that will be more productive as it prepares for the Big 12's high-powered passing attacks. The retooled group will get its first big test Thursday night when it challenges West Virginia's talented pitch-and-catch tandem of quarterback Jarrett Brown and receiver Jock Sanders.
The versatility of Texas' offense was shown against UTEP when the Longhorns produced 300 rushing and passing yards for only the second time in school history. The only other time came against Houston in 1990. It showed the versatility and depth of Texas' running and passing offense. The Longhorns' ability to effectively do both was what UTEP coach Mike Price was raving about after the game -- shortly after he called Texas the best team in the country.
It might be time for Harris Interactive Poll voters to take a sobriety test after their first poll results were released this week. Is it my imagination, or could you think of a less-likely team to receive votes in a national poll than Kansas State, which is tied for 42nd in the most recent Harris poll with two points? Yes, that would be the same Kansas State that has yet to beat an FBS opponent this season with its only victories over FCS teams Massachusetts and Tennessee Tech.
Concern for Kansas' offensive line remains the Jayhawks' most worrisome problem during their week off. The Jayhawks allowed five sacks of Todd Reesing against Southern Mississippi. Considering Reesing's slight size, his health could be in risk unless the Jayhawks improve their pass-blocking tendencies pronto. But the return of Jake Sharp to the starting lineup could improve some of the blitz pickups by Kansas' running backs.
Nebraska's pass-rushing packages are rounding into shape after they notched two sacks against Louisiana-Lafayette -- the first sacks against quarterback Chris Masson this season. After being shut out in the season opener, the Cornhuskers have rebounded to notch 10 sacks over the last three weeks. Most impressively, nine different players have shared in that largesse of sacks.
The loss of top Iowa State pass rusher Rashawn Parker with a season-ending knee injury could have some serious consequences for the Cyclones. Parker had provided the most consistent pass-rushing threat and will be missed during the rest of the season. His replacement will be sophomore Patrick Neal, a converted tight end who snagged a touchdown grab last season against Missouri.
Oklahoma State's offensive line showed some continuity against Grambling, playing with the same group as it had last week. It marked the first time this season that the Cowboys have started the same five players along the offensive front in back-to-back weeks.
One underrated impressive trend for Texas A&M in their blowout victory over UAB was that the Aggies were penalized only three times. That effort came after the Aggies came into the game leading the nation with 30 penalties in their first two games. A&M coaches made a special efforts in game preparations last week to limit mental mistakes. The results were seen in the Aggies' clean performance over the Blazers.

Posted by ESPN.com's Tim Griffin
I had my best week of the season last week by picking nine out of 11 games correctly, but assuredly I can do better. Hopefully this week's picks will continue my hot streak.
Missouri 38, Nevada 24:
The Wolf Pack likely will stack the box and dare Missouri sophomore quarterback
Blaine Gabbert
to beat them by throwing the ball without much benefit of a running game. If the Tigers can do a good job of containing Nevada defensive ends Dontay Moch and Kevin Basped, they should be able to dominate the offensive part of the game. Nevada has lost disappointing road games to Notre Dame and Colorado State, and Chris Ault's team will be charged about its home debut in a rare national television game. And bet the Wolf Pack will be itching for revenge after last year's 69-17 loss to the Tigers at Columbia. But Missouri still has too many weapons.
Kansas 31, Southern Mississippi 20:
It's been a trying week for the Fighting Manginos around Lawrence after some players were involved in a nasty brawl with the Kansas basketball team that splashed both programs on the front pages. They will be challenged to stop the Golden Eagles, who come into the game with an eight-game winning streak -- tied with Mississippi behind only Florida on the national list. The streak continued last week when the Golden Eagles rallied from an early 17-point deficit to claim a 37-34 victory over Virginia. The improving Kansas defense will be challenged to contain running backs
Damion Fletcher
and
Tory Harrison
, who both gashed the Cavaliers for more than 100 yards. Both teams should be able to score points in bunches, but I'm thinking that Kansas has too much firepower with
Todd Reesing
and
Dezmon Briscoe
, even with the status of leading rusher
Jake Sharp
likely to be a game-time decision.
Kansas State 31, Tennessee Tech 7:
The Wildcats have started out slowly on offense, scoring the fewest points since Bill Snyder's first season coaching them in 1989. And they will be playing an underrated Tennessee Tech team coached by Watson Brown, older brother of Texas coach Mack Brown. The Golden Eagles were competitive against preseason Ohio Valley Conference favorite Eastern Kentucky last week before falling 17-7. But they'll be stepping up in class against a Kansas State team hopeful of stopping a recent two-game losing streak. Look for Snyder to try to get tailback
Daniel Thomas
involved early and try to build some confidence for quarterback
Carson Coffman
to take into Big 12 play.
Texas 52, UTEP 10:
Texas still hasn't strung together a complete game this season. This might be the Longhorns' opportunity.
Colt McCoy
struggled again last week in the first half, battling the vestiges of a flu attack. But he again rebounded in the second half, taking advantage of new offensive weapons in running back Tre' Newton and flex receiver
Dan Buckner
. UTEP has been effective running the ball with
Donald Buckram
, who is averaging almost 7 yards a play. The Miners scored five rushing touchdowns in last week's victory over New Mexico State -- their first victory of the season -- but will be supremely challenged against Texas' massive defensive front.
Oklahoma State 48, Grambling 17:
The Cowboys will be looking to build some momentum in their final nonconference game.
Zac Robinson
looked closer to his 2008 form last week against Rice, although the Cowboys' struggling pass defense continues to be a concern. And Oklahoma State might have to play without top playmakers
Dez Bryant
(calf) and Perrish Cox (shoulder) in this game. Grambling has been plagued with 12 turnovers in its first three games and will be facing an opportunistic Oklahoma State defense intent to boost that total.
Iowa State 33, Army 21:
This should be an intriguing battle as two 2-1 teams coming off impressive victories over Mid-American Conference teams will meet. Iowa State will be gunning to beat its 2008 season win total with a victory Saturday night. The Cyclones rebounded from a struggling performance against Iowa with an impressive victory at Kent State that snapped a nation-worst 17-game road losing streak.
Austen Arnaud
orchestrated a strong performance as
Alexander Robinson
rushed for 143 yards for his second straight 100-yard game. The key for the Cyclones will be to contain Army's option-based attack and force quarterback
Trent Steelman
into long-yardage passing situations. This one will be won in the trenches, and I like Iowa State's chances because the Cyclones are more multi-faceted.
Nebraska 45, Louisiana-Lafayette 10:
All things about Nebraska football will be celebrated in this game as the Cornhuskers toast their 300th straight home sellout. This game will be similar to many of the previous ones during the streak. Look for the Cornhuskers to mash the Ragin' Cajuns at the point of attack with a potent running attack keyed by Big 12 rushing leader Roy Helu Jr. Quarterback
Zac Lee
sustained a splinter fracture on his left (non-throwing) thumb last week against Virginia Tech, but should play. More worrisome, the Cornhuskers' defense collapsed in last week's disappointing loss, but won't be tested that much by Louisiana-Lafayette quarterback
Chris Masson
. Look for the Cornhuskers to empty the benches early, using youngsters like
Cody Green
and
Rex Burkhead
throughout much of the second half.
Texas A&M 38, UAB 24:
The surprisingly potent Texas A&M offense will get its toughest challenge to date against UAB. A key for the Aggies will be to continue their explosive passing game that has helped quarterback
Jerrod Johnson
, who ranks third nationally in total offense and 20th in passing efficiency. Johnson should have a ready target in the UAB pass defense, which ranks 118th nationally and was blistered for 413 yards last week by Troy. The Aggies will have to play without leading receiver
Jeff Fuller
, but precocious freshman
Uzoma Nwachukwu
produced four touchdowns on four "touches" last week against Utah State. Texas A&M's defense needs some improvement after struggling against Utah State's option-based attack and UAB quarterback
Joe Webb
will test it. A&M should win this game if it can give Johnson enough time to hit his downfield receivers.
Baylor 48, Northwestern State 7:
The Bears will be attempting to rebuild their confidence after a disappointing loss to Connecticut snuffed out much of the momentum after their season-opening triumph over Wake Forest. Quarterback Robert Griffin struggled through a miserable game with a career-low 139 yards of total offense. He needs to get his confidence back, hopefully by throwing the ball downfield to get
David Gettis
and Kendall White involved early. The Bears' rush defense has to be a big concern after allowing 235 yards and two touchdowns to Connecticut last week. And they'll be facing a competent Northwestern State rushing attack that dented Houston for 155 rushing yards in their first game of the season. But I'm expecting the Bears to rebound with a strong performance after last week.
Texas Tech 45, Houston 44:
Get out your calculators and prepare to stay up late to watch the end of this one. It should be an entertaining contest between two of the nation's top quarterbacks in Texas Tech's
Taylor Potts
and Houston's
Case Keenum
. The Red Raiders stuck with Texas last week until deep in the fourth quarter when turnovers and penalties finally caught up with them. But Potts passed for 430 yards in an impressive road debut. He'll be facing another challenge against Houston, which stunned then-No. 5 Oklahoma State two weeks ago before taking last week off. It will be the first matchup between the two old Southwest Conference rivals since the conference dissolved in 1995. The No. 18 Cougars will be playing as a ranked team for the first time since 1991 -- when David Klingler was their quarterback. The Red Raiders have a better defense than Oklahoma State and are familiar with Houston because they face a variation of the Cougars' spread offense every day in practice. That should provide them with just enough of an edge to boost them to win a wild victory.
Last week:
9-2 (81.8 percent)
Season:
25-8 (75.8 percent)
September, 10, 2009
9/10/09
9:03
AM ET

Posted by ESPN.com's Tim Griffin
Here are my Big 12 picks for this weekend.
Colorado 21, Toledo 20:
This might be the biggest game of Dan Hawkins' career after his team's opening-game debacle against Colorado State. The Buffaloes need to get a ground game going -- remember that guy on the bench is
Darrell Scott
-- and do a better job of limiting big plays on defense. Toledo quarterback
Aaron Opelt
threw 67 passes in last week's loss at Purdue, but will find it much tougher this week against the Buffaloes' underrated secondary keyed by cornerback Jimmy Smith. I'm looking for the Buffaloes to do just enough to escape the Glass Bowl with a victory-- but it's not going to be easy or pretty.
Iowa 21, Iowa State 17:
The Cyclones have had much recent success against the Hawkeyes at Jack Trice Stadium, where they have won four of the last five in the series since 1999. The Hawkeyes struggled last week against Northern Iowa and were lucky to escape with a victory only after blocking field goals on the last two plays of the game. I look for replacement running back
Adam Robinson
to run with a little more confidence this week for the Hawkeyes. Don't be surprised if wily Iowa coordinator Norm Parker cooks up a defensive scheme that will handcuff the Cyclones' emerging no-huddle offense. But it wouldn't surprise me if the Cyclones were able to make this one close and maybe even eke out an upset victory.
Nebraska 41, Arkansas State 14:
The Cornhuskers ran off a 49-3 victory over FAU and Bo Pelini wasn't happy about his team's defensive efforts. They'll be facing another challenger from the Sun Belt in Arkansas State, who shouldn't pose too many problems. I'll be interested to see the continued development of future Cornhuskers like
Rex Burkhead
and
Cody Green
and see how the defense reacts after the scalding criticism of their coach. If Pelini gets mad after giving up three points, what's he going to do if they give up seven or 10 or 14 points this week?
Oklahoma State 45, Houston 34:
Oklahoma State had a strong opening performance, including a salty defensive showing that stopped Georgia cold after the Bulldogs scored a touchdown on their opening possession. It will be interesting to see if that huge victory left the Cowboys with a hangover. It's something they can't afford, considering Houston's high-powered offense keyed by
Case Keenum
. The Cougars had Oklahoma State on the ropes last season before the Cowboys blew the game open in the second half. I wouldn't be surprised to see a similar kind of game on Saturday.
Texas 45, Wyoming 7:
The Longhorns' toughest nonconference road game shouldn't pose too many problems, even with injuries on the offensive line and other personnel losses in the secondary. I'll be interested to see how alternating Wyoming quarterbacks
Robert Benjamin
and
Austyn Carta-Samuels
attack a Texas defense that allowed more points in an opening game last week in 10 years. It will also be noteworthy to watch Texas' running backs and see if
Vondrell McGee
still is the featured back after his fumble problems last week. Despite playing at high elevation, the Longhorns should have no worries.
Kansas 44, UTEP 35:
Kansas ran the ball strongly last week against Northern Colorado and should be able to do the same against the Miners. But it wouldn't surprise me if UTEP quarterback
Trevor Vittatoe
and some underrated offensive weapons make the Jayhawks sweat their way through their visit to the Sun Bowl. In the end,
Dezmon Briscoe
will make enough plays as a receiver and maybe as a kick returner to extend the Miners' 16-game losing streak against Big 12 teams.
Missouri 34, Bowling Green 14:
What can
Blaine Gabbert
do for an encore? His auspicious start has been the talk of the "Show-Me" State this week after a breakthrough performance against Illinois. I was just as impressed by the Tigers' "Scorpion" defensive front which made Illinois quarterback
Juice Williams
miserable. The Missouri defense will be tested by Bowling Green's talented pass-and-catch duo of
Tyler Sheehan
and
Freddie Barnes
. The Falcons beat Missouri in each of Gary Pinkel's first two seasons at Missouri, including his first game there in 2001. But that's a long time ago.
Oklahoma 34, Idaho State 0:
Landry Jones
gets his first start at quarterback as he replaces
Sam Bradford
. I look for Bob Stoops to have a conservative approach this week designed to build confidence for Jones over the next several games. There won't be anything fancy as the Sooners will lean on a running game that needs to help restore assurance in an offensive line that struggled last week. Idaho State dropped a 50-3 outing at Arizona State last week in a game where Bengal quarterbacks threw four interceptions. It might be more of the same as the Sooners' defense will be charged to pick up its performance with all of the lingering questions on offense.
Texas Tech 41, Rice 17:
Taylor Potts
didn't have the best of college career starts, throwing three interceptions last week against North Dakota. I look for improvement from him and the Tech running attack as they meet rebuilding Rice. Owls coach David Bailiff is still struggling to find a quarterback and I expect both
John Shepherd
and
Nick Fanuzzi
to get an opportunity to play. But it won't nearly be enough as the Red Raiders should cruise into the Texas game with a better performance than their first game.
Kansas State 31, Louisiana-Lafayette 24:
Carson Coffman
should have a better performance in his second game and the Kansas State special teams will be improved in a tougher-than-expected battle at Cajun Field. The Ragin' Cajuns have a couple of nice offensive weapons in quarterback
Chris Masson
and running back
Undrea Sails
. If they get rolling, it could be a long night in the bayou for the Wildcats. I'm also a little concerned about how Kansas State's lack of depth affects them at both offensive line and defensive line during what should be a hot, humid night. But in the end, Kansas State running backs
Daniel Thomas
and
Keithen Valentine
will provide enough offense for the Wildcats to escape Louisiana with a tough victory.
Last week:
10-2 (83.3 percent)
Season:
10-2 (83.3 percent)