NCF Nation:

Chris Matthews
July, 22, 2011
7/22/11
1:00
PM ET
HOOVER, Ala. -- Gone are the offensive weapons that provided the excitement in Kentucky's 2010 offense.
Do-everything athlete Randall Cobb is gone. Quarterback
Mike Hartline
, who was second in the SEC in passing a year ago -- adios. And running back
Derrick Locke
and receiver
Chris Matthews
, who were both instrumental offensive cogs, have hit the road as well.
The cupboard isn't bare, but it's full of new, shiny objects that have yet to really get much grease on them.
Except when you look up front.
[+] Enlarge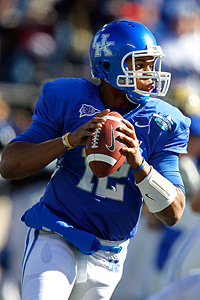 AP Photo/Butch DillMorgan Newton is looking forward to working behind a veteran offensive line.
Kentucky returns four veteran starters on the offensive line that has the makings of being one of the best in this league, accumulating more than 60 combined starts in their careers.
Senior guard Stuart Hines leads the group with 24 career starts and has enjoyed the praise he and his other fellow linemen have received this year and expects it to be the guiding force for the Wildcats' offense this fall.
"There's a lot of pride behind that. We've worked hard as a group to be where we are right now and we just want to continue to improve and continue to get better," Hines said. "It's a great starting spot to build your offense around.
"People [say] we lost a lot of guys, well we return a lot of guys on the offensive line."
Hines might be the heart and keeps the focus in the trenches, but a lot of the hype has surrounded second-year starter Larry Warford.
After playing mostly as a reserve during his freshman year, Warford burst onto the scene last season, starting 13 games and leading Kentucky's line with 43 knockdown blocks. He enters his junior year with some nice preseason accolades as well.
Hines admits that Warford was a bit lazy when he first arrived, thinking his ability alone could carry him, but now he sees a determined athlete with relentless drive on and off the field.
"He's worked his butt off to get into shape and shed a few pounds and keep his weight down," Hines said. "He's done a great job of doing of that and getting the extra stuff with Coach 'Rock' [Oliver]. It's great to see a guy that dedicated to doing what he has to do to be a good player."
Kentucky also returns junior Matt Smith at center and senior Chandler Burden, who missed spring but will return in August, at left tackle. Senior Billy Joe Murphy left spring as the starter at right tackle.
By last count, that makes three of the five up front residing in Kentucky's senior class, a welcomed realization for new quarterback
Morgan Newton
.
"Everyone knows the offensive line is a big key," Newton said. "Those guys are as good as anybody. That group, we talk about guys that work and don't really say a lot, that's that group.
"That's one of the best offensive lines in the country. Having a group like that is a great start for a special offense."
And it will have to be a great start. Along with the baby-faced Newton, the Wildcats also have a new group of young running backs to utilize. Hines said it's important for the line to make those players feel comfortable about running up the middle. They need to provide quality holes for the backs to limit the dancing around in the backfield.
Like any offensive line, this one is very close-knit. Hines said one major reason is the pride four of them take in being from the state of Kentucky. To Hines, there is something about being Kentucky bred that contributes to their on-field success.
"I guess we eat a lot of Kentucky country food or there's something in the water," he said. "I don't know what it is. A bunch of cornbread or something."
January, 7, 2011
1/07/11
10:00
AM ET
Here are three keys for Kentucky in its BBVA Compass Bowl matchup Saturday against Pittsburgh:

1. Shut down the running game:
Pittsburgh and
Dion Lewis
put up impressive numbers in the running game last season, but it's been a struggle for much of this season. The Panthers were 5-0 when rushing for 150 yards, so the last thing the Wildcats want to do is allow Pitt to establish itself on the ground and dictate the flow of the game by running the football.
2. Get Newton off to a good start:
Look for the Wildcats to put replacement quarterback
Morgan Newton
in an early position to make some easier throws and generate a little confidence. It's been a while since he's been in this situation. So having some success early will probably be even more important. And that confidence thing isn't confined to just him. His teammates also need a reason to believe in him and rally around him.
3. Get the ball to Cobb:
The best thing Newton will have going for him is
Randall Cobb
, who may see more than a few snaps at quarterback in the Wildcat package. Cobb's been off for more than a month and is rested, so there's no such thing as wearing him out at this point. He ought to get 15 touches at a minimum and maybe even 20. Don't be surprised if the Wildcats have several new plays in place to get him the ball. Newton's probably not going to be as efficient as Hartline throwing the ball, which means Kentucky may have to work harder at making sure Cobb gets his touches.
January, 7, 2011
1/07/11
9:00
AM ET
Kentucky is making its fifth straight bowl appearance and faces Pittsburgh on Saturday at noon ET on ESPN.
Here's a quick preview of the BBVA Compass Bowl:


WHO TO WATCH:
He's been one of the most versatile players in the SEC for the last two years, but this could be
Randall Cobb
's final game in a Kentucky uniform. He's yet to make a decision about turning pro and wants to focus solely on bringing the Wildcats a fifth straight winning season. Few players in this league have worn more hats and worn them with the success of Cobb. He leads the SEC with 2,192 all-purpose yards and scored touchdowns this season running, passing, receiving and returning a punt. If that's not enough, he's also the holder on extra points and field goals. Whatever he decides about his future, Cobb will go down as one of the finest players to ever play at Kentucky.
WHAT TO WATCH:
With senior quarterback
Mike Hartline
suspended for this game, sophomore
Morgan Newton
gets his shot to lead the team without playing any meaningful snaps this season. When everybody was healthy, the Wildcats had one of the most balanced offenses in the league. But senior running back
Derrick Locke
went down with an injury, and Hartline was able to take the passing game to another level. The offensive playmakers are in place to put up more big numbers in this game. In addition to Cobb, senior
Chris Matthews
had a big season with nine touchdown catches. It comes down to how effective Newton is throwing the ball and running the offense after watching from the sideline all season.
WHY TO WATCH:
The Hartline suspension certainly raised some eyebrows in and around the Kentucky program, but it was nothing compared to the turmoil Pittsburgh has faced. Dave Wannstedt was forced out as head coach and was replaced by former Miami (Ohio) coach Mike Haywood, who was fired 16 days later after being arrested on domestic violence charges. Defensive coordinator Phil Bennett will coach the Panthers in the bowl game. We'll find out on Saturday which team is more resilient.
PREDICTION:
Pittsburgh 30, Kentucky 24. Had Hartline not been suspended, the Wildcats would be the team to beat in this game. But Newton has thrown just seven passes all year long and will no doubt have to get accustomed to game speed. He's had more than a month to get ready. Pitt will take advantage of his lack of game action, though, and force him into some game-changing mistakes.
August, 31, 2009
8/31/09
11:06
AM ET

Posted by ESPN.com's Chris Low

No, Kentucky coach Rich Brooks doesn't have some obsession with space travel.

But, yes, he does believe his offense is going to be better this season, particularly his passing game.

The phrase Brooks has used this preseason when asked about his offense is "light years," as in the Wildcats are "light years" ahead of where they were this time a year ago on offense.

Much of that optimism centers around junior quarterback Mike Hartline, who's been a more accurate passer this season, not to mention a better leader.

For all the talk over the summer about what Hartline couldn't do or didn't do last season, he's worked diligently to make this his offense.

That's a little easier to do when you have guys around you making plays. Hartline was victimized by too many drops and too many guys not doing something with the ball after the catch a year ago.

He also didn't have that second option opposite Randall Cobb. That shouldn't be a problem this season.

Junior college newcomer Chris Matthews has been the star of the preseason. He's consistently made big plays, and with a 6-5, 210-pound frame, gives the Wildcats a big, physical presence in the passing game they didn't have last season.

Matthews has all but earned the starting job for Saturday's opener against Miami (Ohio), and while it's always a little risky to expect too much out of a guy who's never done it at the major college level, Matthews has already made a believer of his teammates and coaches.

You see, a lot of his plays have come against All-America cornerback Trevard Lindley, who happens to be one of the best cover guys in the country.

Lindley has even evoked the Julio Jones comparison when talking about the difficulties in matching up with Matthews, who came to Kentucky via Los Angeles Harbor College.

The Wildcats should find out earlier this season just how much they have improved on offense. Playing Miami (Ohio) in that first game at Paul Brown Stadium in Cincinnati won't be easy, and then comes three straight home games against Louisville, Florida and Alabama.

The Gators and Crimson Tide feature two of the best defenses in the country.

A year ago, Kentucky didn't run up against a legitimate defense until the fifth game. The 27-2 win over Louisville in the opener was deceiving because the Wildcats only scored one offensive touchdown and finished with 210 yards of total offense. Also, that one offensive touchdown came after Lindley intercepted a pass and returned it inside the 10-yard line.

The next three games were against Norfolk State, Middle Tennessee and Western Kentucky, so there might have been a false sense of where Kentucky was on offense at that point.

The Wildcats won't have the luxury of easing their way into the season offensively this year if they're going to have a successful September. Whether they're "light years" ahead of where they were this time last year remains to be seen.

Still, Hartline's growth as a passer and the addition of Matthews on the perimeter certainly gives them every chance to be significantly better.

And they'll have to be if they're going to make their fourth straight appearance in a bowl game.