NCF Nation:

Chris Pantale
November, 3, 2012
11/03/12
7:09
PM ET
It was the
Michael Campanaro
show early, and the defense show late.


Campanaro caught three first-half touchdown passes, and the Wake Forest defense came up with huge stops down the stretch to help the Deacs to a
28-14
win over Boston College on Saturday.
Campanaro ended with 123 yards, and tied an ACC single-game record with 16 receptions -- showing once again how much he was missed while he sat out with a hand injury. He was largely ineffective in his return last week against Clemson, but that was not the case against an Eagles defense that has struggled all season.
The Eagles (2-7, 1-5) had their share of chances to win. A bit of trickeration closed the deficit to 21-14 early in the third quarter, when a double pass had receiver
Bobby Swigert
throwing the touchdown to tight end
Chris Pantale
.
On the following Wake Forest possession,
Spenser Rositano
intercepted a pass from
Tanner Price
deep into Wake territory. But a flag pushed Boston College back further. Still, the Eagles appeared to be in good shape. But the always reliable
Nate Freese
missed a 43-yard field goal -- his first miss under 50 yards this season.
Wake Forest (5-4, 3-4) then went up two touchdowns when
Josh Harris
ran for a 23-yard score.
After that came the big Wake stops -- or the missed BC opportunities, depending on your perspective. The Eagles were stopped on fourth-and-short near the goal line to kill one drive. Interestingly enough, they called for two straight running plays -- even though they could not run a lick on Saturday.
On the following BC possession,
Chase Rettig
threw his third interception of the day. The Eagles ended up with four turnovers and squandered any momentum they may have had after beating Maryland a week ago, and were officially eliminated from bowl contention.
Wake Forest is now one win away from bowl eligibility.
August, 24, 2012
8/24/12
3:05
PM ET

Boston College receiver
Bobby Swigert
will miss the season opener next week against Miami with a left knee injury, coach Frank Spaziani announced Friday.
Swigert was hurt during the team scrimmage Wednesday after making his only catch. In the announcement, Spaziani said Swigert will be out for several weeks. Expected to start this season, Swigert appeared in all 12 games last season and led the Eagles with 44 catches for 470 yards and three touchdowns.
Injuries are really mounting for the Eagles, who will be without at least three starters against Miami. Tight end
Chris Pantale
(foot) and cornerback
Al Louis-Jean
(foot) also are out for the Miami game. Running backs
Rolandan Finch
,
Andre Williams
and
Tahj Kimble
also have been banged up during preseason camp.
August, 10, 2012
8/10/12
2:35
PM ET
Boston College has taken a big hit only a few days into fall camp.

Coach Frank Spaziani announced during media day Friday that tight end
Chris Pantale
is
out with a broken bone
in his foot. Pantale is in a cast, and Spaziani said his player would miss "significant time."
This is a big blow for an Eagles offense that already had his share of struggles last season, ranking last in the ACC in scoring offense and total offense. Pantale had 21 catches for 236 yards and three touchdowns last season, and was hands down the most experienced starter returning not only for the Eagles -- but in the entire ACC.
Pantale
has started 38 games
in his Boston College career, tops among returning starters in the league. Behind him on the depth chart, the Eagles list junior
Mike Naples
. He has played in 12 career games -- including nine last season -- with one career reception. Naples has been banged up during camp as well, so redshirt offensive lineman Dave Bowen is being moved to tight end.
This is probably the position the Eagles had the least to worry about headed into camp, though Spaziani tried to deflect how much losing Pantale hurts.
"The system is flexible enough to move on," Spaziani said. "That's what happens in college football -- somebody gets injured and you move on. You do things a little bit different, that's all. You have different packages."
Now we will see how long the Eagles will be without Pantale, and how they handle his absence.
June, 25, 2012
6/25/12
4:30
PM ET
With his 38 career starts, Boston College tight end
Chris Pantale
is the leading veteran returning in the ACC this year at all positions, as
nobody in the conference has more career starts
. He had 21 catches and three touchdowns last year, but is hoping for a bigger, more productive role this fall. Pantale was the Eagles' third-leading receiver last year and enters 2012 with 77 career receptions for 797 yards (10.35 avg.) and five touchdowns. I spoke with him recently to get his take on the upcoming season. Here are the highlights of our conversation:
What are your expectations for yourself for your senior year?
Chris Pantale:
I'm hoping to have a breakout season. I haven't really had a season I can look back on and say, 'I really got the most out of what I did this year, and I really helped the team rack up some wins.' Not only for myself, but for the team. I want to help lead us to an ACC championship and be a big part of that.
Why do you feel like you haven't had the kind of season you've wanted?
CP:
I'm not really sure. Over the past few years our offense hasn't really been too productive. Not just me, but the offense as a whole hasn't done so well. I can't really pinpoint it exactly, but most of the time we've been playing to our strength, which is our running game, our offensive line, and playing to our defense. It's a combination of things.
Do you think that could change this year with the hire of Doug Martin as offensive coordinator?
[+] Enlarge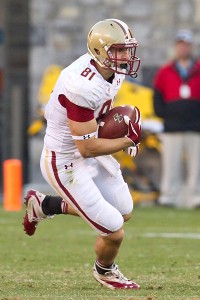 Cal Sport Media via AP ImagesEagles tight end Chris Pantale plans on being more of a vocal leader in the locker room this fall.
CP:
I definitely think so. We always want to be a productive offense. We don't want to have to play conservative and use our defense to our advantage. We want to be a fast-paced, up-tempo offense and put the defense on their heels, and spread the field. I think Coach Martin will bring that to the table, especially with the whole up-tempo offense he installed this spring.
Were you aware that you're the most experienced starter returning in the ACC?
CP:
I didn't know about the whole ACC, but for my class, the fifth-years I'm in with now, we came in with like 30 freshmen and have slowly dwindled to about 10 guys. I've noticed I'm one of the guys who has played the most, but I had no idea it was the most in the ACC, which is pretty shocking to believe right now.
The class you came in with, why did it get so small?
CP:
Part of it was the coaching changes. Some guys came in with bad attitudes I guess, thought they should've been playing right away. Some of the guys I came in with had a bigger ego and when they didn't play right away hung their heads a little bit and started to slack off in school. They brought it upon themselves. It wasn't what BC did to them. It was their own fault for most guys, but some guys left for what they felt was better options. You can't blame them if they didn't feel like they didn't belong there.
What does it mean to you that you stuck through … you were there for Jagz, right?
CP:
Yeah, I was there for Jagz and that whole, I guess you could say it was a debacle.
Yeah, there was that, but there were two ACC championship games, too, right?
CP:
Freshman year, it was amazing being around campus, back-to-back ACC championships, coming off the whole Matt Ryan tenure … it's disappointing to see the trend we were at last year. We're definitely working to get back to that level. I know what it was like for those guys when they got there, to the ACC championship, so that's even more important for me to talk and be vocal about what it takes to get to the ACC championship.
How have you handled having so many offensive coordinators? You personally?
CP:
It's been difficult at times. You see these offensive coordinators come through and I guess they all kind of say the same thing and two years down the line they're leaving or looking for other options. It's tough to build a relationship sometimes with all of the coaches.
Yeah, I can imagine that. There's something to be said for stability.
CP:
It would be nice to have a coach there for five years and have a whole relationship with him and be real comfortable, not have to learn a new offense every spring, which I've had to do for the most part. It's always a learning process. Each spring I'm not real comfortable with the offense and learning it over again, but I think that has actually helped me become a better football player because I'm able to adapt to offenses better. I know how to study it. I've had to do it a couple of years in a row.
Do you feel old yet?
CP:
I've started to feel a little bit when I look around the locker room, and these guys are all 18 years old, or 17 going on 18, and I'm like, 'Wow, what the heck?'"
Tell me about your role for this season in terms of leadership. As one of the older guys, what will your role be?
CP:
For the past few years I've been kind of under the radar. I'm more of a soft-spoken quiet guy who tries to lead by example. I'm always going to work and do my job and guys respect that. I always work to the best of my ability, but I feel it's real important for me to step up and be a more vocal guy this year. Some of the younger guys count on that. I can lead by example, but there has to be a voice behind the message sometimes.
May, 19, 2009
5/19/09
1:59
PM ET
Posted by ESPN.com's Heather Dinich
You got to know some of them better than others this spring, but all of the following newcomers (in no particular order) established themselves as players' whose names you should remember come fall:
Virginia Tech TB Ryan Williams -- He quickly earned the spotlight with an 80-yard run on the first carry of his first spring scrimmage. In the spring game he had 10 carries for 85 yards, and two receptions for 66 yards, including a 56-yard touchdown on a middle screen.
Boston College TE Chris Pantale -- The 6-foot-5, 238-pound redshirt freshman from Wayne, N.J., had five catches for 45 yards - including a long of 17 yards in the spring game.
Florida State DE Brandon Jenkins -- He made plays every day, and probably had the most sacks of any of the Noles this spring. He also was constantly in the backfield. He probably won't start but may help replace some of the sacks Everette Brown took with him.
Maryland LB Demetrius Hartsfield -- The redshirt freshman is expected to be the starting Will linebacker in 2009. He's quick, athletic, and big enough (230 pounds) to be effective in the run game and yet fast enough to cover receivers coming out of the backfield. He was in the two-deep the second half of last season and nearly played, but held his redshirt. He ended a solid spring with seven tackles for the White team in the spring game.
UNC TB Jamal Womble -- He's a powerful runner built low to the ground who earned the No. 3 spot behind Shaun Draughn and Ryan Houston. He was the leading rusher in the spring game with 50 yards on seven carries and caught three passes for 12 yards. He proved this spring he could give the starters a breather.
UNC LB Zach Brown -- He reportedly ran a 4.26 with the strength and conditioning staff last week. He will be the starter at outside linebacker now that Quan Sturdivant has moved inside to middle.
Duke QB Sean Renfree -- He earned the confidence of coach David Cutcliffe and some playing time this fall with his strong performance this spring behind starter Thaddeus Lewis. Renfree threw for 210 yards and two touchdowns in the spring game.
Virginia WR Kris Burd and DB Rodney McLeod -- They're two players who showed the potential for breakout seasons. Burd saw action in all 12 games last year but caught only seven passes. With Kevin Ogletree gone, odds are that number increases.
McLeod was a true freshman last year and played almost exclusively in the nickel/dime packages from scrimmage. This year he's likely to be a starter at safety. He has great athleticism to complement h his football instincts.
Georgia Tech RB/SB Anthony Allen -- The junior transfer from Louisville is almost certain to figure into the crowded backfield this fall. He and Embry Peeples led all rushers in the spring game with 69 yards each.
Georgia Tech DL T.J. Barnes -- With three starters gone from last year's nine-win season, Barnes proved this spring he could become a dependable replacement. He had eight tackles, two tackles-for-loss and a forced fumble in the spring game.
Clemson QB Kyle Parker -- The dual sport athlete juggled his baseball responsibilities while competing with Willy Korn for the starting job, and wowed Tigers fans with his performance in the spring game. He completed 13-21 passes for 171 yards and a score, and also ran for a score.
NC State QB Mike Glennon -- He showed significant improvement this season and took advantage of the fact that starter Russell Wilson dedicated half of his spring to baseball. Glennon was 28-46 for 338 yards and three touchdowns with one interception in the spring game.
Wake Forest corner Kenny Okoro -- He's a long, tall athlete with the potential to replace Alphonso Smith. He made play after play this spring, tackles well and handles calls well. He'll continue to battle with Josh Bush this summer, but at the minimum will be used as a nickle back.
Miami WR Kendal Thompkins -- He's a smaller, speedy deep threat who caught two passes for 45 yards and has the potential to truly separate himself from the crowded group of receivers.
TOP 25 SCOREBOARD
Saturday, 12/7
Thursday, 12/5
Friday, 12/6
TOP PERFORMERS