NCF Nation:

Chris Peterson
December, 22, 2012
12/22/12
10:00
AM ET
Washington (7-5, 5-4 Pac-12) vs. Boise State (10-2, 7-1 Mountain West)


Who to watch
: After his "Hello, world" moment against Baylor in a 67-56 loss in the Valero Alamo Bowl last year, Washington quarterback
Keith Price
seems to have regressed this year. His completion percentage is down and he's thrown 18 touchdowns compared to 29 at this point last year. He has the same number of interceptions, 11. After some early struggles and inconsistencies, Boise State quarterback
Joe Southwick
seems to have finally settled into his role as "the guy after Kellen Moore." He's completing 66.7 percent of his throws with 17 touchdowns and seven interceptions. In the last three games he's completed 70 percent of his throws with seven touchdowns and no interceptions.
What to watch:
How does the Boise State defense defend Washington tight end
Austin Seferian-Jenkins
? The Mackey Award finalist has game-changing size and speed. Maybe more to the point -- how does Washington use him? If Seferian-Jenkins gets 7-10 touches, it could be the difference in the game. But Boise State is stingy against the pass, having allowed an FBS-leading three touchdown passes in 337 attempts this season. The Broncos rank in the top 10 in pass defense and pass-efficiency defense.
Why to watch
: Boise State has won its past three bowl games -- the last loss coming to TCU in the 2008 San Diego County Credit Union Poinsettia Bowl. If the right Washington team shows up -- the one that knocked off Stanford and Oregon State -- this could be one of the more entertaining games of the bowl season. If the Huskies still have a hangover from their Apple Cup loss, Boise could cruise.
Prediction
: Defensive coordinator Justin Wilcox has made a world of difference at Washington this season. He knows Chris Petersen and how he preps -- having served on his staff as defensive coordinator. Plus, Washington has played a far more vigorous schedule -- going 2-2 against top-10 teams. Boise State has seen just one Top 25 team and that was in the season-opening loss to Michigan State. Washington 24, Boise State 17.
August, 6, 2012
8/06/12
12:09
PM ET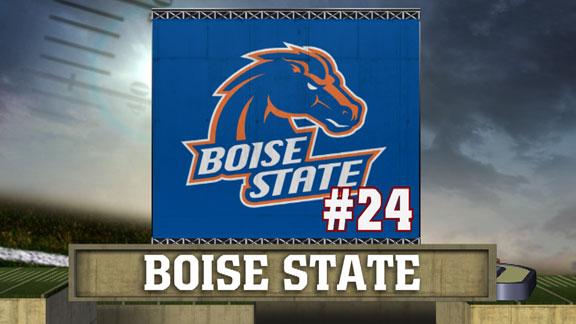 The most successful and most acclaimed senior class in Boise State history is gone. There is no question this is the biggest rebuilding job coach Chris Petersen has had to face, with only seven starters returning on offense and defense. That includes just two off a defense that ranked in the top 20 in total D last season. There are more experienced players returning on offense, but no answers yet about who will replace Kellen Moore, the record-setting QB who was the heart of this team for so many years. The last time Boise State lost its starting quarterback and had so few starters returning, the Broncos went 11-1 in 2004. Despite all the losses, the Broncos are the favorite to win the Mountain West in their final year in the league.
For more on ESPN.com's preseason Power Rankings,
click here
.
April, 18, 2012
4/18/12
3:00
PM ET
Pending Idaho Board of Education approval, Boise State University has signed its first all-sports contract with Nike. Boise State has had three separate contracts with Nike that pay about $280,000 per year in cash and product, but that number will rise substantially under the new contract.
Boise State will receive $850,000 in product and equipment each of the first two years of the contract, $1 million in each of the next two years and $1.15 million in each of the last two years. Those amounts are set to increase by $75,000 each year following the Broncos' move to the Big East. The contract is retroactive to 2011-12.
[+] Enlarge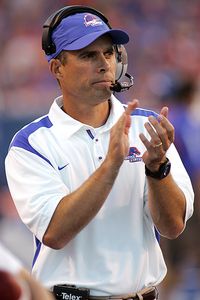 Brian Losness/US PresswireChris Petersen
Performance bonuses such as $25,000 for participating in a BCS bowl game and another $25,000 for winning a national championship are included.
The contract also calls for cash payments each year: $30,000 in each of the first two years, $40,000 in each of the next two years and $50,000 in the each of the final two years.
A lot of those figures change, however, should Chris Petersen no longer be the head coach of the Broncos football team. Nike has reserved the right to reduce the cash payments by an amount to be determined "taking into account the diminution of value resulting from such" change.
The head-coaching clause isn't without precedent, although it is more common at schools that have only recently signed their first all-sports contracts.
Memphis had a similar clause in its Nike contract that it struck in early 2009. Under the terms of that deal, Memphis was to receive $660,000 per year in cash compensation, but that amount would be reduced to $400,000 per year if John Calipari was no longer the men's basketball head coach. Calipari left just five months after the contract was signed.
Nels Popp, a professor of sports management at Illinois State University, said the coaching provisions in Boise State's and Memphis' contracts reflect the difference between a coach who puts a school on the map versus schools with longer brand histories.
"A single coach could indeed put a less prominent school in the spotlight, such as Gary Patterson at TCU, while the brand equity or brand recognition a storied program enjoys is certainly not as deeply impacted, marketability-wise, by coaching turnover," he said.
February, 15, 2012
2/15/12
3:30
PM ET
Losing West Virginia for the 2012 season means the Big East is left with seven football playing members. Unless, of course, a new addition decides to join a year early.
Commissioner John Marinatto told the Associated Press that possibility has not been ruled out, though he declined to list potential candidates.
We all know Marinatto does not have to give a list. Much of the speculation has centered on Boise State. The Broncos make the logical choice to come aboard in 2012, because they are football only; have national cachet; and would not necessarily leave the Mountain West in the lurch. Any national appeal lost with West Virginia is negated if Boise State comes in a year early.
School president Bob Kustra has made only one public comment on the matter, saying it was "too late" to join for 2012.

But is it really?
According to the Idaho Statesman, Boise State is
considering making the move.
Athletic director Mark Coyle told Brian Murphy, "Before we make any move, we need to make sure we cover all our expenses. If a transition takes place now, there are expenses we need to cover before we make a move."
Let's take a quick glimpse as the pros and cons to coming into the Big East a year early.
Pros
Getting into an AQ conference.
Nobody knows whether the automatic qualifying designation is going to be around beyond this current BCS cycle, which ends after the 2013 season. Why not join the Big East a year early and have two opportunities to get the Big East auto bid, as opposed to one? Remember, one of the biggest reasons Boise State is making this move is to get better access into the BCS. The Broncos have finished in the top 10 in the BCS standings the past four seasons but only have one BCS appearance to show for it. This year, the Big East sent a three-loss team to the BCS, and in 2010 it sent a four-loss team.
Getting more national exposure.
Getting back onto the ESPN family of networks is a major plus. Boise State enjoyed much exposure on ESPN as members of the WAC. But the Mountain West is not on ESPN, and its television contracts are simply not as desirable.
MWC would be OK.
Because of the additions of Fresno State, Nevada and Hawaii, the Mountain West would still be able to play an eight-game league schedule even if Boise State leaves. The Broncos' departure would leave the Mountain West with nine teams for 2012.
Cons
$$$.
It is going to cost plenty to leave the Mountain West a year early. Some have pegged that figure in the $9 million to $14 million range. There also is a fee to get the non-revenue sports into the WAC a year early, and a fee to enter the Big East as well. Coyle could not put a dollar figure on the total amount it would cost, but no question it will be hefty. A few readers have asked whether the Big East could use its settlement money from West Virginia to help defray some of that cost. That is conceivable, but the league would have to use a big chunk. Boise State is not swimming in cash the way some other schools are, so there is a question about how much Boise State would be able to shell out of its own pocket. How much of the tab would the Big East pick up? Remember, league schools are also getting a cut of the settlement. Also, how much of the league revenues would Boise State actually get in Year 1?
No acclimation period.
Make no mistake, there is going to be a huge amount of pressure on Boise State when it joins the Big East. The biggest knock against the Broncos is the middling schedule they have played. Now that they are in a better conference, folks are going to want to see whether they can continue to win 10-12 games a season. If you are Chris Petersen, do you want to do that with a rookie starting quarterback and only six starters returning? Or would you rather have a much more experienced team make its foray into AQ territory?
Why rush?
Boise State would be doing the Big East a huge favor if it moved a year early. How much of a helping hand is the Big East willing to lend? From the Boise State perspective, you have got to push for the Big East to cover all the expenses, or maybe even waive the entry fee into the Big East. To make this move work, the Big East is going to need to make it worthwhile for the Broncos.
September, 7, 2011
9/07/11
9:17
AM ET
Boise State thoroughly outplayed Georgia 35-21 last Saturday in the Bulldogs' own backyard, fanning the flames of what's become a popular debate in college football.
Today's Take Two topic: How would Boise State fare in the SEC?
Take 1: Chris Low
[+] Enlarge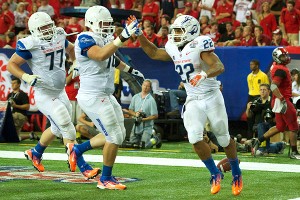 Dale Zanine/US PresswireBoise State thoroughly outplayed the Bulldogs in a 35-21 victory.
I've admittedly changed my tune on this. In the past, I fell in line with the rest of the SEC diehards and didn't want to hear any talk of Boise State being able to compete in the SEC at the highest level. Sure, I had great respect for what Chris Petersen had built on the blue turf in Boise and had seen with my own eyes his Broncos cut down teams from BCS conferences on a regular basis. But surviving the SEC grind? I wasn't buying that … until now.
I realize there's a huge difference in getting up to play Georgia one week and then having four straight weeks of playing teams you're going to beat nine out of 10 times as opposed to facing Georgia, Mississippi State, South Carolina, Florida and LSU in successive weeks. But watching Boise State win the battle up front against Georgia, play smarter than Georgia and play with more discipline than Georgia was enough to sway me. It wasn't just one game, either. The Broncos did the same thing to Virginia Tech last season and the same thing to Oregon in 2009.
I'm not suggesting that Boise State would become the new Alabama or the new LSU in the SEC, but I am suggesting that Boise State would be a factor in the league race most years. In fact, put that same team I saw play last Saturday night in the Georgia Dome in the Eastern Division this season, and that team (Boise State) would be back in Atlanta this December playing for the SEC title. Some years, Boise State may dip to 8-4 or even worse. But in most years, the Broncos would be a contender. I don't have any trouble admitting it. I'm a died-in-the-blue believer.
Take 2: Edward Aschoff
While I respect your open-mindedness, I just can't agree that Boise would be a contender in the SEC ... even this season. Personally, I love watching Boise State play. I think that for four quarters they can beat anyone in the nation and I hate the fact that the Broncos have to not only go undefeated every year in order to make it to the national championship but they have to get a ton of help. Honestly, I think a one-loss SEC team makes it to the national championship before Boise ... again.
But when it comes to playing an SEC schedule for an entire season, I just don't think the Broncos could keep up.
For the most part, I think recruiting would be a major battle for Boise. I know, the Broncos haven't needed five-star athletes to win in the past and probably won't need any to win in the Mountain West going forward, but to compete in the SEC each week, Boise would have to up its recruiting. The Broncos have speed, but not SEC speed. Hard-nosed, overlooked, two-star prospects can always get up for one game, but try getting up for eight -- and Alabama, LSU and Arkansas are waiting.
Since 2006, Boise State has signed 119 plays and zero have been members of the ESPNU 150, but more importantly, only one has come out of the Southeast. That player is former Lakeland, Fla., Kathleen quarterback Antwon Murray, who signed with the Broncos in 2007. What is he doing now? Well, he's a backup cornerback who had five total tackles heading into this season. Basically, he isn't much of a factor.
Boise hasn't tried to recruit the Southeast because it hasn't had to, but if it joined the SEC, it would absolutely have to. And right now, there aren't enough inroads at high schools in this area and all Boise is is a fun team to watch on TV to most prospects here. I'm not saying the Broncos' staff couldn't recruit in this part of the country, but getting the top athletes and consistently battling the likes of Florida, LSU and Alabama ain't happening.
Would a couple of top prospects take the chance and move across the country to no-man's land? Of course. Boise could dink and dunk here and there, but at the first sign of trouble in this conference -- and I think it comes sooner rather than later upon Boise's arrival -- these southeast athletes aren't going to take that chance as much. Did I mention Boise plays in Idaho? Sorry, but consistently recruiting in this part of the country is key to winning the SEC and I don't see Boise being able to do it at a high enough level.