November, 4, 2013
Nov 4
9:00
AM ET
SOUTH BEND, Ind. -- As Brian Kelly was finishing up his postgame press conference Saturday, an unexpected visitor made an appearance during the penultimate question.
"Jaylon, we'll be done in a second," Kelly said to
Jaylon Smith
, who had entered prematurely. "I know it's your press conference, but I'll be done in a second, and we'll let you get going. Is that all right?"
"Sorry," Smith said to the room of reporters. "I'm new to everything."
Within 24 hours, it turned out the freshman linebacker would be a seasoned veteran by Notre Dame's defense's standards. The Irish are hurting on that side of the ball -- just trying to get by, in a sense, with this weekend's game at Pitt preceding a much-needed bye before a two-game stretch against BYU and at Stanford.
[+] Enlarge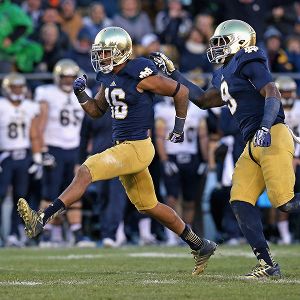 Jonathan Daniel/Getty ImagesSafety Eliar Hardy (left) is one of several Notre Dame reserves that were pressed into action due to injuries.
BCS dreams have essentially taken a backseat to figuring out just who is going to play and where, and how the remaining available guy will get ready for when their time comes.
"I think this is probably close to the pinnacle," Kelly said during Sunday's teleconference when asked if this defense has been hit as hard as any he's had in 23 years as a head coach. He added: "They don't give you any points for complaining about it. If they did, I'd complain every minute. So we just take care of it internally and get the next guy ready."
Ben Councell
, the man behind Smith most of the season at the dog linebacker spot,
was ruled out for the season Sunday after suffering a significant knee injury in the 38-34 win over Navy
. Smith and Councell, of course, waged a preseason battle for a starting spot only after senior
Danny Spond
, last season's starter, was forced to retire because of hemiplegic migraines. And the linebacking corp is less than a month removed from its other big hit, when
Jarrett Grace
broke his leg in the Oct. 5 Arizona State game, costing the Mike linebacker the rest of his redshirt sophomore season.
It only gets worse up front, where
Kona Schwenke
is lost for at least this Saturday's game at Pitt because of a high-ankle sprain suffered on the Midshipmen's final drive. And Schwenke was only starting these last two games in place of nose guard
Louis Nix III
, who at first was ruled to have a shoulder injury suffered in the USC game, and then knee tendinitis, and now tendinitis and a small meniscus tear, though the school says he will practice this week after undergoing an MRI Sunday. Before that, Schwenke filled in for end
Sheldon Day
, who missed most of a three-game stretch after leaving a Sept. 14 game against Purdue with a high ankle sprain, and then re-aggravated said ankle sprain against Navy.
And no, it is not a coincidence that most of these injuries have come during this two-game stretch against Air Force and Navy, teams that often cut-block.
"It's unfortunate," Kelly said. "It's the style of offense that the academies play. It is what it is."
Kelly said it will make sense to possibly avoid scheduling multiple option teams in a single season, but that is a bridge he will cross when he gets to it. For now, his next-man-in philosophy is being tested by, well, a lack of next-men-in.
He said he guards against that by putting those who saw 15 or fewer plays in a game through extra conditioning that following Monday, while reserves get roughly half the work of the starters during 11-on-11 and scout team work in a given week.
"I think that we're so close that you don't really think about it in terms of, Oh, I've never seen you out here," redshirt senior linebacker
Dan Fox
said. "We get a lot of guys in at practice, there's a lot of reps to go around, so next man in and next man in."
Underclassmen such as
Jarron Jones
,
Isaac Rochell
and
Romeo Okwara
have been thrust into more meaningful time than most could have reasonably expected entering the season, while names unfamiliar to all but the closest of program observers --
Tyler Stockton
,
Justin Utupo
and
Eilar Hardy
, to name a few -- saw extended action.
The last of those names, Hardy, helped set Smith up for the game-clinching tackle on Navy's
Shawn Lynch
during the visitors' final fourth-and-4 try. And he was only there because
Austin Collinsworth
suffered a neck strain that will require an MRI Monday.
Fellow safety
Elijah Shumate
, meanwhile, is expected to play against the Panthers after being sidelined the last three games with a hamstring injury, though Kelly had said the sophomore would play going into the Navy game, too.
There are also the knee injuries to left guard
Chris Watt
(PCL) and cat linebacker
Ishaq Williams
(ACL), both of whom left the Air Force game a week ago but only one of whom, Watt, could possibly return this week, depending on how quickly the redshirt senior can acclimate to the knee, which will not require surgery. Williams was in an immobilizer this week and could possibly return for the Nov. 23 BYU game.
The return of Watt would give Notre Dame four of its five starters back on the offensive line, as it lost right guard
Christian Lombard
for the season because of back surgery after the USC game. Still, the bruises have taken their biggest tolls on the other line, which during the spring and summer lost reserves
Chase Hounshell
(shoulder) and
Tony Springmann
(knee) for the season, in addition to seeing freshman signee
Eddie Vanderdoes
leave for UCLA.
All of it leaves the Irish, winners of four in a row, crawling to the finish line, every last piece of Kelly's three straight top-10 recruiting classes fitting into the plan for his push toward a second straight BCS-bowl berth.
"We are running out of next men. We're at that point where from a defensive standpoint, and particularly the defensive line, we're left with very few options," Kelly said, adding, "We'll figure something out. We'll get 11 guys out there. It's just not going to be one of those things where we're going to have the same group of guys out there all the time. As you know, we're going to have to find a way to stop a big, physical offensive line at Pittsburgh, and that is the thing that concerns you the most."
September, 5, 2013
Sep 5
8:00
AM ET
SOUTH BEND, Ind. --
Chris Watt
's biggest takeaway from Notre Dame's 2011 game at Michigan is "finishing."


The Fighting Irish blew a 17-point fourth quarter lead last time they visited the Big House, only to re-take with 30 seconds left -- and then watch Denard Robinson complete two throws on the game's final drive to clinch the Wolverines' win.
Notre Dame got revenge last season en route to a perfect regular season. And it also took the first steps toward ending the series, as athletic director Jack Swarbrick exercised the contract's three-year out clause to give his program more scheduling flexibility with its ACC agreement.
The final scheduled meeting will be next season, at Notre Dame Stadium. For now, though, this week is about the rivals' last meeting at Michigan, which will host its second-ever night game Saturday.
And the Irish are looking forward to the challenge.
"It was amazing," Watt said of the NCAA-record crowd of 114,804. "You could barely hear what was going on. But it's those games that you love -- going on the road and being away from home and being with your teammates. That's like the outlook when you go on the road. So it was an unbelievable game; obviously we wish we could have had a couple plays back, but just an amazing atmosphere up there."
Michigan coach Brady Hoke cause a minor stir during a summer speaking engagement when he said that Notre Dame was "chickening" out of playing the Wolverines. Irish coach Brian Kelly followed with a jab of his own Sunday when he said that he had not seen the Michigan rivalry as "one of those traditional, historic Notre Dame rivalries." Two days later, he reversed course.
But recent history is not lost on the players' minds, not when Michigan beat them three straight times in the final minute before Notre Dame forced six turnovers in a 13-6 win last season.
"This is huge, especially for myself and the other guys in that fifth-year class," captain
Zack Martin
said, "because since we've been here, every game has been pretty much down to the wire and pretty crazy, so this rivalry is huge."
Martin has played in a national title game. He has played at USC twice, at Michigan State twice and at Stanford once. But Saturday might present the wildest atmosphere of his college career.
"There's no other place I've played at since I've been here that compares to two years ago when we were up there," Martin said. "Just the atmosphere, the fans and all that together really was something to see."
September, 3, 2013
Sep 3
2:00
PM ET
By
Matt Fortuna, Chantel Jennings & Brian Bennett
| ESPN.com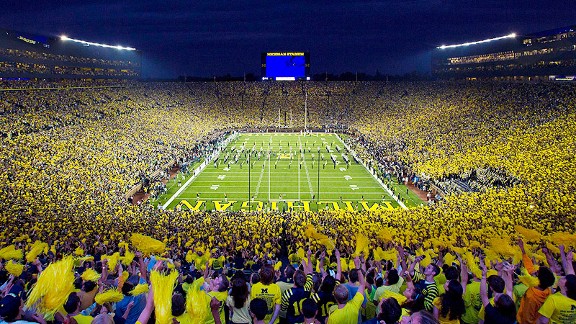 AP Photo/Tony DingCan anything top Michigan's 35-31 win in 2011, which was the first night game in the history of Michigan Stadium?
Under the lights ... and two of college football's oldest rivals in one of their last scheduled meetings … and College GameDay. Does it get any better than this? Only when Big Ten reporter Brian Bennett, Dame reporter Matt Fortuna and Michigan reporter Chantel Jennings get together to talk about it. Today, they discuss a few topics surrounding the highly anticipated matchup.
1. Over the past few years, this rivalry has seen its fair share of big stars excel during this game -- Denard Robinson's 502 yards in 2010, Roy Roundtree's game-winning catch in 2011, Manti Teo's defensive performance in 2012. Which player could you see having a mega game on Saturday?
Bennett:
How about
Jeremy Gallon
? The Michigan receiver had the huge 64-yard catch that set up Roundtree's game-winner in 2011. While he wasn't as active in last year's game, that's primarily because the Wolverines were busy throwing the ball to Notre Dame. Gallon has been more effective ever since
Devin Gardner
started running the show, and I could see him burning the Irish secondary for some big plays.
Jennings:
The heroes this game has helped create have kind of come out of nowhere in some instances. So I'm going to pick a guy who has been flying under the radar statistically, who I think has the ability to show up in big games, and that's Michigan tight end
Devin Funchess
. He had a fine freshman year and a better offseason. I think we could see him be a big difference maker on Saturday.
Fortuna:
If I'm Notre Dame, I'm gearing up for Gardner, since Michigan quarterback play has essentially decided these contests in one form or another in each of the past four years. From the Irish side, though, I think wide receiver
DaVaris Daniels
could break out. He was Notre Dame's best offensive player in the national title game loss to Alabama, hauling in six catches for 115 yards. On Saturday against Temple, the redshirt sophomore had three catches for 69 yards, including a pair of 32-yard touchdown receptions on the Irish's first two drives.
2. Which mismatch between these two teams are you most intrigued to watch?
Bennett:
On paper at least, it's the Michigan interior offensive line vs. Notre Dame nose guard
Louis Nix III
. Center
Jack Miller
and guards
Kyle Kalis
and
Graham Glasgow
are talented and played well together last week, but they have very little experience. Nix, meanwhile, is a 357-pound man-mountain who helped anchor a championship-level defense last season. He commands double teams, and it will be up to Michigan's young inside guys to keep him in check so
Stephon Tuitt
and others can't wreak even more havoc.
[+] Enlarge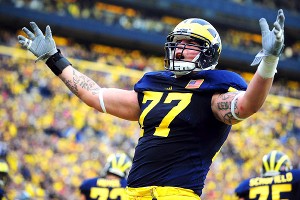 Andrew Weber/US PresswireMichigan tackle Taylor Lewan will have his hands full with Notre Dame's talented defensive line.
Jennings:
Left tackle
Taylor Lewan
on whomever or whatever Notre Dame tries to throw at him. He's so crucial to Michigan's offense, and I really don't see him not dominating any matchup this season. Lewan came back for games like this and matchups like what he'll have against Tuitt.
Fortuna:
I'll say Notre Dame's offensive line against Michigan's defensive line. The Irish have three starters back from last season, along with a very talented center in
Nick Martin
. One of the reasons they were able to jump out to a 17-point lead in Ann Arbor two years ago was because of their ability to run up the middle, as the Irish averaged six yards per rush on the night. Notre Dame is now in its third straight year of starting
Zack Martin
and
Chris Watt
together on the left side, and it has started using pistol packages in 2013 to tailor to the strengths of some of its young backs in hopes of establishing a downhill run game. This is far from a "mismatch," but with Michigan returning just three starters from last season's front seven, and with the teams so evenly matched across the board, I'd say this is where Notre Dame probably has the biggest edge. Conversely, I can't wait to see Tuitt and Lewan go head-to-head. Both will be a lot richer eight months from now.
3. Is there any way this game could one-up the last time these two teams met in the Big House?
Bennett:
It's possible that this could be an even better overall game than the one in 2011, just not as flashy. People remember the Michigan comeback and the crazy fourth quarter, but it was a pretty lopsided affair until then. That wild finish was made possible by major defensive breakdowns on both sides, and both teams are much more sound defensively now. I believe these are two legitimate top-15 teams, so we should expect a tight game. The atmosphere won't be quite as special because it won't be the first time under the lights at the Big House. But Notre Dame-Michigan usually finds a way to amaze us.
Jennings:
I was on the sideline for the final minutes of that matchup two years ago, and to call the atmosphere electric would still be selling it short. I don't know if the Wolverines have had a game as exciting since, so I'm going to go with no. I think it'll be a great game and the fact that it's the last in Michigan Stadium for the foreseeable future adds a lot. But as far as the plays themselves, jam packed into that short amount of time, I just don't see that being topped.
Fortuna:
I said no to this same question two years ago and was sadly mistaken, so I'll try not to be as definitive in my answer this time around. Whether it was Denard Robinson or Tate Forcier before him, magic seems to always happen in the late moments of this game. I'll just go ahead and make the bold prediction that if Notre Dame takes the lead with 30 seconds remaining this time, its secondary will hold up and secure an Irish win. Like I said, bold.
August, 15, 2013
Aug 15
10:30
AM ET
Today we're looking at Notre Dame, which looks to build off its best season in more than two decades.
Notre Dame Fighting Irish
Coach
: Brian Kelly (199-68-2 overall, 28-11 at Notre Dame)
2012 record
: 12-1
Key losses
: RB Theo Riddick, RB Cierre Wood, TE Tyler Eifert, C Braxston Cave, DE Kapron Lewis-Moore, LB Manti Te'o, S Zeke Motta
[+] Enlarge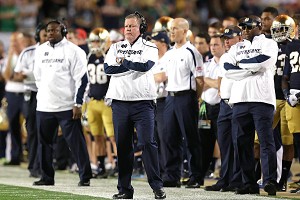 AP Photo/John BazemoreBrian Kelly's Irish should once again be in the hunt for a BCS bowl game.
Key returnees
: QB
Tommy Rees
, WR
TJ Jones
, WR
DaVaris Daniels
, LT
Zack Martin
, LG
Chris Watt
, DE
Stephon Tuitt
, NG
Louis Nix III
, LB
Dan Fox
, LB
Prince Shembo
, CB
Bennett Jackson
Newcomer to watch
: RB
Greg Bryant
. The Delray Beach, Fla., native was ESPN's No. 2 running back prospect for the Class of 2013 and walks into a crowded but opportune situation. Bryant, an Oklahoma de-commit, is one of six backs vying for extensive playing time after the Irish said goodbye to their top-two rushers from a year ago. Coach Brian Kelly has already gone on record as saying that his young running backs are guys who will help the Irish win some games this fall, and Bryant may turn out to be the best of the bunch.
Biggest games in 2013
: Sept. 7 at Michigan, Sept. 21 vs. Michigan State, Sept. 28 vs. Oklahoma, Oct. 5 vs. Arizona State (in Arlington, Texas), Oct. 19 vs. USC, Nov. 30 at Stanford
Biggest question mark heading into 2013
: The most pressing question may be how Notre Dame adjusts on the fly after learning after the spring that it would be without quarterback Everett Golson for at least the fall (academic misconduct). Luckily for the Irish, senior Tommy Rees and his 18 starts are back, though he will need some new playmakers to emerge around him after the Irish lost their top two running backs and first-round pick Tyler Eifert at tight end. Six men are vying for carries in the backfield, while TJ Jones and DaVaris Daniels anchor the receiving corps.
Forecast
: Kelly made it clear that 2012 was in the past by taking his team to Camp Shiloh in Marion, Ind., for the first week of fall camp. No social media or television and, more specifically, no more talk about the Alabama game, Manti Te'o or the other headlines that followed the program during a wild offseason. In helping to get that message across, Kelly has the perfect quarterback in Rees, who has overcome negative headlines of his own and, last year, overcame losing his starting job. He went on to save the Irish in three of their first six games last season and proved to be as valuable as anyone on the roster. Never will that be more evident than this season, as he steps up again in Golson's absence. A stronger Rees took control of the offense during the offseason, and better decision-making should pay dividends for the Irish this fall.
They finished second nationally in scoring defense last season and return eight starters from that unit, including potential 2014 first-round draft picks Louis Nix and Stephon Tuitt. They are also much deeper, with a plethora of linebackers and defensive backs ready to spare the starters at a moment's notice, a far cry from last season, when the team broke in three new starters in the secondary -- with all three having been on the offensive side of the ball earlier in their careers.
Kelly returns all of his assistants after a renaissance 2012 campaign that saw the team notch a perfect regular season before meeting Alabama in the BCS National Championship. He brought in ESPN's No. 4 recruiting class for 2013. And he brings back more than enough talent to prove that last season was not a one-year wonder, and that the Irish are, in fact, here to stay. Another BCS bowl game -- despite the late loss of its starting quarterback -- should be well within reach for Notre Dame in 2013.
April, 3, 2013
Apr 3
8:00
AM ET
Notre Dame returns to the practice field Wednesday morning after a week off for the Easter holiday. Five sessions are in the bag and 10 remain, including the April 20 Blue-Gold spring game.
Like every team every season, the Irish are welcoming new faces in several new places. Among the biggest for the program heading into the 2013 season are at running back, center and Mike linebacker.
Here is a look at how those battles are shaping up as spring practice No. 6 takes place today.
RUNNING BACK
[+] Enlarge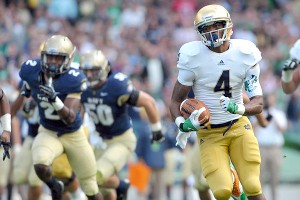 Matt Cashore/US PresswireIrish coaches have talked up George Atkinson III in the chase for playing time at running back.
This is, frankly, a blanket term for a backfield that will likely feature more than one person at a time throughout much of the coming season. But the Irish did lose their top two rushers in
Cierre Wood
and
Theo Riddick
, and with (at least) a strong left side of the offensive line returning, it will be interesting to see how the unit shakes out. Rising junior
George Atkinson III
has the most experience among returners, and head coach Brian Kelly and position coach Tony Alford have been high on him so far this spring, praising his weight training (he's up seven pounds, to 217) and ability to catch the ball in the slot. Can Atkinson be the typical 20-carries-per-game, between-the-tackles back? Will it matter? USC transfer
Amir Carlisle
also drew plenty of praise in the same role this spring before the rising redshirt sophomore suffered a broken collarbone March 23. Rising junior
Cam McDaniel
and rising redshirt freshman
William Mahone
are back there as well, and the program will welcome in talented prospects
Greg Bryant
and
Tarean Folston
this summer, at least one of whom may be primed to make an immediate impact.
From Brett Perotta of the ESPN Stats & Information blog, citing seven signees in college football who will
make an immediate impact in 2013
:
RB Greg Bryant, Notre Dame

Cierre Wood and Theo Riddick are gone, leaving a vacancy in the backfield and over 300 carries to go around. Bryant is the first top-10 running back the Irish have signed since James Aldridge in 2006. Notre Dame posted a respectable 4.9 yards per carry as a team last season and will return three starters on the offensive line. With returning dual-threat quarterback Everett Golson, Bryant should have plenty of room to work.
CENTER
So much of how Notre Dame's offensive line shakes out will depend on this position battle. With fifth-year seniors
Zack Martin
and
Chris Watt
back manning the left side of the line, and with redshirt junior
Christian Lombard
seemingly back for Year 2 as the starting right tackle, the Irish need to identify
Braxston Cave
's successor in the middle. Redshirt sophomore
Nick Martin
, Zack's younger brother, was running with the first team during the start of the first spring practice, March 20, and figures to have the inside track there right now. Nick Martin served as something of a utility man on the second-team line throughout last season. Redshirt sophomore
Matt Hegarty
, cleared following a November mini-stroke that threatened his football career, should give Martin a push here as well. Right guard is the other open position battle, and if Kelly or position coach Harry Hiestand deem tackle sophomore
Ronnie Stanley
or early enrollee
Steve Elmer
ready, there is always the chance that Lombard could slide to right guard.
MIKE LINEBACKER
Jarrett Grace
was talked about a lot last spring by the coaching staff but, frankly, just was not needed so much in 2012. Not with
Manti Te'o
having the kind of season he had, recording seven interceptions en route to a Heisman Trophy runner-up campaign that saw him rarely leave the field. Now that position is vacant following three consecutive 100-tackle seasons, and Grace, a redshirt sophomore, has the inside track to take over inside. Fifth-year senior
Dan Fox
, recovering from offseason shoulder surgery, is capable of playing both inside positions, and fellow fifth-year senior
Carlo Calabrese
has resumed his role as the Will linebacker after splitting duties there with Fox the past two seasons. No one should expect anything resembling Te'o's All-America-type run from the position so soon, but with starters, and depth, returning at every other linebacker spot, the Mike is the position to keep an eye on during the offseason.
January, 15, 2013
Jan 15
9:00
AM ET
It's never too early to look really, really, really smart. (Or not so smart.) Here are a few fearless predictions for next season, all of which I will stand by through thick and thin ... obviously.
1. Everett Golson will be the Week 1 starter
... but his leash may be even shorter than it was this past season.
Tommy Rees
is there waiting for the two-minute drill when called upon, but with
Andrew Hendrix
seasoned another year and with
Gunner Kiel
's redshirt season now out of the way, coach Brian Kelly is quick to insert a new guy whenever the opportunity presents itself. Nonetheless, Golson will enter spring and fall camp as the No. 1 guy and will emerge from both as the winner.
[+] Enlarge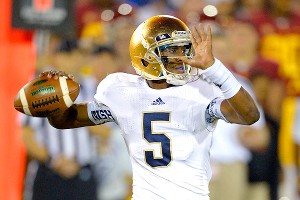 AP Photo/Mark J. TerrillEverett Golson will begin the season as the starter, but there's plenty of competition behind him.
2. Notre Dame will make a BCS bowl game, but yes, will lose a few regular-season games
. The schedule is easier than this past year's, but trips to Michigan and Stanford certainly present big challenges, not to mention a number of potential trap games that almost tripped the Irish up in 2012. The Irish had ridiculously strong leadership in 2012 that proved to be the difference in a number of close contests. Despite having what would appear to be a more talented team in 2013, it is asking an awful lot of this group to run the table for a second straight season.
3. Stephon Tuitt will break Justin Tuck's sack record and have a very tough decision to make at season's end
. The defensive end and his mother have said in published reports that they aren't thinking about an NFL future just yet, but that will become harder to avoid after Tuitt takes yet another step in 2013. Following a 12-sack sophomore campaign that Tuitt deemed a "learning year," the 6-foot-6, 303-pounder will add a couple of more, breaking Tuck's single-season Irish record of 13.5 and becoming a universally accepted first-round pick should he choose to enter the draft after his junior year.
4. Greg Bryant will be the No. 1 RB by midseason
. There is a logjam in Notre Dame's backfield, but none are all that proven.
George Atkinson III
and
Cam McDaniel
have performed well in complementary roles, but neither have handled anything close to the workload that a No. 1 back requires. While the carries will likely be divvied up among those two, USC transfer
Amir Carlisle
and redshirt freshman William Mahone, Bryant's size and speed fit the mold of an every-down guy, and his first year will go a long way in proving that he is the future answer in the Notre Dame backfield.
5. Zack Martin, Chris Watt, Dan Fox and Carlo Calabrese will be the returning fifth-year guys
. I suppose this would be a bold prediction if I gave you an announcement date. But considering we didn't officially hear about last year's fifth-year guys until the spring, I won't be holding my breath.
May, 23, 2012
5/23/12
2:30
PM ET
Notre Dame placed 20 players on
Phil Steele's preseason all-independent team
, including 13 on the first team.

BYU was a close second with 18. Army and Navy each had seven.
The usual suspects (
Cierre Wood
,
Manti Te'o
,
Tyler Eifert
) make the first team, as does Notre Dame's entire starting defensive line, even without transfer Aaron Lynch. There are some leaps of faith here, but that's to be expected when picking 52 total players from a pool of just four schools, as many players are unproven.
Bennett Jackson
and
Christian Lombard
will likely be first-year starters, and who knows if Davonte Neal will even get the chance to return punts during his first year with the Irish.
Here are all of the Notre Dame players on Steele's preseason all-independent team:
FIRST TEAM
SECOND TEAM
March, 28, 2012
3/28/12
9:00
AM ET
With Notre Dame a week into spring practice, the fifth-year players officially returning and the 2012 recruiting class finalized (we think), let's break down the Irish's complete roster, position-by-position, as it gears up for Year 3 under Brian Kelly.
We'll start with the offense today and delve into the defense tomorrow, with special teams coming Friday.
QUARTERBACK
The players:
Tommy Rees
,
Andrew Hendrix
,
Everett Golson
, Gunner Kiel
The incoming:
None
The breakdown:
Experience is the only real way to rank these guys, as Rees has 16 starts, Hendrix has played in five games, Golson has sat a year learning the offense and Kiel arrived on campus just two months ago. Nonetheless, that likely won't matter as Kelly goes to a square-one approach, opening the playbook from the beginning to allow for a fair chance for everyone. The decision -- which will likely be up in the air deep into the summer -- may prove to be Kelly's biggest so far with the Irish.
RUNNING BACK
[+] Enlarge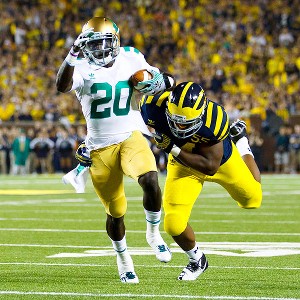 Rick Osentoski/US PresswireCierre Wood is still the clear favorite in Notre Dame's backfield, but the Irish have other running backs ready to vie for playing time.
The players:
Cierre Wood
,
Theo Riddick
,
George Atkinson
,
Amir Carlisle
, Cam Roberson,
Tyler Plantz
The Incoming:
Will Mahone, KeiVarae Russell
The breakdown:
Wood is the clear No. 1, as he was heading into last season as well. Riddick broke off a pair of huge runs toward the end of Saturday's scrimmage, and Kelly wanted both him and Atkinson to see more time back there as Wood rested with a minor quad injury. (Kelly said Wood did go in the rodeo drill earlier.) Both Riddick and Atkinson are capable of playing in the slot, and may end up seeing more time catching balls this season than taking handoffs, though Tony Alford will coach both regardless.
Carlisle, the USC transfer, is eligible to play in 2012 but out for the spring with a broken ankle. Where he fits in will be interesting, as carries may be hard to come by if Atkinson really progresses this spring in the backfield. The 5-foot-10, 185-pound Carlisle was featured on kickoffs last season with the Trojans, and there, or on the punt return team, may prove to be the fastest way on the field for him.
WIDE RECEIVER
The players:
John Goodman
,
T.J. Jones
,
Robby Toma
,
DaVaris Daniels
,
Daniel Smith
,
Luke Massa
,
Eric Lee
,
Nick Fitzpatrick
,
Ryan Liebscher
The incoming:
Justin Ferguson, Davonte Neal
The breakdown:
Goodman has talked about making the most of this last chance, and the coaching staff would not have invited him back for a fifth year had it not believed in him. Whether he can be a top target is up in the air, but he should bring some stability and leadership to a group loaded with youth. Jones has been solid through two years and Kelly has said he is on the cusp of breaking out. Toma has done everything asked of him and then some in the slot when replacing the oft-injured Riddick, and he may have the position to himself this year.
Daniels has the complete package physically, but he has yet to take a snap after redshirting last season. He was seen running with the 2s to start spring, but that could easily change with a strong showing. Smith, too, ran with 2s to open spring, but he must stay healthy first. Ferguson has the tools to compete for playing time upon arrival, but that could likely depend on how the incumbents step up in front of him. Neal is pegged as an athlete, but Kelly said there are no plans right now to play him at corner upon his arrival. He could possibly be a playmaker at receiver or on special teams.
TIGHT END
The players:
Tyler Eifert
,
Troy Niklas
,
Alex Welch
,
Ben Koyack
,
Jake Golic
,
Arturo Martinez
The incoming:
None
The breakdown:
We all know what Eifert can do, which is why he almost entered the draft this year. Niklas is the big question mark. And by big, we mean it literally. A switch from linebacker -- where he started one game last fall as a freshman -- to tight end for the 6-7, 252-pounder has many excited to see what the offense can do with a potential two tight end set. Everyone saw what the
New England Patriots
did last year with
Rob Gronkowski
and
Aaron Hernandez
.
It would be foolish to expect that much so soon -- both without
Tom Brady
as the Irish's quarterback and without Niklas having played the position since high school. How quick Niklas can master the playbook and blocking could go a long way in seeing some of these sets come to fruition. The move does leave some to wonder what this means for Welch and Koyack, but the duo is young and, according to tight ends coach Scott Booker, up for the challenge.
OFFENSIVE LINE
The players:
Zack Martin
,
Chris Watt
,
Braxston Cave
, Mike Golic,
Tate Nichols
,
Christian Lombard
,
Bruce Heggie
,
Jordan Prestwood
,
Matt Hegarty
,
Conor Hanratty
,
Nick Martin
,
Brad Carrico
,
Matt Tansey
,
Dennis Mahoney
The incoming:
Mark Harrell, Ronnie Stanley
The breakdown:
Cave will not be playing much, if at all, this spring as he recovers after injuring his foot last season. Golic, who started in his place, is the center with Cave out, but it would not be surprising to see Golic move to right guard upon Cave's return. Right now Lombard is manning the right guard spot, with Nichols at right tackle. How the second unit gets shuffled upon Cave's return to the starting unit remains to be seen, but to open spring, it consisted of Heggie, Prestwood, Hegarty, Hanratty and Martin.
September, 29, 2011
9/29/11
2:30
PM ET
SOUTH BEND, Ind. -- An eight-penalty-for-85-yards outing at Pitt would not have Brian Kelly changing his tune at practice this week.
"We won't do anything different," he said in the aftermath of Saturday's win. "We'll keep coaching our guys, we'll demand attention to detail. We do not accept penalties as being part of the game. We demand our guys to pay attention to those things. We'll go back and reiterate the same things over and over again and hope that it turns out better next time."
The mistake-plagued effort was not out of the ordinary for Notre Dame this season, which has had at least eight penalties in three of its four games so far this season. With an average of 7.75 penalties per game, the Fighting Irish are tied for 13th-worst in the nation.
The Irish have been penalized 31 times. Only 10 teams have accumulated more penalty yardage than the 286 Notre Dame has been responsible for, though the Big Ten later acknowledged that T.J. Jones' 15-yard unsportsmanlike conduct penalty for putting his gloves together after a touchdown in Week 3 should not have been called.
[+] Enlarge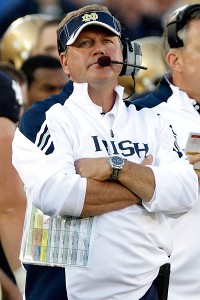 John Gress/Getty ImagesBrian Kelly knows his team needs to cut down on the penalties.
Still, there's a balance to be had in teaching discipline to a group going full-speed in the midst of the season.
"You have to be confident in yourself," left tackle Zack Martin said. "If you get a penalty here, you can't dwell on it. Just like if your guy makes a tackle or you give up a sack -- the next play you can't sit and think about, 'Oh, I should've done this the last play,' because it's moved on. So that's the biggest thing in the mental game, and I think as you get older and more confident you kind of get past that and can be able to move forward."
Martin, who has three penalties on the season, committed a 15-yard personal-foul penalty late in the third quarter Saturday. The offensive line as a whole committed four of the Irish's eight penalties at Pitt and has 11 on the season.
Playing to the right of Martin, Chris Watt has been flagged just once in his first year as a starter, a false start in Week 2 at Michigan.
The left guard, whom Kelly said has been too aggressive at times, acknowledged the difficulty in maintaining his tenacity while trying to curtail mental mistakes.
"Last week we had a little bit of a problem on penalties on the O-line," Watt said. "So trying to get rid of those and keep those under, hopefully zero this week, would be good. But I haven't had too bad of a penalty yet. I think I had a false start in the Michigan game, so I guess I wouldn't really know how it would affect me yet."
Watt said avoiding getting lazy in practice, such as not holding a defender who gets by him, is a key to eliminating bad habits.
Kelly reiterated his stance earlier this week on maintaining consistency in his message, so long as it yields results.
The head coach's last two teams, Notre Dame in 2010 and Cincinnati in 2009, were the seventh- and 12th-least penalized teams in the nation, respectively.
His five teams before then, however, ranked 68th or lower in penalties, with four of them ranking 94th or lower.
"Well, I think if the message has been, you know, one that has brought success for me within our system and program, that's a message that we'll continue to talk about," Kelly said. "I'm not averse to changing the message if I think it's gonna help our football team. As it relates to penalties, we're simply not gonna allow our kids to feel like they can have a penalty and it's not impactful for what we're doing. We've gotta clean those things up and that's just a matter of discipline, and we'll continue on that road of discipline and attention to detail.
"So my response was pretty much, 'When it comes to penalties, are you an undisciplined team? Are you an undisciplined player?' And I won't tolerate either one of those."
August, 23, 2011
8/23/11
12:53
PM ET
Since the Sun Bowl ended, the debate around Notre Dame football centered on whether
Dayne Crist
or
Tommy Rees
should start at quarterback.
The two had been locked into competition all the way until Monday. But the general feeling was that it was Crist's job to lose. Irish head coach Brian Kelly announced on Tuesday that Crist had, in fact,
won the starting job
and that he expects him to start all 13 games for the team (good to see he's assuming a bowl game).
This seems like the right move, especially since Kelly said Crist and Rees played virtually even throughout camp. If the stats didn't differentiate much, then Crist deserved a shot to lead the team into the season for the second straight year.
That's because Crist only lost his job last season because of his second straight season-ending knee injury. Yes, Rees guided the team to a 4-0 record and that can't be discounted. But it's also true that Kelly went to more of a power running game style with Rees at the helm, and the defense improbably took its level of play to new heights for the final third of the season. Who knows how Crist would have fared under those circumstances, instead of having to learn the offense on the fly early in the year with his teammates?
Kelly praised Crist's toughness in coming back from yet another knee surgery, which included a setback caused by an infection after surgery. Crist, Kelly said, didn't play very well in the spring but worked his way back to top form for fall practice.
Crist's leadership qualities have never been questioned. And those, in the end, won him the job more than anything else.
"He's the kind of guy I want to coach," Kelly said. "He's tougher mentally. He handles himself in that leadership position the way I want quarterbacks to handle it."
Crist now understands all the expectations that the demanding Kelly has for his quarterbacks. He's also the veteran here, as a senior who is entering his third year of playing. Rees is just a sophomore, and it's easier to lose the veteran by benching him rather than the younger guy. Not that Crist is the type of person who would mope about things, anyway.
He still has improvements to make in order for Notre Dame to reach its potential. Crist must get better with his accuracy -- his 59 percent completion mark last season is too low for this type of offense -- and make smarter, crisper decisions. But as long as he's healthy, he has more athletic upside than the less mobile Rees, and Kelly said Crist will run and extend plays with his legs because "he can't play any other way."
[+] Enlarge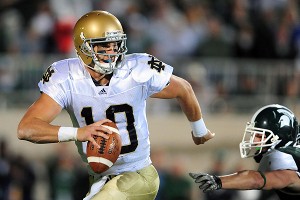 Andrew Weber/US PresswireFormer Notre Dame QB Dayne Crist brings experience as a starter to Kansas.
While Kelly understandably painted this decision as an all-season deal, he knows he has a rare luxury: the guy holding a clipboard still has an undefeated record as a starter. Should Crist prove ineffective, the Rees option remains viable and readily available. The Irish can also mix things up with running quarterbacks
Andrew Hendrix
and
Everett Golson
; Kelly has been cagey about how he'll use those two youngsters, but it's a safe bet he's got a plan for one of them.
The best news for Notre Dame is that this quarterback debate has been put to bed, at least until Crist's first interception or misfired throw. The players can now focus on the opener against South Florida knowing who their on-field leader will be. Crist deserves that role for now.
A couple of other news items from Kelly's press conference Tuesday:
Chris Watt has beaten out Andrew Nuss for the starting job at left guard, while Dan Fox has earned the nod at inside linebacker over Carlo Calabrese. Kelly said that both will be 50-50 deals, though, where both players will see time. Fox might have made the biggest jump in leapfrogging Calabrese, who started the first eight games last season before getting hurt.

"Last year, [Fox] was not a guy that liked contact," Kelly said. "He likes contact now. He knows contact is necessary in the zone he plays in."
Kelly said true freshmen DeVaris Daniels, Cam McDaniel, George Atkinson and Troy Niklas would all play this season, on special teams at the very least. McDaniel and Atkinson are backing up Cierre Wood at running back, while Daniels is pushing for time at receiver and Niklas is competing at outside linebacker.
Freshman Kyle Brindza will handle kickoffs this season, taking that job over from David Ruffer.
August, 31, 2010
8/31/10
4:41
PM ET
Brian Kelly sensed his players were feeling uptight as they entered Notre Dame Stadium on Friday night for a practice session. So Kelly had a message for them.
"I told them to stop thinking about being Notre Dame football players and just play the game," Kelly said. "Just go play."
It's advice the first-year head coach also follows. Kelly said he couldn't come to work every day thinking that he's the Notre Dame football coach or he'd get overwhelmed. So he just focuses on the process and the preparation, and that's what he wants his players to do.
Several freshmen or first-year players will be hitting the field for the first time on Saturday against Purdue, and they'll all be nervous just like their coach. For a little while.
"I'll be excited running out and being on the field for the first time," Kelly said. "But that will go away, just like it goes away for a player when you get that first hit. It goes away when you make that first play call. Especially if they boo you. That gets your attention right away."
Of course, Kelly hopes the home crowd doesn't have to voice too much displeasure. Opening his tenure with a win is obviously the best-case scenario for all involved.
"There's no question that if you win everybody is feeling pretty good about things," Kelly said. "But I'm about concerned about if we have a loss or a hiccup during the season that those guys are going to go, 'This guy doesn't know what he's doing.'"
Kelly's credibility, he says, comes from the trust and relationship he's built with the players. Their confidence should come from the way they've prepared, which Kelly says is as well as anyone in the country. Just don't expect any "Win one for the Gipper" pre-game orations.
"I'm not going to be giving any big rah-rah speeches," Kelly said. "I just don't do that. Most of my work comes during the week."
Some other quick notes from Kelly's first game-week Irish news conference:
Tommy Rees is listed as the No. 2 quarterback on the depth chart, but only because Kelly said he couldn't list a 2a and a 2b. Rees and Montana are still locked in a competition which could last throughout the season. Montana, by the way, has been put on scholarship.
Starting quarterback Dayne Crist won't feel his first hit since last year's knee injury until Saturday. "We did not have the luxury to bang him around," Kelly said.
Linebacker Steve Paskorz is out at least three weeks with a leg injury, while David Posluszny is doubtful for Saturday with a hamstring issue. In better linebacker injury news, Anthony McDonald is recovering from a leg injury and may play Saturday.
Braxston Cave won the center job thanks in large part to an injury that limited Dan Wenger this fall camp. But Kelly said Wenger and Chris Watt will play a lot on the offensive line even if they do not start.
August, 24, 2010
8/24/10
1:47
PM ET
Notre Dame coach Brian Kelly looks fit and ready for the season.
Kelly worked with a personal trainer this offseason to shed some pounds, and though he didn't give the exact amount of weight loss, he said he went down a couple of pant sizes.
Is his first Irish team in similarly good shape? Kelly addressed that on Tuesday, along with some interesting depth chart issues.
Just about every starter on the team has been decided outside of the kicking competition. Carlo Calabrese has won one of the inside linebacker spots by virtual default, since his main competitor -- Anthony McDonald -- will likely miss the opener against Purdue because of a knee injury. Every other nicked-up player, including tight end
Kyle Rudolph
(hamstring) should be ready to play against Purdue, Kelly said.
"With Carlo, it's consistency," Kelly said. "He'll have a good day and then a bad day. That's inexperience, and it's getting comfortable with what the role is at that part position."
At one of the outside linebacker spots, known as the "Dog" position, Kerry Neal continues to lead senior Brian Smith, somewhat surprisingly. Kelly said Smith has played better in recent days, but that Neal "is a pretty good football player, too."
In a real twist, Kelly said Chris Watt is pushing senior Chris Stewart at guard. Stewart was seen as one of the no-brainer starters all offseason. (And I'd still be very surprised if he isn't No. 1 on Sept. 4).
Talented sophomore
Cierre Wood
has climbed to No. 2 at running back behind Armando Allen.
Duval Kamara
and TJ Jones are fighting it out for the starting spot at 'X' receiver. And true freshmen quarterbacks Andrew Hendrix and Luke Massa appear destined for the scout team, with Nate Montana and Tommy Rees backing up
Dayne Crist
, Kelly said.
Kelly plans to start easing up on the players in the next couple of days. He said some players have asked him when they'll get their legs back, which he always sees as a sure sign that they're ready to start playing some games.
Kelly looks ready. For better or worse, the Irish need to be in 11 days.
Posted by ESPN.com's Brian Bennett

Preseason camp begins in just a few weeks, and freshmen are already reporting to campus all over the country. Which new players could make an immediate impact at Notre Dame? Here are a look at three incoming freshmen to keep an eye on when practice begins:
• Manti Te'o, LB: Pick an accolade, any accolade. Te'o was USA Today's defensive player of the year, The Sporting News 2008 high school athlete of the year, the inaugural winner of the high school Butkus Award and the No. 2 overall player on the ESPNU150. Simply put, the 6-foot-2, 225-pounder from Hawaii is a can't-miss prospect and the crown jewel of this recruiting class. He could be the kind of dominating, athletic linebacker that the Irish have lacked. And given Notre Dame's defensive lapses, it wouldn't be a surprise at all if he works his way into a starting role immediately.
• Cierre Wood, RB: One of the top prep running backs in the nation last year, Wood rushed for 1,632 yards and 20 touchdowns as a senior following a 2,600-yard junior campaign. He has good size at 6-feet, 192 pounds, and scouts love his vision and balance. Notre Dame's problems in the running game have been well documented. If Armando Allen, James Aldridge or others don't step forward, perhaps Wood will get a shot.
• Shaquelle Evans, WR: Ranked by ESPN's Scouts Inc. as the nation's fourth-best wide receiver last year, the California native chose the Irish over USC. He caught 51 passes for 810 yards and 11 touchdowns as a senior and has speed (6-1, 203 pounds), size and explosiveness. Because receivers have a relatively easier adjustment to make to the college game than other positions, Evans has a better chance to get on the field quickly than some of the other highly-touted Irish recruits, like offensive linemen Chris Watt and Zach Martin and defensive tackle Tyler Stockton. But Evans will have to crack what looks like Notre Dame's most loaded position group, which already boasts stars Golden Tate and Michael Floyd.
TOP 25 SCOREBOARD
Thursday, 12/5
Friday, 12/6
Saturday, 12/7
TOP PERFORMERS