November, 1, 2012
11/01/12
9:00
AM ET
The MAC fooled us again, but at least Matt made the wise choice and stayed away from picking USF. Tuna beat me this week, going 3-1 while I sat at .500.
What awaits this week?
AA season record: 35-13
Temple (3-4, 2-2) at No. 10 Louisville (8-0, 3-0), noon, ABC/ESPN3.
Is this the week the Cardinals finally put together a complete game? They should, given the advantages they have on both offense and defense. But Louisville has not made things easy on itself, and the Cardinals face a team quite familiar with what they like to do. Temple coach Steve Addazio and defensive coordinator Chuck Heater worked with Louisville coach Charlie Strong, defensive coordinator Vance Bedford and assistant Kenny Carter under Urban Meyer at Florida. Still, Louisville has the depth advantage and
Teddy Bridgewater
, so bank on the Cardinals to reach 9-0 for the first time in school history.
Louisville 40, Temple 17.
Matt's pick:
Louisville 35, Temple 13.
Syracuse (4-4, 3-1) at Cincinnati (5-2, 1-1), noon, Big East Network/ESPN3.
Cincinnati has dropped two straight while Syracuse has won three of its past four. So should we go with the hot team in this game? Here is what precludes me from picking the Orange in the upset: Cincinnati has a mobile quarterback and outstanding running game. Syracuse has had trouble containing mobile quarterbacks. Look no further than last week's heart-stopping win against USF. The Bulls had two rushers go over 100 yards, including quarterback
B.J. Daniels
. While Syracuse has the quarterback advantage with
Ryan Nassib
, I am going with the strong Cincinnati running game to be the difference in this one.
Cincinnati 30, Syracuse 28.
Matt's pick:
Cincinnati 28, Syracuse 21
Pitt (4-4) at No. 3 Notre Dame (8-0), 3:30 p.m., NBC.
The Panthers kept it close in their game last year and had several opportunities to go ahead in the fourth quarter, but the Irish are a vastly superior team this year. Pitt has struggled to gain any consistency both on offense and defense, and is going to need a Herculean effort from
Tino Sunseri
,
Ray Graham
,
Rushel Shell
and its offensive line to put points on the board against the second-best defense I have seen all season. Pitt has concerns with linebacker depth as well. The Irish might have a bit of a letdown after their huge win against Oklahoma last week, but that won't be enough to open the crack for a Pitt upset.
Notre Dame 23, Pitt 10.
Matt's pick:
Notre Dame 31, Pitt 6
UConn (3-5, 0-3) at USF (2-6, 0-4), 7 p.m., ESPNU/WatchESPN.
The bottom-of-the-barrel bowl goes on in Tampa, as the only teams with no wins in league play fight to stay out of the cellar. Both teams have lost their share of heartbreakers, but expectations were much higher for the Bulls, who have now lost six straight. To make matters worse going into this one, they will be without offensive sparkplug
Lindsey Lamar
, along with
Evan Landi
and
Derrick Hopkins
. Several other key players are banged up on offense, and that could leave USF at a serious disadvantage. UConn comes in off a bye, and its top priority is to fix its rushing game. The Huskies could find opportunities against a defense that has largely underachieved.
But
I still think USF is the better, more talented team. The Bulls have to pull one of these games out eventually, right? Right?!
USF 24, UConn 23.
Matt's pick:
UConn 17, USF 14
October, 12, 2012
10/12/12
2:30
PM ET
Temple linebacker
Tyler Matakevich
had a pretty dazzling debut as a starter last week in a win over USF. Matakevich led the Owls with a career-high 15 tackles, including a career-high 12 solo stops and two tackles for loss.
I caught up with him earlier this week to find out about his terrific performance.
Take us through your performance last week. Did you anticipate having such a big game?
[+] Enlarge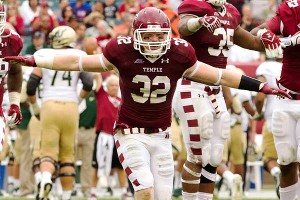 Cal Sport Media/APTemple's defense got a boost after freshman LB Tyler Matakevich cracked the starting lineup.
TM:
I didn't expect that. I was fortunate enough to make the plays and as we kept going on, I felt more comfortable. We started paying better as a unit. We were playing really well as a group.
When did you find out you would be starting in place of Olaniyi Adewole?
TM:
Right before kickoff. Olaniyi, he came out for warm ups. I even thought he was going to go. But coaches told me I was going in, so I had to switch everything up.
What was your reaction?
TM:
Very excited. That's always been my goal, and I was fortunate enough to get it.
So did you have to flip a switch mentally, from somebody who had not played on defense to all of a sudden being a starter?
TM:
Well, mentally I was getting ready for whatever was going to happen during the week of practice. I knew he was banged up a little bit, so mentally I was ready to go whenever. I didn't know if it was going to be in the beginning or late in the game.
Did you know you were having a great game?
TM:
I guess so. Throughout the game I started getting confident. I felt a lot more comfortable out there, and all the older kids were helping me out on the field.
How did they help?
TM:
They told me, 'Just don't think about other plays, whatever happens, take one play at time. Just do your job on that one play.' It also helped having (Adewole) on the sideline. He's the backbone of the defense. He knows the defense inside and out, so having him right there helping me out, I was very fortunate to have him.
That was your most extensive action on defense, so how were you able to make plays?
TM:
Coach (Chuck) Heater puts in a great game plan. It's all about everyone doing their responsibility and their job. I was fortunate enough to do my job and make the plays when they came at me.
Did you anticipate playing your first year?
TM:
No. you always want to. It's definitely your dream and your goal but I just knew that I had to work as hard as I possibly could and get better each day. Each day is a learning experience. I still have a lot to learn, so I'm going to keep working hard.
What do you think the coaches saw in you that gave them the confidence to put you in?
TM:
I think it's just learning the defense well and trying to get better each and every day, going as hard as I possibly can. That's what coaches try to focus on, give everything you have.
What's your best attribute?
TM:
Just being around the ball. I have a nose for the ball, and I love this defense, the schemes and stuff. It just lets me play football and do my job.
How much of a confidence lift was that game?
TM:
That was tremendous, coming off a loss to Penn State. That was a tough one, so we definitely wanted as much momentum and confidence as we can going into UConn. Beating South Florida, they're a very good team. Our first Big East win is a tremendous win. We have a lot to prove after getting kicked out of the Big East. We need to keep it rolling, to keep up the momentum.
Are you starting again this week?
TM:
No clue. We'll see what happens.
February, 15, 2011
2/15/11
2:41
PM ET
A lot of names have been attached to the UCLA vacancy at defensive coordinator, but the guy Rick Neuheisel tapped on Tuesday was not one of those names.
Joe Tresey, 52, a former defensive coordinator at Cincinnati and South Florida, has been named UCLA's defensive coordinator, ending a lengthy and winding search since Chuck Bullough was fired on Dec. 18.
"He has an aggressive style that forces turnovers and negative-yardage plays and I feel our players, especially our youngsters, will benefit greatly from his style of play," Neuheisel
said in a statement
. "He is a fine teacher and I can't wait for him to get started."
Tresey coached at South Florida in 2009 and Cincinnati -- under current Notre Dame coach Brian Kelly -- from 2007-08. Last year, he was the defensive backs coach for the Omaha Nighthawks of the United Football League. (Recall that Bulls coach Jim Leavitt
was fired in January 2010
after a school investigation concluded he grabbed one of his players by the throat, slapped him in the face and then lied about it.)
In 2009, South Florida ranked 24th nationally in total defense (321.8 yards) and 19th in scoring defense (19.8 points) while compiling an 8-5 record. The Bulls forced 23 turnovers that season. In 2008, Cincinnati ranked 31st nationally in total defense (321.9 yards), 19th in rushing defense (115.0) and 25th in scoring defense (20.1 points).
Tresey is a secondary specialist "with a reputation for
forcing turnovers and piling up sacks
."
But also consider this paragraph from a Tampa Tribune story on Tresey's hire at South Florida: "Tresey was fired last month by Bearcats coach Brian Kelly, who said he had philosophical differences and was shifting to a 3-4 defense, but the move could have also been prompted by Tresey's talks with Miami."
Recall that one of the reasons Neuheisel dispatched Bullough was a desire to switch to a 3-4 scheme. Tresey is a 4-3 guy.
Here's a
Q&A with Tresey
, also from the Tampa Tribune.
A 1982 graduate of Ohio State, he also has coached at Central Michigan (2006), Georgia Southern (2004-05), Akron (2002-03) and VMI (1999-2001).
Before Neuheisel tapped Tresey, a
multitude of coaches were touted as potential candidates
, including Vic Fangio, Randy Shannon, Rocky Long, Chuck Heater, Teryl Austin, Rocky Seto, Jeff FitzGerald and Steve Brown.
February, 7, 2011
2/07/11
11:17
AM ET
UCLA
still doesn't have a defensive coordinator
after coach Rick Neuheisel's flirtation with former USC linebacker and Trojans assistant Rocky Seto abruptly ended.
It appeared last week that Neuheisel was
on the cusp of announcing Seto's hiring
, but apparently things turned sour in the eleventh hour, perhaps in part because many Bruins fans
didn't want a former Trojan running their defense
, particularly one without a proven track record. Seto is presently on Pete Carroll's staff with the Seattle Seahawks helping with the secondary.
Further, Nevada running backs coach Jim Mastro is
still deliberating
whether he will accept a position as the Bruins' running game coordinator. The
Orange County Register
reported that Mastro would coach tight ends and F-backs while Bruins running backs coach Wayne Moses would stay in his current position, if Mastro opts for Westwood.
Other than Seto, the L.A. Times reported that Neuheisel talked to former Stanford defensive coordinator Vic Fangio, now with the San Francisco 49ers, former Miami head coach Randy Shannon and former Florida defensive co-coordinators Teryl Austin and Chuck Heater. Heater was a Washington assistant when Neuheisel was the Huskies' coach from 1999-2002, but Heater was hired to coordinate Temple's defense.
So what now?
Well, maybe Neuheisel just moves down to the next name on his list. Or maybe he regroups and casts out a new net. It would be a bit of a surprise at this point if he pulls a rabbit out of his hat and lands an experienced, "name" defensive coordinator. And, by the way, that might not be a bad thing.
Neuheisel's stated preference for a 3-4 scheme -- or at least a hybrid of it -- suggests his best candidates are NFL assistants who are itching to call their own plays. But how committed is Neuheisel to a 3-4 if he was serious about Seto, whose mentor -- Carroll -- is a 4-3 guy?
While some might think a jump to UCLA under Neuheisel might be risky -- Neuheisel is under a lot of pressure to win in 2011 -- there's solid, young talent on the Bruins' defense. Even a single impressive season in Westwood could provide a career boost. It would certainly be a way to get on a Pac-12 coach's radar.
As it stands now, Neuheisel isn't inspiring much confidence with his constituency. A second 4-8 finish in three seasons, combined with coaching staff turmoil,and a disappointing recruiting class isn't sending the Bruins into the offseason on an uptick.
Of course, all the hullabaloo between now and September could be easily forgotten if Neuheisel simply does one thing this fall: Win.
February, 1, 2011
2/01/11
10:41
AM ET
Here are a few non-AQ news items from the past few days. Temple and UCF have hired new defensive coordinators, and I think both are good fits for their respective schools.

New Owls coach Steve Addazio hired Chuck Heater, who served as an assistant with him at Florida. Heater has been a defensive coordinator at three different schools, including co-coordinator in 2010. He also served as recruiting coordinator for several years at Florida, helping reel in classes that ranked in the top two in the nation. Heater coached the safeties and defensive backs while at Florida, helping mentor Ahmad Black, Joe Haden and Janoris Jenkins, among others.

He also worked with former Florida coach Urban Meyer at four different programs and is one of his best friends. So he brings not only an excellent pedigree, but an ability to recruit top talent, something imperative for Temple as Addazio tries to build on the foundation Al Golden left behind.

As for the Knights, they promoted linebackers coach John Skladany to replace Dave Huxtable, who left to become an assistant at Wisconsin. Skladany was defensive coordinator at UCF in 2007 before leaving to become defensive coordinator at Houston. Promoting him allows UCF to keep its continuity with its defense, which has been the strength of the team the past several seasons.

UCF led the league, and ranked among the top 20 in the nation in total, scoring, rushing and passing efficiency defense in 2010. When Skladany was defensive coordinator in 2007, UCF won the C-USA championship and made it to the AutoZone Liberty Bowl before losing to Mississippi State.
December, 17, 2009
12/17/09
2:29
PM ET
Over and above the product on the field, this is the time of year when you really find out how good a coaching staff is.

Everybody is looking for good coaches. Everybody is trying to replace coaches. And if you hire good coaches, they're going to be in demand.

It's safe to say that Florida's Urban Meyer has hired a bunch of good coaches.

In each of the last two seasons, he's lost coordinators to head coaching jobs. Dan Mullen took the Mississippi State job last season, while Charlie Strong landed the Louisville job this season.

Following the 2007 season, Meyer also lost co-defensive coordinator/defensive line coach Greg Mattison to the Baltimore Ravens. After one year as the Ravens' linebackers coach, Mattison was promoted to defensive coordinator.

Recently named Marshall head coach Doc Holliday also left the Florida staff following the 2007 season for a position on the West Virginia staff.

And earlier this month, Florida receivers coach Billy Gonzales left to become passing game coordinator at LSU.

The bottom line is that coaches want guys on their staff who are head coach material, and eight assistant coaches under Meyer have now gone on to be head coaches.

There could be more turnover on this staff. Cornerbacks coach Vance Bedford has done an excellent job in grooming Joe Haden and Janoris Jenkins and could be a candidate to join Strong at Louisville.

Meyer says he's going to take his time on his defensive coordinator hire. Ole Miss' Tyrone Nix passed on the opportunity to join the Gators' staff, and Virginia Tech's Bud Foster was another guy on Meyer's radar who's staying put.

When a coach is making these decisions, he always has to be aware of staff chemistry. Chuck Heater, the Gators' assistant defensive coordinator, has been with Meyer since the final season at Utah in 2004 and will no doubt get a long look at replacing Strong.