October, 29, 2013
10/29/13
4:31
PM ET
Minnesota coach Jerry Kill
appeared at the team's weekly news conference
earlier Tuesday, but the most definitive status update he had wasn't about touchdown drives. Just drives.
"I'll be driving in February," Kill told the Minneapolis media.
Kill's seizures have prevented him from driving for years, but his goal of getting back behind the wheel in four months suggests he's encouraged by the progress made during his treatment for epilepsy. That's great news.
[+] Enlarge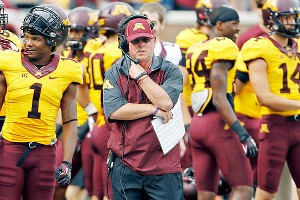 AP Photo/Ann HeisenfeltJerry Kill says all of the Gophers coaches have adjusted their roles and put egos aside.
The Gophers coach hasn't been on the sideline since Sept. 28, as he suffered a seizure a week later that prevented him from traveling to the team's game at Michigan. Kill has watched Minnesota's last two games from the coaches' booth, briefly addressing the team in the locker room and taking a more active role for last Saturday's game against Nebraska.
But his return to the sideline in a full-time head-coaching role is still to be determined. Defensive coordinator Tracy Claeys will continue to serve as Minnesota's acting head coach. Kill once again plans to be in the coaches' booth for Saturday's game at Indiana. He sits between the offensive and defensive coaches in the booth and has access to both sides of the ball.
While not ideal, the system isn't hurting the Gophers, who have won back-to-back games, against Northwestern and Nebraska. Kill, who admits he's a bit superstitious, noted Tuesday,
"
We ain't gonna screw it up right now."
"I've kind of changed my role, what I needed to do, what everybody else needed to do," Kill said. "I have an extreme amount of trust in our staff, so we're just going to keep chipping along. I'm not going to worry about how we do it. Everybody worries about quarterbacks or everybody worries about coaches. The famous Al Davis said, 'Win, baby, win.' It doesn't matter how you do it, throw your egos to the side and work as a group.
"We've been doing that our whole careers."
Kill has sought advice from Indianapolis Colts coach Chuck Pagano, who took a leave of absence during the 2012 season to go through treatment for leukemia. Kill also mentioned on Tuesday that former longtime college coach Darrell Mudra, who led programs such as Arizona and Florida State and won a Division II national title at Eastern Illinois. Mudra
coached games from the press box
.
Whether Kill remains up top or returns to the field remains to be seen, but he was pretty definitive about one thing on Tuesday.
"I'll be driving in February," he said. "I'm not going to say, I hope and maybe and all that. I'm going to be driving a truck, too."
January, 14, 2013
1/14/13
5:00
PM ET
The Miami football teams of the early 2000s churned out NFL prospects left and right, producing 20 first-round picks between 2001-04.
Do you know what else Miami produced in the early part of that decade? Head coaches. The Miami coaching staffs of 2000 and 2001 -- staffs that had a huge role in the recruitment and development of those pro prospects -- have produced both NFL and college head coaches.

Not just one or two, either.
With the Cleveland Browns'
recent hire of Rob Chudzinski
, the 1999-2000 staff under Butch Davis produced six head coaches -- three of them now in the NFL.
Rob Chudzinski, tight ends coach. Interestingly enough, his former boss (Davis) left Miami after the 2000 season to coach Cleveland.
Greg Schiano, defensive coordinator. Left for Rutgers after 2000 season and now Tampa Bay Bucs head coach.
Larry Coker, offensive coordinator. Succeeded Davis after the 2000 season, now head coach at UT-San Antonio.
Chuck Pagano, defensive backs. Now coaching Indianapolis Colts, and became an inspiration for his battle with leukemia.
Curtis Johnson, receivers coach. Entering his second year as Tulane head coach.
Mario Cristobal, graduate assistant. Spent six years as FIU head coach before rejoining Miami staff last week.
As for the 2001 staff, which helped Miami win the national championship and produced
arguably the greatest team
in college football history:
Mark Stoops, defensive backs. Replaced Pagano and is now head coach at Kentucky.
Randy Shannon, defensive coordinator. Succeeded Coker and served as Miami coach from 2007-10.
Chudzinski and Johnson. Both remained on staff.
Lots of folks mention the Nick Saban coaching tree, but when you look at the staff Davis assembled, the group he had around him in the late 1990s and 2000 is pretty impressive.
We can sit here and debate Davis and his abilities as a head coach, and go back and forth on his role in what went down at North Carolina. But it's hard to ignore the fact he has a pretty good eye for talent -- both among players and coaches.