NCF Nation:

Chuck Spagnoli
November, 20, 2013
11/20/13
9:00
AM ET
SOUTH BEND, Ind. -- Danny Rees was talking about his little brother's legacy the other day when he allowed for an idea that Notre Dame was recently faced with, and one the Irish will have to get used to when
Tommy Rees
is no longer an option for them at quarterback.
"I think he's a winner," Danny Rees told ESPN.com. "Obviously there's been some tough losses, but if you look at his overall record I think he's won a lot of games, and I'm not sure where Notre Dame would be without him over the last four years, and I think he would probably say the same thing. I think he wants to be remembered as a guy who came in and won some big games."
Just where Notre Dame would be without Tommy Rees is hard to fathom, especially in light of last month's win over USC, when a neck strain
forced him to the sideline for most of the second half, giving way to an offense that totaled 30 yards and one first down
.
[+] Enlarge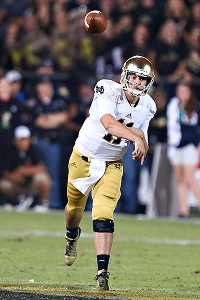 Brian Spurlock/USA TODAY SportsTommy Rees has seen his share of ups and downs and it often gets overlooked that he's led the Irish to 21 wins and thrown for nearly 7,000 yards and 58 TDs.
Or in light of last year's perfect regular season, when Rees accepted his diminished role after an offseason arrest, relieved Everett Golson in three of the first six games and carried Notre Dame to victory without complaint.
Or in light of his freshman year of 2010, when he filled in for an injured Dayne Crist and led the Irish to four straight wins, including their first over the rival Trojans in nine years.
Yes, it is hard to imagine Notre Dame without Rees. But life after him is approaching fast, as the senior will take the Notre Dame Stadium field for the final time Saturday against BYU, a home send-off to a career that has made him part-hero, part-goat and seemingly everything in-between.
Brian Kelly
had some trouble gripping with the idea of a Rees-less Notre Dame when asked Tuesday to think about impending days without the one constant of his four-year Irish coaching tenure.
"Look, we want to win football games -- you're hired and fired for winning football games here; I get that," Kelly said. "But he really loves Notre Dame and understands Notre Dame and understands the distinctions of Notre Dame."
It was just a decade ago that Lake Forest (Ill.) High coach Chuck Spagnoli met an 11-year-old Rees, then visiting a practice of older brother Danny, who went on to punt at UCLA. Rees did not immediately pass the eye test then, nor does he now at a hardly-imposing 6-foot-2, 215 pounds. But within three years, Spagnoli
knew he had himself a three-year starter
at quarterback who would eventually turn into one of the best captains his program has ever had.
"I don't think it's an accident that he's there and in the position he's in right now," Spagnoli told ESPN.com. "He's a fighter and he's a survivor, and he isn't going to just assume that things are going to be given to him by any stretch. He's going to work for everything he gets."
Rees remembers his father Bill, now a scout for the Buccaneers, telling him at an early age that he had three options with football: Liking it, loving it or living it.
"For me it's been about living it," said Rees, who has not ruled out a coaching career.
Added Kelly: "You'd never think of Tommy Rees being two seconds late for a meeting or not at a workout. He's always the first one in and the last one to leave. That's living it."
That means understanding what he signed up for, too.
Rees has not always gotten a fair deal from segments of the fan base, some of which booed him when he replaced Golson in the home opener last year before he led a game-winning drive against Purdue. Three losses this year have led to his name on social media getting linked with words that would not be uttered within earshot of the Basilica, though
a #ThankTommy movement has been growing on Twitter
this week with his home finale approaching.
He has tuned it all out, though, insisting that the sport has never become a burden.
"You've got to commit yourself fully to the game, and at times people get down on it after losses, but you think about not sharing those moments with your teammates, you think about not putting on that helmet," Rees said. "There are people that would give a lot to feel that bad after a game, to even play the game. You've got to be grateful, and you've got to look at it in perspective."
Others bolted at the first sight of adversity, or failed to understand those Notre Dame distinctions that Kelly referred to.
But through nearly 7,000 yards, 58 touchdowns, 21 wins and yes, those seven losses and 34 interceptions, too, Tommy Rees' resolve has persisted. And he still has one last stand left at Notre Dame.
"I mean, shoot, at the end of the day he's the quarterback at Notre Dame and that's a really special thing to be," Danny Rees said. "There's going to be criticism that comes along with it, but I bet you there are thousands of kids out there who would love to put up with that criticism and do what he does, so I don't think at the end of the day it's a big deal."
September, 8, 2011
9/08/11
1:30
PM ET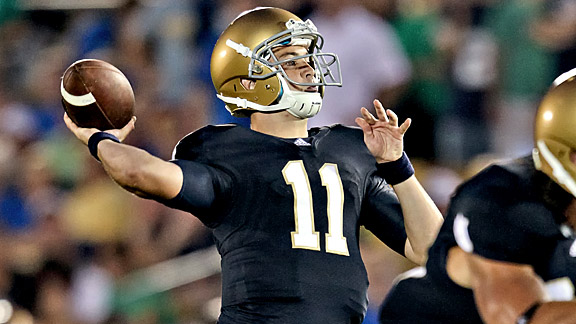 Robin Alam/Icon SMITommy Rees will start when the Irish take on Michigan in the first-ever night game at the Big House.
SOUTH BEND, Ind. -- Before he could lead a group of older teammates into Yankee Stadium, and before he could quarterback the first Notre Dame team to win at USC in a decade,
Tommy Rees
had to go 78 yards in 3 minutes, 26 seconds at Libertyville High School.
Only a high school sophomore at the time, Rees took his Lake Forest teammates 77 yards, enough to set up a game-tying field goal before his game-winning touchdown pass clinched a 23-20 overtime victory, knocking the hosts out of the playoffs.
"He put the team on his back," Lake Forest coach Chuck Spagnoli recalled. "That's probably my biggest memory of him."
The stage has gotten slightly bigger in the four years since, as Rees finds himself directing Notre Dame into a Michigan Stadium that is expected to host the biggest crowd in college football history Saturday night.
For a kid who grew up in a football family, the situation is hardly daunting.
Rees' father, Bill, spent 17 years as an assistant with Northwestern and UCLA before working for four NFL teams. His older brother Danny played at UCLA.
"This kid was at Rose Bowl games when he was young," Spagnoli said. "He's been around high levels of football as a youngster, so I don't know that stadiums really intimidate him. He was on the sidelines when he was 10 years old at NFL games, so he's probably got an advantage growing up in that environment."
That shows during preparation in the film room, where tight end
Tyler Eifert
says a lot of players don't initially know what exactly they're looking for.
That wasn't the case with Rees.
"I think a lot of the quarterbacks see film differently than other people," Eifert said. "He just sees the whole defense as a whole instead of just looking at one guy or end up watching the offense, actually, instead of watching the defense."
Offensive coordinator Charley Molnar said Rees broke down every play from the first half of the Fighting Irish's loss to South Florida flawlessly -- all the more striking since Rees didn't take a snap until the third quarter.
"I think he's got a real innate sense about the game of football," Molnar said. "He has some real football intelligence that other players just don't have, and that's just a product I think of him growing up in a football family, No. 1.
"No. 2 is he's a gym rat, as we say. He spends the time watching film, watching himself and really, really trying to be the best football player that he can be. He loves football, and that's obvious by the way he practices and the way he plays."
But it's less obvious by his stature. Spagnoli remembers the first time he met Rees, then an 11-year-old whose dad brought him to practice to watch Danny in his sophomore year under Spagnoli.
"Just a little guy with freckles," Spagnoli recalled. "I wasn't going, 'Oh my god, this is the future.' He was just a little kid at the time."
At a less-than-imposing 6-foot-2 and 193 pounds when he enrolled at Notre Dame in the spring of 2010, Rees hardly made a first impression on unsuspecting teammates.
Said Eifert: "He was the dork. I was the lanky, tall kid."
But the dork soon showed his heart,
Michael Floyd
said, taking hits in the pocket and instilling confidence in the offense with his unflappability.
"It's kind of weird," Floyd said. "Kind of different just knowing coming from high school and to playing elite college football. Kind of surprising that a freshman quarterback can do that."
Added Brian Kelly: "His FBI, his football intelligence, was really good early on. He had to physically develop. As I've said before, he looked like a high school student -- I guess he was, he was a high school student. He physically needed to develop, but mentally I thought he was well beyond his years."
Still, Rees' teammates never miss a chance to rag on his demeanor when the opportunity arises.
Take Tuesday, when
Cierre Wood
told reporters that Rees dresses like a bum, a line that made its way to teammates.
"They hit that dead-on," Braxston Cave said. "You always see him in like a raggedy sweatshirt and some shorts and just hanging out. That's just Tommy."
Rees was met with ridicule upon entering the locker room the next day.
"We were in the cold tub and someone was like, 'Man, you do look like a bum,'" Cave said. "So we were kind of giving him crap for that."
Cave said Rees off the field is one of the least serious people he's ever met. That thick skin will serve him well under the lights at the Big House as he gets another shot at the team that ruined his debut last season.
Replacing a woozy
Dayne Crist
in the first quarter of that contest, Rees had his first career pass intercepted in an eventual loss.
"A 'Welcome to College Football' moment," he said, adding: "Since that moment I haven't really looked back, so that probably has helped me in the long run."
A year, an initiation and a full-time job later, Rees is tasked with turning roughly 114,000 opposing fans and a prime-time audience into believers.
Even if he catches most of them off guard.
"He's unassuming, but at the same time you better be careful of what you can't see," Spagnoli said. "This guy -- I won't say he's a shark or anything like that -- he's pretty much what you see except one thing: He cares.
"He really has been around it a long enough time that he understands the implications of when he doesn't succeed as a quarterback."