February, 20, 2012
2/20/12
9:51
AM ET
Conference realignment is coming along with short-term costs in the 2012 college football schedule.
Before it left the Big East, West Virginia canceled its game against non-conference opponent Florida State and paid a $500,000 cancellation fee. But Elliott Finebloom, an assistant athletic director at FSU, said the loss of the home game will cost the Seminoles far more than the program received in the cancellation fee.
"We'll probably lose $2.5 million in ticket sales," he said, and that's not including a drop in season ticket sales resulting from the cancellation. It could cost FSU another $1 million to bring an opponent into town. Filling the WVU slot with an away game is not going to happen, said Finebloom.
"Seven home games is something every business in town counts on, from hotels to restaurants," he said. "People think it's about the athletic department wanting to make more money, but we have a responsibility to area businesses who count on seven home games."
Texas A&M, which moves from the Big 12 to the SEC this year, has given up home games and has only five scheduled at Kyle Field for 2012. The school has had seven home games for the past six years.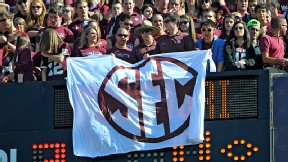 Patrick Green/Icon SMITexas A&M may only have five home games this season as a result of its move to the SEC.
For the 2010 season, Texas A&M's average revenue from ticket sales, concessions, novelties, program sales and parking was $4.2 million per game, according to NCAA disclosures. With two fewer home games this year, the Aggies could be looking at an $8 million-plus loss.
Alan Cannon, an associate athletic director at Texas A&M, said the schedule still isn't set in stone, though.
"It has been the desire of [athletic director] Bill Byrne to have six or seven home games, if at all possible," he said. "The location of the Arkansas game is still not determined."
Texas A&M and Arkansas agreed to play a neutral site game at Cowboys Stadium for 10 years. But with the Aggies' move to the SEC, both sides are discussing whether the game will remain there.
There are short-term winners in the conference realignment story.
Smaller programs could see increased profits in 2012 as major programs are forced to pay guarantees to secure home games or travel to locales they normally wouldn't consider.
One such school is Louisiana Tech. Although considered a home game, Louisiana Tech will play Texas A&M in Shreveport's Independence Stadium, which gives Louisiana Tech the ability to bank big profits for the game and gain exposure.
"[Playing in Shreveport] helps us expand our market," said Patrick Walsh, an associate director in the school's athletic department. "Our goal is to be the premiere flagship university in Northern Louisiana. Playing occasional games in Shreveport and growing our fan base there is critical to our success."
For a regular season home game against a conference opponent, Louisiana Tech makes approximately $30,000. The club seating area in Independence Stadium alone gives Louisiana Tech the chance to make more than twice that amount. A sellout would allow the school to bank more than $1.1 million in profit.
"We played Miami there in 2003 and had over 43,000 [people]. We had over 40,000 when A&M came to Shreveport in 1999," said Walsh.
Schools in the Big East are unclear just how much WVU's departure may cost them as they scramble to fill schedules. Big East schools also have to fill the TCU game, which came open before the school even joined the conference.
"I wish there was an easy strategy we could all employ to make it work," said Bob Arkeilpane, Cincinnati's deputy athletics director. "The truth is, it's extremely difficult. You want to come up with a balanced schedule that will work financially and make the coach happy, make the fans happy, and the Big East happy."
The solution? Arkeilpane thinks perhaps the conference will get involved, though not necessarily by giving schools some of the money it is receiving from the WVU departure payout.
"I've heard absolutely nothing like that, but it makes sense you would hear a lot of speculation," he said.
Arkeilpane also worries about the bowl implications if Cincinnati has to play two FCS schools in order to fill out its schedule. If a team plays two FCS opponents, it must have seven wins -- instead of six -- to be bowl eligible. Cincinnati is already scheduled to open the season at home against FCS opponent Delaware State.
The Big East could petition the NCAA for an exemption to the FCS rule. Big East officials declined to comment on that possibility. Such an exemption has been sought before: In 2010, Arizona State asked for an exemption after San Jose State backed out of a game and the Sun Devils scheduled Portland State. The NCAA denied the request.
In the end, however, Arkeilpane is confident the conference will work things out, so for now, the Bearcats wait.
"This is a Big East issue and all the member institutions will have to work together to figure out what the solution is," said Arkeilpane.
September, 29, 2011
9/29/11
2:30
PM ET
SOUTH BEND, Ind. -- An eight-penalty-for-85-yards outing at Pitt would not have Brian Kelly changing his tune at practice this week.
"We won't do anything different," he said in the aftermath of Saturday's win. "We'll keep coaching our guys, we'll demand attention to detail. We do not accept penalties as being part of the game. We demand our guys to pay attention to those things. We'll go back and reiterate the same things over and over again and hope that it turns out better next time."
The mistake-plagued effort was not out of the ordinary for Notre Dame this season, which has had at least eight penalties in three of its four games so far this season. With an average of 7.75 penalties per game, the Fighting Irish are tied for 13th-worst in the nation.
The Irish have been penalized 31 times. Only 10 teams have accumulated more penalty yardage than the 286 Notre Dame has been responsible for, though the Big Ten later acknowledged that T.J. Jones' 15-yard unsportsmanlike conduct penalty for putting his gloves together after a touchdown in Week 3 should not have been called.
[+] Enlarge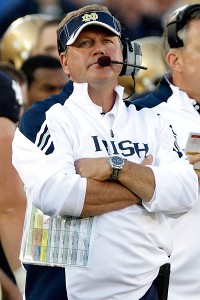 John Gress/Getty ImagesBrian Kelly knows his team needs to cut down on the penalties.
Still, there's a balance to be had in teaching discipline to a group going full-speed in the midst of the season.
"You have to be confident in yourself," left tackle Zack Martin said. "If you get a penalty here, you can't dwell on it. Just like if your guy makes a tackle or you give up a sack -- the next play you can't sit and think about, 'Oh, I should've done this the last play,' because it's moved on. So that's the biggest thing in the mental game, and I think as you get older and more confident you kind of get past that and can be able to move forward."
Martin, who has three penalties on the season, committed a 15-yard personal-foul penalty late in the third quarter Saturday. The offensive line as a whole committed four of the Irish's eight penalties at Pitt and has 11 on the season.
Playing to the right of Martin, Chris Watt has been flagged just once in his first year as a starter, a false start in Week 2 at Michigan.
The left guard, whom Kelly said has been too aggressive at times, acknowledged the difficulty in maintaining his tenacity while trying to curtail mental mistakes.
"Last week we had a little bit of a problem on penalties on the O-line," Watt said. "So trying to get rid of those and keep those under, hopefully zero this week, would be good. But I haven't had too bad of a penalty yet. I think I had a false start in the Michigan game, so I guess I wouldn't really know how it would affect me yet."
Watt said avoiding getting lazy in practice, such as not holding a defender who gets by him, is a key to eliminating bad habits.
Kelly reiterated his stance earlier this week on maintaining consistency in his message, so long as it yields results.
The head coach's last two teams, Notre Dame in 2010 and Cincinnati in 2009, were the seventh- and 12th-least penalized teams in the nation, respectively.
His five teams before then, however, ranked 68th or lower in penalties, with four of them ranking 94th or lower.
"Well, I think if the message has been, you know, one that has brought success for me within our system and program, that's a message that we'll continue to talk about," Kelly said. "I'm not averse to changing the message if I think it's gonna help our football team. As it relates to penalties, we're simply not gonna allow our kids to feel like they can have a penalty and it's not impactful for what we're doing. We've gotta clean those things up and that's just a matter of discipline, and we'll continue on that road of discipline and attention to detail.
"So my response was pretty much, 'When it comes to penalties, are you an undisciplined team? Are you an undisciplined player?' And I won't tolerate either one of those."
September, 22, 2011
9/22/11
1:00
PM ET
SOUTH BEND, Ind. -- Previously in his coaching career, until around his early days at Cincinnati, Brian Kelly would see multiple freshmen take the field at once on Saturdays and almost cringe.
This past Saturday, he saw seven different first-year players take the field at times for Notre Dame, and what they did reminded him how college football has changed in just a short period of time.
"I don't know that you ever want to play as many freshman that we're playing, but times are changing," Kelly said. "College football is such that these kids are coming in physically so much more mature that they can come in and physically handle the rigors of playing major college football."
Freshman
George Atkinson III
stood out by returning a first-quarter kickoff 89 yards for a touchdown. That came one Michigan State possession after rookie Aaron Lynch forced a fumble by sacking
Kirk Cousins
.
[+] Enlarge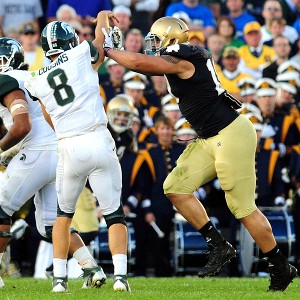 Chris Williams/Icon SMINotre Dame's Aaron Lynch proved that he can put pressure on opposing quarterbacks during his freshman season.
"As soon as I hit him, just like a surge of energy went through my body," Lynch said of the sack. "Just set the tone for the rest of the game."
Lynch finished the game with six quarterback hurries, one week after not even seeing the field against
Denard Robinson
and Michigan.
The 6-foot-6, 265-pound Lynch acknowledged how much different it was going against Big Ten offensive linemen Saturday, especially since his high school opponents were at times 100 pounds lighter.
Not being able to simply bull rush someone at this level was a rude awakening.
"He gets better with playing more with his technique and then building confidence," defensive line coach Mike Elston said. "Buying into what we're coaching hasn't been easy because it hasn't worked for him in practice, because he's not doing it right. So he's back and forth on using the proper technique and not using it. And then in a game he used it and it worked out well and he built confidence on it."
The give and take was fairly simple.
"They told me I wasn't gonna play if I didn't do it right," Lynch said.
As one of five Fighting Irish freshmen who enrolled in the spring, Lynch had a longer time to earn the trust of his coaches.
Kelly credited the strength and conditioning director, Paul Longo, for getting the freshmen physically ready to shorten the learning curve.
"You're looking at Aaron Lynch going against four- and five-year players, and you worry about their physical ability to get in there and mix it up," Kelly said. "But the last four or five years, these guys are weight training all year, nutrition is important to 'em, they're taking care of their bodies, and they're coming in. And Coach Longo said this -- I didn't -- he said this was physically the most impressive group relative to their conditioning level when they came here.
"Usually they come in a few weeks after the veterans are here. They come in and they're lost. They're so far behind. This group was not. They were physically ready to compete right away."
Even then, however, there is an adjustment period.
Lynch could only go roughly six plays at a time on Saturday, something he acknowledged was difficult, but a feat that also showed how far he had come with one offseason.
"I know before the season started I wouldn't have been able to go six straight plays," he said. "It's kind of hard to do six straight plays now, just going into my first game and actually having to put that pressure on my back. But I feel like just work hard during practice and go to the ball every time you see it, you'll be straight. You won't be really tired, because you got the energy going and adrenaline rushing and stuff like that, so you'll be straight."
Sophomore noseguard Louis Nix, who didn't play last season, had to drop more than 40 pounds before he could take the field for the first time this season.
This past spring, Kelly told him to expect 12-15 snaps per game, and Nix said that wouldn't be good enough. With fellow noseguard Sean Cwynar dealing with a broken right hand, Nix has lived up to his word, playing 30-40 snaps per game and starting twice so far, surprising even himself with his stamina.
"Last year or the year before, I probably could have did two snaps," the now-326-pounder said with a laugh.
Such contrast between the early development of Lynch and Nix helps explain why defensive coordinator Bob Diaco has a blanket philosophy on playing freshmen.
"I don't think at this point in time that there's any timetable," Diaco said. "Just, when you're ready, we're ready. When you're ready, we're ready. That's it. And when you're ready to do the jobs, whatever they are, you don't have to do be able to do all the jobs, if you can do some of the jobs. You're ready, we're ready.
"When you're ready to go in and you're better than everybody else at that spot, when you're ready to go in and whip your individual matchup, when you're ready, we're ready."
September, 24, 2010
9/24/10
11:30
AM ET
We've got big games from coast to coast in Week 4, so let's check out the top 10 storylines to watch heading into Saturday:
[+] Enlarge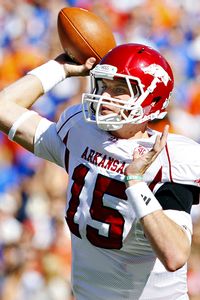 Kim Klement/US PresswireCan Arkansas quarterback Ryan Mallett lead his team to a win over the No. 1 team in the nation?
1. Does Arkansas have what it takes to beat Alabama?
Certainly the Razorbacks are much improved on defense, and
Ryan Mallett
has lived up to his Heisman Trophy billing. But does this team have a killer instinct? This is a team that had a 7-0 halftime lead over ULM, then blew a 24-10 fourth-quarter lead against Georgia last week before rallying for 31-24 the victory. Alabama will try to confuse Mallett the way it did last season. Offensively,
there are so many options for the Tide
, the Razorbacks are going to have to prove just how good they have become on defense.
2. Does Oregon State have a chance to beat Boise State?
Absolutely the Beavers have a chance. Is it going to happen? That is another question. Some keys to watch: Oregon State might not be able to run into the heart of that Boise State defensive line. Do the Beavers try to run sweeps to the outside with their speedy receivers to loosen them up? The Rodgers brothers, James and Jacquizz, are always a threat to take it the distance. The Boise State secondary has been vulnerable at times, so if
Ryan Katz
has time to throw, he could connect for some big plays.
3. Can Notre Dame close out a win?
So far 2010 has looked a lot like 2009 for the Fighting Irish, what with losing games in the closing seconds to Michigan and Michigan State. They could just as easily be 3-0 with a few more plays going their way. Instead, they are staring at the prospect of a 1-3 start, given the way Stanford has played going into the game. This could be a national statement game for Stanford quarterback
Andrew Luck
, who has 674 yards passing with 10 touchdowns and no interceptions.
4. Can the Big East represent in big nonconference games?
Pittsburgh, one of the popular preseason picks to win the Big East, fell flat on its face Thursday night in a 31-3 loss to Miami. That leaves Cincinnati and West Virginia this weekend in huge national profile games. Oklahoma visits the Bearcats, who have fallen on hard times just one season removed from an undefeated regular season. They hardly resemble the outfit that made it to the Sugar Bowl last season, having already lost to Fresno State and NC State. West Virginia, meanwhile, travels to LSU. The Mountaineers might be the best hope to win the Big East, but then again they nearly lost to Marshall.
5. How does Michigan State respond without coach Mark Dantonio?
Luckily, the Spartans play Northern Colorado, not exactly the toughest challenge. Dantonio suffered a heart attack in the hours after the Spartans' overtime win over Notre Dame, and offensive coordinator Don Treadwell will lead the team in his absence. A big game looms next week at home against Wisconsin. The bigger question is whether Dantonio will be back in time for that one.
6. Does South Carolina need to prove that it is for real even after beating Georgia?
Some believe the answer is yes. Well here it is, perhaps an even bigger test because the Gamecocks must play a better Auburn team on the road. Last week, Auburn struggled to stop Clemson running back
Andre Ellington
, who had 140 yards and a touchdown. This week, the Tigers face a bigger, more physical back in freshman stud
Marcus Lattimore
. The key for the Tigers: shutting him down to force
Stephen Garcia
into trying to win the game. South Carolina has the defense to be able to slow down Cam Newton.
7. How does Iowa respond after its heartbreaking loss to Arizona?
The Hawkeyes get an easier challenge this week against Ball State, but they are beginning life once again without
Jewel Hampton
, out for the season with a torn ACL. This game serves as an excellent tune-up headed into next Saturday's big game against Penn State. Iowa has to figure out how to get its offensive line going, perhaps the most glaring weakness on the team, which was completely exposed against the Wildcats.
8. How does Arizona respond after its big win over Iowa?
We can ask the question both ways. The Wildcats are up to No. 14 in the polls after that win, and now all of a sudden are a team everyone believes is right there in the mix for the Pac-10 title. They play a California team that lost to Nevada last week. What was striking in that game was the way Nevada dominated on both lines. That doesn't bode well going into this game, considering how strong Arizona looked on the offensive and defensive lines against the Hawkeyes.
9. Can Virginia Tech win at Boston College without Ryan Williams?
This is a crucial game for the Hokies, who could drop to 1-3 with a loss. Without Williams,
Darren Evans
and
David Wilson
will carry the load. But Evans has lost two fumbles in two weeks, and the Hokies traditionally struggle running the ball against the Eagles. That was until last season, when they had 235 yards on the ground. They are going to need another performance like that to win, but it's going to be much harder without their top runner.
10. Can Oregon keep up its scoring pace?
Hard to imagine the Ducks will be able to hang half a hundred on Arizona State, a team that came
thisclose
to beating Wisconsin on the road last week. Oregon has averaged over a point a minute in its three games this season, but the Sun Devils are no New Mexico and are certainly no Tennessee. Still, Arizona State has to be better in the red zone to have any shot at the upset.
September, 20, 2010
9/20/10
5:46
PM ET
Houston quarterback
Case Keenum
is done for the year, but is he done for his career? There is a possibility the prolific quarterback could appeal to the NCAA for a medical hardship redshirt and a sixth year of eligibility.
Coach Kevin Sumlin said it was too early to consider such a possibility, which would appear to be a long-shot based on recent decisions the NCAA has made with other players. Under NCAA rules, a student-athlete has five years to complete four years of eligibility. Student-athletes can apply for the sixth year of eligibility should they lose more than a season for reasons beyond their control. Since Keenum took the typical redshirt season as a freshman, Houston could have difficulty making the case.
Here is a look at some of the recent waivers the NCAA has granted, and some it has rejected. Keep in mind each appeal is handled on a case by case basis:
GRANTED
FAU senior running back
Jeff Blanchard
got a sixth year because he suffered season-ending injuries in 2007 (ankle) and 2009 (knee).
Kent State running back
Eugene Jarvis
was granted a sixth year after a lacerated kidney forced him to miss nearly all of 2009. He was redshirted as a freshman because an error with his high school grades had him declared academically ineligible.
South Carolina LB Rodney Paulk had his waiver granted after missing most of the past two seasons with knee injuries.
USF running back
Moise Plancher
was granted a sixth year because he did lose two seasons to injury. He redshirted his freshman year because of a shoulder injury in 2005, then the following season he suffered a season-ending knee injury in the opener.
Arizona State WR
Brandon Smith
got his sixth year of eligibility. He missed the 2007 and 2009 seasons because of injuries.
REJECTED
Ball State TE Madaris Grant had his appeal denied. Grant tore an ACL in the first quarter of the season opener last season against North Texas. Coach Stan Parrish said that the appeal was rejected because the NCAA requires two severe injuries for a sixth year. Grant redshirted his freshman year without injury.
Cincinnati QB Ben Mauk had his appeal denied. Mauk was redshirted as a freshman, then missed almost all the 2006 season with a shoulder injury. He argued he did have an injury in his redshirt season, but the NCAA still said no.
Oregon State QB Lyle Moevao had his appeal rejected. Moevao injured his right shoulder during the 2008 season, then suffered a foot injury in October 2009. The school said his appeal was denied, "due to him not demonstrating the loss of two seasons beyond his control."
Florida RB Dorian Munroe had his appeal denied despite tearing his ACL last year for the second time in his career. The NCAA turned down the appeal because he played in a game in 2009.
September, 2, 2010
9/02/10
9:37
AM ET
It's the most wonderful time of the year -- college football season. Watch as I put on my picking cap and make my supremely awesome predictions for 12 selected games involving non-AQ teams.
Now, on to the picks!
South Carolina 24, Southern Miss 14.
We know
Weslye Saunders
is out for the Gamecocks, but we're unclear about anybody else. Southern Miss coach Larry Fedora said his team didn't pay attention to the distractions. With those players or not, South Carolina is simply too talented, especially on defense. Southern Miss goes into the game with just three returning starters on offense.
Pittsburgh 21, Utah 17.
The Utes won the last meeting in the Fiesta Bowl in 2005. But this time around the Panthers have
Dion Lewis
, and he should make the difference -- especially against a defense that only returns four starters.
Northern Illinois 28, Iowa State 27.
One of the best teams in the MAC will pull the upset behind the legs of
Chad Spann
.
Minnesota 31, Middle Tennessee 20.
If
Dwight Dasher
was playing in this game, I would have called for the upset. But the Blue Raiders aren't going to be the same with
Logan Kilgore
at quarterback.
Washington 35, BYU 21.
The Huskies break their 12-game road losing streak behind the arm and legs of
Jake Locker
. BYU has had problems against quarterbacks like Locker in the past. The two-quarterback rotation for BYU is going to be a work in progress.
Colorado 21, Colorado State 10.
Both teams essentially have coaches on the hot seat, and quarterback uncertainty. While the Rams won the meeting last year, they go into this game with a freshman starting at quarterback in
Pete Thomas
. Only two first-time starters at quarterback have won this game for Colorado State.
SMU 44, Texas Tech 40.
Upset indeed.
Kyle Padron
should have a big day and break the Mustangs' 13-game losing streak to Texas Tech.
Navy 30, Maryland 10.
The Midshipmen have the real deal in quarterback
Ricky Dobbs
, who should pose all sorts of problems for the Terrapins defense. Maryland gave up over 200 yards on the ground four times last season.
TCU 24, Oregon State 20.
TCU is 9-2 against AQ teams in its past 11 games.
Andy Dalton
is eager to erase the memories of his Fiesta Bowl performance. The defense should be able to slow
Jacquizz Rodgers
down enough to limit his impact.
Fresno State 35, Cincinnati 34.
The Bulldogs controlled the ball in their game last year and ran for 290 yards. Ryan Mathews is gone, but
Robbie Rouse
hopes to get the running game going. Fresno State lost that game because Cincinnati was able to score and score quickly on a defense not used to seeing the spread. The Bulldogs should be improved there, and that will make the difference.
Tulsa 27, East Carolina 17.
G.J. Kinne
,
Damaris Johnson
and the Golden Hurricane offense are going to be too much for the rebuilding Pirates to handle. Tulsa starts the season on the road for the third straight year but that might not be such a bad thing in this case. The home team in this series has lost three straight.
Drumroll please …
Boise State 21, Virginia Tech 20.
The Broncos squeeze this one out on the strength of their offense, and their much improved defense.
Darren Evans
and
Ryan Williams
will get their yards, but their big games will be limited thanks to the great tacklers Boise State has in the open field -- Winston Venable and Jeron Johnson. Boise State will be able to take advantage of a Virginia Tech defense that lost seven starters, including three on the defensive line.