NCF Nation:

Clarence McKinney
November, 20, 2013
11/20/13
9:00
AM ET
COLLEGE STATION, Texas — In Texas A&M's brief history in its new league,
Johnny Manziel
and the Aggies have had the opportunity to beat every SEC opponent they've faced, except two: Florida and LSU.
[+] Enlarge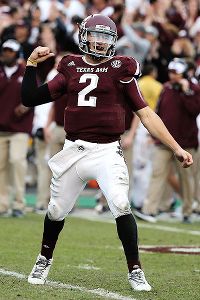 Scott Halleran/Getty ImagesLSU will see a different Johnny Manziel than the one it faced last October in College Station.
A&M's two losses this season came to teams -- Alabama and Auburn -- that it defeated last season. Florida wasn't on the schedule this fall and won't be next season so it will be some time before the Aggies get another shot at the Gators.
But if Manziel and Co. want redemption against LSU, the opportunity affords itself on Saturday in Death Valley. The Tigers are the dragon that Johnny Football has yet to slay.
The 2012 season was a wild one for Manziel, who became the first freshman in college football history to take home Heisman Trophy. Team after team seemed to struggle to find an answer for the unpredictability that Manziel possesses.
LSU was not one of those teams.
The Tigers are the team that held Manziel to career-worsts in several areas. according to ESPN Stats and Information. His completion percentage was the lowest he has ever had (51.8) in a game. So were his yards per pass attempt (4.9). His minus-3 touchdown-to-interception ratio was a career low as was his Total QBR (25.8). His signature running ability? That was bottled up too, as LSU held him to 27 yards, a season-low in 2012 and a career-low 1.6 yards per carry.
A lot of factors went into that performance and much has changed since the two teams met on Oct. 20, 2012 at Kyle Field.
LSU's defensive front was filled with elite talent last season. Five players from LSU's two-deep in the front seven were chosen in the first five rounds of the 2013 NFL draft (four of them were juniors who declared for early entry into the draft – defensive ends Barkevious Mingo and Sam Montgomery, defensive tackle Bennie Logan and linebacker Kevin Minter).
While the Tigers are still talented up front, they're not quite as experienced and might not be up to the caliber that last season's group was.
"I think their defense last year, you had a bunch of NFL guys [who] were pass rushers," Texas A&M offensive coordinator Clarence McKinney said. "Not that these guys aren't, but those guys were really, really good. It was just a battle between our tackles and their outside rush guys."
Those battles were key in LSU's success. Tigers defensive coordinator John Chavis appeared to craft an effective plan against Manziel, who had a tendency to escape the pocket and devastate teams with his running ability. Combine the strategy Chavis and his assistants employed with the speed and athleticism of guys like Mingo, Montgomery and others, and you had the desired result for the Tigers.
Earlier this season, Texas A&M offensive line coach B.J. Anderson recalled specific strategies used by the LSU defensive ends.
"They rush hard vertically, then you can tell Chavis has given them spots [on the field to pause]," Anderson said. "When they get to [the spot, they] stop and they squeeze and press those [offensive] tackles. They want him to feel the pressure, but they know if they blow up the field, he'll just run underneath him and there he goes. We had to adjust to that."
LSU head coach Les Miles said that there are elements of the 2012 attack that the Tigers will employ, but it won't necessarily be the same game plan.
"We're going to do similar things," Miles said. "We're going to not necessarily do what we did a year ago, but I think some of the principles will be the same."
The Tigers also appeared careful not to "over-rush" too hard vertically up the field off the edges to prevent open running lanes for Manziel. However, they were still able to get good pursuit, often times bringing a quick linebacker or even a safety off the edge to utilize their speed and catch Manziel before he could escape. That helped them limit him to a career-low 2.6 yards per play on plays outside the pocket, according to ESPN Stats and Information.
"You'd like for him to be pressured, not only by a rush lane, but by coverage," Miles said. "In other words, not necessarily say hold, but you would push the pocket at him, and hopefully his running opportunities would minimize as his time to throw it grew short, he had to make a decision. And that's what you'd like to have happen.
"And then cover during that time. At those other times, where you add a guy to the rush, now you'd better cover it very quickly and then you'd better be able to chase. I think chase is a part of the game, as well."
This will be a grand stage and a challenging setting, as LSU is an elite home team that's 25-1 at Tiger Stadium since 2010. Manziel, however, has thrived on the road, where he's 9-0 and has been responsible for 31 touchdowns with just eight turnovers, while averaging 417.2 yards of offense.
Manziel has improved significantly since the teams' meeting in 2012, the seventh game of his career. Miles noted earlier this week that Manziel is "bigger, faster, stronger," and it's clear that he has improved as a passer, something that should help him this week.
Texas A&M coach Kevin Sumlin noted that not much stock should be put into last season's game because of the difference in the teams, as well as the fact that the Aggies progressed and even changed some after the 24-19 loss to the Tigers last October.
"I'll be honest with you, there's two different football teams on the field this year," Sumlin said. "They lost a bunch of guys, particularly edge players defensively. I think it goes without saying that offensively, schematically, we changed as the season went on after that football game. Last year's video is important, but not nearly as important as the last seven or eight weeks of video."
September, 30, 2013
9/30/13
3:00
PM ET
Texas A&M is 4-1 after its first five games of the season. The Aggies split their first two SEC games and get a brief break with an open date this weekend. With the bulk of their league schedule coming up after the off week, let's analyze where the Aggies are and what's ahead:
The good
[+] Enlarge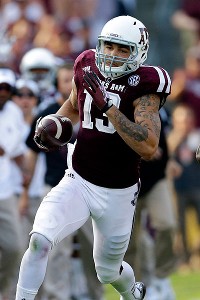 AP Photo/David J. PhillipTexas A&M's Mike Evans might be the best receiver in the nation and a Heisman candidate.
Johnny Manziel and Mike Evans:
These two had high expectations coming into the season based on their 2012 performances, and you could argue that they have exceeded them thus far in 2013, especially Evans. The sophomore receiver is making his case to be considered among the best receivers in the country, if not the best. Only Oregon State's
Brandin Cooks
has more receiving yards than Evans' 691, but Evans's schedule includes Alabama, which he torched for a school-record 279 yards. Manziel ranks in the top 10 nationally in several categories, including total offense, passing efficiency, QBR, touchdowns responsible for and passing yards. He has made a concerted effort to become a better pocket passer, showing more patience when dropping back, but it hasn't taken away from his signature scrambling ability that makes him such an offensive force. If the Aggies continue to win and these two continue to play as they have, one could make the argument that both deserve to be in the Heisman Trophy discussion.
The offensive line and running game:
There were some questions coming into the season about how the Aggies' offensive line would fare after losing Luke Joeckel to the NFL draft and center Patrick Lewis to graduation. So far, the Aggies have continued to shine in this area. The protection provided to Manziel when he passes has been stellar, and the Aggies have not had much trouble running the football, averaging 221.4 yards per game. On Saturday against Arkansas, the Aggies actually had more rushing yards than passing. And the last two weeks, we've seen the coaching staff use all four scholarship running backs (
Ben Malena
,
Tra Carson
,
Trey Williams
and
Brandon Williams
) effectively. Malena continues to be a steady force, Carson has provided a hammer who can break tackles and get short yardage but is explosive enough to get chunks as well, and the Williamses are both explosive talents with a lot of speed.
Deshazor Everett:
The junior defensive back has been the Aggies' best defensive player this year. Though cornerback is his usual home, he moved to safety for the last two weeks to help alleviate some issues in the secondary. He performed well in both positions, is second on the team with 31 tackles and leads the team with two interceptions, including a pick-six against Arkansas. If the Aggies had more Everetts, their defense would be better off.
Play-calling:
The offensive staff, led by offensive coordinator and play-caller Clarence McKinney has done a solid job of ensuring the offense utilizes its many weapons. There has been plenty of balance in the play calls (Texas A&M has run the ball 202 times and attempted 179 passes), the pace of the offense remains high, and it appears the Aggies have had an answer for almost anything opposing defenses have thrown at them. The one game in which the Aggies came up short was due to two turnovers against No. 1 Alabama.
The bad
The defense:
To say the Aggies have struggled defensively is an understatement. Texas A&M is 112th nationally in yards allowed per game (476.8), 109th in yards allowed per play (6.59), 107th in rushing yards allowed per game (214.8) and 94th in passing yards allowed per game (262). Some of those struggles were the result of missing personnel in the first two games because of suspensions, but that's not an excuse anymore. Alabama and Arkansas both moved the ball with relative ease against the unit. In the second half against Arkansas on Saturday, the A&M defense did show the ability to get some key stops and make a few plays, so that might be encouraging, but it will have to build on that when it faces Ole Miss on Oct. 12.
The kicking game:
The Aggies had to make a change at place-kicker, removing
Taylor Bertolet
from PAT and field-goal duty and replacing him with walk-on
Josh Lambo
. The issues haven't just been with the actual kickers, but there were also a couple of botched holds in the first four games. Leaving points on the board might not cost Texas A&M against nonconference foes like Sam Houston State or SMU, but it will cost them in SEC play if it continues to happen. Is Lambo the answer? He had a solid day on Saturday against Arkansas, going 6-for-6 on PATs and hitting a 39-yard field goal. So far he's 2-for-2 on field goals and 7-for-8 on PATs with his only miss coming as the result of a fumbled hold.
What's ahead
Texas A&M has a chance to heal up some injuries this week, which is critical after three starters -- defensive tackle
Kirby Ennis
, linebacker
Darian Claiborne
and Evans -- got banged up. Safety
Floyd Raven
, who has been out with a collarbone injury, continues to make progress in hopes of a return before long.
With the meat of the SEC schedule coming up, the Aggies have to get better on defense if they hope to realize some of their season goals. The offense continues to put up 40 points per game, but if for some reason it has an off night, A&M has to be able to rely on the D to help it pull through. Aside from the kicking game, special teams has been solid overall, and if Lambo is the answer at place-kicker, that's a positive for A&M moving forward.
Perhaps most notably, the drama is behind the Aggies. The constant headlines and media circus that followed the team, specifically Manziel, is in the rearview mirror. Led by Kevin Sumlin, the Aggies handled it well and didn't allow it to distract them from the task at hand.
September, 26, 2013
9/26/13
1:00
PM ET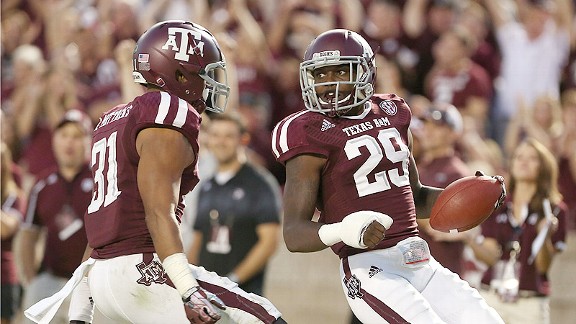 Thomas B. Shea/Getty ImagesTexas A&M's willingness to use starters such as safety Deshazor Everett (right) on special teams has allowed the Aggies to have one of the best units in the SEC.
COLLEGE STATION, Texas — When Alabama receiver and return specialist
Christion Jones
carried the ball out of the end zone on the Crimson Tide's first kickoff return against Texas A&M on Sept. 14, he was quickly faced with a host of defenders.
The first Aggie to make contact was cornerback
Tramain Jacobs
. Defensive back
Toney Hurd Jr
. followed him by wrapping up Jones for a tackle. If Hurd would have been unable to wrap him up, cornerback
Deshazor Everett
was nearby, and so was linebacker
Steven Jenkins
.
The common thread among the above names? They're all either regular starters or players who have started before for the Aggies.
Special teams -- kickoff and punt coverage units in particular -- are a place where many non-starters find their homes, and Texas A&M is no different. But the Aggies' coaching staff is also liberal about using its best players when the need arises.
The Alabama game was a prime example. With the threat of a return man such as Jones, who returned a punt and a kickoff for a touchdown in the Crimson Tide's season-opening win against Virginia Tech, Texas A&M special teams coordinator Jeff Banks wanted to ensure he had the best players available to prevent Jones from making a game-breaking play. The Aggies got the desired result, as Jones finished with 83 yards on four kickoff returns and just 5 yards on his one punt return.
"We're
always
going to use the best players," Banks said. "Coach Sumlin's an advocate of 'Jeff, you just tell me who you need and who you want and that's how we're going to do things.'"
Banks said offensive coordinator Clarence McKinney, defensive coordinator Mark Snyder or any of the other A&M assistants also have no qualms about the policy. Since he has been at Texas A&M, Banks said not one coach has said a word about who he can use or not use on special teams, whether it's in the return game or punt or kick coverage.
That luxury is something Banks, who is in his first year in Aggieland, hasn't always had in his career as a special teams coach.
"Usually you get a deal where it's 'Hey, take that guy off of there,' or 'Hey, don't use that guy,'" Banks said. "And here's my deal with that: That's fine. Because I try to be as flexible as I can because we're dealing with 60-80 people and players that have to go in and out, seniors, veterans, juniors, sophomores, freshmen, true freshmen, you've got to coach what you can get and get the best on the field.
"But you also have to be careful because if you practice them in training camp for 30 days and then you get them in the first week and someone says 'Oh no, he can't play on that many special teams,' now you're playing a guy with no experience.'"
So the planning has to begin in August when preseason training camp starts. Banks tries to get a feel for which newcomers have the size, speed or physicality to contribute, and the first week of camp is largely spent trying out numerous players in different roles to get a feel for who he can rely on. The rest of training camp is about getting those that are going to make his two-deep on special teams as many repetitions as possible so that he's comfortable with who is out there come the start of the season.
Playing offensive and defensive starters is nothing new for a Sumlin-coached team. It was something done regularly at Houston when he was there. One of the Cougars' special teams aces in their 12-1 season in 2011 was running back Michael Hayes, who played a major role in the Cougars' backfield, but could regularly be seen making tackles in punt coverage.
That attitude has carried over to Texas A&M. McKinney, who also coaches running backs, made it clear to his position group in the spring of 2012 that they would be expected to contribute on special teams. Players accepted the challenge, and
Ben Malena
and
Trey Williams
became key players on special teams.
Malena eventually emerged as the starting running back for the Aggies last season and remains that this season but can be seen on the kickoff return team making blocks and last season spent time covering kicks and punts at times, too.
"You have to realize that special teams wins and loses games," Malena said. "You need the best players out there, whether you're a starter or just a special teams guy. If you're the best player at that position, we need you on the field to help us win. I just took that to heart and will do anything for my team to win."
The example set by players with that attitude has an effect on the younger players, many of whom have a role on special teams. Many true freshmen such as
Darian Claiborne
-- who started at linebacker last week -- linebacker
Shaan Washington
, safety
Jonathan Wiggins
and cornerbacks Alex Sezer and
Tavares Garner
are already playing key roles on coverage units, and the example set by their elders is important.
"It's huge," Banks said. "They see Ben in practice, they see Jenkins in practice, they see those guys doing special teams drills at a high level.
Howard Matthews
,
De'Vante Harris
, Floyd Raven when he was healthy. That's huge. That's bigger than anything I can say. When they go out there and they give us great effort as a staff, that sells it and now you get the buy-in of the younger guys."
Banks said it helps increase the desire for the younger players to contribute, particularly in high-profile games.
"You see the Alabama game and go 'Man, I want to be out there,'" Banks said. "Tavares Garner's a prime example. He gets substituted in for Deshazor Everett and he's like 'Man, I know Deshazor's a veteran guy and he's going to make the play, but I want to be in there.' Then he gets in there and makes a tackle."
There's a balance to be struck, however. Playing starters constantly on coverage teams can fatigue them, especially if they're playing a large amount of snaps on offense or defense. So Banks is conscious to employ the personnel wisely.
"You can't wear a guy out because a Deshazor Everett or a Toney Hurd is so good at everything, you can't overuse them and start them on four special teams and expect them to play 60-80 snaps on defense," Banks said. "There's kind of a responsibility on my end, because I've gotten the leeway from the head football coach and the coordinators to use whoever we want. I think it's really important that you don't take advantage of that deal either."
Complementing players such as
Sam Moeller
, who has been the Aggies' special teams player of the week twice already this season and doesn't have a major role on defense, with some of these starters are what help the Aggies find a mix that Banks and Sumlin hope lead to one them having one of the best special teams units in the SEC.
"With Coach Sumlin being as awesome as he is about letting us use whoever we need to in order to be the No. 1 team, special teams-wise, in the conference, I think we've got a good mix of him and I of making sure we have the right guys on there, but also give an opportunity to guys who maybe aren't starting on offense or defense," Banks said.
September, 12, 2013
9/12/13
7:00
AM ET
TUSCALOOSA, Ala. -- Nick Saban took a moment to let the question soak it in.
Alabama's coach had reached his boiling point in his talk with the media. He was tired of all the talk about the young, unproven players on his team: who didn't play and why, who stood out in relief, who could see more time moving forward. Saban bent his knees at the podium and put his hand to his forehead in frustration before deciding to ask his own pointed question in return.
"You know, what I'd like to ask is, we've got a lot of really good players around here, all right, that really play like crazy, you know, like
C.J. Mosley
," Saban said. "The guy plays every play in the game and on two special teams [units], he's running down the sidelines with
Christion Jones
, faster than Christion Jones is, cuts the angle off the safety so the guy can run for a touchdown. How about somebody asking about him? What's wrong with asking about him and what kind of player he is and how did he do? Because I mean, that guy does fantastic, alright?"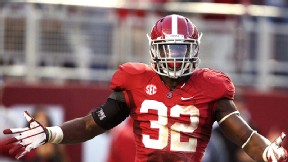 Mike Zarrilli/Getty ImagesAlabama's C.J. Mosley lets his play on the field do most of the talking.
Well, Nick, this story's for you.
The problem with asking about C.J. Mosley is that C.J. Mosley doesn't have a lot to say about himself. Alabama's senior linebacker is deferential by nature. It's either about the system he's in or the players around him, but it's never about him. He's quiet, bordering on shy, and he'd cop to that assessment. Though he's a leader on the football team, he'd rather lead by example. He may play like his hero, Ray Lewis, but he doesn't shout or prance or bloviate like him.
His play speaks for itself. Last season he became the first Alabama linebacker since Rolando McClain to record more than 100 tackles. He won All-American honors and was second on the team in sacks and tackles for loss, all while playing a part-time role behind starting mike linebacker Nico Johnson. Mosley was the best backup in the country, and now he might be the best linebacker in all of college football.
If you don't know him by now, you will after Saturday's game against Texas A&M. Mosley is Alabama's best defender and arguably its best hope of stopping the Aggies' sensation at quarterback,
Johnny Manziel
.
Mosley, for his part, doesn't want the game to be about him versus Manziel. He said as much in a one-on-one interview with ESPN.com on Tuesday, but that might be what it comes down to. On and off the field, the comparisons are inevitable. In one corner, there's the media circus of Johnny Football: the big plays, the celebrations, the autographs, the social media outbursts, the NCAA investigation. And in the other corner, there's the media black hole around Mosley, smiling for the camera, albeit awkwardly. The most high-profile thing he did during the offseason was receive the keys to his home town of Mobile, Ala. Even then he told reporters, "Usually you see stuff like that on the movies with a superhero getting it." He couldn't see himself as the leading man.
Saban won't say it and neither will Mosley, but Bill Meredith had no problem putting the obvious comparison into words. In fact, it was the first thing Mosley's former coach at Theodore High wanted to talk about when he got on the phone this week.
"He's what football is all about," Meredith said. "We've got Johnny Manziel all over the place. Let me tell you who C.J. is: he's at church every Sunday, he's so humble that if he owed a dollar to the football team he'd pay it, his Momma and Daddy was at every booster club meeting, he's 'Yes, sir' and 'No, sir,' he's never been in trouble one time in his life. He's exactly what you look for as a human being. He is the opposite of Johnny Manziel. Why don't we write more stuff about him?"
Well, Bill, this story's for you, too.
The problem with writing about C.J. Mosley is there isn't all that much to write about C.J. Mosley's life. Often you look for a hook in a story, a moment where the subject had to overcome adversity to get to where he is today. With Mosley, it's hard to pinpoint just where that is. By all accounts, he's never had an obstacle in his way. Why? Because he never put one there.
Mosley comes from a blue-collar family. His mother, Tracy, is a substitute teacher, and his father, Clinton, a supervisor at a ship yard, kept the leash tight on their two boys, C.J. and younger brother Jamey. Dad was the disciplinarian, and Mom checked in on the kids' homework. Both boys knew if school wasn't taken care of there would be no sports. Clinton once brought C.J. to tears when he told him he'd miss a game because he didn't have his work done.
Clinton was the one to get C.J. involved in football. Father and son took a trip to see a football game when C.J. was three years old. Clinton pushed C.J. in the stroller and looked around, eventually turning his attention to his son.
"He looked at it and stuck his head out and all the time he kept his eyes on the field," Clinton said, recalling the first time he understood that football would mean something to his son.
It took a year of watching from the sidelines before Tracy could be convinced that the game was safe enough for her boy to play. It was a good way to keep him occupied and out of the streets, the couple determined. And it didn't take long to realize they made the right decision. C.J. was tall and "thick" for his age, but Clinton could see his burgeoning athleticism.
"I can remember him being 6 years old on the defensive line kids running around the end and down the field. Everyone on the sidelines would say, 'Watch this, watch this,' C.J. would bust out the pack and run the whole length of the field all the way behind the kid to the end zone," Clinton said.
"That's everything in a nutshell. He's gifted."
C.J. played football, basketball and baseball growing up. He ran track and even sang tenor in the church choir. Everything he did, he did well. On the football field he played offense and defense, scoring as many touchdowns as he stopped.
Meredith happened upon Mosley at a middle school track meet and couldn't help but marvel at the 6-foot-1 runner lined up for the 100-yard dash.
"All of the sudden, they start the gun and here comes this kid from the middle school leading the pack," he said. "You look up here and C.J., this huge monster, is running down the track and I said, 'Oh my God, this kid's special.'"
In Mosley's first game in high school, he had 22 tackles against powerhouse Prattville. The following Monday, a member of Auburn's coaching staff called to offer him a scholarship.
He couldn't bench his weight, but boy could Mosley fly. He thinned out in high school and played at a slender 210 pounds, racking up a school-record 186 tackles his senior season. He wound up at Alabama's camp for prospective athletes and impressed former linebackers coach James Willis with his speed and determination.
"Coach Willis came up to me and said, 'Man, C.J. won't get out of the drills,' " Meredith said. "Here's all these top recruits, and he's out there learning football.
"Let's just say that before it was over Coach Saban was coming up really friendly to me. After that I started being C.J.'s coach instead of the coach from Theodore."
Mosley was always determined to sign with Alabama, and in February 2010, he did. He was a Top-100 player nationally and the second-highest ranked player from the state.
At home, though, he was still the same C.J., or Clinton Jr., as his parents know him. Even after all the awards, he came back to Mobile to do his chores and sing in the church youth choir, even though he may be a little too old to do so. Co-workers ask the senior Clinton about his son all the time, hoping for a story of his celebrity only to have him say, "He's just a child like anyone else."
But there was an opportunity for Mosley's life to change after last season. He could have entered the NFL draft and likely would have been selected in the first or second round. Mosley instead chose to return to school, and there was plenty of speculation why. But according to Mosley's parents, it was never even an option.
"There was no decision," Clinton said, emphatically. "There was never a discussion about it."
The Mosleys admit that their son has insurance in case an injury occurred and an NFL career was no longer an option, but they wouldn't say how much the policy is worth, only that, "He's taken care of."
Mosley said he told Saban his plans to return to school before his junior season ever began. When the season ended, Saban asked to be sure his mind hadn't changed, curious if a first-round grade had piqued his interest. It hadn't. The truth is Mosley never looked into it.
"No, not at all," Mosley said of seeking advice from the NFL. "For me, I still felt like I had things to prove. I wasn't an every down linebacker [last year]. People are saying, 'Well, he's not big enough to stop the run' and this and that. From a football standpoint, I felt like I had something to prove."
Well, for the doubters, this story's for you, too.
C.J. Mosley doesn't look like your typical linebacker prospect at 6-foot-2 and 232 pounds, but most linebackers can't run like C.J. Mosley. Most don't have his reputation, either.
"You can see that he's the leader," Texas A&M offensive coordinator Clarence McKinney said of Mosley. "He's a playmaker. That guy never leaves the field, I don't care what package they're using. He's always the guy out there getting them lined up and making plays."
Mosley is the heartbeat of the defense. He may be quiet in public, but when he steps onto the football field, he changes. He said as a senior in high school that his favorite part about football was "trying to kill somebody." He's just not all that flamboyant when he goes about it.
"He's a competitor," Meredith said. "It's all business. There's no backing down about him."
And this weekend, he'll face the biggest challenge of his career as he's tasked with shadowing Manziel. Mosley wasn't aggressive enough during last season's loss to the Aggies when he spied Manziel, giving him too much of a cushion to run with the football and make plays with his arm. But Mosley says this time it will be different. This time he feels ready for what's to come.
"Every time I see it on TV or hear about how they came into our house and killed our momentum and how he lifted his season and their season ... "That's what happens when you're a great team, the bull's eye is on your back.
"I'm pretty confident. I know the coaches are. We feel more comfortable about it than last year."
Mosley has the skill and the speed to do the job. He may play linebacker, but he can fly. It wasn't that long ago that he ran a 4.47 40-yard dash at Alabama's camp, where reports put Manziel's 40 time somewhere around 4.5 seconds.
"I just have to make sure I play my type of football," Mosley said. "When I have a chance to make a play on him, I have to execute."
You may not hear Mosley's name mentioned often in the build-up to the game, but expect it to be called plenty by announcers after kickoff.
Mosley wants to return the favor of losing at home a season ago, but he's not making the game about himself. Saban and others may want the focus to be on him, but that's not Mosley's attitude. He's not talked about like Manziel and other stars in college football for a reason. That kind of spotlight would be too uncomfortable. He'd rather just play his game, quietly and without fanfare.
"There's a lot of talk about me versus him or Alabama versus Texas A&M and their crowd and all this stuff, but at the end of the day it's all going to come down to execution," Mosley said. "The big thing would be beating them in their house like they did to us last year.
"I'm ready for that game day."
September, 9, 2013
9/09/13
11:30
AM ET
COLLEGE STATION, Texas — On the first day of Texas A&M's preseason training camp, senior running back Ben Malena journeyed to the third floor of the Bright Football Complex, where the coaches' offices are located.
His destination was the big office, coach Kevin Sumlin's. Malena wanted to discuss with Sumlin his role on the team. But Malena's purpose wasn't to discuss carries or touches in the Aggies' high-powered, fast-paced offense. It was about leadership, and, more specifically, how he could help provide more of it.
[+] Enlarge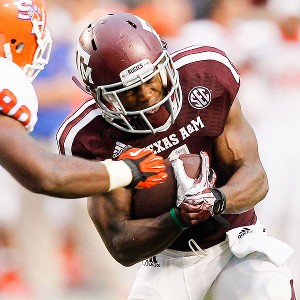 Bob Levey/Getty ImagesBen Malena gets some tough yardage against Sam Houston State.
"For a guy to come in and sit down in front of you at your desk and say, 'Coach, can I talk to you for a second? I want to talk to you about my role -- not as a player -- but my role as a leader on this team. What do you think about this? What if I do this?' That shows you the type of maturity that the young man has," Sumlin said. "It shows you the level that he cares."
In Sumlin's first season in Aggieland, Malena showed just how much he cared by his willingness to contribute wherever needed. Although he began the season behind then-senior Christine Michael on the depth chart, Malena eventually seized the starting running back role. But his contributions went far beyond that.
He became a regular on special teams, helping on kick returns, a role he has again this season. He even spent time on the punt coverage team, running downfield to cover punts. He finished as the team's second-leading rusher and rushing leader among running backs last season (808 yards, 8 touchdowns) and was a weapon in the passing game, as well (18 catches, 111 yards, 1 touchdown). He also was lauded by the coaching staff for his work as a pass protector, helping to pick up blitzes from his position.
His start to this season has been strong. He's the team's leading rusher (173 yards, 2 touchdowns) and already has a receiving touchdown. He's averaging an impressive 7.9 yards per carry. More than 63 percent of his carries go for 5 yards or more, and he ranks fourth in the nation among running backs with at least 20 carries in that category.
He is part of what makes the Aggies' backfield a valuable asset.
"This offseason, I tried to improve on every single aspect that you can improve on as a player, whether it's getting stronger and faster, getting smarter mentally for the game, I just tried to improve on every single [aspect]," Malena said. "Also, I tried to improve my leadership skills."
Malena is one of four scholarship running backs, all of whom have carried the ball this season and are expected to be factors in the Aggies' offense. Sophomore Tra Carson, who transferred from Oregon and sat out last season per NCAA transfer rules, has also had a productive start to the year with 23 carries for 127 yards and a team-high four rushing touchdowns. Sophomore Trey Williams is the team's primary kick returner and gets carries, but he missed Saturday's win over Sam Houston State with an ankle injury [Sumlin said he'll return this Saturday against Alabama]. And sophomore Brandon Williams, a transfer from Oklahoma, made his Aggies debut against Sam Houston State and scored a touchdown on a 10-yard reception from Johnny Manziel.
"One thing we have in common is work ethic," Malena said. "All of us go out there every day competing because it is, at the same time, a competition. Brandon Williams, like I said, he brings an element to this game that is hard to coach against, and that's speed. Tra Carson is a bigger back, about 230 pounds, and in this league you need a back that can really get the short yardage. And Trey Williams, he's a very electrifying player. He's really special in the return game and also running the ball. With this group, it all starts with me. As a unit, we work well together."
Although the Aggies' style offense is sometimes considered pass-happy because of the frequency of four-wide receiver sets and shotgun formations, Texas A&M has been one of the nation's best rushing teams. Including the ground exploits of quarterback Manziel, who was the SEC's leading rusher last season, the Aggies were 11th nationally in rushing yards per game (242.08) and first downs per rush (29.2 percent) and second in touchdowns per rush (nine percent) in 2012.
The Aggies are in the top 10 in the latter two categories so far this season and are 38th in rushing yards per game (219.5), with Manziel accounting for only for 55 yards thus far.
But it's Malena who sets the tone. A product of Cedar Hill (Texas) High School, he played a limited role as a freshman and saw an increase in time as a sophomore before emerging as the No. 1 back last season. Offensive coordinator and running backs coach Clarence McKinney said Malena has come a long way since the current coaching staff arrived.
"I think the biggest improvement with Ben is his body," McKinney said. "He's really worked hard in the weight room to get his body prepared for all the different things he's doing for us, both special teams and offense and things of that nature."
His intelligence has also been an asset, McKinney said.
"From the day we got here and we started installing his offense, Ben Malena displayed that he's a smart football player and has a high IQ," McKinney said. "He's the one guy who in my room has never written anything down when we're going over new ideas and new plays, but he never messes up when he goes out to practice. He's a smart football player."
But Malena's desire to lead might turn out to be his most meaningful contribution to the Aggies this fall. With a battle against No. 1 Alabama looming and the Aggies constantly in the national spotlight for various reasons, some positive and some not, Malena feels as if it's something he can and should do.
"I feel as though, in this conference, with the level of competition throughout the SEC West and the East, I feel as though, in order for teams to take the step to get to championship level, you need to have player leadership also," Malena said. "So I just went up there in Coach Sumlin's office to discuss with him things and ask him for advice for different things that I can do to further help this team get to a championship level."
August, 28, 2013
8/28/13
3:13
PM ET
COLLEGE STATION, Texas -- The saga involving Heisman Trophy-winning quarterback
Johnny Manziel
and the NCAA investigation into allegations that he profited from signing autographs saw a resolution Wednesday, as it was determined that
Manziel will be suspended for the first half
of the Aggies' season opener against Rice on Saturday.
While the investigation was ongoing, many turned their attention to the quarterbacks on the roster not wearing No. 2 on the chance that one of them might have to play. With Manziel missing a half, the Aggies will begin Saturday's showdown against the Owls with either junior
Matt Joeckel
or true freshman
Kenny Hill
calling the signals.
[+] Enlarge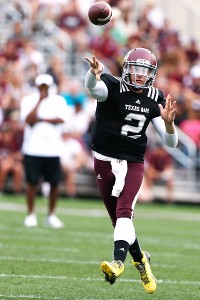 Scott Halleran/Getty ImagesWith Johnny Manziel suspended for the first half of the season opener, the Aggies will turn to Matt Joeckel or true freshman Kenny Hill.
So who are these quarterbacks?
Both were engaged in a three-way backup quarterback competition during preseason training camp, one that included redshirt freshman Matt Davis, who last week decided to transfer to Tyler (Texas) Junior College, leaving just two contenders. On Tuesday, coach Kevin Sumlin did not name a backup and said the battle between the two is an "ongoing competition."
What does each player bring to the table?
Joeckel's advantage is experience. Though he doesn't have much game experience -- appearing in five games and attempting 11 passes last season -- it's still more than Hill, and Joeckel has already spent a season working in the Aggies' offense, serving as the No. 3 quarterback last season. He's more of a traditional pocket passer.
"He's a big kid [6-foot-4, 234 pounds] but not the most mobile guy, so you'd probably call the game a little differently than with Johnny in the game than him," Aggies quarterbacks coach Jake Spavital said earlier this month.
The 6-1, 215-pound Hill, who has no collegiate experience, comes from a Texas high school powerhouse, Southlake Carroll, known for producing Division I quarterbacks. Chase Daniel, Greg McElroy, Kyle Padron and David Piland are among those who signed with Football Bowl Subdivision schools in the past decade.
"He's talented," Texas A&M offensive coordinator Clarence McKinney said. "He was the Gatorade Player of the [Year in the] state. He's a dual-threat guy. With what they did at Southlake Carroll -- a lot of the Texas high schools are going to a similar offense to what we're running. I think it prepares guys like him to play at this level. The operation of it is real similar to what he's already done."
Spavital has made sure to give Hill plenty of practice repetitions during camp to help him grasp the offense. Teammates say both have competed well in training camp.
"Both of those guys have really done great things when they've had their opportunities during practice," senior running back
Ben Malena
said. "Both of those guys are really smart guys, and they've both had their opportunities to make plays and they have. It's great competition at the backup quarterback spot."
Sophomore center
Mike Matthews
echoes that sentiment.
"As [Hill has] progressed, he's really proven to me that he's a real good quarterback," Matthews said. "He can move around the pocket. If it comes down to it, he can scramble and run with the ball, and he's also been throwing the ball pretty well. Matt, he's an older guy, 6-5, more of a pocket passer, so I'm confident with both of them."
Sumlin said he has tried to rotate each quarterback with the first team in certain instances during training camp. It's something he has done in the past simply so his backup quarterbacks can build a camaraderie with the first unit should they ever be pressed into duty.
Hill and Joeckel's teammates are confident they'll play well no matter who is calling the signals.
"The backup quarterbacks are putting in the time and effort," Matthews said. "I believe in them. Matt and Kenny, they come in every day and they put the work in, so I'm confident in the quarterbacks that we have. So if it turns out that [Manziel] isn't able to play, I'll be confident in our backup quarterback."
August, 5, 2013
8/05/13
6:29
PM ET
COLLEGE STATION, Texas -- Just before heading to join the team in advance of Texas A&M's first practice of training camp Monday, an Aggies athletics official stopped briefly in front of a television that was tuned to the beginning of ESPN's "Pardon the Interruption."
The reason? To see if the news surrounding Texas A&M quarterback
Johnny Manziel
was the top story, or if it was beat out in the rundown by the news of MLB's suspension of New York Yankees slugger Alex Rodriguez.
When the rundown appeared and Manziel was found behind Rodriguez and the news of other MLB suspensions, the official remarked "Johnny's three," in an optimistic tone of voice.
The Aggies will take small victories where they can get them right about now.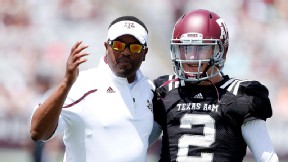 Scott Halleran/Getty ImagesTexas A&M coach Kevin Sumlin couldn't avoid questions about the investigation of star quarterback Johnny Manziel.
Texas A&M began fall football practice on Monday evening in the wake of news that its Heisman Trophy-winning quarterback, Manziel, is being investigated by the NCAA for allegedly profiting from signing autographs for a broker during the week of the BCS championship game in Miami this past January.
While Manziel is still practicing and taking his repetitions with the team, there is a cloud of uncertainty that exists over the program because of the uncertain status of its star player.
Media from across the country descended on the Bright Football Complex on Monday as A&M coach Kevin Sumlin took the microphone, making the first public comments since the news of the investigation broke on Sunday.
A year ago -- almost to the day -- Sumlin estimated there to be about 15-20 media members in the room 229 of the Nye Academic Complex, a relatively small room in the academic wing of the Bright Complex.
When Sumlin faced the media Monday, the gathering was roughly three times that size and the news conference was moved to the much larger Hagner Auditorium. More than 15 television cameras were pointing straight at the Aggies' head coach and more than three dozen media members sat below those cameras, hanging on each word spoken by Sumlin.
The 49-year-old coach presented himself with poise and appeared to have a grasp on the situation, or at least as much as he possibly could after claiming that he learned of the allegations less than 24 hours prior.
"It's not what happens to you, it's how you deal with it," Sumlin said. "Your ability to deal with those types of situations define what kind of team you are and what kind of person you are."
Not surprisingly, Manziel is the talk of the town in College Station. Even those in the student body have opinions on Johnny Football's eventful offseason.
While several students said they hope Manziel is eligible to play this fall, some are concerned about the attention Texas A&M has received thanks to Manziel.
"It seems like he doesn't make the best choices," said Leah Bailey, a sophomore biology major at A&M. "My main concern is how [his actions] reflect on the A&M campus. We're all a family."
Grayson Blair, an 18-year-old freshman who is majoring in industrial engineering, said he understands why Manziel has enjoyed himself this offseason but feels he could have dealt with his fame better.
"If I had won the Heisman Trophy, I would be doing the same thing as him and partying just as much," Blair said. "I would keep it on a much more low key, though. He obviously doesn't know how to."
Blair said he felt Manziel's actions have reflected poorly on A&M.
"It definitely has," Blair said.
The Aggies will press forward, though. The students and fans still want him to be on the field on Saturdays, leading Texas A&M to a banner 2013 season. Sumlin and the team will continue to press on and handle the situation as best as they can. Texas A&M offensive coordinator Clarence McKinney might have said it best when asked about Manziel on Monday.
"Johnny's our quarterback, he has been our quarterback, and until I'm told differently by Coach Sumlin, we're going to proceed as if Johnny's our quarterback," McKinney said.
April, 13, 2013
4/13/13
8:26
PM ET
COLLEGE STATION, Texas -- In all its crystal glory, college football's national championship trophy made a brief stop at Kyle Field on Saturday.
Parked on the sideline for a live television shot during Texas A&M's Maroon-and-White spring football game as well as for photo opportunities for those who walked by, it was a seemingly symbolic placement of the sport's most coveted piece of hardware, mere feet from a team that might have a realistic chance to hoist it next January.
[+] Enlarge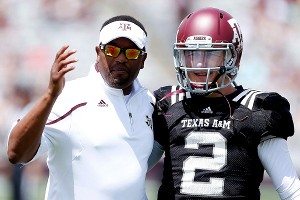 Scott Halleran/Getty ImagesIf Kevin Sumlin and Johnny Manziel want to make it to Atlanta for the SEC championship game, they can take a big step forward with a win over No. 1 Alabama.
Yes, it currently belongs to Alabama, the reigning BCS champions, and it will remain that way for the months to come. However, the Aggies were the only team in 2012 to defeat the Crimson Tide, and if they are able to repeat that accomplishment in September, the Aggies should control their own destiny in the title chase.
But that's many months away. In the meantime, the nation got its first extended glimpse of the 2013 Aggies, a team that could be ranked in the preseason top five come August. The score was Maroon (offense) 43, and White (defense) 23, but that mattered little. What the record crowd of 45,212 came to see were how the Aggies looked and, more specifically, what their reigning Heisman Trophy winning quarterback,
Johnny Manziel
, would do.
Johnny Football didn't disappoint. He was 24 of 30 for 303 yards with three touchdowns and no interceptions against an overmatched second-team Aggies defense. He got out of the pocket and scrambled a few times (three carries, 18 yards) but that was not going to be part of the show today in interest of keeping him healthy. Nobody was going to touch Manziel, although he almost found himself in harm's way anyways when he tried to throw a cut block on sophomore defensive back
Sam Moeller
to pave the way for a
Brandon Williams
touchdown.
Just one of those Johnny Football moments for the redshirt sophomore.
"I went up and apologized to Sam after it," Manziel said. "The way I am and the way my motor drives me, it was just an instinct play. As much as Coach [Kevin] Sumlin was shaking his head and wasn't happy about it, it was more of 'Hey, in a game, this is how it would have been.' It just naturally took over for me."
He stayed healthy, as did most of the rest of the players who played. The only notable injury to come out of Saturday's scrimmage was an MCL sprain for junior linebacker
Tommy Sanders
, who'll be ready in the fall.
Several other things about the 2013 Aggies became clear on Saturday. Williams showed why he was such a coveted recruit coming out of Brookshire (Texas) Royal High School, racking up a team-high 59 rushing yards on seven carries and catching three passes for 29 yards while recording a rushing and a receiving touchdown. The Aggies' starting running back from 2012,
Ben Malena
, is back, as is
Trey Williams
, who contributed as a true freshman. Adding Williams and Oregon transfer
Tra Carson
to the mix (both sat out per NCAA transfer rules last season) adds more dimensions to the Aggies' backfield and their offense.
"Brandon Williams is very talented. He's a home run threat from anywhere on the field," Texas A&M offensive coordinator Clarence McKinney said. "We plan on [using all four backs]. ... It's a good problem to have. The thing about those four guys, is that they all bring something different to the table."
While the defense didn't have its best of days, it can be taken with a grain of salt with three surefire starters sidelined by injury and another two defensive linemen who have taken first-team reps also sitting out. The unit out there Saturday isn't exactly what will suit up for the Aggies this fall.
What the Aggies are hoping to develop is leadership. Defensive coordinator Mark Snyder said that safety
Howard Matthews
is emerging as a leader, as is middle linebacker
Donnie Baggs
. Having that presence is critical because the Aggies waved goodbye to two of their best defensive leaders, linebackers
Sean Porter
and
Jonathan Stewart
, who both graduated.
But plenty of the signs Aggies fans were looking for were present on Saturday. Manziel looked in top form. So did sophomore receiver
Mike Evans
. The offensive line -- though missing soon-to-be first-round pick
Luke Joeckel
and graduated center
Patrick Lewis
-- is coming together well. The remainder of a top-10 recruiting class is on the way in the fall and could produce a few more quick contributors.
Manziel will go back to work and team up with George Whitfield Jr., the private quarterback coach he worked with last summer. Manziel said he's ready to eliminate any doubts about what is ahead for him and this year's Texas A&M squad.
"The big conversation that [Whitfield and I] had before Alabama was 'Be a dragon slayer, slay the dragon,' " Manziel said. "Now there's a big dragon out there for us with all the people that are doubting A&M and all the people that are doubting me that last year was a fluke. So that's a chip on my shoulder and that's a dragon we need to slay this year."
March, 18, 2013
3/18/13
1:00
PM ET
COLLEGE STATION, Texas --
Texas A&M
coach Kevin Sumlin isn't the type to dwell on comparisons, particularly as the calendar pages turn each year in college football.
Sure, there are holdovers that were around and played the year before, but all in all, he looks at each of his teams as a new one.
[+] Enlarge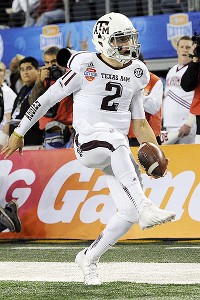 AP Photo/Michael PrenglerCan Texas A&M Johnny Manziel duplicate his Heisman-winning success in 2013?
"From my standpoint it's always a new team; it's always a new personality," Sumlin said. "As coaches what you're trying to do is figure out where you are, who can do what and put them in the best position to try to win games."
Going along with this new Aggies team is a new set of expectations. At this time a year ago, many across the country thought Texas A&M was headed for a buzz saw in the SEC and some even felt the Aggies would be fortunate to earn a bowl berth.
Instead, Texas A&M destroyed perception and created their own, new reality, one that had them finish the season fifth in the national rankings and winning 11 games for the first time since 1998.
As a result, the Aggies will enter this fall as a highly-ranked team in the preseason, perhaps in the top five, after being unranked going into last season. Texas A&M quarterback
Johnny Manziel
said the Aggies are trying to keep the same approach they did a season ago despite the change in outside perception.
"I feel like we're doing all right," Manziel said. "We're still out here just playing football, doing the same thing that we did last year. We didn't have a lot of expectations last year. There's a lot more talk this year. For us, it's just to continue to make sure that we do the things that got us to where we are today."
In many ways, the Heisman Trophy-winning quarterback's change in status over the course of the last year is a microcosm of how perception and expectations of Texas A&M have changed. During spring football a year ago, few outside of College Station, Texas, or Manziel's previous Texas hometowns, Kerrville and Tyler, knew his name.
Now, he has a nickname -- "Johnny Football" -- that is known across the college football landscape. With a full offseason and a 13 games worth of game footage to break down Manziel's game, it's natural to think that opposing coaches, particularly those in the SEC, will be better prepared for Manziel, who befuddled defenses all last season.
Manziel, again, said he plans to keep doing what he has been.
"Coaches are going to scheme just like they always do," Manziel said. "Some might have one game [circled] on their calendar, but I highly doubt it. This was the same talk whenever we were in the Cotton Bowl and they [Oklahoma] had a month to prepare. That didn't really work out well for them.
"If they want three months, four months, whatever, we're OK with it. We're going to be here trying to get better and trying to make sure we're going to outplay them on Saturday."
Aggies offensive coordinator Clarence McKinney said he likes the position the team is in.
"I'd rather be in the position we are now than in the position we were in last year," McKinney said. "We'd rather be at the top, getting hunted. That means we're always out front, rather than not being ranked and having to climb so far."
The Aggies also know that because they are hunted, they must continue to push if they want to repeat or improve on last year's success.
"When Coach Sumlin first got here last year, he told us that we had enough talent to beat anybody," running back
Ben Malena
said. "Now that we know for a fact that we have enough talent and a new group of guys coming in, we know that this year we have a target on our back.
"The work ethic of the team collectively has stepped up even more. We know last year's success was last year's success, but this year's success will be even harder because now you have a target on your back."
January, 11, 2013
1/11/13
2:21
PM ET
After calling plays for Texas A&M in the Aggies' 41-13 win against Oklahoma in the AT&T Cotton Bowl, running backs coach Clarence McKinney was
promoted to co-offensive coordinator
for next season, a source told ESPN.com.

The source also said that McKinney will be the Aggies' primary play-caller. Former West Virginia quarterbacks coach Jake Spavital will serve as the other co-offensive coordinator and will coach quarterbacks, the source said.
CBSSports.com
earlier reported the hiring of Spavital.
With McKinney calling plays, the Aggies registered 633 yards of offense and 28 first downs against the Sooners. Heisman Trophy winner
Johnny Manziel
also set a bowl record for total offensive yards (516).
McKinney has been with first-year A&M coach Kevin Sumlin since 2008, and will help keep some familiarity within the offense after former offensive coordinator Kliff Kingsbury left to become the head coach at Texas Tech. There will likely be some tweaks, but nothing major.
The thing to watch is how McKinney and Spavital interact with Manziel during games. Kingsbury did a very good job guiding Manziel through games. He was extremely patient with Manziel, who had a thirst for improv during games. He's obviously growing, but I doubt any coach will be able to get rid of Manziel's off-the-cuff mentality. But being able to teach Manziel as he goes is something Kingsbury was really good at, and now Manziel will be learning from two other people.
January, 4, 2013
1/04/13
11:47
PM ET
ARLINGTON, Texas -- Another Cotton Bowl, another bad loss for the Big 12. Excluding current SEC member Missouri's win back in 2008, the Big 12 has lost the Cotton Bowl to an SEC opponent in eight consecutive seasons. Johnny Football put on a show after a month away and showed zero signs of rust and a zillion signs of being an endless source of frustration for Oklahoma's defense.
The Big 12 finished 4-5 in its nine bowl games, and the SEC improved to 4-3 in its bowl games. Let's take a look at some instant analysis for Texas A&M's
41-13
blowout win over the Sooners.


It was over when:
Facing a fourth-and-5 late in the third quarter, Manziel hit
Ryan Swope
over the middle on a short slant. Swope shed a tackler and raced 33 yards to put the Aggies up, 34-13. That capped a run of three Oklahoma three-and-outs to begin the second half and spelled doom for the Sooners.
Game ball goes to:
Johnny Manziel
. I mean, who else? He broke the Cotton Bowl record for total yards with 516 and accounted for four touchdowns. It could have even been five, too, if not for
Malcome Kennedy
's bobbling a pass in the end zone that was eventually intercepted by Oklahoma's
Javon Harris
.
Stat of the game:
Oklahoma averaged 4.8 yards per play. Texas A&M averaged 9.6 yards per play. It was really that simple in this one. Johnny Football made the Aggies dangerous on what seemed like every snap. Oklahoma's offense played well in the first half, but it rarely looked easy, and Texas A&M prevented the Sooners from breaking big plays. It also clamped down in the red zone.
Unsung hero of the game:
Texas A&M's offensive line. Get a good, long look at
Luke Joeckel
and
Jake Matthews
serving as bookends on this line. They might be gone soon, cashing big-time checks as NFL first-round picks. Mike Sherman had well-chronicled struggles, but the offensive line guru left some big beef for Manziel and the Aggies offense to operate behind. It showed tonight. Oklahoma rarely blitzed, for fear of Manziel running loose in the second level, but he had all day to throw and little pressure on most snaps.
What Texas A&M learned:
Heisman jinx, December distractions, coaching changes, whatever. It all seemed pretty irrelevant in this game. Johnny Football looked like his usual self, if not better. He broke loose for 47 rushing yards on Texas A&M's opening drive and didn't slow down from there. Kliff Kingsbury checked out as Texas A&M's offensive coordinator, but Clarence McKinney had a solid performance in his debut as play-caller. Manziel insisted he wasn't distracted and that the whirlwind of awards and television appearances after winning the Heisman hadn't changed him. His performance validated those claims.
What Oklahoma learned:
Just like Kansas State and Notre Dame, the Sooners were incapable of beating the elite teams in college football this year. A 10-3 season isn't bad, but it's not good enough at Oklahoma. The Sooners might not have even been happy going 1-2 in those losses, but 0-3 will leave a very bitter taste in their mouths thinking back on a season that was very average by the Sooners' sky-high standards. Any notion that it had a formula for stopping or even slowing down the Johnny Football train went out the window. He had his way with the Sooner defense, which tackled poorly, too.