April, 18, 2014
Apr 18
9:00
AM ET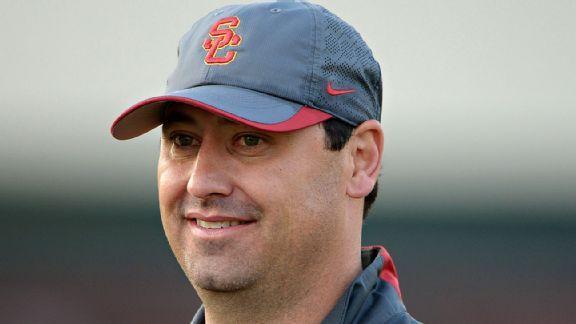 LOS ANGELES -- When the day comes that
USC
football needs a culture change, touchdowns will be worth 10 points, swine will take to flight and I'll win a Brad Pitt look-alike contest.
USC football is a culture unto itself. It knows what it is with its 11 national championships, 32 bowl wins and six Heisman Trophy winners. Changing coaches doesn't have to be synonymous with changing culture, especially after you won 10 games the previous season.
[+] Enlarge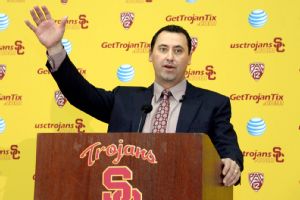 Kirby Lee/USA TODAY SportsNew USC coach Steve Sarkisian is embracing the school's standard for winning.
Perhaps a culture restoration might be in order, however, following a tumultuous 2013 that fractured the fan base and divided the devout.
Enter Steve Sarkisian, a top lieutenant of the Pete Carroll era who left to make his mark in the Pacific Northwest and returns to Troy unfazed by the championship-or-bust mentality.
"All of these guys come here to be the best, and that reminded me why I came back here. I want to be the best," Sarkisian said. "This place breeds that environment, that culture. That jumps out at you the moment you are on campus.
"You can go back 50 years of USC football. Every decade they have gone on a run: The 2000s and the run that Pete [Carroll] had; the 90s and what Coach [John] Robinson was able to do; The 80s, the era there with Rodney Peete and everything, and the early 80s what they were doing into the 70s with Coach [John] McKay and the run that he had and into the 60s, and it goes on. I just feel like now is our time. We're about due for another run. Here we go, and we've got half the decade left to do it. I have a firm belief that we can because history tells us that we should."
Of course, that run can't start until the Trojans officially kick off the 2014 season on Aug. 30 against
Fresno State
. In the meantime, there is only so much the new coaching staff can do to win back the hearts and minds of skeptics still smarting the final mediocre months of the Lane Kiffin era.
Public opinion was already down following a massively disappointing 7-6 season in 2012. It crested when Kiffin was fired following a blowout loss to
Arizona State
in the fifth game of last season. That begat the brief Ed Orgeron era, which included a 6-2 record -- though losses to rivals
Notre Dame
and
UCLA
were contributing factors to Orgeron not getting the job. After Sarkisian was announced as coach, Orgeron stepped down and Clay Helton led the Trojans to a
45-20 win
over Fresno State in the Royal Purple Las Vegas Bowl. Helton was retained as offensive coordinator, and, at least for now, there is stability in the football office.
With crippling sanctions in the past, Sarkisian & Co. made a huge national statement by landing the
league's top-ranked recruiting class
, which included lauded prospects
Adoree' Jackson
,
Juju Smith
and
Damien Mama
. Sarkisian has opened up spring ball to the public and done everything possible to reunite the fan base.
"Ultimately, it's going on the field and performing and doing what we're here to do and that's win football games," Sarkisian said. "Are we going to try to win them all? There's no doubt we are. Are we going to win them all? I don't know. I don't know. The football is shaped a funny way for that very reason. It bounces in funny directions sometimes. But you have to put yourself in position to be successful, and I think we're doing that."
Helton, one of just two holdovers from the Kiffin era (along with receivers coach Tee Martin), understands the expectations from his time on campus. Even defensive coordinator Justin Wilcox, who was Sarkisian's defensive coordinator at
Washington
, is prepared for the fact that a 10-win season might not be good enough for USC's standards. In his mind, those expectations shouldn't be daunting. They should be embraced.
"If that's what you're worried about, then you don't come here," Wilcox said. "That's what you sign up for. We expect to win. We should be good. We should win championships. I don't think about like that [as daunting]. If I did, or if any of us did, we shouldn't come here. But every one of us jumped at the opportunity to come here. The expectations are extremely high, but that doesn't change how we operate. That wouldn't say much about you as a coach: 'Now you're really going to work hard because you're at USC.' It shouldn't matter if it's Division III or high school or USC. You coach to be the best you can be."
January, 15, 2014
Jan 15
1:00
PM ET

If you don't like where you ended up in the Power Rankings, you should have played better.
Click here for
Week 15's Power Rankings
. Note that these rankings reflect the totality of the season.
1. Stanford (11-3, 7-2):
Oregon finished higher in the final polls, but Stanford is the Pac-12 champion. And everyone out West remembers what happened Nov. 7.
2. Oregon (11-2, 7-2):
The Ducks spent most of the season as a national title contender, but the regular season ended with a thud. The bowl victory over Texas was nice, and when you think about it, 11-2 and a final No. 9 ranking is, well, not too bad for Mark Helfrich's debut season.
3. Arizona State (10-4, 8-1):
If the Sun Devils had taken care of business in the National University Holiday Bowl and grabbed an 11th win, this would have been a special season. As it turned out, it was merely a very good one.
4. UCLA (10-3, 6-3):
The Bruins fell short of the South Division title because of a loss to Arizona State, but a 10-3 finish with a final No. 16 ranking tells the ultimate story: UCLA is trending up. Oh, and in case anyone forgot, there also was that second consecutive victory over USC for coach Jim Mora. Did anyone forget? Anyone? Bueller?
5. USC (10-4, 6-3):
The Trojans had two seasons: the miserable start under Lane Kiffin and the strong second half under interim coaches Ed Orgeron and, in the bowl game, Clay Helton. Going 10-4 and finishing ranked 19th, particularly under the trying circumstances, is about the best that could have been hoped. Other than losses to UCLA and Notre Dame. That part could have been better.
6. Washington (9-4, 5-4):
After three consecutive 7-6 seasons, the Huskies broke through in 2013, finishing 9-4 and ranked 25th. Credit goes to Steve Sarkisian for turning around a program that went winless the year before he arrived. He leaves behind a team with plenty of potential for new coach Chris Petersen.
7. Arizona (8-5, 4-5):
The Wildcats had an interesting season. In part, their eight wins were because of a pillow-soft nonconference schedule that was a guaranteed 3-0 start. But they also beat Oregon and won a bowl game, dominating Boston College on both sides of the ball. On the downside is a second consecutive defeat to their friends in Tempe.
8. Oregon State (7-6, 4-5):
The Beavers started horribly with a loss to Eastern Washington then rolled off six consecutive wins. Then, with the schedule ramping up considerably, they lost five in a row to finish the regular season. The strong performance in the Hawaii Bowl against Boise State took some of the sting out of the losing streak. But only some.
9. Washington State (6-7, 4-5):
If the Cougars had won their bowl game, they would have been seventh here. Losing to Colorado State is bad under any circumstances, but the way the Cougs wilted at the end was horrid and should operate as fuel to motivate the team this offseason. Still, despite losing their final two games and finishing with a losing record, getting back to a bowl game was a big deal in the second season under Mike Leach.
10. Utah (5-7, 2-7):
A second consecutive losing season is not what Utes fans have come to expect, even with a red-letter win over Stanford. Further, they are 5-13 in Pac-12 play in the past two seasons. There were major injury issues, most notably to QB
Travis Wilson
, but Utah can't be happy with its early performance in the conference. On the plus side, beating BYU and Utah State means state rivals don't have much room to rib the Utes.
11. Colorado (4-8, 1-8):
There wasn't anywhere to go but up for Colorado after going 1-11 in 2012, and the Buffaloes went up this season under first-year coach Mike MacIntyre. They were still mostly outclassed in Pac-12 play, but there were signs of taking a step forward. The question now becomes, can they move up in the South Division?
12. California (1-11, 0-9):
It was perhaps the most miserable season in Cal history in the first year under Sonny Dykes. The injuries were so epidemic it almost became comical -- almost -- but the effort and execution from the healthy players wasn't so hot either. The Bears need to show improvement next fall or the going could be tough for Dykes.
December, 23, 2013
12/23/13
9:00
AM ET
When you cup your hands around USC's 45-20 blowout victory over No. 20 Fresno State in the Royal Purple Las Vegas Bowl and assume singular focus on the event itself, it's impossible to not be impressed, to not think, "Now that is USC football."
Then when you put it in the context of the tumultuous season -- a maelstrom of coaching uncertainty and chaotic swings of momentum -- it seems like Trojans fans should officially declare the strangest season in program history at least a moderate success, perhaps as successful as it could have been. Well, other than losses to Notre Dame and UCLA.
[+] Enlarge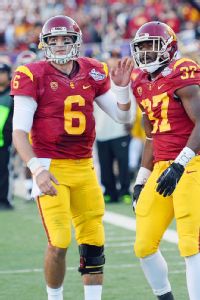 Ethan Miller/Getty ImagesThings seem to be looking up for Cody Kessler, left, Buck Allen and the Trojans.
Still, winning 10 games, including a bowl game, and ending up nationally ranked is pretty respectable when it's produced by an injury-ravaged, scholarship-reduced team that has called four different men its head coach between August and today.
Further, it shows the players have pride. A substantial handful -- both seniors and underclassmen -- are eyeballing the NFL draft, and it wouldn't have been shocking if they gave an indifferent performance against Fresno State, a team that arrived with plenty of motivation. Quarterback
Cody Kessler
told Kevin last week
that the Trojans were focused and motivated, and it proved to me more than empty, tell-the-reporter-something-pretty talk.
Said Kessler, "Getting us to 10 wins puts us in an elite group. We have a chance to finish things off right -- especially for our seniors. These guys have been through everything. Sanctions. Coaching changes. We owe it to them to give it everything we've got to get a win."
So the players who are leaving, which might include leading juniors such as receiver
Marqise Lee
, defensive end
George Uko
, linebacker
Hayes Pullard
, safety
Dion Bailey
and cornerback
Josh Shaw
, can feel good about how they finished things. If this performance was a tribute to former interim coach Ed Orgeron, then you can be sure Coach O was howling with delight somewhere while watching the game.
But what about those who are staying?
The big news coming out of the Las Vegas Bowl other than the final score was that new coach Steve Sarkisian will retain offensive coordinator Clay Helton, who served as the interim head coach for the bowl game. That's probably good news for Kessler, who blossomed once Helton took over the offense from fired coach Lane Kiffin.
Of course, Sarkisian, like Kiffin, calls his own offensive plays, so if another opportunity arises for Helton, particularly one that includes play-calling duties, he might opt to leave.
In fact, who's staying and who's going applies to both the players and coaches. We probably won't get official word on the makeup of Sarkisian's staff until after Washington, his former team, plays BYU in the Fight Hunger Bowl on Friday night. The Huskies under new coach Chris Petersen also have kept their plans quiet.
The big questions: Will Huskies defensive coordinator Justin Wilcox and quarterbacks coach Marques Tuiasosopo follow Sarkisian south? If Wilcox shortly arrives at Heritage Hall, then where does current USC defensive coordinator Clancy Pendergast end up? In one year, he transformed one of the nation's most underachieving defenses into one of its best. Hard to imagine he stays unemployed for long.
This whole blending together of USC's and Washington's -- and Washington's and Boise State's -- 2013 staffs has certainly inspired plenty of gossip among other assistant coaches.
Another question: Tosh Lupoi.
The Huskies ace recruiter and defensive line coach is being investigated by the NCAA following allegations that he paid for private tutoring for Husky football recruit Andrew Basham, with Basham's former high school track coach, Mike Davis, spilling the beans to the Los Angeles Times and Seattle Times last week.
What that means in the short term is that Lupoi won't be hired by USC, and he might be out of a job until the NCAA rules on his case. What it means in the big picture for two Pac-12 football programs in transition is hard to say, as Washington, USC and Sarkisian have significant interests in the matter.
Due to new NCAA rules, Sarkisian could be exposed, which means USC could suffer for violations that occurred in Seattle.
And, yes, feel free to question the timing of these allegations being reported and speculate on where the sour grapes originated that spawned the investigation.
An offshoot of Lupoi's troubles is the Trojans' need for a defensive line coach, which probably is why Sarkisian
told ESPNLA 710
on Sunday that he's going to make another run at Orgeron to see if he's interested in returning to USC.
That could be interesting. Or it could just be idle talk.
Once all the administrative and personnel issues are settled, then we'll start to take a measure of the Sarkisian administration and how things might stack up in 2014. Trojans fans first want to see where their team ends up on Feb. 5, national signing day. Then it's on to spring practice, where Kessler likely will have to prove himself again, though Helton staying on should provide his candidacy a boost.
USC's bowl win was impressive. It surely made Trojans feel good, inside and outside the locker room. But the reality is it was as isolated as a pleasant fan experience can be. A win in the Las Vegas Bowl and finishing in the lower half of the nation's top-25 isn't what Trojans pine for. With this next recruiting class the last one limited by NCAA sanctions, most are ready to see the program regain its footing among the Pac-12 and nation's elite.
Sarkisian officially took the keys of the program on Saturday. By Sunday, the euphoria from the bowl win probably started to waft away inside Heritage Hall.
The real business begins now.
December, 23, 2013
12/23/13
5:30
AM ET
1. Colorado State scoring 11 points in the last 33 seconds to upend Washington State, 48-45 is a testament to the idea of playing for 60 minutes. The Rams trailed the Cougars 35-13 in the second quarter and 45-30 with 3:00 to play. Not only did the win make Colorado State 8-6, the Rams' most successful season since 2002, but the boost it will provide during the offseason is immeasurable. Those early-morning mat drills don't seem quite so onerous when you finish like the Rams did.
2. Among the most impressive statistics produced by Florida State quarterback
Jameis Winston
as he played his way to the 2013 Heisman Trophy are the numbers that aren't there. Winston threw for 3,820 yards and 38 touchdowns while playing only 59 percent of the Seminoles' second-half snaps. In fact, Winston threw a total of 25 passes in the fourth quarter. That's what happens when you win all 13 games by at least 14 points.
3. It makes complete sense for USC coach Steve Sarkisian to retain quarterback coach Clay Helton and to try and lure Ed Orgeron back for what would be his third stint as a Trojans assistant. Orgeron might be trolling for a head coaching job, and who could blame him after the job he did leading the Trojans in 2013? But if that doesn't happen, the only thing stopping him from being a success on Sarkisian's staff would be pride and ego.
November, 27, 2013
11/27/13
1:00
PM ET
Arizona State's 38-33 victory over UCLA last week solidified one thing: Neither UCLA nor USC will be playing in the Pac-12 championship game.
Los Angeles has represented the South Division the first two years of the title game. UCLA went both times, but USC fans will always hold a 50-0 asterisk over the Bruins' heads for 2011.
Still, motivation isn't an issue when these teams meet.
The Bruins have won just twice in the last 14 meetings, and they haven't won at the Coliseum since 1997. But they won last year in a game that was (almost) the final insult on an otherwise train-wrecked 2012 for the Trojans.
[+] Enlarge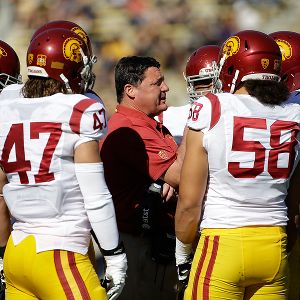 AP Photo/Eric RisbergA USC win over UCLA could help interim head coach Ed Orgeron remove the "interim" from that title.
Both coaches will tell you their teams aren't preparing any differently. And it's probably true. But below the undertow of mutual respect and coaching clichés is a bitterness that goes back decades. To say nothing of the fact that bowl pecking order also comes into play.
"We do understand that this is our rivalry game and this is a game that's huge for our fan base and huge for our players," USC interim coach Ed Orgeron said. "… No disrespect, but this is a game that we want to win very badly."
It's a huge game for Orgeron, also, because he has put himself in position to lose the "interim" status from his title. Since Lane Kiffin was fired after the Sept. 28 Debacle in the Desert, Orgeron has led the Trojans to a sterling 6-0 mark in Pac-12 play and a 6-1 record overall. They've resurfaced in the BCS rankings at No. 23, one spot behind the No. 22 Bruins.
Mark Saxon of ESPN Los Angeles
summed it up best
:
This next game is the kind of thing Ed Orgeron was born for. He's a fiery motivator who loves to talk about USC tradition and will find the right emotional buttons to push to have his team excited about Saturday's game.
UCLA coach Jim Mora recognizes it, also.
"You see an energy," Mora said. "I don't know if you call that a tangible or an intangible. But you see an energy and enthusiasm and passion and a group of guys going out and having a lot of fun … They are a team that's filled with a lot of good football players. There's a lot of talent over there and they are playing with a lot of confidence right now. Their energy and their confidence level is apparent."
Mora is hoping that confidence isn't something his guys are lacking following their loss to the Sun Devils, who claimed the Pac-12 South title and sacked quarterback
Brett Hundley
nine times in the process.
The Trojans, who rank fourth in the conference with 33 sacks on the year, are hoping they can make a similar impact against a UCLA offensive front that starts three true freshmen.
"[Hundley] can make you miss," Orgeron said. "We had a hard time getting him down last year. We thought we rushed the passer very well but we could not get him down. He's the key to their offense. They have a very good scheme. They are very well-coached. It should be a tough ballgame."
Mora has been equally impressed with the play of USC's quarterback,
Cody Kessler
. In the first five games of the year, Kessler was completing 63.4 percent of his throws with an average of 166.4 yards per game with six touchdowns to four interceptions. In the seven games since Orgeron took over and Clay Helton started calling the offense, Kessler is completing 65.8 percent of his throws, averaging 231 yards per game with nine touchdowns and two interceptions.
"When you have talent like Cody does and you get an opportunity to play, like he's getting, and you gain that experience, like he is, you're going to get better," Mora said. "This is a talented young man and he's getting snaps and he's feeling more comfortable in that offense and he's getting a rhythm with his receivers. Talent plus experience, that equals good performance."
Being the biggest show in town comes with its share of distractions. Yet both coaches said they believe their players aren't going to get caught up. Mora especially praised his young team for showing great resiliency following each of their three losses this season.
"I think our young men do a good job of that every week, of focusing on what it's going to take to go out and play their best," Mora said. "We talk about having zoom focus and eliminating distractions and following our routine. This week is no different. You prepare like you prepare. You focus on what you're supposed to focus on. All that periphery stuff doesn't necessarily affect what happens on the field. Our guys have a firm grasp of that and I think that helps us.
"These are two very proud programs with a lot of tradition. Our schools sit about 12 miles from each other and this town is very divided between Trojan and Bruin. There is a lot of pride that goes along with being either a Bruin or a Trojan."
November, 18, 2013
11/18/13
3:30
PM ET
We could try to quantify how much better USC is under Ed Orgeron the past six games compared to Lane Kiffin during the season's first five, but that really is pretty easy. We don't need numbers. We need only three words:
Everything is better.
USC is less sloppy. It's more disciplined. It's protecting the football. USC is playing better offense. It's even playing better defense, if you consider the schedule. It's better on special teams.
[+] Enlarge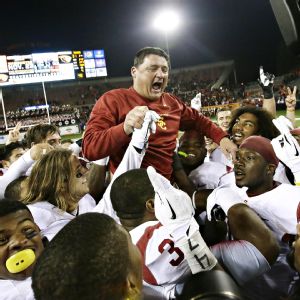 AP Photo/Don RyanUnder interim coach Ed Orgeron, the Trojans are 5-1. USC faces Colorado on Saturday.
The epidemic injuries that were once an excuse for poor play are now further grounds to give credit to Orgeron and his staff for finding a way to get it done under adverse circumstances.
Obviously, USC is playing with far more passion. And you can't undersell this: Its players are having way more fun.
"We absolutely love him," USC quarterback
Cody Kessler
said after the
20-17 win over Stanford
. "We'd run through a brick wall for him. He has that look in his eye that you can tell that when he talks to you he really does care. I gave him a hug after the game, and I don't know if he'd want me saying this, but I saw his eyes water up. It's awesome when you play with someone who has that same passion."
How can you dispute or diminish that? You can't.
But the question then becomes: Is that enough to hire him to be the next USC head coach? That is, reportedly, the $6 million question.
When you look at how USC is playing and the Trojans' 5-1 record since Orgeron took over, it's impossible to not give his candidacy legitimacy. Further, that already strong résumé will become measurably stronger if the Trojans win out, which would include a victory over highly ranked rival UCLA, and they would thereby finish the regular season with a 10-3 record and a high national ranking.
At that point, Orgeron would own the locker room and probably have significant momentum with the Trojans' fan base. That would make it difficult for athletic director Pat Haden
not
to hire him.
The expectation when Orgeron took over for Kiffin after a humiliating 62-41 loss at Arizona State was the Trojans would play better because the season-long hot-seat talk surrounding Kiffin would be over, thereby allowing players to breathe easier and play looser. That improved play, however, wasn't expected to include a 5-1 record and a win over Stanford, ending a four-game losing streak in the series.
In fact, the Pac-12 blog's expectation was the "Hire Coach O!" talk would end with losses to Stanford and UCLA. The Pac-12 blog was wrong, at least so far. Further, when the Pac-12 blog conceived of writing this column about USC's improvement under Orgeron, it expected to, after giving Coach O a tip of the cap, recommend against hiring him, no matter how the now seemingly charmed season ended.
Yet, after further review, there is not enough evidence to overturn the ruling in the stands and the locker room, at least if USC wins out and wins its bowl game.
The only advice the Pac-12 blog has for Haden, though, is this: Don't allow the emotions of the moment to overrule your long-term vision for this coaching hire. A serious evaluation of Orgeron should begin now, if it hasn't already, and there are myriad considerations besides his popularity among the players.
One doesn't have to look far for examples of internal promotions producing great results: Chris Petersen taking over for Dan Hawkins at Boise State, Chip Kelly taking over for Mike Bellotti at Oregon and David Shaw taking over for Jim Harbaugh at Stanford. Although those three programs were already successful, you could make the case that USC's circumstances are similar because, well, it's USC.
The next USC coach isn't rebuilding a program. His job is to maximize the potential of a college football superpower, one that no longer will be yoked with NCAA sanctions after the 2014 recruiting class. Orgeron just might be able to do that.
Of course, we also have precedents that suggest that promoting from within or hiring an interim coach because of his initial success and support of the locker room doesn't always yield long-term success.
Larry Coker took over in Miami after Butch Davis bolted and won a national title in his first season. He went 35-3 his first three seasons, in fact, losing the national title game in Year 2 and winning the Orange Bowl in Year 3. But then things went south and, after a 7-6 season in 2006, he was fired. Coker was a strong short-term answer but not one for the long term.
As interim coach after Rich Rodriguez left for Michigan, Bill Stewart led West Virginia to a stunning upset of No. 3 Oklahoma in the Fiesta Bowl. But after three consecutive 9-4 seasons and an off-the-field controversy, he was pushed aside in favor of his head-coach-in-waiting, Dana Holgorsen.
We know what great college head coaches look like: Urban Meyer and Nick Saban top the list. I'd throw in Bill Snyder at Kansas State. But after them, there are no sure things. Petersen is not a sure thing because he has never been a head coach in an automatic-qualifying conference. Texas A&M's Kevin Sumlin has an impressive recent track record, but that track record in an AQ conference is only two years and includes one of the most dynamic quarterbacks in college football history.
The NFL guys such as Jon Gruden, Jeff Fisher and Jack Del Rio? Not sure things by a long shot.
So the risk of hiring Orgeron isn't that much greater. Sure, he went a dismal 10-25 at Ole Miss, but his thus-far-successful audition running the USC program provides a strong counter to that. He's not only learned from his mistakes; he's also coaching in an environment he knows how to navigate. It's also noteworthy that he's clearly motivated his assistant coaches to care about and focus on their present jobs instead of giving USC 60 percent while the other 40 percent pining about their future employment.
The apparent formula for an Orgeron administration would go like this: He plays the CEO and lets his coaches coach, which means Clay Helton runs the offense, Clancy Pendergast runs the defense and John Baxter runs the special teams. Orgeron leans on his strengths: motivation, chemistry, emotions and recruiting.
The big question would then be whether Orgeron can be consistently and obsessively detail-oriented as all good head coaches are. Can he maintain discipline and run a tight ship? Will he lead a recruiting effort based on insightful evaluation rather than star rating? Can he skillfully handle all the off-the-field responsibilities that head coaches deal with?
My guess is that Haden immediately realized after the Stanford game -- and not before -- that Orgeron deserved at least a raised eyebrow. Haden will be practically forced to make a more thorough evaluation of Orgeron if the Trojans beat UCLA.
"When you have a father figure like Coach O treating us all like sons and putting us under his arm, we want to run through a brick wall for him," linebacker
Hayes Pullard
said. "One team, one heartbeat, we wanted to carry that over. We wanted to show him that we are with him no matter what."
That's inspiring and meaningful. But there's more to being a head coach than getting your players to run through brick walls.
At this point, however, Orgeron is not only getting his guys to run through those brick walls, he's also getting them to hit the wall in the correct place and use good technique while doing so.
October, 16, 2013
10/16/13
5:30
PM ET
USC travels to Notre Dame Stadium for a Saturday night showdown in what is one of the nation's top rivalries. Both teams are 4-2 and unranked, but the Trojans appeared to have been granted a new lease on life under interim coach Ed Orgeron, as they topped Arizona in their first game without Lane Kiffin in charge. The Irish, meanwhile, are coming off a much-needed win over Arizona State and a bye, as they look to make it three-for-their-last-four against USC after previously dropping eight in a row.


Matt Fortuna and Ted Miller take a look at this weekend's matchup.
Matt
: We'll start with the obvious, Ted. USC is a talented team that just got a bit of a second wind this past week under Orgeron. Was the performance against Arizona simply the culmination of weeks of frustration? Or do you think these Trojans have new life and need to be looked at as the kind of threat many of us have been expecting them to be the last two years?
Ted
: Is it fair for a know-it-all sportswriter to type that he has no idea? USC has been so difficult to read the past two seasons. You look at the 22 starters and think, "That's a lot of talent." But it doesn't translate to execution. Was that all Kiffin's fault? I don't think so, though the offense looked significantly better with Clay Helton calling the plays. Even the quasi-redemptive win over Arizona revealed the Trojans' tangible Achilles heel -- depth. USC jumped to an impressive first-half lead but seemed to wear down in the second half. I do think the locker room will continue to unite around Orgeron, as fiery a motivator as there is. The question is whether USC will be as motivated and focused on the road as it was at home. And can it maintain that in the fourth quarter?
Speaking of mercurial teams, the Fighting Irish. I picked Notre Dame to beat Arizona State (reaches around, pats self on back), but I did that as much because of the Sun Devils' tendency to throw up on themselves just when they seem to take a step forward as believing the Irish were better. Where does this team stand? How did the week off help -- or hurt -- the cause?
Matt
: Well, this answer may sound quite familiar, too, but I think we're all still trying to figure out the Irish. A loss to ASU would have been brutal, as BCS hopes would have been eliminated by the mid-point of the season. Of course, USC can erase those scenarios this week, too, much the same way it did two years ago in a similar situation -- seventh game of the season, prime time at Notre Dame Stadium, Irish coming off a bye. Everyone slept on those Trojans that time, and they ended up turning in a 10-2 campaign while the Irish locker room nearly revolted on its head coach in that game's aftermath.
Notre Dame's front-loaded schedule looks a little less daunting in retrospect -- losses to Michigan and Oklahoma look worse by the week, as does a tight win at Purdue. But there is that small matter of Stanford underwhelming, too, and the Cardinal are easily the toughest opponent the Irish have left after the USC one, so it is not out of the question to see Notre Dame make a final push for a 10-2 mark and BCS bid.
That said, it needs to take some of the lessons from the ASU win and apply them moving forward. Coach Brian Kelly showed his players a highlight tape of three tight wins from 2012 leading up to that game in an effort to demonstrate just how razor-thin the margin for error was. We saw a much more complete performance from the Irish against the Sun Devils, but there was still a pick-six and a defense that looked little like last year's dominating unit.
I'll say this: USC's improved play under the one-game regime of Orgeron has seemed to add a much-needed jolt going into this matchup. It's USC-Notre Dame, with the Irish looking like they may have turned a corner in the rivalry last year and going for three wins out of four this year. Do you think the Trojans, having seen the Irish clinch a title-game berth on their field last season, carry a bit of a chip on their shoulder coming into this year's game? I know it sounds cliche, but from over here it looks like USC's 2013 issues have been more mental than anything else.
Ted:
This is one of the truly great college football rivalries, one that is unique with its cross-country feel. If the Trojans can't get fired up for this one, then that will show you the Trojans' problems were as much the sort of player they recruited as the guy leading them onto the field. And, of course, in a rivalry game, the players who lost the year before should be particularly motivated to exact revenge.
Still, I see that as an uphill slog for USC. For one, the Trojans are banged up, with receiver
Marqise Lee
and outside linebacker
Morgan Breslin
, among others, highly questionable for the game. Second, Notre Dame is superior on both lines. I see USC hanging early but then getting worn down. Further, the pass defense has been poor, which means Irish quarterback
Tommy Rees
could again look like the solid decision-maker he was against Arizona State.
That said, if USC does manage to get the upset, we might have to re-evaluate USC's prospects this season. And, perhaps, even raise an eyebrow at what Orgeron is doing leading the Trojans.
October, 10, 2013
10/10/13
11:15
AM ET
Almost everything will be the same for the USC Trojans when they take the field Thursday night against Arizona in their first game since losing to Arizona State on Sept. 28.
The players are the same. The schemes/concepts are the same. Uniforms, helmets, etc., all the same. It's what's under the helmets -- specifically between the ears -- that might be noticeably different.


That ... and also a new coach. You might recall Lane Kiffin was fired nearly two weeks ago and the Trojans have spent the past 11 days going through a rebirth of sorts. The hope in Troy is that their minds are right for Thursday night's kickoff.
"There is a lot of energy and excitement right now which is a good thing going into the Arizona game," said USC linebacker
Devon Kennard
. "When Coach Kiffin first got fired, some guys were really surprised and some guys were sad. After our first meeting, we bounced back and we're ready to move forward and we're really buying into what Coach O is doing and the direction he's trying to take this program. We believe. That's a good start."
Coach O, being Ed Orgeron, was named interim head coach following the near-immediate dismissal of Kiffin following the 62-41 loss in Tempe, Ariz. He's spent the bye week doing everything he can to put the fun back in USC.
"It was a critical week for us to get back to USC football," Orgeron said. "These guys have been through a lot, so I tried to ease up on them and change a couple of things that were going on in the program. I thought we needed some change and to let the guys know it was going in a different direction. It's been great. The guys have been walking around and smiling. There is a lot of energy in the room. A lot of energy on the practice field. It's a relaxed atmosphere, but still focused."
[+] Enlarge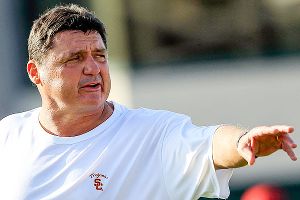 AP Photo/Damian DovarganesEd Orgeron has tried to lighten up the atmosphere at USC.
Kennard said many of the players were surprised Kiffin was fired. He added that they were aware of the outside noise, but few thought it would actually happen during the season. Kennard said he's swapped text messages with Kiffin and thanked him for everything he did for him.
Then he, Orgeron and the Trojans got down to business.
"Coach O addressed the hard circumstances, but reminded us that the only thing that matters is the men in this room," Kennard said. "We've got to fight the rest of the season. We really have a unique opportunity to turn this season around with a fresh start and a new beginning. That really fired a lot of the guys up."
So what will the Trojans look like under Orgeron? Probably not too different than the previous Trojans. But Orgeron said there will be subtle tweaks that hopefully will have not-so-subtle results. Offensive coordinator Clay Helton will call the plays and Clancy Pendergast will continue to run the defense.
"It's hard to make wholesale changes in a week," Orgeron said. "... There is hope. You've seen the running game; we're making strides. Our strength is our running backs. The offensive line is doing a better job. We got out of whack in our passing game and it was not what USC used to be. We went back to some fundamentals. Some things they do really well and some things they aren't ready to do. We're making it quarterback-friendly so we can do some things we know we can do to get the ball deep."
Arizona knows a little something about changing coaches in midseason. It happened to the Wildcats in 2011 when Mike Stoops was let go. The Wildcats came out the following game and beat UCLA 48-12. Arizona coach Rich Rodriguez said his team is preparing for an emotionally charged USC squad.
"I would hope we would play normally like ourselves no matter what," Rodriguez said. "But I did tell the players that this game is going to be more difficult because USC is going to play extremely fired up, loose and come out with a chip on their shoulder. We will get USC's best shot."
Kennard and his teammates see the change as an opportunity to move forward and erase the negativity that has plagued the program for the past nine months.
"At this point in the season, coming off the ASU loss, things could be a lot more down around the locker room than they are," he said. "But because of the change, there is a lot of energy and guys feel like it's a fresh start and a new opportunity for everyone. In that sense, it gives us a clean slate. Nothing that happened up until this point matters. All that matters is the future."
September, 29, 2013
9/29/13
5:35
PM ET
Lane Kiffin has suffered through the slings and arrows from media and fans during all three of his head-coaching stops, so the distinguishing aspect of USC's news conference on Sunday over his termination was that no one said anything bad about Kiffin.
Athletic director Pat Haden, who deemed it "disrespectful" to talk about his upcoming coaching search, started by thanking Kiffin and lauding his effort. He said he had received no complaints about Kiffin from assistant coaches or players. Interim coach Ed Orgeron said Kiffin was always receptive to him and said he would have handled the early-season QB controversy the same way. The players said they had been 100 percent behind Kiffin.
Haden also again noted that Kiffin had been handed a tough job. Severe NCAA sanctions undoubtedly made it more difficult to win like USC is accustomed to winning.
And yet ...
"I've said all along, we've graded on a curve," Haden said, "but we failed on the curve, too."
Haden said he made his final decision during the Trojans' 62-41 loss at Arizona State, but he also noted that "this has been brewing for a while. It hadn't felt particularly good, even since the Hawaii game."
Haden said he and Kiffin met for 45 minutes at the airport after the USC charter landed around 3 a.m. Haden admitted that Kiffin was blindsided and fought for his job.
"Lane was clearly disappointed," Haden said. "Lane is a great recruiter. He battled me. He really tried to keep his job and I respect that."
There will be changes with Kiffin gone. For one, Orgeron said QBs coach Clay Helton will take over as offensive coordinator and playcaller, though Orgeron added that he didn't think the offense would change much philosophically.
Cody Kessler
will remain the starting QB.
Orgeron also said USC will again open practices to the media.
"I want us to have some fun over these next eight games and let the chips fall where they may," he said.
Of course, the first question is whether Orgeron has a chance to become permanent head coach. Orgeron was head coach at Ole Miss from 2005 to 2007, so he knows the basics of running a program and he has a long history at USC, ranging back to the glory days under Pete Carroll. To this, Orgeron would merely say he is focused on the Trojans' next eight games, but he didn't seem to want to close the door on the possibility.
It will be interesting to see how the players react. Orgeron is as fiery a coach as there is in the nation, and his intensity works on players in practice, games and in recruiting. But can he re-motivate a team that is pretty media savvy when it comes to saying the right things to reporters at news conferences but that also seems pretty indifferent on the field?
We'll get our first impression when Arizona visits on Oct. 10, a Thursday night game.
Said Orgeron, "We're here to answer the bell."
June, 4, 2010
6/04/10
9:00
AM ET
USC got a look at what its offense might look like without starting quarterback
Matt Barkley
during the spring game. The verdict? Not too shabby.
[+] Enlarge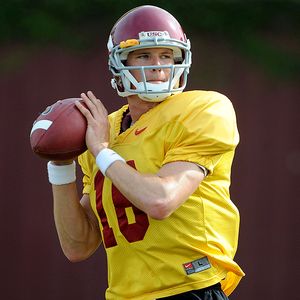 Kirby Lee/Image of Sport-US PRESSWIREIf Matt Barkley were to get injured or falter, the USC coaching staff would "be very comfortable" turning to Mitch Mustain, above.
With Barkley sidelined by a bruised hand,
Mitch Mustain
threw five touchdown passes while completing 19 of 29 for 299 yards to lead his team to victory.
While ESPN's College Football Live rates Barkley as "irreplaceable," the Trojans coaches doesn't seem too worried about the prospect of potentially turning to Mustain, a fifth-year senior.
"We'd be very comfortable," quarterbacks coach Clay Helton said.
Mustain is probably the nation's best known backup quarterback. He went 61-2 at Springdale (Ark.) High School and was named the 2005 Gatorade, USA Today and Parade Magazine National Player of the Year before becoming the biggest recruit in Arkansas history. He went 8-0 as a true freshman starter, yet things turned sour between Mustain and Razorbacks coach Houston Nutt -- let's just say it was complicated -- and Mustain opted to transfer to USC.
The Trojans offered a new start, but Mustain couldn't manage to win the starting job after sitting out a season, per transfer rules. He first served as Mark Sanchez's backup in 2008 and then failed to beat out Barkley last fall. He saw limited action in 2008 -- he passed for 157 yards with two TDs and two interceptions -- but didn't throw a pass last year and was a mostly a forgotten man under coach Pete Carroll and offensive coordinator Jeremy Bates.
With the arrival of new coach Lane Kiffin, however, the message was no job was safe. Even Barkley's.
"Mustain really wanted to come and compete and show that he's a big-time quarterback who can help the team in any way," Helton said. "We were very proud of the way Mitch responded during the spring."
While few expected Mustain to beat out Barkley, who emerged as a clear No. 1 when spring practices ended, he impressed the coaching staff, Helton said.
"I thought he really put in the extra effort and the extra time of really understanding the system," he said. "We're extremely pleased with him."
The good news is that Mustain's game experience likely means he won't be too wide-eyed if he's needed to step in for an injured Barkley. The bad news is that he's the last line of defense -- or offense. This spring, after
Aaron Corp
opted to transfer to Richmond, he and Barkley were the only two scholarship QBs on the roster, though
James Boyd
was moved from defensive end to fortify depth. In the fall, touted freshman
Jesse Scroggins
arrives, but turning to a true freshman quarterback is rarely a good thing in the Pac-10.
If Barkley is lights out and doesn't get hurt, it seems unlikely that Mustain will see much playing time. His future hope, of course, is to copy the path of Matt Cassel, Matt Leinart's backup at USC, who signed a six-year, $63 million contract in July 2009 with the Kansas City Chiefs.
But Helton isn't writing off Mustain.
"I think he is going to be a guy who definitely helps us in his last year," he said.
February, 26, 2010
2/26/10
6:13
PM ET
Hugh Freeze has left San Jose State to become the offensive coordinator at Arkansas State, ESPN The Magazine's Bruce Feldman is reporting.

Freeze, who was as the high school coach for Mississippi star offensive lineman Michael Oher (the guy from the movie the Blindside), was with San Jose State for about two months before making this move. Feldman notes that Freeze wanted to be closer to his family.

Freeze replaces Clay Helton, who left the program last week to take an offensive position at USC. Belton had been with the program for a couple months after coming over from Memphis.

Freeze was actually a finalist for the Arkansas State offensive coordinator position before head coach Steve Roberts gave the job to Helton.
February, 18, 2010
2/18/10
5:04
PM ET
Arkansas State offensive coordinator Clay Helton has resigned to take a position at "another NCAA FBS program," according to a release from the university.
ESPN's Bruce Feldman
wrote in his blog
that a USC source told him that Belton was joining USC's staff as an offensive assistant. His exact role was unknown.
"We are very appreciative to Clay for the job he did while he was here," Arkansas State coach Steve Roberts said. "He came across an opportunity he couldn't pass up and we wish him the best. We have already started the interview process to find the right fit for our program and we are confident we will be able to accomplish that task."
Helton spent about two months with the Arkansas State program after coming over from Memphis when new head coach Larry Porter did not retain him. Helton had spent the previous 10 seasons with the Tigers.
Helton had replaced Doug Ruse, who was fired at the end of the season.
August, 12, 2009
8/12/09
5:30
PM ET
Posted by ESPN.com's Graham Watson
Memphis running back Curtis Steele acknowledges he took awhile to get adjusted to Memphis and Division I football.
Despite rushing for 83 yards in the opening game against Mississippi, Steele, a junior college transfer, averaged just 55 yards through his first three games.
"My transition was kind of hard at first because I came in, tried to rush things, tried to rush my plays and I really just had to slow things down," Steele said.
It wasn't until the Tigers played FCS opponent Nicholls State that the game started to slow down. Steele notched his first 100-yard performance as a Tiger and by the fifth game of the season against Arkansas State, Steele put his name on the map.

"After that, I just never looked back," Steele said.