NCF Nation:

Cleveland Browns
April, 26, 2013
4/26/13
1:00
PM ET
Five Pac-12 players were selected in the first round of the NFL draft on Thursday.
Here's the chart:
So... what's our take?
Thanks for asking.
Kevin Gemmell
: I must say, very, very interesting first round. And one that I think most Pac-12 fans can be relatively pleased with. The five players drafted Thursday night are the most since the league sent six in 2008. So that's progress.
Two things really stood out as surprising to me. First, it's not that
Dion Jordan
went third overall to the
Miami Dolphins
. It's that he went to a 4-3 defense. Perhaps Jeff Ireland is a huge fan of the Pac-12 blog and was reading our
Take 2 from a few weeks ago
. And if that's the case, you're welcome, Jeff.
[+] Enlarge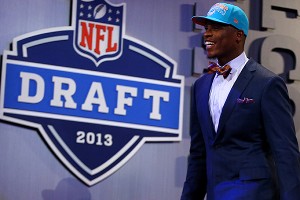 Al Bello/Getty ImagesThe Dolphins traded up from No. 12 to No. 3 in the first round to select Oregon's Dion Jordan.
Jordan is pretty good at stopping the run -- but it's not the strength of his game. As every draftnik in the world noted before and after the selection, he's a beast at speed rushing off the edge, but has some work to do in other aspects of his game. They also made the apt comparison to former Dolphin defensive end Jason Taylor. Fitting since both players have similar frames and skill sets. He had an OK career, so maybe it all works out.
The second thing that surprised me was that
Star Lotulelei
was not the first defensive tackle taken. We figured he could go pretty much anywhere in the top 15 -- most mocks had him where he landed at No 14 to the
Carolina Panthers
. One pick earlier, Missouri's
Sheldon Richardson
went at No. 13 to the
New York Jets
. I admit I don't know a ton about Richardson. I just know that Lotulelei graded out higher, had a comparable 40 time (though it was inconsistent because it was at a pro day, not the NFL scouting combine) and he had eight more reps on the bench. Maybe it's just personal preference, but I was pretty surprised he wasn't the first defensive tackle off the board.
Liked the pick of Oregon's
Kyle Long
by the Bears. They are getting a versatile player who could really fit in at any position across the line after he gets a little seasoning. We've seen him slowly creep up in mock drafts -- starting several months ago in the third-round range -- and that buzz was legitimized with his pick at No. 20.
And I liked that Atlanta had
Desmond Trufant
targeted and they traded up to get him. It was a need position and they jumped at the chance to get an NFL-ready starter. Good pick.
Datone Jones
is a guy Ted and I have been talking about for a couple of years now -- how we just kept waiting for him to breakout. And then UCLA switches to the 3-4 and he blows up. He could be a real solid player for years in Green Bay's 3-4 front.
Overall, I'd call it a fair-to-good first day for the Pac-12.
Ted Miller
: Of course, the big question many will ask is how did the Pac-12 compare to the other conferences.
Here are the first-round numbers. Yes, there will be SEC crowing, with some justification.
SEC – 12

ACC – 6

Pac-12 – 5

Big 12 – 3

Independent – 2

MAC – 1

C-USA – 1

Big East - 1

Big Ten - 1
The SEC's 12 picks ties the record set by the ACC in 2006. Don't forget the SEC now has 14 teams. Or, for that matter, the Big 12 has 10.
My first-round takeaways? Well, the above numbers are meaningful.
The SEC? Well. I'll let you guys try to explain those away. (Good luck with that.) I
tweeted this story the other day
, and I think it well relates how SEC dominance, once a chimerical creation from a region that often doesn't fret the truth getting in the way of a good story, has become a self-fulfilling prophecy.
The bottom, however, is almost as telling -- see the Pac-12's Rose Bowl partner, the Big Ten with just one selection. That certainly validates the perception that conference has slipped, something we've seen on the field in recent years.
As for the five Pac-12 picks, I had a nice conversation with Jordan at the Fiesta Bowl about
how his fortunes had turned
. He seemed genuinely awed by it. And grateful. After the game, I was standing there when his mother worked here way through the crowd to give him a hug. Apparently it was raining inside University of Phoenix Stadium.
One of the things I always think about on draft day is how through-the-looking-glass strange it's got to feel for guys, at least the reflective ones. Sure, most top picks get fronted money by their agents, so they've been living the life for a few months. But when it becomes official, a guy in his early 20s suddenly become certifiably rich.
The third pick last year, Cleveland's Trent Richardson, got four years at $20.4 million. Just imagine yourself at 23 having a conversation about $20 million. And how it's a bit low.
[+] Enlarge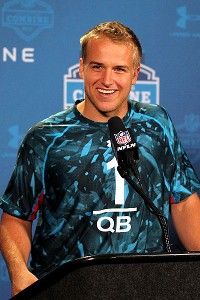 Brian Spurlock/USA TODAY SportsMatt Barkley could be the next Pac-12 alum off the board.
As for the rest, the Panthers got a steal with Star Lotulelei at No. 14. The Panthers just put a checkmark in the box for the middle of their defensive line. And I think Jets fans will remember in a very Jets fans way that the Jets took Missouri DT Sheldon Richardson a pick before the Panthers.
Oregon O-lineman Kyle Long at No. 20 was a mild surprise, but the Bears probably swooned over his obvious upside. You can't beat his bloodlines either.
The Trufant pick
clearly validates the Pac-12 blog
at the expense of Washington fans. See... we told you he was good.
Wait. I may not be recalling that accurately. Two words: Kevin's fault.
And Jones, whom we've been touting pretty much since he arrived at UCLA, obviously found his rhythm over the past year.
As Kevin noted,
there are a lot of good Pac-12 players left on the board
, including a substantial handful who figure to get selected in the next two rounds. Things should continue to be interesting, starting with who steps up and picks USC quarterback
Matt Barkley
.
January, 7, 2013
1/07/13
11:02
AM ET
Chip Kelly was gone, off to the NFL. It was Cleveland. Then Philly.
And then he wasn't
.
Kelly's second deep NFL flirtation -- recall last winter's "did-he-or-didn't-he?" with Tampa Bay -- ended with him back at Oregon, back atop the Pac-12's present superpower.
Why did Kelly stay? He has yet to comment, which is telling. He feels no need to announce no change, though he is completely aware it's major news. The Pac-12 blog believes, according to no sources whatsoever, that Kelly returned to his cavernous Eugene home Sunday and cranked up the Sinatra and sang along: "I did it myyyyyy waaaaaayyyy!"
Kelly is 46-7 overall at Oregon. He's led his team to four consecutive BCS bowl games, winning the last two. He won 12 games this year by at least 11 points. It's fair to say he's pretty good at leading a football team.
The immediate reaction in some quarters to Kelly's return -- other than surprise from just about everyone -- is that Kelly can't keep doing it like this, both with NFL folks and with Oregon.
Both sides, it is reasoned, will get tired of the fickleness. Does Kelly want to be Oregon's coach? Or does he want to be something else? He must decide!
No, he doesn't. Kelly can do what he wants as long as he keeps winning with panache. When everyone knows you are one of the best living football coaches, you can write your own ticket. Kelly could announce tomorrow that all Oregon fans will be required to change their underwear every half-hour and all underwear will be worn on the outside so Ducks officials can check, and everyone would go, "OK!"
Oregon fans might wish he'd just tell the NFL folks he's not interested, but they get over their frustration when they see he and his staff outcoach a Kansas State team that is as well coached as any in the nation.
NFL teams might get tired of being led on, but they get over that when they see the discipline, focus and offensive magic Kelly produces.
Let me make something clear: Kelly would be successful in the NFL. Of that I have almost no doubt. The analysis you keep hearing about his present systems not working in the NFL is superficial bunk. Kelly's "systems" are all about winning games. Give him Tom Brady, and Kelly would no longer call designed runs for his QB. He'd line up with three fullbacks tomorrow if that helped him win the day.
So know this, too: The NFL will be back. And Kelly is likely to talk to them. At some point, a team might foster an interview that wins Kelly over. But that hasn't happened yet and he, again, remains the Ducks coach.
As a result, Oregon's quiet recruiting season might get a bit louder. Expect some major prospects who were awaiting Kelly's plans to come a-calling.
The other layer to this is the NCAA. One of the potential harrumphs over Kelly leaving would have been expected NCAA sanctions over L'Affair de Willie Lyles. He would have looked like the second-coming of Pete Carroll, who bolted USC ahead of severe penalties.
Some might read into this Kelly's confidence that the sanctions won't be severe, and that's not unreasonable. But it also shows Kelly isn't one to run away from a potential problem. At least, not yet.
Oregon will be ranked in the preseason top five next year. It welcomes back eight starters on offense, including QB
Marcus Mariota
, a budding Heisman Trophy candidate, and seven on defense. The biggest questions are at linebacker, running back and offensive guard. If the Ducks avoid a postseason ban, they will be national title contenders. Again.
The allure of coaching that team kept Kelly in Eugene. That means nothing for 2014 and beyond. Yes, this could become an annual dance between Kelly and various suitors, one that fans breathlessly follow on Twitter -- "He's gone!" "He's staying!" -- as they learn to mock the term "sources."
It might be emotionally exhausting and generally frustrating for Ducks fans, but this is the annual tax a team pays for having a coach whom everyone else want to lead their team.
January, 4, 2013
1/04/13
2:51
AM ET
GLENDALE, Ariz. -- The
Oregon Ducks
donned new T-shirts after their
35-17 victory
over Kansas State in the Totitos Fiesta Bowl. "Won the Day" those shirts said, obviously playing off the program's mantra under Chip Kelly: Win the day.
Oregon certainly did that against the Wildcats.
Both teams ran 70 plays. Oregon gained 385 yards. Kansas State 283. Kansas State led the nation in turnover margin this year, but it lost that battle to the Ducks 2-0. The Wildcats had the second-fewest penalty yards per game in the nation this season, but they had seven flags for 57 yards versus five for 33 for the Ducks. The Wildcats were widely viewed as the nation's best on special teams this season, but they yielded a 94-yard return on the opening kickoff to
De'Anthony Thomas
and missed a field goal while the Ducks were 2-for-2.
Senior quarterback and Heisman Trophy finalist
Collin Klein
was outplayed by Ducks redshirt freshman
Marcus Mariota
.
So Oregon won the day -- night, actually -- but the use of the past tense hints at something else, of a mission accomplished and completed. That has an ominous suggestion for Oregon fans. That feeling, of course, arises from the fact that Kelly is about to interview with at least three NFL teams, according to various reports, and many believe this was his last game at Oregon.
He and Oregon won the day and now he will move on.
Kelly fought off questions about his NFL aspirations during the weeks leading up to the game, saying his entire focus was on the Fiesta Bowl. He opened up a bit after the victory, noting that he will talk to his agent David Dunn on Thursday night or Friday morning to get an update on where things stand.
"I was getting my hair cut on Wednesday and saw my name on the bottom of ESPN, which I thought was funny because I haven't talked to anyone," he said. "I'll sit down and talk with Dave. I've said I'll always listen. That's what I'll do. ... I'll listen and we'll see."
Kelly is expected to interview with the Cleveland Browns, Philadelphia Eagles and Buffalo Bills. It's possible we'll know Kelly's plans by the end of the weekend.
Ducks fans chanted "Four more years!" at the end of the game. Kelly's four years atop the program -- two Rose Bowls, a national title game and a Fiesta Bowl -- have been the most successful in program history by a wide margin. The Ducks are headed for their third consecutive top-five ranking and figure to be top-five in the 2013 preseason, whoever their coach is.
The postgame interviews focused less on the Ducks' dominant performance in all phases and more on Kelly and offensive coordinator Mark Helfrich, who is expected to replace Kelly should he leave.
Oregon players paid tribute to both.
"[Kelly] means everything," said running back
Kenjon Barner
, who gained 120 of his 143 yards in the second half. "Without him, I wouldn't be the running back that I am. Sitting with him in meeting rooms is a lot different than sitting in any other meeting room that I've ever been in because it's not just about football, it's about life. He teaches you life lessons as a man, so he means a lot to me."
But Barner also added that Helfrich is ready to take over.
"If that does happen, expect the same," he said. "Nothing will change."
Said offensive lineman
Kyle Long
: "Seamless transition. They're cut from the same tree. I'll tell Duck Nation right now, Coach Helfrich is a brilliant coach. Great relationships with his players and other staff members. We all love Helf."
Said Helfrich about potentially becoming the Ducks coach: "We'll cross that bridge. ... Whatever happens, happens."
Helfrich coaches the Ducks quarterbacks, and his star pupil had another great game. Mariota, who won game MVP honors, completed 12 of 24 passes for 166 yards and two touchdowns with no interceptions. He also rushed eight times for 62 yards and a score.
"He's a great young player," said Kansas State linebacker
Arthur Brown
, an All-America. "He has a bright future."
Both these teams suffered their only regular-season loss on Nov. 17. The Ducks lost in overtime to Stanford, which won the Rose Bowl. Alabama also has one loss, but it's playing unbeaten No. 1 Notre Dame for the national title. Kelly was asked where he thought his team ranked.
"I don't know," he said. "I don't have a vote. I don't want a vote. This is my favorite team, so I vote us No. 1."
As for whether he's about to leave his favorite team, Kelly left few clues. He called his oncoming interviews a "fact-finding mission."
"I want to get it wrapped up quickly and figure out where I'm going to be," he said.
He's not the only one.
A program and an enraptured fan base is holding its collective breath. They are hoping Kelly will be winning more days for years to come.
May, 1, 2011
5/01/11
12:26
PM ET
The Pac-12 provided 37 players to the NFL draft over the weekend, one fewer than the SEC, which led all conferences.
If the six combined picks from Colorado and Utah are taken away from the conference, the old Pac-10 provided NFL teams 3.1 draft picks per team, also just behind the SEC at 3.17.
Here's where the Pac-12 players went:
First round
No. 8
Jake Locker
, QB, Washington: Tennessee
No. 9
Tyron Smith
., OT, USC: Dallas
No. 17
Nate Solder
, OT, Colorado: New England
No. 24
Cameron Jordan
, DE, California: New Orleans
No. 27
Jimmy Smith
, CB, Colorado: Baltimore
Second round

7.
Akeem Ayers
, LB, UCLA: Tennessee
10.
Brooks Reed
, DE, Arizona: Houston
13.
Rahim Moore
, FS, UCLA: Denver
21.
Stephen Paea
, DT, Oregon State: Chicago
24.
Shane Vereen
, RB, California: New England
Third round

13.
Jurrell Casey
, DT, USC: Tennessee
20.
Mason Foster
, LB, Washington: Tampa Bay
25.
Shareece Wright
, CB, USC: San Diego
29.
Christopher Conte
, S, California: Chicago
33.
Sione Fua
, DT, Stanford: Carolina
Fourth round

5.
Jordan Cameron
, TE, USC: Cleveland
19.
Casey Matthews
, LB, Oregon: Philadelphia
21.
Jalil Brown
, CB, Colorado: Kansas City
27.
Owen Marecic
, FB, Stanford: Cleveland
Fifth round

8.
Brandon Burton
, CB, Utah: Minnesota
9.
Gabe Miller
, DE, Oregon State: Kansas City
14.
Jacquizz Rodgers
, RB, Oregon State: Atlanta
23.
Richard Sherman
, CB, Stanford: Seattle
Sixth round

2.
Ryan Whalen
, WR, Stanford: Cincinnati
14.
Caleb Schlauderaff
, OG, Utah: Green Bay
17.
Ronald Johnson
, WR, USC: San Francisco
19.
David Carter
, DT, UCLA: Arizona
22.
Allen Bradford
, RB, USC: Tampa Bay
24.
Mike Mohamed
, LB, California: Denver
32. Ricky Elmore, DE, Arizona: Green Bay
38. Zach Williams, C, Washington State: Carolina
Seventh round

12.
D'Aundre Reed
, DE, Arizona: Minnesota
24.
Scotty McKnight
, WR, Colorado:
New York Jets
30.
Lawrence Guy
, DT, Arizona State: Green Bay
37.
Stanley Havili
, FB, USC: Philadelphia
38.
David Ausberry
, WR, USC: Oakland
39.
Malcolm Smith
, LB, USC: Seattle
By Pac-12 school:

Arizona (3)
Arizona State (1)
California (4)
Colorado (4)
Oregon (1)
Oregon State (3)
Stanford (4)
UCLA (3)
USC (9)
Utah (2)
Washington (2)
Washington State (1)
The final tally by automatic qualifying conferences
:
SEC... 38
Pac-12... 37
Big Ten... 36
ACC... 35
Big East 22
Big 12...19
Nebraska was a big swing to the Big Ten from the Big 12 with seven picks. With Colorado and Nebraska, the Big 12 provided 30 selections.
This was the tally through three rounds
:
SEC: 20
ACC: 19
Pac-12: 15
Big Ten: 13
Big 12: 9
Big East: 4
January, 2, 2009
1/02/09
11:02
AM ET
Posted by ESPN.com's Adam Rittenberg
Some leftover links from New Year's Day and a look ahead to the Big Ten's final chance at redemption in the Tostitos Fiesta Bowl.
Penn State's defense played three-deep zone and tried to limit damage against USC, but Mark Sanchez and Damian Williams still made the Nittany Lions pay, David Jones writes in The (Harrisburg) Patriot-News.
"They played a lot of vanilla stuff and just tried to prevent the big play," said Williams in the boisterous Trojan locker room. "They were very disciplined, very structured. But, at the same time, when you're so schooled and so disciplined, it kind of turns into machine mode. And we were able to find gaps in the defense and Mark had a heck of a day."
"Love him back. Bring the years. Bring the faith. Give those assistants, especially coordinators Ken O'Keefe and Norm Parker, a nice raise. They've earned it.

'At this point, you kind of have to give Coach what he wants, as long as it's reasonable,' linebacker A.J. Edds said with a wry smile. 'I mean, you can't argue with the results.'

You can't. The Hawkeyes, left for dead in early October, went out and made a statement Thursday. When it comes to Ferentz, it's time for the university to do the same."
January, 1, 2009
1/01/09
2:35
PM ET
Posted by ESPN.com's Adam Rittenberg
| | |
| --- | --- |
| | |
| | Scott A. Miller/US Presswire |
| | Shonn Greene rushed for 121 yards and three touchdowns in Thursday's victory. |
Shonn Greene might be gone to the NFL, but Iowa football is definitely back.
After three middling seasons, Iowa has restored its place among the Big Ten's elite by winning six of its final seven games to close the season. The Hawkeyes (9-4) took care of business today in the Outback Bowl, stomping a bad South Carolina team 31-10 to give the Big Ten its first bowl victory of the season.
These two teams entered the game going in opposite directions, and Iowa did what it was supposed to do: Pound away with Greene and force mistakes from a shaky Gamecocks offense. If this was Greene's final collegiate game -- and from what I've heard, it will be -- the burly junior went out with a trademark performance, rushing for 121 yards and three touchdowns on 29 carries.
Looking back at recent seasons, there certainly were flashier backs or ones with better numbers, but I can't remember a guy coming off a season away from football to completely dominate his position the way Greene did this fall. He was truly a joy to watch.
Things came together perfectly for Iowa, which started the season 3-3 and turned up the heat on head coach Kirk Ferentz and his coordinators. The Hawkeyes notched a program-changing upset of Penn State on Nov. 8, crushed archrival Minnesota, 55-0, and leapfrogged Northwestern for the Outback Bowl. Honestly, it would have been nice to see the white-hot Hawkeyes face a more formidable opponent. South Carolina was in a giving mood today, committing five turnovers and 10 penalties in an unsightly loss.
Iowa's defense forces a ton of turnovers, and South Carolina quarterback Stephen Garcia played right into the Hawkeyes' hands with three interceptions. I'm continually impressed with the development of Iowa's underclassmen on defense, particularly Tyler Sash, Pat Angerer, Amari Spievey and Jeremiha Hunter, who laid a filthy hit on a South Carolina ball carrier early in the second half.
Greene would certainly be a big loss, but freshman Jewel Hampton looks more than capable of stepping up as the starter in 2009. Hampton isn't afraid of contact, as he showed on a near touchdown run in the third quarter. Though quarterback Ricky Stanzi needs to cut down his interceptions -- his two picks today didn't prove costly -- Iowa's offense should be fine. The defense, meanwhile, will be one of the Big Ten's best if Iowa finds replacement for star defensive tackles Mitch King and Matt Kroul.
The big question in the coming days involves Ferentz, who has been linked to the Cleveland Browns head-coaching vacancy. If the Browns hire Ferentz's good buddy Scott Pioli, Iowa might be looking for a new coach.
January, 1, 2009
1/01/09
1:28
PM ET
Posted by ESPN.com's Adam Rittenberg
Happy New Year to all. It's a huge day for the Big Ten, and here are some of the key story lines.
"I think it's been a mental-toughness issue," senior linebacker James Laurinaitis said. "You look at those games and it seemed something happened, like a penalty when we've got them stopped, or a touchdown gets called back, and guys' heads just went down, 'Dang, that's it.'"