NCF Nation:

Cleveland Wallace
May, 15, 2013
5/15/13
5:30
PM ET
Unlike last year, there aren't nearly as many questions surrounding the Washington defense as the Huskies head into the final stretch before fall camp.
Last year a new scheme and new coaches were being installed, headlined by new defensive coordinator Justin Wilcox. The Huskies' defense was abysmal in 2011 -- so head coach Steve Sarkisian blew it up and started from scratch.
Now the Huskies are looking to build off of the momentum they gained in 2012 when they made huge strides in one year under Wilcox & Co.
"The numbers don't lie," Sarkisian said.
They certainly don't.
The biggest advances were in the secondary, where the Huskies jumped from 87th to 27th in pass efficiency defense, 106th to 31st in total defense, 108th to 39th in scoring defense and 116th to 23rd in pass defense. They had 17 interceptions last year compared to 10 the year before.
"Our secondary really had a very good season for us last year," Sarkisian said. "I thought Justin Wilcox, Keith Heyward, our secondary coach, really came in and did a great job. ... You look at the increase in play we had in the secondary -- our pass defense numbers, our ability to create turnovers -- I think really speaks volumes to their coaching and their ability to develop our players."
That's what Sarkisian is banking on in 2013 -- player development. More specifically, at the cornerback spot where they have to replace first-round draft pick Desmond Trufant. Sarkisian called the competition "healthy" this spring, but isn't anywhere closer to declaring anyone as the leader in the clubhouse for that starting spot. And it might end up being by-committee or which player has the hot hand that week. A few defensive backs have switched positions or spent time at safety and corner in an effort to make the defensive backfield deeper and more versatile.
With
Marcus Peters
, who started the final eight games opposite Trufant last season, back on one side, the competition heated up over spring between
Travell Dixon
and
Greg Ducre
. Sarkisian said that redshirt freshman
Cleveland Wallace
has
also made a big push
. Dixon is a JC transfer (once committed to Alabama) and Ducre had 15 tackles while appearing in 13 games last season.
"Desmond Trufant was a great player for us," Sarkisian said. "Anytime you have a first-round draft pick at corner it tells you the quality of player you have. But I think we've got some really capable guys that are stepping in."
If the Huskies can shore up that spot, expect the secondary to make even bigger strides in 2013.
Sean Parker
, who started all 13 games at safety, returns as the unquestioned leader of the secondary.
Will Shamburger
, who started two games last year, will see a larger role. But there's some good competition there as well.
Tre Watson
(who can pitch in either at corner or safety) is in the mix, and early enrollee
Trevor Walker
had a strong first spring.
Brandon Beaver
, who converted from corner to safety late last season but was limited in the spring, is also going to press for playing time.
Lots of names. But that also means lots of depth.
"We've got a good amount of talent back there," Sarkisian said. "It's about finding the right combination of those guys. For some of those guys who were redshirt players for us last year, Travell, Brandon, Cleveland, fall camp is going to be big for them. This spring was good to get the terminology and fundamentals and techniques after spending all year on the service team last year. There is a healthy competition going on back there and the end result is we're fortunate to have good depth and good coaches and we feel good about our pass defense when the fall rolls around."
April, 29, 2013
4/29/13
5:30
PM ET
With spring ball in the books, Washington head coach Steve Sarkisian took some time to chat with the Pac-12 blog about his impressions over the 15 practices, moving on without
Austin Seferian-Jenkins
and what it's like to actually have a healthy offensive line.
I know every coach has a laundry list of things that they want to get done in spring. But was there one particular thing you felt like you wanted to address?
[+] Enlarge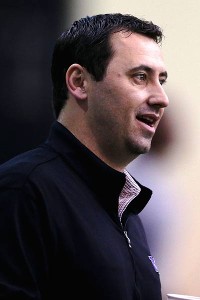 Elaine Thompson/AP PhotoCoach Steve Sarkisian says the Washington Huskies had a successful spring season, despite some distractions along the way.
Steve Sarkisian
: There's always more than one. When you come out of a season and you assess your football team and the things you have to work on and the needs you have -- whether it's from a team standpoint, personnel, development -- there were numerous things I felt like we had to address. I feel like we addressed the majority of those things by design. Some of those we found out couldn't be addressed until some of the players we signed arrived on campus. But I felt good about having a purpose going into spring on a variety of fronts and then addressing those things of purpose and feeling good about them coming out.
Where's your confidence level with [quarterback] Keith [Price]?
SS
: I felt great about Keith coming out of spring, quite honestly. Of the 15 practices we had, he might have had one that wasn't his best and another where he was just OK. But outside of that I thought he was fantastic. Bringing Marques Tuiasosopo back on board as a quarterbacks coach -- he's a guy I coached in the NFL at Oakland and he was with us here for two years when we first came on board -- bringing him back has been good and the style of coaching he has is what I'm looking for and it's consistent with myself. Keith has really responded to that. He came out and had a really good spring. He's upbeat about what we're doing offensively. I think he feels good about what we're doing up front with the offensive line and also with the wideouts and the running back situation. That genuine confidence that he has in himself, as well as his confidence in what's going on around him, is as high as it's been.
You talked about the offensive line. It seems like you guys finally have healthy depth. How nice has it been to have the same five working with the offense and then knowing you've still got Erik [Kohler] and Colin [Tanigawa] waiting in the wings?
SS
: It's been huge. For myself and Dan Cozzetto, our offensive line coach, just the continuity up front of having those five guys communicate with one another, playing with one another, making decisions with one another on the fly has been big. But also for us, having depth -- and not just depth in number -- but depth in experience. You look at
Colin Tanigawa
. You look at
Erik Kohler
.
Shane Brostek
is a backup who has a lot of game experience as well. Really, we have eight offensive linemen who have a lot of game experience against some top-level talent who could step in and play, as well as some younger guys who are really developing. We feel really good about that position group as long as we can stay healthy.
I talked with Bishop [Sankey] a couple of weeks ago and all he wanted to talk about was how he needs to get better at everything -- very little about what he's already accomplished. What's the next step for him?
SS
: Bishop is a great kid. Everyone sees what he did on the field and they see how he progressed and got better and better as the year went on and the maturity he exuded -- not only through the tough times early on -- but also in the good times late in the year for himself. The beauty of it all is you turn around and look at our GPA -- he had the highest on the team with a 3.8.
He didn't mention that when we talked.
SS
: He'd be the first not to tell you that. He's such a humble kid. But it's everything he does. And it's not just on the field. It's in the classroom, it's in the community. We're seeing now more than ever the leadership he possesses, and I'm really proud of what he's been able to accomplish. I think his best days are ahead of him. There's a lot he can improve on and he's working hard at improving and we're working hard to make him better.
How much of a distraction has the situation with Austin [Seferian-Jenkins] been this spring?
SS
: It really wasn't bad. Especially internally. At the end of the day, we touched on this with the team, guys are going to make mistakes. I deal with 18-to-22-year-old males and I've got 105 sons on this roster. To think that all 105 aren't going to make mistakes in a four-to-five year span isn't reality. What I do know, and what our team knows, is that Austin is a really good guy. He's done a great deal for our community. He's a good student. He just got over a 3.0 as well. He's been working hard and was having a good offseason. But
he made a mistake
. Is that mistake truly indicative of Austin's character? No, it's not. We all understand that. We all have to learn from the mistake he made, unfortunately. But we're moving on. We practiced 12 times without Austin. It was actually good for us. It allowed some of the other guys in his position group to develop and improve. And when the time is right for him to re-join us, he'll re-join us and we'll move on.
You guys were really two different teams when you were at home versus on the road last year. I know there is no magic-bullet answer, but what do you need to do to improve the road play?
SS
: We have to continually try to expand our comfort zone. We're obviously a very good team when we're in the friendly confines -- whether it's CenturyLink Field or Husky Stadium -- I think what's key for us is no matter where we go, who we play, what time the game is, what the weather is that we go play Husky football. That's something we've talked about since the locker room of the Las Vegas Bowl, quite honestly, and we continue to talk about it every single day. That won't change.
Speaking of Husky Stadium, what are you expecting from the fans, and what's the game day experience going to be like for them?
SS
: I would rival the game day experience with any other school in the country. I had a chance to go through it [last week] and I'm still blown away every time I go in there. I think the proximity to the fans and how close they'll be to the field is going to enhance the game day experience for the fans and for our players. From a crowd noise standpoint. From an energy standpoint they'll provide, it will be a great environment. To go along with the setting of Lake Washington and Montlake Boulevard, I don't know what's better out there in college football.
The defense was much better last year. What's the next step for them as a unit?
SS
: I think we have to continue to be an opportunistic defense -- one that creates turnovers. We did a great job of that last year. Continue being really sticky in pass defense. You have to be in our conference with so many people throwing the football. And play really good red-zone defense. Those are three areas we drastically improved last season. To continue to build upon that; our ability to defend the up-tempo offense is going to be big for us; and our ability to disrupt quarterbacks -- whether that's sacks or knockdowns, things of that nature -- playing in the offensive backfield more than we had last season are two areas we're very focused on. We focused on that this spring and we'll continue to focus on it in the fall. Defending the up-tempo offense and then wreaking havoc in the offensive backfield.
Whose name are we going to be hearing in 2013 that we didn't hear about in 2012?
SS
: I think a name to keep an eye on is a kid who redshirted for us last year and I think can be a playmaker for us in the defensive backfield and in the return game is
Cleveland Wallace
. He's a guy that possess a really high football IQ. He has a knack for being around the football. He really improved this spring. I think he's a guy to keep an eye on.