NCF Nation:

Cliff Matthews
September, 2, 2010
9/02/10
11:01
AM ET
COLUMBIA, S.C. -- If these next three months are as lively on the field as this past month has been off the field, then maybe this is the year they've all been waiting on at South Carolina.
They're accustomed to waiting in these parts, though.
As in waiting for a championship season. Waiting for one of those truly special seasons, and waiting for the Gamecocks to make a move in the SEC's Eastern Division.
[+] Enlarge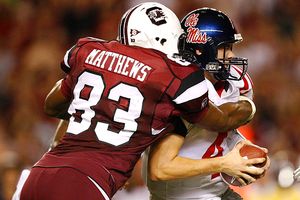 Streeter Lecka/Getty ImagesSenior Cliff Matthews is excited about the possibilities for this South Carolina team.
"That's the problem. Every year around here, it's the same thing," South Carolina senior defensive end Cliff Matthews said. "Everybody talks about it. We don't need to talk about what we're going to do. We just need to go do it."
There are more than a few reasons to believe that this is indeed Steve Spurrier's best chance of contending for an SEC Eastern Division crown since he returned to college football in 2005 and chose South Carolina as the place where he would hopefully be able to re-write history.
It hasn't been easy. In fact, it's been harder than Spurrier thought. He's lost five or more games every year he's been here. But for perspective, his 35 wins also mark the best five-year run in South Carolina history.
Entering his sixth season in Columbia, Spurrier has 17 starters returning from a year ago. But more importantly, he likes this team's attitude, its energy and its leadership.
Matthews is one of those leaders. In his own quiet way, he's been a steadying influence in the locker room for the past two seasons. But with Eric Norwood gone, he's become even more of a leader.
And when he says this team absolutely won't be affected by what's gone on off the field the past month, he means it.
Senior tight end
Weslye Saunders
is suspended for Thursday night's game for violating team rules. Saunders has talked to NCAA investigators multiple times over the past month and a half concerning allegations that he took a trip to Miami that may have been funded by agents.
Spurrier said Saunders' suspension had nothing to do with that investigation or the NCAA's more recent probe into the living arrangements of several South Carolina players who were staying at the Whitney Hotel.
As many as five players -- safety Akeem Auguste, cornerback C.C. Whitlock, offensive tackle Jarriel King, guard Terrence Campbell and defensive tackle Ladi Ajiboye -- could be forced to miss the Southern Miss game depending on what ruling the NCAA hands down. There's a possibility that some of those players could also be required to miss future games.
The whole thing has hovered over the program for much of the past two weeks with some players missing practice to clear up the matter and others arriving late.
"To be honest, it doesn't bother us at all … none of it," said Matthews, who tied Norwood last season with a team-high seven sacks. "We're focused. The only thing on our minds has been Southern Miss. We're not looking at what's behind us, and we're not looking at what's in front of us.
"Other people might be, but we're not."
Spurrier has raved about Matthews' work ethic and the way he competes every time he's on the field.
There's a consistency about the 6-foot-4, 260-pound Matthews that Spurrier would like to see rub off on the whole team.
For that matter, the whole program.
The Gamecocks have won more than eight games in a season only twice in school history. And when they have had success, they haven't been able to sustain it.
Matthews, who's from Cheraw, S.C., doesn't need a history lesson; nor does he want one.
He says unabashedly that an SEC championship is one of South Carolina's goals.
"I love this team's chemistry," he said. "Everybody's focused. Everybody's hungry, and everybody's on the same page. What we've got to do is stay humble, don't beat ourselves and come prepared every week.
"One win doesn't mean anything, no matter who it's against. If we get a big win, we've got to digest it and act like we've won before and move on.
"We're not going to dwell on anything this year, good or bad."
July, 26, 2010
7/26/10
11:00
AM ET
In a lot of cases, the defensive line is what has set the SEC apart over the years. When you're strong up front defensively, you've always got a chance.
Who's the strongest in the SEC this season? Here goes:
[+] Enlarge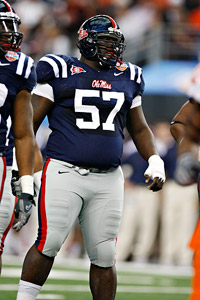 Icon SMIJerrell Powe is arguably the best interior D-lineman in the SEC.
1. Ole Miss:
For the second season in a row, the Rebels will be as formidable as anybody up front defensively. Senior tackle Jerrell Powe is perhaps the best interior defensive lineman in the league, and senior end Kentrell Lockett is one of the better pass-rushers. Between them, Powe and Lockett had 22 tackles for loss last season. It's also a deep and experienced defensive line, especially at tackle, and the Rebels added a newcomer at end, junior college transfer Wayne Dorsey, who should be a factor right away.
2. Alabama:
Players leave to go to the NFL, and Alabama slides in another great one right behind them. Welcome to Nick Saban's recruiting machine. Junior end Marcell Dareus was the star of the BCS National Championship Game last season and is one of the top NFL draft prospects in the league. He'll have to wait and see if anything comes of his trip to Miami that's being investigated by the NCAA, but there's no shortage of talent. Kerry Murphy may be the next star in the making and could potentially play nose or end in the Tide's scheme.
3. South Carolina:
Assistant head coach for the defense Ellis Johnson would like to have a little more depth, but if everybody holds up health-wise, the Gamecocks will be plenty imposing up front defensively. It starts with senior end Cliff Matthews, who's one of the most complete defensive linemen in the SEC. He had 10 tackles for loss, including seven sacks last season. Senior Ladi Ajiboye and junior Travian Robertson anchor the middle of the line, and both are explosive and powerful.
4. Mississippi State:
As the Bulldogs attempt to make their move in Season No. 2 under Dan Mullen, the strength of their football team will be their defensive line. Senior Pernell McPhee is an All-SEC performer at end and should be even better his second time around in the league. Sophomore tackles Josh Boyd and Fletcher Cox have both bulked up to the 300-pound range after solid freshman seasons, and the Bulldogs brought in massive junior college tackle James Carmon (6-7, 345 pounds) this spring.
5. Florida:
The Florida defensive linemen themselves will tell you that there aren't any superstars in this group, but there are five seniors returning, not to mention the most talented freshman defensive line class in the country. Senior captain Justin Trattou returns full time to end after playing inside on passing situations last season. He's healthy, too, after tearing the biceps tendon in his left arm last season. Sophomore tackle Omar Hunter is just waiting to break out, and freshmen Ronald Powell at end and Sharrif Floyd at tackle won't have to wait long to make an impact.
6. LSU:
Some new faces will be counted on to play key roles for the Tigers up front this season, but a veteran remains the centerpiece of this defensive line. Senior tackle Drake Nevis rates up there with Jerrell Powe as one of the top interior linemen in this league. The Tigers are also eager to see what redshirt freshman end Sam Montgomery and redshirt freshman tackle Michael Brockers can do after big springs. Senior Pep Levingston is moving inside to tackle after starting 10 games last season at end. One thing the Tigers would like to generate more of is sacks. They only had 21 last season, which was tied for eighth in the SEC.
[+] Enlarge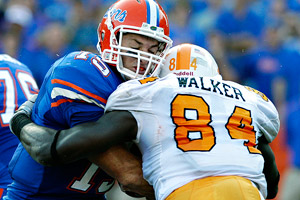 AP Photo/John RaouxChris Walker led the Vols with six sacks last season.
7. Tennessee:
The Vols have excellent depth at the end positions, starting with senior Chris Walker, who led the team with six sacks last season. Seniors Ben Martin and Gerald Williams also return at end, while former Southern California end Malik Jackson will be eligible to play this season after transferring from the Trojans. Tennessee doesn't have much depth inside, but Montori Hughes and Marlon Walls both had solid freshman seasons. The Vols can't afford for either, though, to go down with an injury.
8. Georgia:
With the Bulldogs switching to a 3-4 defense under first-year coordinator Todd Grantham, some guys will be playing new positions. One of the keys will be junior DeAngelo Tyson at the nose and establishing some depth behind him. Grantham wants to get to a point where he has a steady rotation up front, but that may take another recruiting class or so. Senior Demarcus Dobbs is the starter at one end, while sophomore Abry Jones impressed Grantham in the spring at the other end spot.
9. Auburn:
The Tigers lost their top playmaker up front last season in Antonio Coleman and are hopeful senior Antoine Carter can step in and be that guy this season at end. The first thing Auburn has to do if it's going be a better defense this season is be stingier against the run. Senior Mike Blanc returns at one tackle, and the Tigers are also counting on a big season from junior tackle Nick Fairley, who showed flashes a year ago. Another guy to watch is redshirt freshman end Nosa Eguae, who would have played last season had it not been for a stress fracture in his left foot.
10. Arkansas:
The Hogs will be better on defense this season. So says Arkansas coach Bobby Petrino, and they'll need to be better if they're going to make a run in the Western Division race. The depth should be better, although losing Malcolm Sheppard in the middle is a killer. Junior end Jake Bequette had 5.5 sacks last season and is one of those guys who could really blossom this season. Junior Zach Stadther returns at one tackle. Sophomore Tenarius Wright missed the spring with a foot injury, but will also be a key at the other end position.
11. Kentucky:
The big blow for the Wildcats was losing tackle Corey Peters, who was dominant a year ago and made everybody around him that much better. Replacing him will be a chore, but Kentucky hopes Mark Crawford can have a breakout season inside after coming over from junior college last year. Speaking of breakout seasons, senior end DeQuin Evans emerged as one of the most productive pass-rushers in the league last season, his first in the SEC after coming over from junior college. He finished with 12.5 tackles for loss, including six sacks.
12. Vanderbilt:
The bad news is that senior tackle Adam Smotherman tore his ACL early in spring practice. The good news is that he's recovering quicker than anybody could have imagined and has a chance to be back for at least part of the season. The Commodores need Smotherman and T.J. Greenstone there in the middle, especially after losing three key senior defensive linemen to graduation. It was a struggle for Vanderbilt up front defensively in the fourth quarter last season. That will again be the challenge in 2010.
April, 16, 2010
4/16/10
9:30
AM ET
It's not Pernell McPhee's style to say where he rates among the top defensive linemen in college football, or even the SEC, heading into next season.
Talking about himself doesn't come naturally.
What does come naturally for Mississippi State's talented defensive end is making life miserable for whoever's trying to block him that game.
[+] Enlarge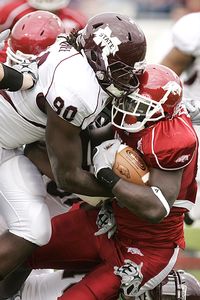 AP Photo/Danny JohnstonMississippi State's Pernell McPhee (90) could be one of the top defensive linemen in college football in 2010.
"I want him to know that I'm going to be there all day," McPhee said.
The Bulldogs wrap up their spring on Saturday with their annual Maroon-White spring game. For the most part, it's been a spring dominated by McPhee and his cohorts up front defensively.
It's a defensive line, particularly with sophomore tackles Fletcher Cox and Josh Boyd blossoming, that should be one of the best Mississippi State has fielded in a long time.
But, then, players like McPhee don't come around that often.
The best news for Mississippi State fans is that McPhee figures to be an even more complete player in 2010. At 6-4, he expects to play at about 285 pounds next season after playing at 275 a year ago.
His knowledge of the Mississippi State defense has grown exponentially along with his feel of what offenses are trying to do.
"I was playing mostly on instincts and talent last year," McPhee said. "I was just going on the snap and not really with the smarts I needed to. I'm more of a student of the game now. I'm into the film work, studying the guy I'm going against, what offenses are doing with different formations and picking up the little things that make the difference.
"I'm all about creating trouble in the backfield, and I think I'll be able to do more of that next season."
McPhee, who came to Mississippi State from Itawamaba (Miss.) Community College, created his share of problems for opposing offenses last season in his first junket through the SEC. He finished tied for fourth among SEC defensive ends with 12 tackles for loss, including five sacks. He also led the Bulldogs with eight quarterback hurries.
"I still didn't play at the speed I wanted to," McPhee said. "I feel like I was going hard all the time. I'm always going to do that. I just want to make more big plays. That's what I have to bring to this team next year."
McPhee hit it off immediately with first-year defensive line coach Chris Wilson, who saw a few big-time defensive linemen come through Norman during his time on the Oklahoma staff.
McPhee said Wilson speaks his language.
"He wants to attack, and that's the way I like to play," McPhee said. "We're going to go after people this year."
And while McPhee won't say it himself, he heads into the 2010 season as one of the premier defensive linemen in the SEC. It's a group that includes Alabama's Marcell Dareus, South Carolina's Cliff Matthews, LSU's Drake Nevis, Tennessee's Chris Walker, Kentucky's DeQuin Evans and Ole Miss' Jerrell Powe and Kentrell Lockett.
A big senior season could push McPhee to the forefront nationally. He admits that he considered turning pro following last season, but felt like he needed another year of college ball to develop.
"The best defensive ends do it all," McPhee said. "They rush the passer. They play the run. They force turnovers. They make things happen. I'm talking about guys like Julius Peppers. That's where I want to get to as a player, and I'm going to keep pushing myself to get there."
April, 14, 2010
4/14/10
9:02
AM ET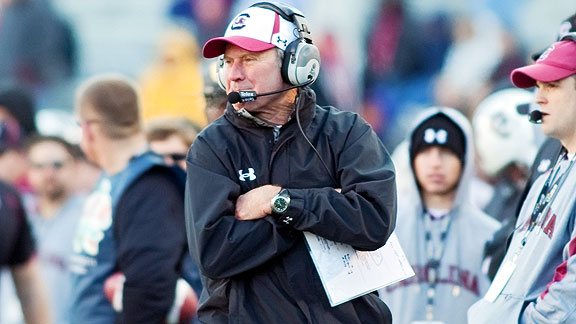 John Korduner/Icon SMIThis season may be Steve Spurrier's best chance yet at bringing an SEC title to South Carolina.
COLUMBIA, S.C. -- The Head Ball Coach isn't gigging rivals as much as he once did.
If anything, he's gigging himself.
As Steve Spurrier enters his sixth season at South Carolina, he might not come right out and say it. Occasionally, his smoldering frustration might say it for him.
But he knows his window is closing on ever winning another SEC championship.
Some might say that window was never cracked in the first place at South Carolina, which has won more than eight games in a season only twice in school history.
Spurrier, even after seeing each of the past two seasons end embarrassingly in lackluster bowl losses, hasn't given up hope that it can be done at South Carolina.
Just don't tell him that this season is a now-or-never proposition, and the same thing goes for this supposedly being the Gamecocks' best chance to make some real noise in the Eastern Division race since Spurrier arrived in 2005.
"I like to be optimistic. That's the way I've always felt you had to coach," Spurrier said. "You're supposed to tell your players they're very good and they've got a chance to have a big year.
"But our guys don't react real well to that, if you know what I mean."
In other words, don't build the Gamecocks up too much. They've been down this road before -- and long before Spurrier was navigating his way down George Rogers Boulevard every morning to work.
Let's face it. South Carolina's football history reads like a Greek tragedy.
Every time the Gamecocks seem poised to break through, they end up breaking garnet and black-coated hearts instead.
"We've got a lot of traditions around here," senior defensive end Cliff Matthews said. "It's about time we started a winning tradition."
April, 8, 2010
4/08/10
9:00
AM ET
COLUMBIA, S.C. -- One of the more underrated jobs in the SEC the past two seasons has been the one done by South Carolina assistant head coach for the defense Ellis Johnson and his staff.
The Gamecocks finished 15
th
nationally in total defense last season and 13
th
nationally in 2008. Alabama and Florida were the only other two SEC teams to finish in the top-15 each of the past two years.
[+] Enlarge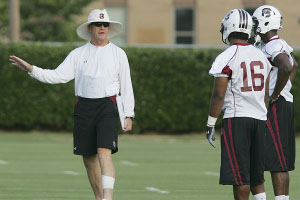 AP Photo/Mary Ann ChastainSouth Carolina defensive coordinator Ellis Johnson got a contract extension and a raise this offseason.
Without question, one of the best moves South Carolina made this offseason was holding onto Johnson, who was offered a lucrative deal by Tennessee coach Derek Dooley to be the Vols' defensive coordinator.
The Gamecocks acted quickly and extended Johnson's contract to a four-year deal and increased his annual salary to $700,000.
"We got all that done in a day, and we needed to," South Carolina coach Steve Spurrier said. "Coach Dooley was coming after him hard."
Johnson, 58, is one of the straightest shooters in the college game. He's got that old-school aura about him and doesn't sugarcoat it for anybody, including his players.
So when he says he doesn't really have a feel for his defense this spring, he means it.
For one, the Gamecocks have been a MASH unit. Defensive linemen Cliff Matthews and Travian Robertson have been sidelined while recovering from injuries, and defensive tackle Ladi Ajiboye has been limited.
Linebackers Rodney Paulk and Reggie Bowens have also been sidelined along with cornerback Chris Culliver.
"It's good in that we've gotten a chance to see a lot of young kids, and that's what the spring is about," Johnson said. "But it's hard to say where we are as a defensive unit right now. That might not be something that comes together until the second week of preseason practice."
The Gamecocks return seven of 11 starters from last season, but one of the more disappointing things this spring for Johnson is that one of those younger defensive linemen hasn't jumped out there and been more of a presence.
"With Matthews not being out there, we haven't gotten any one-on-one pressure on the quarterback," said Johnson, adding that sophomore end Devin Taylor and redshirt freshman Chaz Sutton still had a ways to go in that department.
Matthews was a second-team All-SEC performer last season and tied the departed Eric Norwood for the team lead in sacks with seven. He's one of the top three or four defensive ends in the league.
"You've got to have two of those guys at end, and we haven't found that other light-the-match guy this spring," Johnson said.
Johnson said junior Shaq Wilson is the most likely candidate to replace Norwood at outside linebacker, particularly if Paulk returns at full strength at middle linebacker. Paulk has suffered season-ending knee injuries each of the past two seasons.
The Gamecocks should be outstanding in the secondary, led by sophomore cornerback Stephon Gilmore, who started every game as a true freshman last season. He's a future pro.
His high school teammate, DeVonte Holloman, is having a super spring at safety. But Holloman is a bit too heavy, and Johnson would like to see him lighter in the fall.
"I just don't think you can play back there at 229 pounds," Johnson said.
Junior Akeem Auguste has moved from cornerback to safety, but is being pushed by sophomore D.J. Swearinger, who's been one of the Gamecocks' breakthrough players this spring. Junior cornerback C.C. Whitlock has also had his moments this spring, although Johnson still wants to see him be more consistent.
"We've still got to prove it, but I think we'll be better on defense than we were last year," Gilmore said. "There were a lot of us feeling our way along last year because we hadn't played. Everybody's played now, and there are a lot of guys on this defense ready to leave their mark."
November, 12, 2009
11/12/09
8:25
AM ET
Posted by ESPN.com's Chris Low
The countdown to Alabama vs. Florida II began last Saturday night when the Crimson Tide were putting the finishing touches on their 24-15 win over LSU.
We know the Crimson Tide and Gators are going to play for the SEC championship for the second straight year. These next couple of weeks will determine whether that game will also be for the right to play for the national championship.
Both teams face road tests this weekend, while one of the most intriguing games in the league is Tennessee's visit to Ole Miss, only the fourth time ever that the Vols have faced the Rebels in Oxford. It's also Ed Orgeron's return to Oxford in a game both teams need to bolster their bowl standing.
Here's a look at what to watch in the SEC in Week 11:
1. Ingram vs. Dixon:
The top two running backs in the SEC go at it in Starkville. Alabama's
Mark Ingram
is leading the league with an average of 127.6 rushing yards per game, and Mississippi State's
Anthony Dixon
is right on his tail with an average of 125.1 yards per game. Both players have already gone over 1,000 yards for the season, and both players don't go down easily. We know they're capable of huge games, too. See Ingram's 246-yard effort against South Carolina and Dixon's 252-yard effort against Kentucky. The SEC rushing title could well be decided in this game.
2. Home cooking?
Mississippi State has already played one of the toughest home schedules in the country and one that may go down as one of the toughest in recent SEC history. It only gets more difficult on Saturday when No. 2 Alabama comes to town. The Crimson Tide are the fifth team in the top 15 of this week's BCS standings to pay a visit to Scott Field. The Bulldogs have already lost at home to No. 1 Florida, No. 7 Georgia Tech, No. 8 LSU and No. 15 Houston. All but Georgia Tech were fourth-quarter games.
3. Big-play SEC:
While this league has a defensive reputation for good reason, three of the best big-play offensive artists in the country have resided in the SEC this season. Arkansas quarterback
Ryan Mallett
leads all FBS quarterbacks with 23 passes of 30 yards or longer. The next closest guy is San Diego State's
Ryan Lindley
with 19. Mallett is third nationally with 37 passes of 20 yards or longer. Ingram leads the nation with 24 rushes of 15 yards or longer, while Georgia receiver
A.J. Green
has 15 catches of 20 yards or longer, which is one off the national lead.
4. Gators winning with defense:
All those 40- and 50-point explosions from a year ago are a distant memory. So everybody waiting for this Florida team to transform overnight and become that same team from a year ago might want to give it up. This is a team that's winning with defense, and Urban Meyer is coaching to that defense. Excellent special-teams play doesn't hurt, and neither does having
Tim Tebow
on third down. But Florida's defense heads to South Carolina this weekend having given up just six touchdowns all season.
5. Calling a few ball plays:
The South Carolina fans have been clamoring for the Head Ball Coach to call all of his own plays again ever since last season when he started delegating some of those duties to his son, Steve Spurrier Jr. But the elder Spurrier said earlier this week that he would move back into the lead role again of calling plays, and it just so happens that his first game as the primary playcaller again will come against the mighty Gators. It was at Florida where Spurrier became a legend with his "ball plays" and developed a well-earned reputation as the best playcaller in the business.
6. Matthews returning?
The Gamecocks could use some help this weekend on defense against the Gators and may get it in the form of junior defensive end Cliff Matthews. Spurrier said there's a chance that Matthews may be able to play after injuring his shoulder against Tennessee two weeks ago and not playing last week against Arkansas. Getting Matthews back on the field would be huge for the Gamecocks. He's one of those guys who plays the run as well as he rushes the passer, and that's vital when you're going up against Tebow.
7. Greetings for Coach O:
What will it be like for Ed Orgeron to return to Ole Miss for the first time since he was fired following the 2007 season? The reviews from his former players have been mixed. Some have talked about his energy and his passion and what a relentless recruiter he was. Others have talked about how ruthless he was in his treatment of players. Orgeron, now the Tennessee recruiting coordinator/defensive line coach, has placed himself off limits to the media this week, but you know this is a game he's had circled for a long time. Despite his dismal record at Ole Miss as head coach, most of the Rebels' top players are guys he recruited. The Vols have won 12 straight games in the series.
8. Georgia's penalties:
Even after Georgia coach Mark Richt issued an edict that players whistled for penalties would be yanked from the game, the Bulldogs still went out and committed 11 penalties last week in the win over Tennessee Tech. Six of those were for false starts on the offensive line. This penalty epidemic has been going on for two years now, and Georgia enters Saturday's game against Auburn with 18 more penalties than the next most penalized team in the SEC (Arkansas). The Bulldogs are flirting with 80 yards per game in penalties. Nobody else in the league is in the 60s.
9. Ridley's chance:
The word out of Baton Rouge is that
Stevan Ridley
is the real deal and will get every chance to show what he can do now that senior running back
Charles Scott
is out for the remainder of the regular season with a broken collarbone. We saw a glimpse of Ridley last week when he stepped in for Scott and scored on an 8-yard touchdown run to put the Tigers ahead in the third quarter. The 222-pound Ridley hurt his knee back in March and missed most of spring practice, but he was the guy the Tigers turned to when Scott went down at Alabama. It will be interesting to see how the carries are split the rest of the way between Ridley and
Keiland Williams
.
10. Hartline's return:
As long as Mike Hartline's knee doesn't look too shaky in practice the rest of this week, he's going to have a chance to play Saturday against Vanderbilt. The Kentucky junior quarterback has missed the last four games, and it's been quarterback by committee for the Wildcats. True freshman
Morgan Newton
has played the last couple of weeks, but
Will Fidler
and
Randall Cobb
have also played some there. Kentucky has managed to go 3-1 in Hartline's absence, but needs this game against Vanderbilt to lock up a bowl trip. Hartline isn't the only one who's been hurting. Cornerback Trevard Lindley is also expected to return for this game after missing the last four with a high-ankle sprain.
September, 24, 2009
9/24/09
12:29
PM ET

Posted by ESPN.com's Chris Low
COLUMBIA, S.C. – Ole Miss and South Carolina both have reasons to be confident about Thursday night's game (ESPN, 7:30 p.m. ET). Here's a look at the top three things each team has going for it as we count down to kickoff:

OLE MISS
Defensive line muscle:
Even without a fully healthy Greg Hardy, Ole Miss has one of the deepest defensive lines in college football. The Rebels hope to get a few plays out of Hardy, who sprained his ankle in the opener. They just don't know how many plays. Even so, look for Ole Miss defensive coordinator Tyrone Nix to be aggressive. Having a front four of Kentrell Lockett and Marcus Tillman at the ends and Jerrell Powe and Ted Laurent at the tackles opens up a lot of things for everybody else on defense.
Snead's due:
It's not like junior quarterback
Jevan Snead
has stunk up the joint in the Rebels' first two games. He's been just OK and finished strong against Memphis in the opener. The thing is: He's a lot better than just OK, and you know he's going to break out sooner or later with one of those games where he carves a defense apart. The Gamecocks are young in the secondary, so you can bet that Snead will take a few shots.
Running to glory:
The Rebels' running game is one of the more diverse running games in the league. They can line it up and come at you with more of a traditional approach with any combination of
Brandon Bolden
,
Enrique Davis
and
Cordera Eason
. But they also keep you off balance with
Dexter McCluster
and that Wild Rebel formation. Senior right tackle John Jerry is a devastating run-blocker, and Ole Miss likes to run behind him. Senior center Daverin Geralds is also solid up the middle, but the Rebels are hurting right now at fullback because of injuries. They may play 315-pound offensive lineman Mark Jean-Louis some at fullback against the Gamecocks.

SOUTH CAROLINA
Playing to the crowd:
The home-field advantage at Williams-Brice Stadium, especially in a night game, can be a huge factor. That is, if South Carolina will let it be a factor. Playing well early and keeping the crowd in it will be crucial for the Gamecocks, who would love to get ahead from the outset and put Ole Miss in a position where the Rebels are having to throw on every down. Making checks and making adjustments at the line of scrimmage can be pretty difficult when nobody can hear anything.
The Big 'E':
The SEC defensive MVP award through the first quarter of the season goes to South Carolina senior outside linebacker Eric Norwood, who leads the SEC with four sacks. He's not just a pass-rusher, either, as evidenced by his interception return for a touchdown against Georgia. Norwood and junior end Cliff Matthews are a handful for any offensive line, but they will be matched up against a left side of the Ole Miss offensive line that's been shaky this season. Sophomore left tackle Bradley Sowell is a first-year starter.
Stephen Garcia takes flight:
The Gamecocks' sophomore quarterback is improving weekly, which is music to the ears of the South Carolina fans who endured what had to seem like an eternity of Garcia making more news off the field than on the field. He's throwing the ball with more confidence, seeing the field better and will no doubt set his sights on an Ole Miss secondary that's the most unproven part of that defense. The Rebels will come after him, but Garcia is one of the best quarterbacks in the league when it comes to escaping pressure.